Azuga Review

Mark Fairlie
business.com Contributing Writer
Updated Oct 25, 2022
Azuga offers functionality that competes well with other GPS tracking services, but what makes it stand out the most is its easy accessibility. Its intuitive interface allows you to access a wealth of information on your vehicles and drivers in near real time. Combined, this greatly reduces the learning curve for businesses wanting to improve driver safety, reduce vehicle maintenance expenses and lower fuel costs. With plug-and-play hardware to boot and around-the-clock customer service, Azuga is the best GPS fleet tracking service for businesses concerned about ease of use.

Azuga
The Verdict
Azuga makes it easy to track your fleet regardless of whether you have a handful of vehicles or hundreds. With plug-and-play hardware that can be set up in seconds and easy-to-use software, including a mobile app, Azuga is our best pick for ease of use.
See how Azuga compares against its industry competitors by reading our overview of the best GPS fleet tracking services.
Azuga Editor's Score: 8.2/10
| | |
| --- | --- |
| Contract length | 8 |
| Price | 9 |
| Refresh rate | 4 |
| Customer service | 9 |
| Hardware type | 9 |
| Functionality | 10 |
Why We Chose Azuga as Best for Ease of Use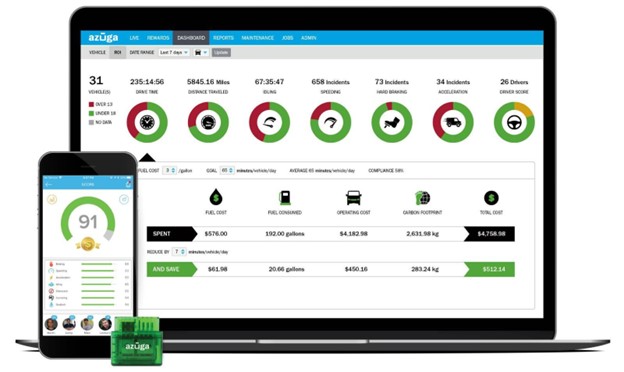 A wealth of detail about your fleet is available on the Azuga dashboard. Source: Azuga
Azuga's user-friendliness begins with its simple-to-install plug-and-play hardware. There is an intuitive user interface on both the desktop and app control dashboards that makes it easy to do what you want in a short amount of time. There is extensive online help documentation, and if you need further assistance, customer care representatives are available 24/7; you can call, email or message whenever you need them. Additionally, Azuga collects usable, actionable vehicle and driver data, and it's straightforward to run reports that help you improve fleet productivity and lower costs. It's for these reasons that we found Azuga to be the best GPS tracking system for ease of use.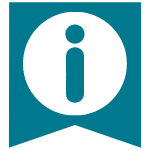 Did you know? Azuga is not Better Business Bureau-accredited, and many of its rivals aren't either. That said, Azuga does score very highly in online customer reviews.
What We Like About Azuga
Azuga's intuitive desktop and app control dashboards are packed with information that's easy to access and interrogate.
Clients can enjoy 24/7 customer service by phone, email and ticketing, plus extensive online support documentation.
Azuga has a growing app marketplace with vendors offering improved routing and scheduling services, fuel card integration and better fleet management.
What We Don't Like About Azuga
Although 36-month contracts are common in the GPS tracking space, it would be better if Azuga offered something shorter.
Considering the length of the contract, we were surprised Azuga charges for its dashcams.
You have to subscribe at $35 per month to get minute-by-minute tracking; not only is that expensive, but competitors have much faster refresh rates on standard plans.
Ease of Use
Getting started with Azuga has been made as simple as possible. First, you plug your tracking devices and dashcams directly into the OBD-II port of your vehicles. The vendor asserts this should take no longer than 20 seconds per device. Make a note of which vehicle each device is being attached to as you go along. Then you set up your account online. Make yourself an administrator, and you can create accounts for users, drivers and vehicles. You can set different levels of access for each user and group vehicles by job type, location or whatever classification you choose.
When you log in, the cloud-based app dashboard is clear and intuitive. You can check in on drivers and vehicles in real time using the "Live Tab." Other functions include running detailed reports and keeping on top of jobs and maintenance across your business. You can't customize the dashboard, but you can change the Azuga logo to your own to personalize the system's appearance.
If you get stuck, Azura has one of the most substantial collections of guides and helpful content among all the GPS fleet tracking services we reviewed, on par with rivals Verizon Connect and FleetUp. Alternatively, you can choose to speak with a live support representative 24/7. Support is also available via email and an online ticketing system.
Further enhancing Azuga's usability and another reason why it stands out for ease of use, there is an API that you can use to link Azuga with the apps you use in your business, provided you sign up for its SafeFleet or CompleteFleet package. The API is comprehensive and, with the right configuration, allows you to take advantage of Azuga's reporting and functionality in the software platform of your choice. Most of the reporting and functionality features offered by the dashboard can be integrated into your current software solutions thanks to its extensive API REST interface, allowing for even greater efficiency.
Azuga Features
Azuga is a feature-rich GPS tracking and fleet management platform supporting an expanding number of third-party apps. The below tools stand out the most.
Driver Safety, Training and Rewards
Azuga successfully balances driver reporting and monitoring with training and rewards. Drivers are scored according to how often they idle, rapidly accelerate and harshly brake – what Azuga calls "crash event predictors." If you want to know right away when a driver isn't driving safely, you can set up the system to alert you immediately. If you have a policy of no cellphone use during driving, the app can block cellphone access or measure it.
Each driver gets a trip score, which rolls up into an average score, ranging from 0 to 100. If a driver scores 75 or more, they are usually considered a safe driver. With this data, you can compare your drivers to see who is the safest vehicle operator and who needs additional training.
Azuga has a series of videos on better driving, and you can use the software to push specific training messages and videos to drivers based on their performance. The platform also rewards safe driving by identifying your most responsible drivers and distributing a prize (like a discount voucher) via the driver's email address or mobile app every month.
AI-Powered Two-Camera Dashcam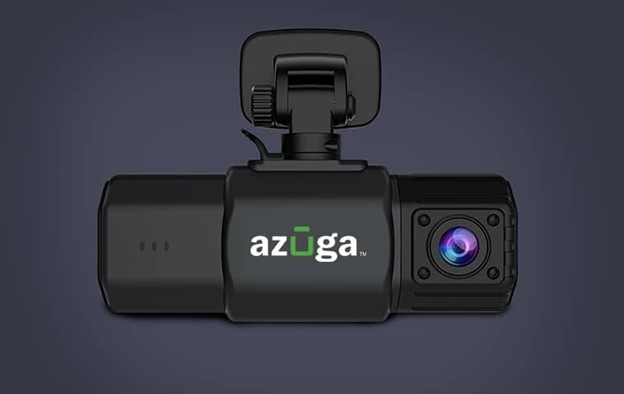 A standard Azuga dashcam has forward and rear-facing cameras. Source: Azuga
Azuga's AI-powered dashcam detects poor driving behaviors, analyzes them and sends the information back to your dashboard. Drivers can also press a panic button to start recording. This technology employs dual cameras. The rear-facing camera monitors drivers for behaviors like yawning, eating and drinking, which the AI tags for future review and training. The front-facing camera observes accidents on the road, with recording starting six seconds before the incident and finishing five seconds after. This is an especially great feature because dashcams often reduce insurance premiums, offsetting the cost of use. [Read related article: What Does Commercial Auto Insurance Cover?]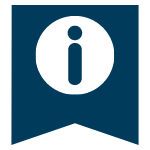 FYI: Data refreshes once a minute on Azuga's most expensive plan – by far the slowest rate of the providers we investigated. For comparison, our review of Samsara found that it refreshes from one second to the next, while our Verizon Connect review discovered a refresh rate of about 30 seconds.
Better, More Cost-Effective Fleet Maintenance
The Azuga platform allows you to keep detailed service histories for all your vehicles. You can set reminders to service vehicles at regular intervals to reduce operating costs, lower the risk of vehicles being off the road and prevent minor vehicle safety issues from turning into something major. Azuga also alerts you to developing maintenance issues with vehicles outside of the normal servicing schedule.
Fuel efficiency is always a significant concern for fleet managers and business owners. While Azuga's maintenance scheduling will reduce fuel consumption significantly, it can also factor in driver behavior and the routes they take on jobs to find further savings.
Flexible, Role-Based Mobile App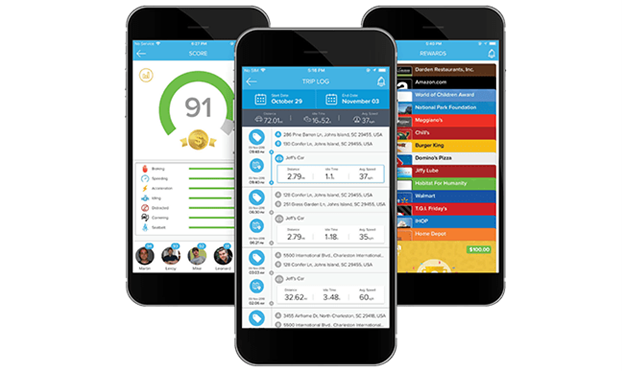 The Azuga Fleet app is just as helpful as the desktop version. Source: Azuga
Azuga's mobile app, available for both iOS and Android devices, serves both administrators and drivers, and much of the desktop dashboard's functionality is available on mobile devices. Administrators can take care of all aspects of fleet management on the go, from live vehicle diagnostics to seeing which driver is behind the wheel of a particular vehicle. If the app is on your driver's phone, you can share location information with customers so they can better predict arrival times.
Admins and drivers can communicate with each other in real time via the app, including sending location details, videos and images. For drivers, the app provides alerts on unsafe behaviors like speeding, shows the nearest selected points of interest like gas stations and ATMs (similar to Google Maps), and can even help drivers find their vehicle if they've parked far away.
Growing Marketplace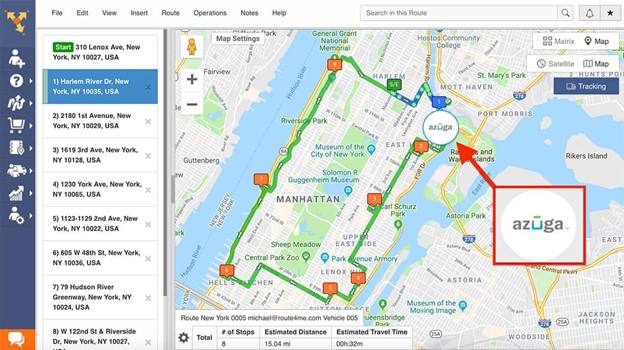 The Route4Me app is available in the Azuga marketplace. Source: Azuga
Although Azuga doesn't have the biggest app marketplace available (competitor Samsara has over 200 integrations), there are more than 40 native apps available in the Azuga marketplace. Among them are nine routing and scheduling apps, including Elite EXTRA. This is useful for courier and multidrop delivery companies that want the quickest and most cost-effective way to get deliveries to homes and businesses.
We particularly like the integration with Salesforce, whose emphasis is on helping Azuga clients achieve greater customer satisfaction through efficient delivery and reporting. You can also plug Azuga into other fleet maintenance and management systems like Fleetio or help fund new vehicle purchases with BBL Fleet. We also appreciate the integration with fuel card accounts, such as Gascard and Wex, for easier expense tracking.
Azuga Pricing
Azuga offers three per-vehicle subscription plans for its services:
BasicFleet ($25) includes GPS tracking, alerts, notifications, driver scores, driver rewards, reporting, geofencing and unlimited support.
SafeFleet ($30) adds enhanced safety and efficiency features to the BasicFleet package, including SpeedSafe, distracted driving, panic alert, vehicle diagnostics, messaging and fuel card integration.
CompleteFleet ($35) gives you enhanced vehicle data and exclusive services (including one-minute GPS updates, custom reports and a quarterly fleet review) on top of everything at the SafeFleet level.
There is no charge for hardware except for the dashcams, which are priced at $29.99 each. The minimum subscription term is 36 months. Azuga doesn't offer a free trial, but its services are less expensive than most providers. If you're looking for an even cheaper option, check out our review of Force by Mojio.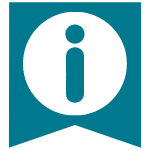 Did you know? In 2019, the Federal Motor Carrier Safety Administration mandated the use of electronic logging devices on commercial trucks.
Implementation and Onboarding
The Azuga platform is built around end-user simplicity, from its plugin hardware and intuitive app to its detailed but easy-to-use dashboard. That makes the implementation process especially straightforward. Once you've signed up with Azuga, you'll receive a self-install tracking module (and dashcam, if applicable). When you log in to the app or the desktop software for the first time, you'll just need to pair each device with a vehicle for the system to start monitoring.
Should you need assistance getting started, customer success managers are available for companies that purchase the CompleteFleet package. Other clients can take advantage of the vendor's regular support methods, as well as the hundreds of self-help articles, including ones on getting started.
Customer Service
As noted above, customer success managers are available for CompleteFleet clients. For all others, support is available via email, phone or online ticketing 24/7. In other words, even if you don't go with the CompleteFleet package, you'll never be without easily accessible assistance. And for those who prefer to figure out things on their own, Azuga's knowledge base, with more than 600 helpful articles, is probably the most extensive on the market.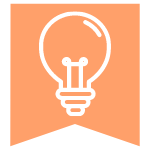 Tip: If 24/7 support is important to you, Azuga is one of four GPS tracking providers we reviewed that offer it – the others are Samsara, Verizon Connect and FleetUp. See our FleetUp review to learn why we found it to be the best option for customer service.
Limitations
Like many of the vendors we reviewed, Azuga doesn't offer a free or even paid-for trial. For first-time users of GPS tracking software, this and the 36-month minimum contract Azuga mandates require a leap of faith. You have to be sure that GPS is right for your business and that Azuga is the right supplier because you're committed for three years. You may wish to try another provider first, one that does have a free trial or shorter contract terms, to see if your company benefits from the technology before investing in Azuga's services.
Azuga's refresh rate is also disappointing. With the CompleteFleet plan, you have to pay $35 per vehicle to receive GPS data updates once a minute, which is much slower than many competitors. For customers on lower tiers, data refresh rates are unclear.
Methodology
When examining GPS fleeting tracking services and looking for the best option for ease of use, we considered whether the provider offers plug-and-play hardware and how simple the setup is. Installing hard-wired GPS equipment means higher costs and vehicle downtime, but Azuga makes it easy to start using its equipment and software.
We also viewed videos, read product guides and analyzed customer opinions online to determine how easy each system was to use and the level of help the vendor provides to users. We also considered the technology used, industries served by the companies and whether they had a mobile app. For usability, Azuga stood apart from its peers. [Learn how to choose a GPS fleet tracking solution.]
Azuga FAQ
What's the difference between GPS and telematics?
Azuga's GPS tracking system is actually a telematics system because it allows companies to know what their vehicles and drivers are doing when out on the road. Telematics relies on GPS information to provide data. Telematics systems like Azuga's then use that data to encourage better driving, reduce fuel spending and lower maintenance costs.
What are Azuga's driver scores and driver incentives?
Azuga's equipment collects information on driver behaviors like hard braking, speeding, hard acceleration, idling, cornering, distracted driving and seat belt usage. Based on that data, Azuga determines a driver score, and businesses can identify and reward their best drivers and provide training to their worst-performing ones. There are incentives for drivers to operate their vehicles at the highest level of safety and efficiency.
When does Azuga GPS tracking start working?
Once it's been installed, Azuga's GPS device works every time the engine is switched on and stops working when the vehicle is turned off. The data it collects about the vehicle and the driver is sent to the Azuga platform, through which fleet managers can then run reports and monitor driver actions.
Bottom Line
We recommend Azuga for …
Businesses that want a plug-and-play solution and easy-to-use interface.
Companies that want (or may want in the future) the ability to track assets as well as vehicles.
Business owners who need 24/7 customer support.
We don't recommend Azuga for …
Businesses that want faster data refresh rates than 60 seconds.
Business owners who don't want to commit to a long-term contract.
Organizations that need hard-wired vehicle trackers.

Azuga
The Verdict
Azuga makes it easy to track your fleet regardless of whether you have a handful of vehicles or hundreds. With plug-and-play hardware that can be set up in seconds and easy-to-use software, including a mobile app, Azuga is our best pick for ease of use.

Mark Fairlie
business.com Contributing Writer
Mark Fairlie has written extensively on business finance, business development, M&A, accounting, tax, cybersecurity, sales and marketing, SEO, investments, and more for clients across the world for the past five years. Prior to that, Mark owned one of the largest independent managed B2B email and telephone outsourcing companies in the UK prior to selling up in 2015.