OnPay's transparent pricing, excellent customer support and user-friendly tools make it our top pick as the best payroll system for small businesses. It offers unlimited monthly payroll runs, automated tax filings and many HR features.
Pros
OnPay provides a higher level of customer service and support than many competitors.
The payroll software is well designed, making it easy to access payroll data and manage employee benefits.
It offers more payroll and HR features at a lower price than Gusto and Paychex.
User reviews show just how solid OnPay is. The software averages 4.8 out of five starts among more than 700 reviews on Capterra, G2 and TrustPilot.
Cons
Users rate OnPay's employee mobile app less favorably than what ADP offers.
OnPay does not have native time-tracking capabilities.
Employers can't run payroll automatically for salaried employees.
Small business payroll services should be easy to use yet capable of handling complex tasks and providing valuable insights. OnPay stands out among rivals with user-friendly payroll and HR features, including time-tracking integrations, document storage and an HR resource library. Entrepreneurs can process unlimited payroll runs and manage multiple pay rates across state lines for a reasonable monthly fee without purchasing add-ons or more expensive plans. An inclusive subscription and knowledgeable customer support agents are why we chose OnPay as the best payroll software for small companies.
OnPay Payroll Software Editor's Rating:
9.3 / 10
Pricing

9/10

Customer service

9.7/10

Third-party integrations

9.2/10

User interface

9.5/10

Added HR tools

9.4/10
Why We Chose OnPay as the Best for Small Businesses
It's rare to find full-service payroll solutions at an affordable price point, as many providers lock payroll and HR features behind upper-tier plans or require users to pay for add-ons. OnPay keeps it simple with one inclusive subscription packed with every tool small business owners or HR professionals need. It allows unlimited payroll runs and multiple pay schedules. And OnPay handles federal, state and local tax filing backed by an error-free guarantee. 
In comparison, Gusto offers multistate payroll processing on Plus and Premium plans only. With OnPay, you can pay employees in multiple states without additional cost. Likewise, OnPay is licensed for benefits administration in all 50 states and has an in-house team of experts that work with you to select the right health insurance and retirement plans. 
Nor will you find hidden fees for integrations. In fact, OnPay offers help setting up or customizing your accounting or time-tracking software integrations. It syncs with well-known tools like QuickBooks Online, Xero, When I Work and QuickBooks Time. Also, the payroll service provides a dedicated onboarding representative and emergency weekend assistance. We appreciate this extra level of care, as it genuinely sets OnPay apart from rivals.
When testing the software, we were impressed with OnPay's advanced capabilities. The custom report designer and dashboard simplified payroll reporting. The HR suite centralizes personnel files and has a vacation calendar, which makes reviewing time off convenient. Indeed, OnPay's feature-rich subscription, ease of use and customer service make it the top payroll service for small businesses.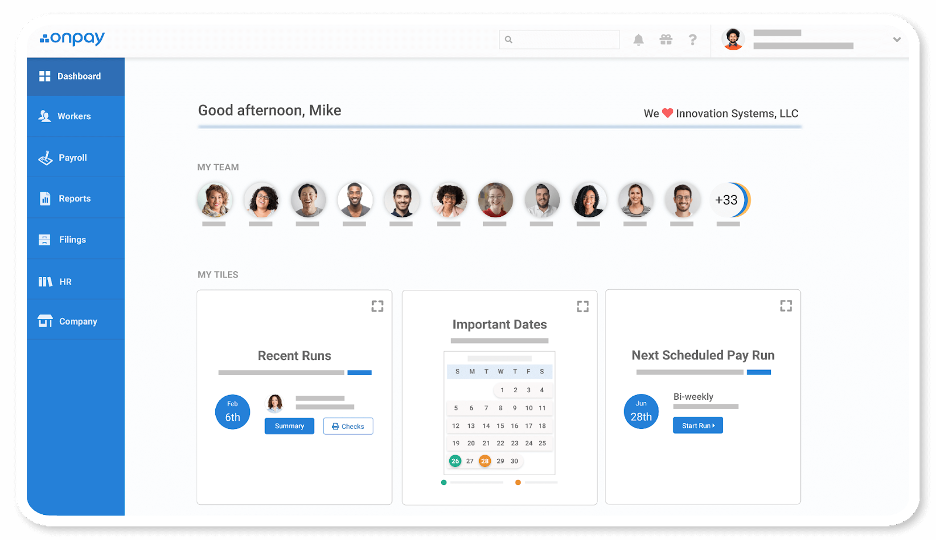 Click to view your scheduled pay run or to start a new one from your dashboard. Source: OnPay
OnPay can accommodate niche industries like restaurants, farms and nonprofits. It helps with food and beverage minimum-wage tip credits and handles tax filings for agricultural workers and employees with H-2A visas.
Ease of Use
Ease of use is a critical factor when choosing online payroll software. Using the software should be easy for both the employer and employee. For our OnPay review, we assessed the payroll process, benefits features and employee portal. The system's simple user interface is one reason we chose OnPay as the best payroll software for small companies. When testing the platform, we found OnPay's dashboard to be very straightforward, with a left navigation bar for switching between payroll processing, tax filings, HR tools, employees and reports. Whereas rivals try to pack everything on the main screen, OnPay displays your team across the top and your tiles below. 
When testing the software, we liked how we could customize our dashboard view, which Paychex allows, but most payroll services don't. Running payroll was easy. Simply click the Payroll tab, choose which employees to pay and enter their hours. These fields will auto-populate if you've connected OnPay to third-party time-tracking apps. 
OnPay retains payroll data for salaried employees, so you won't need to re-enter this information. It also syncs to your employee benefits plans and automatically deducts the correct amounts from payroll. 
The software lets you view payroll summaries or expand each section to see detailed information. After reviewing the payroll details, it's time to submit it. Best of all, you don't have to worry about payroll or tax errors. We appreciate the proactive alerts, which prevent processing until you resolve payroll discrepancies. 
Creating employee profiles and inviting them to use the mobile app or online portal was also easy. Both provide lifetime access to paystubs and tax information. We found it helpful that after you've run payroll, the software sends an email to employees, letting them know when they will receive their payments.
OnPay Features
OnPay's payroll and HR tools help employers focus on critical business activities while automating, delegating and tracking essential functions. Unlike other payroll services with several pricing tiers, OnPay includes all the following features in its subscription. 
Full-Service Payroll Processing
Most payroll services automatically calculate employee wages, taxes and deductions. But OnPay adds features typically found only on rivals' higher-tier plans. It supports multistate payroll and multiple pay rates, ideal for companies with remote workers or staff that floats between roles. Also, you can pay W-2 and 1099 team members from the same dashboard and have different pay schedules with unlimited payroll runs for one monthly fee.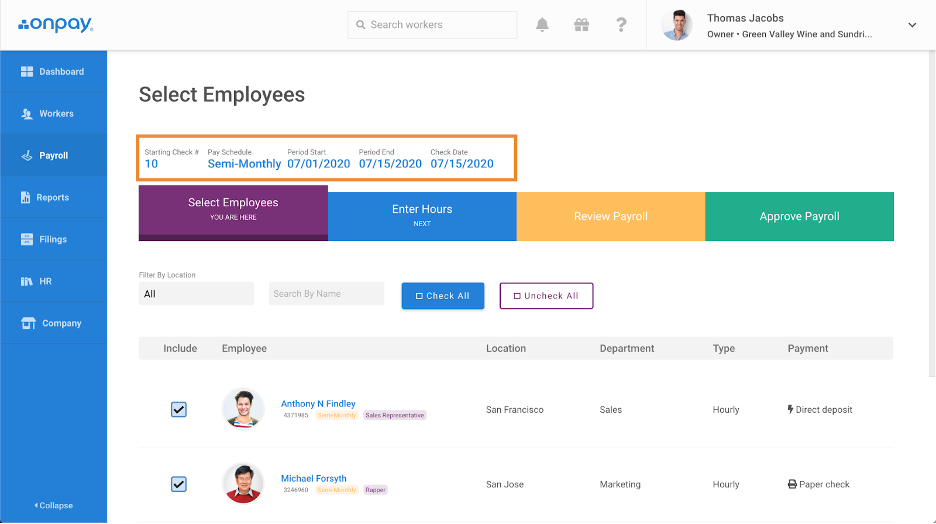 With OnPay, you can run an off-cycle pay run without additional fees. Source: OnPay
Tax Filing and Withholdings
As with other full-service payroll providers, OnPay computes payroll taxes and withholds the correct amounts. It submits payments to federal, state and local agencies, filing annual and quarterly forms. We appreciate that OnPay will withhold federal and state unemployment insurance payments and process company contributions. Plus, it takes just two clicks to deduct garnishments.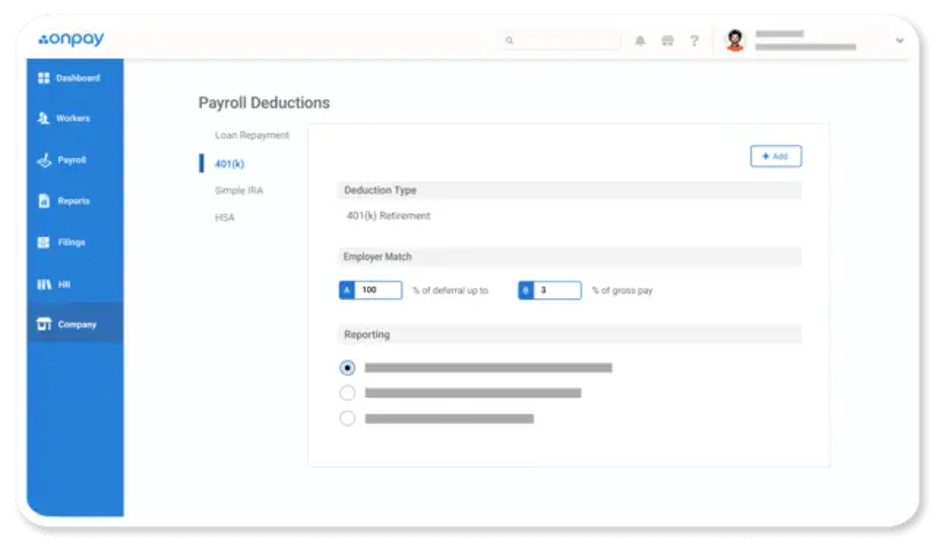 When you configure payroll deductions, they will sync to payroll automatically. Source: OnPay
Employee Payments and Self-Service Options
Although most payroll software supports paper checks (except Justworks) and direct deposit, just over half of providers offer prepaid debit cards, called payroll cards. So we were impressed that OnPay provides direct deposit alternatives. Staff can set up bank accounts through the employee portal and select direct deposit, paycards or physical checks. The self-service app supplies lifetime access to paystubs and documents for personal taxes.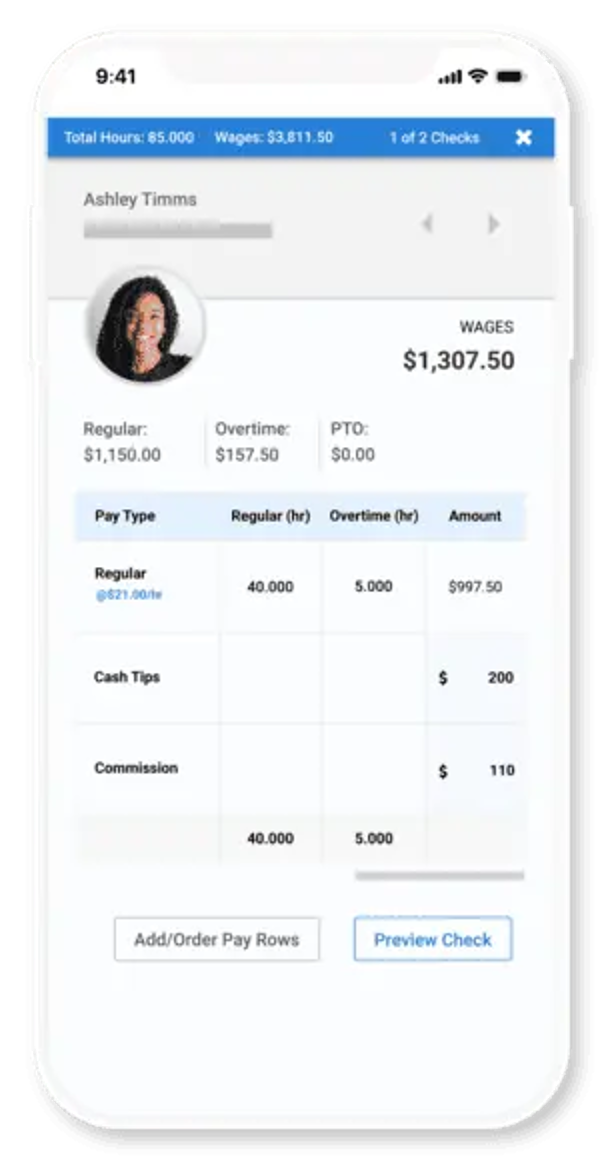 Mobile apps give employees access to essential payroll data. Source: OnPay
Looking for a payroll provider that offers on-demand wages? See our review of iSolved, which has several direct deposit alternatives.
Payroll Reports
Many payroll systems offer basic payroll reporting functions, but we found OnPay's report dashboard extremely user-friendly. It shows summaries and payroll data per pay schedule. OnPay's dynamic report designer lets you add or remove over 50 data points, set up filters and arrange columns. We especially liked how we could create custom views for different departments. [Looking for more data visualization tools? See our Rippling review to learn about its automation and reporting capabilities.]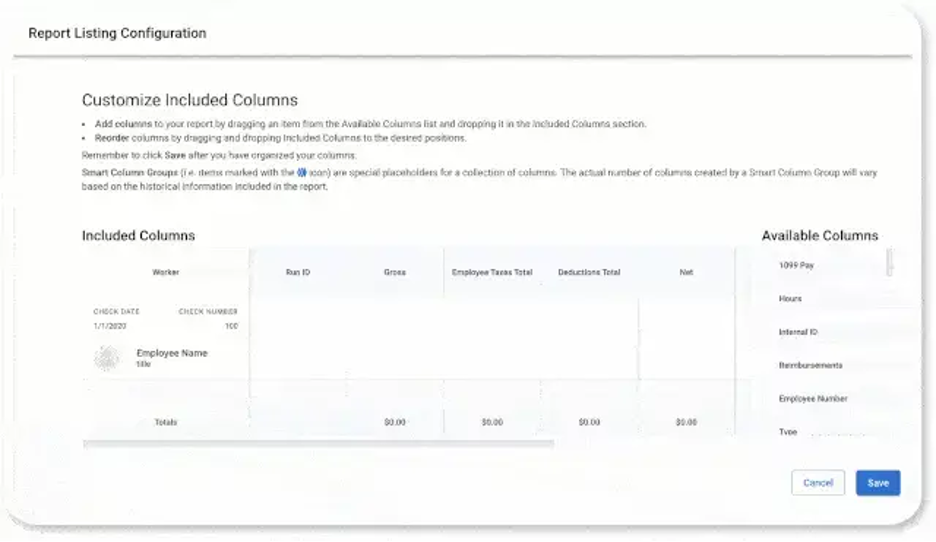 Drag-and-drop columns can be used to build custom reports for accountants or HR professionals. Source: OnPay
HR Tools
Not all full-service payroll platforms include HR features with all subscriptions, but OnPay provides many tools for new employees and HR compliance. Aside from new-hire reporting, OnPay stores documents online and lets you assign tasks to new hires and employees to track progress. You can even set expiration dates to receive reminders when certifications come due. Also, the HR resource library has hundreds of templates and guides. We like how OnPay has grown in recent years in this area. No longer is OnPay solely about payroll processing.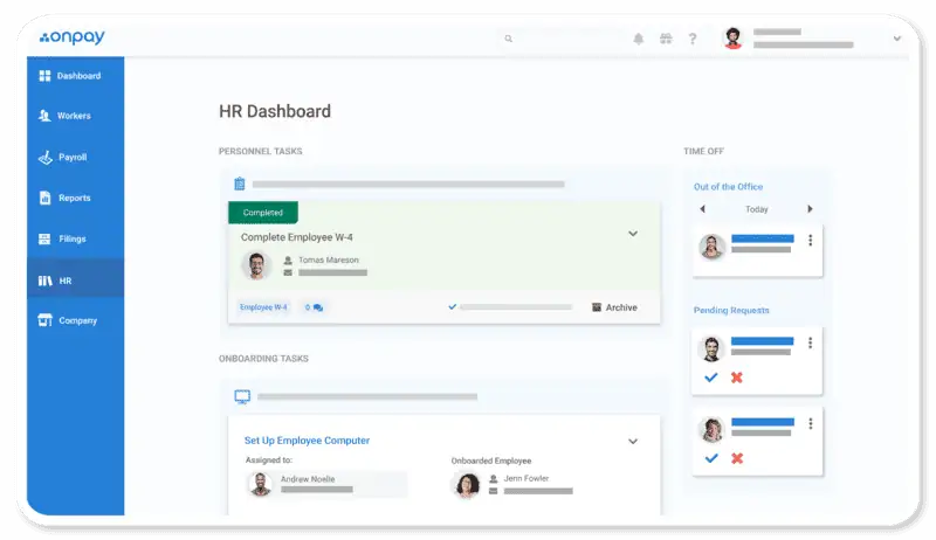 Review task progress from your HR dashboard. Source: OnPay
Employee Benefits
Whereas some payroll services charge integration fees for workers' compensation plans, disability insurance or retirement benefits, OnPay clients pay only plan premiums. We like how OnPay offers comparison charts to see cost and benefit details along with advice from licensed brokers. Teams can enroll in benefits programs through OnPay instead of a third-party website. Employers can view progress and manage health insurance plans right from the dashboard.
OnPay's in-house insurance agency can help you find other types of business insurance and set up employee flexible spending accounts (FSAs), health savings accounts (HSAs) and commuter benefits.
OnPay Pricing
OnPay costs about the same as other full-service payroll systems, with the main difference being that you get all features and capabilities in a single subscription. For example, our review of ADP found that it offers seven packages, and Gusto has three. Competitors like iSolved and Rippling require clients to purchase individual modules, which can increase monthly costs.
OnPay's base service fee is $40 monthly plus $6 per employee. Gusto's monthly fee is identical yet does not support multistate payroll processing or paid time off (PTO) management. On the other hand, Paychex's base fee starts at $39 plus $5 per employee per month, but you'll pay extra for online document storage, state unemployment insurance and integrations with third-party apps. 
Unlike with ADP, employers are not charged per payroll run. Nor will you pay additional costs for tax filing unless you want OnPay to mail annual tax forms to employees. We appreciate that OnPay pricing remains the same even if your pay schedule changes or you run payroll for bonuses. For benefits administration services, OnPay does not charge a participant fee. Your company and employees pay plan premiums only for health insurance or retirement benefits.
Implementation and Onboarding
Many payroll systems have self-guided implementation processes, which puts the burden of entering payroll data and transferring records onto business owners or HR staff. However, OnPay assigns a dedicated onboarding representative to new accounts. They assist with account setup, so most of the information is already there when you open your payroll software.
We also appreciate OnPay's assistance for clients that migrate from another payroll service. It adds employee information and prior wages to the software, so you only need to enter some basic company details. OnPay's hands-on assistance extends to integrating your accounting and time-tracking software, making each step of deployment seamless. 
Moreover, OnPay is among the few payroll solutions offering a one-month free trial. This gives you a chance to complete a pay run or several before committing. Independent review data ranks OnPay higher for ease of setup than Gusto, Paychex Flex and QuickBooks Payroll.
Customer Service
Paying your employees correctly and on time is a critical aspect of running a business. Which is why having top-notch customer support available from your payroll partner is essential. Although OnPay does not offer round-the-clock customer support like ADP or Paychex, we were pleased with the quality level and options. Email support opens at 7 a.m. ET, Monday through Friday, and clients can contact OnPay's U.S.-based team via phone or chat between 9 a.m. and 8 p.m. ET on weekdays. Also, OnPay provides emergency support on weekends. 
OnPay customer service agents receive extensive payroll training and can answer software, HR and payroll questions. Indeed, our OnPay review found that users rate OnPay's support quality higher than that of many rivals, including Gusto and Paychex. Like most payroll services, OnPay has a robust knowledge base, with tutorials and guides to help software users troubleshoot common concerns. We were glad many articles had GIFs and images to help us visualize the process and quickly resolve our issue.
Limitations
OnPay is a complete payroll solution suitable for businesses with 10 or hundreds of employees. While it provides many paperless payroll benefits, it may not be a fit for all organizations. Two drawbacks are the lack of a dedicated mobile app for employers and lower user ratings on its employee apps. OnPay's online portal is mobile-responsive so that you can process payroll on various devices. But if mobile apps are a vital feature, see our Paychex review, which offers solutions for HR professionals and employees. 
We also wished OnPay had native time-tracking and scheduling tools. It does integrate with several popular third-party apps, but larger organizations may prefer an all-in-one platform like Zenefits. Check out our review of Zenefits to explore its features and pricing. 
Methodology
To find the best payroll provider for small businesses, we assessed dozens of platforms based on ease of use, reporting tools, HR and payroll features, and third-party integrations. Our evaluation involved interacting with sales representatives and customer support agents. We examined various costs and looked for payroll services offering free trials. In addition, we considered user reviews and the overall value owners could derive from the software.
OnPay FAQ
OnPay provides low-fee retirement plans through partnerships with Vestwell and Guideline. This employee benefit integrates with OnPay software so that employees can access plan information through their online portal.
OnPay's guarantee covers all payroll calculations, tax filings and payments. If OnPay makes an error, the provider will work with the tax agency on your behalf and pay any penalties or interest. 
With OnPay, business owners can upload custom offer letters and allow job candidates to sign them electronically. The OnPay dashboard displays the status of your offers so you can stay on top of your hiring process.
Bottom Line
We recommend OnPay for …
Small business owners looking for robust payroll and HR tools at an affordable price.
Companies in niche industries with unique payroll needs.
Organizations that want to automate or delegate some payroll and HR tasks.
We don't recommend OnPay for …
Leaders that want highly rated mobile apps for employees and HR staff.
Small businesses that prefer to mail W-2 tax forms. 
Companies seeking native time-tracking capabilities.