Paychex Payroll Software Review and Pricing
Paychex is our best pick for a payroll provider built with larger businesses in mind. Its customizable plans support a variety of HR and administrative features favored by midsize and enterprise customers. We love that Paychex also offers several productivity-enhancing features for managers, as well as a highly rated mobile app.

Paychex Payroll Software and Pricing
The Verdict
Paychex is the best online payroll option for large businesses, because it can serve businesses with up to 1,000 employees, handles all payroll and payroll tax responsibilities, is available in multiple plans, and integrates with several other services
Paychex Editor's Score: 9.4/10
| | |
| --- | --- |
| Pricing | 9.7 |
| Customer service | 9.5 |
| Third-party integrations | 9.5 |
| User interface | 9.5 |
| Added HR tools | 9.0 |
Why We Chose Paychex as Best for Larger Businesses
What makes Paychex an appealing option for larger businesses is the flexibility in its service offerings. The Paychex Flex platform is available in four service plans, each with a unique set of features. The plans for midsize and enterprise businesses go beyond traditional payroll processing services by also including HR tools and features, such as onboarding, HR administration and pre-employment background check services.
Typically, larger organizations look for payroll services as part of a complete HR platform. We love that Paychex can deliver on that. Besides payroll processing, Paychex supports online timekeeping, benefits administration, compliance services, retirement plans, business insurance and health insurance. On top of all that, Paychex can accommodate companies with up to 1,000 employees, making it our recommendation for the best online payroll service for larger businesses.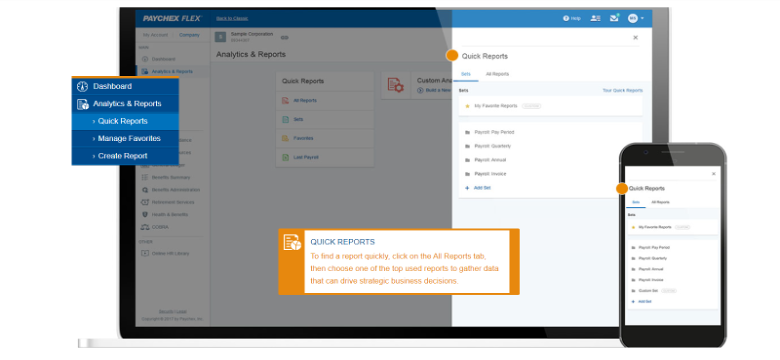 With Paychex, you need to sign on only once to switch between payroll, benefits and retirement features for multiple clients.  Source: Paychex 
What We Like About Paychex
Paychex's software includes a number of unique productivity features, including voice-activated commands for running payroll and the ability for employees to precheck their scheduled pay.
The vendor's highly rated mobile app allows employers to run payroll and access reports on the go, while employees can view check stubs, W-2s and other documents.
A library of APIs and other resources for developers can help larger businesses integrate Paychex into their organization.
What We Don't Like About Paychex
Pricing for most plans is not available on the Paychex website, so business owners must call a sales representative for a quote.
Paychex doesn't offer a free trial.
Ease of Use
We found the Paychex Flex platform relatively easy to use. As a cloud-hosted system, it's accessible from any web browser. You can also manage your payroll from the Paychex mobile app, which is available on iOS and Android devices. When you log in, the dashboard provides an overview of key payroll data. This includes a notice of when your next payroll is due, a link to start the payroll process, upcoming check dates, the cash required for the next payroll and a quick link to the payroll reports section of the system.
The user interface is a bit busier than other payroll services we reviewed, and new users may need more time to master the navigation. At the same time, though, Paychex places a variety of important payroll statistics front and center, which we thought was very helpful.
Running payroll is a simple task with just a few steps. All you have to do is enter your payroll information (salaries, hours worked and pay rates), confirm the data is correct and submit the payroll for processing. Rather than running payroll manually each pay period, you can set up recurring amounts for faster processing.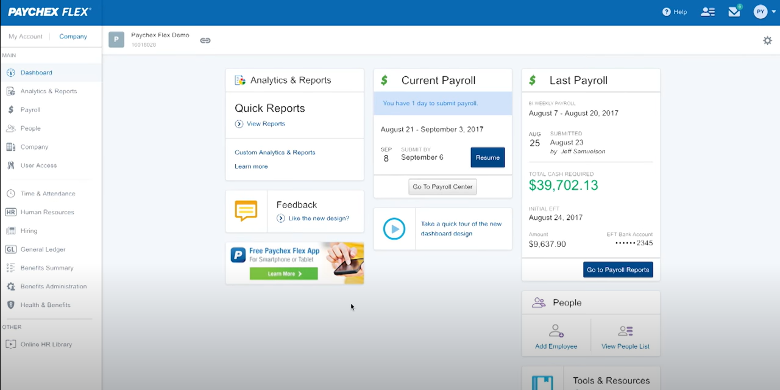 Paychex Flex displays critical payroll data for your business on the main dashboard. Source: Paychex
Paychex Features
Paychex offers a flexible, full-featured payroll service for payroll processing and payroll tax obligations, but the vendor also provides a host of other services that are essential for larger businesses.
Payroll Processing
Paychex, like its competitors, can easily handle all of your payroll processing. The payroll software calculates how much each employee should be paid based on the hours they work and their pay rate. It also accounts for any additions, like bonuses or commissions, and deductions for things like health benefits. Paychex touts that users can enter and run payroll "in as few as two clicks."
Paychex sports several unique payroll processing features that help it stand out from the competition. The Paychex Pre-Check feature allows employees to review their scheduled payments, which can help prevent pay-related issues before they happen. For added convenience, the Paychex Voice Assist feature allows you to enter and run payroll hands-free on both the desktop site and the mobile app. Both of these tools can improve productivity when it comes to payroll processing and make the experience less troublesome for larger organizations.
The Paychex Flex system makes it easy to review and submit payroll. Source: Paychex
Payment Options
Like other payroll providers we reviewed, Paychex offers payment through direct deposit, prepaid debit cards (aka payroll cards) and paper checks. For businesses that prefer old-fashioned paper checks, Paychex's in-house Readychex service distributes paper checks connected to a Paychex bank account, which cuts down on time spent dealing with bookkeeping and account reconciliation tasks.
Today, the convenience of paperless payroll and digital payments means that many workers have become accustomed to services that allow them to access their funds immediately. We were impressed that in response to these trends, Paychex also offers a pay-on-demand solution that enables employees to access their funds when they need them while still allowing employers to keep their existing pay frequencies.
Payroll Taxes
Paychex manages all your payroll tax compliance responsibilities, greatly reducing your need to become an expert on how to file employee payroll taxes. The service calculates, files and pays your payroll taxes on time and ensures they are correct. Paychex backs up its services with an accuracy guarantee, which means you don't need to be concerned with liability for errors. The guarantee states that Paychex pays the penalties if there are any mistakes in your payroll taxes. The Paychex software also processes year-end W-2 and 1099 forms for your employees. [View our guide to payroll forms.]
Payroll Reports
Paychex provides employers with more than 160 payroll-related reports, including a payroll journal, cash requirements, job costing and tax deposit notices. Enterprise users can also create their own custom reports using specified parameters. The Paychex Flex user interface makes it easy to grab a preinstalled report or create your own. You can even generate reports using the dedicated mobile app.
Mobile App
The Paychex Flex mobile app is an all-in-one offering for both employers and employees. On the employer side, the app can be used to submit payroll, access reports and view employee information related to compensation, deductions, benefits and more. Employees can use the app to view their pay stubs, benefits and W-2s, as well as make changes to retirement plans.
The app, which is free with any Paychex plan, can be used across a variety of devices running Android and iOS operating systems. We noticed that in online reviews, many customers praise both the user-friendliness and convenience of the app, which is something not offered by many other payroll services we investigated.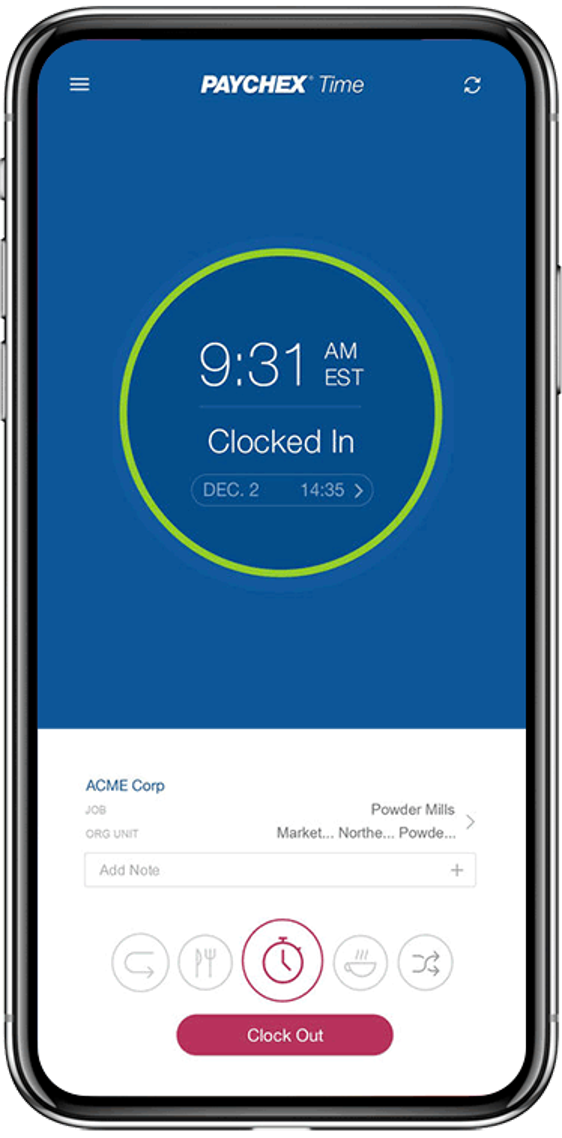 As of this writing, the Paychex Flex app scores a 4.8 out of 5 on the Apple App Store based on user reviews. Source: Paychex
Integrations
Paychex integrates with a variety of leading business solutions for accounting, HR and point of sale, including products like Clover, Indeed, Intuit QuickBooks, Workday, Sage and Microsoft Azure. For software programs that aren't presently integrated with Paychex, we liked that a library of open APIs and the Paychex API Developer Center make it easy to build custom applications and integrations. Not every payroll service offers this capability, which could prove enormously beneficial for larger businesses with access to software developers who can create tailored solutions. [See our QuickBooks review and Sage review to find out why they're great accounting software options.]
Hiring and Onboarding
Paychex's hiring services span every step of the new-hire and onboarding process, including recruitment, applicant tracking, background checks and state-required reporting, to ensure new employees enjoy a seamless transition into the job. If you need additional support, Paychex's team of in-house HR consultants can offer advice for recruiting, interviewing and onboarding. We appreciated this level of personalized support, which is incredibly useful to business owners without much experience in complex compliance and HR issues.
Additional Services
Paychex offers a wide range of other business services ideal for larger businesses, including time and attendance systems, employee benefits and benefits administration, compliance services, records administration, hiring services, business insurance, business loans, payment processing, tax services, incorporation services, and online marketing services. Higher-tier plans include access to a suite of HR administration tools, such as performance reviews, employee training management and secure cloud storage for sensitive personnel documents.
Paychex Pricing
Paychex sells its services in four plans: Paychex Flex Essentials, Paychex Flex Select, Paychex Flex Pro and Paychex Flex Enterprise. All of them include Paychex's core payroll processing and payroll tax administration services. Beyond that, here is how the plans compare:
Essentials: This is the most basic of Paychex's plans. In addition to payroll processing and payroll tax services, it includes new-hire reporting, direct deposit, prepaid debit cards, an employee financial wellness program, and 24/7 phone and chat support. The package costs $39 per month, plus $5 per employee.
Select: This is the most popular plan for small businesses. Although the specific features included in this plan are tailored to fit your business's needs, the base version includes most features in the Essentials tier. Pricing is customized based on your business's specific needs, so you'll need to contact a Paychex sales representative for a quote.
Pro: Designed for midsize businesses, this plan includes everything in the Select plan, plus guided setup with a Paychex specialist, accounting software integration, unemployment insurance services, employee screening and onboarding tools, and a handbook builder. This package also requires custom pricing.
Enterprise: This is the most comprehensive plan, designed for larger organizations. It includes everything in Pro, plus custom analytics, reports and HR administration. Here, too, you'll have to contact the vendor for a custom quote.
Paychex's pricing for the entry-level Essentials plan is competitive with other payroll services we reviewed and, in many cases, much less expensive. Some other providers charge pay-payroll instead of a flat monthly fee, which means Paychex's pricing structure of a $39 monthly rate for unlimited payroll processing, plus $5 per employee, may be more cost-effective for some businesses.
However, pricing isn't readily available for the more extensive plans, and you'll need to speak with Paychex directly for a quote so you can adequately compare their value to packages from the company's rivals. One potential upside: Even though Paychex doesn't provide a free trial, you may be able to get three free months as a new customer.
Implementation and Onboarding
To learn what it's like working with the Paychex system, the company has a basic demo on its website, although you can schedule a more in-depth, customized demo with a vendor representative. We really like how comprehensive Paychex is in explaining how it handles onboarding. The vendor's representatives will tell you what information you need handy to get started, such as federal ID numbers and employee bank account details. If you're switching from another payroll provider, Paychex may be able to transfer the data directly in as little as two days.
Paychex specialists will also process your first few payrolls to ensure everything goes smoothly, and they will also perform a full audit going back to the beginning of the year. For customers on the Paychex Pro plan, a Paychex representative can guide you through the entire setup process. Note that the level of personalized guidance you receive may depend on which Paychex plan you choose.
Customer Service
Among the reasons Paychex stood out to us is the depth of its customer support options. The company offers access to certified payroll professionals 24 hours a day, seven days a week, via phone or email. For higher-tier users, a dedicated account representative will serve as your main point of contact with Paychex. Moreover, Paychex's customer service representatives are entirely based in the United States.
In addition to phone and email assistance, Paychex's website has several valuable resources. For example, an online knowledge base for both administrators and employees features detailed answers to a wide range of questions. A company blog also dives into many trending topics in the payroll industry, with posts written by Paychex subject matter experts.
Limitations
Overall, we found that Paychex offers many desirable payroll and HR features, including some that are unique to the Paychex platform. Although we were able to get in touch with Paychex fairly quickly and love that it offers 24/7 customer service, we noticed that some customers complained about poor customer service in online reviews.
Another thing to note is that Paychex isn't as upfront as some other payroll providers when it comes to its pricing structure. Paychex is our pick for larger businesses due to the scalability of its plans and special productivity-enhancing features that ease the burden of payroll. However, because these plans can often be tailored to your business's individual needs, pricing isn't readily available on the company's website.
This lack of transparency adds complexity to the sign-up process because you need to contact a sales representative for a customized quote. A rep is also needed to schedule a detailed walk-through of the software. For a simpler experience and clearly advertised pricing, you may want to consider our review of OnPay.
Methodology
To determine the best payroll software, we researched and analyzed various products on the market. We considered each platform's payroll procedures, usability, reports, integrations and HR tools. We also looked closely at pricing and the different plans offered by each vendor, along with customer service reviews. We even interacted with customer support ourselves, in addition to participating in free trials and demos when possible. When searching for the top payroll service for larger businesses specifically, we looked for providers capable of serving sizable workforces with flexible plans that could increase productivity and incorporate HR tools and custom integrations.
FAQs
How long does Paychex take to pay?
Paychex takes several business days to pay when using ACH for direct deposits. However, Paychex also offers options for same-day processing and early access to funds for employees.
Are Paychex and Paychex Flex the same thing?
Paychex Flex is the name of Paychex's all-in-one platform, which combines payroll processing, time and attendance tracking, benefits administration, and HR management in a single system. Several previous Paychex products, such as the Oasis HR platform, have been folded into the flagship Flex service.
Does Paychex have phone assistance?
Yes, Paychex has phone assistance, with customer service representatives based in the U.S. and available to help 24/7.
Bottom Line
We recommend Paychex for …
Larger businesses that want access to tailor-made plans packed with unique features that enhance payroll productivity and reduce errors.
Businesses with the means to hire software developers who can build on Paychex's API library.
Business owners who want to run payroll and view reports on the go with a dedicated mobile app.
We don't recommend Paychex for …
Business owners who prefer to test software before signing up for a paid plan.
Companies seeking online pricing without the need to speak to a salesperson.

Paychex Payroll Software and Pricing
The Verdict
Paychex is the best online payroll option for large businesses, because it can serve businesses with up to 1,000 employees, handles all payroll and payroll tax responsibilities, is available in multiple plans, and integrates with several other services

Mike Berner is a staff writer at business.com and Business News Daily specializing in finance. Mike has a deep background in the financial world, having written hundreds of articles and blog posts on financial markets, business and investing. He holds a B.A. in economics and a B.B.A. in finance, both from the University of Massachusetts, Amherst. Prior to his writing career, he performed quantitative analysis and research as an economic analyst.