Whether you have one employee or 1,000, Paychex Flex helps human resources leaders manage complex payroll and HR tasks. Thanks to its scalable platform and self-service tools, it's the best online payroll solution for large businesses.
Pros
Businesses can integrate payroll and HR services using Paychex's library of application programming interfaces (APIs) and developer resources.
The Paychex Flex app lets employees access pay stubs and tax forms while employers can handle payroll from mobile devices.
Scalable plans and add-on features support enterprise-level employee management, business insurance and benefits administration needs.
Cons
Accounting software integrations cost extra with certain Paychex Flex plans.
Paychex does not list fees for other HR services and add-ons on its website.
The company receives fewer satisfactory user reviews than competitors, with several complaints about ineffective customer support.
Processing payroll and managing employee benefits is challenging for enterprises of all sizes, but especially large ones. Paychex helps by providing top-notch payroll specialists and human resources (HR) services. Organizations can focus on improving staff experiences, not fiddling with tax filing, questions about paycheck stubs or time-tracking mistakes. We especially like its customizable plans with self-service options for employees and contractors. Indeed, Paychex Flex is an excellent payroll platform for larger businesses.
Paychex Payroll Software Editor's Rating:
9 / 10
Pricing

8.9/10

Customer service

9/10

Third-party integrations

9.3/10

User interface

9.1/10

Added HR tools

9/10
Why We Chose Paychex as Best for Larger Businesses
Although Paychex's Paychex Flex program works equally well for small and midsize businesses (SMBs), it's rare to find payroll solutions that support up to 1,000 employees. Other payroll and HR services like Patriot Software serve small companies with less than 100 workers. Paychex is a full-service payroll platform that automates your payroll processing and tax filing systems even if you have hundreds of workers on staff.  
While competitors integrate with popular accounting software geared toward small businesses, such as QuickBooks Online, Paychex connects to hundreds of programs, from Sage to Xero. Paychex provides a complete HR platform with several unique productivity features too. These Paychex Flex tools and capabilities make Paychex the best payroll software for large companies.
Subscriptions include employee onboarding tools like online payroll forms and health insurance enrollment. Paychex can handle your new hire reporting for employees and contractors as well. In addition, we appreciate the many HR features that come with the higher plans, such as employee screening to improve hiring processes and company handbook services for complying with state and federal policies. 
You can also use Paychex for employee benefits administration and it has several types of business insurance. Notably, businesses can consolidate vendors by choosing Paychex not only for their payroll and HR needs but also for cyber liability insurance or to process unemployment claims.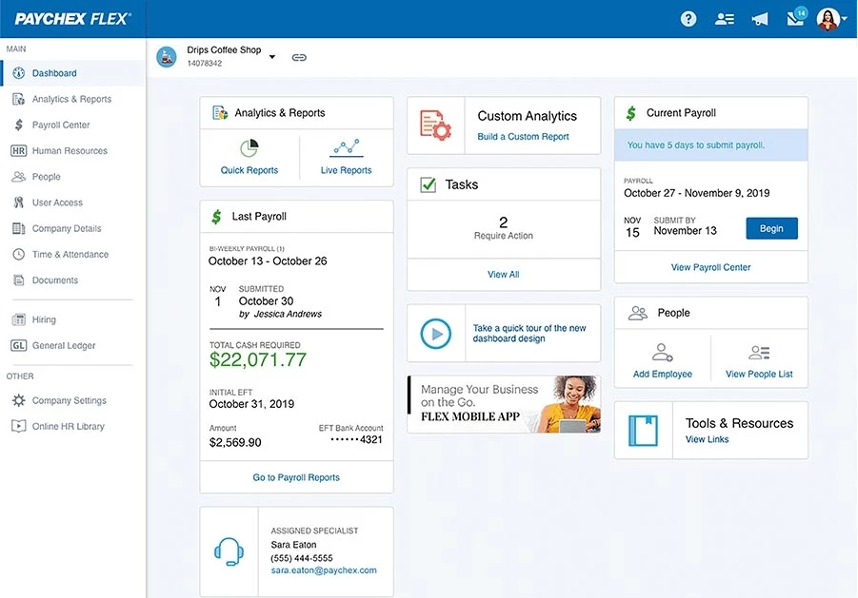 See essential payroll details from your main dashboard. Source: Paychex
Paychex Flex Select and higher tiers include a learning management system. With one onboarding, training and development platform, employers can create seamless and engaging employee experiences, leading to better loyalty and retention rates.
Ease of Use
Employers and employees can access Paychex Flex through a web browser or mobile app. We explored the system in both roles for our hands-on Paychex assessment. The Paychex Flex app for iOS also works on Apple watches, a unique feature only offered by Paychex and ADP. 
We found the platform's backend interface relatively user-friendly. The dashboard displays key payroll data, including total cash required for the last payroll run and information on the next payroll cycle. Similar to other top-rated payroll solutions, the main screen lists your payroll specialist and tasks. It also shows your labor costs and has a button to add an employee to the system quickly. 
Also, we like that we could reorder and manage tiles on the dashboard, an option rival vendor Gusto does not offer. Users can adjust the payroll center's grid, layout and filters to enter payroll data in their preferred format. We started the payroll process by entering the hours worked for each employee. The pay rates auto-populate, but we could make pay adjustments during each pay period. Alternatively, you can set up recurring amounts.
With the Paychex Flex app, we could run payroll from an iOS or Android phone, which you can't do with competitor Rippling. The mobile app felt a little busy on the employee end, but it let us manage and reorder tiles to personalize our space. We could view payroll history, including paystubs, tax documents and time tracking tools.
Paychex Features
Paychex provides many online payroll features and HR services for larger businesses. The specific payroll and HR tools vary by subscription, so working with a vendor salesperson is vital to ensure the options you need are included with your plan.
Enterprise-Level Integrations
While SMBs benefit from accounting software integrations, corporations may need to embed their payroll solution into legacy systems. Paychex stands apart from competitors by offering an API Developer Center and documentation, allowing information technology teams to automate and standardize integrations. It features more than 250 integrations with accounting, attendance tracking and HR services, including connections with When I Work and Intuit QuickBooks Online. [See our QuickBooks review and Sage review to find out why they're great accounting software options.]
While Paychex works best for larger companies, Patriot Software or QuickBooks Payroll may be more suitable if you prefer an all-in-one accounting and payroll solution. Explore features and pricing in our QuickBooks Payroll review.
Paychex Flex Mobile App
Only a few top-rated payroll solutions have mobile apps for employees and contractors, including Paychex. Paychex Flex provides self-service through an online portal and has mobile apps for employers and employees. It lets administrators access reports, view payroll taxes, run payroll and more from anywhere. Meanwhile, your staff can see their pay stubs and health insurance information or update tax forms.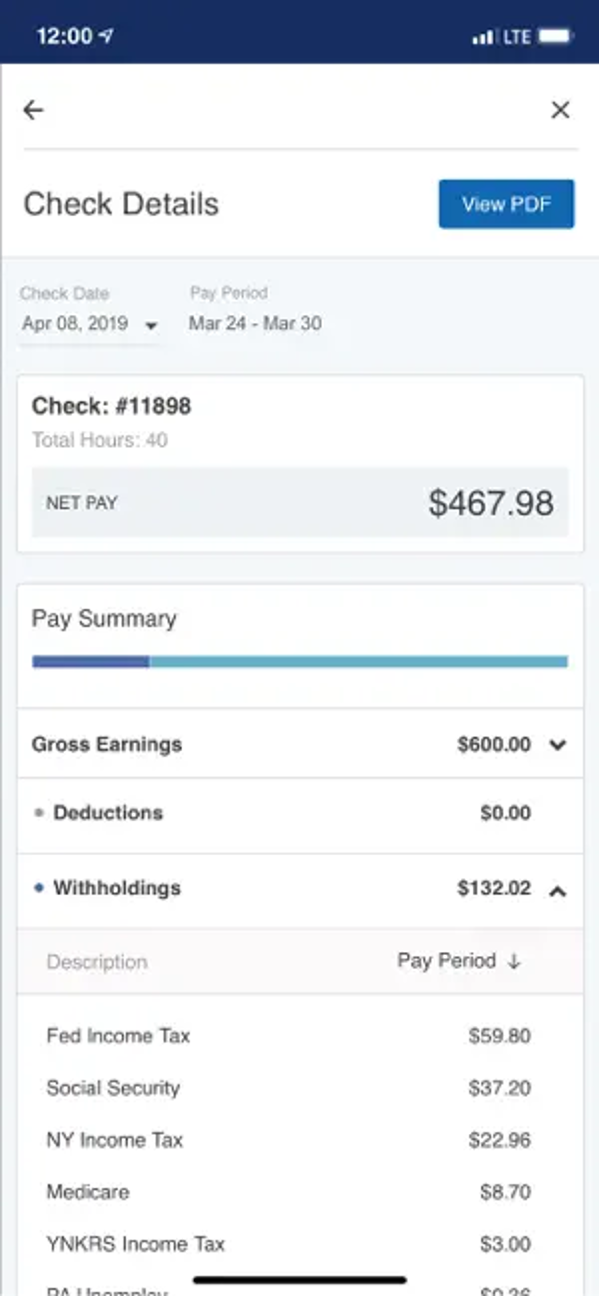 Employees can view pay stub details for each pay period from their cell phones. Source: Paychex
Employee Payment Options
The most common employee payment methods are direct deposit and printable paper checks, while a few payroll providers offer on-demand wages or paycards. Paychex caters to enterprises with diverse workforces, so it has several direct deposit alternatives, including payroll cards, e-checks service, pay-on-demand and 24/7 real-time payments. Companies can also open a Paychex bank account to use ReadyChex, which prints and mails paper checks.
Giving employees multiple payment options can help with workforce retention. Like Paychex, iSolved offers payroll cards, on-demand wages, direct deposit and paper checks. Discover more tools and benefits in our full iSolved review.
Payroll Services
As with most full-service payroll solutions, Paychex can manage payroll processing tasks easily. It calculates hourly, salaried and overtime wages for the hours entered automatically. Larger organizations may especially appreciate Paychex Pre-Check, which lets employees review scheduled payments for errors. This tool helps employees fix payroll discrepancies before HR runs payroll. Another unique feature is Paychex Voice Assist for a hands-free payroll process.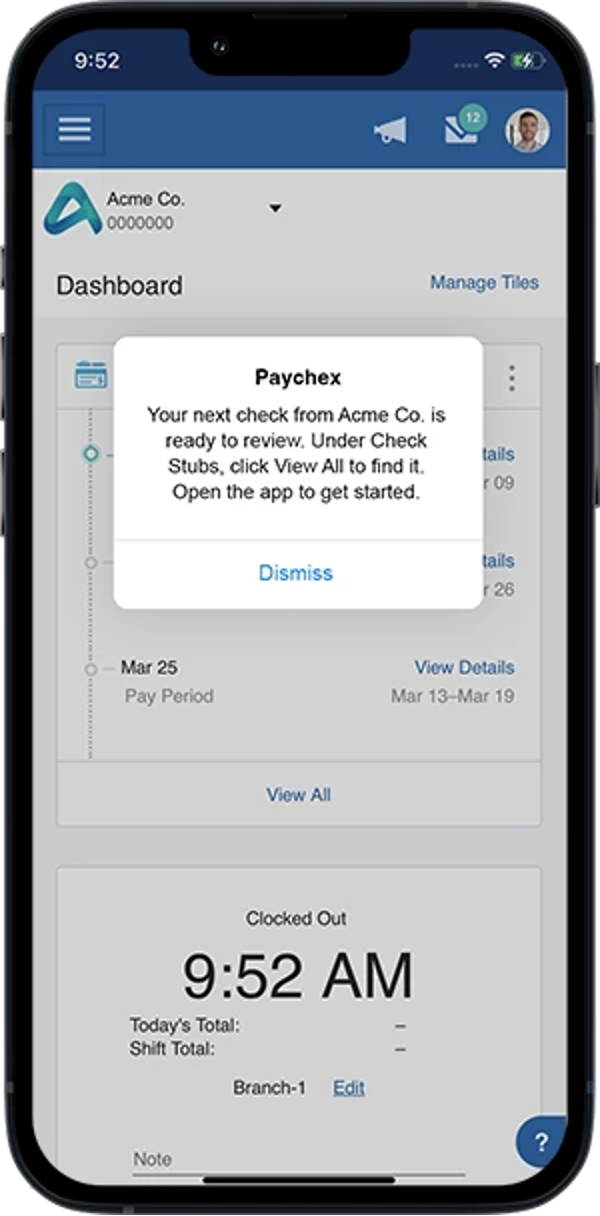 Paychex Pre-Check alleviates HR burdens by encouraging employees to review check stubs before employers process payroll. Source: Paychex
Payroll Taxes
Aside from Patriot Software's self-service option, all payroll services we reviewed, including Paychex Flex, can handle your tax filing needs. Like QuickBooks Payroll, Paychex offers a guarantee against mistakes in your payroll taxes and promises to pay any associated penalties if errors occur. The online payroll solution remits tax payments to the correct agencies and provides annual W-2 and 1099 forms.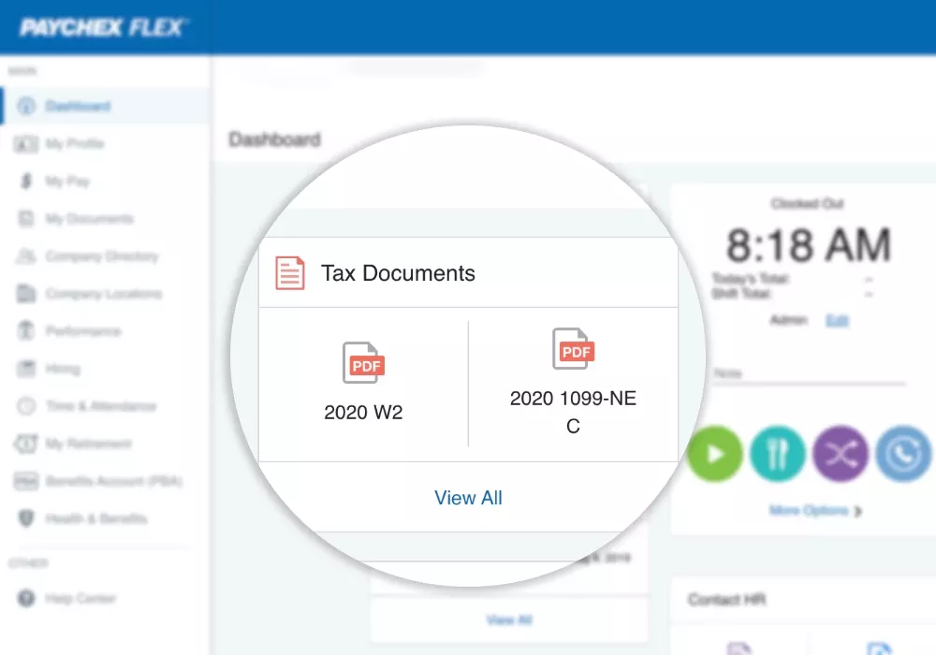 Employees can consent to receive their W-2 forms online and view tax documents from the online portal or mobile app. Source: Paychex
Payroll Reports
Although Paychex has fewer reports and data visualization tools than Rippling, most companies won't find it lacking. Paychex Flex provides more than 160 reports, including workforce analytics and benchmarking tools. We like that enterprise users can develop custom reports and share them with other administrators via a web browser or mobile app.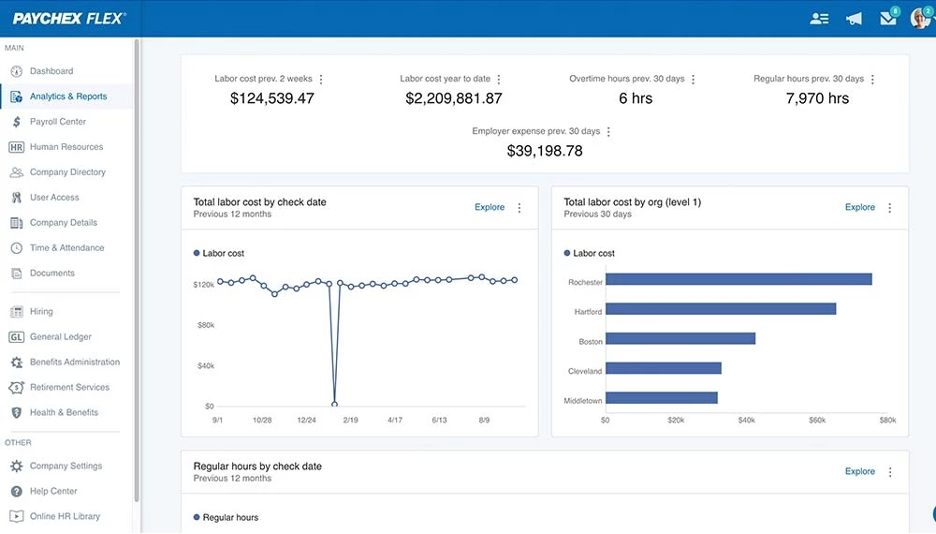 Gain valuable insights into total labor costs or break it down to understand how expenses vary by date or department. Source: Paychex
Employee Benefits Management and Additional Services
Similar to other business solutions, Paychex offers benefits administration and employee management tools. Employers can add HR features, business insurance and several other services, including payment processing, applicant tracking, health benefits and records administration. This scalability allows enterprises to select the options that meet their unique needs.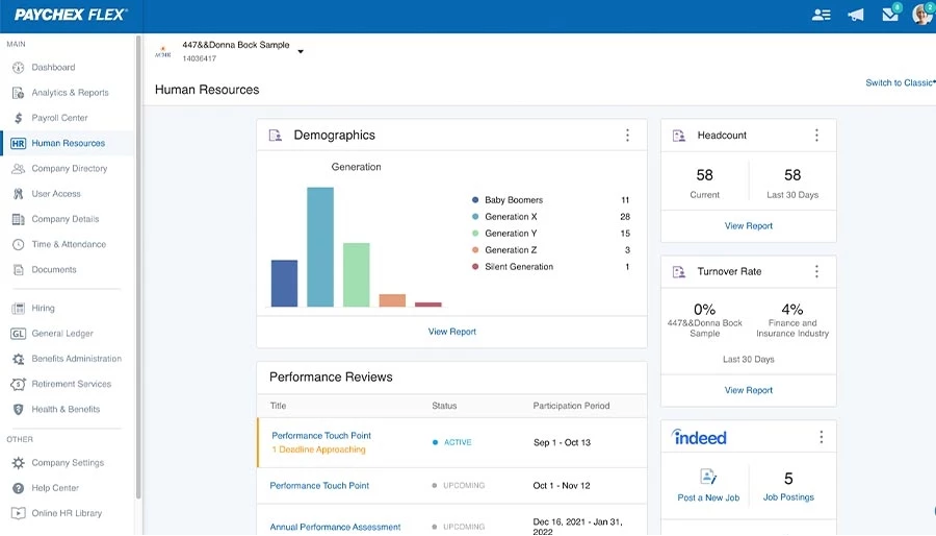 Manage your workforce performance and turnover from the same platform that you process payroll. Source: Paychex
Hiring and Onboarding
Not all payroll solutions offer employee onboarding support, so we love that Paychex Flex includes new hire reporting and digital onboarding tools with all plans. However, we were disappointed that document management costs extra as many payroll services like Zenefits and Gusto provide this feature on base packages. That said, larger organizations that want a complete HR solution will appreciate the ability to tailor a Paychex Flex subscription to suit their onboarding process. [If HR tools are especially important to you, check out our review of Gusto, which we named the best payroll provider for businesses seeking an HR integration.]
Paychex Flex Pricing
Paychex offers four payroll software subscriptions. The Paychex Flex Essentials plan starts at $39 monthly plus $5 per employee for small businesses with one to 19 workers. It scales to Paychex Flex Enterprise, with pricing available via a custom quote. All Paychex Flex plans include payroll processing, tax filing and the option to work with a payroll specialist. 
The upper tiers have a lower per-person price than competitors, but add-on fees may increase the monthly cost. A Paychex representative works with you to determine the suitable pricing structure and services. As a result, Paychex Flex features and costs can vary.
Here's how the Paychex Flex plans compare.
Paychex Flex Essentials: For $39 monthly plus $5 per person, Paychex includes employee self-service options, onboarding tools, an HR library, labor posters and new-hire reporting. 
Paychex Flex Select: This plan costs $47 monthly plus $3 per employee. It includes the same services as the Paychex Flex Essentials plan and adds a learning management system. 
Paychex Flex Pro: With a starting price of $95 monthly plus $3 per person, this version offers employee screening, unemployment reporting services, an employee handbook builder, general ledger service and integrations. The Paychex Flex Pro plan also includes guided setup. 
Paychex Flex Enterprise: This custom package includes performance management and employee training tools. It also gives HR leaders access to custom reports and data visualization features. 
Every Paychex Flex plan has several add-on options. Consequently, the starting price can increase significantly if, for example, you want to integrate your accounting software or store documents online. We found that Paychex is less forthcoming about plan features than competitors. Certain details on the Paychex website could be more explicit, such as the cost of paying contractors or international employees. 
Implementation and Onboarding
For large organizations, the payroll software implementation process can be lengthy. Fortunately, Paychex sales representatives will help your team gather the necessary payroll data and prepare to switch to an automated HR system. They will set up your account and determine if transferring information from your previous payroll solution is possible. If so, this process can take two days or up to two weeks. 
Paychex implementation specialists audit your payroll at the beginning of the year and run the first few payrolls on your behalf. We have yet to come across another payroll provider offering this service. Once your company completes onboarding, Paychex appoints dedicated payroll specialists to your team. Since support options vary by package, SMBs using Paychex Flex Select or Essentials may have different choices than Pro and Enterprise users.
Like with other payroll services, you can send employees an email invite to download the Paychex mobile app. This lets them set up direct deposit information, view health insurance options and use time-tracking tools.
Customer Support
Paychex provides access to certified payroll professionals 24 hours a day, seven days a week, via phone, chat and email. This 24/7 access distinguishes Paychex from competitors. Small business owners can also request a dedicated account representative, whereas upper-tier plans include one. Paychex says all agents are based in the United States. 
However, we have to note that Paychex has more Better Business Bureau complaints and poor user reviews than rivals. Users suggest agents are unfamiliar with payroll processing and tax filing methods, resulting in numerous errors and unresolved issues. High turnover rates mean your dedicated rep may change frequently. 
Although Paychex also receives many positive reviews, we found these customer service trends concerning. We recommend speaking with your legal department and working closely with Paychex to ensure your contract and service reflect your expectations.
Limitations
Paychex indeed enables large organizations to realize the benefits of paperless payroll, but it lacks the pricing transparency offered by peers like OnPay. As noted in our OnPay review, that vendor lists all features and functions clearly, so you're not confused about what you're getting or at what cost.
Paychex's customer service issues and fewer automation features than rivals also gave us pause. Although its customer support isn't available 24/7, our review of Rippling found that it provides more integrations and workflow automation than Paychex. Notably, ADP offers the best of both worlds, with round-the-clock customer care, scalable service plans and automation with ADP Workforce Now plans. Explore pricing and features in our ADP payroll review. 
Methodology
We assessed dozens of payroll software systems to identify top-rated service providers. Our analysis involved researching user reviews, speaking with vendor representatives and support agents and testing payroll tools. We considered factors like ease of use, integrations and HR features. When determining the best solution for larger businesses, we evaluated whether the services are able to assist HR professionals with complex payroll tasks while handling sizable workforces. 
>> Read next: How to Choose a Payroll Software Provider
Paychex FAQs
Paychex takes two business days to pay direct deposits. However, the payroll provider offers faster alternatives like same-day automated clearing house processing and on-demand wages.  
In some cases, Paychex may charge fees for filing annual W-2 and 1099 forms with the IRS. Costs typically include a base price for up to 20 forms and a handling fee. Paychex professional employer organization (PEO) clients, however, do not incur additional expenses for W-2 forms. Learn more in our Paychex PEO review.
Paychex users can connect their payroll software with QuickBooks Online through the Paychex general ledger integration. This option is an add-on to the Paychex Flex Essentials and Select plans but comes standard with the Pro package.
Bottom Line
We recommend Paychex for …
Corporations that want API access for a fully integrated technology stack.
Larger businesses looking for a single-vendor HR and payroll solution.
Companies that need mobile apps for employees and HR professionals.
We don't recommend Paychex for …
Organizations that want advanced automation tools for streamlining workflows.
Business owners seeking an all-in-one accounting and payroll system.
HR professionals that prefer a self-guided implementation solution.