Paychex's full-featured PEO service is ideal for midsize businesses looking for personalized coverage on a large scale. Its HRO services are ideal for small businesses, too, as they provide several HR services with attentive customer support.
Pros
Paychex can help with payroll processing and tax administration across various states.
Paychex can assist businesses with dispersed teams with legal compliance.
Companies can customize their Paychex solution based on what HR services they need.
The Paychex Flex platform is cloud-based, allowing employers and employees to access important HR information from any location
Cons
Paychex doesn't list HRO or PEO pricing online; you must go through the sales process to determine whether the services will fit within your budget.
Businesses must have at least five employees to use Paychex as a PEO.
The Paychex Flex system's custom reporting features aren't very intuitive.
Paychex is our choice for the best professional employer organization (PEO) and human resources (HR) outsourcing (HRO) service for remote teams. Paychex provides comprehensive HR services, extensive training resources and personalized solutions – all of which are accessible from a user-friendly, cloud-based platform. In addition, Paychex offers a mobile app, so you and your employees can access PEO services while on the go. And speaking of flexibility, the vendor's flexible contracts and pricing structures are convenient for growing businesses with changing HR needs. Paychex also integrates with more than 250 third-party applications, making it ideal for small companies that want to keep some of their current business software intact while outsourcing other HR functions to Paychex.
Paychex PEO Service Editor's Rating:
9.6 / 10
Price/value

9.3/10

Features

9.5/10

Customizations, add-ons and integrations

9.5/10

Ease of use

9.4/10

Customer service

9.2/10
Why We Chose Paychex for Remote Teams
Businesses that have remote or dispersed team members face unique HR challenges. We believe Paychex is a top HR solution that can address those issues. For example, Paychex provides comprehensive HR services throughout the U.S., like payroll processing, payroll tax administration, benefits administration, training and development, and legal compliance assistance. With Paychex as your HR partner, we love that business owners can rest assured that they're complying with federal and state laws wherever they and their employees operate.
Since Paychex offers PEO and non-PEO HR outsourcing plans, employers can choose a plan that best meets their current needs and then modify their plan as those needs change.
We also like that Paychex offers a cloud-based platform. This, coupled with its mobile app, gives businesses the level of flexibility they need to accommodate remote and dispersed teams.
As your organization grows and its HR needs change, you can easily add services to your Paychex solution. In fact, some organizations switch between top HRO services and the best PEO services as needed.
Ease of Use
We found Paychex's flexibility makes it an ideal HR partner for businesses of (almost) all sizes. The vendor is an especially solid option for companies with remote or dispersed teams that are looking for HR, payroll and benefits support across various locations. Furthermore, instead of getting bogged down with services you don't need, we like that you have the freedom to choose the functions that work best for you and your remote staff.
Regardless of the services you choose, Paychex's Paychex Flex dashboard is straightforward and easy to navigate. We appreciate that you can view HR details – such as payroll, user access, hiring information, a general ledger, COBRA information and benefits – in one place. Quick access to this content is especially vital for employers who manage remote team members across various locales.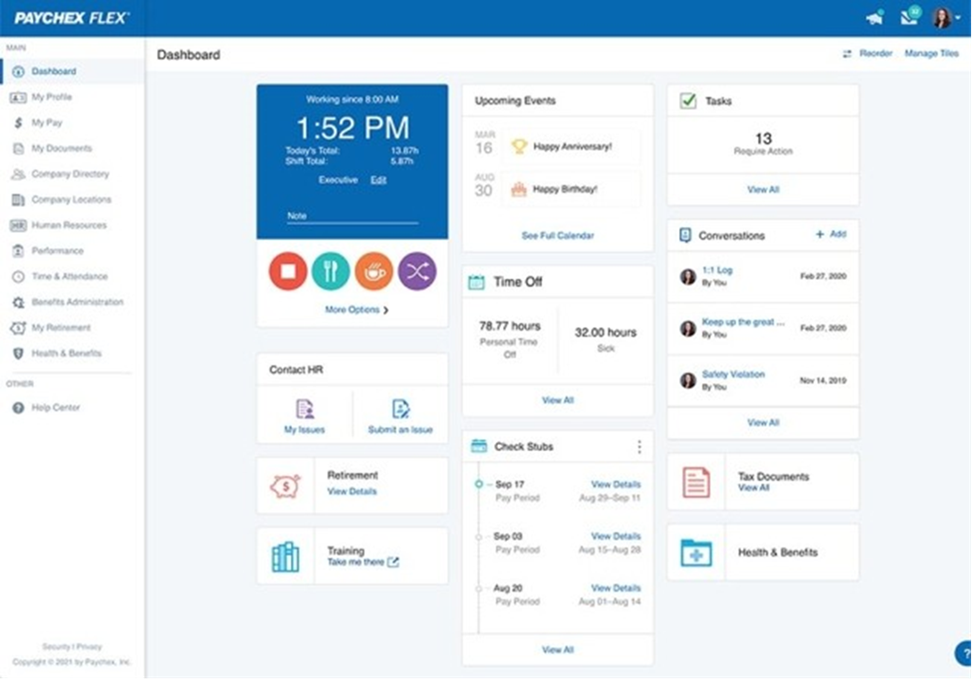 The Paychex Flex dashboard provides the most important information at a glance with options to click deeper. Source: Paychex
We like that the vendor uses the platform to provide self-service features for employees, giving team members control over their HR information and ensuring they can access what they need, wherever they are, without issue. Paychex also has Android and iOS apps that are on par with competitors' offerings for easy mobile access.
Although Paychex offers a comprehensive set of HR services, there is a good chance your organization will want to use other business software too. We love that it's easy to integrate programs, as the Paychex Flex platform is compatible with various third-party applications.
Paychex Features
Paychex has some of the best services available nationwide of any PEO or HRO we reviewed. Notably, you get to choose from a broad list of functions that are helpful while trying to accommodate a remote or hybrid workplace. We particularly like how you have the flexibility to scale Paychex's PEO and HRO services as your business grows or changes.
Although the specific services you have access to will depend on your specific PEO or HRO agreement with Paychex, here are a few of the many features they offer.
HR Services
Paychex provides your business with an HR consultant who can help develop your company's HR policies. In the course of our investigation, we found that the vendor and its team can assist with employee handbook and policy development, new-hire reporting, best employment practices, compliance services, performance evaluations, behavioral assessments, and employee termination and dispute assistance. It also offers recruiting assistance, onboarding tools and employee training.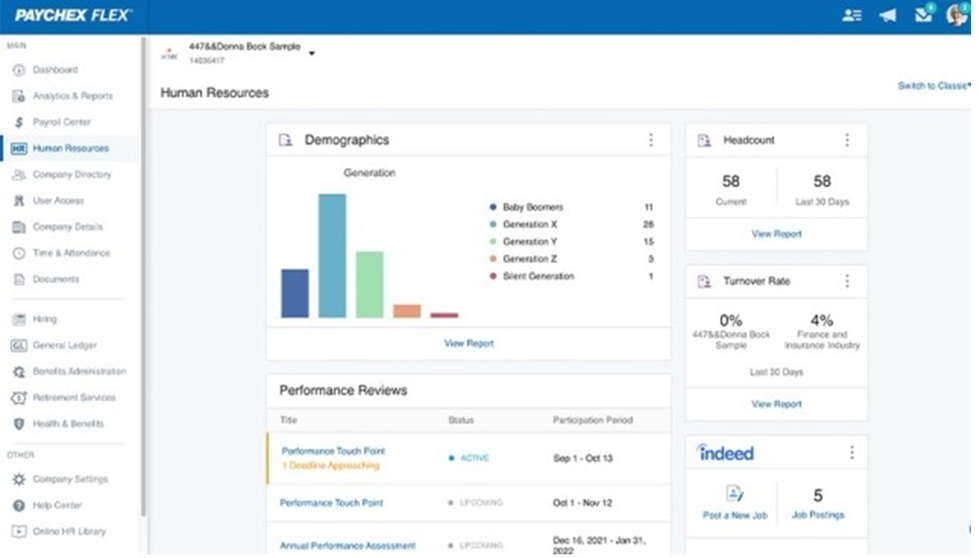 Paychex collects a variety of employee information that can be used to enhance performance and DEI initiatives. Source: Paychex
We especially like that Paychex can help expedite the remote employee onboarding process, thanks to features such as electronic documents and e-signatures, which can save your small business time and money and reduce the potential for error. The onboarding process is scalable, so you can add or remove certain tasks based on your company's needs. Paychex also has document storage capabilities, so you can securely store your team's important HR documents in the cloud – a requirement for complying with specific labor laws across different cities and states.
Risk and Compliance
One of the Paychex services we found to be most valuable for organizations with remote teams is its risk and compliance assistance. We like that the vendor can aid businesses with HR-related challenges across various states and locations. For example, the company can help you maintain legal compliance with federal and state laws, which is ideal for employers with dispersed teams. [Check out the most common HR compliance challenges.]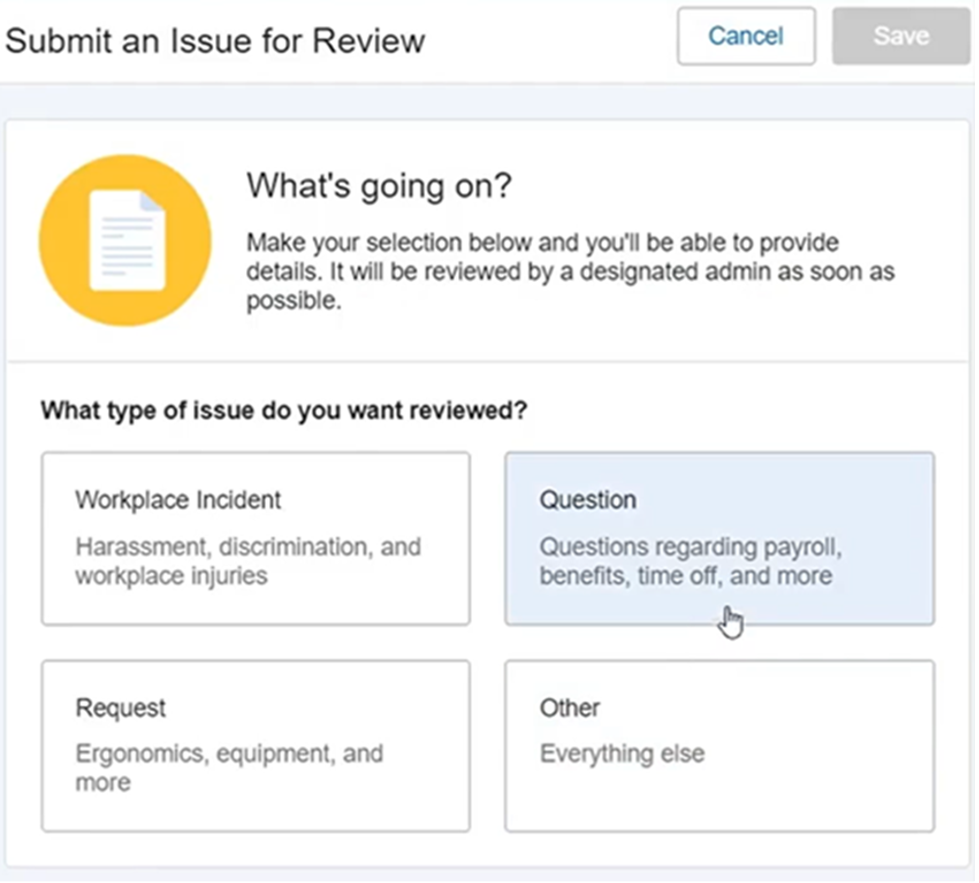 Employees can quickly and conveniently use the Paychex Flex platform to raise concerns to a designated administrator. Source: Paychex
Paychex offers workers' compensation insurance, COBRA administration, state unemployment insurance, OSHA and safety programs, custom employee handbook creation, drug screening assistance, automatic W-2s and 1099s, and Form 5500 filing. You also get access to essential HR and business forms, as well as printed and electronic labor compliance poster kits. Paychex even monitors current federal, state and local laws to help your company stay compliant.
Payroll and Taxes
Adhering to tax laws can be challenging when you have remote workers in various locations. Paychex helps ensure you make the correct payments to the appropriate agencies at the right times. The software processes your payroll and handles all of your federal, state and local payroll tax administration. You can choose to pay employees via direct deposit, and there are options for paperless pay stubs – both of which are ideal if your employees don't come to the office.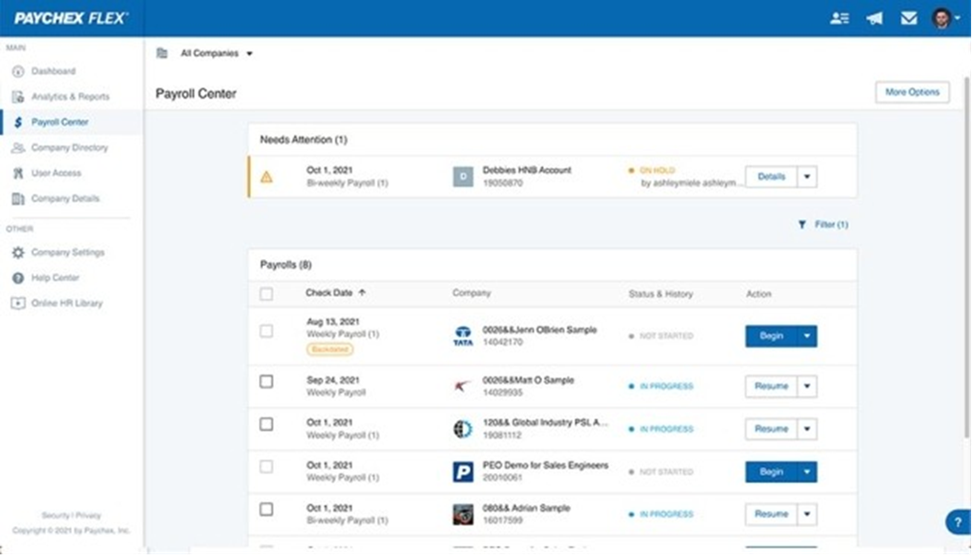 Paychex makes it easy to run payroll for your in-office, remote and hybrid employees. Source: Paychex
Paychex offers Paychex Voice Assist, which allows users to run hands-free payroll through Google Assistant. Learn more about this neat feature in our detailed Paychex Payroll review.
Employee Benefits
We like that Paychex can provide Fortune 500-level benefits to small businesses. You and your employees can choose from multiple health, vision and dental plans; 401(k) retirement plans; health savings accounts; flexible spending accounts; prepaid college funds; parking and transit plans; health and wellness coaching; financial wellness programs; and employee assistance programs (EAPs). These kinds of benefits, along with remote work opportunities, are especially great for attracting and retaining talent.
We like that Paychex can also work with your current brokers, and the company offers an added level of oversight with benefits functions like communications, recordkeeping, analytics and reporting, and automated renewal. [Find out exactly how PEOs can help with benefits administration.]
Since larger PEO vendors like Paychex technically have thousands of employees on their books, they can bargain with major health care providers and other business services for more benefits and lower rates.
Training and Development
When testing Paychex's services, we noticed the vendor has a learning management system (LMS), which can help you train employees and help your business maintain legal compliance. Team members can access virtual courses to stay current on job certifications and compliance training in their respective locations. Paychex's virtual learning services have reporting capabilities as well. This was competitive with other PEOs on the market.
Paychex can also facilitate employee performance reviews, employee training tracking and employee feedback.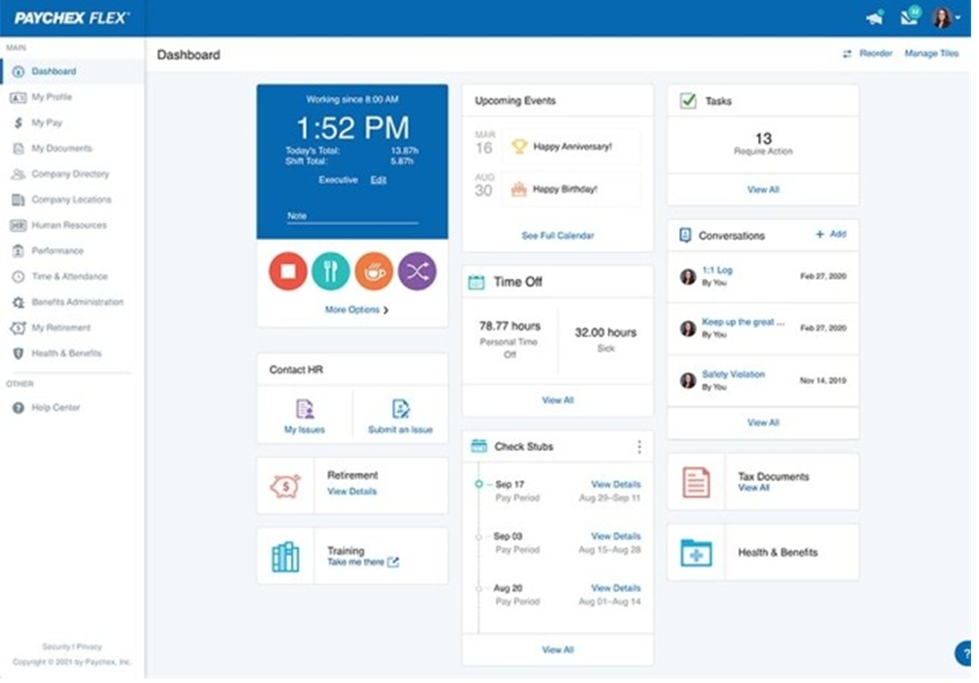 Employees can view and manage their own HR information and tasks through the Paychex platform.
Source: Paychex
Paychex Pricing and Plans
Paychex has flexible pricing options that are great for any organization, regardless of whether you have in-office staff or remote workers. We love that, unlike some competitors, Paychex doesn't have minimum-salary requirements, and there is no required contract length; the Paychex service agreement just requires a 30-day cancellation notice.
Paychex offers PEO and HRO plans, but the requirements for each are slightly different. We appreciate that the company allows clients to transition between plans based on their needs.
Paychex PEO contract requirements: To be eligible for Paychex's PEO services, you must have at least five employees. A representative we spoke with also mentioned that the minimum number of employees needed to qualify for medical plans is typically around 10 people. When partnering with Paychex as a PEO, you can pick some of the Paychex services you want; however, you must use the company's own payroll service. This is a requirement for nearly every PEO we reviewed.
Paychex HRO contract requirements: If you partner with Paychex without the PEO model, you have a little bit more flexibility. For example, select HRO plans don't require you to use Paychex's payroll. The HRO plans are also available to businesses of all sizes, including those with just one employee. (Keep in mind, though, that the medical plan requirement of 10 team members may still apply.)
We like that Paychex's HR outsourcing plans are scalable; as an organization grows and its needs change, company leaders can add services or products. This is one reason Paychex is great at serving businesses of different sizes and complexities.
However, because there is some flexibility in the specific services you choose, you will need to contact the vendor directly for a custom quote based on your particular needs. Based on our research, prices for Paychex's plans generally start at around $39 per month, plus $5 per employee.
Implementation and Onboarding
When we tested the Paychex Flex platform, we found the implementation process to be on the same level as other solutions in the industry. We like that a sales representative can walk you through the process of selecting the right Paychex plan for your company, and then the intuitive online platform makes it simple to quickly get your company's workers up to speed.
One of Paychex's advantages is that it can tailor its services, as well as its implementation, to individual organizations. Every small business is built differently (e.g., office staff vs. remote workers vs. hybrid workplace), and Paychex's services reflect that.
During or after the initial implementation, you can integrate Paychex with other third-party applications you may be using to run your business. Paychex can sync with more than 250 popular programs, so there's a good chance you'll be able to streamline business functions once you've successfully integrated the platform with your other software. While some rivals boast more than 500 integrations, others have as few as 40, so we believe Paychex's integration capabilities are pretty competitive.
Customer Service
The level of customer support you can access will depend on your agreement with Paychex. When you become a Paychex PEO client, you have access to a team of support professionals: a relationship manager/client advocate, an HR Business Partner, a payroll specialist and an employee benefits specialist. These experts will help you develop and implement new HR practices in your business. This level of attention is a huge asset for organizations with remote or hybrid teams, which often need varying policies based on employee location. Your Paychex team will be available to answer your questions by phone and email.
If you partner with Paychex under an HRO model, you may not have access to as many support specialists as a Paychex PEO client would have, but some of the HRO plans include access to an HR professional for HR support assistance. Paychex also offers around-the-clock service centers that you can call if needed.
Paychex is accredited by the Better Business Bureau and has an A+ rating with the agency, which is better than many of the other PEOs we analyzed. It is also accredited by the IRS and the Employer Services Assurance Corporation, which leads us to believe that the company truly cares about providing excellent PEO support to its customers.
If industry-specific customer support is a top priority for you, check out our review of TriNet, which really sets itself apart in the customer service department.
Limitations
One potentially significant limitation when considering Paychex as an HR partner is that the vendor doesn't list pricing for its PEO or HRO plans online. Instead, you need to contact a representative to receive a custom quote. While customized pricing can be beneficial – especially for small businesses that need to outsource only a few functions – it can be inconvenient for business owners who want an immediate idea of how much a service will cost them. If you're looking for an HR solution with transparent online pricing, see our review of Zenefits.
Another potential downside of Paychex is that you must have at least five employees on staff to use its PEO services. When we spoke with a company representative, we were also told that the minimum number of employees needed to qualify for medical plans is typically around 10 people. While this may not be a deal-breaker for a lot of organizations, it is a consideration for smaller businesses, especially startups. Consider our review of Justworks for a PEO that excels at accommodating smaller companies.
Methodology
We researched and analyzed dozens of PEOs and HROs to identify the best HR services on the market. We looked at pricing, contract requirements, bundled vs. a la carte features, minimum requirements, employee benefits administration, time-tracking tools, payroll processing and taxes, administrative HR functions, talent management features, integrations, legal risk and compliance assistance, accreditations, and customer service.
As part of our investigation, we watched product videos and conducted demos when possible. When searching for the best PEO solutions for remote teams specifically, we prioritized payroll processing, tax assistance, legal risk and compliance assistance, usability, scalability, paperless and mobile services, and customer service.
Paychex FAQ
Paychex facilitates HR services. For employees, the vendor provides a platform through which workers can track their hours, request and manage time off, view and modify their benefits, view pay information, and more – anytime, anywhere. Paychex also offers iOS and Android mobile apps, which employees can use to manage similar functions instead of relying on a computer.
Yes, Paychex does direct deposit. Once an employee connects their bank account information via the Paychex Flex platform, they can have their paychecks deposited directly into their bank account each pay period.
Bottom Line
We recommend Paychex for …
Companies with remote or hybrid teams.
Small to midsize businesses.
Organizations looking for payroll and tax assistance.
We don't recommend Paychex for …
Businesses with fewer than five employees.
Companies that want to see transparent online pricing.
Very large enterprises.