Paychex PEO Review and Pricing
Paychex is our choice as the best professional employer organization (PEO) for remote teams. Paychex provides comprehensive HR services, extensive training resources, and personalized solutions – all of which are accessible from a cloud-based platform. In addition, Paychex offers a mobile app, so you and your employees can access your PEO services while on the go. Its flexible contracts and pricing structures are convenient for businesses as they grow and their HR needs change.

Paychex PEO and Pricing
The Verdict
Paychex's full-featured PEO service is ideal for midsize businesses looking for personalized coverage on a large scale. Its HRO services are ideal for small businesses, too, as they provide several HR services with attentive customer support.
Paychex PEO Editor's Score: 9.6/10
| | |
| --- | --- |
| Price/value | 9.7 |
| Features | 9.8 |
| Customizations, add-ons and integrations | 9.6 |
| Ease of use | 9.6 |
| Customer service | 9.2 |
Why We Chose Paychex PEO for Remote Teams
Businesses that have remote or dispersed team members face several HR challenges, and Paychex is a top PEO service to solve those needs. For example, Paychex offers comprehensive HR services throughout the country, like payroll processing, payroll tax administration, benefits administration, training and development, and legal compliance assistance, so you can rest assured that you are complying with federal and state laws wherever you and your employees operate.
We also like that Paychex offers a cloud-based platform. This, coupled with its mobile app, gives businesses the level of flexibility they need to accommodate remote and dispersed teams.
What We Like About Paychex PEO
Paychex can help with payroll processing and tax administration across various states.
Paychex can help dispersed teams with legal compliance.
Paychex PEO users can customize their PEO servies based on what HR services they need.
What We Don't Like About Paychex PEO
Paychex doesn't list pricing or PEO service plans online. You must go through the sales process to know whether it will fit within your budget.
Businesses must have at least five employees to use Paychex PEO.
Ease of Use
We found Paychex's flexibility made it an ideal partner for businesses of all sizes. This PEO is an especially solid option for businesses with remote or dispersed teams that are looking for HR, payroll and benefits support across various locations. Instead of getting bogged down in services you don't need, we like that you have the freedom to choose the ones that work best for you and your remote staff.
Paychex provides an easy-to-use, cloud-based platform that employees can access from a wide range of devices and locations. You do not have to purchase any software or hardware. Instead, the PEO partnership automatically comes with access to an HR platform that is simple for both employers and employees to navigate. This adds to the flexibility and simplicity of partnering with such an expansive organization.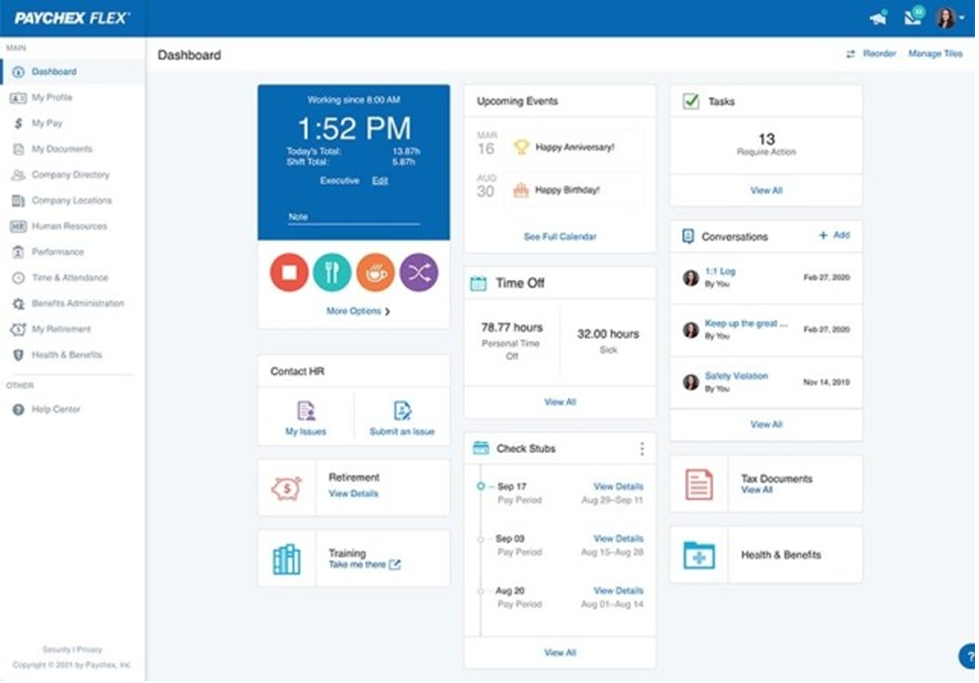 This is how the Paychex dashboard appears. Source: Paychex
Additionally, we like that Paychex's free mobile application allows employees to tap into their timecards and payroll information on their iOS and Android devices. This is great for employees who need to access their HR information from various locations.
Paychex can integrate with more than 200 third-party applications, further enhancing its usability.
Paychex Features
Paychex has some of the best nationwide services of any PEO we reviewed. Notably, you get a full selection of services that are helpful while trying to accommodate a remote or hybrid workplace. We like how you have the flexibility to scale Paychex's PEO services as your business grows or changes. Paychex also provides industry-specific HR and PEO solutions for franchises, hospitality, law offices, retail and other small business industries. This is a similar approach to what we found in our review of TriNet PEO.
When you sign up with Paychex, you can get the following services:
HR Services
Paychex provides an HR consultant who can help develop your HR policies. We found that the PEO can assist you with employee handbook and policy development, new-hire reporting, best employment practices, compliance services (if needed), performance evaluations, behavioral assessments, and employee termination and dispute assistance. It also offers recruiting assistance, onboarding tools and employee training.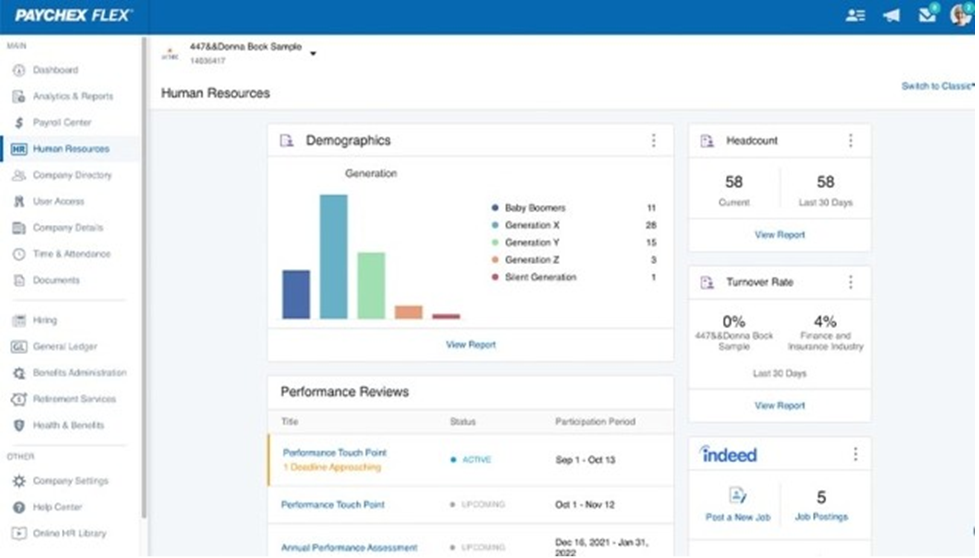 Paychex offers a variety of employee information that can be used to enhance performance and DEI. Source: Paychex
Risk and Compliance
One of the Paychex services we found to be most valuable for organizations with remote teams is its risk and compliance assistance. We like that it can help businesses with HR-related challenges across various states and locations. For example, it can help you maintain legal compliance with federal and state laws, which is ideal for employers with dispersed teams. This PEO provides return-to-work programs and workers' compensation. It can also assist in employee drug screenings, safety training and certifications, and OSHA compliance.
Payroll and Taxes
Adhering to tax laws can be challenging when you have remote workers in various locations. Paychex helps ensure you make the correct payments to the appropriate agencies at the right times. The software processes your payroll and handles all of your federal, state and local payroll tax administration. You can choose to pay employees via direct deposit, and there are options for paperless pay stubs – both of which are ideal if your employees don't come to the office.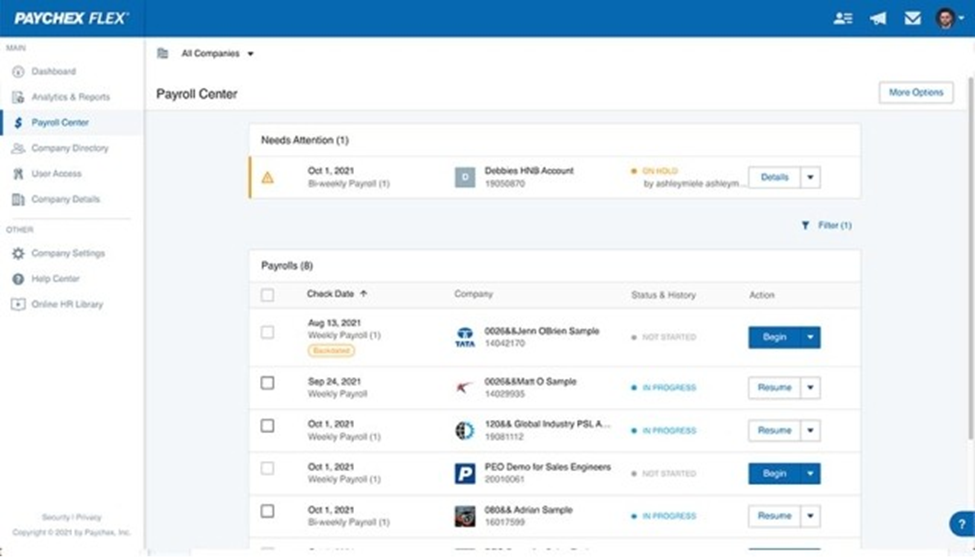 Paychex makes it easy to run payroll for your in-office, remote or hybrid employees. Source: Paychex
Employee Benefits
We like that Paychex can provide Fortune 500-level benefits to small businesses. You and your employees can choose from multiple health, vision and dental plans; 401(k) retirement plans; health savings accounts; flexible spending accounts; prepaid college funds; parking and transit plans; health and wellness coaching; and employee assistance programs. These kinds of benefits, along with remote work opportunities, are especially great for attracting and retaining talent.
Since larger PEO services like Paychex technically have thousands of employees on their books, they can bargain with major health care providers and other business services for more benefits and lower rates.
Training and Development
When testing Paychex, we noticed that it offers e-learning courses to help your employees develop their professional soft skills as well as technical and computer-related skills. Users can access thousands of online books, videos and courses about various topics, such as compliance, customer service, leadership and management. Paychex's virtual learning services have reporting capabilities as well. This was competitive with other PEOs on the market.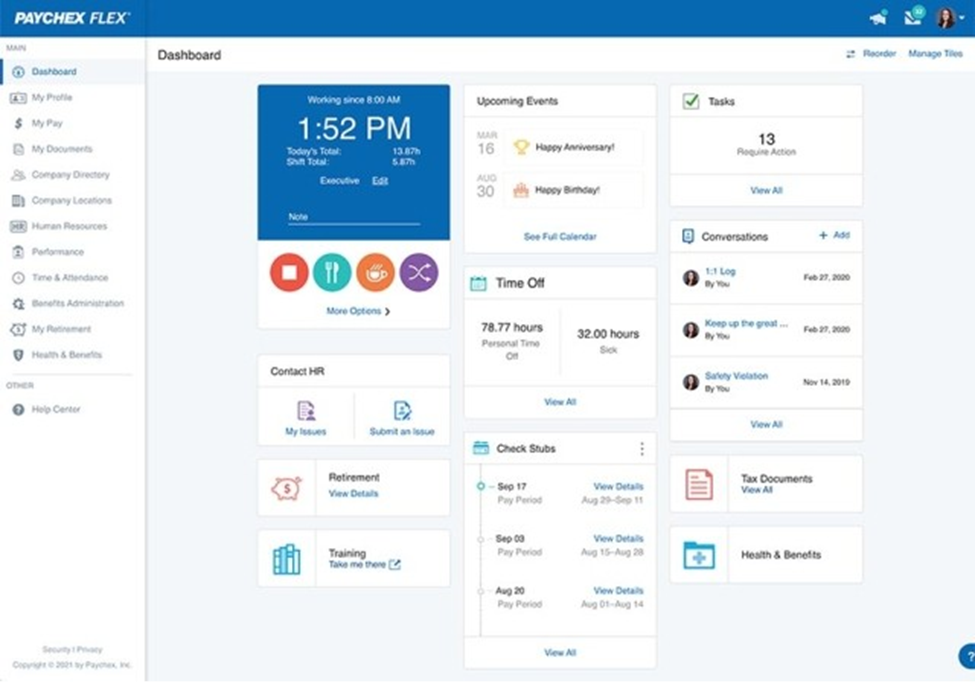 Employees can view and manage their own HR functions through the Paychex platform. Source: Paychex
Paychex Pricing
Paychex has flexible pricing options that are great for any organization, regardless of whether you have an in-office staff or remote workers. You must have at least five employees to qualify for Paychex's PEO services. A one-year contract is also required, but you aren't necessarily locked into using Paychex for one year; you can cancel by submitting a 30-day written notice. However, you may be subject to an early-termination fee.
One factor to consider is that, although you can pick some of the Paychex services you want, you must use the company's payroll service. However, this is a requirement for nearly every PEO we reviewed.
Because there is so much flexibility in the specific services you choose, you will need to contact Paychex directly for a custom quote based on your specific needs. Based on our research, prices for Paychex generally start at around $40 per employee per month.
Implementation and Onboarding
When testing out Paychex, we found it easy to get started on Paychex's system. We like that a sales representative will walk you through the process of signing up your company, and Paychex's intuitive online platform makes it simple to quickly get your company's workers up to speed.
Once the system is up and running, your employees will be able to view important payroll and benefits information, like 401(k) plans, health insurance plans, pay stubs and other crucial HR information – all via the Paychex online platform. Employees also have access to a wide range of HR-related online resources. This is on par with other PEOs we reviewed.
One of Paychex's advantages is that it can tailor its services, as well as its implementation, to individual businesses. Every small business is built differently (e.g., office staff vs. remote workers vs. hybrid workplace), and Paychex's services reflect that.
Paychex offers customized, bundled services, so you can ensure your company is getting the most out of Paychex's PEO service.
Customer Service
When you become a Paychex client, you have access to a variety of support professionals: a relationship manager/client advocate, an HR Business Partner, a payroll specialist and an employee benefits specialist. These managers will help you develop and implement new practices in your business. This level of attention is convenient for organizations with remote or hybrid teams, which often need varying policies based on employee location. Your Paychex team is available to answer your questions by phone and email.
Paychex is accredited by the Better Business Bureau and has an A+ rating with the agency, which is better than many of the other PEOs we analyzed. It is also accredited by the IRS and the Employer Services Assurance Corporation, which leads us to believe that it truly cares about providing excellent PEO support to its customers.
Limitations
One potential downside of Paychex is that you must have at least five employees on staff to use its PEO services. While this may not be a drawback for a lot of companies, it is a consideration for small businesses, especially startups. If you are looking for a PEO that can accommodate smaller businesses, consider our review of Justworks.
Another drawback is that Paychex doesn't provide any type of pricing or PEO package information online. While this isn't necessarily a deal-breaker, we like to see pricing transparency online. Having an idea of pricing can help businesses quickly determine if the service will fit within their budget, without having to call to get a customized quote.
Methodology
We researched and analyzed dozens of top professional employer organizations to identify the best PEO services on the market. We looked at pricing, contracts, minimum requirements, employee benefits administration, time-tracking features, payroll processing, administrative HR functions, talent management features, integrations, legal risk and compliance assistance, accreditations, and customer support. We watched product videos and conducted demos when possible. When looking for the best PEO solutions for remote teams specifically, we prioritized payroll processing, tax assistance, legal risk and compliance assistance, paperless and mobile services, usability, and customer support.
Bottom Line
We recommend Paychex for …
Companies with remote or hybrid teams.
Small to midsize businesses.
Companies looking for payroll and tax assistance.
We don't recommend Paychex for …
Companies with fewer than five employees.
Companies that need transparent online pricing.

Paychex PEO and Pricing
The Verdict
Paychex's full-featured PEO service is ideal for midsize businesses looking for personalized coverage on a large scale. Its HRO services are ideal for small businesses, too, as they provide several HR services with attentive customer support.
Skye Schooley is a human resources writer at business.com and Business News Daily, where she has researched and written more than 300 articles on HR-focused topics including human resources operations, management leadership, and HR technology. In addition to researching and analyzing products and services that help business owners run a smoother human resources department, such as HR software, PEOs, HROs, employee monitoring software and time and attendance systems, Skye investigates and writes on topics aimed at building better professional culture, like protecting employee privacy, managing human capital, improving communication, and fostering workplace diversity and culture.