Zenefits HR Software Review

Zenefits by TriNet is a digital human resources (HR) solution for small and midsize businesses, and its features make it especially useful for startups. For example, it has three tiered service plans, multiple add-on service options, and monthly and annual rates – all of which make it a great option for a business that needs an HR solution that can scale with them as they change and grow. Zenefits offers core HR services like HR administration, employee onboarding, benefits administration, payroll, time and attendance tracking, and performance management. Its mobile app and employee self-service features help put some of the HR functions in the hands of your employees, freeing you up to focus on your business. For these reasons and more, we selected Zenefits as the best HR software for startups.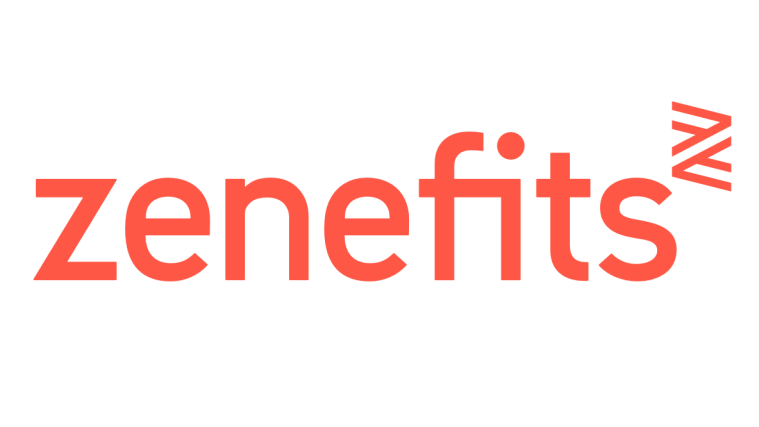 Zenefits HR Software
The Verdict
Zenefits is a digital HR solution that offers core HR functions to help your startup thrive, such as employee onboarding, time tracking, payroll and benefits administration. The software has a simple user interface.
Zenefits Editor's Score: 9.3/10
| | |
| --- | --- |
| Price/value | 9.8/10 |
| Features | 9.7/10 |
| Customizations, add-ons and integrations | 9.5/10 |
| Ease of use | 9.8/10 |
| Customer service | 7.5/10 |
Why We Chose Zenefits for Startups
We like the Zenefits platform as an HR solution for startups because of its wide range of services and features. It offers various plans and add-ons, so new businesses can easily select the plan that best fits their current needs. As their needs change, they can scale up or down to a different plan that accommodates that change.
Additionally, the Zenefits platform can support employees and contractors, which can be helpful for startups that need to manage and pay various types of workers.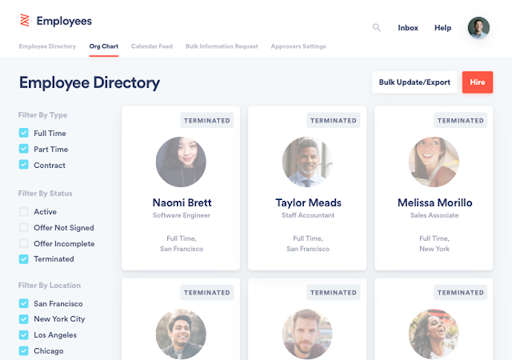 Zenefits has essential HR services to help you manage your workforce, such as recruitment tools, automated employee onboarding, performance management, employee scheduling, time tracking and payroll processing.
When offering employee benefits, you can partner with Zenefits certified brokers or use your own, giving you the flexibility to choose the best option for your business and budget. We also like that the platform is intuitive and has a simple user interface so that employers and employees alike can navigate it with ease.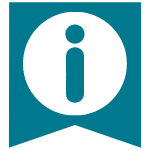 Did you know? Employees can use the mobile app to perform their own HR functions, such as clocking in and out, requesting time off, accessing the employee directory, viewing pay stubs, and managing their benefits.
What We Like About Zenefits
Zenefits is easily scalable, with multiple plans and add-on services.
It offers both self-guided and company-guided implementation processes.
The intuitive user interface is easy to navigate.
The software makes it easy to onboard new employees.
What We Don't Like About Zenefits
You're required to pay for at least five employees.
Many customer reviews claim that support can be tough to reach.
Usability
One of our favorite aspects of Zenefits is its ease of use. When we tested the software, we found the user interface to be modern and simple to navigate. You can automate HR processes, like employee onboarding, which helps speed up HR functions. Since employees have access to a variety of self-service features, they can take control over some of their HR functions as well. The Zenefits platform integrates with more than 40 third-party applications; while this may be fewer than some other platforms we reviewed, we still found it to be enough to simplify and streamline many business processes.
If you want to sample the software for yourself, you can easily create a demo account with Zenefits to test out the software risk free. You simply enter basic information like your name, contact information, and company name and size. Then Zenefits recommends certain features that are typically useful for a company of your size (e.g., automated onboarding, payroll, time tracking, employee benefits, HR support), but you can customize which features you want to try out. We like that you can view a guided tour that walks you through how to use each feature, or you can try out a live demo with sample data. This allows you to see how the platform works and assess whether it is right for you.
Zenefits Features
Zenefits offers the core HR features you need to manage your employees. Although the specific features you can access will depend on which plan and add-ons you sign up for, here are a few of Zenefits' top HR features.
Recruiting and Onboarding
If your business is in its growing stages, you know that recruiting and onboarding can be a laborious (yet essential) part of HR. Zenefits can help with this process by offering automated onboarding with digital offer letters and templates.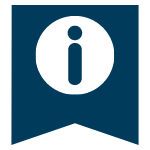 FYI: If you want your new employees to grow with your organization, you can take advantage of Zenefits' performance management tools, like performance reviews, goal setting and tracking, employee engagement surveys, and well-being assessments.
Similar to what other HR solutions offer, Zenefits has features like digital documents with e-signatures, an employee system of record, document management, and company directories and org charts. It also integrates with the background check service Checkr, so you can easily work that into your onboarding process.
Benefits Administration
Some HR software companies require you to use them as a benefits broker, while others let you supply your own broker. We like that Zenefits gives you the choice. It has certified brokers and can offer employee benefits like medical, dental and vision insurance; health savings accounts (HSAs) and flexible spending accounts (FSAs); commuter benefits; 401(k) retirement plans; life and disability insurance; and supplemental benefits. If you want to use your own benefits broker, that's totally fine, but that will cost you an additional $5 per employee per month.
Time and Attendance
When testing the product, we noticed that every plan comes with time and attendance features like employee scheduling and time-off tracking. In terms of scheduling, you can create and edit shifts, build employee schedules around specific times or roles, and receive automated schedule notifications. Employees can clock in and out, and you can track their locations with geolocation features. Zenefits also offers standard time-off features like PTO policy management, time-off requests and approvals, time-off blackout dates, and a PTO balance calculator. Zenefits automatically syncs with its payroll feature as well. These features are on par with the industry standard.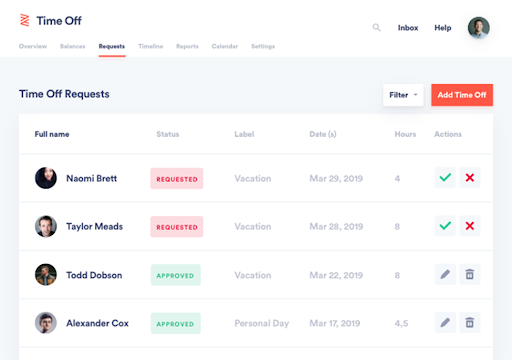 Payroll
If you choose to add Zenefits payroll to your HR plan, you'll get access to features like unlimited pay runs, direct deposit, garnishment support, tips reporting and general ledger reporting. We like that you can also set multiple schedules and pay rates, as well as handle contractor payments.
When we tested the software, we found the payroll solution easy to navigate. It has a calendar for pay periods and a list of paid and pending pay runs, and it displays a big banner notifying you when you need to approve your next pay run.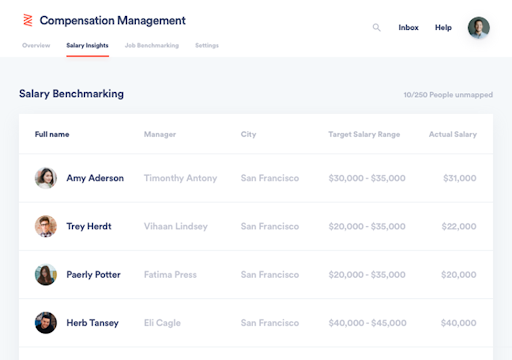 Zenefits Pricing
We like that Zenefits has multiple plans and add-on services, because that makes it easy for startups and growing businesses to find a plan that's tailored to them and then scale it as their needs grow. Unlike some other HR solutions, Zenefits offers both monthly and annual payment options, adding to its flexibility. If you want to compare Zenefits plans, we've outlined them for you here:
| | | |
| --- | --- | --- |
| Plan | Price | Services and features |
| Essential | $8 per employee per month (billed annually) or $10 per employee per month (billed monthly) | Automated onboarding, employee scheduling and management, time-off tracking, integrations, mobile app |
| Growth | $14 per employee per month (billed annually) or $18 per employee per month (billed monthly) | Everything in the Essentials plan, compensation management, performance management |
| Zen | $21 per employee per month (billed annually) or $27 per employee per month (billed monthly) | Everything in the Growth plan, well-being features, employee engagement surveys, people hub |
You can also add extra features to your Zenefits plan for an additional fee.
Payroll: $6 per employee per month
Advisory services: $8 per employee per month (billed annually) or $10 per employee per month (billed monthly)
Benefits administration using your own broker: $5 per employee per month
If you want to test out the software before you make a purchase, Zenefits offers a free demo that allows you to play around with sample HR information.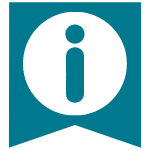 Did you know? Zenefits also supports contingent workers, billed at just $6 per month each. You are billed only for contingent workers who are active in the Zenefits system each month.
Implementation and Onboarding
We like that the Zenefits platform is quick to implement. For example, some small companies, like startups, can be up and running within just a couple weeks, depending upon how long it takes to import company information and policies.
You can use the self-service implementation method to set up your company and employee profiles, hiring process, policies, and more. Zenefits provides you with an implementation checklist. We found the implementation time frame to be competitive with what other HR solutions offer.
Larger companies can access a guided implementation process. This process involves working with a Zenefits implementation manager to map out an implementation and onboarding plan and set up the account. This process typically takes about four to six weeks, which is on par with the industry standard for larger organizations.
Customer Service
Zenefits offers a few methods for reaching customer support. Phone and webchat support are both available Monday through Friday from 7 a.m. to 4 p.m. PT. There is email support as well. We found this to be similar to what competitors offer.
We like that Zenefits offers advisory services, although this requires an additional monthly fee. The advisory services can help you with things like dealing with difficult employees or compliance issues, navigating overtime regulations, and handling wage garnishments and levies. This add-on is worth considering if you think you may need a little extra help with your HR tasks. 
Limitations
Although Zenefits has many great features, we did notice a few limitations in our research. For example, Zenefits has a five-employee minimum for its base plans and add-ons. You can still partner with Zenefits if you have fewer than five employees, but you'll still have to pay for at least five people. While this won't be an issue for most employers, it tends to shut out companies with only one or two workers.
Another notable drawback is Zenefits' customer support. Some customer reviews claim that the Zenefits support team can be difficult to get ahold of. If customer support is a top priority for you, you may want to check out our review of Gusto and our GoCo review. Both companies offer top-rated HR software with top-notch support.
Methodology
We researched and analyzed dozens of HR systems to identify the best HR software on the market. We looked at pricing, contracts, recruiting and onboarding capabilities, employee benefits administration, time-tracking features, payroll processing, performance management features, reports, integrations, legal compliance assistance, usability, and customer support. We watched product videos and conducted demos when possible. When looking for the best HR software for startups specifically, we prioritized features such as pricing, scalability, employee onboarding, usability, employee self-service, and payroll and benefits.
FAQs
Is Zenefits reliable?
Yes, Zenefits is a reliable company that offers a full suite of HR software features. It is often ranked by other organizations as a top contender in the HR software arena. Although its customer support may fall short at times, the software itself is reliable, intuitive and easy to navigate.
How quickly are direct deposit funds transferred with Zenefits?
If you are using direct deposit for employee payment, employees can expect to see the funds in their account roughly one or two banking days after the check date; however, exact deposit times will vary by bank. If direct deposit funds don't successfully post to a valid bank account in roughly five to seven banking days of submission, Zenefits will return the funds to the company payroll account.
Bottom Line
We recommend Zenefits for …
Startups and growing businesses.
Businesses that need to streamline employee onboarding.
Companies looking for an all-in-one HR software solution.
We don't recommend Zenefits for …
Organizations that need frequent and speedy customer support.
Businesses that have fewer than five employees and don't plan on growing.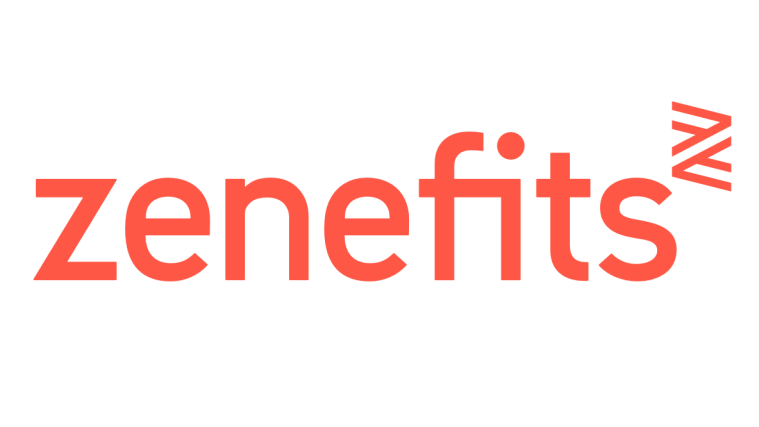 Zenefits HR Software
The Verdict
Zenefits is a digital HR solution that offers core HR functions to help your startup thrive, such as employee onboarding, time tracking, payroll and benefits administration. The software has a simple user interface.

Skye Schooley
business.com Staff
Skye Schooley is a human resources writer at business.com and Business News Daily, where she has researched and written more than 300 articles on HR-focused topics including human resources operations, management leadership, and HR technology. In addition to researching and analyzing products and services that help business owners run a smoother human resources department, such as HR software, PEOs, HROs, employee monitoring software and time and attendance systems, Skye investigates and writes on topics aimed at building better professional culture, like protecting employee privacy, managing human capital, improving communication, and fostering workplace diversity and culture.