Paycor is great HR software for viewing workforce analytics, key drivers, competitor benchmarks and projected workforce trends. It also offers recruiting, onboarding, benefits administration, payroll and performance management services.
Pros
Paycor offers analytics and charts that simplify deciphering workforce data.
The software can tell you which drivers are impacting certain workforce trends as well as how your business compares to benchmark industry data.
Paycor's robust tools make it easy to recruit and onboard employees, track time and run payroll.
The Paycor web app and mobile app are both straightforward to use.
Cons
It can take months to completely implement the Paycor software.
Some customer reviews claim that the vendor's customer service team is slow to respond.
Paycor is an advanced human resources (HR) solution that caters to small and midsize businesses (SMBs). It offers multiple tiered pricing plans that vary based on the specific HR services your organization needs. While there are many tools to help you quickly recruit and onboard employees, track employee hours and administer employee benefits and payroll, one area Paycor especially excels in is analytics. The program can provide a variety of charts and graphs that not only report on your current workforce data but also predict future workforce trends and performance drivers. You can view benchmark data to see how your company compares to the competition and access employee performance metrics to ensure your staff is performing well. It's for these reasons and more that Paycor is our top choice for businesses seeking the best HR software with stellar analytics tools.
Paycor Editor's Rating:
9.3 / 10
Price/value

9.4/10

Features

9.6/10

Customizations, add-ons and integrations

9.4/10

Ease of use

9.5/10

Customer support

8.5/10
Why We Chose Paycor for Analytics
We love that Paycor offers advanced analytics charts and graphs that not many competitors in the HR software space provide. Some of the platform's analytics that impressed us most are those that users can use to view workforce data broken down into specific categories. Paycor can also use previous data to create projected workforce trends, which is a unique way to help you plan for future events or modify your employee management. Additionally, we like that Paycor offers data benchmarking, meaning it can compare specific workforce trends from your company to industry standards.
When we tested the Paycor software, we also appreciated how it highlights drivers that may be impacting certain workforce trends in your organization. These are great tools to help you stay competitive and retain top talent. On top of these analytics assets, business owners and their HR teams can expect to find the features typically included in HR solutions, such as functions for hiring employees, tracking time, processing payroll and administering benefits. Altogether, they make for a well-rounded platform for businesses especially interested in incorporating analytics into their human resources management.
Ease of Use
When we tested the Paycor software, we found it to be modern-looking and easy to navigate. The platform has some automation and workflow functions that can streamline HR processes, which we appreciated. [Read our review of GoCo for an alternative provider that particularly excels at custom workflows.]
We like how Paycor users can customize their dashboard homepage and what goes on it — this isn't something all competitors offer, yet it's a great way to modify the product to best meet your needs. As a cloud-based platform, such as other HR solutions we reviewed, Paycor makes it easy for employers and employees to access the system regardless of whether they're in the office or working remotely.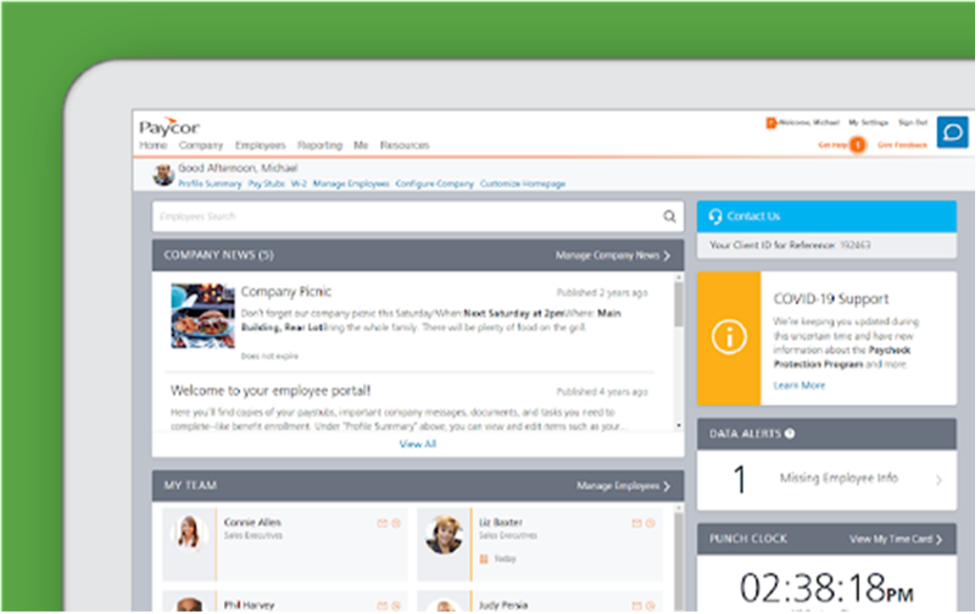 Paycor has a user-friendly dashboard. Source: Paycor
The Paycor platform can integrate with hundreds of third-party applications, which is competitive with other vendors on the market. This capability adds to Paycor's overall usability for small businesses as does the product's user-friendly mobile app.
Paycor Features
The specific features you have access to will depend on which Paycor plan you choose. Here are some of the core functions available.                                       
Analytics and Reporting
While many HR solutions provide some level of standard or custom HR reporting, we found Paycor to be especially strong in terms of analytics. The company offers hundreds of prebuilt dashboards, charts and graphs to help you visualize your workforce data. For example, when we tested the platform, we were impressed with how it provides data charts on things like headcount broken down by employment type, such as full-time employee or part-time employee. Another cool feature we noticed is that the software offers predictive data based on your company's HR history so you can prepare for future trends and make decisions accordingly. This isn't something other HR software options have.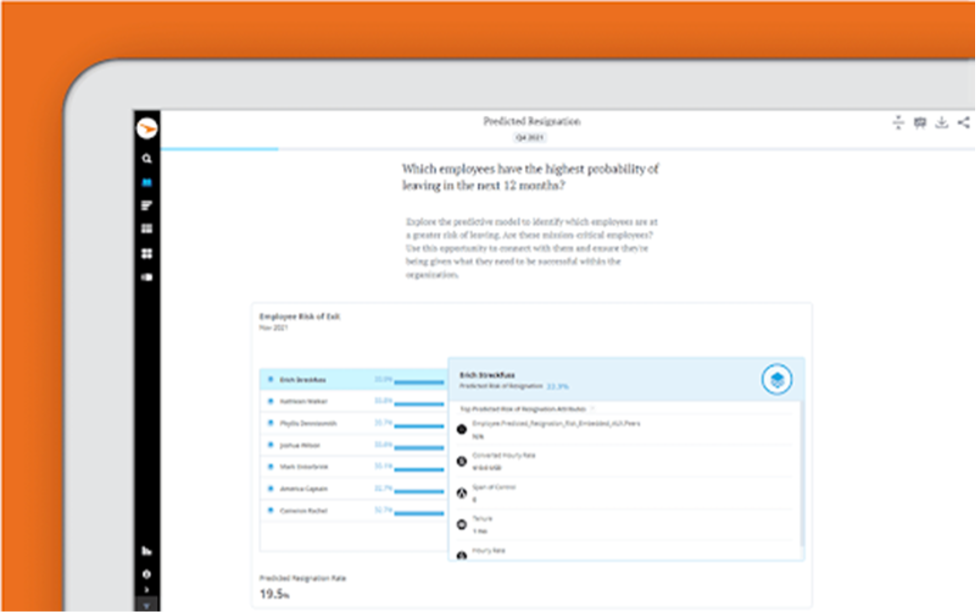 Paycor offers insights into future workforce trends. Source: Paycor
Another unique analytics tool that Paycor boasts is data benchmarking, giving a clear look at how your business compares to others in your industry. This tool can also break down key drivers for certain metrics to explain why a specific trend might be occurring. This is useful for determining what changes your company should make to improve workforce trends.
If you're trying to improve workplace diversity, the software can provide company demographic data and benchmarking. If you operate multiple organizations or locations, it can provide heat maps comparing specific data sets. The latter is particularly useful for distributed workforces.
Recruiting and Onboarding
Every Paycor plan except for the Basic package comes with essential features to automate employee onboarding, which is on par with the industry standard. Paycor also offers tools for advanced talent management. For example, you can view candidate flow and status during the recruitment process and schedule phone screens with Outlook and Google calendar integrations.
Paycor integrates with top background check providers as well as essential job boards like Indeed, Glassdoor, LinkedIn and ZipRecruiter. When onboarding new hires, the information the person entered during the application process auto-populates in their employee profile. This is great for streamlining the onboarding process and reducing human errors.
If you want to take your recruitment to the next level, Paycor sells recruiting and hiring software as well. With this program, you can access features like candidate dashboards, custom hiring workflows, interview scorecards, career pages, employee referrals and candidate texting. We especially like that Paycor can provide recruiting analytics to help you improve your recruitment process.
Performance Management
Once someone joins your team, you can manage their employee performance through a wealth of Paycor tools. When we tested the software, we were particularly impressed with the performance management features that help facilitate one on ones, performance reviews (with templates), goal tracking, 360-degree feedback and pulse surveys. The platform also gives employees the ability to recognize peers and chart their career progress against competencies.
We also noticed that Paycor gives administrators an overview of how well the performance management function is being used, which isn't something we saw among competitors and can be a great way to keep your organization on track.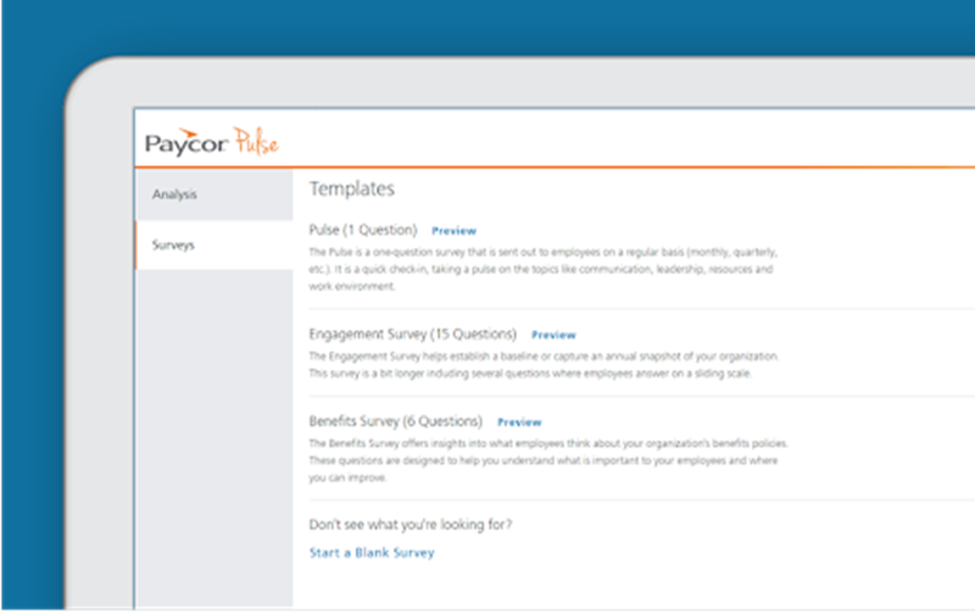 Paycor makes it easy to survey your employees. Source: Paycor
Time Tracking and Payroll
Paycor makes it easy to create employee schedules and track hours worked. The vendor offers more ways for employees to punch in and out than most providers we reviewed. For example, card readers, proximity badge readers, fingerprint scanners, facial recognition scanners, web punching, kiosk apps with facial recognition, mobile punching, web timesheet entry and telephone punching options are all available. We also appreciate that Paycor time records are unified with its payroll solution.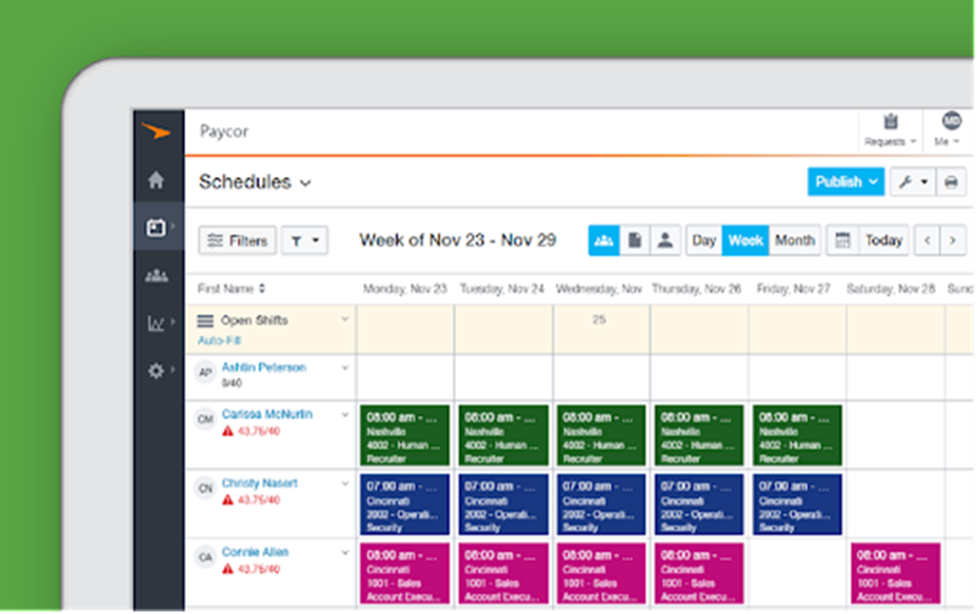 Paycor's scheduling and time-tracking solutions integrate with its payroll program. Source: Paycor
Paycor runs your payroll and handles payroll taxes for you, which is common in this industry. You can run off-cycle pay runs, if needed, and employees can be paid via multiple payment options like direct deposit, paycards, checks and even on demand. We like that the system triggers pay warnings to help ensure your payroll is accurate each pay period. Select plans even offer compensation planning, which isn't something we saw all rival companies provide. This function can be beneficial for any size business.
Benefits Administration
When we tested the Paycor platform, we found its benefits administration features to be highly competitive with others in the sector. Employees can view and manage their benefits easily and log life event changes. The Paycor benefits administration module also comes with automated workflows, which is a great way to ensure no benefit details are missed. If employees need assistance with benefit selections, Paycor can help them choose the right benefits with a software bot. This is especially useful for companies with dispersed or remote employees. [See the employee benefits you should offer.]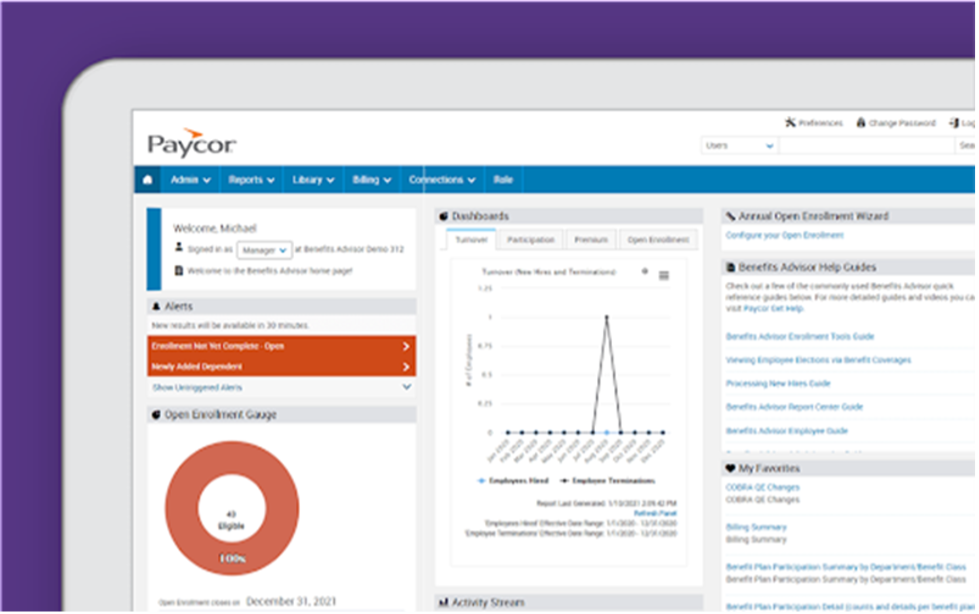 Paycor offers employers and employees assistance with benefits administration. Source: Paycor
Paycor Pricing Plans and Subscription Costs
Paycor has plans geared toward small businesses (fewer than 50 employees) and midsize companies (50 to 1,000 employees). We like that it doesn't require an employee minimum, unlike some competitors we reviewed.
If you're seeking a small business HR software package for fewer than 50 employees, you can choose from four tiers:
Basic: For $99 per month, plus $6 per employee, per month, this package gives you access to essential payroll features like payroll and tax services, wage garnishments, multiple pay options and online reporting.
Essential: For $159 per month, plus $9 per employee, per month, this tier gives you access to everything in the Basic plan, plus other useful features like employee onboarding, time-off management, e-verification and an HR support center, in addition to more advanced reporting options. It also facilitates recruiting and hiring for three jobs and basic analytics.
Core: For $199 per month, plus $12 per employee, per month, this level includes everything in the Essential plan, plus advanced Paycor HR features, employee importing and expense management. It also facilitates recruiting and hiring for five jobs instead of three. Paycor says this package is its most popular option.
Complete: For $299 per month, plus $16 per employee, per month, this plan includes everything in the Core plan, plus compensation planning, talent development, career management and advanced analytics. It also facilitates recruiting and hiring for an unlimited number of jobs.
If you operate a midsize business with 50 to 1,000 employees, you can use Paycor's online tool to select which features you'd like and generate a custom price quote. We like that Paycor also offers add-on services for things like workforce management (time and scheduling), talent management (recruiting, talent development, learning management) and benefits administration.
When we spoke with a Paycor representative, they told us the company offers a 14-day free trial. Free trials, which we found to be somewhat uncommon in the HR software space, are a great way to test out a platform risk-free.
Implementation and Onboarding
The Paycor platform is fairly comprehensive, so it can take anywhere from six weeks to six months to implement. However, the average implementation time is between two and three months. During this period, a company representative will work with you to ensure you have access to all the features you need and that your employee data is transferred successfully.
Once the software is ready to use, it allows for automated onboarding to help speed up the hiring process.
Customer Service
Paycor facilitates self-guided support through a variety of online resources, such as a support center, webinars, guides and whitepapers, an HR glossary and an employee knowledge base. Meanwhile, registered account administrators can contact customer service by phone on weekdays. Paycor also offers contact forms, email and web chat as well as one-on-one support from certified HR professionals.
While Paycor seems to have ample support options, we thought it was worth noting that many customer reviews claim that its customer service team can be somewhat challenging to get in touch with at times. We do like, though, that Paycor is accredited with the Better Business Bureau and has an A+ rating with the agency.
If you're looking for 24/7 dedicated support, check out our review of Bambee. While this vendor doesn't offer the same level of analytics that Paycor does, employers are provided with a dedicated HR manager for personalized customer service.
Limitations
One thing to consider before using Paycor is how long it takes to implement the software. HR solutions can support a lot of data and information, which is partly why it takes a while to transfer and set up all of your workforce details. Paycor can take anywhere from six weeks to six months to implement, with an average implementation time of about two to three months. Although some competing products can take even longer than this to set up, it's still something to keep in mind when evaluating this platform. If you need HR software capable of almost immediate implementation, check out our review of Rippling, which claims an average implementation time of roughly two and a half weeks.
Methodology
We researched and analyzed dozens of HR systems to identify the best HR software on the market. We examined pricing, contracts, recruiting and onboarding capabilities, employee benefits administration, time-tracking, payroll processing, performance management features, reports, integrations, legal compliance assistance, usability and customer support. We watched product videos and conducted demos when possible. When looking for the best HR software for businesses interested in HR analytics, we prioritized features such as time and pay tracking, data collection, reporting, workforce analytics, usability and security.
FAQs
You can contact Paycor customer service at (855) 565-3285 Monday through Friday between 8 a.m. and 8 p.m. Eastern time. You can also reach out by contact form or webchat on the provider's website.
To set up the Paycor app, first download Paycor Employee Mobile from the App Store or Google Play. Once the app is downloaded and installed, you can set it up by logging in to your account with the same Paycor username and password that you use to access the browser-based platform.
Bottom Line
We recommend Paycor for …
SMBs that want clear insights about employee data and trends.
Employers who want to offer employee self-service HR features.
Businesses that want intuitive, easy-to-use HR software.
We don't recommend Paycor for …
Businesses that need implementation within weeks, not months.