Paychex Flex Review and Pricing
Managing a remote team poses a unique set of human resources challenges, potentially making it difficult to find the right HR software to meet your company's virtual needs. Fortunately, Paychex Flex may be the perfect fit for your business. This vendor is a major player in the HR industry, and for good reason. With its long history and credibility, you can rest assured that your human resources operations will comply with federal and state regulations when you use the Paychex Flex software.

Paychex Flex and Pricing
The Verdict
Paychex Flex, a full-service payroll and HR software platform that can support businesses of any size, is our best pick for companies with remote teams. Its scalable features can help you manage distributed staff and maintain legal compliance.
The system comes with essential features, such as an intuitive dashboard, third-party integrations and an easy-to-use mobile application. Paychex offers comprehensive plans, as well as several add-on services to support your remote staff, such as time-tracking options and employee benefits administration. Furthermore, Paychex supports organizations of all sizes and can scale with your business as your virtual, in-office or hybrid workforce expands, making Paychex Flex our recommendation for the best HR software for remote teams.
Paychex Flex Editor's Score: 9.2/10
| | |
| --- | --- |
| Price/value | 9.5/10 |
| Features | 9.2/10 |
| Customizations, add-ons and integrations | 9.0/10 |
| Ease of use | 9.4/10 |
| Customer support | 8.9/10 |
Why We Chose Paychex Flex for Remote Teams
Paychex Flex is a robust HR solution with a wide range of features that are conducive to managing a remote team. For example, the platform boasts digital hiring and onboarding services, like electronic HR documents and tax forms, as well as e-signature capabilities. Employees can easily set up direct deposit and access self-service features online or through the Paychex mobile app, which is essential for remote workers. Plus, because HR reporting can be a great way to keep track of your out-of-office employees, we like that Paychex has not only standard HR reporting and analytics abilities, with more than 160 report types, but also customizable metrics, which are helpful for business owners who want specific, niche reports and visualizations.
Of course, Paychex Flex also excels at facilitating standard HR processes, such as payroll and legal compliance. Because this all-in-one system is designed to support businesses of any size, we like that you can start with the vendor's smallest package and move to the higher tiers as your workforce grows. In our ever-evolving work culture, where workplace arrangements are often in flux, Paychex Flex's flexibility is valuable across companies of all types.
Paychex Flex is just one of many top HR software products available for small businesses. While we especially recommend this system for companies with remote teams, there are dozens of options that match different needs, so be sure to check out our full overview of the best HR software.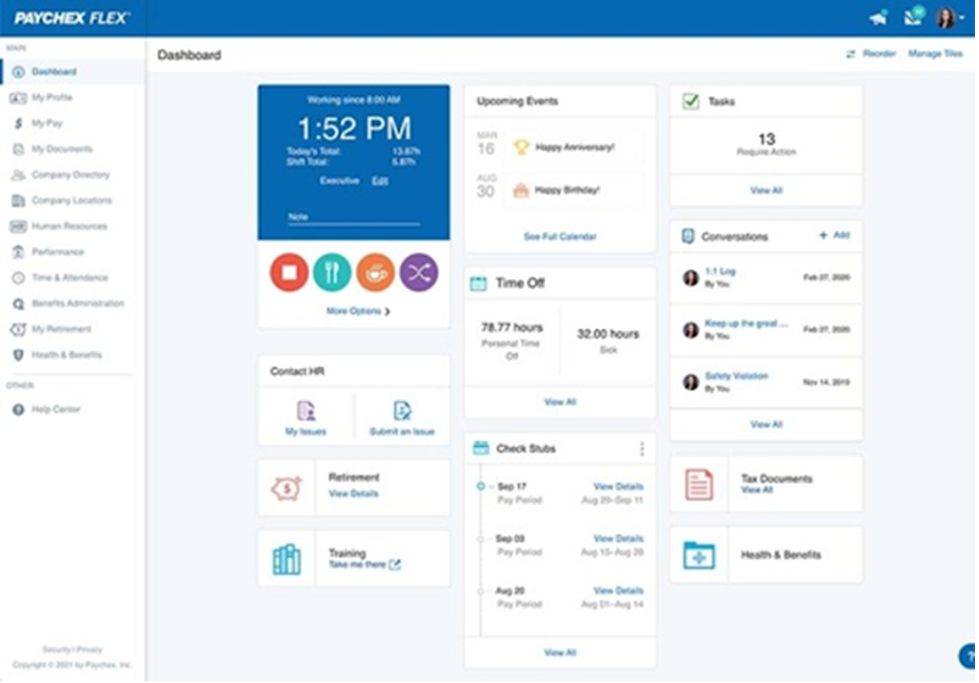 The Paychex Flex employee dashboard puts key features right in front of your team members as soon as they log in. Source: Paychex
What We Like About Paychex Flex
Paychex Flex offers remote-friendly HR tools, like e-signatures, paperless onboarding, direct deposit, e-learning courses, mobile apps and employee self-service features.
The system can handle your business's payroll tax administration, W-2s and 1099s for you.
The platform can help with regulatory compliance, including new-hire reporting, workers' compensation insurance and state unemployment insurance services.
Paychex provides optional services at no additional cost, including paycards, financial wellness programs, tax credit services and employee assistance programs.
What We Don't Like About Paychex Flex
Paychex doesn't list pricing for all of its HR software plans online.
The company doesn't give free trials.
Ease of Use
When researching the Paychex Flex platform, we liked that the dashboard is intuitive and easy to navigate regardless of which device you're using. Select plans come with a free mobile app for iOS and Android devices, which is helpful for remote employees to manage their HR needs (e.g., hours, pay, benefits) from any location. The mobile app is very comprehensive, which isn't true of every provider in the HR software space.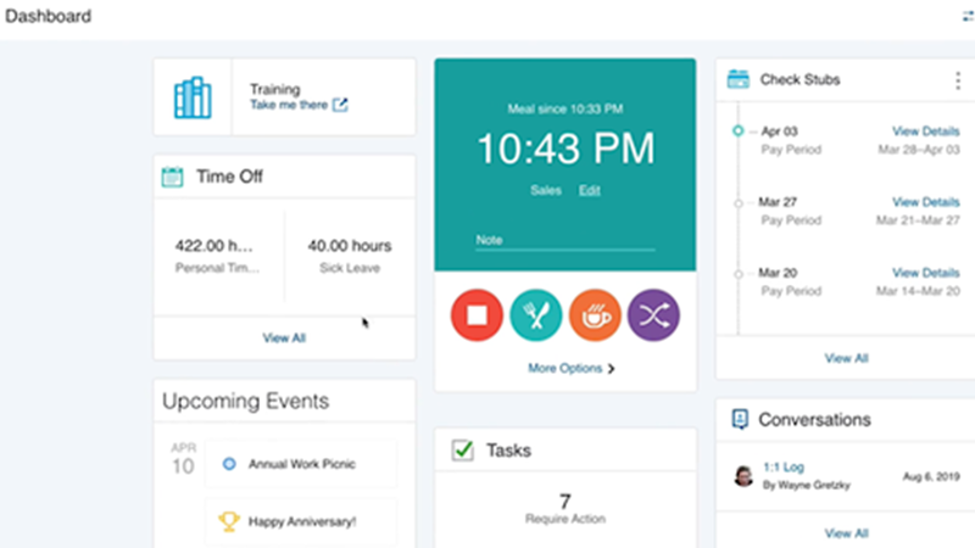 The employee view of the Paychex Flex dashboard provides essential information and easy access to past pay stubs. Source: Paychex
Although Paychex Flex is a full-service payroll and HR solution, it can integrate with hundreds of third-party vendors. These integrations are ideal for companies that need to tailor their business platforms to meet the needs of their remote staff. 
Features of Paychex Flex
We love that with Paychex Flex, you can manage the core HR functions from one system. This comprehensive platform has all of the features you need to recruit and onboard new employees, track time and attendance, administer employee benefits, run payroll and manage employee performance. In addition, a plethora of reports can help you analyze each HR process and improve your business's efficiency.
Although the specific tools available vary by plan, here are some of the best functions of Paychex Flex.
Legal Compliance Assistance
One of the biggest challenges of managing human resources, especially when your team operates from various remote locations, is maintaining legal compliance with federal, state and local laws and regulations. Paychex helps businesses stay compliant thanks to features such as new-hire reporting, payroll tax administration, automatic W-2s and 1099s, and printed and electronic labor compliance poster kits. We also like that the program can assess your risk exposure and provide recommendations for meeting regulations, such as those relevant to OSHA compliance.
Recruiting and Onboarding
Recruiting and onboarding virtual staffers can be challenging for some employers, but Paychex has tools that simplify the process. For example, the company offers hiring services and can even connect you with the best background check services so you can screen candidates before hiring them. This adds an extra layer of security when you're hiring workers remotely and lessens the odds of your new hire being a deepfake.
Once you do hire a new employee, Paychex can streamline the onboarding process with electronic HR documents (W-4, state and tax withholding, EEOC and I-9 forms), direct deposit options and e-signature capabilities. Paychex facilitates this process via a paperless, mobile-friendly experience, so your employees can be onboarded quickly from any location.
Paychex can securely store employee documents for future reference and legal compliance.
Payroll
We like that Paychex has payroll tools that allow you to process and manage company payroll seamlessly. You can run payroll for your business in just a few clicks and pay employees via their preferred method (e.g., direct deposit, paper checks, paycards). Paychex can automatically send the required year-end tax forms (W-2s and 1099s) to employees and contractors, and the software calculates, pays and files your business's federal, state and local payroll taxes. With select plans, companies can also access advanced services for workers' compensation, state unemployment insurance and garnishment payments.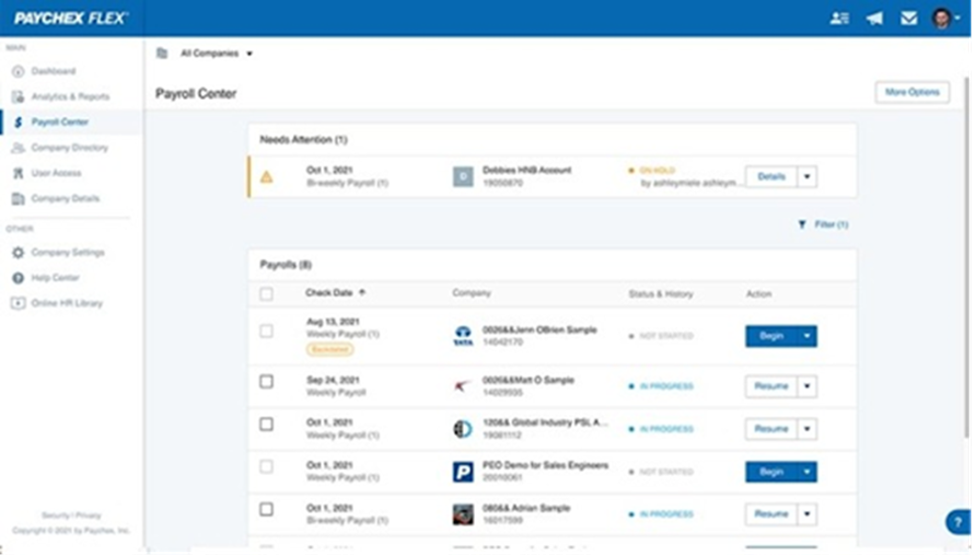 The administrator side of the Paychex Flex Payroll Center allows you to run payroll from any device. Source: Paychex
Benefits Administration
Robust employee benefits can help you attract and retain top talent across the globe. With simple enrollment tools and employee self-service capabilities, Paychex makes it easy to administer benefits online. You can use the software to provide competitive benefits for health insurance; dental and vision insurance; health savings accounts (HSAs); 401(k) retirement plans; Section 125 plans; employee assistance programs; and accident, disability, critical illness and indemnity coverage.
We particularly like that Paychex also offers optional employee financial wellness programs, which isn't something we saw with many competitors. Your employees can track and manage their benefits through Paychex whenever and wherever they want, and such perks can be a key driver of employee retention. 
Highly skilled remote job seekers won't stay on the market long. Offer a robust employee benefits package to attract them to your organization.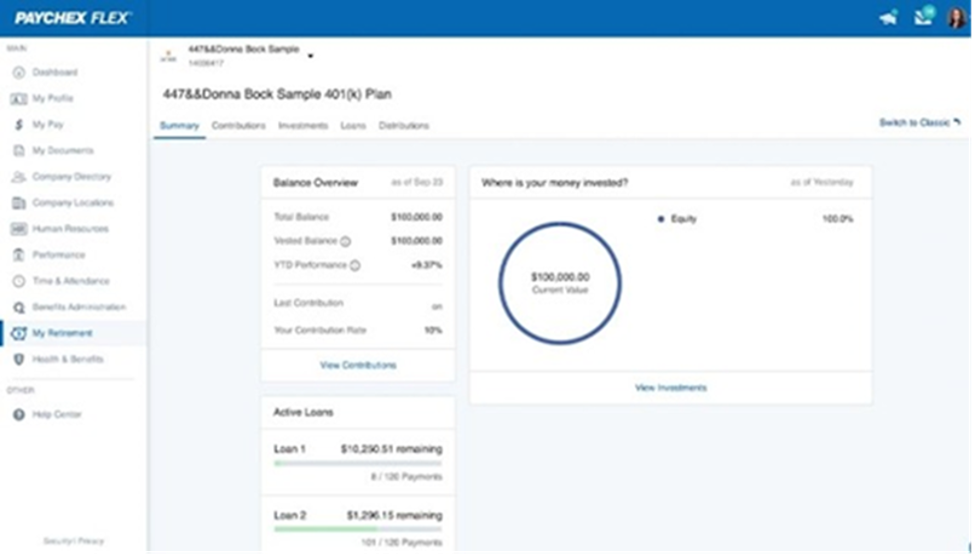 Your employees can easily view and manage their benefits, like 401(k) plans, through their Paychex Flex accounts. Source: Paychex
Performance Management
Paychex has helpful features for business leaders who want to manage employee performance even when — or especially when — staffers are working from home. For example, your software package can include a learning management system with e-learning courses to help workers continue their education and stay up-to-date on certifications and compliance training irrespective of their location. You can also remotely gather employee feedback, manage performance reviews, track employee training, and retain training and compliance documents within the Paychex platform.
Paychex's performance management features are on a par with its rivals'. However, if you're looking for another HR software option with great performance management features, check out our review of Paycor.
Paychex Flex Pricing and Terms
Paychex offers three payroll and HR plans to choose from based on your company's needs: Paychex Flex Essentials, Paychex Flex Select and Paychex Flex Pro. While Paychex Flex Essentials' monthly price is $39 plus $5 per employee, pricing for the Paychex Flex Select and Pro plans is customized for each business and thus not available upfront. You'll need to contact the vendor to obtain a quote based on your company's specific needs.
The features of each plan are tiered, which is a similar pricing structure to those of many other HR solutions we reviewed. The Paychex Flex Essentials package includes basic payroll and compliance features, while the Paychex Flex Select and Pro levels cover more robust payroll and HR needs.
As your business grows, your Paychex plan can easily scale to match, which is great for companies with expanding hybrid and remote teams. There's another impressive perk: All plans come with the option to add free extra features, such as paycards, financial wellness programs, tax credit services and an employee assistance program.
Although there is no free trial for Paychex Flex, this limitation is somewhat common in the HR software industry, even though it may be a turnoff for some business owners. If it's important to you to test prospective HR programs before signing up, check out our review of BambooHR, which offers seven-day free trials.
Paychex Flex Time and Attendance
Paychex offers the option to add time and attendance features to your platform. There are two primary cloud-based time and attendance plans: Paychex Flex Time and Paychex Flex Time Essentials. The main differences between the two are the cost and features (see below), but you can easily add either option to your Paychex Flex package to create one integrated system. 
We like that both time and attendance plans have numerous mobile, automated and employee self-service capabilities that put many HR functions in the hands of employees, thereby simplifying timekeeping and payment. The more advanced plan, Paychex Flex Time, includes additional scheduling tools, paid-time-off (PTO) management and overtime alerts.
Paychex Flex Time and Attendance Pricing
Unlike many competitors, Paychex doesn't openly disclose pricing for its time and attendance services online. Instead, you need to contact the company directly for a quote. However, when we spoke with a Paychex representative, they provided the following minimum costs:
Paychex Flex Time: Minimum monthly billing of $99 per month for up to 23 employees
Paychex Flex Time Essentials: Minimum monthly billing of $59 per month for up to 23 employees
Paychex also offers a stand-alone time-off management plan with a minimum monthly billing requirement of $29 per month for up to 23 employees. This option is geared toward businesses with salaried workers who don't need to punch in and out every day.
The pricing noted above is what we were quoted at the time we completed this review. Actual costs and fees may vary based on your specific needs.
Clocking In and Out
Keeping track of employee hours can be challenging when your staff works remotely, but Paychex's time-tracking plans can help with this. For example, we were impressed with how many time clock options Paychex offers. Employees can clock in and out using a web browser, mobile phone or kiosk app with facial verification. The Paychex Flex Time plan also offers biometric iris- and finger-scanning time clocks, as well as an interactive voice response system. This wide range of options gives employees the flexibility to clock in and out in the way that best suits them.
One clocking option we especially like is the ability to use iOS and Android mobile apps. This allows employees to not only clock in and out from any location but also perform other time and attendance functions, like managing their breaks and time off and communicating with other employees, from their phones. [Learn more about the equipment needed to track employee attendance.]
Overtime and Time-Off Management
When we tested Paychex's time and attendance software, we found it to be user-friendly and very conducive to employee self-service, which is crucial when you have a remote workforce. For example, employees can easily view their timecards online. Paychex Flex Time also allows employees to track their PTO accruals and submit new time-off requests, all from a smartphone.
Managers can use the software to review and approve (or deny) employee time-off requests, approve employee timecards, submit pay adjustments, and track employee leave and overtime. We especially like that each plan allows you to implement overtime rules to ensure employees are compliant with overtime laws based on where they're located. The system can even send alerts to employees when they're nearing overtime.
Employee Scheduling
We found Paychex's employee scheduling features to be competitive with others in the industry. Both Paychex Flex Time and Paychex Flex Time Essentials come with convenient tools to create and manage employee schedules, such as visual schedulers and calendar integration. Paychex Flex Time offers the added convenience of scheduling templates and schedule exceptions. It even has capacity scheduling, which shows managers workers' availability and a weekly view. If you want to give employees some power over their own schedules, you can opt to permit shift swapping.
Geolocation and Job Tracking
We love that Paychex allows employers to track employees based on their location and job. Because Paychex has built-in geolocation and geofencing technology, employers can ensure employees are clocking in and out from the right location, thus reducing the potential for time theft. With job-tracking tools and mileage calculators available with select plans, employers can better plan for job costing and labor distribution across various jobs, projects and locations.
Alerts and Reports
We like that both of Paychex's time and attendance plans offer report scheduling. With the Paychex Flex Time option, you also gain access to ad-hoc reporting and real-time analytics, giving your HR administrators a real-time view of employee activity and attendance metrics. This data is great for managing operational needs across various locations.
If you want to keep your employees in the know about their own activity, they can easily set up alerts for things such as scheduling updates and overtime notifications. Paychex Flex Time plans also enable employee messaging; this is vital for keeping employers and employees on the same page about time and attendance.
Implementation and Onboarding with Paychex Flex
Paychex Flex is an intuitive platform that can be implemented by businesses of all sizes. The exact implementation process varies based on the plan you select and whether you sign up for any of the optional add-ons. Each of those takes a little additional time to set up, but these extras can add significant value for your employees.
During our research, we found that Paychex can integrate with hundreds of third-party applications. Although setting up integrations tends to add a little implementation time, they can be valuable in streamlining your business processes, thereby saving you time and money in the long run.
Regardless of the plan you choose, you will need to provide Paychex with certain information —  like your company's tax identification number, banking information and employee email addresses — to get started. If you previously worked with another payroll provider, you may be able to transfer your data to Paychex's system. A Paychex implementation specialist will set up your new account and ensure you understand how to use the different features, and they can onboard your staff, too.

Paychex Flex and Pricing
The Verdict
Paychex Flex, a full-service payroll and HR software platform that can support businesses of any size, is our best pick for companies with remote teams. Its scalable features can help you manage distributed staff and maintain legal compliance.
Skye Schooley is a human resources writer at business.com and Business News Daily, where she has researched and written more than 300 articles on HR-focused topics including human resources operations, management leadership, and HR technology. In addition to researching and analyzing products and services that help business owners run a smoother human resources department, such as HR software, PEOs, HROs, employee monitoring software and time and attendance systems, Skye investigates and writes on topics aimed at building better professional culture, like protecting employee privacy, managing human capital, improving communication, and fostering workplace diversity and culture.