Gusto is ideal for employers that want advanced payroll capabilities. Users can onboard new hires, administer employee benefits, track hours and paid time off, run payroll, and automatically file payroll taxes.
Pros
Gusto offers multiple tiered plans with a wide range of add-ons.
The platform can be implemented in less than a week.
An interactive demo lets you test the software before signing up.
Gusto doesn't require long-term contracts.
Cons
Opting for all of Gusto's add-on features can quickly increase your monthly per-employee cost.
Gusto has fewer performance management features than some other HR solutions we reviewed.
Gusto can not only handle all of your payroll processing and payroll tax responsibilities, but it can also serve all of your company's human resources needs with a single platform. This cloud-hosted solution is easy to use and available via multiple service plans with several add-on options. Gusto's HR services include health insurance administration, time tracking, paid-time-off (PTO) management, and access to certified HR pros who can assist with any HR or payroll issues. In a crowded market, Gusto stands out as the best HR software for businesses most concerned with payroll processing.
Gusto HR Software Editor's Rating:
9.7 / 10
Price/value

9.8/10

Features

9.8/10

Customizations, add-ons and integrations

9.9/10

Ease of use

9.8/10

Customer support

9/10
Why We Chose Gusto as Best for Payroll
Gusto provides comprehensive HR features with its HR software, but the company's payroll offering is what makes it shine high above the competition. When testing the system, we found the platform intuitive and easy to navigate, with simple payroll-processing automation. The software provides helpful tools to streamline payroll responsibilities, like sending payroll alerts and reminders, automatically syncing employee hours, and automatically calculating and filing payroll taxes. The product also excels at multistate payroll, garnishments, time-tracking integrations, new-hire reporting, next-day direct deposit and payroll calendars.
When we tested the Gusto platform, we liked that it allows you to make changes to payroll even after it's submitted, which isn't something all vendors offer. If you want to automate payroll, Gusto facilitates that too. And because Gusto is a benefits broker, the program can easily sync employee benefits data, such as workers' compensation information, with your payroll.
Gusto has an autopilot feature, which is a great option if your employees' pay doesn't fluctuate each pay period. This tool runs payroll on a set pay schedule without any additional input needed from you.
Gusto's Ease of Use
Part of Gusto's appeal is how simple it is to use. The cloud-hosted service doesn't require you to install or maintain any special software, and you can access the system from any web browser, smartphone or tablet. 
When testing the product, we liked that the platform's homepage prominently features important to-do items, such as payroll run dates and time-off requests. You can easily see or edit employee details and receive reminders about which contractors need to be paid.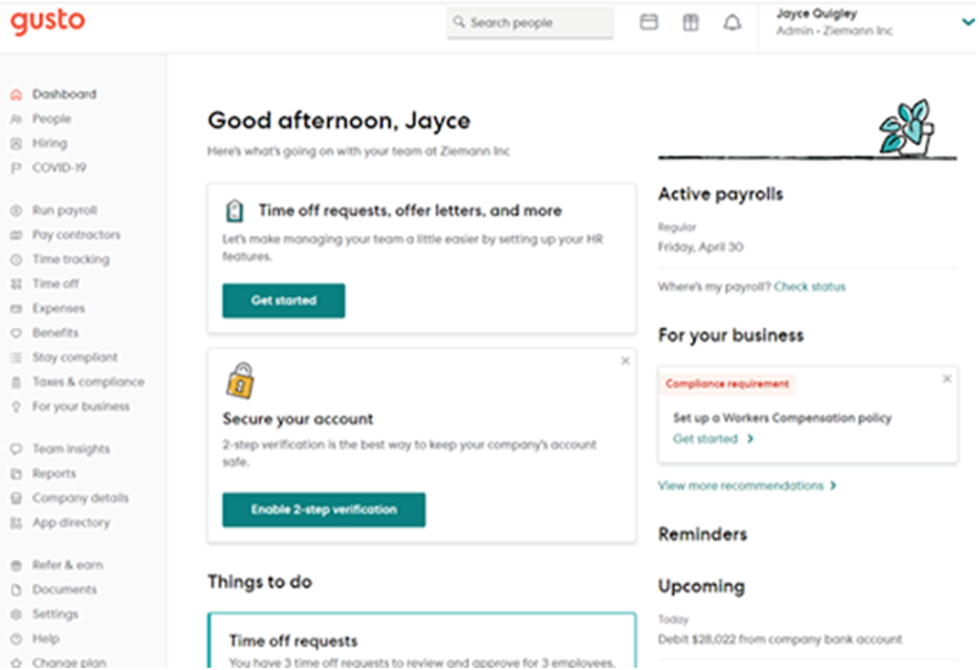 Gusto's dashboard gives you a clear view of important to-do items and reminders. Source: Gusto.
Gusto gives employees and contractors their own login credentials to view their pay stubs, time-off accruals and year-end forms. Gusto offers lifetime access to these accounts so workers can log in to their accounts even after they've left your company. This is useful for former team members who need to dig into past W-2s, benefits information and more.
Gusto Features
Gusto has multiple service plans, so the exact tools available to you depend on your package. Here are some of the functions Gusto can cover.
Payroll
Gusto has a ton of features that help businesses quickly and accurately run payroll. You can use the system to pay full- and part-time W-2 employees, as well as freelancers, consultants and other 1099 contractors — a capability that not all HR solutions offer. Furthermore, Gusto allows for multistate payroll, as well as multiple pay rates and schedules. Below, we break down the additional reasons Gusto sets itself apart in the HR software space regarding payroll.
Payroll processing: When testing Gusto, we liked how simple it was to process payroll. Once you enter all the pertinent employee information — such as the pay rate, hours worked and deductions — into the system, the software automatically calculates the appropriate payment. Each pay period, the only new information you need to input are how many hours your hourly employees worked and any bonuses or commissions earned. After clicking the "Submit Payroll" link, you receive a confirmation that the money will be sent via direct deposit or distributed via checks that can be printed at your office.

If your payroll is fairly consistent from pay period to pay period, you can set the process to run on autopilot. With this setting, payroll automatically runs each pay period without any manual work from you. Additionally, you can run payroll as many times as necessary each month for no additional cost. This flexibility is particularly valuable if you have a combination of full-time, part-time, and freelance workers on staff.

Payment options: Gusto provides several ways to pay employees: direct deposit, prepaid debit cards and printed checks. With direct deposit, payments are automatically deposited into each worker's bank account on payday. Prepaid debit cards work similarly: Payments are automatically deposited onto the cards on payday. If you prefer to pay workers with checks, you can print them right from your printer using check stock paper. This is on par with what we saw other competitors offer.

One unique payment feature that we especially like is that Gusto has the ability to pay international workers in more than 100 countries, and it can handle exchange rates and multiple currencies for you. This isn't something many rivals can do, and it's especially helpful in an increasingly global work environment.

Payroll taxes: Similar to other HR software providers we reviewed, Gusto can handle all payroll tax responsibilities for you. The program automatically calculates your payroll taxes and fills out and files the required tax forms with each local, state and federal agency. Gusto also submits all of the required payroll payments on your business's behalf. The company can even do state tax registration for you when you hire new employees in different states. We found this feature to be a valuable part of the payroll experience as more employers expand their hiring across state lines.
Recruiting and Onboarding
When we tested Gusto, we appreciated that it has an in-app applicant tracking system (ATS), so businesses don't have to pay for a separate ATS, as they would with some vendors. The Gusto ATS features might not be as extensive as many third-party ATS options, but the system is comprehensive enough to handle standard recruiting and onboarding processes. Onboarding tools include offer letters and e-signature documents, employee directories, organizational charts, custom onboarding checklists, software provisioning and document management. We like how Gusto can also streamline onboarding by allowing new employees to fill out their own information within the platform.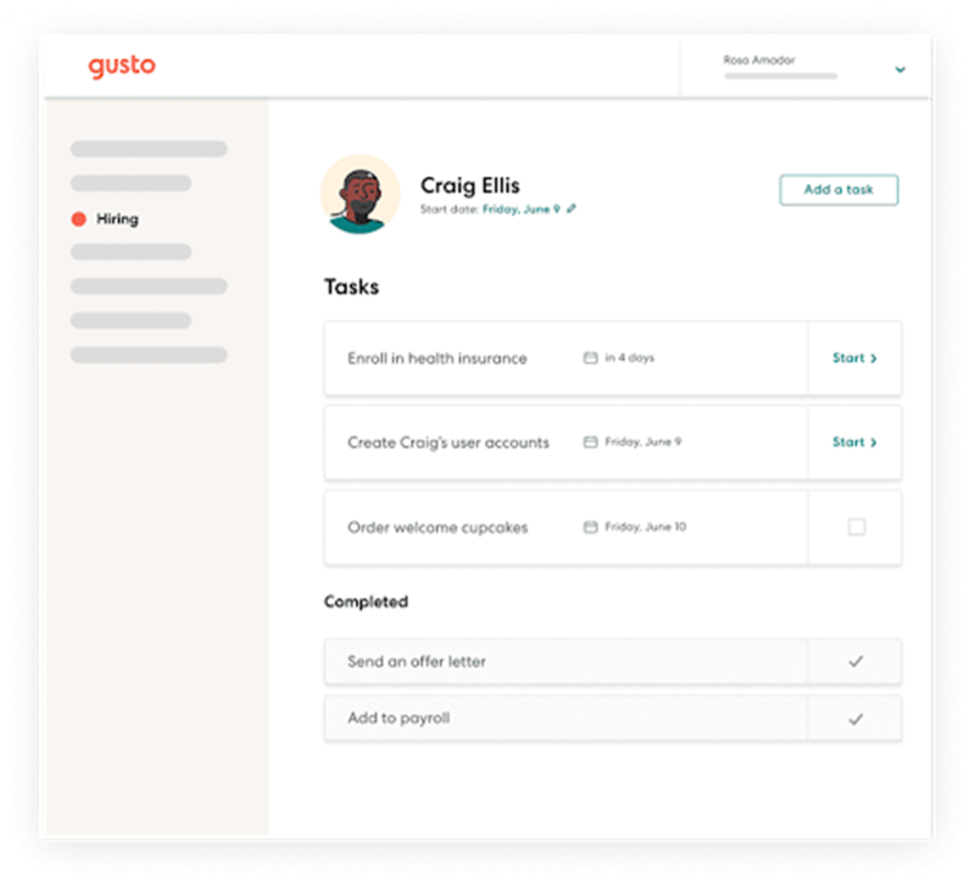 Employee onboarding is straightforward with Gusto's task breakdown. Source: Gusto
Time and Attendance
Depending on the service plan you select, Gusto can manage some or all of your tasks related to tracking employee hours and PTO. You can set up policies for vacation and sick time and then monitor employees' time-off accruals and balances. With Gusto's Plus and Premium plans, employees can submit their requests via the platform, and their managers can approve or deny those requests. What's more, select plans sync approved time off with your payroll and shared calendars. [Check out our list of PTO policy best practices.]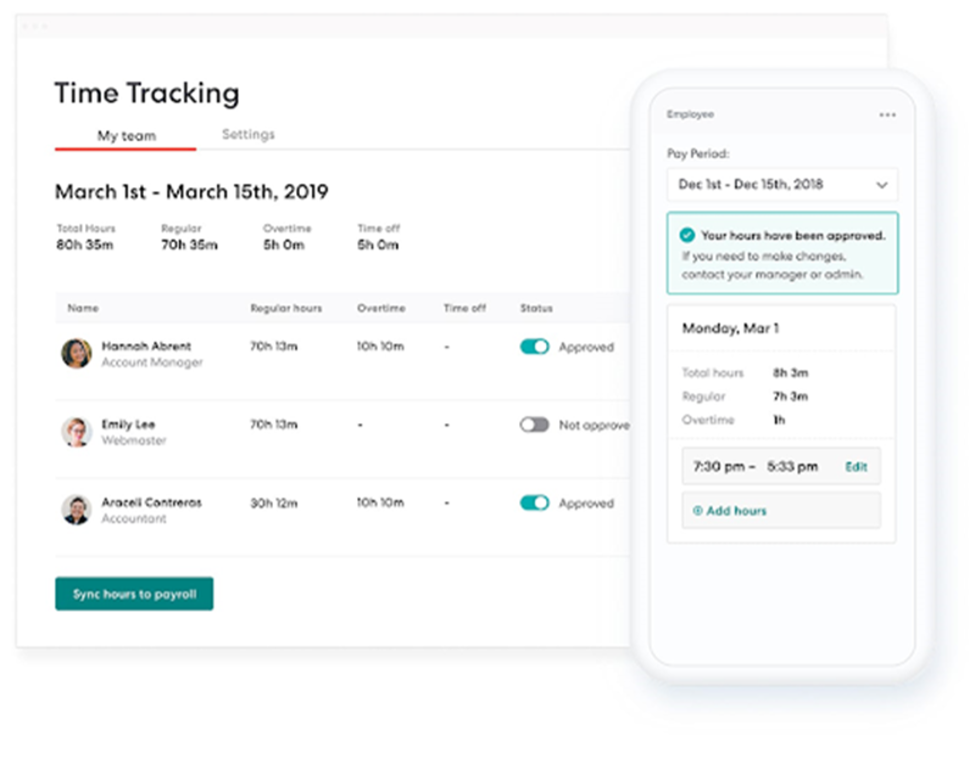 Employees can track and manage their time on a variety of devices. Source: Gusto
Benefits Administration
Gusto offers online benefits enrollment for employees, as well as licensed benefits advising and employee support, which is competitive with the industry standard. Benefit options include 401(k) retirement savings plans, 529 college savings plans, health insurance, workers' compensation insurance, commuter benefits, health savings accounts (HSAs) and flexible spending accounts (FSAs). We like that these features directly integrate with your Gusto payroll module to make benefit deductions easier to manage.
Legal Compliance
Gusto helps businesses maintain legal compliance on multiple fronts. For example, Gusto completes and files all of the required state paperwork for each new employee your company hires. The software also automatically generates all year-end W-2 and 1099 tax forms for your employees, and then sends digital copies of the forms to each employee and contractor.
If you're administering employee benefits, Gusto also helps you comply with federal regulations such as the Affordable Care Act (ACA), the Health Insurance Portability and Accountability Act (HIPAA) and the Employee Retirement Income Security Act (ERISA). These essential features are competitive with industry standards.
Integrations
We love that Gusto's HR software integrates with hundreds of popular programs for accounting, time and attendance, point of sale, business operations, tax preparation, learning and development, business insights, hiring and onboarding, performance management, expense management, and more. This variety of integration capabilities is useful for companies that want to sync all of their business applications to create a customized, interconnected solution.
Gusto HR Software's Pricing and Terms
Unlike some payroll services that sell only one or two plans, Gusto gives businesses a choice of four service plans. Each includes payroll processing and payroll tax services, but beyond that, the packages differ in the number of HR features and tools they include.
Contractor: This plan costs $35 per month, plus $6 per contractor per month. It is designed for contractor-only businesses and includes features like unlimited contractor payments, four-day direct deposit, 1099-NECs and new hire reporting. You can add on international contractor payments if needed.
Simple: This plan costs $40 per month, plus $6 per employee per month. It includes full-service single-state payroll, employee profiles, hiring and onboarding tools, health insurance administration, employee financial benefits, payroll and time-off reports, custom admin permissions, integration capabilities, and basic customer support.
Plus: This plan costs $80 per month, plus $12 per employee per month. It includes everything in the Simple plan, plus multistate payroll, next-day direct deposit, advanced hiring and onboarding tools, PTO management, time and project tracking, workforce costing and reporting, team management, and extended customer support hours.
Premium: This plan has custom pricing based on your needs. It includes everything in the Plus plan, plus an HR resource center, compliance alerts, certified HR expert assistance, payroll migration and account setup, health insurance broker integration, R&D tax credit discount, performance reviews, employee surveys and insights, and dedicated customer support. 
Having access to multiple service plans can be beneficial for businesses that don't have a full-time HR team, so you can switch tiers at any time as the size and needs of your business evolve.
Gusto doesn't require companies to sign a long-term contract; you pay month to month. Plus, there are no setup fees or penalties for canceling. This means you can test the service for a couple of months and if it isn't meeting your needs, cancel without incurring any penalties.
We were impressed with Gusto's wide range of add-on services, which include the following.
Workers' compensation insurance: Gusto doesn't charge you administration fees; you pay only for the premiums. These pay-as-you-go workers' compensation plans integrate with your payroll.
Health insurance: Again, you won't pay administration fees, just the premiums.
Broker integration: If you want to keep your current benefits broker, Gusto can integrate it into the system (in most cases) for an additional $6 per eligible employee per month.
401(k) retirement savings plans: Pricing for this add-on varies.
529 college savings plan: Employees can set aside a portion of their earnings for education expenses. Gusto charges $6 a month per participant, with an $18 monthly minimum. There are no setup fees.
Health savings account (HSA): Gusto doesn't have a minimum fee if you want to offer an HSA with your other insurance benefits. The cost is $2.50 per participant per month.
Flexible spending account (FSA): Adding an FSA costs $4 per participant per month. There is a $20 minimum.
Dependent Care FSA: If you want to offer a pretax FSA for qualified dependent care expenses, you can add it to your plan for $4 per participant per month. There is a $20 minimum.
Commuter benefits: Commuter benefits are pretax dollars workers can use to pay for transportation to and from the workplace. Gusto charges $4 per participant per month, and there is a $20 minimum.
Uniquely, Gusto can also handle international contractor payments, state tax registration and research and development tax credits for various fees. However, it's critical to keep in mind that the expense of using Gusto can quickly add up depending on the extra services you choose to incorporate.
Implementation and Onboarding
When we tried the Gusto platform, we were impressed by how quick the implementation process was. The software puts onboarding in employees' hands, so each team member can fill out their own contact information and details directly within the platform. This not only speeds up implementation, but can also help reduce data-entry errors. A Gusto representative told us a company could implement the platform in as little as one weekend if all of the necessary information is on hand and employees onboard themselves. This was notable, seeing as some competitors' systems can take weeks or months to fully implement. 
Customer Support
We like that Gusto offers multiple ways to reach customer support: You can contact a representative by phone, email or webchat. Premium plan subscribers receive assistance from a dedicated support team and get a direct phone line to access help. Premium accounts also come with access to certified HR professionals who can offer help and advice on a range of HR and employee relations issues. Meanwhile, Gusto's HR resource center includes custom employee handbooks, job description templates, HR guides and policy templates, and proactive compliance updates.
In addition to offering personal guidance, Gusto provides valuable tools like a help center and FAQs on its website. One of the most impressive features we found is the demo of the vendor's payroll software. You can test a fully interactive simulation of the program that allows you to see and browse every aspect of the system, as well as add new employees and try other important functions that pertain to your business. Not many competitors offer comprehensive demos. 
Limitations
While there is a lot to like about Gusto, we uncovered a potential drawback during our research: Gusto's primary HR services don't include robust performance management features. The Premium plan does allow users to send anonymous employee surveys and view survey trend analyses, but if you're looking for HR software that excels in employee performance management, check out our review of Paycor or our monday.com review — both are worthy alternatives. That said, Gusto users do have the option to integrate the platform with third-party performance management solutions like 15Five, Culture Amp and PerformYard.
Another slight limitation we noticed in our investigation relates to reporting. While Gusto does offer several types of HR reports that can be customized and exported, a representative told us that the platform doesn't automatically send out recurring reports. This means you'll have to manually look up each specific report you want, as opposed to having recurring reports automatically sent to your inbox. This isn't a deal-breaker for most users, but recurring automated reports can be useful for some employers. If workflow automation is a top priority for you, consider our GoCo review instead.
Methodology
To find the best HR software around, we investigated dozens of human resources systems. Our examinations considered pricing, contracts, recruiting and onboarding capabilities, employee benefits administration, time-tracking tools, payroll processing, performance management features, reports, integrations, legal compliance assistance, ease of use, and customer support availability. We watched product videos and participated in demos when possible. When looking for the best HR software for businesses most concerned about payroll, we focused on payroll processing tools, payroll tax administration, time and attendance features, legal compliance, and integrations.
FAQs
While Gusto payroll is not technically free, the cost of processing payroll is already included in the platform's monthly per-employee fee. In other words, Gusto plans come with full-service payroll and there is no added processing cost. Keep in mind that the payroll features included in the contractor-only plan differ from those in the other packages.
Yes. Gusto is a trustworthy HR solution that is frequently rated among the top payroll providers on the market. As such, if you choose Gusto as your HR software and payroll provider, you can rest assured that HR services like employee onboarding and payroll processing will be handled appropriately with respect to current employment laws and regulations.
Bottom Line
We recommend Gusto for …
Businesses that need a comprehensive payroll provider.
Small businesses with 50 or fewer employees or contractors.
Organizations that want robust payroll tools integrated with HR features.
Companies that don't want to be locked into a long-term contract.
We don't recommend Gusto for …
Businesses looking for extensive performance management features.
Large organizations or enterprises.
Companies operating in the agriculture industry.