Human resources professionals manage an increasingly complex network of information and processes. No longer just managers of payroll and vacation hours, HR teams must also oversee workforce management, staffing and onboarding, employee training and development, performance management, and legal risk and compliance. In a tight labor market, HR leaders are also tasked with preventing turnover and keeping entire teams happy and engaged.
Today, an estimated 3.2 million small-to-medium businesses (SMBs) rely on cloud-based HR software to manage and administer complex HR functions. We asked decision-makers at SMBs how they are keeping up with the demands of their human resource operations and how HR management tools are maximizing their teams' efficiencies and increasing employee satisfaction. We define SMBs as companies with less than 250 employees.
Key Findings
50 percent of small business HR professionals use cloud-based software to manage HR functions, with ADP and Paychex topping the list of the most-used HR software.
Many SMBs rely on multiple tools to manage HR: 59 percent still use manual solutions like spreadsheets and paper documents for some functions, like recruiting and training.
69 percent of users said HR software implementation helped their business cut down on payroll processing time, and 25 percent reported improved legal compliance upon implementation.
22 percent of professionals reported that HR software improved team member retention and job applicant quality, which is essential in a hot labor market.
As many as 13 percent of teams without HR management software are considering implementation in the next year.
Current HR Management Software Usage Among SMBs
When it comes to managing human resources, it is clear that there is not a one-size-fits-all solution for small to medium businesses. Fifty percent of HR decision-makers at SMBs report using some form of cloud-based software to manage HR functions.
Despite the large number of highly-rated HR software tools on the market, a deeper dive shows that many teams still rely on manual options such as paper documentation or spreadsheets to manage at least part of their HR operations. What's surprising is that half of them work in companies with 50 or more employees. This means manual HR tracking is not just for smaller organizations.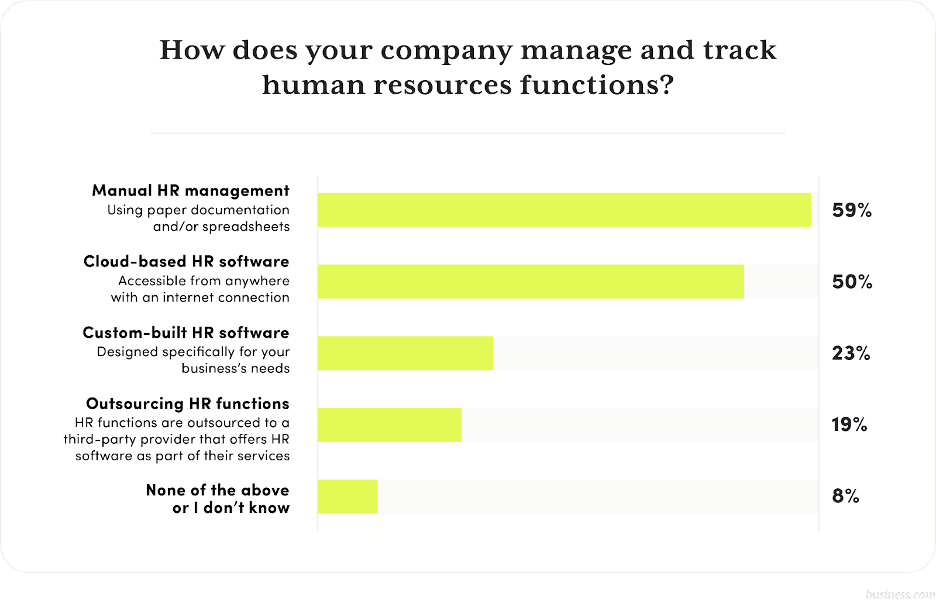 With so many convenient software solutions on the market, why are so many HR pros still using manual tools?
One reason could boil down to cost. The average HR software solution costs $5 to $20 per employee per month, on top of a monthly base fee ranging from $40 to $100. Additionally, HR teams often require more than one software, and fees for multiple platforms can drive up costs quickly.
Fees are one reason businesses may be reluctant to switch to tried-and-true software solutions. Creating an HR tech stack with multiple software systems also dramatically increases the learning curve for the HR team, which could be especially burdensome for businesses that don't have the staffing, expertise, or interest in abandoning their well-established manual solutions.
Modern HR Management Requires Multiple Solutions
Our data reveals that many HR pros use multiple systems to manage their operations. For some businesses, their HR solutions might also include customized software or even outsourcing their entire HR operation to a third party.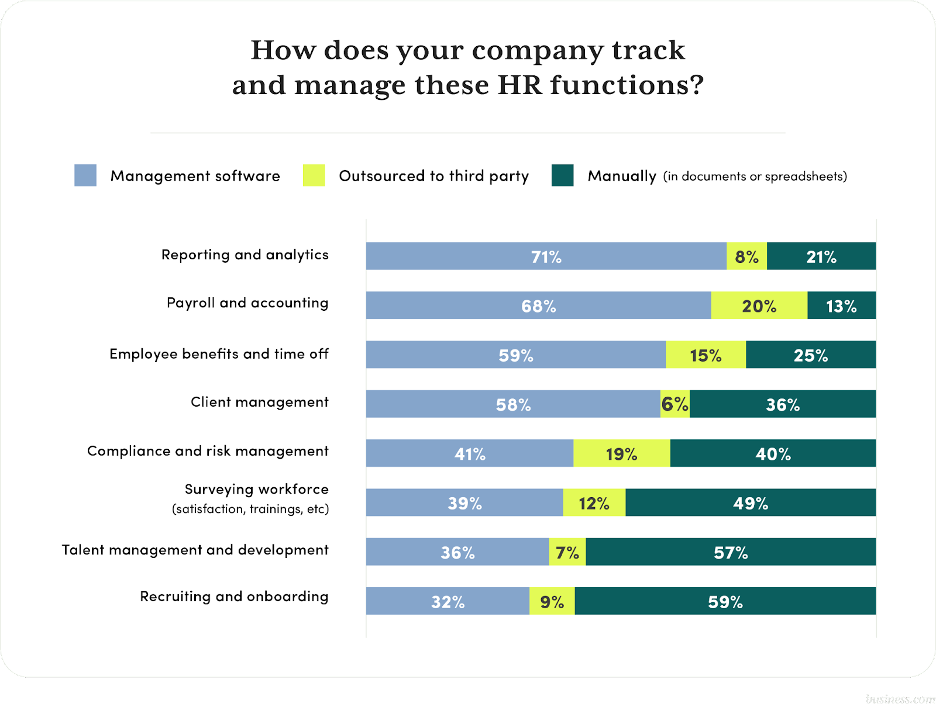 Many teams assign more complex, technical functions such as reporting, payroll, employee benefits, and client analytics to software solutions. Software systems can reduce human error and increase efficiency in these areas.
Still, nearly 60 percent of HR professionals relied on old-fashioned paper, spreadsheets, and other manual tools to manage their recruiting, onboarding, and talent management functions. Since small businesses have a smaller volume of recruits and new hires, it might be more manageable for them to track and organize the data using basic tools. In these cases, HR software's additional recruitment and training features might not be essential.
We also discovered that payroll, accounting, and compliance functions were most likely to be outsourced to professional employer organizations (PEOs) or HR management firms. Since these tasks require specialized knowledge of tax codes and employment laws, assigning them to third-party professionals can increase accuracy and efficiency. Outsourcing HR functions is an excellent option for many small businesses with insufficient personnel to manage everything in-house.
Most Popular HR Software for SMBs
Among the professionals in our study currently using HR software, ADP and Paychex were the most popular tools. ADP is known for being user-friendly for employers and employees, which likely lends to its popularity. It also offers cloud-based HR software, HR outsourcing, and PEO options, which could fit the needs of a wide variety of small businesses. [See a detailed review of ADP.]
| Which of these software tools does your company use for any part of its HR management? Select all that apply. | Percentage of HR software users |
| --- | --- |
| ADP | 26% |
| Paychex | 20% |
| Workday | 13% |
| Workable | 9% |
| Monday.com | 7% |
| Paycor | 7% |
| Bamboo HR | 7% |
| HR.my | 6% |
| Paylocity | 5% |
| Other | 22% |
About one in five HR software users in our study relied on Paychex for their HR management software. This company has a long history, but its technology has evolved to meet the needs of modern small businesses, making it a popular choice for growing teams. [Check out a comprehensive review of Paychex.]
AI-powered tools are growing in popularity with HR pros today. Workday, a compensation management tool, and Workable, a small business recruitment software, took third and fourth place on our list of the most popular tools. Both are HR software powered by AI. AI can make many HR functions more efficient through recruitment predictive analysis, resume screening, employee chatbots, and even team member sentiment analysis.
Monday.com, the fifth-most popular tool on our list, offers project management, sales, and HR functions. Its popularity could indicate that SMBs are interested in streamlining their tech stacks by choosing tools that combine many business functions in one place. [View full review of monday.com.]
The importance of analytics and reporting for human resources
Data reporting is also essential to modern HR professionals. Both Paycor and BambooHR appeared on the most-used software list. Paycor is recognized for its strong HR analytics tools and benchmarking data, while BambooHR excels in combining analytics with onboarding and offboarding functions. [See Paycor review and BambooHR review.]
HR pros also demand more reporting features from their software solutions. Half of our respondents indicated that reporting and dashboards were essential HR software features.
| Which HR management software features do you view as most important? Select up to THREE. | Percentage of HR software users |
| --- | --- |
| Reporting and dashboards | 50% |
| User, role, and access management | 48% |
| User support | 39% |
| Web portal | 37% |
| Customization | 36% |
| Mobile app | 26% |
| Integration APIs | 12% |
Reporting and dashboards tied with user, role, and access management as the top-most important overall features. While reporting and dashboards allow businesses to make strategic decisions based on real-time data, user, role, and access management lessen the time burden on HR pros.
Allowing employees access to their own HR data within the confines of strict security parameters means businesses no longer need to spend time updating employee address changes, direct deposit information, and even vacation requests.
HR Management Software Users Report Improved Efficiency, Compliance, and Employee Retention
SMBs that have adopted HR software solutions overwhelmingly agree this software has helped their operations. Payroll can be incredibly time-consuming, and 69 percent of users say their HR management tools cut down on this process.
| In what ways do you believe HR software has improved your business the most? | Percentage of HR software users |
| --- | --- |
| Reduced payroll processing time | 69% |
| Higher team member satisfaction | 38% |
| Improved legal compliance | 25% |
| Higher employee retention | 22% |
| Higher quality of candidates | 21% |
| Improved employees' skills/goal-setting | 21% |
| Less absenteeism/lateness | 15% |
| Other | 2% |
Note: Respondents could select up to three options.
Additionally, 38 percent also reported that using HR software has led to higher employee satisfaction, and 22 percent found HR software improved team member retention. In an era where the "Great Resignation" dominates headlines, businesses need every advantage to drive employee retention.
Notably, 15 percent of HR management software users reported reduced lateness and absenteeism upon implementation. Since this software can automate attendance taking and highlight trends in absences and tardiness, HR software can help teams identify issues and increase employee accountability. Self-service portals within HR management tools can also help workers request, and track their vacation time, which is essential for reducing unplanned absences.
Market Outlook for HR Management Software
Despite the strong case for HR software and its benefits, many decision-makers are unsure if they will make new solutions in the coming year. As many as 13 percent of small business HR decision-makers who do not currently use management software felt strongly that their companies will invest in these tools in the next year. Another 28 percent of non-users said they do not have any plans to adopt software, and 58 percent remain unsure about their future software plans.
| For those not currently using software solutions, does your company plan to start using HR software in the next 12 months? | Percentage of non-users |
| --- | --- |
| I'm not sure | 58% |
| No | 29% |
| Yes | 13% |
Does your company need HR software?
Many small business leaders may wonder whether they need HR software. To answer that question, it helps to start by defining your most important key performance indicators (KPIs) and how they might improve by adopting new HR tools.
Some KPIs to consider tracking are
Job offer acceptance rate
Cost per hire
Hire turnover
Employee satisfaction
Absence rate
Cost of HR per employee
Additionally, an excellent benchmark to determine if you're ready for HR software is asking yourself if your manually performed HR functions are taking too much time. More critically, it's essential to discover if your manual operations are costing your organization due to errors. For example, a significant miscalculation in tax withholdings may be just the motivator a business needs to begin implementing a more efficient, accurate top payroll solution.
At what number of employees should companies consider HR software?
Some business owners may wonder if there is a magic or minimum number of employees they need on their payroll before adopting a software solution. In short, it depends on the business and what functionality each team requires.
HR managers with a strong comfort level with their longstanding manual tools may find it easier to continue with the status quo rather than face the burden of learning a new system. On the other hand, even a solopreneur could benefit from a software system that calculates and makes automatic payroll deductions.
Our Data
In 2023, we conducted an online poll of 2,300 professionals employed at for-profit companies with less than 250 workers. Among these respondents, 305 were personally involved in training and recruiting new hires or researching, evaluating, or administering HR software or tools for their companies. These respondents were asked a set of more detailed questions about their companies' experiences with HR management software.
To estimate the number of SMBs that use HR management software, we relied on the 2020 Statistics of U.S. Businesses provided by the U.S. Census. According to the latest figures, there were 6.5 million business establishments in the U.S. with between 1 and 299 employees. Our research found that 50 percent of SMBs use HR management software, so we estimated that around 3.2 million SMBs in the U.S. may be using these programs. However, there are limitations to this estimate, as our survey was not representative of U.S. small businesses across all industries. While unlikely, it is possible that multiple people from the same company participated in our study.