Textline is our choice for the best text message marketing service for larger businesses. Its features help big companies communicate more personally with customers and team members. Textline is also the only HIPAA-accredited text messaging platform.
Pros
Setting up new departments is easy as is communication between team members in a department.
Running text message marketing campaigns and sending group messages takes seconds.
The use of tags to segment various customer types is very well-executed.
Textline takes data security seriously; it's the only HIPAA-accredited text messaging platform.
Larger businesses face challenges communicating with and engaging customers effectively while facilitating cross-department collaboration. Textline is a secure business texting service that aims to solve these problems with robust business communication features, automations and controls. The solution is easy to use and can improve communication and customer support while enhancing your business's marketing efforts. Notably, Textline's data security focus is unmatched among rivals. It includes built-in General Data Protection Regulation (GDPR) and California Consumer Privacy Act (CCPA) compliance and is the only Health Insurance Portability and Accountability Act (HIPAA)-accredited text messaging system on the market. 
Textline Editor's Rating:
9 / 10
Pricing

8/10

Ease of use

10/10

Functionality

10/10

Segmentation

10/10

Customer service

7/10
Why We Chose Textline for Larger Businesses' Texting Needs
When businesses get bigger, their communication needs grow more complicated. Textline was built specifically to address the unique needs of larger businesses with more complex corporate structures. For example, we like that Textline lets users create specific departmental groups like Sales and Customer Service and geographical divisions like the West Coast. This department-communication setup helps businesses streamline messaging to relevant team members only and avoid information overload for everyone else. 
Textline also helps with the collaboration challenges big businesses face. For example, we appreciated its Whispers function, which allows team members to add internal notes to a live chat without alerting the customer. Additionally, Textline's Assignments feature uses tags to ensure the right person handles a specific customer conversation. Tags also come in handy when running text message marketing campaigns. You can label customers based on product interest, location or signup date.
This user-friendly and intuitive platform helps you quickly add custom workflows like scheduled messaging. Its security focus also impressed us: Textline is compliant with CCPA and GDPR. It is also fully HIPAA-compliant.
For all these reasons and more, Textline is our choice for the best text messaging platform for larger businesses.
Ease of Use
Textline is a browser-based app; you won't have to download software to your desktop. We like its sleek, minimalist layout that makes accessing the functions and features you need easy. For example, the main menu bar includes the following options:
Conversations: This section displays live chats and participant details and lets you scroll through past conversations.
Messaging tools: These tools include Announcements (mass texting), Scheduled Messaging, Automations, Routes, Shortcuts and Dispositions.
Address book: The searchable address book stores your contacts; you can tag them with attributes like VIP and Wyoming Branch Customer.
Surveys: Choose one of two built-in surveys or build custom surveys.
Metrics: View key [performance indicators like average response time and active agents and analyze active conversations, inbound messages, response time and more.
Admin: Manage departments, user settings and security options from this screen.
Managers and reps can switch between departments and teams easily. We were pleased to see that Textline's interface is consistent across roles, so managers can assist team members without additional training.
Textline's Chrome plugin is a standout ease-of-use feature that allows in-browser messaging without switching back to the dashboard. This plugin is handy for sales reps conducting research while texting a client.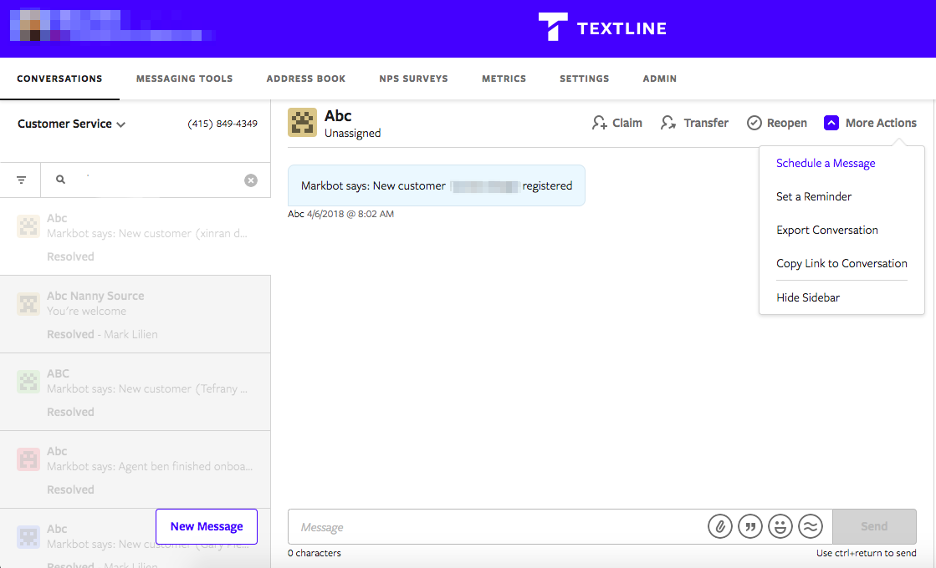 The intuitive, clean Textline dashboard groups crucial features at the top for easy access. Source: Textline
Features
Textline has an impressive array of features, including the following.
Departments
Textline's "departments" structure facilitates team-level communication by letting you designate and communicate with separate entities in the business. For example, if you have sales, customer support and servicing teams at multiple locations, you can create departments like Wyoming Sales, Connecticut Support and Boston Service Team. (Employees can be members of more than one department.)
Each department functions as a unique group with specific contact details and even a dedicated Facebook page. This compartmentalized setup keeps things tidy and makes identifying the right personnel for specific tasks easier. 
Textline's sister app, Textedly, is designed for small and medium-sized businesses with essentially flat structures and limited customers. Check out our review of Textedly if you have a smaller business with less complicated communication needs.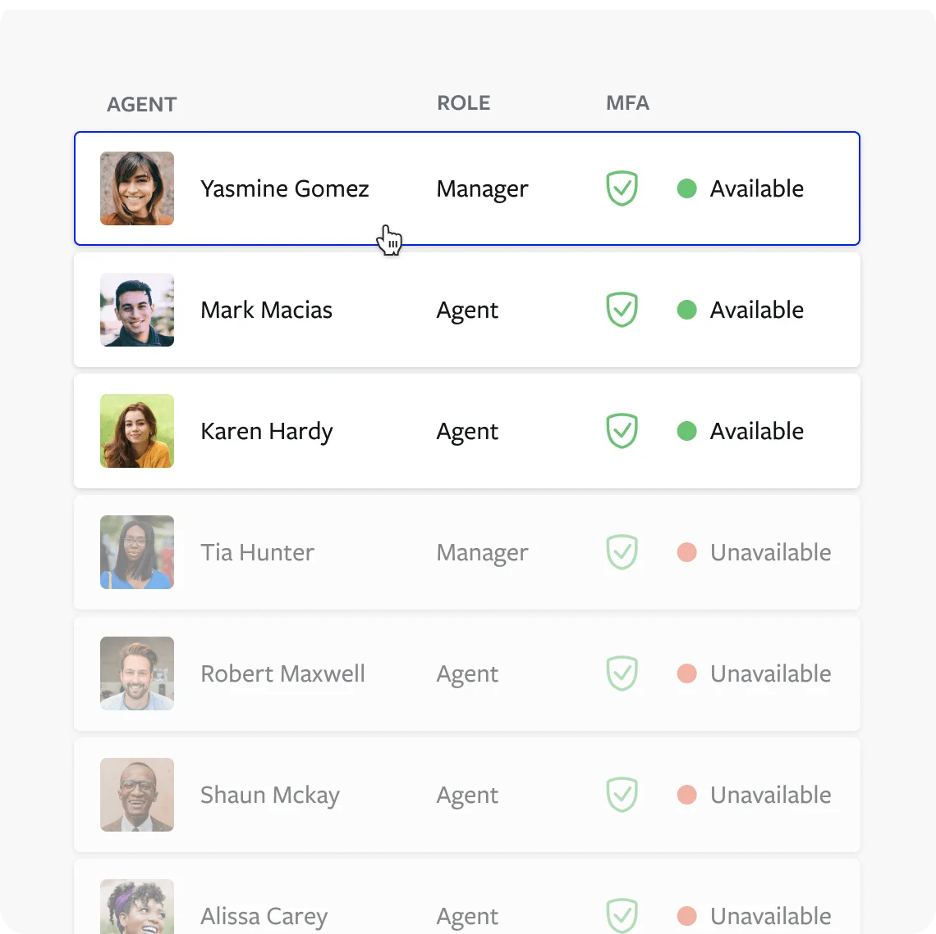 Textline makes it easy for managers to access various department members. Source: Textline
Enterprise-level Security
We were impressed by Textline's focus on data protection, especially its Sensitive Data Redaction feature. This function automatically obscures private data, making it accessible only to authorized team members. This added security layer is indispensable for companies dealing with confidential data.
Other security features include the following: 
Textline is fully compliant with CCPA regulations and extends GDPR protections to all users, not just those in Europe. 
Textline holds EU-US and Swiss-US Privacy Shield certifications. 
Textline lets you choose how long you store data. 
All message traffic via the app is encrypted using secure sockets layer (SSL)/transport layer security (TLS) methods.
The firm is SOC 2 Type 2-compliant.
Textline's focus on healthcare data protection is also noteworthy. It offers comprehensive HIPAA-compliant texting plans that cover everything from patient consent to secure data storage.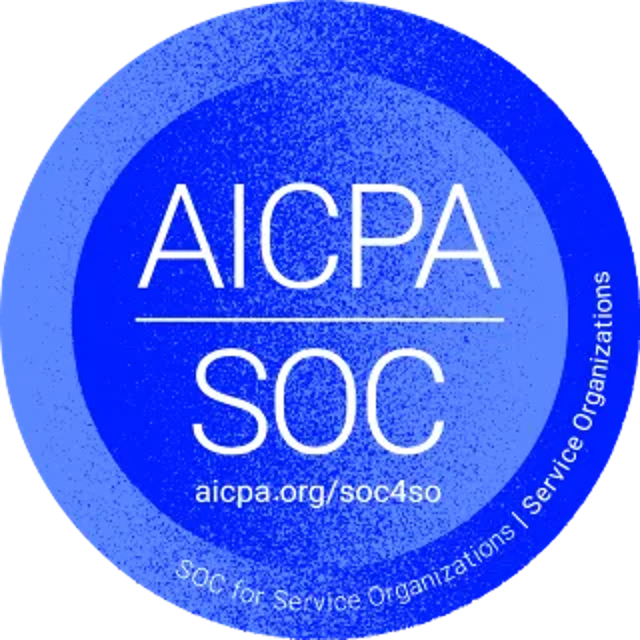 Textline's robust security credentials include being SOC 2 Type 2-compliant. Source: Textline
Collaboration Tools 
Textline has two standout collaboration tools: 
Group messaging: With group messaging, you can add up to 10 contacts to a conversation, keeping all recipients and their responses in one thread. Group members can keep the conversation live in Slack, on their phones and within the Textline dashboard. You can also use group messaging for personalized customer communications.
Whispers: The Whispers feature allows you to bring colleagues into a conversation when you need help. They can see your entire conversation and leave suggestions and notes to help you resolve the issue. The client won't see Whisper messages.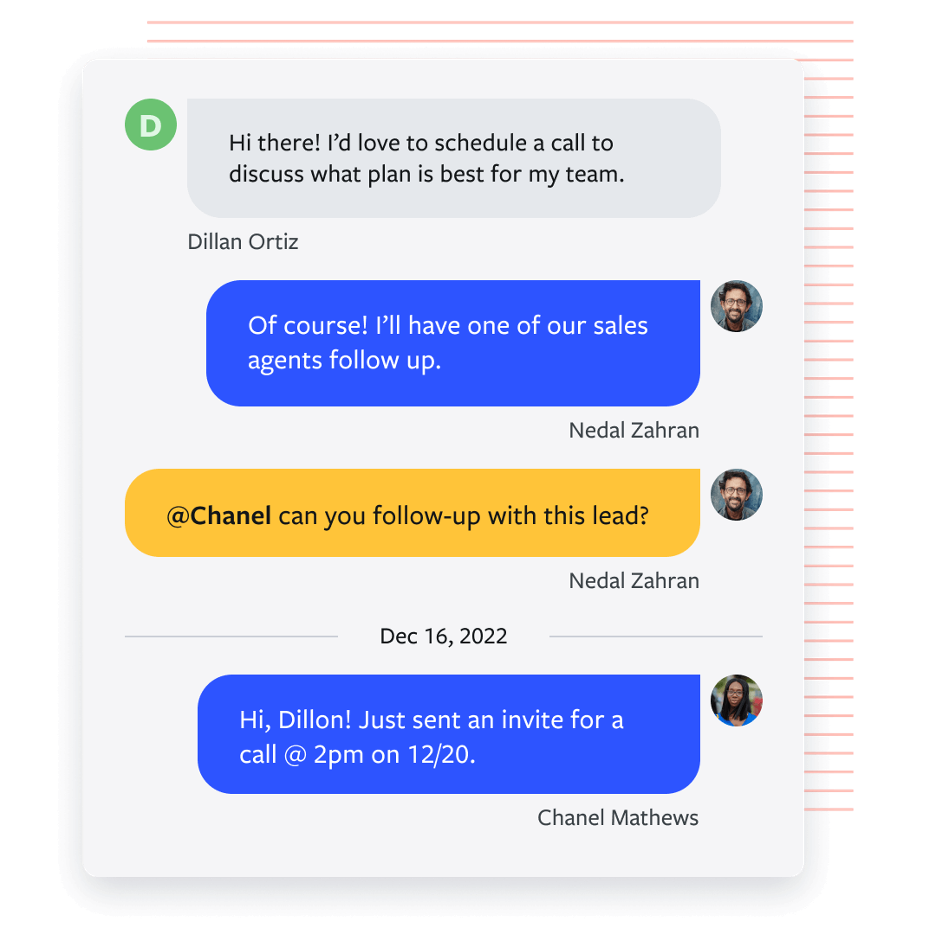 Textline's Whisper feature lets you loop in colleagues to provide direction and advice. Source: Textline
Workflow Automations and Shortcuts
Shortcuts and workflow automations are a core element of the Textline service, helping users save time and respond more quickly to client and co-worker requests.
Notable examples include the following: 
Message routing: We like how well Textline handles message routing. Automated routing options include the following:

Round Robin (cycles through agents in sequence)
Last Assigned (assigns conversations to agents based on prior interactions)
Load Balanced (considers an agent's current conversation workload) 
Leave Unassigned (reps can pick up individual conversations)
Specific Agent (directs messages according to tags)
Redirect to Manager (routes a call to a manager if the assigned agent doesn't respond quickly enough)
Tagging automation: The platform's smart tagging automation assigns tags based on message content. For example, refund requests could go to customer service automatically while new orders head to the sales department.
Message scheduling: Message scheduling is invaluable for businesses with appointments or site visits. You can preset reminders, follow-ups or promotions to go out in advance. 
Shortcuts: We like Textline's Shortcuts features. These prewritten templates save time while maintaining message consistency. Whether confirming an appointment or answering frequent questions, shortcuts make processes more efficient. 
Managerial Controls and Insights
We like that Textline makes it easy for managers and company leaders to monitor conversation activity and other metrics, including the following: 
Speed: Monitor how quickly agents reply to and resolve conversations by analyzing Time to Respond and Time to Resolution statistics.
Number of live clients: See who's engaging with clients by checking the Active Agents metric and the number of new contacts agents help.
Unresolved conversations: The Unassigned Conversations metric shows clients awaiting a response; Contacts Waiting tells you how many unresolved conversations are underway where the client was the last person to send a message.
Areas for improvement: Use the Longest Wait and Unresolved Conversations metrics to identify areas where your team may be underperforming; check Resolved Conversations to see how many issues and inquiries have been successfully resolved.
Resolution times: See how quickly your team resolves customer problems and questions via the Average Messages to Resolve metric.
Volume of conversations: See how many conversations are still live within a timeframe you set by checking Active Conversations; check each agent's caseload with Assigned Conversations.
Automation use: The Automation Sent metric shows how frequently the system sends automated responses.
Conversation outcomes: The Dispositions metric shows every conversation's outcome, including which issues have been resolved and which still need a follow-up.
Textline's Unified Inbox gathers conversations from different departments and platforms, including Facebook Business and Instagram, giving a broader conversation overview. Admins can set visibility permissions.
Customer Communication Tools
Textline's customer communication tools impressed us. Features include the following: 
Announcements: Announcements are bulk emails. We like that Textline makes it easy to send mass text campaigns from the platform. With a few clicks, you can compose a message and send it to entire segments of a customer database. You can choose from established lists or upload and save new contact lists. You can send messages immediately or schedule them for later. After sending your campaign, Textline displays graphs and charts showing sends, deliveries, responses, opt-outs and more. This level of analysis will help marketing teams improve marketing campaigns for greater engagement.
Surveys: We appreciate how well Textline's survey feature has been integrated into the platform. You can run customer satisfaction score (CSAT) and Net Promoter Score (NPS) surveys using prebuilt templates or create customized surveys. Gather survey data to gauge customer sentiment or program surveys at predetermined times, like after an issue has been resolved.
Call forward: We liked Textline's call forwarding features. If someone attempts to call your text number and the system recognizes it as a voice call, you can forward it to a number you select. If you have multiple departments, you can assign a call forwarding number for each.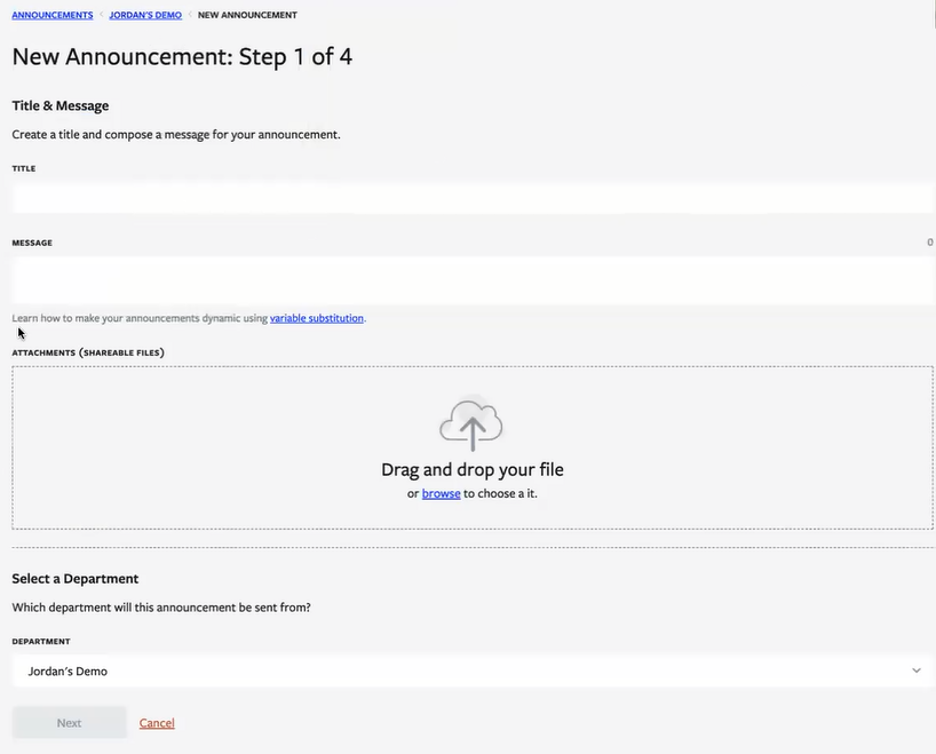 Textline lets users send "announcements" or mass text messages to specific groups. Source: Textline
Pricing Plans and Subscription Costs
Each Textline service level includes a wide range of features, including announcements, conversation history, automations, message templates, automatic responses and the ability to track and analyze metrics.
The current subscription levels are as follows:
Plan

Monthly price

Cost per additional agent

Features

Limited

$59.97 for three agents

N/A

Includes the basic features listed above, plus the ability to add one department and a 90-day conversation history.

Standard

$89.97 for three agents

$29.99

Includes everything in Limited, plus:

Up to 10 agents
Multiple departments
Three-year conversation history
NPS and CSAT surveys
Standard integrations
Application programming interface (API) and webhooks
Admin and agent roles
HIPAA compatibility
Priority support 
A dedicated Customer Success Manager

Pro

$249.95 for five agents

$49.99

Includes everything in Standard, plus: 

Up to 50 agents
Unlimited conversation history
Custom surveys
Salesforce integrations
Custom roles
Time-based automations
Routing 
Advanced security features
Messaging costs and industry fees are not included in the price. Industry fees cover, for example, short codes, which can cost between $1,000 and $1,500 per month.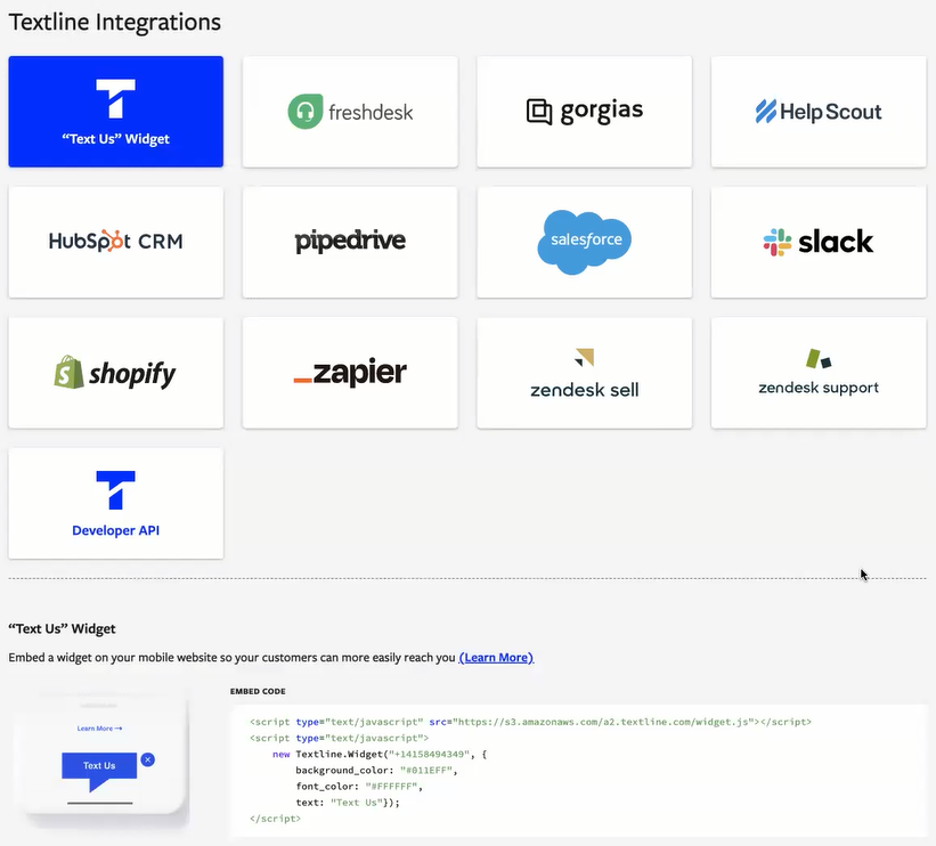 Textline's higher-tier plans include access to standard and specialized integrations. Source: Textline
Implementation and Onboarding
We were happy to see that setting up Textline is straightforward:
After logging in, you'll create the appropriate departments for your company. 
Allocate agents to specific departments. You can assign agents to more than one department. 
Upload your existing contact lists, such as customer and prospect databases and confirm you have permission to message them.
Group your agents into teams based on criteria like language or skill set.
If you prefer to use existing phone numbers, Textline can help you text-enable them. It can also add SMS functionality to your landline numbers. 
Customer Support
Textline's customer service team is available from 9 a.m. to 5 p.m. Pacific time. You can open a support request ticket and send a text message, but we were disappointed that there's no option to call an agent if you need technical support. It does provide a phone number for billing issues. Customers on the Standard and Pro plans benefit from priority support and a dedicated Success Manager.
We like Textline's extensive online knowledge base. There are 230 preanswered questions to search through, many of which give easy and clear step-by-step instructions on operating the platform. Twenty-seven helpful video tutorials cover everything from integrations to tagging contacts.
Limitations
Textline has many excellent upsides, but we did identify some limitations: 
Few integrations: Textline's integrations were a bit disappointing. Its collection of 19 integrations may not be enough for larger businesses that want pre-built functionality with their business software. While the API and webhooks are great, pairing Textline with your other business software titles will almost certainly require a developer.
Limited tier is limited: Textline's Limited pricing tier lives up to its name. Its narrow feature set is surprising for a vendor whose target audience is larger businesses. You only get three agent seats and one department. It lacks HIPAA compliance and surveys and imposes a 90-day conversation history cap. Its pricing is competitive, but most larger businesses will likely require higher subscriptions.
Customer service limitations: If you experience a problem outside the eight hours on weekdays when the customer service team is open, you're stuck. Textline's knowledge base is good and it's great that you can submit a support ticket or send a text. However, many businesses would prefer picking up the phone and calling for help — especially if they're paying for a higher service tier. 
Methodology
We analyzed and evaluated multiple text messaging services to identify the best solutions available. Our in-depth review process included evaluating each solution's ease of use, features, pricing, customer support and integrations. When looking for the best text messaging service for larger businesses specifically, we prioritized customer and in-house communication tools, managerial controls, collaboration functions and security. 
Textline FAQs
Yes. Textline's Standard and Pro service plans are fully HIPAA-compliant business texting solutions. The vendor's HIPAA compliance covers patient consent and secure data storage. In 2021, the company even patented its HIPAA Contact Consent feature, giving healthcare businesses peace of mind when sending messages to patients and service users. 
To use Textline, open the platform and go to your Unified Inbox to see all departmental and customer conversations. If you want to send a bulk text message campaign, use the Announcements feature. To consult with colleagues on live calls without the customer seeing, use the Whispers function. Other Textline functions are listed at the top of your dashboard.
Yes. Textline has iOS and Android mobile apps that sync with its web service, allowing users to manage multiple departmental phone numbers, engage in team-based texting and assign conversations. The app incorporates Whispers for conversation notes, Shortcuts for quick text templates and real-time notifications. Users can also schedule messages, integrate Facebook Messenger and connect with platforms like Zendesk and Slack.
Bottom Line
We recommend Textline for …
Multisite or multidepartment businesses that want a more streamlined and manageable text platform.
Companies using text message marketing that want deeper analytics and insights into campaign performance.
Businesses that must be HIPAA-compliant.
We don't recommend Textline for …
Businesses that text infrequently or to limited groups and don't need in-depth performance analysis.
Companies on a tight budget (less expensive options are available).
Firms that rely heavily on MMS marketing because Textline has potential capacity issues.