Social media marketing is essential for small businesses. Each social platform offers an opportunity to find and communicate directly with your target audience. 
LinkedIn is a popular platform that professionals use to network and forge their career paths. Its business networking features can help organizations drive growth, hire top talent, establish authority, build credibility, and foster a supportive network. 
We'll explain how to create a LinkedIn company page and harness the platform to grow your business. 
How to create a business profile on LinkedIn
You'll need a personal LinkedIn personal account and a verified email address to create a LinkedIn business profile, which is now called a company page. Follow these six steps to establish your business presence on the platform and start networking with LinkedIn.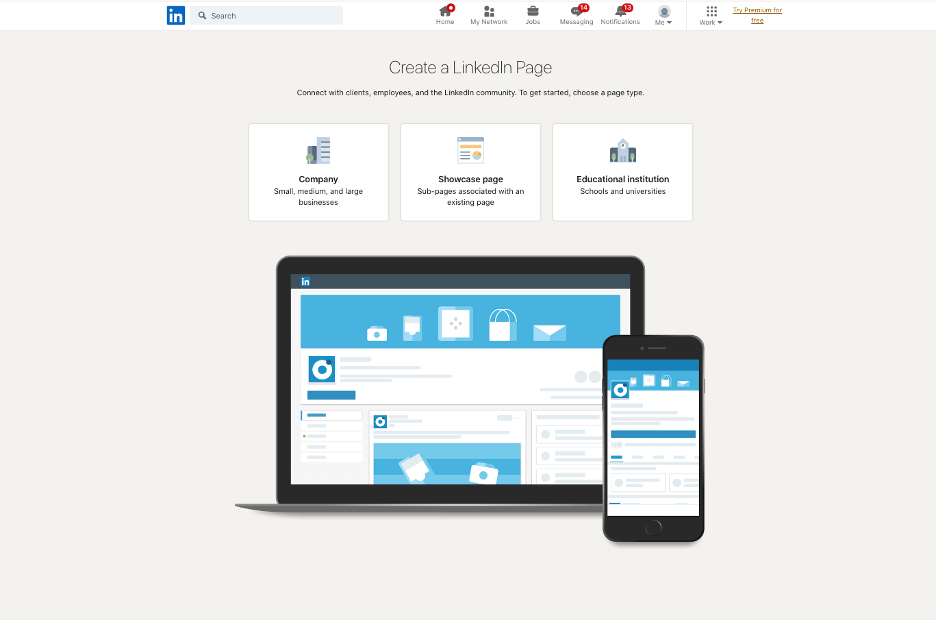 Source: LinkedIn
2. Fill in your company details, including business name, website, industry, organization size, business type and tagline. You can set your business's LinkedIn URL — for example, "linked.com/mycompanyname." You can also upload your company logo (300 x 300 px size is recommended).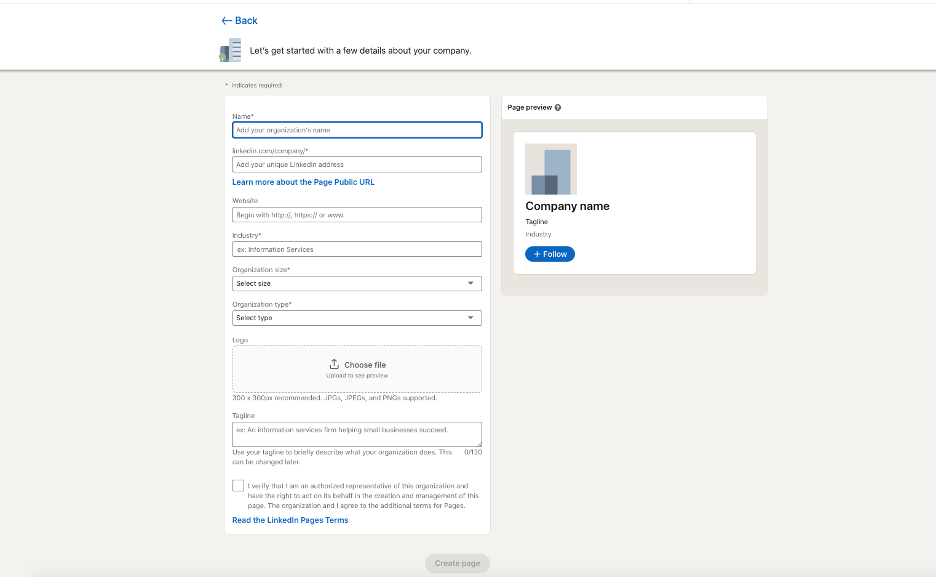 Source: LinkedIn
3. After entering all necessary information, check the verification box to assert that you're an official company representative. Select Create Page to create your company page.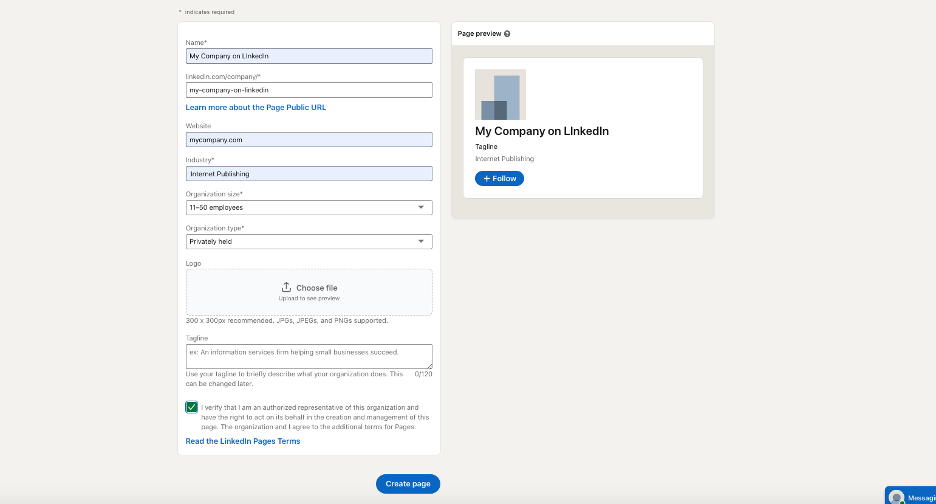 Source: LinkedIn
4. You've created your LinkedIn company page. It's now live at the URL you specified in the previous step. 
LinkedIn recommends completing additional steps to increase traffic to your company page by up to 30 percent:
Description. You have up to 2,000 characters to describe your company and the products and services you sell. You can also share your phone number and the year your company was founded.
Address. Enter the address of your primary business location so followers know where you're based.
Specialties. Nominate up to 20 different company specialties. Including specialties increases the chances that your page will be found when other users conduct specific searches.
Workplace. If you plan to use your page for recruiting, let potential employees know if you have a remote work plan, want users to work in the office, or have a hybrid arrangement.
Commitments. For your company page's About section, share information on career and professional growth; learning opportunities; diversity, equity and inclusion (DEI); environmental sustainability; social impact; and work-life balance priorities.
Lead generation. Add a lead generation form to your company page to collect and download inquiries.
Hashtags. Add up to three relevant hashtags to your page to help prospective customers find you.
Featured groups. You can allow members to see and request to join the groups you belong to from your company page.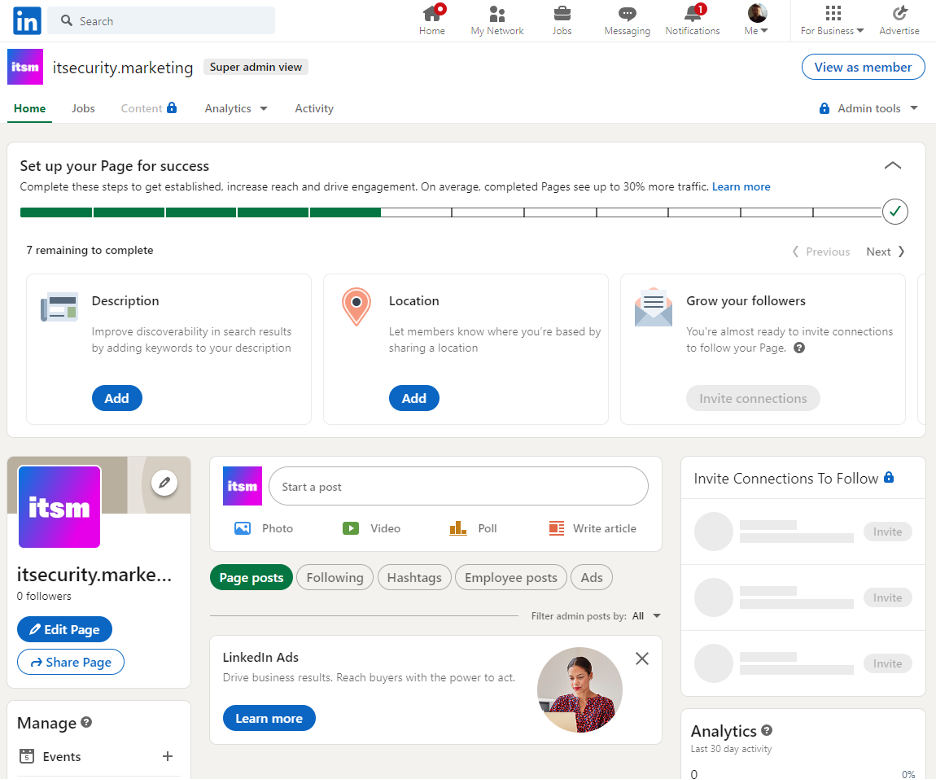 Source: LinkedIn
Select Invite connections to invite people to follow your company page. You should also invite people who follow you personally to follow your LinkedIn company page.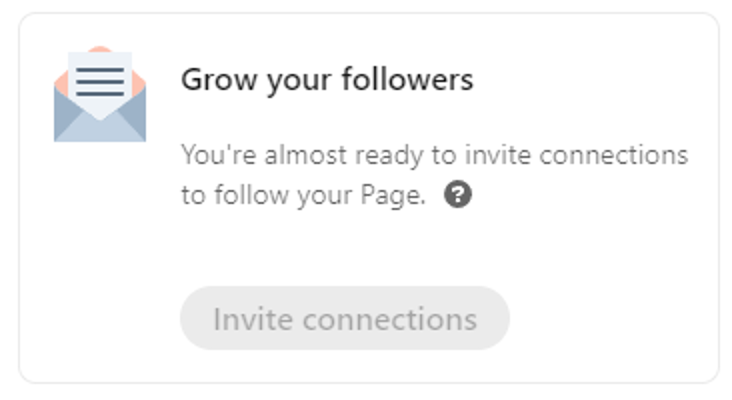 Source: LinkedIn
LinkedIn FAQs
Here are answers to some commonly asked questions about LinkedIn. 
Is a LinkedIn company profile free?
LinkedIn company profiles, now called company pages, are free. However, you will first need a personal LinkedIn account and a verified email address to set one up. Basic personal LinkedIn accounts are free, but various paid personal accounts are available that offer additional functionality.
Is there a difference between personal and business LinkedIn accounts?
There are several differences between personal and business LinkedIn accounts. Personal LinkedIn pages belong to individuals, while company pages belong to businesses and organizations. Your personal account has "connections," but your company page has "followers." You can post via personal accounts and company pages. However, you can only run ads via company pages.
Personal accounts are better for building your personal brand so you become a trusted expert in your field. Company pages are better for building your business's reputation, credibility and connections. Company pages are also great for recruiting.
What should be included on a company's LinkedIn profile?
Include details about your company, products and services, as well as your logo and a tagline. You get 2,000 characters to tell page visitors about your business, so ensure you effectively tell your brand's story. Increase the chances of your page being found by searchers by adding relevant keywords to your tagline, description, business tags and hashtags.
How much does a LinkedIn business profile cost?
LinkedIn company pages are free. However, you need a personal account to set one up. You can promote your company page to other LinkedIn users with a paid-for advertising campaign. You may also consider paying for premium features, like detailed statistics on user activities, after establishing your business presence.
Should my company have a LinkedIn business profile?
LinkedIn business profiles (company pages) offer valuable marketing opportunities for businesses. Followers can subscribe to see posts from your company. In contrast, individual company members take their audiences with them when they move jobs. Many job seekers also check out firms on their LinkedIn company pages when assessing whether they want to apply for a position.
How can I make my LinkedIn business profile attractive?

Source: LinkedIn
To make your LinkedIn business profile (company page) attractive, upload clean, high-resolution logos and a backdrop to your logo. See the above picture as an example.
Ensure all copy and content on your company page is correctly spelled and formatted attractively. Try not to make paragraphs too long, as large blocks of text can be difficult for people to read.
When you post new content, ensure images, videos and copy are all high quality. 
How many company pages can you create on LinkedIn?
You can create as many company pages as you want. Be strategic about which one you choose to be the primary company page. People often stop reading after the first listing, so put the most important business first.
Should I create separate company pages for group companies and brands?
If you have multiple brands or you are one of a group of companies, creating a separate company page for each entity may make sense. This avoids the potential of information overload, as followers of one brand may see content from other brands that they're not interested in if your company pages are not separate.
Should I create separate company pages for different target audiences?
An excellent way to use company pages is to focus on connecting to specific target audiences. Create various posts for different audiences on company pages. For example, if you run a business brokerage, you could have one company page for buyers and one for sellers, with information of value to each audience.
However, small businesses may find it more efficient to concentrate on one company page to avoid content creation burn-out.
Are LinkedIn company pages worth it?
Put the same effort and attention to detail into your company page as your personal profile. Think of content marketing strategies you can use to drive audience engagement and use analytics tools to measure your success.
LinkedIn has much to offer businesses of all sizes. If you've never considered creating and maintaining a LinkedIn company page, it may be time to give the idea a second look.
Marisa Sanfilippo contributed to this article.