Crystal (sometimes called Crystal Knows) uses publicly available information on LinkedIn and the wider internet to assess people's personalities. The app premiered in 2015 with its popular Chrome browser plug-in.
What use are personality assessments in business? Sales reps use Crystal to help them manage the sales process better and close more deals. Team managers also find it helpful when hiring new staff and in improving productivity and morale among co-workers.
In this article, we'll look at how Crystal works, what information it provides you with, and the pros and cons of using it from the perspectives of sales psychology, recruitment and team management.
Crystal in action
How does it work in the field? Here's what our screen looked like when we loaded Microsoft founder Bill Gates' profile into LinkedIn.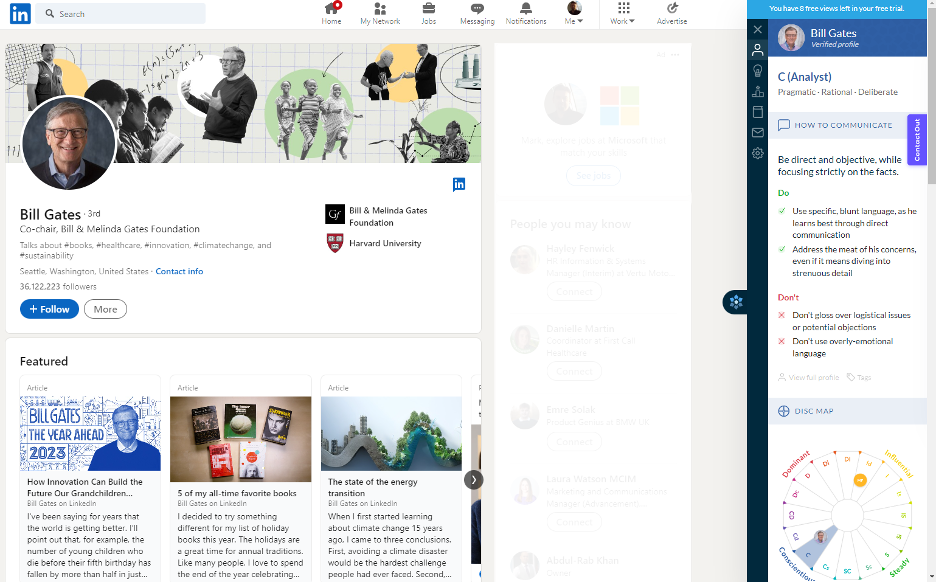 Bill Gates LinkedIn screenshot with Crystal plug-in on right
Every time you visit a LinkedIn profile, Crystal places a little button on the right of the browser window that gives you the option to see that member's personality assessment. If you do want to see it, the sidebar on the right appears, as shown in the picture above.
B2B networking on LinkedIn is one of the social media platform's primary uses. It's the world's largest professional network, with over 900 million users worldwide.
Communication tips
At the top of the sidebar, you get tips on how to communicate effectively with the person in the profile. For Gates, Crystal suggests that you speak to him in a straightforward manner, making sure to specifically address his concerns early on. You shouldn't leave out details when you're dealing with him, no matter how apparently small. Crystal also advises that you avoid being over-emotional in the language you use and that you don't gloss over his objections or issues about your product.
DISC map
Underneath that, you're presented with a diagram showing Crystal's assessment of a person based upon the DISC personality profile test.
The four DISC factors are Dominance (D), Influence (I), Steadiness (S) and Conscientiousness (C). In Gates' case, Crystal assigns him a "C" classification (Conscientious), meaning that he only makes decisions carefully backed up with information and research.
Sales stages
You can tell Crystal what stage of the sales process you're currently in with a client. The five choices you have are Prospecting/Targeting, Discovery/Qualification, Sales Opportunity, Proposal and Negotiation, and Sale Pending.
You then click Get Advice to get specific guidance on how to handle the part of the sales process in a way that suits your target's personality. If you chose Discovery/Qualification for Gates, Crystal would advise you that:
You need to prepare a thorough list of answers to likely questions he has so that you go in fully prepared.
You should be certain of and express "cold hard facts and figures," not share "colorful stories."
Gates will want to know about the in-depth details and logistics of your product.
Other insights
Crystal also shares a person's:
Expected behavior: You should expect Gates to want to experiment with as many solutions as possible. He solves problems by comparing the outcomes of different approaches. He's very methodological when making decisions, and he'll appreciate any spreadsheets you send him.
Email preferences: Crystal advises that you include relevant data in your emails when attempting to prove a point. You should explain and justify your case thoroughly in each email and, at the end of each one, provide Gates with multiple options for the next step.
Meeting preferences: During a meeting, Gates will give you all the time you need because, for him, getting the right answer is important. 
Energizers: Crystal predicts that what gives Gates the biggest buzz at work is overcoming hurdles.
Stressors: The app suggests you steer clear of unreliable and unproven information. It also recommends that he doesn't like meeting lots of new people at once, so it may be best to meet him on your own or as a pair.
Speaking preferences: When in a meeting or over the phone, Gates wants conversations to begin with an issue that needs resolving. During meetings and calls, he'll always try to remain objective and logical.
Expectations: He's happy for suppliers and people he trusts to test out ideas before implementing a final solution. But he wants to know what he can reasonably expect at all times when you deal with him.
Playbooks
Crystal allows you to share personality assessments with co-workers and others via its Playbook option. Playbooks provide strategies for:
Handling the product discovery phase with the client 
Conducting a demo
Closing the sale
Succeeding at sales negotiations 
Managing the account post sale
Email templates
For each individual, Crystal provides nine different email templates customized to a prospect's personality, as well as advice on the best subject line and body copy style to use. 
For example, if you wanted to send a cold sales email to Gates, Crystal recommends the following:
Hi Bill,
I've worked with people like you in the X industry for Y years and have calculated that one of the most common struggles that you may face is Z.

Over the past year, I've helped clients at B companies gain $C in revenue and find D more hours each week.

If you're interested, I'll schedule a call this week for us to talk more in depth.
Thanks, 
Business.com
Crystal's Writing Assistant integrates directly with Gmail, Outlook and Office 365. You can use it to help you choose words and select a tone of voice that your prospect finds receptive.
It analyzes emails as you're writing them, highlights wording it finds ill-suited to the recipient's personality profile and suggests phrasing more "simpatico" to that person. For example, it tells you to use "Hello" rather than "Hi there" when emailing with Jane Doe and add friendly lines like "hope you are doing well."
Team management
When recruiting, team managers can use Crystal to profile potential co-workers to reduce the danger of taking on toxic employees.
You can ask co-workers to take a 10-minute personality test and use those results to better manage them. Managers can create custom playbooks for individual colleagues or the team as a whole to help with group meetings, performance reviews, one-on-ones and conflict resolution.
You get hints about what to do when working with someone (focus on goals) or speaking to them (don't leave detailed messages); there are also tips on what does or does not come naturally to that person (she feels comfortable making quick decisions; he does not like spreadsheets).
Crystal's goal is to create a new technology built upon an age-old principle: communicating with empathy.
For business communication, that ability to foster empathy can make the difference between an email that is read and one that isn't. Moreover, it can lay the groundwork for better customer relationships and long-term brand loyalty. Even within the office, better communications among team members and peers can reduce petty squabbles and misunderstandings that can hinder productivity and effective cooperation.
Crystal doesn't provide users with a prospect's email addresses in the LinkedIn sidebar. However, there are a number of tools that do, including GetProspect, Reply.io and Kaspr.