HR software can help business owners effectively manage their human resources (HR) functions, including payroll, benefits administration, recruiting and onboarding, talent management, compliance support, and workflow automations. Rippling and Gusto are both excellent, customizable HR solutions with robust functionality. We'll compare their pricing, features, usability and customer support to help businesses choose the right HR software for their needs. 
Rippling vs. Gusto HR Highlights
Rippling and Gusto are two of the best HR software options on the market. However, key differences may make one more suitable for your business. Here's an overview of their features and pricing.  
Feature

Rippling

Gusto

Starting monthly price

$8 per user per month

$40 monthly (plus $6 per person per month)

HR services

Recruiting and onboarding
ATS
Document management
Org directory
Custom workflows
Benefits administration
Learning management
Analytics
App/device management
Expense management
PEO

Hiring and onboarding
ATS
Background checks
Document storage
Org charts
Time-off management
Benefits administration
Performance management
HR reports

Payroll

Comprehensive (add-on option)

Comprehensive (included in plans)

Ease of use

Very intuitive and user-friendly

Intuitive and user-friendly

Customer support

Email and web chat (plus phone support with HR help desk add-on)

Phone, email and web chat (priority support add-on)
Who Is Rippling For?
Rippling is an advanced HR and IT solution that caters to small and midsize businesses. It's ideal for employers who want to manage HR functions with workflows and automations, reducing the need for manual HR processes. The software is highly customizable, making it an excellent solution for businesses that need a flexible or unique HR management system. While Rippling's functions can streamline HR processes, employers must have the time and ability to set up workflow automations when accessing the software. Check out our detailed Rippling review for more information on this powerful platform.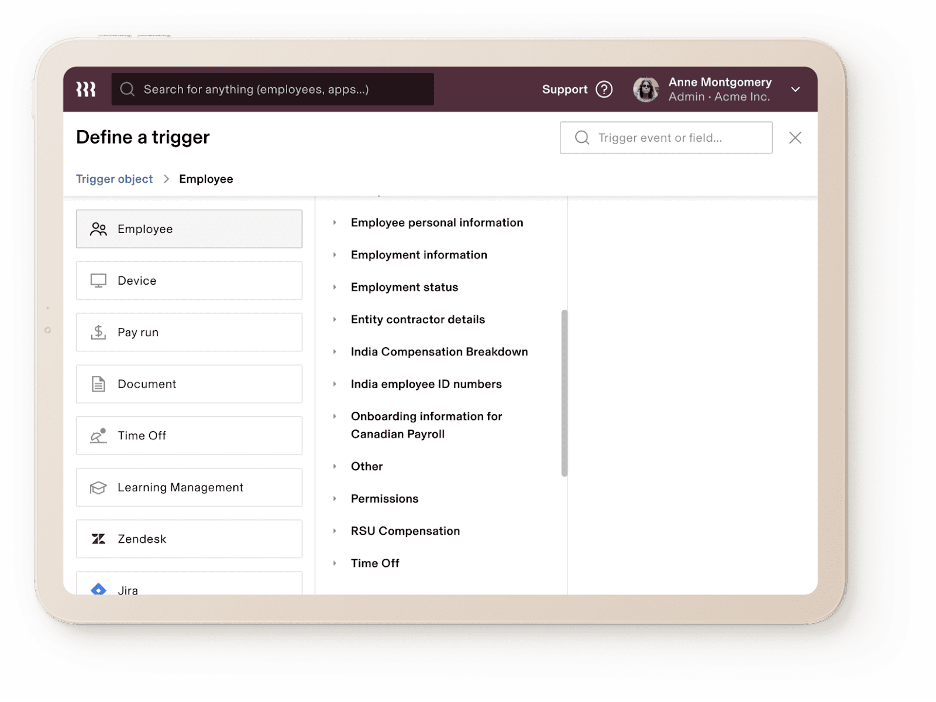 Rippling allows you to trigger custom workflows based on employees, third-party app data and more. Source: Rippling
Who Is Gusto For?
Gusto is a payroll platform with integrated HR features that best serves small companies with fewer than 50 workers. It's a great solution for mixed workforces because it can support businesses that must pay employees and contractors. Since payroll functionality is at Gusto's core, it's best for small businesses seeking a comprehensive payroll platform with additional HR functions. Gusto offers several add-on options and supports hundreds of third-party applications, making it ideal for businesses that need a flexible solution. Read our in-depth Gusto review to learn more.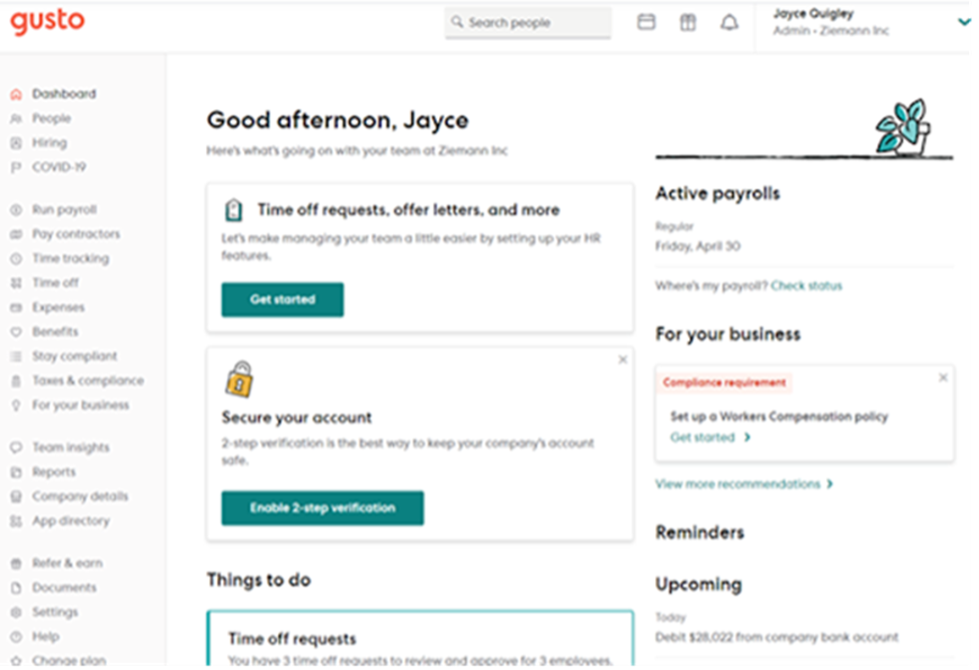 The Gusto platform is comprehensive but easy to navigate. Source: Gusto
Rippling vs. Gusto Comparison
Here's how Rippling and Gusto compare in pricing and essential HR services and functions. 
Pricing and Plans
The best HR software for your business will fit your budget while providing essential features. 
Rippling Pricing and Plans
Rippling's base workforce platform, Rippling Unity, starts at $8 per user per month. However, it offers several additional service options, so you must contact Rippling directly for a quote.
Here is some notable Rippling pricing information: 
Rippling doesn't offer a free trial but does offer a free product demo.
Rippling Unity has four base plans (Core, Pro, Unlimited, Enterprise) but doesn't list its pricing online. 
Rippling's plans offer various levels of custom workflows, formula fields and advanced HR reports.
Users can pay to add HR cloud features and non-HR services.
Gusto Pricing
Gusto offers three plans for employees (Simple, Plus and Premium) and a plan for contractors. Features and support vary by service level.
Here is some notable Gusto pricing information: 
Gusto offers a one-month free trial.
Gusto offers monthly pricing and doesn't require long-term contracts.
Users can pay to add supplemental payroll, HR tools and various employee benefits. However, most add-ons are not available for contractor-only plans.
Here's a breakdown of Gusto's base plans:
Plan name

HR services

Pricing

Contractor Only

Unlimited payments
Four-day direct deposit
1099-NECs (plus new-hire reporting, if required)

$35 per month, plus $6 per contractor per month

Simple

Single-state payroll processing
Hiring and onboarding
Employee benefits (optional)
HR reports
Workforce management
Customer service

$40 per month, plus $6 per employee per month

Plus

Everything in the Simple plan, plus: 

Multistate payroll processing
Advanced hiring and onboarding features
PTO management
Next-day direct deposit
Project tracking
ATS
Organization charts
Employee surveys
Performance reviews
Optional priority support add-ons

$80 per month, plus $12 per employee per month

Premium

Everything in the Plus plan, plus: 

Insurance broker integration
Priority customer support
Full-service payroll migration and account setup
Compliance alerts
Access to certified HR experts
Dedicated customer success manager

Custom pricing
Winner
We like that both vendors offer monthly rates and multiple add-ons, so small and growing businesses pay only for the services they need. However, Gusto is our winner in this category. Its Simple plan includes essential HR functions like employee onboarding, payroll and employee self-service. We also like that Gusto offers a one-month free trial – something Rippling and many competitors don't offer.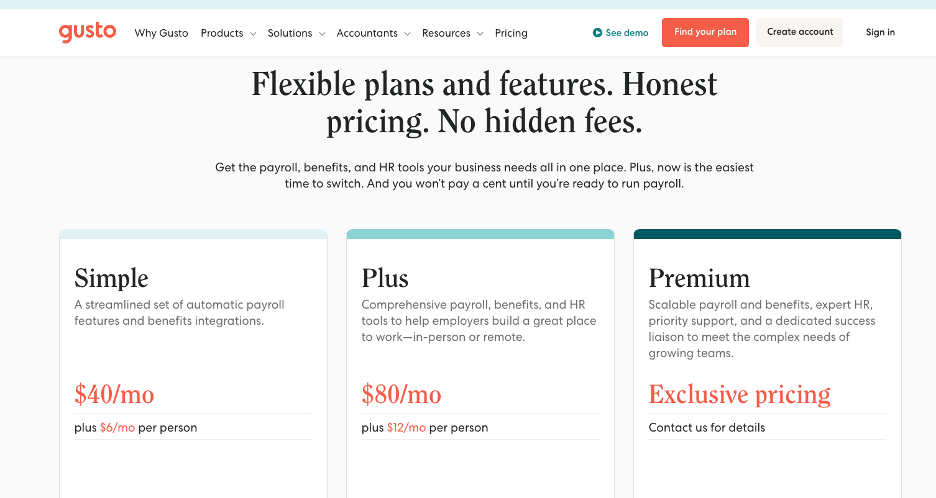 Gusto's pricing is transparent and readily accessible online, making budgeting for your HR needs easier. Source: Gusto
HR Services
Here's how Rippling and Gusto compare when it comes to essential HR services.
Rippling HR Services
Gusto HR Services
Essential HR features: Gusto's plans have essential HR features like applicant tracking, hiring and onboarding, organization charts, benefits administration, time and project tracking, payroll processing, HR reporting, employee surveys, and performance management.
Optional HR features: Gusto offers optional payroll and HR tools like international contractor payments, state tax registration, R&D tax credits and a time kiosk.
Optional employee benefits: Gusto offers optional employee benefits like health insurance, health insurance broker integration, workers' compensation, life and disability insurance, 401(k) retirement plans, 529 college savings plans, HSAs, FSAs, and commuter benefits.
Compliance features: All plans automatically include assistance with HR compliance; the Premium plan includes compliance alerts.
Winner
Gusto offers essential HR services and add-ons. However, Rippling's extensive HR capabilities impressed us. We like that Rippling can automate virtually any HR process, saving your HR team countless hours. And Rippling is one of the few HR solutions we reviewed that offers IT functions like app and device management. Additionally, we were pleased to see that Rippling offers an optional PEO arrangement for small businesses that want a co-employment model.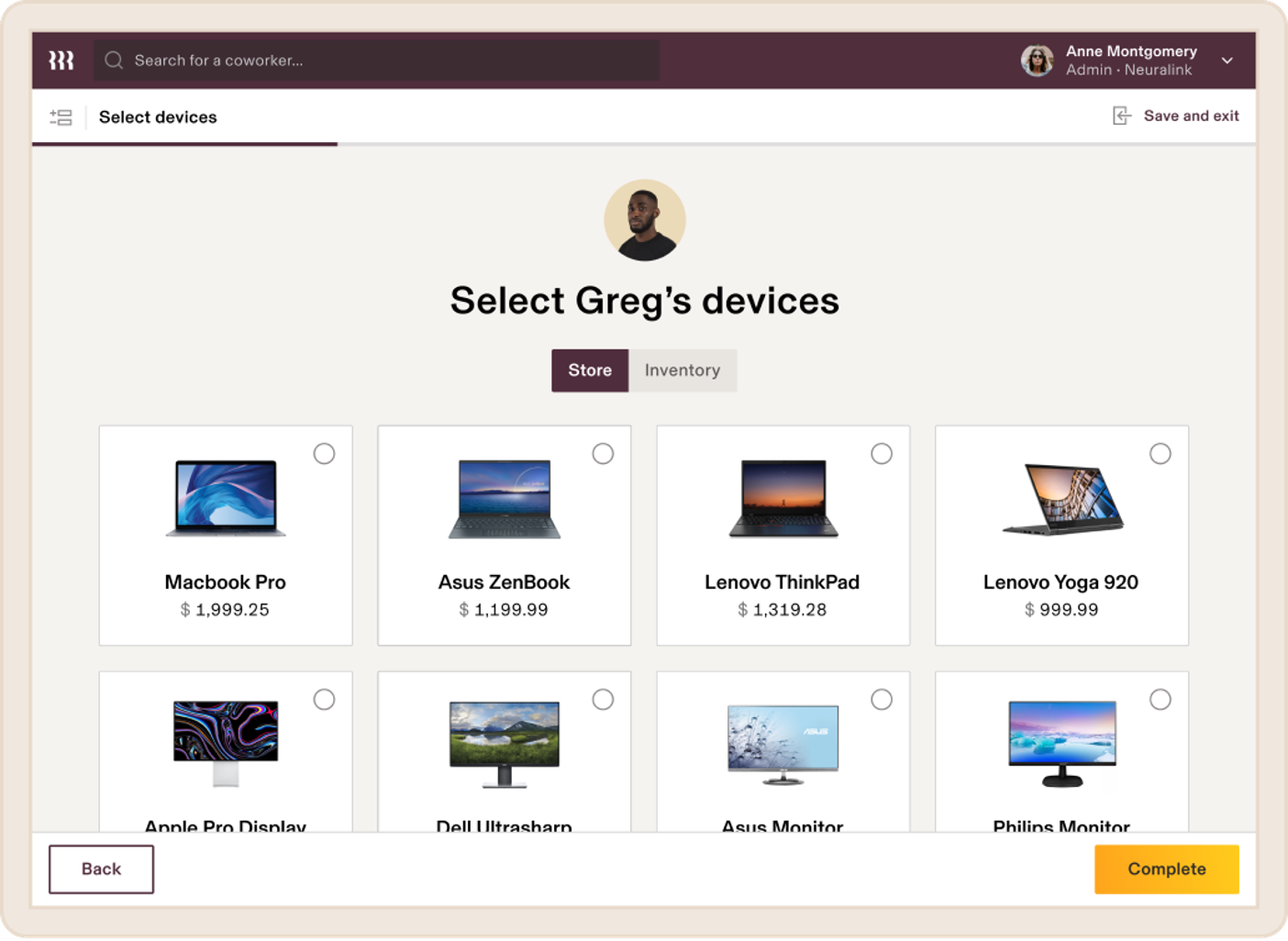 Rippling helps employers manage the entire lifecycle of their employees' desktop and mobile devices. Source: Rippling
If you're seeking a stand-alone PEO service to handle multiple HR needs under a co-employment model, check out our reviews of the best PEO services to simplify your HR responsibilities.
Payroll Processing
Rippling and Gusto both incorporate robust payroll processing functions.
Rippling Payroll Processing
Running payroll: Rippling offers U.S. and global payroll as an optional add-on feature; however, payroll is required for PEO clients.
Payroll taxes: Rippling can handle your federal, state and local payroll taxes (W-2, W-4, 1099, etc.).
Time and attendance option: If you add Rippling's time and attendance feature, it can automatically integrate with Rippling's payroll and PTO functionalities.
Gusto Payroll Processing
Running payroll: Gusto offers full-service, single- and multistate payroll processing for employees and contractors.
Automated payroll: All plans include Gusto's payroll on AutoPilot – a way to automate your payroll process.
Payroll taxes: Gusto can handle your federal, state and local payroll taxes (W-2, W-4, 1099, etc.).
Winner
Payroll is Gusto's bread and butter, and it does it well. We like that full-service payroll functionality is automatically included in every plan; users don't have to pay extra to add payroll functionality. We like that businesses can pay international contractor payments, which is especially valuable with today's remote workforces.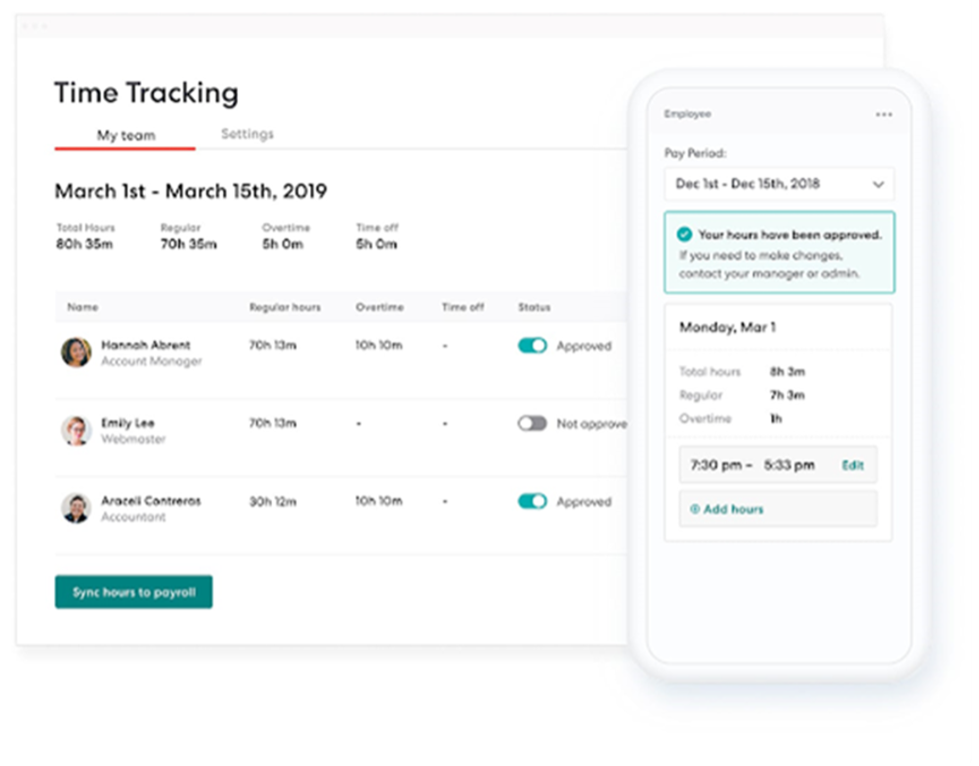 Gusto's time-tracking features can automatically integrate with its payroll functionality. Source: Gusto
Ease of Use
HR software should be straightforward to implement and use. Here's how Rippling and Gusto compare. 
Rippling Ease of Use
Intuitive navigation: When testing the Rippling HR platform, we were pleased with its intuitive and easily navigable interface.
Automations: Rippling has several easily configurable workflows and automations to help businesses automate their HR processes.
Central platform: Rippling allows you to integrate and manage HR, IT and finance data from one platform.
Gusto Ease of Use
Accessible from anywhere: Gusto is a cloud-based platform that can be accessed from anywhere.
Straightforward implementation: Gusto's implementation process is relatively easy and quicker than most competitors'.
Interactive demo: Gusto offers an interactive demo to help employers learn how the platform works.
Winner
During testing, we found both platforms intuitive and easy to navigate. However, Rippling's automations and workflow-creation features boost its usability and set it apart. While configuring automation processes can take time, once established, your HR functions can practically run themselves. Automating tedious tasks can save employees and HR professionals countless hours, freeing them for more pressing issues. We also like that Rippling offers device and app management, allowing companies to manage several business functions from one platform without integrations.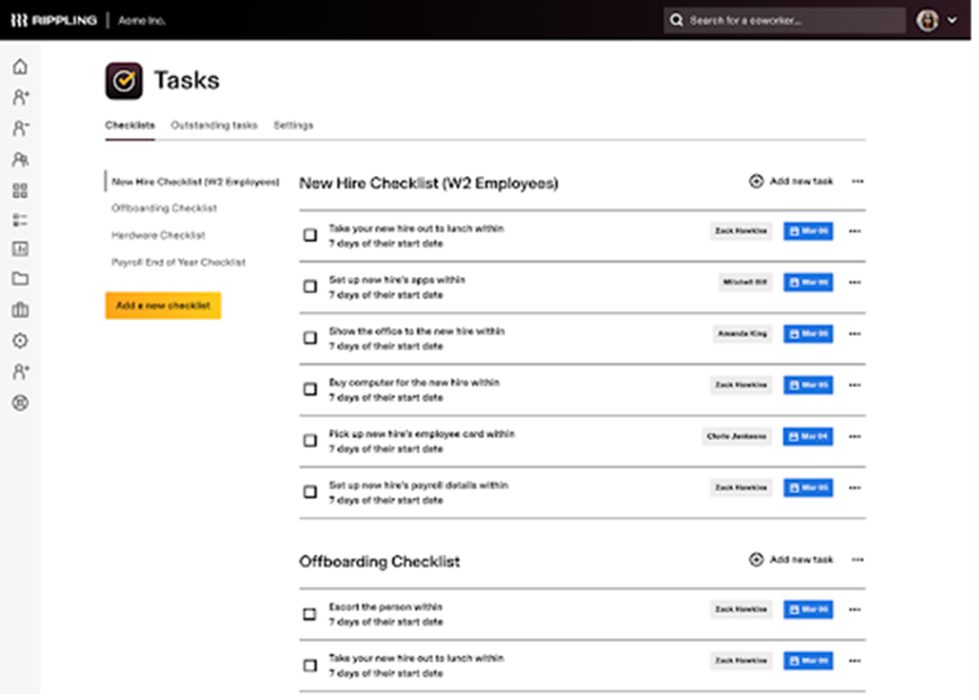 Set up automated checklists in Rippling to save your HR team time. Source: Rippling
Rippling and Gusto both offer user-friendly iOS and Android mobile apps, helping employees manage their HR information on the go.
Customer Support
Being able to contact your vendor is crucial. Here's how Rippling and Gusto handle customer support.
Rippling Customer Support
Support channels: Rippling offers live chat and email support.
Added support: Users can add the HR Help Desk: HR Support feature if they want direct phone and email support and real-time compliance updates.
Online resources: Rippling has helpful online resources, such as blogs, recipe templates and a help center.
 Gusto Customer Support
Support channels: Every Gusto plan automatically includes phone, email and web chat support.
Added support: Premium plans get priority support and a dedicated customer success manager.
Online resources: Gusto offers several online resources, such as a blog, tools and calculators, small business guides, and 24/7 help center access.
Winner
This category is a tie. Both companies offer standard HR support through multiple channels and comprehensive online resources, which is standard in the HR industry. We like that both vendors allow users to upgrade to more advanced support if needed.
Rippling vs. Gusto Summary
Rippling and Gusto are excellent HR solutions for many businesses. We recommend these platforms for the following organizations: 
Rippling is best for companies seeking HR automations. 
Rippling is an excellent option for small and midsize businesses that want to automate several HR functions. It's also a great choice for companies that want to manage HR, IT, and finance data and processes from a centralized platform.
Gusto is best for small businesses that need HR and payroll features. 
Gusto is best for small businesses (with fewer than 50 workers) that want HR software with comprehensive payroll features. It's also a great choice for businesses working within a specific HR budget that want to see upfront plan pricing online.
FAQs
How long does it take to implement Rippling's HR software?
Rippling typically takes an average of three weeks to implement, although your company's implementation time will depend on the features you must access. Since Rippling is a highly customizable HR solution, setting up automations can take time. However, once set up, many of your HR processes will be quicker, thanks to the software's automatic workflows.
How long does it take to implement Gusto's HR software?
Like Rippling, Gusto's implementation time depends on the features and add-ons you select. However, we were pleased to learn Gusto's straightforward software can be implemented in just a few days. This is much quicker than many competitors, including Rippling.
Does Rippling integrate with other platforms?
Yes. Rippling is a highly customizable HR and IT solution that can integrate with more than 500 third-party applications. It also has several add-on options, making it a flexible solution for small and midsize businesses.
Can Gusto integrate with third-party applications?
Yes. Gusto can integrate with nearly 200 third-party applications. This is on par with competitors and guarantees you'll be able to seamlessly integrate the vendor with many business software solutions you already use.