Rippling is our choice for the best payroll software for automating processes, featuring a built-in workflow builder, customizable templates and over 500 integrations. It supports the entire employee lifecycle to help small businesses run HR smoothly.
Pros
No-code workflow automations help HR teams manage payroll, HR, IT and finance tasks with less manual data entry.
Rippling offers hundreds of customizable prebuilt reports with data visualization tools and automatic report delivery. 
With more than 500 software integrations, Rippling can sync HR data to third-party apps and support complex workflows.
Cons
Rippling's pricing isn't transparent, which makes it a challenge for small businesses to compare Rippling's HR products and costs to competitors. 
Users can't run payroll or navigate Rippling's workforce systems well on mobile devices. 
Companies must add modules to access employee benefits, time tracking and global payroll services.
Manual data entry is time-consuming and error-prone for human resources, especially when using multiple platforms to onboard or offboard employees. Rippling's single-system solution stands out for its sophisticated workflow automation tools. Users trigger actions within Rippling and even third-party apps. It streamlines payroll and employee management, which makes Rippling the best payroll software for automating processes.
Rippling Payroll Software Editor's Rating:
9.3 / 10
Pricing

8.8/10

Customer service

8.9/10

Third-party integrations

9.6/10

User interface

9.7/10

Added HR tools

9.5/10
Why We Chose Rippling as Best for Automating Processes
Rippling is an employee management system with HR, IT and finance capabilities. The Rippling payroll module delivers everything you would expect from a top-rated payroll service, including automatic tax filing, payroll processing and unlimited pay runs. But Rippling's real value stems from its ability to automate tasks and unify data. 
The company's operating platform, Rippling Unity, houses your documents, policy and permission guidelines, and employee data. Although Gusto also has HR and onboarding features like offer letters and document storage, it lacks Rippling's advanced automation tools. Rippling reminds potential new hires of an expiring offer letter and automatically sends employees and contractors welcome letters. 
The automation features extend well beyond the onboarding process. If you have an employee referral program, Rippling can assign a task to your HR team to pay a referral bonus after 120 days. It can update calendars for multiple users when the enrollment period opens for employee benefits. Additionally, the workflow builder can trigger actions when employees request time off, sign up for health benefits, or receive a retroactive pay raise. These features and others make Rippling our choice for the best payroll system for automating processes.
We appreciated Rippling's hundreds of prebuilt templates and custom HR reports. Our HR team could view pay by location, date or team member and set payroll reports to run automatically. Rippling's HR products like Pulse (which handles employee surveys) were also a bonus, as few payroll providers offer this service, let alone automate it. 
Similar to competitors, Rippling's workforce systems support employees and contractors. But other solutions may not work worldwide. While Papaya Global is our first choice for companies with international employees, we like that small businesses can add global payroll services to Rippling.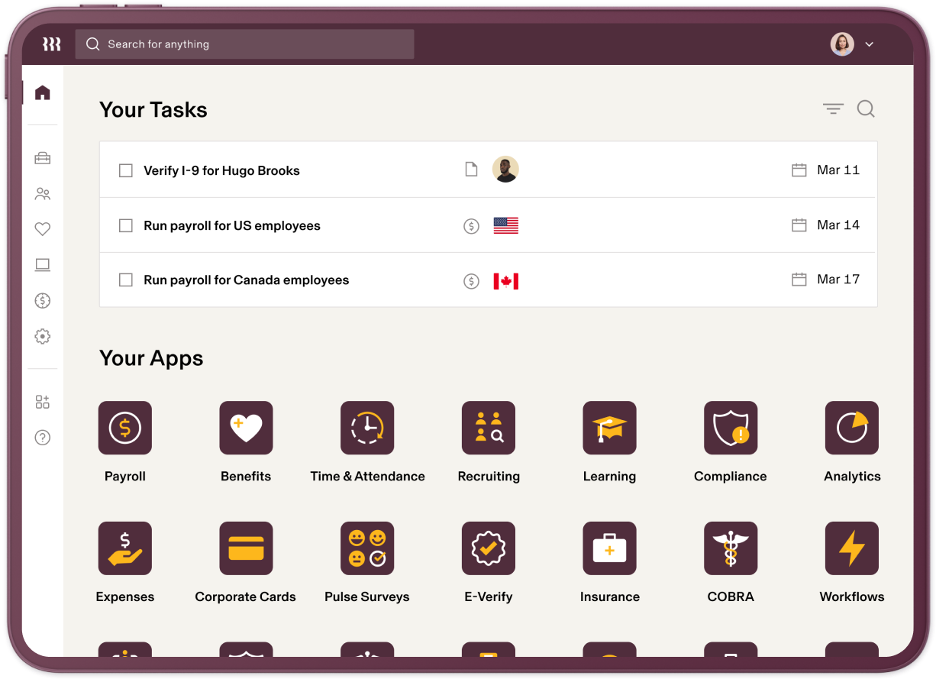 View essential onboarding and payroll tasks when opening your Rippling dashboard. Source: Rippling
Rippling syncs with HR tools, so you don't have to enter hours or deductions manually. Most businesses can run payroll in 90 seconds and enjoy the many benefits of paperless payroll.
Ease of Use
Rippling's greatest benefit is having your HR data in a single system. Indeed, Rippling customers praise its user-friendly database and intuitive interface. Although Rippling packs many tools into its workforce systems, the logical layout and color-coded buttons help new users navigate the software. 
The left-hand side of the screen shows your toolbox with prebuilt reports, a document repository, payroll and time. It also houses HR tools like your company directory, applicant tracking system, insurance and benefits. In the center, you'll see a to-do list reminding you to run payroll or reach out to employees who need to e-sign benefits forms. 
During our review process, we sent offer letters to potential new employees with automatic expiration date reminders. Upon acceptance, our team member received a welcome email explaining the onboarding process. We could share health insurance plans and request direct deposit and tax information. It takes about 90 seconds to add a new employee. 
After creating an employee profile, Rippling syncs this information across the system. If you change a pay rate or a staffer updates their insurance coverage, Rippling automatically updates the payroll software. 
However, this feature-rich platform does have a learning curve for companies that want more than payroll management. Each module has a row of tabs for settings, policies, access levels and more. A few times, we got lost, and it took a few clicks to find our way back. Employees without administrative access see fewer tabs, so their time-tracking or benefits screen is more user-friendly than what we saw on the back end. With Rippling's expansive customer-only help center, most solutions are only a click or two away.
Smaller businesses preparing to expand may prefer a payroll solution like ADP, which lets you start with simpler tools and grow into its automated HR and payroll platform, ADP Workforce Now. See our ADP Payroll review to learn more.
Rippling Features
With tools for human resources and payroll in an integrated system, your team can manage people and processes effectively. Unlike many of its rivals, Rippling's base system includes onboarding and employee management tools. You can add full-service payroll and dozens of other modules.
Workflow Automator
Although several payroll systems we reviewed automate basic payroll functions, few support custom configurations. Rippling offers predefined recipes and also allows you to create your own. It will automatically send an email or notification, assign a task, update calendars, or support actions in third-party applications. The options are almost limitless. We love the auto-alerts if payroll auto-approval fails or when a remote employee moves to a new state.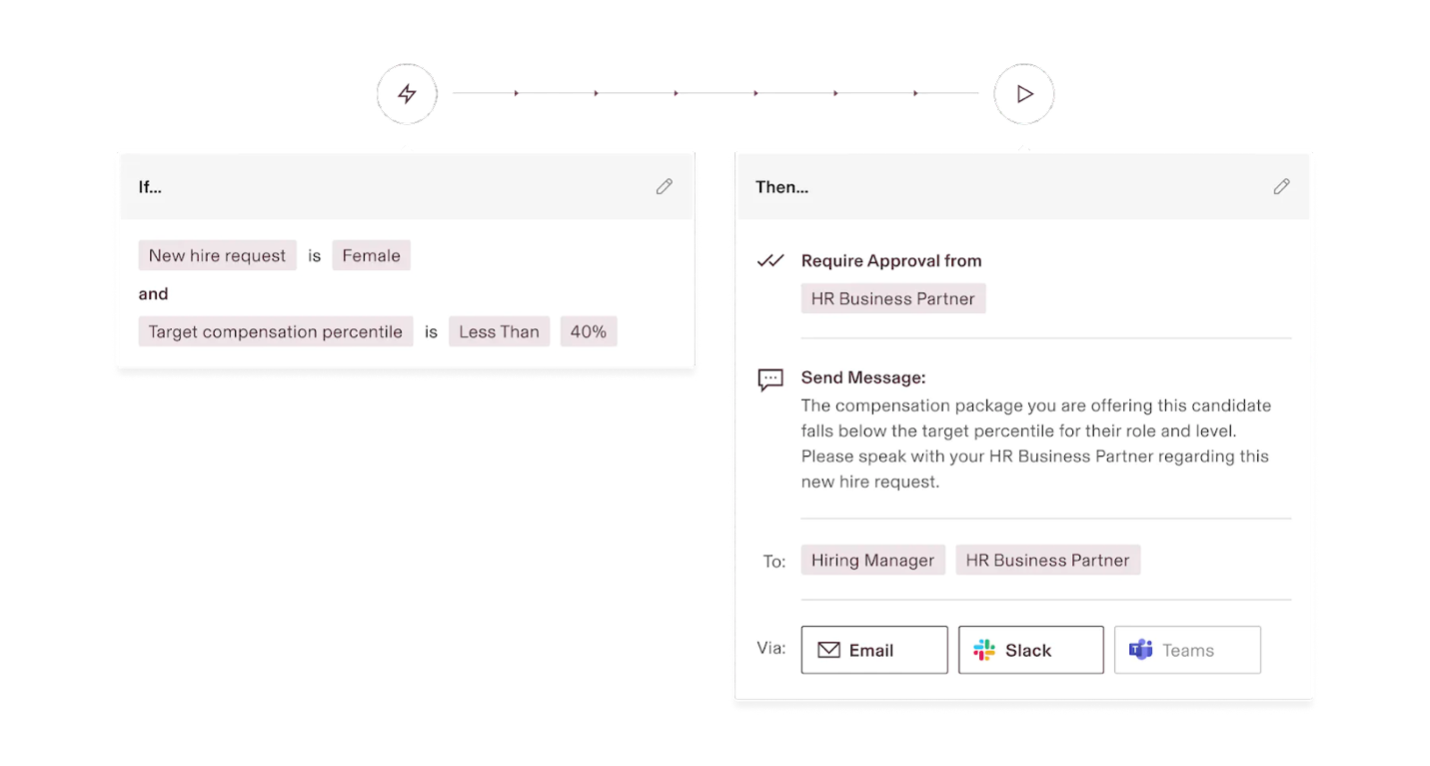 Trigger actions within Rippling or third-party apps by configuring no-code workflows. Source: Rippling
Payroll Management
The best payroll providers allow unlimited payroll runs and custom pay schedules. With Rippling's full-service payroll software, you can automatically run payroll or complete a manual pay cycle. It works in all 50 states, offers direct deposit or paper checks, and pulls time-tracking data from internal or third-party attendance apps. Plus, Rippling can handle and remit garnishments on your behalf — a service not all payroll solutions offer.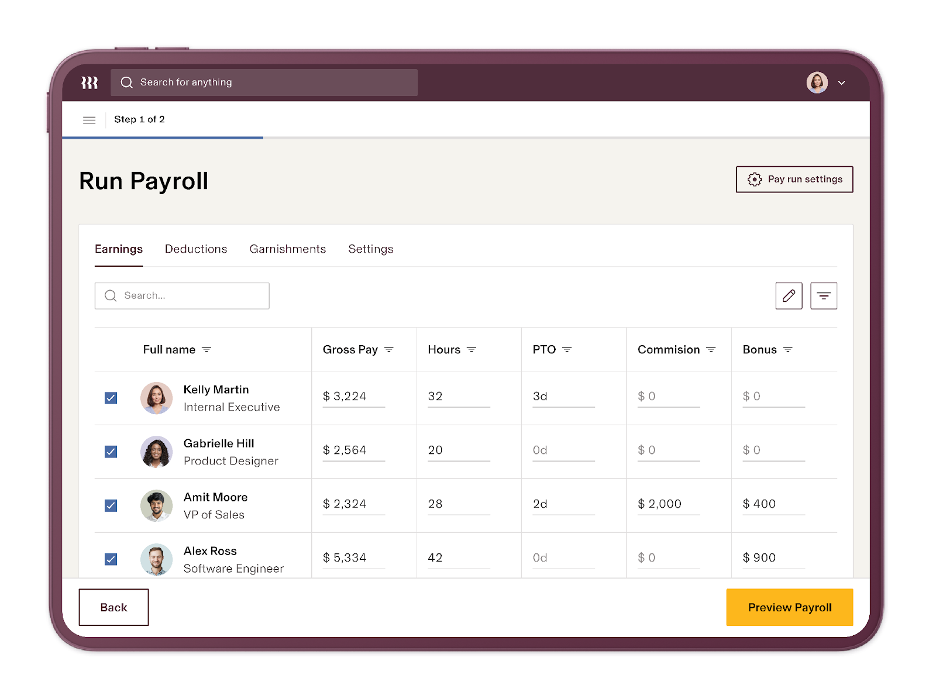 Preview payroll calculations before Rippling processes them automatically. Source: Rippling
Payroll Taxes
Like most full-service payroll systems, Rippling calculates and files your federal, state and local payroll taxes. Your HR team doesn't have to manually compute payroll withholding amounts or complete tax forms, so this helps minimize errors and payroll discrepancies. Rippling can oversee your annual tax filing paperwork, including W-2, W-4 and 1099 forms. And it provides a 100 percent error-free guarantee. We like that employees can electronically sign and update tax documents online; Rippling stores everything in a central repository. 
Integrations
While OnPay, Square Payroll and other solutions integrate with some accounting software, few have the extensive integrations Rippling provides. It syncs with over 500 programs, including Google Workspace, Slack, monday.com and more. For instance, once you approve or run payroll, Rippling creates a journal ledger entry and sends it to your accounting software's general ledger. You can also use Rippling as an app management tool, as it has a built-in password manager.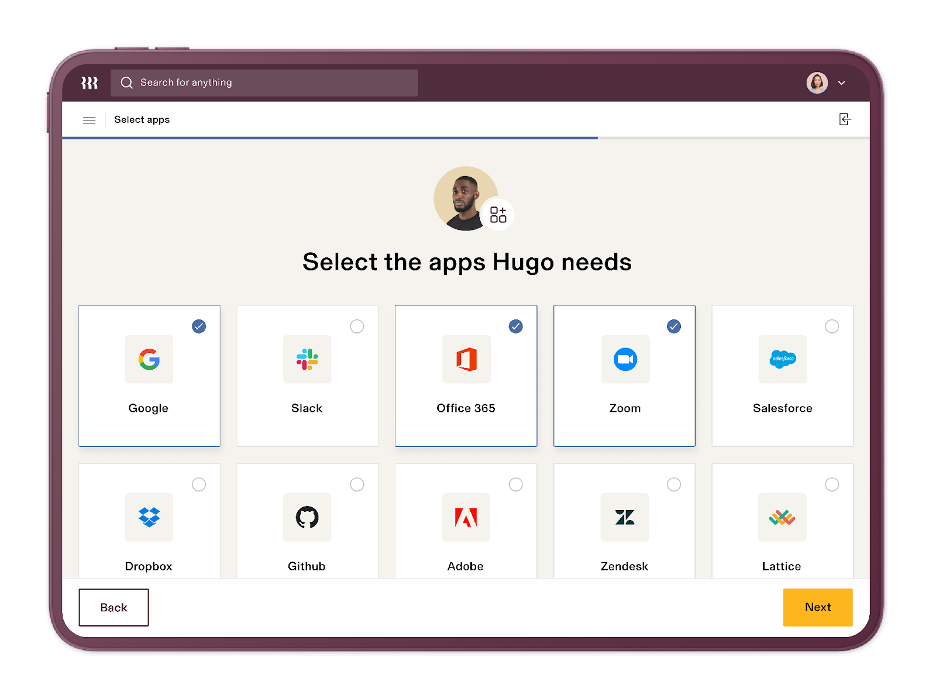 Use Rippling to set up third-party software accounts for new hires. Source: Rippling
Global Payroll 
Similar to its competitors, Rippling's workforce systems support employees and contractors. However, other solutions may not work worldwide. While Papaya Global is our first choice for international employees, we like that small businesses can add global payroll services to Rippling. Rippling supports over 140 regions, which allows companies to use one system even if remote workers move to other countries.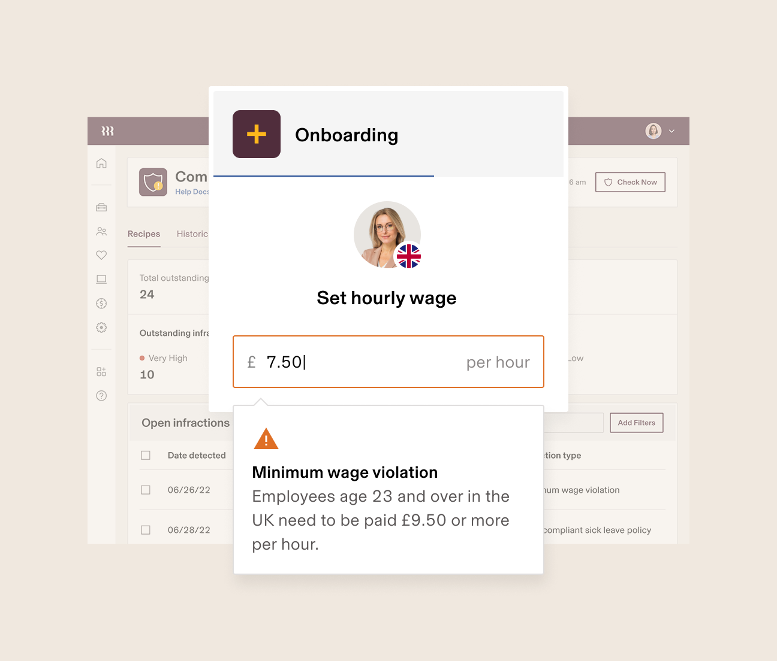 Add Rippling's compliance module to ensure your processes meet standards worldwide. Source: Rippling
Read our in-depth Papaya Global review to learn more about its global functions, including an extensive online knowledge base of country-specific resources.
Payroll Reports
Many payroll services provide basic reports. However, Rippling's data visualization tools were the best we evaluated. Since Rippling hosts all HR data and can pull information from third-party services, you can create custom reports from various products and modules. It has prebuilt reports called recipes, but also allows you to build your own. Use the search function or choose from hundreds of data points. Then drag and drop to arrange columns, aggregate information, or add more filters. 
Generate custom payroll reports for valuable workforce insights with Rippling. Source: Rippling
Benefits Administration
Whereas competitors offer benefits management and administration with most payroll plans, Rippling requires businesses to buy the Ripping Benefits Administration module. However, Rippling may waive fees if you partner with Rippling as your benefits broker or use its professional employer organization (PEO) services. As your benefits broker, new hires' retirement benefits and health insurance deductions sync automatically with payroll. 
Rippling is our top choice for scalable PEO services. For companies considering the co-employment model, check out our Rippling PEO review.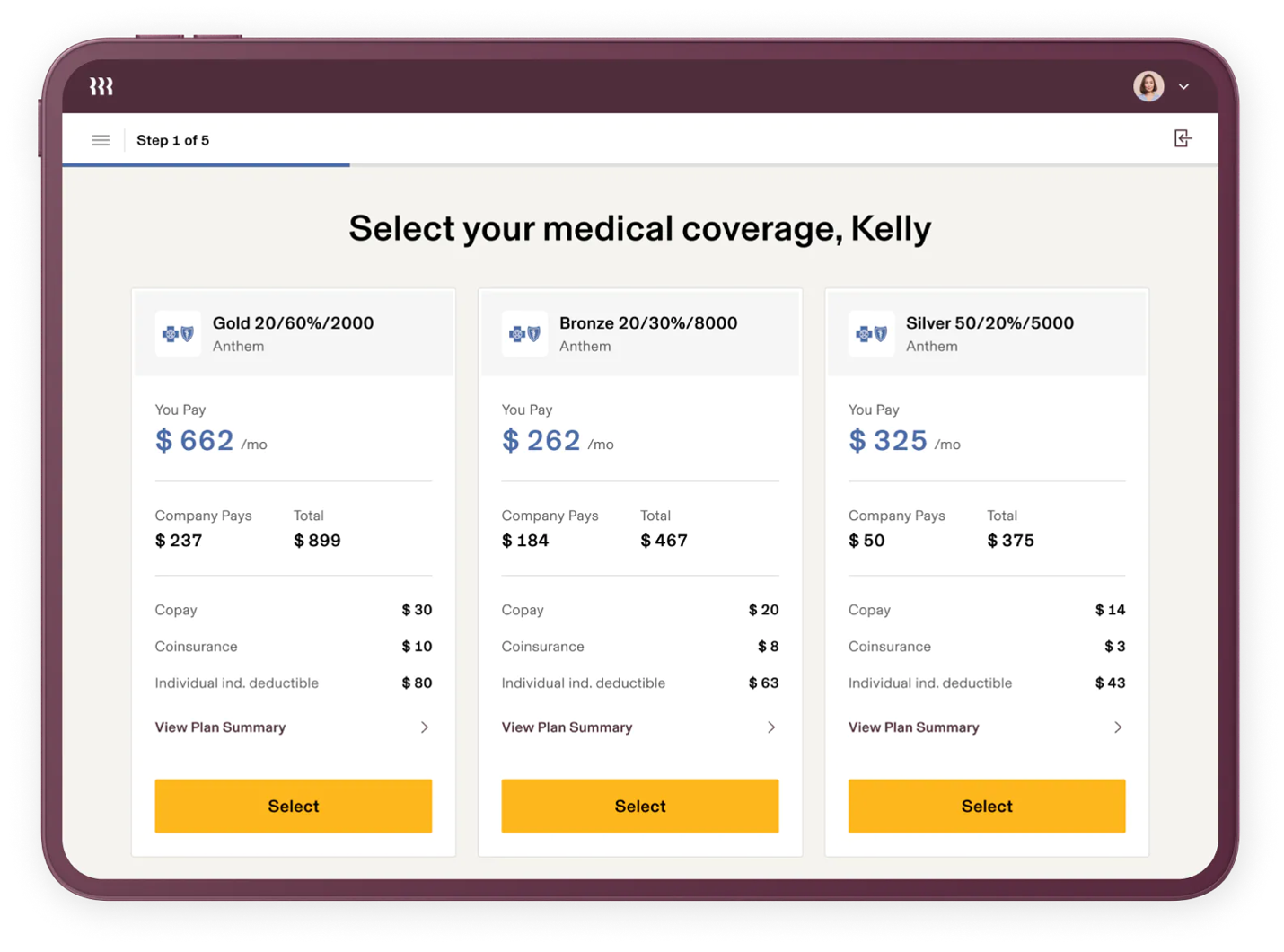 Employees find Rippling's benefits selection process easy to navigate. Source: Rippling
Rippling Payroll Pricing Plans and Subscription Costs
Rippling's pricing is as follows: 
Rippling Unity. Rippling pricing starts at $35 monthly for the core workforce platform Rippling Unity. This platform supports your entire company, including global employees and contractors, with onboarding, offboarding and time-off policies. There are four service plan tiers: Core, Pro, Unlimited and Enterprise. While Core automates more than 1,000 everyday workflows, Pro adds 10 custom processes. 
Rippling Payroll. Rippling Payroll starts at $8 per employee monthly, which is more than what ADP or Patriot Software cost. Most systems we reviewed had more payroll features at a lower per-person price. 
Additionally, each Rippling add-on product costs extra; your price will vary based on employee numbers and selected systems. For example, you will pay more for device management and benefits administration services. Other a la carte solutions include time and attendance tracking, global payroll taxes, and talent management. 
Despite the higher costs, Rippling offers other benefits that most competitors lack. For example, its core system includes automated compliance management. This feature ensures your break, overtime and paid time off policies comply with tax and employment regulations worldwide. 
Additionally, Rippling's automation tools extend to learning management platforms and even sync employee expenses with payroll. 
Rippling could pay off in the long run for businesses in need of a scalable solution that can someday support global employees.
Implementation/Onboarding
With a payroll system like Intuit QuickBooks Payroll or Paycor, you mainly configure employees' payroll profiles. In contrast, business owners use Rippling as a complete human resources platform. Switching to an automated HR system with a staff directory and organizational chart requires more time investment because you need to build comprehensive profiles. Depending on your selected modules, you may be responsible for device management, health insurance administration or job postings. 
Rippling offers a setup wizard that guides you through each step. Most pages have a few questions that allow you to select responses from drop-down boxes or click the box next to the desired option. The platform's user-friendly interface makes the process straightforward. 
Rippling has some unique features we didn't find with other payroll software we reviewed. First, you can import payroll data from certain applications like ADP Run, Zenefits or Gusto. Also, when your staff fills out their benefits forms, most of the information is auto-populated because Rippling pulls it from the Unity platform.
Your dashboard keeps track of onboarding tasks like setting up a pay period or connecting your bank account. Setup may seem daunting, but customer support assistance is available, and once the initial configuration is finished, you can add new team members quickly.
Customer Support
Rippling offers excellent support transparency. Its website displays real-time data for live chat and email response times. We like that you can convert a live chat to a call — nearly 13 percent of customers request this option. Furthermore, Rippling's 90-day customer satisfaction score (CSAT) is 93.88 percent, even though only 51 percent of cases were resolved on the first response.
Along with a customer support team, Rippling has many digital resources, but only account administrators can access these. Employees who use Rippling must contact your HR team with questions, as they aren't' able to view the knowledge base. This could be problematic for small businesses. We prefer solutions like Gusto or QuickBooks Payroll that provide online help guides for staff. (See our Gusto review to learn why it's our top pick for HR integration.)
Limitations
Rippling has many upsides, but we did identify some limitations: 
Adding modules can become pricey. Like iSolved, Rippling lets you pick and choose which modules your business needs. However, there may be a better fit for companies looking for the cheapest payroll service. 
Lack of pricing transparency. We were disappointed with Rippling's lack of pricing transparency and free trial. Rivals like OnPay clearly outline costs and features, which makes it easier for small businesses to understand how the service will work. Explore our OnPay review to discover why it's the best payroll software for small companies. 
No mobile app. We wish Rippling had mobile apps for employers and employees. Our review of Paychex found its mobile apps extremely easy to use and highly rated among HR professionals and employees.
No 24/7 support. We also wish Rippling had 24/7 access to support representatives. Since many entrepreneurs handle administrative tasks after hours outside the office, off-hours support alternatives would make Rippling more user-friendly. 
Methodology
When researching the best payroll companies and software for small businesses, we investigated dozens of vendors and their platforms. We worked with payroll software, interacted with customer support agents, and read user reviews. We considered factors like usability, third-party integrations and HR features. When looking for the best payroll service for automation specifically, we looked at each system's ability to automate workflows such as onboarding and running payroll. Our goal is to help businesses choose the right payroll provider for their needs.
Rippling FAQs
Rippling does not have a free trial or money-back guarantee. However, you can sign up for a free demo.
The Rippling Time & Attendance module provides mobile apps for employees to clock in and out from smartphones. Business owners can enable GPS tracking to view worker locations or establish a GPS radius, which allows employees to log in once they're within the perimeter.
Rippling provides EOR services and can assume all employer-related responsibilities, including hiring employees in foreign countries. Going this route lets small businesses handle strategic objectives while Rippling manages compliance and liabilities.
Bottom Line
We recommend Rippling for …
Business owners who want to automate payroll and HR tasks.
Companies looking to integrate payroll with existing technology platforms. 
Organizations that prefer to pick which products come with their HR system.
We don't recommend Rippling for …
Small teams wanting a low-cost payroll-only solution. 
Entrepreneurs that need to run payroll from mobile devices. 
Companies requiring white-glove treatment during and after payroll implementation.