Rippling Payroll Review and Pricing
Rippling is our best pick for a payroll service geared toward automating processes. The software eliminates the need for manual payroll data entry and alerts you to compliance issues, payment reminders and other tasks. Rippling features a clean user interface along with top-notch report generation and data visualization capabilities. The automation and data visualization, in particular, separate Rippling from its rivals.

Rippling Payroll and Pricing
The Verdict
Rippling stands out as a user-friendly online payroll software that requires little to no training to quickly become proficient with the system.
Rippling Editor's Score: 9.1/10
| | |
| --- | --- |
| Pricing  | 9/10 |
| Customer service | 8.5/10 |
| Third-party integrations | 9.3/10 |
| User interface | 9.7/10 |
| Added HR tools | 9/10 |
Why We Chose Rippling as Best for Automating Processes
Rippling offers everything you would expect from a top payroll software service. Its system can handle payroll processing, automatic tax filing, compliance work, time tracking, onboarding and more. It offers a dedicated mobile app for employees and employers to track hours and time off requests, and we were impressed by the hundreds of preset payroll report templates, data visualization and customization options.
Most importantly, Rippling emphasizes automation with several unusual features. The software can link your business's HR data with payroll, eliminating the need to manually enter figures such as hours and deductions. Rippling's Spend Management system also integrates tools for employee expenses, bill pay and company credit cards with payroll, so you don't need to manually reconcile these payments and reimbursements with your employees' regular paycheck.
The system also automatically files taxes, and will alert you about compliance issues before they happen. You can also set alerts to remind you about payments, approvals and other tasks. The net result is streamlined operations and an improved workflow, making Rippling our choice as the best online payroll company for businesses in search of automation tools.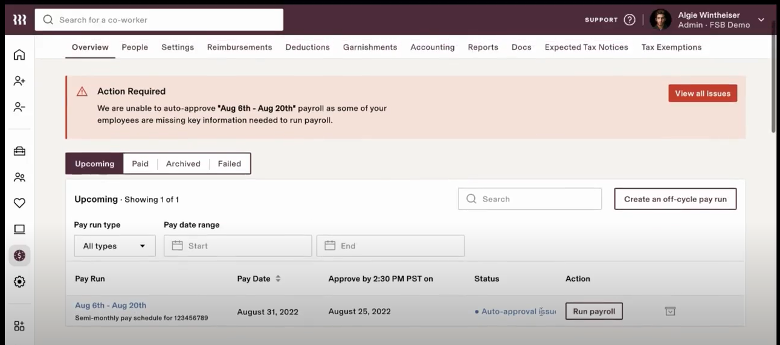 Rippling makes it easy to automate processes with an intuitive user interface. Source: Rippling 
What We Like About Rippling
You can easily implement automation for payroll processing, compliance issues, tax payments and reminders.
Time tracking is synced with your payroll, so you don't need to manually enter hours.
There are hundreds of preset payroll reports, which are all customizable and have digestible graphs and charts.
Expense management is integrated with payroll.
What We Don't Like About Rippling
Rippling's website is vague on pricing information, and there isn't a free trial available.
The mobile app can't be used to run payroll.
Many features are offered on an à la carte basis and not as a package of tools.
Ease of Use
One of Rippling's greatest assets is its user-friendliness, which many customers praise in their online reviews of the service. We agree with that praise. Rippling features an attractive, modern dashboard that is intuitive and easy to navigate. The focus on automation means Rippling is designed so you spend as little time as possible entering commands. An integrated time-entry system for clocking in and out means you don't need to enter hours worked to run payroll; the software populates those data fields automatically. Your only task as a business owner or manager is to approve payroll, and even that can be automated.
Other features, such as automatic reminders and payroll reports, are also designed in a user-friendly way. While other payroll software programs we reviewed had a learning curve for setting up automation and creating customized reports, we found that Rippling makes it simple with a logical layout, color-coded buttons and toggles, and lots of fantastic graphs and visuals.
Rippling Features
For many business owners, running payroll is a time-consuming and dull process. Rippling addresses this pain point by offering several powerful automation capabilities.
Payroll Processing
With most payroll software, you must manually enter the number of hours worked, pay rate and other pertinent information for non-salaried workers. Rippling syncs time tracking and payroll, which completely eliminates this tedious task. All you need to do is review and approve the hours and wages before you run payroll. You can even set your payroll system to run automatically without your approval.
If an employee's work hours exceed your preset limit, Rippling will prompt you to review and approve the exceptions before the software processes payroll. You can also make manual changes if needed.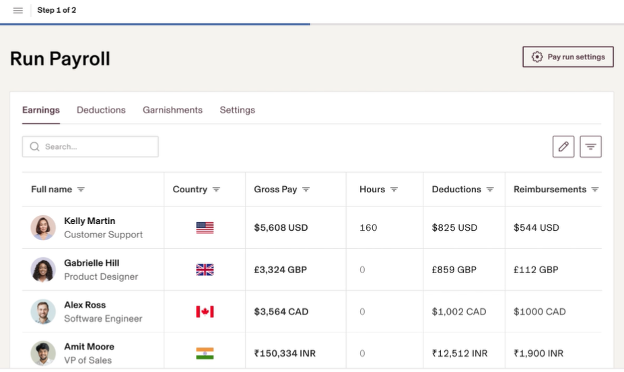 With Rippling, you can view all deductions and reimbursements before you approve payroll. Source: Rippling 
Compliance
Rippling can handle all major aspects of compliance, such as storing I-9s and creating W-2s. Automation in this area can help you stay compliant with state and federal laws and regulations. For example, the software will automatically show warnings if you try to set an employee's wages below the state's minimum or if you fail to provide enough sick leave hours during a pay period. Rippling can also automatically apply an overtime rate when an employee exceeds the state limit. These safeguards can help you meet payroll liabilities and prevent run-ins with regulators and tax authorities.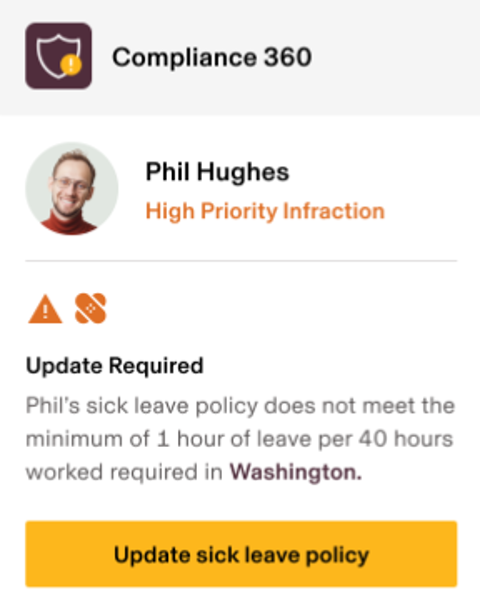 Rippling helps you stay compliant by issuing automated warnings. Source: Rippling 
Spend Management
Rippling's platform also features a unique expense management system that consolidates employee spending, company credit cards and bill payment into one centralized module that is integrated into payroll. This eliminates the problem of needing to reconcile reimbursements and other expenses with regular payroll runs, which is a time-consuming task to complete with competing software that doesn't offer this solution. Rippling's spend management system also allows you to set permissions and create policies that can be tailored to individual employees, which we think will help many users boost internal controls.
Payroll Reports
We were impressed by Rippling's hundreds of preset payroll reports. Not only that, but the software makes it extremely easy to customize the reports to your liking. Simply pull in the data you want to analyze (including data from third-party apps) and use Excel-style formulas and filters to gather insights. In our assessment, Rippling's data visualizations, which include attractive charts and graphs, were among the best we saw in a payroll software product.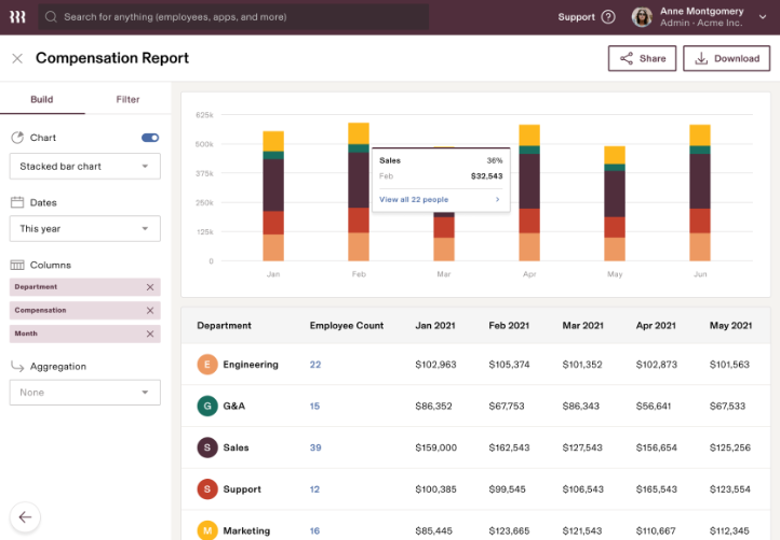 Rippling's charts and graphs are both data-rich and digestible. Source: Rippling 
Integrations
Rippling integrates with a number of leading business apps, including Google Workspace, Slack, Zoom, Asana, AWS, QuickBooks Online, Xero, Monday.com and more. The company also partners with third-party providers, such as Human Interest and Guideline, to administer 401(k)s and other benefits. [If an accounting integration is your top priority, check out our review of QuickBooks Payroll, which seamlessly integrates with QuickBooks Online.] 
Automatic Reminders
Another automation tool Rippling offers is its alerts and approvals feature. This allows you to accomplish tasks, like automatically paying out bonuses, based on criteria you set. Let's say you want to pay out a referral bonus to a recruiter. You can set Rippling to make a payment 90 days (or whatever time period you want) after a candidate is hired. And that's just one scenario; we love that the software allows you to build custom alerts and approvals for just about anything.
International Payroll
Rippling offers a global payroll system as an add-on. The global payroll module contains the same features as the U.S. payroll system, including automation. The software can pay international employees in their local currency, file local taxes and onboard new team members using one unified system. You can also tailor aspects like benefits and paid holidays for each country, which creates a better experience for employees and allows you to keep up with local customs.
Mobile App
Rippling offers a mobile app centered around time tracking, clocking in and out, and PTO approvals. The app allows employees to make time-off requests within the system; managers can then check and approve those requests. Employees can also access their pay stubs and view other financial information via the app. Not all payroll services we evaluated have a dedicated mobile app, although it should be noted Rippling's app doesn't provide access to payroll runs. Business owners still need to use the browser software for that, unless payroll is set to process automatically.
Rippling Pricing
Rippling operates on an à la carte pricing model. The core Rippling platform, known as Rippling Unity, costs $35 a month. From there you can add additional modules, such as full-service payroll.
On top of the flat $35 fee, Rippling also charges $8 per employee per month. Many other payroll services we reviewed charge between $4 and $6 per employee, so Rippling's variable fees are significantly more expensive. In fact, many features aren't included in the base version of Rippling's payroll service, and some core functions, such as time tracking, cost extra. To access those features you'll need to get in touch with a vendor representative for a customized quote, and you will likely need to pay more than the entry-level fee quoted here to get the most out of Rippling's platform.
Implementation and Onboarding
Unlike with some of its competitors, there isn't a way to access Rippling's services through the company's website, so you can't sign up on your own. Instead, you need to start by requesting a free quote or a live demo via an online form, and wait for a sales representative to contact you. That will give you the opportunity to talk through pricing in more detail, but notably, the vendor doesn't offer a free trial.
Rippling follows a remote-first mantra. The company will send instructions for getting started once you decide to move forward with a purchase. A self-guided setup process may sound daunting, but Rippling's high usability makes this a more pleasant experience than you might expect. If you are transferring from another payroll provider, Rippling even promises to import and analyze your current payroll data to ensure no tax payments get lost in the transition.
The length of the implementation process depends in part on how many automations and integrations you want to set up. Fortunately, once the system is set up the way you want, it's easy to onboard existing and new team members. One thing we liked is that by using basic inputs and employee details, Rippling can generate documents for you and your new hires to e-sign without needing to go through third-party software. Rippling also presents ways to remotely enroll your employees in benefits programs and more without requiring them to sign or fill out forms in person.
Customer Service
We were impressed by Rippling's self-reported customer service data posted on its website, which is unique among the payroll providers we investigated. The statistics claim Rippling responds to live chats in less than 30 seconds and to emails in just over an hour. However, Rippling does lack a direct-to-phone customer support option. The vendor's support agents will attempt to help you via live chat or email before escalating to phone support.
Despite the promising stats about quick support, in our research we noticed that the company's customer service received mixed feedback from users in online reviews, with some people complaining about slow response times. However, it's worth noting Rippling has a lot of digital support resources, such as an online help center, blog and "recipe templates" – the term it uses for its hundreds of customizable templates for surveys, reports, automation and more.
Limitations
Rippling's pricing structure will likely appeal to some business owners who want to pick and choose which features they want, but it may be an expensive choice if you need a lot of add-ons. We would have liked to see clearer pricing information on the vendor's website, as well as more accessible demos and/or a free trial of the software. Many other payroll providers we reviewed offer this transparency, as seen in our OnPay review.
While Rippling excels in many aspects of its payroll services, other areas compare less favorably to alternatives. For example, the mobile app lacks the ability to run payroll on the go, although we should note that you can set payroll to run automatically through the browser site. Customer service options are also weaker compared to competitors who offer 24/7 access to support representatives and payroll and HR professionals by phone. If you expect to need extensive customer support, we recommend looking at our review of rival Paychex.
Methodology
In looking for the best payroll software on the market, we investigated vendors and their platforms based on factors like the payroll process, user interface, third-party integrations, report generation, customer service and additional HR tools. We researched customer reviews, inquired about pricing structures, and sought out free trials and demos. To identify the top payroll service for businesses prioritizing automation tools, we looked at each product's ability to automate processes, improve workflow, and streamline operations to make the payroll experience easier for small business owners.
FAQs
How long has Rippling been around?
Rippling has been around since 2016. It's a relatively new company and is significantly younger than established competitors like ADP.
Does Rippling integrate with QuickBooks?
Yes, Rippling integrates with QuickBooks Online and other popular accounting software services such as Xero. It generates a general ledger file that can be imported into these third-party programs.
Does Rippling track workers' locations?
Yes, Rippling can track workers' locations using the GPS on their phones. This allows employers to know where their employees are whenever they clock in.
Bottom Line
We recommend Rippling for …
Business owners who want to automate as many tedious payroll tasks as possible.
Companies that want to pick and choose which features are included in their payroll platform.
Companies that want to eliminate the hassle and boost internal controls by integrating expense management with payroll.
We don't recommend Rippling for …
Businesses that need white-glove treatment with immediate access to customer service representatives via phone.
Companies on a budget.
Organizations with many employees and/or complex needs.

Rippling Payroll and Pricing
The Verdict
Rippling stands out as a user-friendly online payroll software that requires little to no training to quickly become proficient with the system.

Mike Berner is a staff writer at business.com and Business News Daily specializing in finance. Mike has a deep background in the financial world, having written hundreds of articles and blog posts on financial markets, business and investing. He holds a B.A. in economics and a B.B.A. in finance, both from the University of Massachusetts, Amherst. Prior to his writing career, he performed quantitative analysis and research as an economic analyst.