Papaya International provides international businesses with PEO support and compliance. This is essential for small businesses with employees and teams spanning multiple countries
Pros
Papaya Global supports workers in over 160 countries.
Papaya can help you manage employees and contractors.
Papaya offers localized advisory services because they have partners in every country where they operate.
Client businesses can pay contractors in over 100 different currencies.
Papaya is system-agnostic; users can integrate it with other platforms and automate workflows.
If your company conducts business worldwide or plans to expand internationally, an international professional employer organization (PEO) can be invaluable. Papaya Global provides various international PEO services to support your business abroad. It offers multiple plans with no employee minimums and can integrate with several third-party platforms. Its centralized platform makes managing and paying employees across multiple countries simultaneously a breeze. Additionally, Papaya's wealth of resources and advisory services can help educate employers on global HR compliance regulations.
Papaya Global Editor's Rating:
9 / 10
Price/value

8.3/10

Features

9.4/10

Customizations, add-ons and integrations

9.3/10

Ease of use

9/10

Customer support

9/10
Why We Chose Papaya Global for International PEO Services
When a business operates internationally, HR administration can be a challenge. Papaya Global's international PEO services can replace your internal HR department and seamlessly handle HR functions overseas. Papaya Global can support employers in over 160 countries, run payroll in over 100 currencies, and handle benefits administration globally. Papaya's international PEO services far surpassed the standard PEOs we reviewed. We were also impressed by Papaya's streamlined platform, which helps employers manage multiple locations and employees from a centralized dashboard.
We liked that, in addition to Papaya's extensive online knowledge base of country-specific resources, you can contact local experts in various countries for further assistance with hiring, the onboarding process, and managing your global employees in a legally compliant manner. For all these reasons and more, Papaya is our choice for the best PEO for international services.
Papaya's centralized dashboard lets business owners and managers view pertinent workforce analytics and costs. Source: Papaya Global
Ease of Use
When we tested Papaya Global's platform, we liked its straightforward layout. Each worker (regardless of type) can access a private employee portal that prominently displays tasks or to-do lists they must complete.
We found the platform intuitive and liked that it compiles payment and employee information from various locations and countries into one location. A centralized information portal helps employers easily streamline payroll and pay management across several countries. Additionally, we appreciated that Papaya Global offers Android and iOS mobile apps, which further mobilizes its capabilities.
Features
Papaya provides standard PEO services on an international scale. Here's an overview of the Papaya features we found notable for businesses that operate internationally. These offerings can help you manage the geodiversity of a global workforce. (The specific features you can access depend on your plan and payment tier.)
HR Services
Hiring and onboarding new workers can be a challenge for any business. Finding global workers that fit a region's workplace culture can be even more difficult. The way Papaya streamlines global hiring and onboarding is one of our favorite features. 
For example, when you add a new global worker to the system during the hiring process, you can loop in Papaya's immigration services to ensure they're onboarded correctly according to that country's compliance mandates. Not many competitors provide this service; however, it's crucial when onboarding international workers, and we were impressed by Papaya's setup. After the new worker is approved, Papaya can automatically send the appropriate employment contracts to the worker. The new hire can view these documents in their employee portal.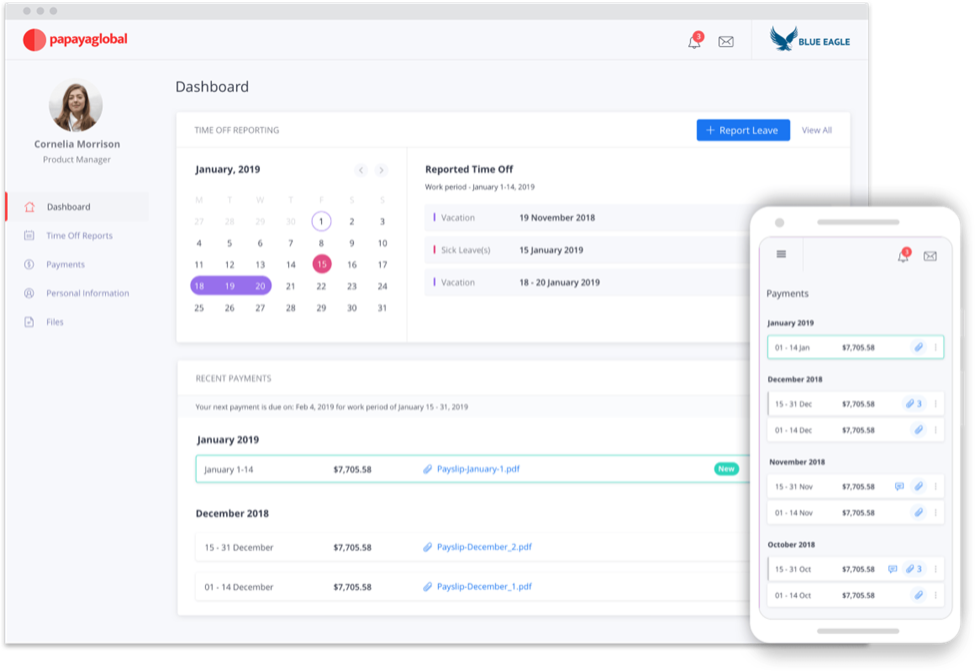 Employees can upload documents and manage employee details from the Papaya portal. Source: Papaya Global
Risk and Compliance
Papaya Global excels at helping companies mitigate risk and stay compliant across more than 160 countries. It offers several in-depth online resources to educate employers on jurisdiction regulations. We were impressed that the software goes further than this to provide in-country experts who are able to review essential details with employers. 
When we analyzed the software, we were pleased to see that it has configurable permission settings that allow employers to control what their workers can access within the system.
Hire a business attorney who understands global compliance issues if you have questions about using an international PEO to expand your operations.
Payroll and Taxes
We found Papaya's payroll capabilities to be top-notch. You can pay all worker types and pay workers throughout multiple countries — even if you don't have a local entity in those jurisdictions. This far exceeds standard PEO capabilities and is essential if you want to expand to multiple jurisdictions without adding local entities.
We like that when running payroll, you can pay workers in more than 100 different currencies. And we particularly appreciate that you can access a centralized view of all your payments from one location. This makes it easy to administer and manage payments from multiple locations. Papaya Global can also file payroll taxes on your behalf.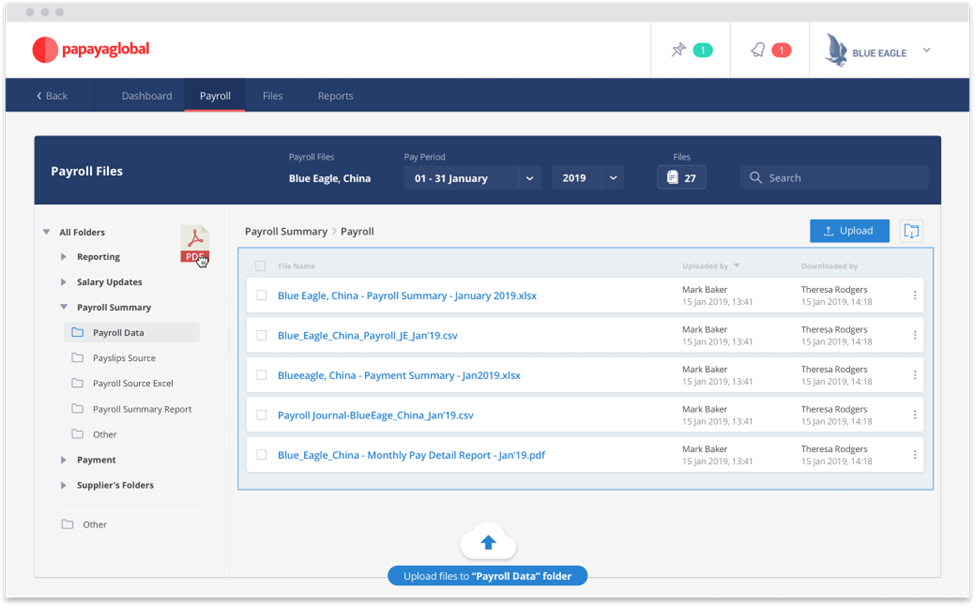 Papaya Global makes global payments a breeze, allowing you to pay workers in over 100 currencies. Source: Papaya Global
Employee Benefits
Some PEO competitors we reviewed limit your employee benefits administration process. In contrast, we liked that Papaya Global offers several benefit administration options and allows you to choose the best plan for your organization. For example, you can sign up for Papaya's global benefits plan or connect with Papaya's localized benefits partners in your respective jurisdictions. You can even source your own employee benefits and integrate them with Papaya Global. We were impressed by this level of flexibility — a crucial driver in simplifying global employee management.
Papaya Global Pricing Plans and Subscription Costs
We were especially pleased with Papaya Global's pricing transparency. Many competitors don't openly list starting plans and rates online; however, pricing transparency is valuable for small and midsize businesses that want to quickly assess what specific features might cost them. Also, unlike most standard PEOs, Papaya Global offers an array of services to fit various types of employers — for example, payroll, employer of record (EOR) and contractor management.
Here's a general breakdown of Papaya Global's plans.
Full-service payroll: Starts at $12 per employee per month
Payroll platform license: Starts at $3 per employee per month
Data and insights platform license: Starts at $150 per location per month
Payments-as-a-service: Starts at $3 per employee per month
EOR: Starts at $770 per employee per month
Contractor management: Starts at $25 per contractor per month
Global expertise services: Start at $250 per employee per month
One standout feature Papaya offers is an online price calculator that gives you a general estimate based on your needs.
When we spoke with a Papaya Global representative, we were also told about some terms and conditions that we thought were worth mentioning. For example, employers typically sign a two-year agreement, but there is a termination convenience clause with a rolling 90-day contract.
Papaya also doesn't require a minimum number of workers; however, there is a pay cycle minimum. You must use the provider's payroll services if you want to use them as an EOR. This is standard among other competitors we reviewed.
In addition to Papaya Global's monthly cycle fee per employee, the company also charges a setup fee per location and a year-end fee for filing payroll taxes.
Implementation/Onboarding
We like that Papaya Global's implementation period is relatively quick. The onboarding period begins as soon as a new worker is added to the system; this period typically takes about 20 days from employee detail submission to payroll. After your initial implementation period, onboarding new employees to the system moves a bit more quickly.
We also appreciated that Papaya Global is system-agnostic and can connect to a wide range of third-party applications. While this is an excellent benefit, it can also add some time to your implementation period if you have several platforms you must connect to at once. To ease this burden, Papaya offers an implementation team that can integrate platforms for you if needed. This isn't something all competitors offer, and it can be helpful for organizations that must connect several systems across multiple countries in a short period.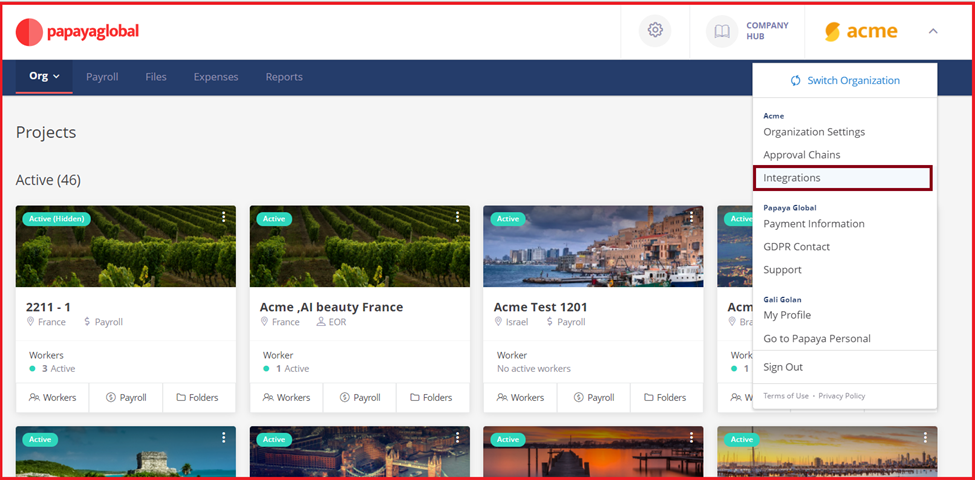 Papaya Global makes it easy to integrate with third-party platforms. Source: Papaya Global
Customer Support
We found Papaya Global's customer support on par with other services we reviewed. You are assigned a dedicated customer success manager (CSM) in your time zone that you can contact if you have questions. You and your CSM can establish a meeting cadence (e.g., biweekly, weekly or bimonthly) and a communication channel (e.g., text, call or video chat) that works best for you. 
We also like that Papaya Global offers advisory services that include partners in every country they operate in — this can be helpful if you have employees in multiple countries and want localized support. It's crucial to have support staff with an understanding of international business etiquette who can advise you.
We found Papaya Globa's online knowledge base especially valuable. It offers a wealth of online information for employers to learn about specific country requirements, processes, agreements and contracts. This trove of localized knowledge can be a game-changer for employers that want to expand to a new region or country and need help understanding how to stay compliant.
Papaya Global offers a wealth of online resources. However, Papaya's in-country knowledge experts have the soft skills needed to provide nuanced insights about specific jurisdictions.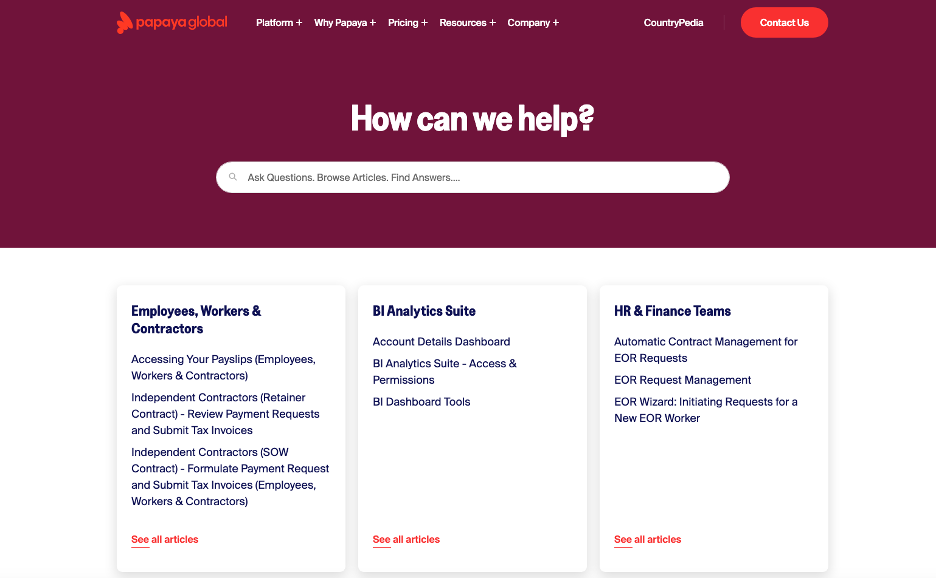 Papaya Global provides extensive online help resources, including a searchable knowledge base. Source: Papaya Global
Limitations
Unlike competitors we reviewed, Papaya Global doesn't offer full-service performance management features. The vendor is comprehensive in helping you administer benefits, process payroll, handle employee recruitment and hiring, and stay legally compliant with laws and regulations in various jurisdictions. However, you must find an additional solution for performance management. 
We like that Papaya Global integrates with BambooHR and other human resources information system (HRIS) partners, so you have options for performance management functions from third-party applications if needed. If you're interested in a PEO solution that offers built-in performance management features, read our review on AlphaStaff and our BambooHR review.
Another potential limitation is that Papaya Global is not accredited by the Better Business Bureau or the Employer Services Assurance Corporation (ESAC). ESAC accreditations are given to PEOs that meet specific financial and compliance requirements. While this isn't a deal breaker for most businesses, we like to see our best picks receive this accreditation. To learn about accredited PEO services, read our review of ADP TotalSource and our review of Paychex.
Methodology
We researched and analyzed dozens of the best PEO service providers to identify the top professional employer organizations and help businesses choose the right PEO service for their needs. We evaluated pricing, contract requirements, bundled vs. a la carte features, minimum requirements, employee benefits administration, time tracking tools, payroll processing and taxes, administrative HR functions, talent management features, integrations, legal risk and compliance assistance, accreditations, and customer support.
For additional insights, we watched product videos and conducted demos when possible. When looking for the best international PEO solution, we prioritized flexibility, legal compliance assistance, global features, usability and customer service.
FAQ
Papaya Global is a global PEO, also known as an EOR. This differs from a standard PEO because standard PEOs use a co-employment model that requires you to have a local registered entity in the country where you have employees (typically the U.S.) Instead, Papaya Global can act as the full legal employer of your employees, which allows you to hire outside the U.S. without owning a local entity in those locations.
Papaya Global offers compliance support in more than 160 countries, enabling employers to hire outside their local jurisdictions or countries.
Bottom Line
We recommend Papaya Global for …
Companies that have employees in multiple countries.
Companies looking for global advisory services.
Small to mid-market organizations.
We don't recommend Papaya Global for …
Companies that need a low-cost EOR solution.
Companies that need time tracking and performance management functions.