AlphaStaff is our choice for the best PEO for franchises' unique needs. It's a one-stop shop that offers payroll and tax administration, employee benefits and handbooks, risk management, training, advisory services, recruitment and more.
Pros
AlphaStaff provides solutions geared specifically toward franchises.
The company offers time and attendance features, including time-off management and job costing.
AlphaStaff offers employee benefits as well as benefits advisory services.
AlphaStaff is a comprehensive HR solution.
Cons
AlphaStaff doesn't list pricing online.
The software looks somewhat dated (although it is still very user-friendly).
AlphaStaff is a comprehensive professional employer organization (PEO) that offers a wide range of human resources services to businesses such as franchises and startups. It's a flexible solution that can help franchises and startups customize a PEO plan that meets their precise needs. AlphaStaff's services include employee handbook creation, performance management, training and development, termination assistance, payroll, benefits administration and HR compliance assistance. It also offers benefits advisory services and a team of expert support staff who are available by phone and email.
AlphaStaff Editor's Rating:
9.1 / 10
Price/value

8.9/10

Features

9.1/10

Customizations, add-ons and integrations

9/10

Ease of use

9.2/10

Customer support

9.2/10
Why We Chose AlphaStaff for Franchises
AlphaStaff is an ideal PEO for franchises. Because it offers a wide range of HR services for employers, it acts as a one-stop shop for franchises without an internal HR department. Additionally, unlike many PEO competitors we reviewed, AlphaStaff does not automatically bundle its services. Instead, it's flexible, allowing franchises to customize a PEO solution to meet their specific needs. It can handle payroll processing and tax administration, benefits administration (with benefits advisory services), employee handbook and strategy creation, compliance assistance, training and development, and performance management. The company also offers unique add-on services, like cybersecurity. The ability to choose from such a breadth of services is ideal for franchises with unique and growing needs. For these reasons and more, AlphaStaff is our choice for the best PEO for franchises.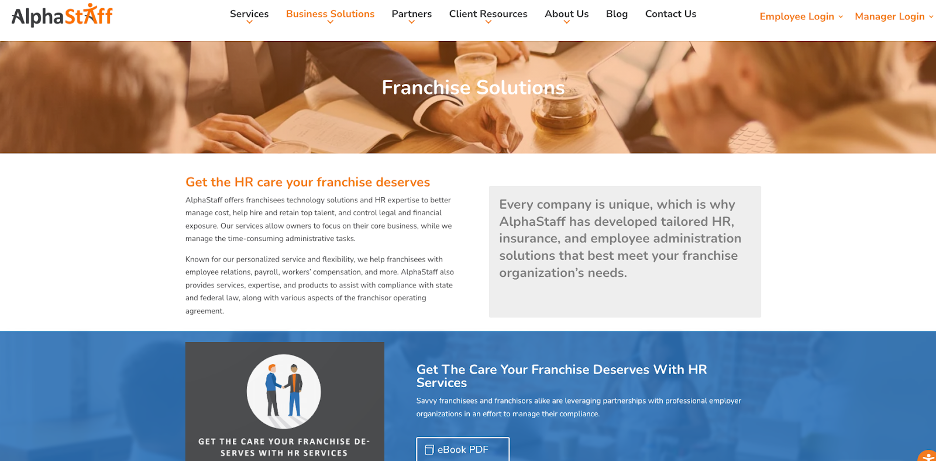 AlphaStaff's franchise-focused services aim to help manage costs, hire and retain top talent, and handle legal and financial exposure. Source: AlphaStaff
Ease of Use
During our testing and analysis, we found AlphaStaff's platform intuitive and user-friendly. Although the software looks slightly outdated, it's still easy to navigate and has the essential HR features for businesses, including franchises and startups. We like that the left rail has a Favorites tab and a Support tab with clickable links. This placement makes it easy for users to navigate quickly to the features they need most. 
Features
AlphaStaff is a flexible solution, so the specific standard PEO services you can access will depend on your agreement with the company. Here are some notable features we found particularly essential for franchises.
HR Services
AlphaStaff offers a wealth of HR services that make it competitive with the other vendors we reviewed. We like that the company begins with a human capital management consultation and then builds out strategies and tactics to match a client's specific needs. AlphaStaff can help with recruitment, employee handbook review and development, compliance training, performance management, leadership development, termination assistance and more. We were impressed that the company offers a salary survey and compensation benchmarking data — services that few competitors provide. 
We also like that AlphaStaff can help employers comply with EEO-1 preparation and filing, as well as Family and Medical Leave Act (FMLA) and Fair Labor Standards Act (FLSA) administration.
AlphaStaff provides an efficient electronic onboarding process that increases accuracy, ensures compliance and creates a more personalized experience.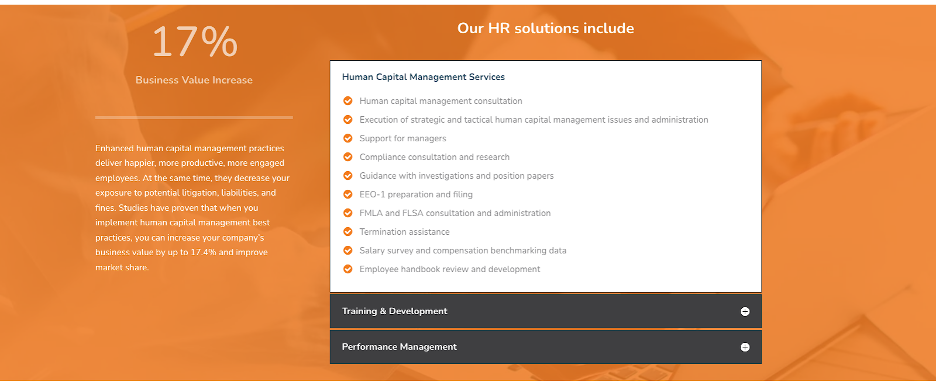 AlphaStaff says human capital management services can increase your company's business value by up to 17.4 percent. Source: AlphaStaff
Payroll and Taxes
AlphaStaff has comprehensive payroll and tax administration features, including payroll tax filing, which are critical for franchises. AlphaStaff can relieve the burden of running payroll by automating the process. We like that the company will calculate, file, deposit and reconcile federal, state and local withholding taxes, and we were impressed that AlphaStaff will work with tax authorities to resolve any issues on your behalf. Additionally, AlphaStaff offers garnishment administration and interpretations and can file garnishment answers if necessary. Not every PEO we evaluated can handle garnishments, so we appreciate that AlphaStaff does. 
We also like that AlphaStaff has a time-off-request workflow, customized HR reporting, job costing, and payments via direct deposit, debit payroll card or check.
AlphaStaff administers unemployment claims internally. It offers claims management, hearing representation, management reports, customized client training and an annual webinar.
AlphaStaff makes it easy for managers to view payroll information. Source: AlphaStaff
Employee Benefits
Access to comprehensive employee benefits is one of the most significant advantages a PEO can bring to a franchise. We found AlphaStaff's benefits to be competitive with those of other PEOs on the market. For example, employers can choose from a wide range of medical plans, fully insured dental and vision plans, group life insurance, employer- and employee-paid short- and long-term disability, and supplemental insurance products. We like that AlphaStaff offers tax-advantaged accounts, such as flexible spending accounts (FSAs), dependent care FSAs, health savings accounts (HSAs), Section 125 plans and transit plans, plus a ton of employee perks and discounts.
The employee benefits offerings are comprehensive. However, AlphaStaff's benefits advisory services are particularly impressive. AlphaStaff brokers can guide you on insurance details, including how to comply with eligibility tracking, monitoring and reporting requirements.
AlphaStaff can help you create an employee professional development strategy, which can lead to higher staff satisfaction and retention.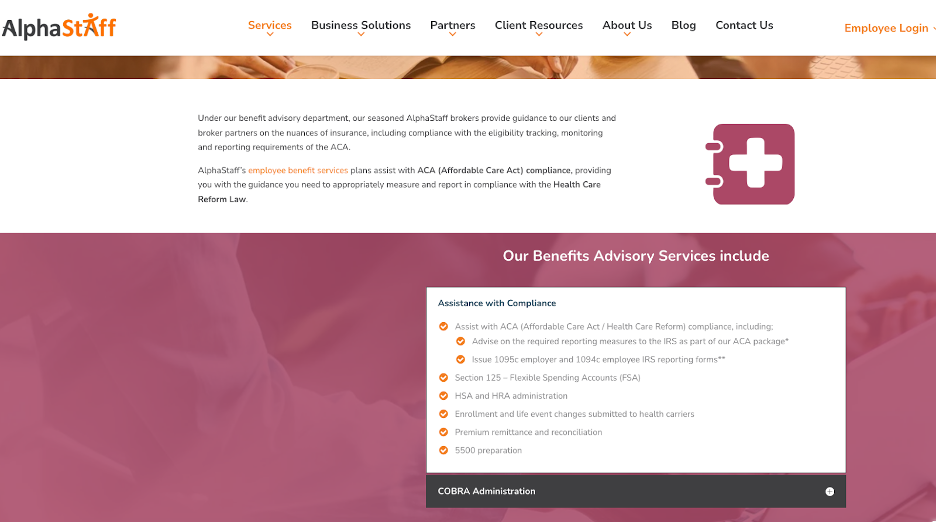 AlphaStaff's benefits advisory services include Affordable Care Act compliance, COBRA administration and much more. Source: AlphaStaff
Pricing
AlphaStaff is a flexible PEO solution, so the company doesn't list pricing or PEO plans online. Instead, you can view various features and services online and contact a representative directly for a tailored quote based on your needs. While we usually prefer to see plans and pricing information transparently available, a customizable plan can benefit franchises with specific needs. No employee minimum or contract length information was available; you must work with your representative directly for specific requirements and stipulations.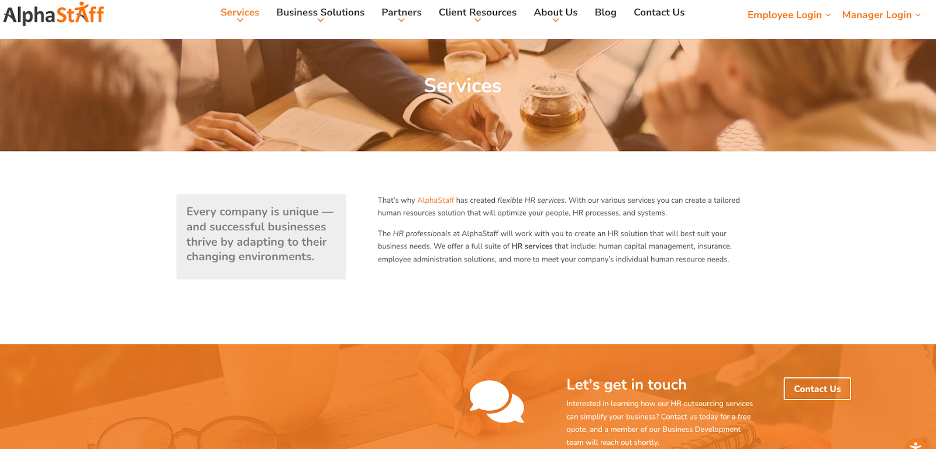 AlphaStaff is a flexible PEO solution that doesn't disclose pricing online. You must work with a representative for a tailored solution. Source: AlphaStaff
Implementation/Onboarding
To get started with AlphaStaff, you must contact a sales representative to review the platform and the features and services you'll need. Together, you and your representative will build a plan to suit your business. We like that AlphaStaff offers various consultations, including for human capital management and compliance. After reviewing your organizational needs, the company will create human capital management strategies to assure compliance. Because AlphaStaff is based on a flexible PEO plan, your initial implementation may take a little while to set up, but we found the implementation to be on a par with those of other services in the industry.
AlphaStaff also offers an integration marketplace. Although adding integrations can prolong your implementation period, it can streamline your overall business processes in the long run.
Customer Support
We were pleased with AlphaStaff's customer support and found it to be comparable to the service from other companies in the industry. AlphaStaff offers a team of support experts who are available by phone and email. We like that the platform's left rail has a Support tab that clearly displays contact information for each support representative, complete with clickable contact links. This makes it incredibly easy to access support representatives — a convenience that can be valuable to a franchisee. AlphaStaff also offers support for managers and additional benefits advisory services.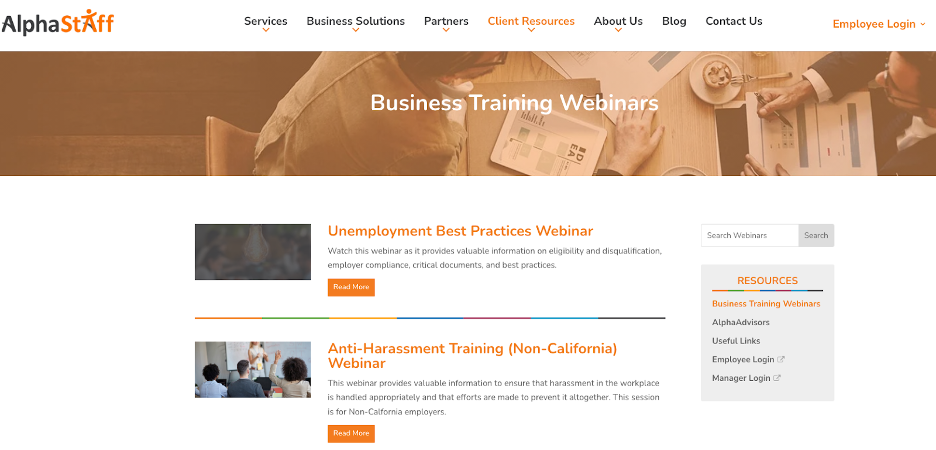 AlphaStaff's support resources include business training webinars on topics such as unemployment and anti-harassment training. Source: AlphaStaff
Limitations
Although AlphaStaff has many desirable qualities, we found some limitations: 
The pricing isn't transparent. AlphaStaff does not list PEO plans, pricing or contract information online. This might not be a dealbreaker for many companies, but it can be a setback if you're just starting a business and must determine if the PEO is within your budget. Instead, you must contact an AlphaStaff representative for pricing information for your specific needs. If you're looking for a PEO with transparent pricing online, check out our review of Justworks.
The software looks dated. Another potential limitation is the look of AlphaStaff's software; we found it somewhat dated. This didn't seem to affect the overall usability of the software, which is intuitive and user-friendly. However, if you're looking for a PEO platform with a more updated design, check out our review of Rippling, which has a clean look and feel.
Methodology
We researched and analyzed dozens of the best PEO service providers to identify the top professional employer organizations and help businesses choose the right PEO service for their needs. We looked at pricing, contract requirements, bundled versus a la carte features, minimum requirements, employee benefits administration, time-tracking tools, payroll processing and taxes, administrative HR functions, talent management features, integrations, legal risk and compliance assistance, accreditations and customer support.
We watched product videos and conducted demos when possible. To find the best PEO for franchises specifically, we paid particular attention to payroll and tax administration, employee benefits, HR services, usability and scalability.
FAQs
Yes. AlphaStaff is certified by the Employer Services Assurance Corp. (ESAC). While PEOs aren't required to get an ESAC accreditation, it signifies that they have achieved specific financial requirements and best practices.
Yes. Unlike many other PEOs we reviewed, AlphaStaff offers flexible cyber liability insurance coverage through its partner ProWriters. Additionally, AlphaStaff's website has several resources to educate businesses about cyber insurance.
Bottom Line
We recommend AlphaStaff for …
Franchises and startups.
Companies that want a PEO with time and attendance features.
Companies that need assistance with performance management.
We don't recommend AlphaStaff for …
Companies that need transparent online pricing.
Companies that are looking for one standardized bundled PEO plan.