Justworks is our best pick for the PEO with the best online platform. It offers exemplary PEO services – like benefits, payroll and HR support – with excellent customer service.
Pros
The platform is easy to implement and use.
Justworks is a certified PEO (CPEO).
The vendor is transparent about its pricing.
The company can accommodate businesses with as few as two workers (with at least one W-2 employee).
Cons
Some high-risk industries, such as heavy construction, might not be eligible for Justworks.
The platform is not a good match for large enterprises with more than 500 employees.
Justworks is a professional employer organization (PEO) that can handle your payroll, HR, benefits and compliance needs, easing the HR burden on your shoulders. The vendor offers multiple tiered plans with transparent pricing, so you can easily compare this PEO service with other options. With its comprehensive HR services, intuitive online platform, and helpful customer support, Justworks is our choice for the best PEO service provider if ease of use is your top priority. Additionally, because the company is accredited by the Employer Services Assurance Corporation and the IRS, you can rest assured you'll receive certified professional HR assistance. Not all competitors have this level of accreditation, but it is given to PEOs that meet rigorous standards.
Justworks PEO Editor's Rating:
9.6 / 10
Price/value

9.5/10

Features

9.7/10

Customizations, add-ons and integrations

8.9/10

Ease of use

9.9/10

Customer support

9.8/10
Why We Chose Justworks for Ease of Use
When we tested Justworks, we found the platform intuitive and easy to implement. The technology interface is user-friendly and simple to navigate — a critical factor for employers who need a straightforward yet effective PEO provider. We like that Justworks facilitates standard PEO functions like employee benefits administration, payroll processing, the employee onboarding process, and legal compliance assistance. Since this PEO caters to small businesses without an internal HR department, it can easily scale with you as you grow from two to 200 employees.
Although the platform is easy to use, we appreciate that the vendor's customer support team is readily available to answer your questions. Excellent customer support can be a game changer, especially for small businesses new to the hiring process and unaccustomed to managing HR functions.
Surprisingly, Justworks is also one of the few PEOs we reviewed that publicly lists its prices online. This transparency clarifies the purchasing process by letting you gauge the value of the available features and services. When you're researching PEO service providers, it's easy to get lost in marketing language and empty promises from a sales team. Justworks, on the other hand, is refreshingly clear about its offerings and prices. For all these reasons and more, Justworks is our top PEO for businesses prioritizing ease of use.
Signs you need to outsource HR include spending too much time on HR functions, facing liability exposure situations, and needing to save money.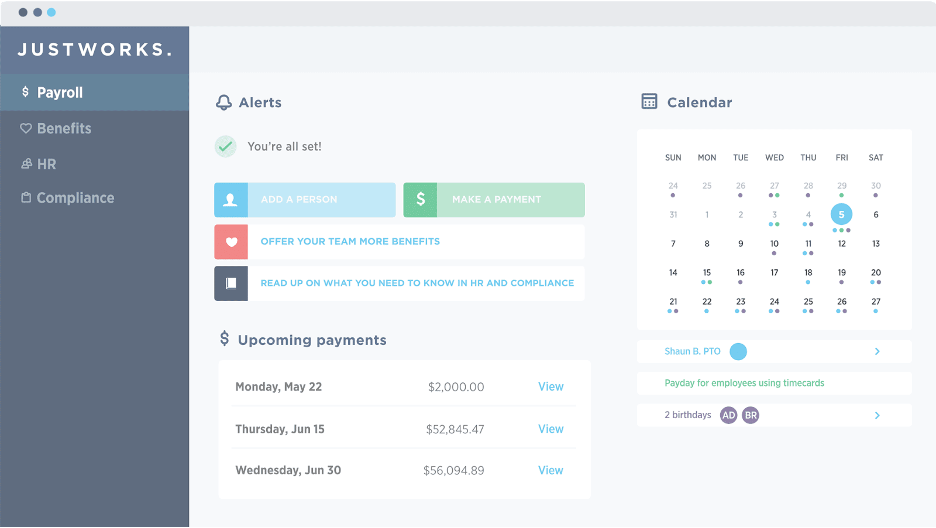 The Justworks platform is straightforward and intuitive, taking the headaches out of payroll, benefits administration, HR and compliance. Source: Justworks
What We Like About Justworks
Ease of Use
Justworks stands out in terms of usability, with one of the simplest and most user-friendly online platforms of any PEO we reviewed. Its intuitive HR software makes Justworks an excellent partner for growing small businesses seeking straightforward, easy and effective PEO support. We like that the software is simple to use and can be accessed by desktop, laptop and mobile device. The vendor also offers mobile apps for iOS and Android, which are handy for employee use. Although most competitors also have mobile apps, we were pleased with the usability of the Justworks mobile apps, and we like that they have positive reviews in the app store.
Adding to its ease of use, Justworks provides a wealth of helpful online resources, which enables small business owners to learn more about HR management. We were impressed that its digital resource center covers benefits and perks, hiring and onboarding, team management, compliance, and general best practices for running a business. The company's website also has a blog, help center, referral program and testimonials. While these materials are on par with what other PEOs offer, we found them to be a good value-add.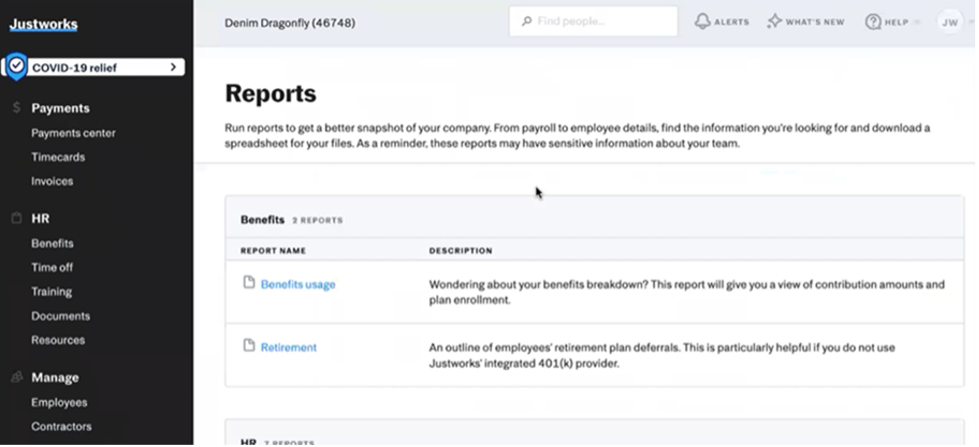 Reports generated by Justworks give business owners better insight into human capital management. Source: Justworks
Features
Your Justworks plan will dictate the specific features you can access. Here are some of the vendor's most notable PEO features and services.
HR Services
Justworks provides standard HR solutions that simplify staff management. For example, you can use the system to create a company directory and employee handbook. Justworks will also help you with document storage management and employee onboarding. Additionally, you can create a company calendar to inform employees of important work events. These features measure up to what other PEOs in the industry offer.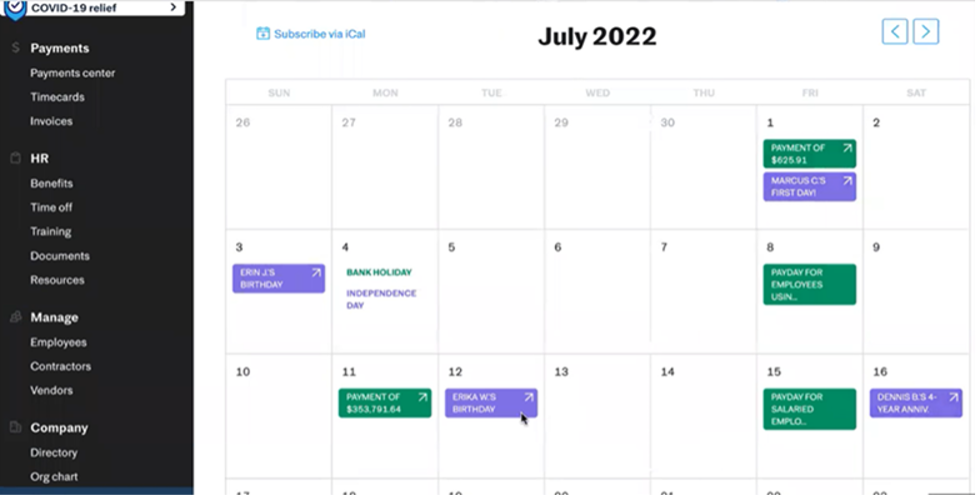 The Justworks calendar can be synced with external calendars, such as iCal and Outlook. Source: Justworks
Employee Benefits
Like many PEOs we reviewed, Justworks can supply your employees with low-cost employee benefits, including health, vision, dental, disability and life insurance. We like that Justworks supports 401(k) plans and that you can elect to include other wellness program perks like gym memberships, commuter benefits and health advocacy services. We also appreciate that Justworks offers access to health savings accounts (HSAs), flexible spending accounts (including dependent care FSAs), COBRA insurance administration, and Affordable Care Act filings.
When we spoke with Justworks, we learned the company can cater to businesses with salaried and hourly workers as long as they have at least two people on staff. However, for insurance coverage, you must have a minimum of two employees (either one W-2 worker and one K-1 worker or two W-2 workers) from separate households enrolled in the plan. This is competitive with industry standards; many competitors require clients to employ five to 10 employees to be eligible for insurance coverage.
PEOs typically charge fees for employee benefit services. However, these costs come from your benefit plan providers, not your PEO.
Unlike some competitors, Justworks doesn't charge additional fees for payments made outside salaried payments (e.g., contractor and bonus payments). Source: Justworks
Risk and Compliance
We like that Justworks provides workers' compensation, employment liability and disability insurance. It also offers help with state and federal tax and labor law compliance and provides a sexual harassment prevention training program for your employees. These services are competitive with other PEOs we investigated.
Justworks Payroll
Alongside its PEO services, Justworks also offers payroll and tax management functionality. Core services are bundled into existing subscriptions at no extra cost, handling everything from gig workers to tax filings, although a few advanced functionalities require a paid upgrade.
It's also worth noting that Justworks payroll software can't be acquired in isolation or as a stand-alone product. It's integrated into the PEO platform by default, which won't suit companies that are only looking for a payroll solution at the moment.
Payroll for All
Justworks has been designed to reflect the increasingly diverse composition of business workforces post-pandemic. It's capable of virtually anything United States companies might need across all 50 states, including local, state and federal tax requirements. You can run payroll weekly or biweekly, for remote staff, salaried employees and part-timers doing overtime. It's easy to pay bonuses or commission, organize reimbursements and approve one-time/overtime payments where applicable.
If you have contractors overseas, Justworks now allows you to make international contractor payments with the same tool used to make domestic contractor and employee payments. This new International Contractor Payments feature is available for contractors in over 28 different countries, and it doesn't cost any additional upfront or monthly fees.
The PEO interface is used for payroll as well, making it easy to navigate through specific functionalities and menus. Adding new payroll staff is as simple as specifying their employment, salary and exemption status while the payroll software can calculate and file payroll taxes, W2s and 1099s. Meanwhile, integrations with accounting software like QuickBooks and Xero simplify ongoing payroll management. Time-poor HR managers looking for "set-it-and-forget-it" software are likely to appreciate the platform's simplicity.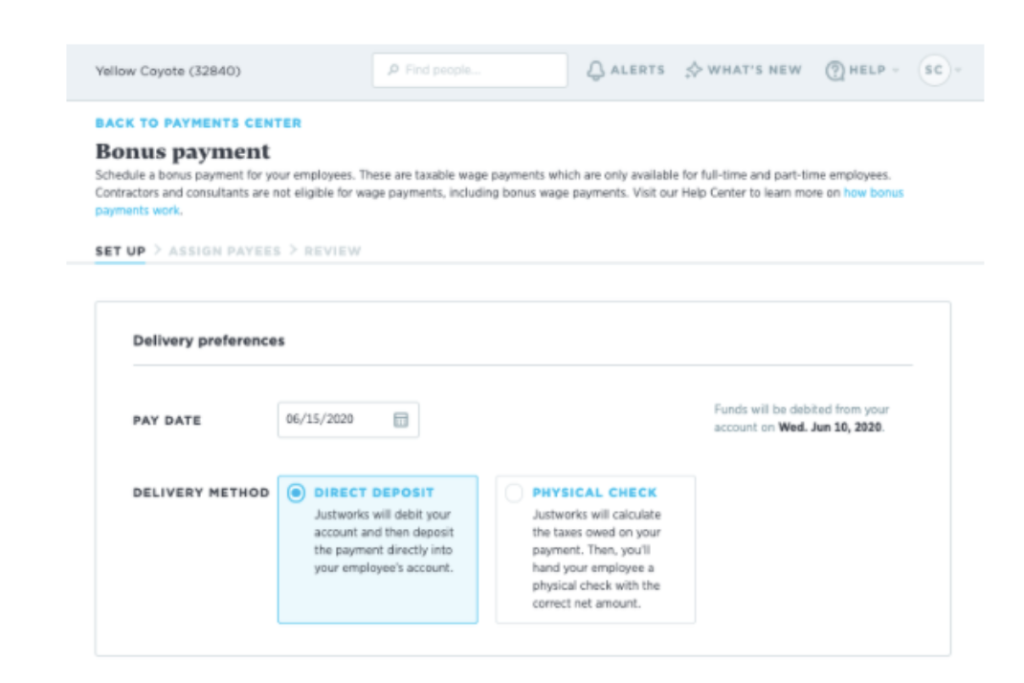 Although the online Justworks Resource Center has a dedicated Payroll section, it hasn't been updated since 2019. A lot of the information it contains is likely to be out of date by now.
Expense Management
Justworks recently rolled out an expense management feature for all of its PEO plans. This allows employers to easily define expense categories to fit the needs of their company, and each category can be customized with specific rules. The Justworks expense management feature integrates seamlessly with QuickBooks Online. Check out our QuickBooks review to learn more about the accounting vendor.
We like that employees can create expense requests from any device with the Justworks mobile app, and employers can easily assign admins and managers to approve or deny expense requests as they come in. Expense requests can be approved or denied in bulk. We found these expense management features to be competitive with what other vendors offer.
Timesheets and Timekeeping
Dovetailing your PEO and payroll software simplifies tasks like calculating worker hours. Justworks features include mobile-first clock-ins, overtime alerts, geostamped timekeeping and shift scheduling. Automated reminders can also be issued, if necessary. The recently launched Justworks Hours time-tracking tool includes the ability to track time for contractors as well as salaried staff, vary overtime rules across different locations, access job code data and issue meal/rest break reminders to relevant personnel.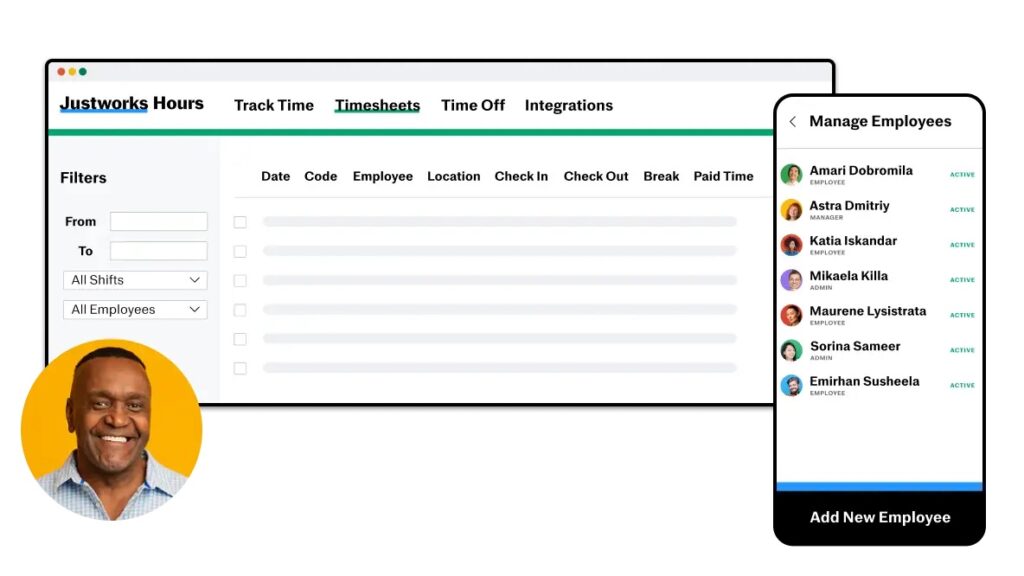 Another automated function worthy of note is the ability to send employees push notifications about payments — ideal for people not tied to fixed monthly paydays. Emails and push notifications can be customized by individual employees to display data relevant to them. Payments may be split across multiple bank accounts, with digital paystubs also generated and available to view or download via the Justworks mobile app.
While even the Basic Justworks PEO package includes payroll, W-2 and 1099 filings, features like 401(k) and insurance are paid for separately based on the number of employees who sign up. This is also true of the Plus package. Meanwhile, Justworks Hours is an $8 upgrade per user, per month.
Pricing
Justworks is one of the few PEOs we evaluated that discloses pricing clearly on its website. Budget is a significant consideration for many small businesses, so we rank this as an important element of the buying process. We love that the vendor transparently breaks down its pricing based on features and the number of employees.
Justworks offers two pricing tiers: Basic and Plus. The Basic tier includes standard HR services like payroll, taxes, employee onboarding, benefits and workers' compensation. The Plus tier includes everything in the Basic plan, plus: COBRA administration; health advocacy services; health savings and flexible spending accounts; and expanded access to medical, dental, and vision insurance.
Once you determine the benefits you want to offer your staff, the pricing process is straightforward: Justworks charges on a per-employee basis, which is standard protocol among PEO services.
Basic Plan. The first 49 employees cost $59 per employee per month. Your 50th employee onward is $49 per employee per month.
Plus Plan. The first 49 employees cost $99 per employee per month. Your 50th employee onward is $89 per employee per month.
Like its competitors, Justworks requires a 30-day notice to cancel plans. Although the company advertises that it charges no additional fees, your monthly or annual costs don't include healthcare benefits and workers' compensation — those prices depend on your chosen plan. This is standard in the PEO industry.
You can easily switch between Basic and Plus plans based on your needed features. To switch plans, contact Justworks support at least one month before you'd like to switch.
Implementation/Onboarding
Of all the PEOs we examined, Justworks is the simplest and most intuitive to implement. As with any PEO, you work directly with a sales representative to set up the vendor's services for your business. Regardless of the plan you select, the process is straightforward. Once you're up and running with Justworks, onboarding your employees to the company's platform is a breeze.
One of the most significant Justworks advantages we found is access to its smart online platform. The company is a tech-first business, which shows in its cloud-based solution. We like that employees can access the system from any desktop, laptop or mobile device. Justworks also provides excellent ongoing support if you have questions during or after implementation.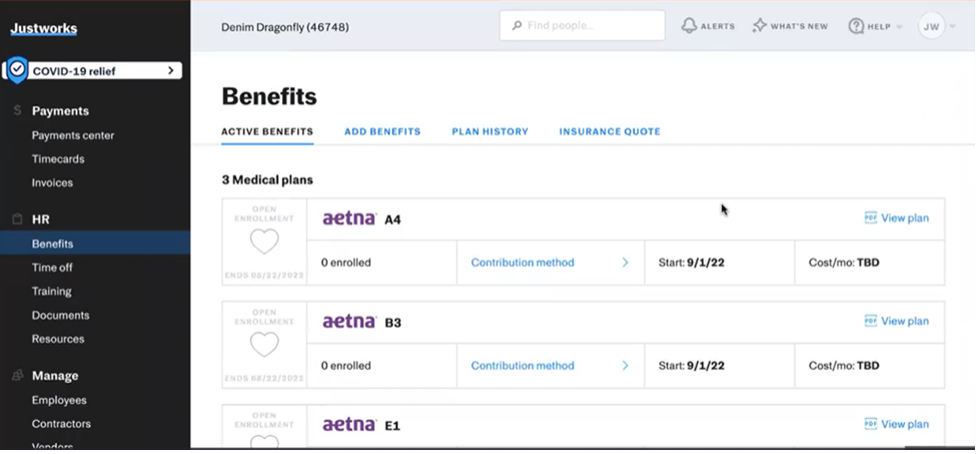 Justworks makes it easy to set up and offer employee benefits. Source: Justworks 
Customer Support
We were impressed by the company's customer service options. Instead of just offering a phone number or email address to contact, Justworks provides multitiered U.S.-based support that can be obtained by phone, email, chat, Slack or text message. Businesses with 15 or more employees also gain access to a one-to-one account manager via phone and email, which is on par with what other PEOs offer. If you're looking for online assistance, Justworks hosts a resource center, events, webinars and a help center.
If you need help with HR compliance, Justworks partners with Mineral, which specializes in HR and compliance issues, to offer that service.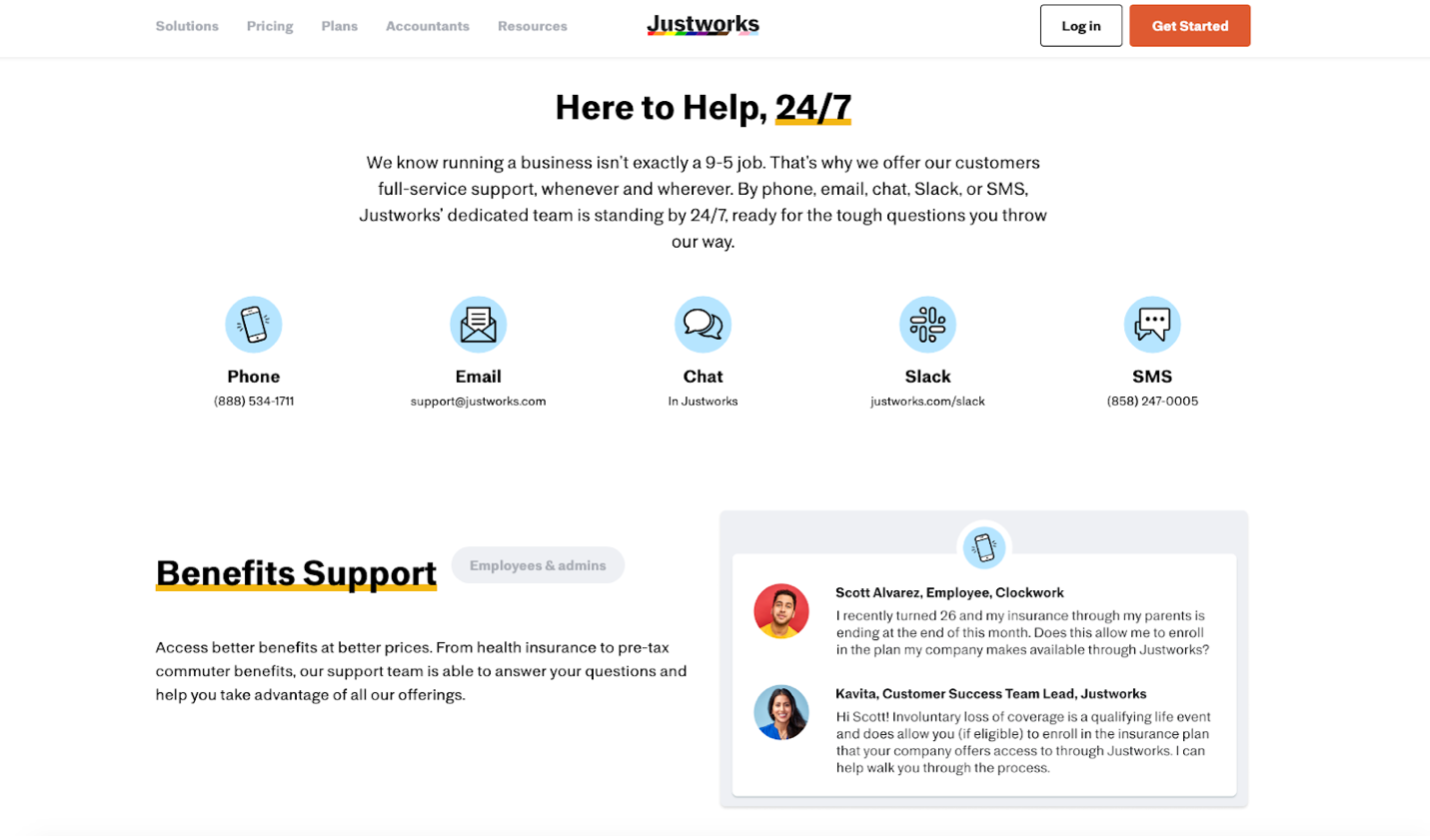 Justworks provides 24/7 customer support through numerous channels, including phone, email, chat and text. Source: Justworks
Limitations
While there's much to like about Justworks, we found some limitations. 
No mix-and-match services. Since Justworks only offers two plan levels, it's not the kind of PEO that allows you to mix and match services. For example, some PEOs we reviewed let you enroll only in the payroll service if you don't want all available features. Unfortunately, that is not the case with Justworks. If you're looking for a PEO provider that offers add-on options for a more customized solution, check out our review of ADP TotalSource.
High-risk industries aren't supported. Another potential drawback is that Justworks can't facilitate coverage for certain high-risk industries, such as heavy construction. It can be frustrating to put energy into signing up for a PEO only to learn your industry doesn't qualify. If Justworks is on your PEO shortlist, we recommend calling the company to ensure it services your business's industry. That said, Justworks is an excellent option for those in white-collar office-based sectors, such as technology, creative agencies, media, law, consulting, financial services and accounting.
Methodology
We researched and analyzed dozens of the best PEO service providers to identify the top professional employer organizations and help businesses choose the right PEO service for their needs. We evaluated pricing, contract requirements, bundled vs. a la carte features, minimum requirements, employee benefits administration, time tracking tools, payroll processing, filing payroll taxes, administrative HR functions, performance management features, integrations, legal risk and compliance assistance, accreditations, and customer support.
We watched product videos and conducted demos when possible. When looking for the best PEO solutions for ease of use specifically, we prioritized implementation, usability, software capabilities, comprehensive HR functionalities and customer service.
FAQs
Justworks is a PEO, or professional employer organization. This means it requires a co-employment arrangement to assist you with your HR services. In contrast, an employer of record (EOR) acts as the full legal employer of your workforce; which allows you to hire workers in other countries without owning local entities. If you're looking for a company that provides EOR services, check out our review of Deel. It's important to note that Justworks does have the capability to allow for international contractor payments in more than 28 countries, but it still acts through a PEO model.
Bottom Line
We recommend Justworks for …
Small businesses with 5-100 employees.
Businesses that want a PEO that is easy to implement and use.
Companies that want an intuitive HR platform.
Companies looking for great customer support.
We don't recommend Justworks for …
Large enterprises.
Businesses operating in hazardous industries like heavy construction.