Justworks Review and Pricing
Justworks is a professional employer organization (PEO) service that can handle your payroll, HR, benefits and compliance needs, easing the HR burden on your shoulders. The vendor offers multiple tiered plans with transparent pricing, so you can easily compare this PEO service with other options. With its comprehensive HR services, intuitive online platform and helpful customer support, Justworks is our choice as the best PEO service provider for ease of use. Plus, because the company is accredited by the Employer Services Assurance Corporation and the IRS, you can rest assured you'll receive certified professional HR assistance.

Justworks and Pricing
The Verdict
Justworks is our best pick for the PEO with the best online platform. It offers exemplary PEO services – like benefits, payroll and HR support – with excellent customer service.
Justworks Editor's Score: 9.4
| | |
| --- | --- |
| Price/value | 9.2/10 |
| Features | 9.5/10 |
| Customizations, add-ons and integrations | 8.7/10 |
| Ease of use | 9.9/10 |
| Customer support | 9.7/10 |
Why We Chose Justworks for Ease of Use
When we tested Justworks, we found the platform intuitive and easy to implement. The technology interface is user-friendly and simple to navigate, which is critical for employers looking for a straightforward yet effective PEO provider. We like that Justworks facilitates standard PEO functions like employee benefits administration, payroll processing, employee onboarding and legal compliance assistance. Since this PEO caters to smaller businesses, it can easily scale with you as you grow from two to 200 employees.
Although the platform is easy to use, the vendor's customer support team is also easily accessible to answer any questions you may have. This can be a game changer, especially for small businesses new to hiring employees and managing HR functions.
Justworks is also one of the few PEOs we reviewed that publicly lists its prices online. This transparency makes the purchasing process clearer by letting you gauge the value of the available features and services. When you're researching PEO service providers, you can easily get lost in marketing language and empty promises from a sales team, so it's refreshing that Justworks is clear about its offerings and prices. Justworks' usability, such as in the way its platform functions, the dedication of its support staff, and its upfront pricing, makes this provider our top PEO for businesses prioritizing ease of use.
What We Like About Justworks
The platform is easy to implement and use.
Justworks is a certified PEO (CPEO).
The vendor is transparent about its pricing.
The company can accommodate businesses with as few as two workers (with at least one W-2 employee).
What We Don't Like About Justworks
Some high-risk industries, such as heavy construction, might not be eligible for Justworks.
The platform is not a good match for large enterprises with more than 500 employees.
Ease of Use
Justworks stands out for usability because it has one of the simplest and most user-friendly online platforms of any PEO company we reviewed. Its intuitive HR software makes Justworks a great partner for growing small businesses that are looking for straightforward, easy and effective PEO support. The software is simple to use and can be accessed by desktop, laptop and mobile devices. The vendor recently rolled out mobile apps for iOS and Androids as well, which are handy for employee usage.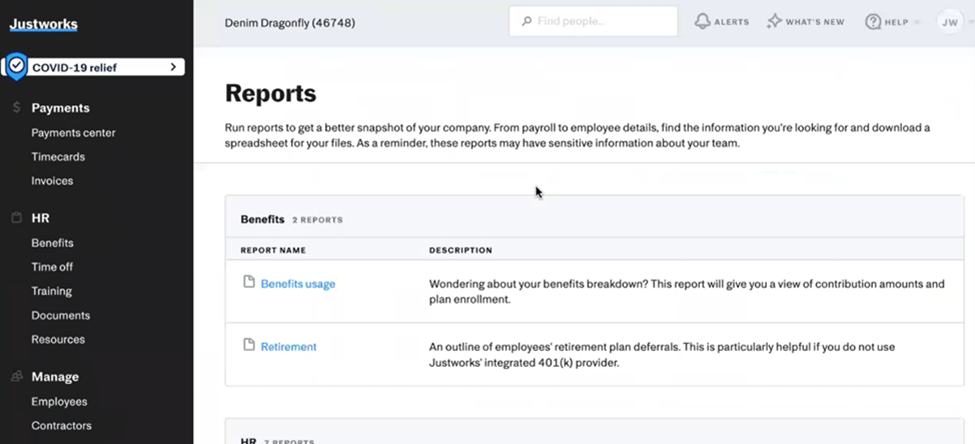 Reports generated by Justworks give business owners better insight into the people side of their company.
Source: Justworks
Another advantage of Justworks's ease of use is its wealth of helpful online resources that enables small business owners to learn more about HR management. Its digital resource center covers benefits and perks, hiring and onboarding, team management, compliance, and general best practices for running a business. The company's website also has a blog, help center, referral program and testimonials. While these materials are on par with what other PEOs offer, we found them to be a good value.
Features
The specific features you have access to will depend on which Justworks plan you choose. Here are some of the PEO features and services the vendor offers.
HR Services
Justworks provides standard HR solutions that simplify managing your staff. For example, you can use the system to create a company directory and employee handbook, and Justworks will help you with document storage management and employee onboarding. You can also create a company calendar to inform employees of important work events. This measures up to what other PEOs in the industry offer. [Read related article: 5 Warning Signs You Need to Outsource Your HR]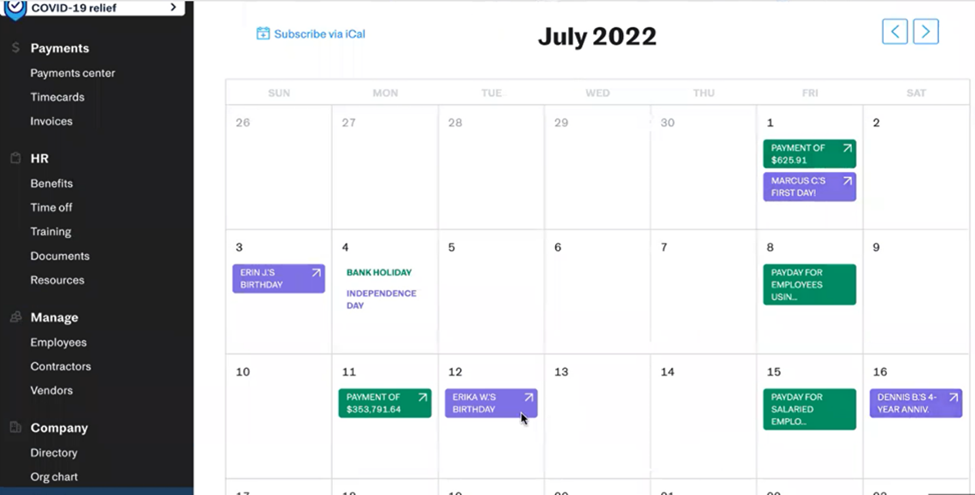 The Justworks calendar can be synced with external calendars, such as iCal and Outlook.
Source: Justworks
Employee Benefits
Like many PEOs we reviewed, Justworks can supply your employees with low-cost benefit plans, including health, vision, dental, disability and life insurance. It also supports 401(k) plans, and you can elect to include other wellness perks like gym memberships, commuter benefits and health advocacy services. Justworks offers access to health savings accounts, flexible spending accounts, COBRA insurance administration and Affordable Care Act filings too.
When we spoke with Justworks, we learned the company can cater to businesses with salaried and hourly workers as long as they have at least two people on staff. However, for insurance coverage, you need to have a minimum of two employees (one W-2 worker and one K-1 worker or two W-2 workers) from separate households enrolled in the plan.
PEOs typically charge fees for benefit services. However, these expenses don't include the actual price of your benefits plan – that is a separate cost charged not by your PEO but by your benefit plan providers.
Payroll and Taxes
You can view and manage payroll through Justworks' internal cloud-based payroll management solution. Managers can track paid time off and add employees' sick and vacation days to the system. The payroll service supports full-time, part-time, salaried and hourly employees. We liked that salaried payroll runs automatically after you set it up.
The company also handles all your tax compliance needs, including filing W-2s, paying quarterly payroll taxes, and keeping you up to date on changing tax and employment laws. Having Justworks handle these things on your behalf can be a major relief, especially for businesses with dispersed or global teams.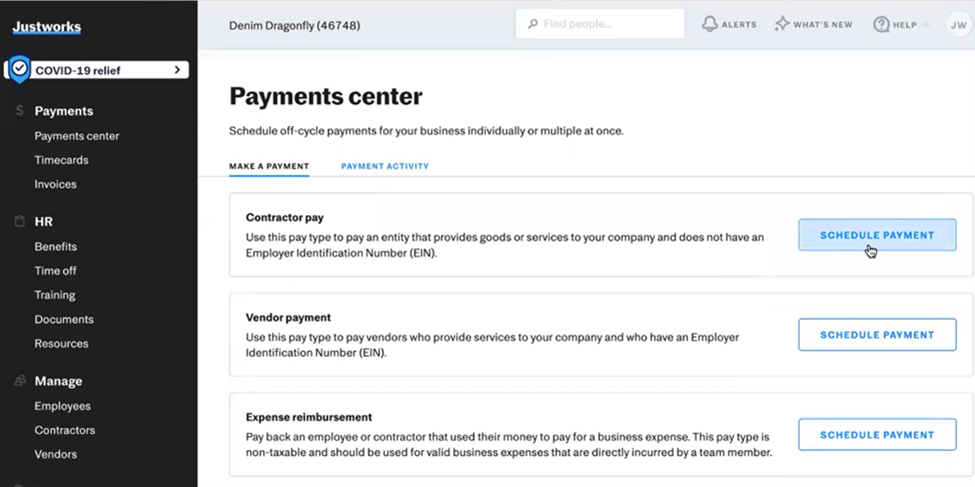 Unlike some competitors, Justworks doesn't charge any additional fees for payments made outside of salaried payments (e.g., contractor and bonus payments).
Source: Justworks
Risk and Compliance
Justworks provides workers' compensation, employment liability and disability insurance. It also offers help with state and federal tax and labor law compliance, as well as a sexual harassment prevention training program for your employees. These services are competitive with other PEOs we investigated.
Pricing
Justworks is one of the few PEOs we looked at that discloses pricing clearly on its website. Budget is a major consideration for many small businesses, so we rank this as an important element of the buying process. We love that the vendor transparently breaks down its pricing based on features and the number of employees your company has.
Justworks offers two pricing tiers: Basic and Plus. The Basic tier includes standard HR services like payroll, taxes, employee onboarding and benefits, and workers' compensation. The Plus tier includes everything in the Basic plan, plus COBRA administration, health advocacy services, health savings and flexible spending accounts, and expanded access to medical, dental and vision insurance.
Once you determine the benefits you want to offer to your staff, the pricing process is straightforward: Justworks charges on a per-employee basis, which is standard protocol among PEO services.
Basic Plans
Fewer than 50 full-time employees: $59 per employee, per month
50-200 full-time employees: $49 per employee, per month
200+ full-time employees: Custom quote
Plus Plans
Fewer than 50 full-time employees: $99 per employee, per month
50-200 full-time employees: $89 per employee, per month
200+ more full-time employees: Custom quote
You can pay monthly or annually; the cost is slightly lower if you pay yearly, and Justworks only requires a 30-day notice to cancel plans. Although the company advertises that there are no additional fees, your monthly or annual costs don't include healthcare benefits and workers' compensation – those prices will depend on your chosen plan. This is standard in the PEO industry.
Justworks caps administrative fees at 200 employees per month, so companies with more than 200 employees will experience a reduced cost per person.
Implementation/Onboarding
Of all the PEOs we examined, Justworks is the simplest and most intuitive to implement. As with any PEO, you work directly with a sales representative to set up the vendor's services for your business. Regardless of the plan you select, the process is simple and straightforward. Once you're up and running with Justworks, onboarding your employees to the company's platform is a breeze.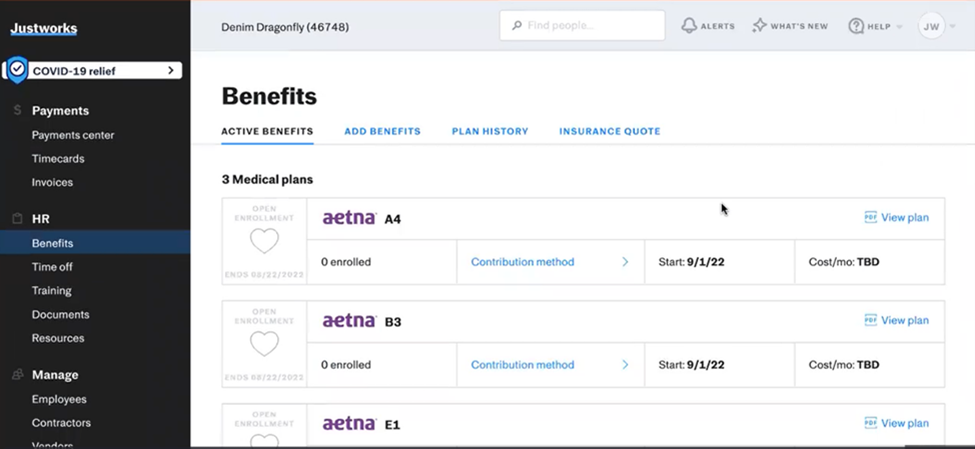 Justworks makes it easy to set up and offer employee benefits.
Source: Justworks
One of the significant advantages of working with Justworks is access to its smart online platform. The company is a tech-first business, and that shows in its cloud-based solution. Your employees can access the system from any desktop, laptop or mobile device. Justworks also provides excellent ongoing support if you have any questions during implementation or beyond.
Customer Support
When speaking with Justworks, we were pleased with its customer service options. Instead of simply offering a phone number or email address to contact, Justworks provides multi-tiered U.S.-based support that can be obtained by phone, email, chat, Slack or text message. Businesses with 15 or more employees also gain access to a one-to-one account manager via phone and email, which is on par with what other PEOs offer. If you're looking for online assistance, Justworks hosts a resource center, events, webinars and a help center.
If you need help with compliance specifically, Justworks partners with Mineral, which specializes in HR and compliance issues, to offer that service.
Limitations
Since Justworks only offers two plan levels, it's not the kind of PEO that allows you to mix and match services. With some PEOs, for instance, you can enroll only in the payroll service if you don't want all the available features. Unfortunately, that is not the case with Justworks. If you're looking for a PEO provider that offers add-on options for a more customized solution, check out our review of ADP TotalSource.
Another potential drawback is that Justworks can't facilitate coverage for certain high-risk industries, such as heavy construction. It can be frustrating to put energy into signing up for a PEO only to learn your industry doesn't qualify. If Justworks is on your PEO shortlist, we recommend calling the company to make sure it services your business's industry. That said, Justworks is an excellent option for those in white-collar office-based sectors, such as technology, creative agencies, media, law, consulting, financial services and accounting.
Methodology
We researched and analyzed dozens of professional employer organizations to identify the best PEO services on the market. We looked at pricing, contracts, minimum requirements, employee benefits administration, time-tracking features, payroll processing, administrative HR functions, talent management features, integrations, legal risk and compliance assistance, accreditations and customer support. We watched product videos and conducted demos when possible. When looking for the best PEO solutions for ease of use specifically, we prioritized implementation, usability, software capabilities, comprehensive HR functionalities and customer service.
FAQ
Is Justworks a PEO or EOR?
Justworks is a PEO, or professional employer organization, which means it requires a co-employment arrangement to assist you with your HR services. In contrast, an employer of record (EOR) acts as the full legal employer of your workforce, and it allows you to hire workers in other countries without owning local entities.
Is Justworks a payroll company?
Justworks is a full-service PEO that can handle a variety of HR services for your business, including payroll. The platform's intuitive technology, coupled with excellent customer support, make it a great option for small businesses that want help managing human resources, including processing payroll and administering payroll taxes. Alternatively, consider the best HR software and the top payroll services, or look at the pros and cons of partnering with a professional employer organization.
Bottom Line
We recommend Justworks for …
Small businesses with 5-100 employees.
Businesses that want a PEO that is easy to implement and use.
Companies that want an intuitive HR platform.
Companies looking for great customer support.
We don't recommend Justworks for …
Large enterprises.
Businesses operating in certain industries, like heavy construction.

Justworks and Pricing
The Verdict
Justworks is our best pick for the PEO with the best online platform. It offers exemplary PEO services – like benefits, payroll and HR support – with excellent customer service.
Skye Schooley is a human resources writer at business.com and Business News Daily, where she has researched and written more than 300 articles on HR-focused topics including human resources operations, management leadership, and HR technology. In addition to researching and analyzing products and services that help business owners run a smoother human resources department, such as HR software, PEOs, HROs, employee monitoring software and time and attendance systems, Skye investigates and writes on topics aimed at building better professional culture, like protecting employee privacy, managing human capital, improving communication, and fostering workplace diversity and culture.