Justworks PEO Review

Matt D'Angelo
business.com Contributing Writer
Updated Dec 17, 2021
Justworks is a PEO service that can handle your payroll, HR, benefits and compliance needs. It offers multiple tiered plans with transparent pricing, so you can easily compare this PEO service with other options. Justworks has few employee training and development services compared to other PEOs we evaluated, but it is accredited by the Employer Services Assurance Corporation and has an A+ rating with the Better Business Bureau.

Justworks PEO
The Verdict
Justworks is our best pick for the PEO with the best online platform. It offers exemplary PEO services – like benefits, payroll and HR support – with excellent customer service.
Ease of Use
Justworks has one of the simplest, most intuitive online platforms of any company we reviewed. Intuitive HR software makes Justworks a good partner for growing small businesses looking for simple, easy and effective PEO support. It's also one of the few PEOs we looked at that discloses pricing clearly on its website. Budget is a major consideration for many small businesses, so we consider this an important element of the shopping process.
Another advantage of Justworks is its wealth of useful online resources, enabling small business owners to learn more about human resource management. Its resource center covers benefits and perks, hiring and onboarding, team management, compliance, and general best practices of running a business. It also has a blog, help center, referral program and testimonials.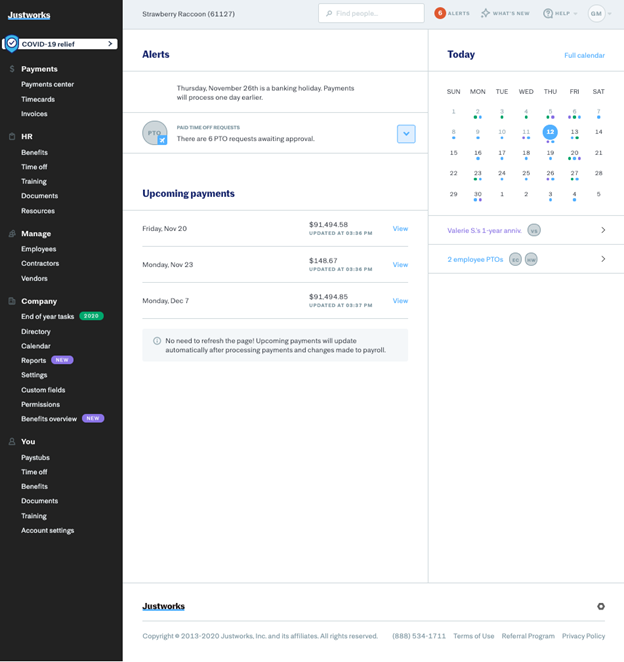 Features
Justworks provides a dedicated account manager for your company, so you can get answers quickly when you need information on your HR services. Account managers will also assist you if you have an issue with payroll; however, the Justworks representatives we spoke to said that most customers find the standard support team to be a sufficient resource.
Your Justworks plan will include these PEO processes and services:
HR Services
Justworks provides the standard HR solutions. You can create a company directory and employee handbook, and Justworks will help you with document storage management and employee onboarding. You can also create a company calendar to inform all of your employees of important work events. However, Justworks does not appear to offer HR auditing tools.
Employee Benefits
Like many of the PEOs we reviewed, Justworks offers your employees low-cost benefit plans, including health, vision, dental, disability and life insurance. It also supports 401(k) plans, and you can elect to include other wellness perks like gym memberships, commuter benefits and health advocacy services. Justworks offers access to health savings accounts, flexible spending accounts, COBRA administration and ACA filings.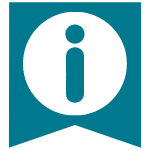 Did you know? PEOs typically charge fees for benefit services. However, these fees do not include the actual cost of your benefits plan – that is a separate cost charged not by your PEO, but by your benefits plan providers.
Payroll and Taxes
You can view and manage payroll through Justworks' cloud-based payroll management solution. Managers can track paid time off and add sick and vacation days for employees. The payroll service supports full-time, part-time, salaried and hourly employees. The company also handles all your tax compliance needs, including filing W-2s, paying quarterly payroll taxes, and keeping you up to date on changing tax and employment laws.
Risk and Compliance
This PEO provides workers' compensation, employment liability and disability insurance. It also offers help with state and federal tax and labor laws compliance, as well as a sexual harassment prevention training program for your employees.
Training and Development
Justworks provides articles and other resources on several HR and PEO-related topics, which you can find on its website. Its training focuses on HR support regarding benefits and payroll. However, it does not offer employee development courses like some other PEO services do.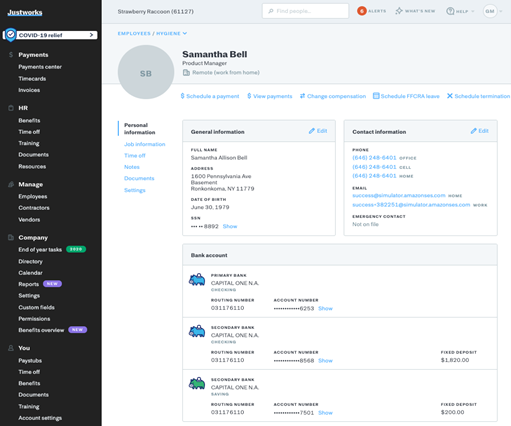 Pricing
Justworks is one of the few PEOs that publicly lists its prices online. The transparency in pricing makes the purchasing process easier by letting you gauge the value of available features and services. When you're researching PEOs, it can be easy to get lost in marketing language and empty promises from a sales team, so it's refreshing to find a company that is transparent about its offerings and prices. Justworks breaks down pricing based on features and the number of employees your company has.
Justworks offers two pricing tiers: Basic and Plus. The Basic tier includes standard HR services like payroll, taxes, employee onboarding and benefits, and workers' compensation. The Plus tier includes everything in the Basic plan plus COBRA administration, health advocacy services, health savings and flexible spending accounts, and expanded access to medical, dental and vision insurance.
Once you determine the benefits you're interested in offering your staff, the pricing is straightforward: Justworks charges on a per-employee basis, which is standard protocol among PEO services.
Basic Plans
Fewer than 50 full-time employees: $59 per employee, per month
50-200 full-time employees: $49 per employee, per month
200+ full-time employees: Custom quote
Plus Plans
Fewer than 50 full-time employees: $99 per employee, per month
50-200 full-time employees: $89 per employee, per month
200+ more full-time employees: Custom quote
You can pay monthly or annually; the cost is slightly lower if you pay yearly. Although Justworks advertises that there are no additional fees, your monthly or annual costs don't include healthcare benefits and workers' compensation – those prices will depend on your plan.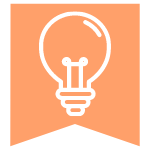 Tip: If you have identified a PEO that works for your business, pay annually rather than monthly to save a certain percentage of your per-month cost.
Implementation
Of all the companies we've reviewed, Justworks is the simplest and most intuitive to implement. As with any PEO, you'll have to work directly with a sales representative to set up the company's services for your company. Regardless of the plan you select, this should be a simple and straightforward process. Once you're up and running with Justworks, onboarding your employees to the company's platform should be a breeze.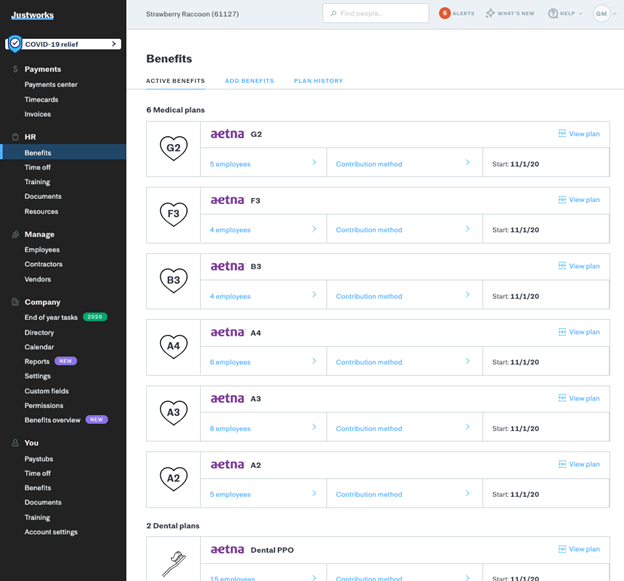 One of the major advantages of working with Justworks is the access to its intuitive online platform. The company is a tech-first business, and it shows in its cloud-based solution. Your employees can access the platform from any desktop, laptop or mobile device. Justworks also provides excellent ongoing support by email and phone, and its chatbot can answer questions 24/7.
Customer Support
The technology aspect of Justworks shines in its customer service options. The company has a chatbot that gathers basic info from you while you wait in the queue for a representative. The live chat also displays pictures and names of the individuals you're talking to, adding an element of personalization to your customer service experience.
Like many other PEOs, Justworks assigns you a designated account manager to help with various aspects of your service. Some PEOs, however, provide direct experts in each area of service. While Justworks can handle your inquiries, it doesn't tout its service team as individual topic experts. When we spoke with Justworks representatives, they said that many business owners iron out issues with the support team and may not need to work directly with their account manager. However, it is a nice option that you can find in other PEO services, like TriNet.
Limitations
Plan options: Since Justworks only offers two plan tiers, it's not the kind of PEO where you can mix and match services. With some PEOs, for instance, you can enroll only in the payroll service rather than pay for all their available services. Unfortunately, that is not the case with Justworks.
Industry availability: Another potential drawback is that Justworks is not eligible for coverage in certain industries. It can be frustrating to put energy into signing up for a PEO, only to learn your industry doesn't qualify. If Justworks is on your shortlist, we recommend calling the company to make sure it services your business's industry.   
OSHA compliance: While Justworks provides great workers' compensation and compliance support, it's not clear if it provides OSHA-compliant risk coverage.

Justworks PEO
The Verdict
Justworks is our best pick for the PEO with the best online platform. It offers exemplary PEO services – like benefits, payroll and HR support – with excellent customer service.

Matt D'Angelo
business.com Contributing Writer
I've worked for newspapers, magazines and various online platforms as both a writer and copy editor. Currently, I am a freelance writer living in NYC. I cover various small business topics, including technology, financing and marketing on business.com and Business News Daily.