QuickBooks Payroll Review and Pricing
Intuit QuickBooks Payroll is our top recommendation for business owners who need a payroll service with accounting integration. Many small businesses already use the popular QuickBooks accounting software, and QuickBooks Payroll allows you to seamlessly marry the two services. It's also affordable, easy to use, and features multiple options for customer service, which makes it stand out as one of the best products on the market.

QuickBooks Payroll and Pricing
The Verdict
QuickBooks Payroll is our choice for the best online payroll system for small businesses. It offers a range of service plans, allows unlimited payroll runs each month, and is easily managed through an online portal that makes processing payroll simple.
Intuit QuickBooks Payroll Editor's Score: 9.2/10
| | |
| --- | --- |
| Pricing  | 9.4/10 |
| Customer service | 9.7/10 |
| Third-party integrations | 8/10 |
| User interface | 9.7/10 |
| Added HR tools | 9/10 |
Why We Chose QuickBooks Payroll as Best for Accounting Integration
Intuit QuickBooks Payroll is the ideal payroll solution for business owners who want payroll and accounting software from the same company. The vendor offers flexible service plans for both products, so you only pay for the services you need – whether that's just payroll or payroll and accounting tools. The software is easy to use and includes all of the features necessary to run your payroll quickly and efficiently. Additionally, QuickBooks offers HR services on higher-tier plans.
Most importantly, the payroll platform works in tandem with QuickBooks' accounting software, QuickBooks Online. This means small business owners can use the same software vendor for both accounting and payroll and enjoy a seamless experience. No other payroll service integrates so flawlessly with an accounting product, which is why QuickBooks Payroll is our choice as the best online payroll service for accounting integration.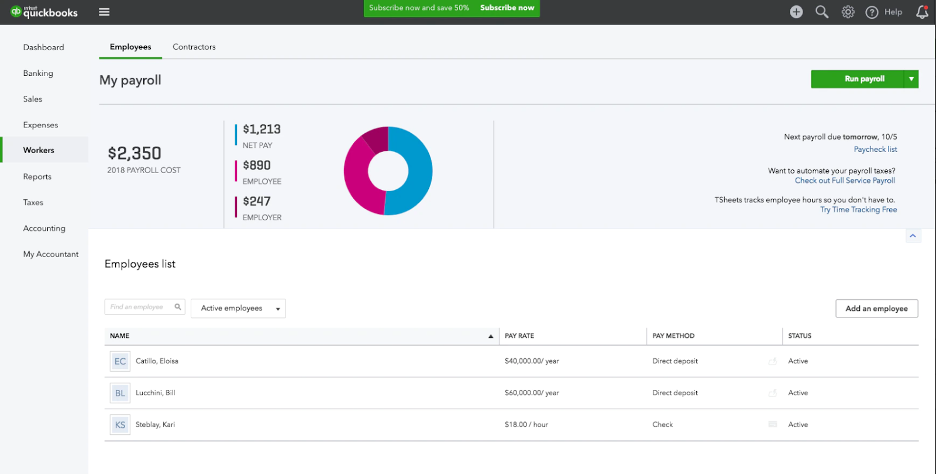 QuickBooks makes it easy to run payroll with a simple, intuitive solution. Source: QuickBooks 
What We Like About QuickBooks Payroll
The QuickBooks Payroll software integrates seamlessly with QuickBooks' leading accounting and bookkeeping service, eliminating data entry errors and the need to learn a new program from a different vendor.
QuickBooks offers its payroll services independently or as a package deal with accounting software, making it an affordable option for businesses that want both products.
What We Don't Like About QuickBooks Payroll
The QuickBooks Payroll software doesn't include full time tracking, which is sold as a stand-alone QuickBooks product.
QuickBooks recently eliminated its dedicated payroll app, leaving users without a convenient way to run payroll on the go.
The system lacks some of the bells and whistles of competitors while coming in at a higher price point for the entry-level stand-alone payroll service.
Ease of Use
Based on our experience, users will have an easy time learning the QuickBooks Payroll platform. The system's online user interface is simple to navigate, with a clearly labeled dashboard that lets you find what you need when you need it. The homepage also displays a running to-do list of essential payroll tasks.
When it's time to run payroll, you can complete the process in just three steps. First, you select the employees you want to pay, the hours each person worked, and any vacation or overtime hours accrued. Salaried employees' pay rates will already be saved in the system, eliminating the need to manually enter their hours during every payroll run.
The second step is to review the payroll information to ensure everything looks accurate. You can compare your payroll data to previous pay runs to see how things line up. If everything is correct, the third step is to submit the payroll. You will then see confirmation that the payroll is complete. At that point, you can either print checks or allow direct deposits.
QuickBooks Payroll Features
QuickBooks Payroll includes many features that will appeal to small businesses, especially when it comes to integrating with the popular QuickBooks accounting software.
Unlimited Payroll Runs
With QuickBooks, you can run payroll as often as you want each month. You'll be able to pay your employees weekly, biweekly, semimonthly or monthly, all for the same cost. Additionally, if your business uses 1099 contractors or freelancers, you can pay them whenever you want – you don't need to have them on the same pay cycle as your W-2 employees.
Employee Payment Options
Like with many other payroll vendors we reviewed, you can use Quickbooks Payroll to pay employees and 1099 workers via direct deposit, prepaid debit card or paper check. With paper checks, you can use either preprinted check stock that has your company information and logo on it, or blank check stock. You can also use plain paper to print pay stubs and then write out a check by hand.
Payroll Taxes
QuickBooks Payroll can take care of all of your payroll tax responsibilities. This includes calculating, filing and paying your local, state and federal payroll taxes. When the taxes have been filed, the system sends you an email notifying you the task was completed. However, if you have QuickBooks Desktop, this level of service is only offered on the Assisted plan. Both the Quickbooks Payroll Elite and the Quickbooks Desktop Assisted plans include tax-penalty protections, meaning the vendor assumes all responsibility if it makes a mistake calculating your payroll taxes.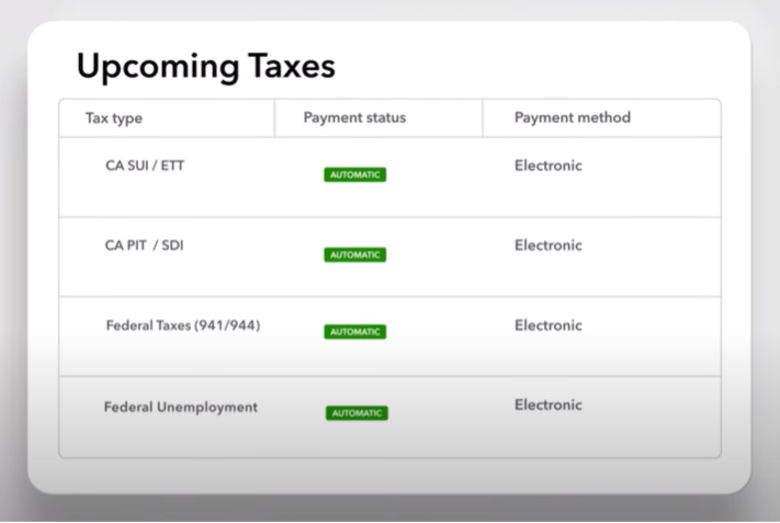 QuickBooks helps you keep track of taxes owed. Source: QuickBooks
Year-End Tax Forms
QuickBooks Payroll takes care of your year-end tax form responsibilities. The service automatically prepares your W-2 forms and files them with the IRS. The completed W-2s can then be viewed and printed online by either you or your employees. QuickBooks can also print and send W-2s via the U.S. Postal Service, although additional fees may apply. Still, this valuable feature allows business owners to spend less time thinking about how to file employee payroll taxes and more time thinking about growth and operations.
Paid Time Off and Benefits Administration
With QuickBooks Payroll, you can set and manage employees' paid time off (PTO). Use the system to distinguish between paid and unpaid time off, sick pay and vacation pay. You can also set up the platform to track accruals based on certain dates (e.g., the beginning of the year or the employee's anniversary date), each pay period or by hour worked.
With certain plans, you can also provide your employees with health insurance (through QuickBooks' partnership with SimplyInsured) and 401(k) retirement plans (through a partnership with Guideline). QuickBooks offers a number of benefit plans for every type of business budget.
Payroll Reports
The QuickBooks Payroll system includes several payroll reports, such as payroll summaries and details as well as reports for tax payments and liabilities. Other reports include total costs, workers' compensation, deductions and contributions, and vacation and sick time. You can also create custom reports by selecting the individual items you want to include. [Read our review of rival Rippling for a payroll provider with hundreds of reports and helpful data visualizations.]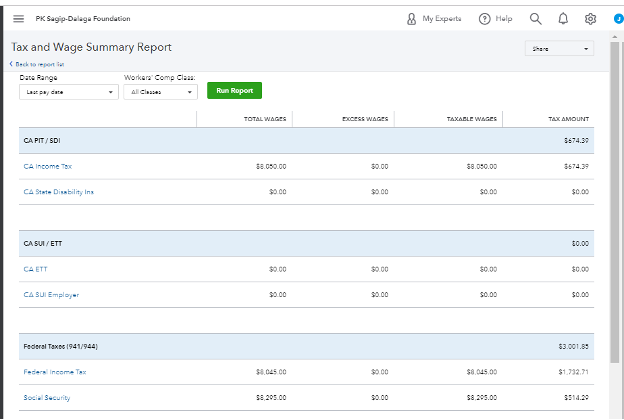 Reports help you keep track of what's happening in your business. Source: QuickBooks
QuickBooks Integration
One of the biggest advantages of using QuickBooks Payroll is that it integrates directly with the popular QuickBooks accounting software, QuickBooks Online. QuickBooks boasts the largest market share for accounting software in the U.S., and many small business owners are already familiar with the service. This integration eliminates the need to learn the ins and outs of yet another cloud-based product just to process payroll.
The two services seamlessly transfer data to one another, so you never have to manually enter data into both programs. This dramatically reduces the errors that can accompany copying data from payroll software or spreadsheets into an accounting program. Because payroll compliance mistakes can cost businesses hundreds or even thousands of dollars in penalties, it's essential to ensure you have payroll and accounting programs that can integrate without hiccups. Fortunately, it couldn't be easier with QuickBooks.
Additional Features
QuickBooks' higher-tier payroll plans include access to HR services and tools for hiring and management. For instance, you can use its templates and checklists for job descriptions, onboarding and employee handbooks. You'll have access to information that helps you stay compliant with state and federal laws on wages, hiring, termination and more. If you need additional advice, QuickBooks has partnered with Mineral Inc. to offer its users HR consultants who can provide professional guidance.
QuickBooks Payroll Pricing
One unique aspect of QuickBooks' payroll service is that it is available as both a stand-alone product and as part of a bundle with the QuickBooks accounting software.
The stand-alone payroll program is available in three different plans. All of them include full-service payroll processing and can cover all of your payroll tax needs.
Core: This plan costs $45 per month, plus $5 per employee. It includes auto-payroll options, health insurance benefits, workers' compensation management and next-day direct deposit.
Premium: This plan costs $75 per month, plus $8 per employee. In addition to everything in the Core package, it includes same-day direct deposit, access to an HR support center, mobile time tracking and expert setup review.
Elite: This plan costs $125 per month, plus $10 per employee. It includes everything in the Premium package, plus customized setup, project tracking and tax-penalty protection of up to $25,000. You'll also have access to a personal HR adviser who can provide professional guidance on critical HR issues.
For business owners who still prefer desktop software over cloud-based solutions, QuickBooks sells a desktop software option with a separate pricing structure. Like the cloud version, the payroll service for QuickBooks Desktop users includes unlimited payroll runs, payroll tax calculation, and automatic filling and e-filing for tax forms. Also included are W-2 printing, direct deposit and support from payroll experts. The desktop version is billed at either an annual rate of $500, plus $5 per employee per month, or a monthly rate of $50, plus $5 per employee.
Business owners who already use QuickBooks Online might find more value in the vendor's bundles. QuickBooks offers several packages that combine its payroll and accounting services.
Payroll Core + QuickBooks Simple Start: Billed monthly at $75, plus $5 per employee
Payroll Core + QuickBooks Essentials: Billed monthly at $100, plus $5 per employee
Payroll Premium + QuickBooks Plus: Billed monthly at $160 plus $8 per employee
Before you commit, you can access a free 30-day trial of QuickBooks Payroll, which is a benefit not every competitor provides.
Implementation and Onboarding
We appreciated that QuickBooks presents a clear outline on its website as to what's needed to set up the payroll service. First, you submit your business and employee information so you can create paychecks immediately. You'll need relevant details about your employees on hand, such as completed W-4s, hire dates, pay rates, bank account information and any paid time off accruals. Then you add your business's tax information, any payroll history and other pertinent details.
If you're already a QuickBooks customer, you can easily add payroll services to your existing accounting software. Businesses on the Premium plan can have one of the vendor's experts review your setup to ensure everything was implemented correctly. Those with the Elite plan can have those experts do all of the setup for you, including transferring any data from another payroll provider. But even if you're on your own, the QuickBooks website has step-by-step written instructions and videos for processing payroll and other tasks.
Customer Service
Just as it does for users of QuickBooks Online, we like that the vendor gives users of QuickBooks Payroll several options for customer service. You can get in touch with a customer service representative via different methods and search the company website's knowledge base. Customer support is available by phone, email and live chat from 6 a.m. to 6 p.m. PT, Monday through Friday, though Elite users can connect with the support team by phone or chat 24/7.
QuickBooks also posts tutorial videos and information about new features and software updates on its company blog, along with articles of interest to small business owners. We also like that for those who subscribe to QuickBooks' HR tools, the vendor partners with a third-party consulting service that can assist with your company's human resources needs.
We had good experiences during our interactions with the QuickBooks team. Each time we contacted them by phone, a representative quickly answered our call; at no time did we have to wait on hold to speak with someone.
Limitations
Despite Quickbooks' seamless accounting integration and bundling option, which make it stand out from competitors, the core payroll software lacks some of the bells and whistles of alternative systems. For example, the vendor doesn't extend tax-penalty protection to all plans, even though many other services we reviewed include that protection for all users.
Also, full time tracking isn't included at any level of QuickBooks Payroll (although some mobile time-tracking features are available on the Premium and Elite plans). Instead, it is marketed as an entirely separate product – see our review of QuickBooks Time for more information. Furthermore, QuickBooks Payroll only integrates with QuickBooks-branded accounting software and is not compatible with third-party options like other providers allow.
QuickBooks's payroll platform can offer good value for businesses if it's packaged with the company's accounting software. However, we found that the stand-alone payroll solution isn't budget-friendly. Many rivals offer the same or more features at a similar price point.
Another downside is the lack of a dedicated mobile app. Although QuickBooks features a mobile-friendly website, we'd like to see the company bring back some version of the app that was eliminated in 2022. If this is a dealbreaker for you, consider our review of ADP, which has two mobile apps to make things easier for business owners, managers and employees.
Methodology
When searching for top payroll software, we spent time examining different vendors and solutions on the basis of their payroll procedures, user interface, third-party integrations, report generation, customer service and additional HR tools. We also took into account each company's pricing structure and whether they provided a free trial or online demonstrations. We studied customer reviews and participated in demos. To determine the best payroll platform for businesses seeking accounting integrations, we considered the connectivity the payroll products offered and how seamlessly they integrated with accounting software.
FAQs
How long does QuickBooks Payroll take to pay?
It takes QuickBooks Payroll two days to pay employees after payroll is submitted.
Are QuickBooks Payroll and Intuit Payroll the same thing?
No, QuickBooks Payroll and Intuit Payroll are not the same thing. Intuit, the parent company of QuickBooks, discontinued the Intuit Payroll service in 2022; users were transferred to the QuickBooks Payroll service instead.
Is QuickBooks Payroll popular? 
Yes, QuickBooks Payroll is popular. Approximately 1.4 million small businesses use the platform, making it one of the most popular payroll services on the market.
Bottom Line
We recommend QuickBooks Payroll for …
Business owners who are already familiar with QuickBooks and want a solution that will integrate with their existing QuickBooks accounting software.
Business owners looking to save money with a package deal on payroll and accounting software.
We don't recommend QuickBooks Payroll for …
Large businesses with complex needs that require many specialized features from their payroll software.
Companies that aren't prioritizing integration with QuickBooks' accounting software.
Organizations where time tracking is of critical importance.

QuickBooks Payroll and Pricing
The Verdict
QuickBooks Payroll is our choice for the best online payroll system for small businesses. It offers a range of service plans, allows unlimited payroll runs each month, and is easily managed through an online portal that makes processing payroll simple.

Mike Berner is a staff writer at business.com and Business News Daily specializing in finance. Mike has a deep background in the financial world, having written hundreds of articles and blog posts on financial markets, business and investing. He holds a B.A. in economics and a B.B.A. in finance, both from the University of Massachusetts, Amherst. Prior to his writing career, he performed quantitative analysis and research as an economic analyst.