isolved is our choice for the best payroll service for plan customization. isolved offers dozens of HR, payroll and benefit management tools. Users can pick payroll features that fit their budgets and add HR capabilities as their business expands.
Pros
isolved supports multiple payment methods, including pay cards, on-demand wages and direct deposit.
Integrated human resources tools sync payroll, HR, benefits, and time-tracking systems.
Employee self-service options streamline onboarding while allowing staff to access pay stubs and tax forms.
Cons
isolved does not supply pricing information online, making it challenging to compare payroll products.
Depending on the number and type of products and features, there may be a learning curve for HR and payroll staff. 
isolved lacks the vast third-party integrations offered by Gusto and Rippling.
When selecting payroll software, small businesses typically choose between all-in-one HR systems and payroll-only platforms. isolved is unique because you can select from over a dozen products and features, making it the best payroll system for plan customization. Aside from automated payroll and payroll tax filings, isolved offers employee benefits administration, onboarding, development tools and people analytics. 
isolved Payroll Editor's Rating:
9 / 10
Pricing

8.6/10

Customer service

8.8/10

Third-party integrations

9.1/10

User interface

9.1/10

Added HR tools

9.5/10
Why We Chose isolved Payroll for Plan Customization
Most payroll systems charge monthly and per-user fees for tiered service plans that add more features as the price increases. Others, like Rippling and Zenefits, provide a base workforce module and require business owners to add payroll. Only isolved lets you pick individual payroll and HR products and features to build the right plan for your company. For this reason, isolved is our choice for the best online payroll service for plan customization. 
We like that isolved lets businesses add payroll features without having to buy extra services. However, it also offers an integrated HR and Payroll module that centralizes your employee information and payroll recordkeeping. We were pleased to see that businesses can add or remove features as their needs change. 
We were impressed by isolved's broad tool set. Besides payroll processing, you can incorporate scheduling and time-tracking systems, benefits administration and enrollment services. It also has employee engagement, performance management and development, and learning management systems. Companies can even select financial wellness programs or predictive data analytics tools.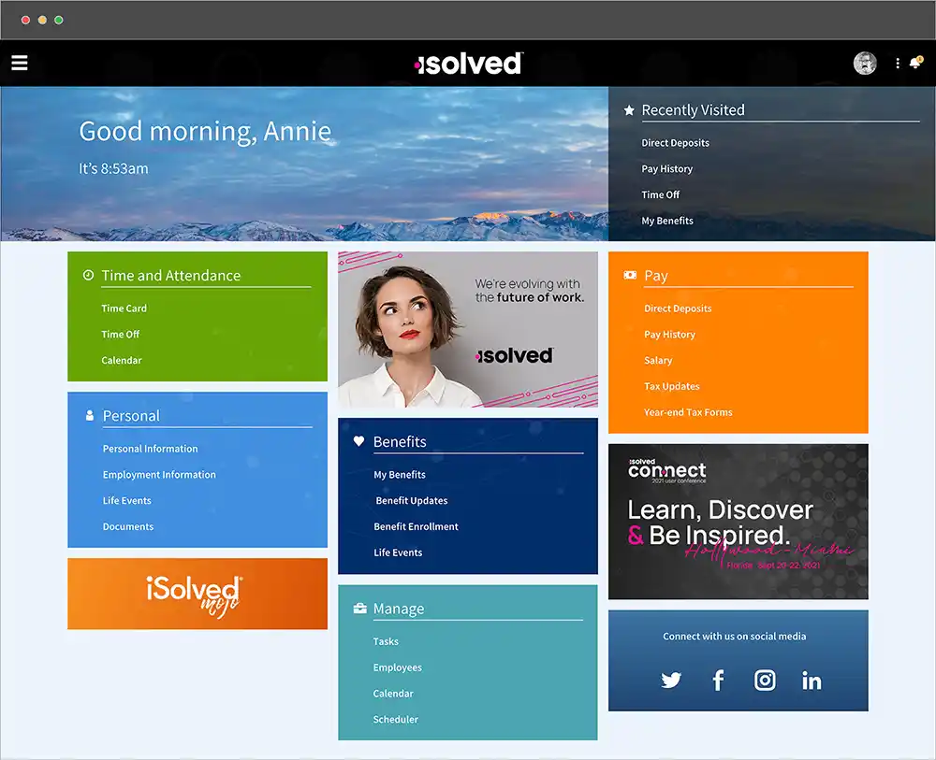 When testing the software, we found it simple to navigate to payroll and HR tools from the isolved main dashboard. Source: isolved
isolved People Cloud is a human capital management platform that supports over 5 million employees. It aims to help small, medium and large businesses manage the entire employee life cycle.
Ease of Use
We like that isolved updated its user interface to become more user-friendly. Previously, the cloud-based system felt cluttered and overwhelming. Still, we found isolved a bit more challenging than many competing platforms. Although the user interface is clean, adding features and modules can make navigation trickier. Some workflows required us to move through several pages before finalizing a task. 
isolved features an Adaptive Employee Experience, meaning employees and managers enjoy consistent experiences across iOS, Android and desktop devices. However, while the employee portal is user-friendly, we were disappointed that isolved no longer offers a mobile app. Some administrative functions, such as running payroll or viewing reports, aren't always possible on a smartphone. And most competitors provide mobile apps for self-service — even Rippling, which doesn't support mobile administrative tasks. 
Overall, we found isolved to have a steeper learning curve than its rivals. For ease of use, we prefer Square Payroll or Gusto. 
If ease of use is your top priority, read our Gusto review to learn more about an easily navigable platform.
isolved Features
As a human capital management (HCM) platform, isolved is a comprehensive system with all the bells and whistles. In addition to basic payroll features, the platform includes advanced talent acquisition and workforce management tools, and its flexibility allows small businesses to mix and match options for a custom system.
Human Resources Services
Several payroll providers have HR capabilities on upper-tier plans or as add-ons. However, we love that isolved lets you pick from tons of individual tools to build your perfect system — even tools unique for HR and payroll software. isolved offers multistate employee handbooks, HR forms and market compensation reports, as well as a full-featured learning management system and an engagement platform with gamification.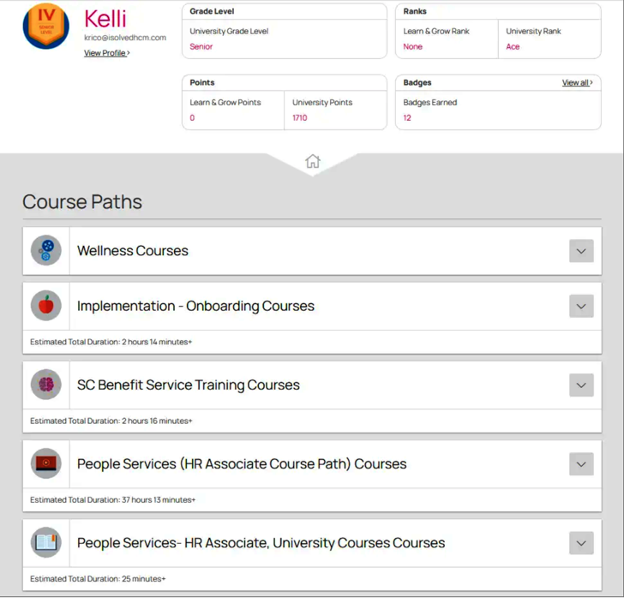 isolved helps you engage employees with skills and development programs. Source: isolved
Payroll Processing and Tax Filing
As with most full-service payroll services, isolved offers paperless payroll benefits. It calculates tax liabilities and handles adjustments for wage garnishments, workers' compensation, benefit elections and retirement plans. isolved can file and remit tax payments with government agencies. It also supports multistate tax filings and alerts admins to errors and discrepancies before processing payroll. 
We also like that isolved supports multiple payment methods, including direct deposit alternatives such as payroll cards.
As seen in this screenshot from our test of the software, isolved automatically calculates deductions and withholds the correct amounts from employee paychecks. Source: isolved
Payroll Reports
Like other payroll solutions, isolved provides several pre-built payroll reports. The report writer, in particular, impressed us. This tool helps you record data or distribute information among locations in the best way for your industry or company. We like how adding workforce or time-tracking modules provides access to key employment trends and can help you budget for hourly wages.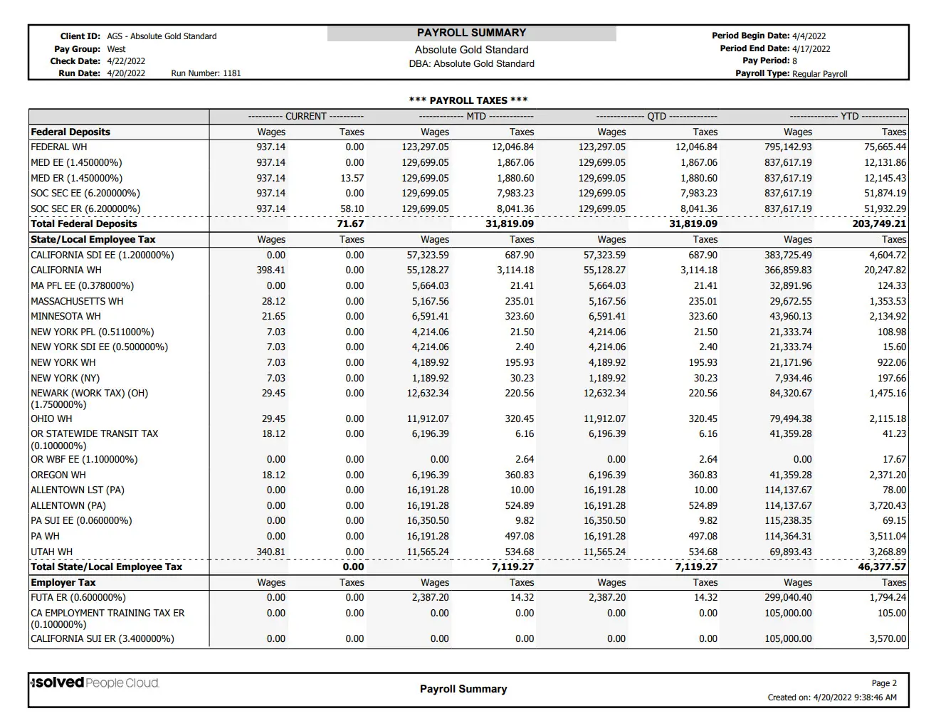 isolved's comprehensive payroll summary reports help you ensure accurate payroll recordkeeping. Source: isolved
Hiring and Onboarding Tools
Competitors such as Zenefits, Gusto and ADP include onboarding functions with their base plans. In contrast, isolved requires business owners to add modules. Options include onboarding and offboarding, Work Opportunity Tax Credits (WOTC) eligibility, and talent identification and nurturing (engagement management) tools. These features help small companies follow onboarding best practices by eliminating paper records and supporting electronic signatures. It even alerts new hires of actions to take and informs staff of their progress.

isolved helps you stay on top of new hires' onboarding progress with one glance at their status. Source: isolved
Benefits Administration
Most payroll systems include benefits management with all plans. However, isolved users can choose from several benefits enrollment and administration features and services. You'll find all the basics, including health insurance and retirement plans. Plus, isolved offers flexible spending accounts; health savings accounts; and tuition, transit, parking and lifestyle-related perks. 
isolved can make it easier to comply with Affordable Care Act (ACA) and COBRA (continuation of health coverage) regulations. It alerts administrators to deadlines and automates HR reporting.
Employee Self-Service Options
Although isolved doesn't have a mobile app, the employee experience platform is accessible from desktop and mobile devices. It lets workers access pay stubs and update their direct deposit or personal information. If you enable time or scheduling tools, your staff can view paid time off (PTO) accruals or request schedule changes.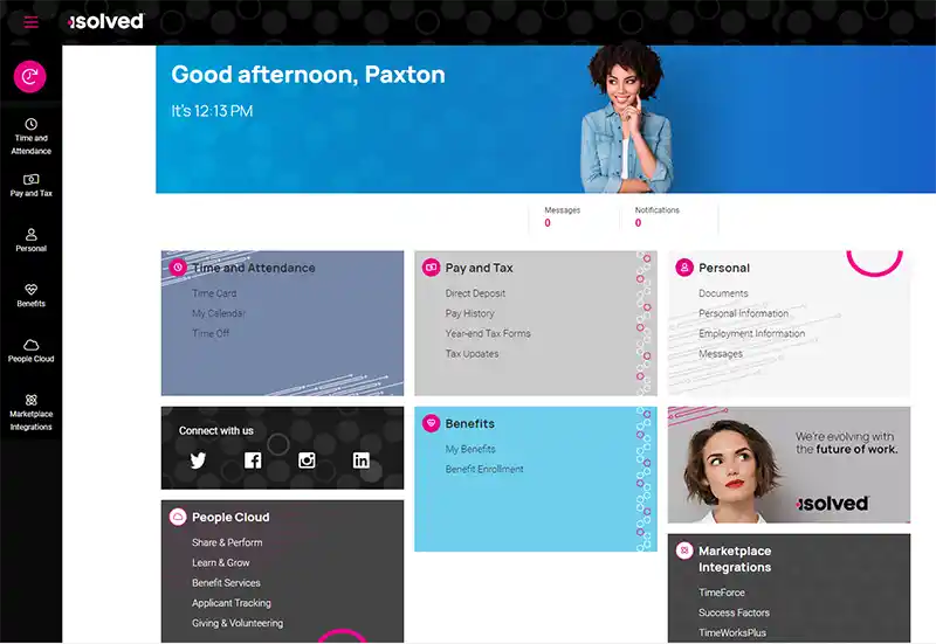 isolved gives employees a complete workplace solution with payroll, benefits, PTO and communication tools. Source: isolved
Add an isolved conversational voice assistant to Microsoft Teams to help your staff fix timecards, find time-off balances, and see upcoming company holidays. This option can reduce the burden on your HR team while improving employee self-service.
isolved Pricing
isolved's pricing varies because the company offers quote-based pricing based on a business owner's chosen products and features. Multiple users report that isolved Payroll costs about the same or less than similar solutions, like QuickBooks Payroll, ADP Workforce Now, and Paychex Flex. The best way to compare isolved with competitors is to select the Payroll option to get a base price and then speak with a sales representative to learn how additional options will affect your monthly fee. 
isolved provides the following products, and each has several features:
Attract and hire
Onboard and develop
Payroll
Human resources
Benefits enrollment and administration
Workforce management
Share and perform
Learn and grow
HR services
Predictive people analytics
Giving and volunteering
Financial wellness
Implementation/Onboarding
isolved employs implementation specialists to assist clients in designing and deploying HR solutions. Unlike Zenefits, which offers a self-guided option, isolved requires a more hands-on approach. (Read our Zenefits Payroll review to learn more about this provider's onboarding process.) Your advisor will assess your needs and workflows to determine project timelines. isolved system training is included in the process, with on-demand and live sessions available. 
For companies that choose only payroll, the setup process is less intense. It involves gathering employee information and entering time-off policies, pay rates and other info. But you should expect to spend more time on implementation, onboarding and training when switching to an automated HR system. 
Many users report a steeper learning curve with isolved than with Gusto or Square Payroll. isolved's comprehensive HR resources allow your business to handle more processes from a single application. However, this complexity increases the upfront training required to use the system effectively. 
Customer Support
We appreciate that isolved provides HR and payroll clients with a dedicated support team. isolved's staff turnover rates seem lower than Paychex's, so you can expect the same contacts for months at a time. Instead of going through an automated service or call center, isolved clients can reach customer support directly via phone or email. 
Still, isolved does not offer 24/7 support like ADP does. You can reach an isolved representative Monday through Friday from 8 a.m. to 8 p.m. ET. We'd prefer to see additional service options for clients that run payroll after hours or on weekends. The lack of live chat is also a drawback. Many competitors let payroll customers chat from the payroll app or admin dashboard. 
In addition to live assistance, isolved offers a training university with courses, videos and articles. Users must log in to their isolved account to access digital resources and FAQ databases, which are geared toward administrators, employees and managers. 
Limitations
While we applaud isolved for its all-in-one approach to payroll, benefits and HR, the system is not a fit for every small business. Here are some limitations we identified:
Challenging implementation process: We found isolved's implementation process more challenging than competitors' setups. Time-strapped entrepreneurs looking to deploy payroll quickly may prefer a more straightforward solution. Check out our review of OnPay to learn about a platform with an easier implementation process. 
Few integrations: isolved's lack of integrations also posed an issue. In contrast, Rippling connects to hundreds of third-party applications, including time-tracking tools and point-of-sale systems. isolved may not be a fit for companies that want an integrated technology stack without configuring APIs. See our review of Rippling to explore ways to sync your existing tools. 
No mobile apps: We were disappointed with the lack of mobile apps. Today's workforce does not want to open a web browser to access pay stubs or tax forms, and small business owners may need to approve payroll or view reports while away from the office. Check out our Paychex review if you're interested in a solution that provides mobile apps for employees and employers. 
Methodology
When researching highly rated payroll companies and software for small businesses, we evaluated dozens of payroll service providers. Our in-depth review process included customer support interactions and hands-on software usage as we evaluated the ease of use, navigability, feature scope, affordability and integrations. We also examined user reviews and ratings to spot positive and negative feedback patterns. When looking for the best payroll service for plan customization specifically, we assessed the availability of build-your-own plans, tiered or bundled packages, and add-ons. Our goal is to help businesses find the right payroll provider for their needs. 
isolved FAQs
isolved retired the GO app in June 2022. The company replaced it with the Adaptive Employee Experience, a web-browser-based platform that works on any device. Users can add a link to their smartphone's main screen for easy access.
In 1986, isolved was founded to help business owners comply with COBRA regulations. By 2012, the company had introduced its payroll and time clock software. Over the years, isolved evolved into a complete HR solution. Today, it serves about 145,000 employers nationwide.
Yes. isolved clients across the United States can select from a broad range of benefits. isolved provides standard health insurance and retirement plans, as well as many unique fringe benefits for commuters, parents and students.
Bottom Line
We recommend isolved for …
Small to midsize companies that want a complete human capital management system. 
Businesses that need help complying with ACA and COBRA regulations. 
Entrepreneurs who prefer specific payroll and HR features to bundled packages.
We don't recommend isolved for …
Small teams looking to deploy an online payroll system quickly. 
Businesses that want a one-vendor solution for payroll and accounting. 
HR professionals who prefer mobile apps for employees.