Rippling PEO Review and Pricing
Rippling provides small businesses of all sizes with a wide range of HR, IT, payroll, benefits and risk compliance support. In addition to its intuitive and well-developed online platform, this company provides reputable PEO services under its co-employment model. Where Rippling excels most, however, is in its ability to scale. Many professional employer organizations we reviewed, while excellent service providers, aren't tech-forward companies. In the age of remote work, this can be a challenge for budding decentralized small businesses. Fortunately, Rippling provides a central hub of information and practical tools to help small companies grow. That's what makes it our best pick for a scalable PEO service for small businesses.

Rippling PEO and Pricing
The Verdict
Rippling provides small businesses with unique features like remote laptop management and local tax registration, making it our best pick for a scalable PEO.
Rippling Editor's Score: 9.3
| | |
| --- | --- |
| Price/value | 9.0/10 |
| Features | 9.6/10 |
| Customizations, add-ons and integrations | 9.6/10 |
| Ease of use | 9.7/10 |
| Customer support | 8.8/10 |
Why We Chose Rippling for Scalability
Rippling's technology allows businesses to create workflows and automate virtually any HR process. Since the platform syncs each HR process with one another, it can easily scale with you as you hire more staff and grow your business. Additionally, you can remove or add features as needed to create the right HR solution at every stage of your business.
Once your company grows to a certain size, you may be ready to bring on in-house HR staff. That could mean switching out of the PEO model and adopting a standalone HR platform. Instead of essentially starting over with a new HR solution, Rippling makes this process an easy transition. In fact, Rippling's ability to act as either a PEO or a standalone HR platform is one of its best features. [Read related article: Signs It's Time to Hire Your First HR Person]
Once you move out of the PEO offering, you won't have to start from scratch with separate HR features. All your company's information and data will be stored safely within Rippling's platform. That means you won't have to onboard existing employees again or update any company information – you can switch from Rippling's PEO to its HR service quickly and easily.
You can also purchase Rippling's services on an a la carte basis. You can buy standalone services in HR or IT, which is ideal for new and growing companies looking to scale quickly. For these reasons, Rippling is the best PEO service provider for businesses in need of scalability.
Rippling has some of the most extensive HR reporting capabilities of all the PEOs we analyzed. You can even pull independent reports and download data into Excel or CSV files. Report sharing can be restricted too.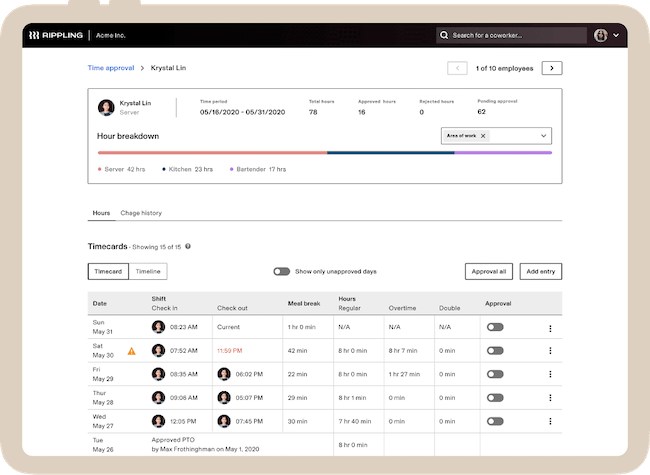 Rippling's timecards make it easy to see exactly when employees have clocked in and out.
Source: Rippling
What We Like About Rippling
Businesses can easily scale between Rippling's PEO co-employment model and its standalone HR technology.
The system uses advanced technology that can automate virtually any HR process.
The vendor doesn't require annual contracts.
The platform has extensive reporting capabilities.
What We Don't Like About Rippling
Rippling is not certified by the IRS.
The vendor has a five-employee minimum.
Ease of Use
Part of Rippling's appeal as a PEO is its tech-forward approach. That doesn't mean it's complicated to use; rather, Rippling offers intuitive PEO software that requires minimal user training. Also notable is that of all the companies we reviewed, Rippling is one of the only organizations that provides third-party integrations. That means you can hook up your PEO platform – and all the valuable HR data and employee information it contains – with popular workplace apps like Slack, Google Workspace and Zoom.
What makes Rippling so easily scalable is its simplicity and efficiency as a cloud-based PEO platform. It provides IT features that its rivals don't, including remote laptop management, app integration management and single sign-on features. You can enable apps for new employees, disable them for departing employees, and create a mission-control dashboard to manage your software. This makes Rippling one of the easiest services to implement, onboard and offboard of any PEO we reviewed, though if ease of use is your main concern, we recommend also reading our Justworks review.
Features
Rippling provides a wide range of PEO services and features businesses of varying sizes. The specific functions you'll have access to depend on your specific plan. However, since Rippling is highly scalable, many of these tools can be added or removed as needed.
HR Services
Rippling facilitates some of the most advanced HR services of all the PEOs we analyzed. It can include a unified employee database, customizable HR reports, automated onboarding and offboarding, customizable fields and alerts, electronic document management, position and task management, workflow and approval automation, a mobile app, applicant tracking and recruiting software, and HR customer support.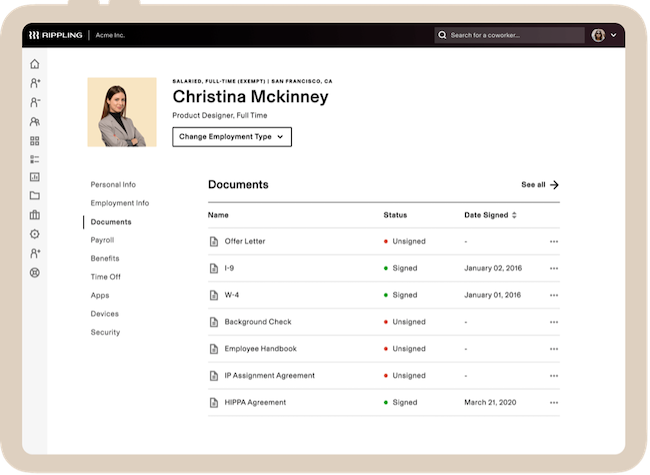 Rippling is great for document management.
Source: Rippling
Employee Benefits
As your business scales and you add more staff to your team, you should provide them with comprehensive employee benefits. With Rippling, all of your company's medical, dental, vision and 401(k) information is accessible in one benefits dashboard. Rippling also provides new-hire enrollment, third-party broker support, online open enrollment, payroll deductions synchronization, online employee self-service, and small and large group benefits packages. This was on par with what we saw from other top PEOs.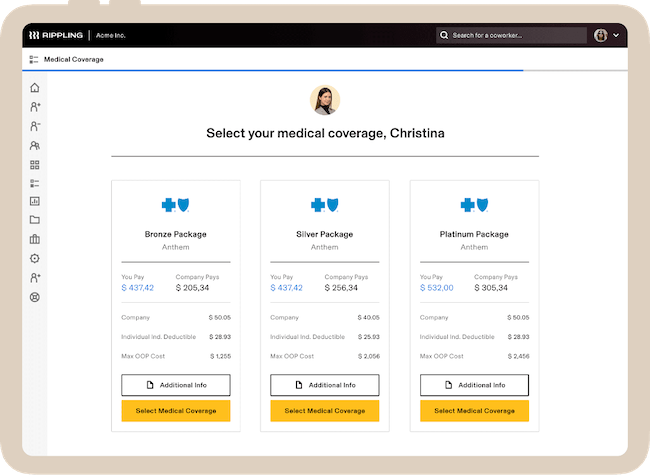 Rippling walks employees through the process of selecting insurance.
Source: Rippling
Payroll and Taxes
Rippling is one of the only companies we reviewed that provides local tax registration. If your company hires employees in multiple states, this is an excellent feature to take advantage of. We like that Rippling also provides time and attendance features, payroll processing in all 50 states and internationally, direct deposit, tax form creation and new-hire filing, and job codes and multiple pay rates. Perhaps ironically, though, the IRS has not certified this vendor.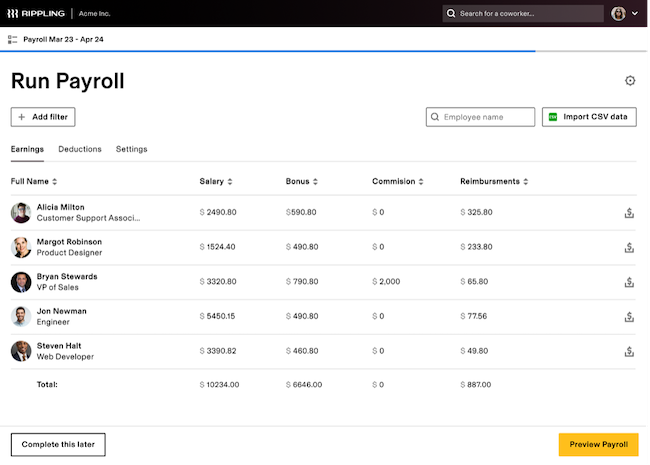 Rippling makes it easy to process payroll.
Source: Rippling
Risk and Compliance
When we tested the Rippling software, we noticed it's a compliance-driven technology. For example, there is a compliance dashboard that shows details on legal infractions and suggests ways to remedy those issues. Your administrators can get notifications about these violations and then update policies as needed. Rippling also offers critical compliance measures like employment practice liability insurance, workers' compensation, state and local payroll tax creation, and state and local guidance. [Learn about OSHA compliance.]
Pricing
Rippling operates on a per-employee pricing model with no hidden fees. This is ideal for new and growing businesses, as it allows you to predict costs accurately instead of watching the price change with your payroll percentages each month, as with the cost structure some other PEOs use.
Rippling's services for small businesses start at $8 per employee per month, but you'll have to work closely with a Rippling sales representative to get an accurate quote for your company since you can pick and choose which features you want included in your package. Based on the services you want – from their Workforce platform, HR cloud, IT cloud and finance cloud – the vendor will develop a custom bundle and price.
One of the advantages of working with Rippling is its flexible pricing model. You can elect to pay for standalone services and transition out of the PEO model later if that's what your company needs. This ability to mix and match makes Rippling ideal for small businesses, especially those looking to scale quickly.
Rippling only requires monthly contracts, which means you can move on or off the platform at any time.
Implementation/Onboarding
Part of Rippling's appeal is its easy usability, scalability and tech-forward approach. When we tested the software, we liked how simple it was to get team members up to speed on the platform, and how employee onboarding could be automated on the Rippling dashboard. Little to no training is needed for implementation.
Once your employees are in the system, you can link it with other IT features, such as third-party apps. We didn't see many other PEOs offer this level of IT support, but keep in mind that customizing the solution with third-party integrations can add to your setup time and learning curve.
We like that the sleek, cloud-based platform enables your employees to access relevant information from any computer or smart device, anywhere with internet access. You can easily complete important tasks, like running payroll and generating HR reports, on the go. Once your company is set up on the system, your data will be securely stored. If your business transitions to another type of service from Rippling, you won't have to update or reenter any information – it's all saved in the cloud.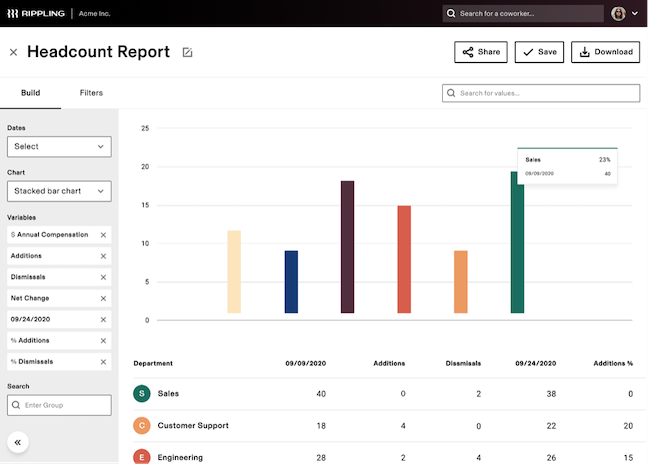 Rippling's reports include options for the type of chart you'd like to use to visualize data.
Source: Rippling
Customer Support
When we tested Rippling's services, we found its customer support to be on par with what competitors offer. Clients can receive support online via email or live chat. We appreciate that Rippling provides a real-time support status on its website, letting businesses know how long they should expect to wait for email and chat responses and how often cases are resolved on first contact. This is a transparent commitment to quality support, but it's notable Rippling's customer support prefers to communicate over email or chat instead of phone. Keep in mind that customer support chats can be converted into virtual calls.
The vendor also has useful online resources, like a help center, templates for forms and reports, and a blog. We also like that the company provides live one-on-one healthcare guidance for your employees via a Rightway Health Guide. This added feature isn't something that all PEOs offer.
Limitations
Despite Rippling's exemplary service, the vendor has a few drawbacks to keep in mind. For one, Rippling is not accredited by the Employer Services Assurance Corporation (ESAC) or certified by the IRS, two of the PEO industry's major accreditors that review such organizations regularly and test their services to ensure quality. For an accredited PEO service, see our review of ADP TotalSource and our review of Paychex – both PEOs are certified.
Another possible downside to consider is that you must have at least five employees to qualify for Rippling's PEO services. Although this is somewhat standard in the industry, it is a limitation for businesses with fewer than five workers. If you fall into this category, check out our review on Justworks; it only requires you to have two employees on staff.
Methodology
We researched and analyzed dozens of professional employer organizations to identify the best vendors and services. As part of our investigation, we evaluated each company's pricing, contracts, minimum requirements, employee benefits administration, time-tracking features, payroll processing, administrative HR functions, talent management features, integrations, legal risk and compliance assistance, accreditations and customer support. We watched product videos and participated in demos whenever possible. To find the best scalable PEO solution, we paid particular attention to onboarding and implementation, automation, usability, scalability and integrations.
FAQ
Is Rippling IRS certified?
No, Rippling is not certified by the IRS, nor is it accredited by ESAC or the Better Business Bureau. Although we prefer PEOs to be accredited and certified, we believe based on our research that Rippling is still a trustworthy vendor with reputable services.
What is the difference between a PEO and a CPEO?
A PEO is a professional employer organization, and a certified PEO (CPEO) is a PEO that has been certified by the IRS. To receive a certification from the IRS, a PEO must meet specific reporting and financial requirements. While this certification is advantageous for financial protections and tax benefits, a PEO does not need to be certified to be considered a valuable and trustworthy professional employer organization.
Bottom Line
We recommend Rippling PEO for …
Companies that want a PEO that can scale with their business.
Businesses that want to transition between a PEO and HR software.
Businesses that want to automate several HR processes.
We don't recommend Rippling PEO for …
Businesses that want an ESAC- or IRS-accredited PEO.
Companies with fewer than five employees.
Companies that need frequent phone support

Rippling PEO and Pricing
The Verdict
Rippling provides small businesses with unique features like remote laptop management and local tax registration, making it our best pick for a scalable PEO.
Skye Schooley is a human resources writer at business.com and Business News Daily, where she has researched and written more than 300 articles on HR-focused topics including human resources operations, management leadership, and HR technology. In addition to researching and analyzing products and services that help business owners run a smoother human resources department, such as HR software, PEOs, HROs, employee monitoring software and time and attendance systems, Skye investigates and writes on topics aimed at building better professional culture, like protecting employee privacy, managing human capital, improving communication, and fostering workplace diversity and culture.