Workers' compensation insurance provides benefits and protection for employees who are injured or become ill on the job. The program ensures that employees receive benefits and medical care and, in most cases, protects the employer from legal action in the event of a job-related injury or illness. Workers' comp is similar to other types of insurance in that a company will pay into a workers' compensation fund, from which benefits are paid to employees.
"When employees are injured on the job, workers' compensation provides financial coverage for their medical bills, lost wages and other expenses," said Jeff Somers, president of Insureon. "In addition to protecting employees, workers' compensation limits employers' exposure to lawsuits after work-related injuries."
Editor's note: Looking for workers' compensation insurance? Fill out the below questionnaire to have our vendor partners contact you with free information.
How much workers' compensation you need depends on several factors, including state laws and your industry. Reputable insurance agencies should be able to help you determine how much you need, but you should still do your homework to make sure everything is accounted for.
How much does workers' compensation insurance cost?
Workers' compensation insurance varies widely by industry and job type. According to Insureon, workers' comp costs in the U.S. range from 75 cents (in Texas) to $2.74 (in Alaska) per $100 in employee wages.
If you are shopping for a workers' comp insurance broker, you should compare prices, coverage and reputation. You'll want an agent who answers your calls quickly and understands your state's requirements as well as the specific hazards of your industry.
You should also know your experience modification rate (EMR), which Quinten Lovejoy, risk advisor at the Crane Agency, said is calculated and applied by the National Council on Compensation Insurance and is critical to determining your workers' comp cost.
"The NCCI is the authority that looks at a company's claims history and makes a projection of its risks based on the business itself and national trends of that industry," Lovejoy said.
The NCCI does not govern all states. Some states have their own bureaus that serve the same functions as the NCCI.
John Espenschied, agency principal and owner at Insurance Brokers Group, recommends shopping around for your workers' compensation insurance.
"Each insurance carrier will have different risk appetites for business," he said. "Some companies will consider high-risk companies like roofers, while other companies will never offer workers' compensation for a roofing business. This means the rates can fluctuate between one carrier and another."
How to determine how much workers' compensation insurance will cost you
To figure out your total workers' compensation insurance cost, consider the following questions.
1. What does your state require for workers' comp insurance?
To understand your workers' compensation requirements, you need to check your state laws. Only Texas doesn't mandate that companies provide workers' compensation for their employees. State laws also require regular audits of your workers' comp policies to ensure you are paying an appropriate amount for the risk exposure your people face on the job.
"Since workers' compensation laws are regulated at the state level, business owners should first determine when workers' compensation insurance is required for their business," Somers said. "Usually, it's as soon as they hire an employee." [Interested in the best business insurance providers? Check out the ones we recommend.] 
Some states exempt you from getting workers' comp coverage if you are the sole employee of your business. Before you use this exemption, Somers suggests weighing the potential expense of the claim against the cost of insurance.
"Since most health insurance plans exclude coverage for work-related injuries, sole proprietors may be putting their livelihood on the line if they opt to skip workers' comp coverage for themselves," he added.
2. What is the average age of your workforce?
"As employees age, the propensity for injury increases," Lovejoy said. "At the same time, a younger workforce brings about less experience and an increased chance of on-the-job injury."
Risk is also increasing for older members of the workforce as more Americans delay retirement. The U.S. Census Bureau projects that more than 30% of Americans ages 65 to 74 will still be working by 2026. Older workers tend to have a harder time proving that their injuries or illnesses happened on the job, given their higher occurrence of preexisting conditions, so make sure your employees are aware of their rights.
3. What risks do your workers face?
Many factors impact how much workers' compensation coverage a business owner needs and how much it'll cost, including the risks workers face.
"With higher levels of risk comes the need for high levels of coverage," Lovejoy said. "A roofing contractor obviously has a higher risk than someone working in a jewelry store."
Risk factors will determine the cost of your workers' comp insurance. For example, in the state of New York, workers' comp for roofers is $32.42 per $100 of payroll, while it's only $2.17 per $100 for retail employees.
While strong safety standards and procedures can offset the danger, the more hazards your employees face, the more coverage you should consider. Common risks associated with construction include falls, trench or scaffold collapse, electric shock, and repetitive-motion injuries, according to the Occupational Safety and Health Administration. [Learn more about OSHA compliance.]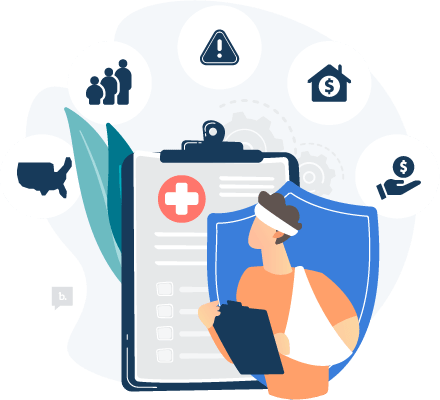 4. What are the financial risks?
Some cities and states have higher costs of living than others. That means employees need to make more to achieve a similar standard of living. It also means the uninsured costs of medical treatment are higher. Therefore, their losses due to injuries on the job are higher than if they were employed in a different city or state, and they will need more workers' comp.
Not having workers' comp insurance can pose a massive risk to you, your employees and your business. Penalties vary by state, but Lovejoy said that in states where the NCCI regulates workers' comp, it retains the power to assess and fine past premiums for workers' comp coverage that should have been in place, in addition to fines placed by the state government.
5. How many people does your business employ?
Though it's not a direct component of the equation that insurers use to determine premiums, a business's size correlates with its risk. More employees means more people who could theoretically injure themselves on the job and file a workers' comp claim. This higher theoretical number of claims may compel insurers to increase your premiums.
How are workers' compensation premiums calculated?
Insurers determine the appropriate workers' compensation premiums to charge a business by assessing three key factors: payroll, classification rate and EMR.
Payroll: Workers' comp insurers calculate premiums per $100 of your business's payroll. The cost of your workers' comp insurance costs for every $100 of payroll varies by state, based on guidance from the NCCI. That said, a high-risk business in a low-premium state may ultimately pay more than a low-risk one in a high-premium state. Your risk is the product of the next two factors.
Classification rate: This is the formal term for the type of work your team performs, which helps insurers determine your risk. Companies whose employees mostly perform desk jobs are considered low risks, but businesses that specialize in dangerous manual labor, such as construction companies, are at a higher risk. The NCCI keeps a running list of classification rates and risk levels that insurers use in their calculations of workers' compensation insurance costs.
EMR: Your experience modification rate is a formal representation of your company's workers' comp claims history. The more extensive your claims history, the more risk insurers will ascribe to you, thus raising your premiums.
Insurers combine these three factors into this workers' compensation insurance cost formula:
Classification Rate x EMR x (Payroll ÷ 100) = Premium
Your payroll, classification rate and claims history (EMR) all play a role in the cost of your workers' compensation insurance.
How to save on workers' compensation insurance costs
It's understandable if you find these workers' comp premium criteria worrisome – after all, you can't quite control the risk level of the type of work your company performs. You might also feel that being penalized for previous claims adds insult to injury, though this model is the foundation of all types of insurance. All this said, there are some ways to lower your workers' comp premium costs.
1. Train your employees in workplace safety.
Whether your company comprises mostly desk workers or manual laborers, workplace safety training always decreases the chance of employee injuries, which in turn decreases the chance of lawsuits and negative impacts to your workforce. As your number of workplace injuries and illnesses decreases, your EMR appears as less of a red flag to insurers, resulting in lower premiums.
2. Match safety training with safety equipment.
If your team works around hazardous materials, make sure your employees have gloves, hazmat suits and other equipment that prevents hazardous exposure. A well-protected team is less likely to need to file workers' comp claims.
3. Find hazards and address them now.
Don't wait for a potential hazard to become an actual one – that's how you wind up with excessive workers' comp claims that drive up your premiums. Instead, pinpoint your current workplace hazards and resolve them now, before they lead to harm. This could be as time-consuming as upgrading essential equipment that's in decline, or as simple as moving extension cords out of the way to reduce the potential for tripping.
Whether it is for insurance or general safety reasons, conducting regular workplace safety audits is a valuable exercise for any business.
4. Pay premiums annually instead of monthly.
Maybe you've seen a company, whether an insurer or a software provider, offer pricing with phrasing like "$10 a month if billed monthly or $8 a month if billed annually." The question then becomes whether committing to 12 months of service is too much of a gamble. Since you do need workers' comp, though, you're better off paying for the full year and getting the discount. The cost savings may be worth any dissatisfaction you might feel with your insurer.
Best workers' compensation insurance practices
You should make all your employees well aware of what is covered under workers' comp, what they are entitled to in the event of a work-related illness or injury, and how the business can support them.
Lovejoy recommends creating a program specifically for employees returning to work after an illness or injury.
"Companies should have a formal 'return to light duty' program," he said. "If employees are not fit to return to their normal job duties, they can still return to work and perform modified duties and, as such, reduce the overall claim amount."
Kiely Kuligowski contributed to the writing and reporting in this article. Source interviews were conducted for a previous version of this article.