Nearly all businesses with employees are required to have workers' compensation insurance, a policy that covers medical costs and loss of wages when employees are injured on the job or become ill because of their work. According to the National Council on Compensation Insurance, the average cost of workers' compensation claims for work-related injuries and illnesses in 2017 to 2018 was $41,003. Without workers' compensation insurance, your company would be stuck footing these high costs.
Given the expense of medical care for work-related incidents, you and your HR staff should acquaint yourselves and all of your employees with the workers' compensation claim process. Doing so will demystify the process while showing your employees that you care about their well-being.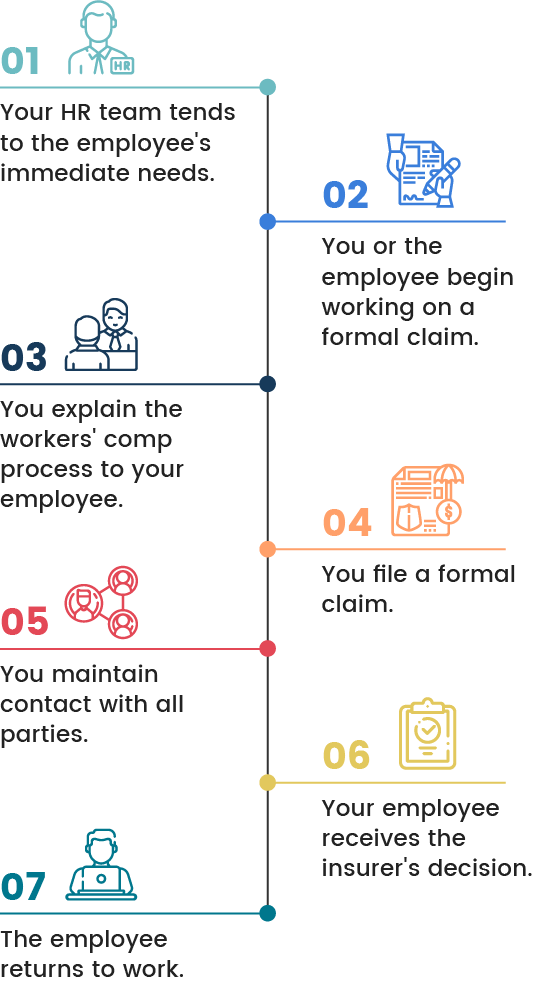 What is the workers' compensation claim process?
The workers' compensation process comprises the steps employees must take to receive insurance benefits after a work-related illness or injury. The process involves employees reporting incidents to the appropriate person, often an HR staff member, who will work closely with the employee to complete their claim.
As an employer, you'll also be closely involved in the workers' compensation claim process. You need to ensure your HR team is processing employee claims appropriately, as well as maintain regular contact with both the filing employee and your workers' comp insurance provider. You'll also be intimately involved in planning the employee's return to work after they recover from their illness or injury.
Taking these actions is important for keeping your company compliant with your state's workers' comp provisions. You should have no trouble staying compliant if you follow the below steps.
Editor's note: Looking for the right workers' compensation insurance for your business? Fill out the below questionnaire to have our vendor partners contact you about your needs.
The workers' compensation claim process for employers
The workers' compensation claim process typically proceeds as follows:
1. Your HR team tends to the employee's immediate needs.
Injured or ill employees are rarely physically or mentally able to file claims right when an incident occurs. Instead, the immediate focus should be caring for the employee. Your HR staff, if present at or near the site of an injury, should administer first aid. If needed, your HR team should also send the employee to a doctor or hospital and reach out to the employee's emergency contact.
2. You or the employee begin working on a formal claim.
After the employee's emergency needs are met, they should file a written report within 24 to 48 hours of the incident. Then, you will file a formal claim with your business insurance provider.
To begin filing a claim, you and the employee should meet with your HR team. During this meeting, all parties should discuss who will complete the required injury or illness report. Sometimes, your employee will do this alone, and other times, you will handle it with their assistance. Your HR team can answer questions as needed.
Here is some of the key information that typically needs to be provided:
Incident date and location
Injury or illness description
The date the employer learned of the incident
The date you gave your employee their claim paperwork
The date you received the employee's paperwork
Depending on your state, you may also need to file state workers' comp board forms.
3. You explain the workers' comp process to your employee.
Before you file a claim, you should walk the employee through the process so they know what to expect. Make sure to cover the following points when you explain the workers' compensation process to the employee:
Report filing timeline. As mentioned earlier, you should ask employees to file claims within 24 to 48 hours of an incident. However, this goal may sometimes be unrealistic. That's why the employee should know how long they have, under state law, to file claims. You should emphasize that claims filed outside this time frame could lead to a loss of benefits.


Healthcare options. In some states, you can designate the specific doctors employees can see regarding work-related illness and injuries. Regardless of whether this provision applies in your state, your HR team should thoroughly explain the employee's healthcare options.


Additional healthcare considerations. Employees should be advised to retain all paperwork from their doctor visits. Additionally, although healthcare facilities usually file claims directly with your workers' compensation provider, you should still give your employee the provider's contact information. Lastly, make sure employees know whether their travel costs to and from healthcare appointments are reimbursable.


Wages. In cases in which an injury or illness puts an employee out of work, it's important to discuss how the employee's wages will be replaced during their leave. Requirements vary by state and may sometimes include a maximum leave wage amount.


Time-off usage. Employees should know how your company's time-off policies do and don't intersect with your workers' comp plan, relevant state laws and the federal Family and Medical Leave Act (FMLA). Namely, you should discuss whether days employees spend on workers' comp leave also count as vacation days, paid time off or any similar company policies.
4. You file a formal claim.
With the previous steps complete, you can now file a formal workers' comp claim with your insurance provider. Even if your employee completes the claim paperwork on their own, you and your HR team should file the claim on the employee's behalf.
Before you file the claim, ask your insurance provider how it prefers to receive claims. Electronic submission works for some, whereas others prefer postal mail or telephone claims. You should also ask your provider whether you are also required to file the claim with your state's workers' comp body. In some cases, your provider will handle this step for you. [Read related article: How Much Insurance Do You Need?]
Before you file the claim, ask your insurance provider how it prefers to receive claims. Electronic submission works for some, whereas others prefer postal mail or telephone claims.
5. You maintain contact with all parties.
Once your claim is filed, maintain regular contact with your insurance provider and your employee. This way, you can complete or forward any requested documents.
Your HR staff should also regularly update your employee on the status of their claim and remind the employee when they should expect to hear from the insurance provider about medical concerns and wage replacement.
6. Your employee receives the insurer's decision.
While all of the above steps are important, they don't guarantee claim approval. Your insurance provider ultimately decides whether to approve the claim based on whether the information provided fits your plan's terms.
If your provider approves your claim, your employee has two options: They can either accept the benefits offered, which typically include coverage for medical costs and lost wages, or negotiate for more money. Similarly, in the case of a denied claim, the employee can demand a review or approval.
7. The employee returns to work.
After your employee has tended to the injury or illness covered in their claim, they should return to work. Before doing so, they should notify both you and your insurance provider of their intended return date.
As your employee prepares to come back to work, you should develop a customized program to facilitate the employee's return. In doing so, consider the employee's doctor-ordered medical restrictions on their work duties and how these restrictions might affect their performance.
If necessary, you can create a temporary position for the employee until they are fully able to work again. Alternatively, if you have a current job opening that fits better with the employee's restrictions, you can assign them to this role until they are ready to return to their former position.
In some cases, your employee will be unable to return to work for an extended period, potentially meaning wage losses that are greater than their workers' comp payout can cover. If so, you can try to extend the employee's leave through FMLA, the Americans with Disabilities Act or company policy provisions.
How to make the workers' compensation claim process easy
Beyond the above steps, there's another key way to make the workers' compensation claim process easy for all parties involved: Well before there's even the threat of a work-related illness or injury, you and your HR staff should educate your entire team on workers' compensation, what it entails, when employees qualify and how they should go about filing claims.
Ideally, you will include a thorough workers' compensation explainer in your employee handbook. Your HR team should supplement this written explanation with in-person verbal training. The more your team knows about the workers' compensation claim process, the easier it will be to file claims and properly care for your employees.