GoCo Review

Thanks to its flexibility, process automation and streamlined onboarding functions, GoCo is our choice for the best HR software for custom workflows. GoCo can automate virtually any HR process, including your hiring, onboarding, performance reviews and promotions. Implementing this software can simplify your HR staff's responsibilities and help your company comply with federal and state employment laws and regulations. GoCo is also great for businesses that need flexibility with their payroll, as you can use the embedded payroll features or integrate your own third-party payroll solution.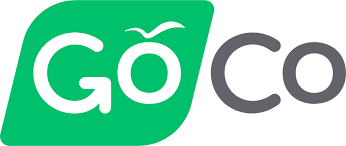 GoCo
The Verdict
GoCo is a user-friendly HR platform that can streamline all of your business's HR functions and create the workflows that are best for your team. It can automate virtually any process, which is why we've chosen it as the best HR software for custom workfl
GoCo Editor's Score: 8.9/10
| | |
| --- | --- |
| Price/value | 9.2/10 |
| Features | 8.7/10 |
| Customizations, add-ons and integrations | 8.2/10 |
| Ease of use | 9.1/10 |
| Customer support | 9.1/10 |
Why We Chose GoCo for Custom Workflows
When we tested out the GoCo platform, we loved how easy it was to simplify human resources processes with the software's workflow automation function. You can automate essentially any HR process, which can save your business significant time and money in the long run. For example, you can quickly bring on new hires with onboarding checklist workflows. With these checklists, onboarding tasks and their deadlines are automatically assigned; automated reminders are sent to relevant individuals; and teams have a clear view of what is coming next. We especially like that onboarding can also be streamlined with new-hire orientation workflows; in addition to automatically pushing new hires through the orientation process, the software lets you track the status and assignment of each orientation task.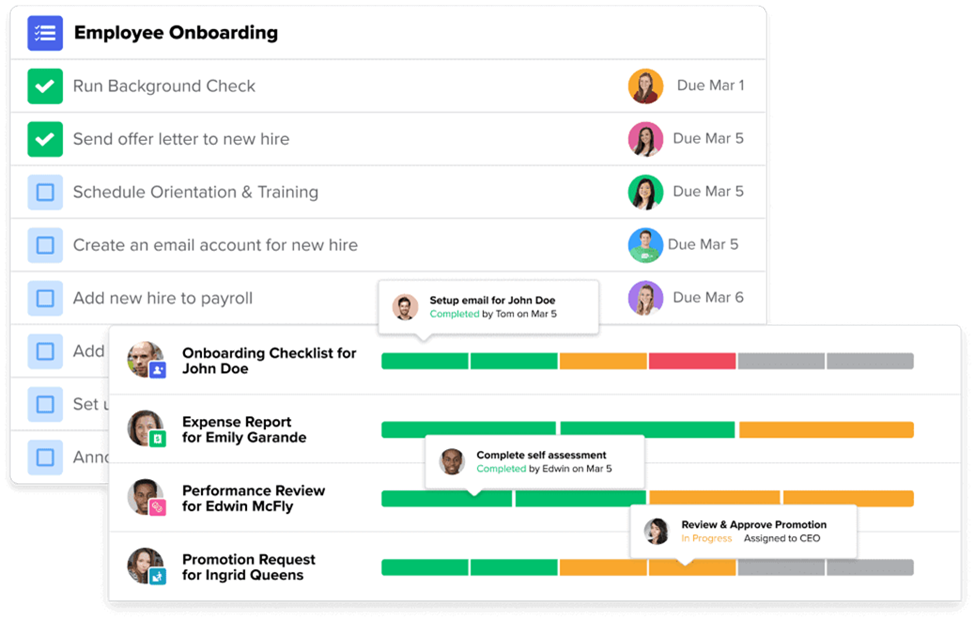 You can automate HR processes for your current employees as well. For instance, you can create workflows for travel, promotion and equipment requests. Not all of GoCo's competitors offer these automation options, which is one of the reasons it stands out. If you want to track employee performance and productivity, you can create workflows for performance reviews and employee surveys, though that feature is on a par with industry standards.
Although it can be tough to say goodbye to an employee, some terminations are inevitable; GoCo simplifies the exit process with workflows for this task as well. You can automate administrative offboarding tasks, ensure the departing team member gets the necessary documents, organize critical information in one location and easily track offboarding progress.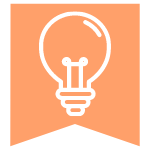 Tip: Streamlining HR processes with custom workflows not only frees up your staff to focus on other tasks but can also help you maintain accuracy and legal compliance.
What We Like About GoCo
GoCo makes the employee hiring and onboarding process extremely efficient.
Once the platform is implemented, it is easy to navigate.
You can create custom workflows to streamline tasks such as employee onboarding and terminations, performance management, and travel and promotion requests.
What We Don't Like About GoCo
GoCo integrates with relatively few third-party applications.
It doesn't offer a free trial.
Ease of Use
GoCo is a web-based platform, so it's easily accessible from any computer or smart device. It also has a mobile app for iOS and Android, which is ideal for on-the-go team members. We like that the software boasts several self-service functions that conveniently give employees more control over their HR information.
Staffers can sign digital HR documents, download their paystubs, view company directories and organizational charts, and request paid time off (PTO), all through this one system. Managers have that same functionality, as well as the ability to approve timesheets and time-off requests and give team feedback.
When we tested GoCo, it was a breeze to set up new employees within the payroll system. GoCo offers an onboarding wizard that collects employee information such as direct deposit details, W-4 withholdings and benefits enrollment deductions.
Features
One of the best things about GoCo is that the plans are customizable. Each package includes the essential hiring and onboarding features you'd expect with HR software, but you can add other valuable functions, like payroll processing, time tracking and automated workflows.
Here is an overview of some key features and tools GoCo offers.
Recruiting and Onboarding
There are several ways GoCo can help you hire and onboard employees. The software integrates with JazzHR, a comprehensive applicant tracking system, and provides essential recruiting and onboarding tools, like customizable offer letters, new-hire packets, checklists, e-signing capabilities, self-service onboarding, benefits previews and onboarding task assignment.
What most impressed us about GoCo in this area is how many aspects of hiring and onboarding workflows it can automate and streamline, saving small businesses countless hours. You and your team can build HR workflows simply by creating templates and assigning tasks. You can also automate functions such as onboarding and offboarding checklists and new-hire orientation.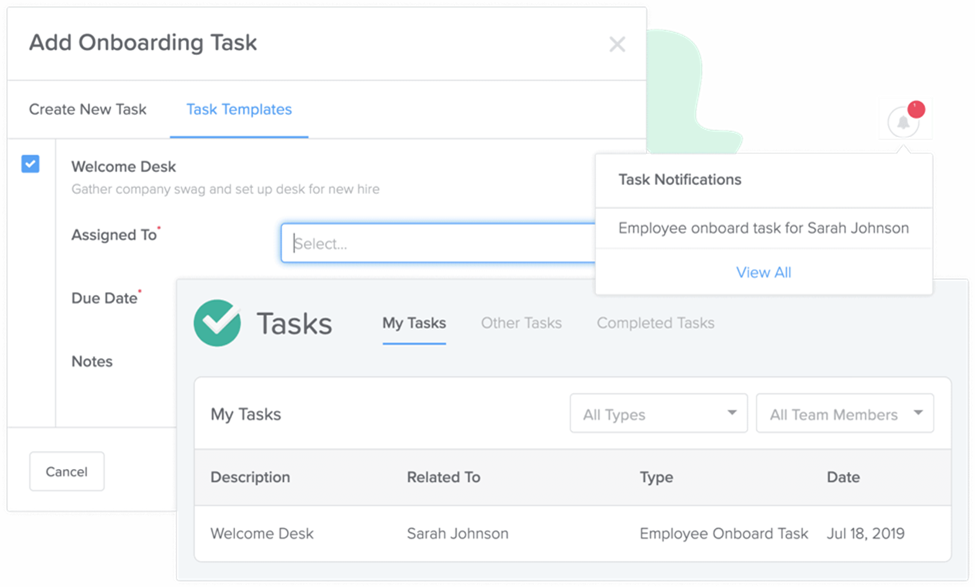 Time and Attendance
To further streamline your HR processes, you can add time-and-attendance features that allow you to track employee hours and time-off accruals, requests, approvals and balances. You can create company holiday schedules and custom PTO policies that automatically sync with your calendars. Employees can clock in and out and submit timesheets, giving managers the option to approve those hours.
Another great automation feature GoCo offers is automatic overtime calculation, although this is somewhat common among other platforms we reviewed. It helps you pay your employees accurately and fairly for their hours, which is essential to your business's legal compliance. [Prefer a stand-alone time-tracking service? Consider these top time and attendance software options.]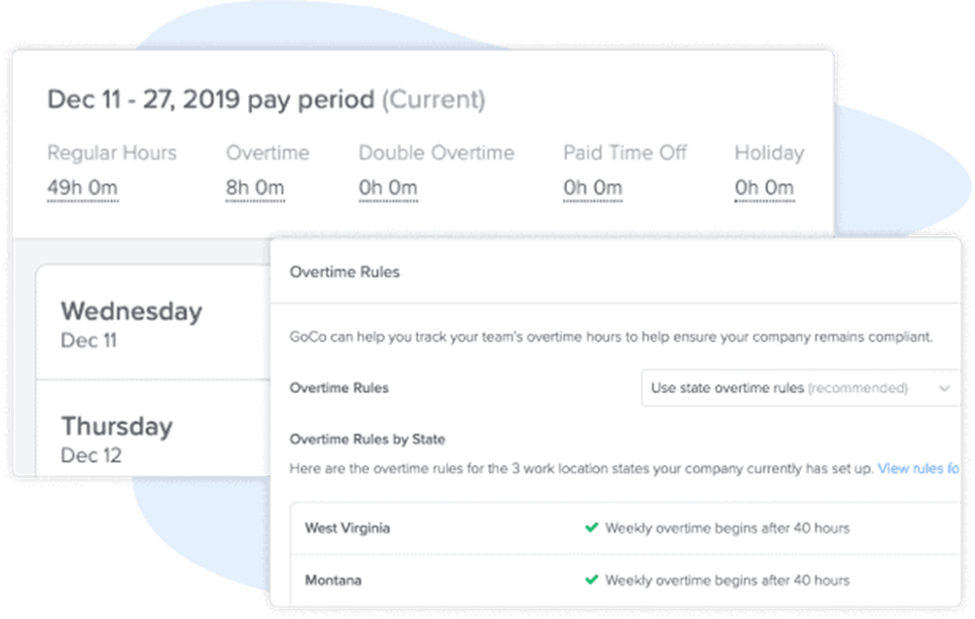 Payroll
Many HR software providers have only one of two solutions for payroll: You either use their proprietary payroll software, or you integrate the platform with highly rated third-party payroll software you may already use (such as Intuit QuickBooks). Impressively, GoCo gives you both options. You can sync the system with your current cloud-based payroll software (e.g., ADP, Paychex, Paylocity) or use GoCo's embedded payroll option, Execupay. [Looking for HR software with more in-house payroll plans? Check out our review of Gusto.]
Both of GoCo's payroll options include access to automated features such as new-hire setup, benefits deductions, paycheck calculations, time tracking and PTO management. If you use Execupay (the embedded option), you have automatic access to payroll data within GoCo. There is also unified HR and payroll support, and you'll be assigned a single payroll login for your company.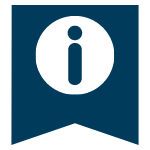 FYI: An automatically synchronized HR system is important because it cuts down on the human error you're likely to get from manual data entry.
Benefits Administration
Although GoCo is not a benefits broker, it can connect you with experienced benefits professionals who can help you create an employee benefits package that fits your company's needs. You can team up with any carrier, and then GoCo can help you integrate the benefits and facilitate self-service benefits enrollment for your employees. This is on a par with what other HR solutions offer.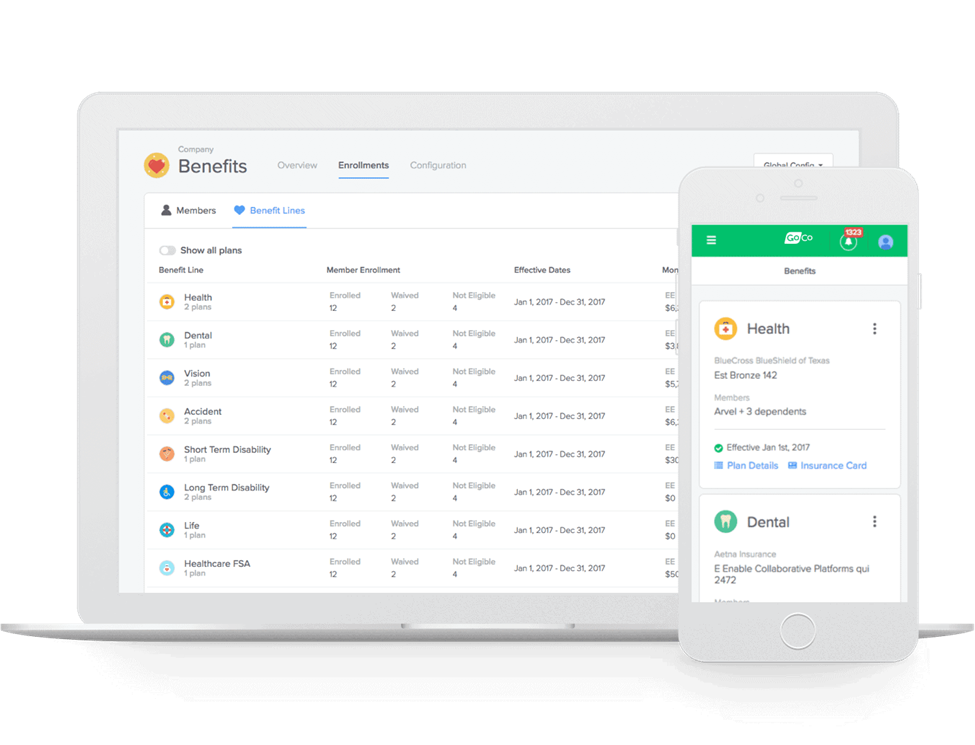 Performance Management
You and your team leaders can manage employee performance with GoCo's automated performance review workflows. This ensures that reviews are automatically conducted regularly, keeps your teams in sync, and allows you to track and report progress. You can even set triggers to send automatic follow-ups when needed. We found GoCo's performance management features to be competitive with those of other HR software we evaluated, though our review of BambooHR explains why that rival platform is especially well suited for employers that are looking for such performance management tools.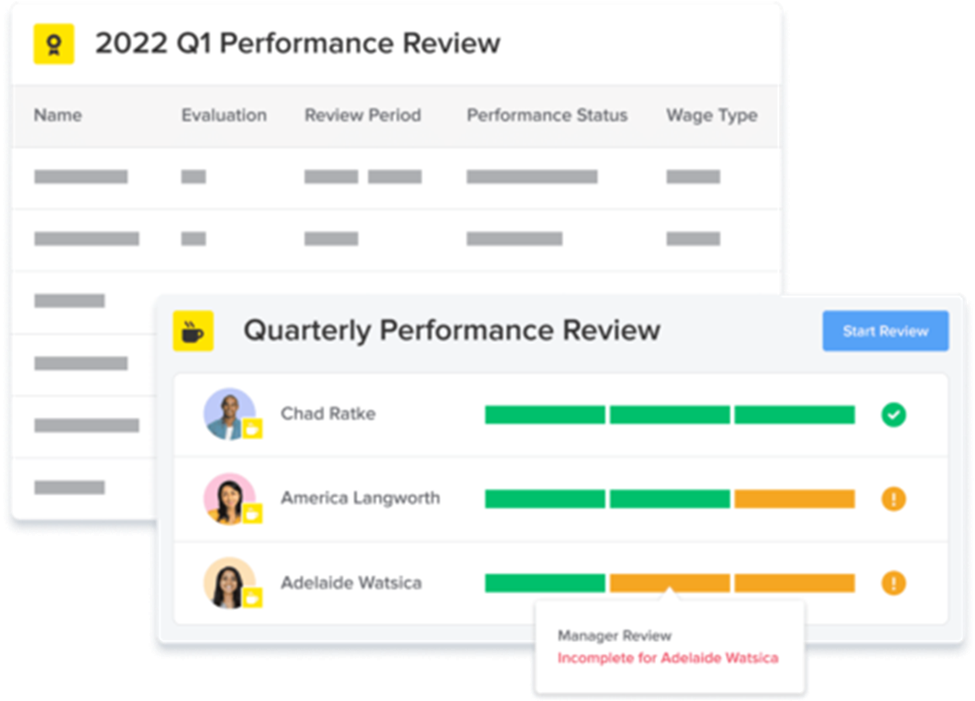 Legal Compliance
GoCo's automated workflows also help you comply with federal and state employment laws. For example, the software can automatically detect and apply federal and state laws to your tax withholdings, send I-9 and W-4 forms to new hires, and digitally store and organize your essential documents. GoCo even helps your company comply with regulations such as the Affordable Care Act, the Employee Retirement Income Security Act and COBRA insurance.
GoCo Pricing and Terms
GoCo is priced on a monthly, per-employee basis, which is similar to other HR systems we reviewed. Plans start at $5 per employee per month and include hiring and onboarding features, employee self-service capabilities and Magic Docs – the ability to convert documents into forms that can be electronically signed. This base fee is one of the lowest rates we found in our research of HR software.
You can customize your software package to include additional features, like payroll processing, employee benefits administration, PTO management, time tracking and HR workflows. These features cost extra, but a GoCo representative will work with you to assess your needs and generate a custom quote. Choosing an annual or multiyear contract can save you up to 20%.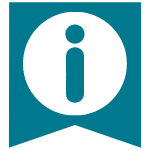 Did you know? Although GoCo doesn't offer a free trial, you can see the software's features in action by taking a free product tour with preloaded data.
Implementation and Onboarding
Because GoCo offers custom HR workflows, it can take a while to set up the software for your company's specific needs and desires. However, we appreciate that GoCo representatives will work with users to get the system up and running and teach them how to navigate it.
Although the implementation may cost you some time upfront, it can save you time in the long run in managing standard business procedures such as onboarding new employees.
GoCo's Customer Support
GoCo representatives are available by phone or email, which is comparable to what competitors offer. However, you can also add on-demand HR support to your plan. This feature allows you to live chat with HR professionals who can give you valuable advice on various subjects, such as how to customize your policies and employee handbook or create accurate job descriptions. You also get access to quarterly harassment training, best-practice guides, policy library templates, HR forms and training videos.
GoCo's website features a blog, webinars and e-books, as well as a searchable knowledgebase that can be used to find answers to questions. 
FYI: GoCo's customer service team is known for providing quick and helpful support. 
Limitations
One potential limitation of GoCo is that it doesn't support as many third-party integrations as a lot of its rivals do. However, the platform is comprehensive enough on its own that this lack of integrations doesn't typically present a barrier. Plus, GoCo does integrate with many cloud-based payroll systems, as well as other platforms and solutions, including Execupay, JazzHR, Slack and Checkr. That said, if you're looking for HR software that can integrate with hundreds of other applications, check out our review of Rippling.
Another drawback is GoCo's software load time. While we didn't experience this ourselves when we tested the product, some customer reviews mention that there can be occasional delays during navigation of the system. The lag time is not so frequent or lengthy that it disrupts workflow, but it can be frustrating for users who expect everything to load immediately.
Methodology
We investigated and analyzed dozens of human resources systems to determine the best HR software on the market. We examined pricing, contracts, usability, recruiting and onboarding capabilities, employee benefits administration, time-tracking features, payroll processing, performance management tools, reports, integrations, legal compliance assistance and customer support. We also watched product videos and conducted demos when possible.
When looking for the best HR software for custom workflows in particular, we focused on features such as automation, workflow customization, onboarding and implementation, usability and reporting. Learn more about the core functions of HR software.
Bottom Line
We recommend GoCo for …
Businesses that want to automate their HR processes with custom workflows.
Companies that want a solid software solution for employee onboarding.
Organizations looking for HR software with excellent customer support.
We don't recommend GoCo for …
Businesses that need an HR system that can integrate with hundreds of other platforms.
Companies looking for a quick implementation process.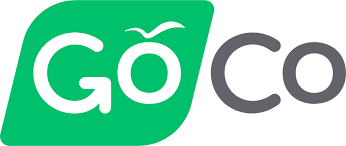 GoCo
The Verdict
GoCo is a user-friendly HR platform that can streamline all of your business's HR functions and create the workflows that are best for your team. It can automate virtually any process, which is why we've chosen it as the best HR software for custom workfl

Skye Schooley
business.com Staff
Skye Schooley is a human resources writer at business.com and Business News Daily, where she has researched and written more than 300 articles on HR-focused topics including human resources operations, management leadership, and HR technology. In addition to researching and analyzing products and services that help business owners run a smoother human resources department, such as HR software, PEOs, HROs, employee monitoring software and time and attendance systems, Skye investigates and writes on topics aimed at building better professional culture, like protecting employee privacy, managing human capital, improving communication, and fostering workplace diversity and culture.