TriNet PEO Review and Pricing
TriNet is one of the only professional employer organization (PEO) service providers we reviewed that provides industry-first expert support teams. It can build an expert HR support team around your business's industry, size and location, ensuring you have the appropriate access to experts who have direct experience with businesses like yours. Its tailored PEO plans are charged per employee per month and can include employee benefits, workers' compensation insurance, risk management software, payroll processing, retirement plans and training resources. For these reasons and more, TriNet has earned our pick as the best PEO provider for businesses that want PEO support tailored to their industry.

TriNet PEO and Pricing
The Verdict
TriNet's transparent pricing structure and industry-specific custom PEO plans make it our best pick for PEO service for specialized industries. Its PEO plans, contracts and HR support can be customized to fit your needs.
TriNet PEO Editor's Score: 9.6/10
| | |
| --- | --- |
| Price/value | 9.5 |
| Features | 9.8 |
| Customizations, add-ons and integrations | 9.5 |
| Ease of use | 9.6 |
| Customer service | 9.5 |
Why We Chose TriNet for Industry-Specific Needs
TriNet is ideal for businesses that have industry-specific needs for a PEO. Although every TriNet PEO plan includes bundled HR services (e.g., payroll, risk mitigation, employee benefits and a technology platform), the company can take it a step further and customize the services based on your vertical. We think it is especially valuable that you'll receive HR support from experts in your industry as often (or as seldom) as you need. We like that TriNet uses a monthly, per-employee pricing model, making it easy to customize and scale your service as needed. It also keeps your business relationship with TriNet simple.
We also like that TriNet provides excellent customer support, and it's also one of the few PEOs we looked at that goes a step further in terms of customized support. Its Connect 360 platform allows you to access the HR, payroll and benefits information you need directly. Connect 360 is a centralized hub for your company's HR data, helping you develop policies and track spending from a single dashboard. It can also match you with specialized experts who can advise you on any industry-specific HR questions you may have.
What We Like About TriNet PEO
TriNet offers industry-specific support.
Implementation typically takes only about two weeks.
The TriNet platform has an easy-to-navigate user interface.
TriNet permission settings are easily customized.
What We Don't Like About TriNet PEO
TriNet has a five-employee minimum.
Businesses in hazardous industries, like heavy construction, aren't eligible for TriNet's PEO services.
Ease of Use
TriNet features a user-friendly technology platform that is intuitive and easy to navigate. When we tested the software, we were pleased with its layout and usability. It is easy to learn, so you and your employees will be familiar with it in no time.
Since TriNet is geared toward serving small businesses and building industry-specific plans, you can rest assured that it will have the HR features you need to be successful. If you have any questions regarding the platform or HR topics in general, you can contact one of TriNet's many HR professionals who are experienced in your industry.
TriNet offers user-friendly PEO software and exceptional customer support, making it easy for new users to acclimate to the system.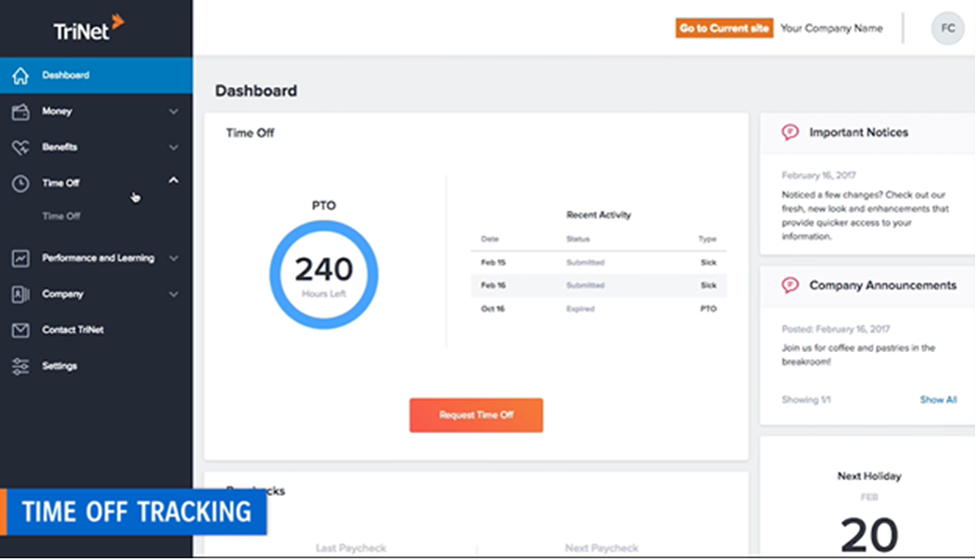 Employee dashboards are equally intuitive and neatly organized. Shown here is a dashboard configured to display time-off tracking. Source: TriNet
TriNet Features
TriNet has extensive offerings in HR, benefits, payroll, risk management and compliance. You'll have access to the full selection of features, with a team of experts in each area dedicated to providing your business with the right support.
HR Services
TriNet designates HR teams by industry, size and location, so your team of HR, payroll, benefits and risk management specialists will be experienced and skilled in your field. It also provides standard HR services, including employee onboarding, recruiting, HR reporting and analytics, performance management, handbook and policy development, and termination and dispute assistance.
When we tested the platform, we saw firsthand just how easy it is to recruit and hire new employees with TriNet. The system can automate some functions for you, easing the burden on your HR staff.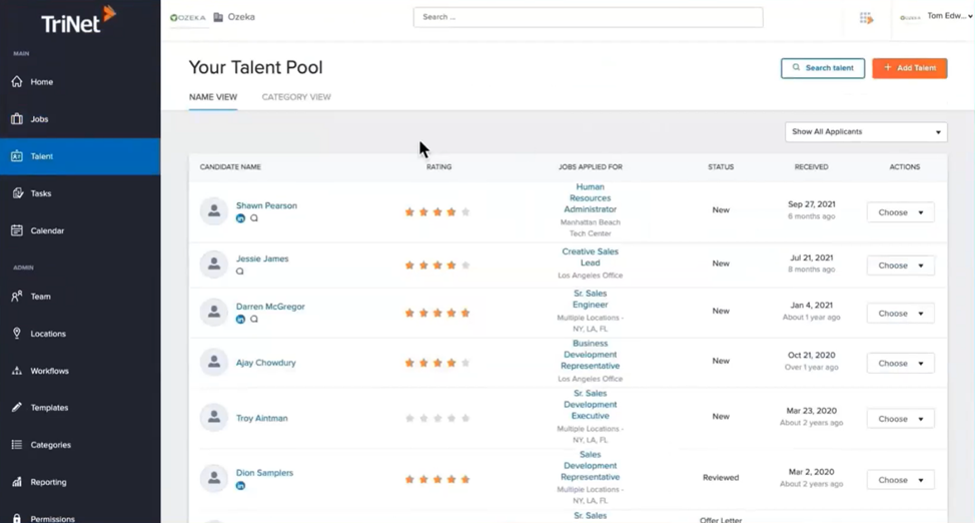 TriNet makes it easy to track employee recruitment. Source: TriNet
TriNet also offers many prebuilt HR, benefits and payroll reports, or users can access the report builder to create any number of custom reports for no additional cost. Reports can be downloaded as PDFs, Excel documents and CSVs, which is on par with industry standards. We like that you can also view prebuilt and custom dashboards and charts as well.
Employee Benefits
TriNet is partnered with thousands of small businesses, so you'll be joining a large group of businesses, which helps ensure access to quality healthcare plans at reduced rates. TriNet provides extensive employee benefits, including health, vision and dental insurance; 401(k) retirement plans; commuter benefits; auto and home policies; and wellness programs. It can help you manage your Affordable Care Act and COBRA compliance, and it even offers employee access to marketplace discounts on several well-known brands.
When we tested the platform, we liked that the benefits features could show employees a clear comparison of plan options and costs. Employees can also reach out to HealthAdvocate for questions, which can be of great value to your staff regardless of your industry.
Payroll and Taxes
TriNet's PEO service includes payroll processing software that supports online processing, direct deposits, PTO tracking, expense management and other employee payroll tasks. It can help prepare your employees' W-2s and ensure compliance with state and federal tax regulations.
It also has built-in time and attendance software, so you don't have to worry about tracking your employees' hours or monitoring their schedules manually.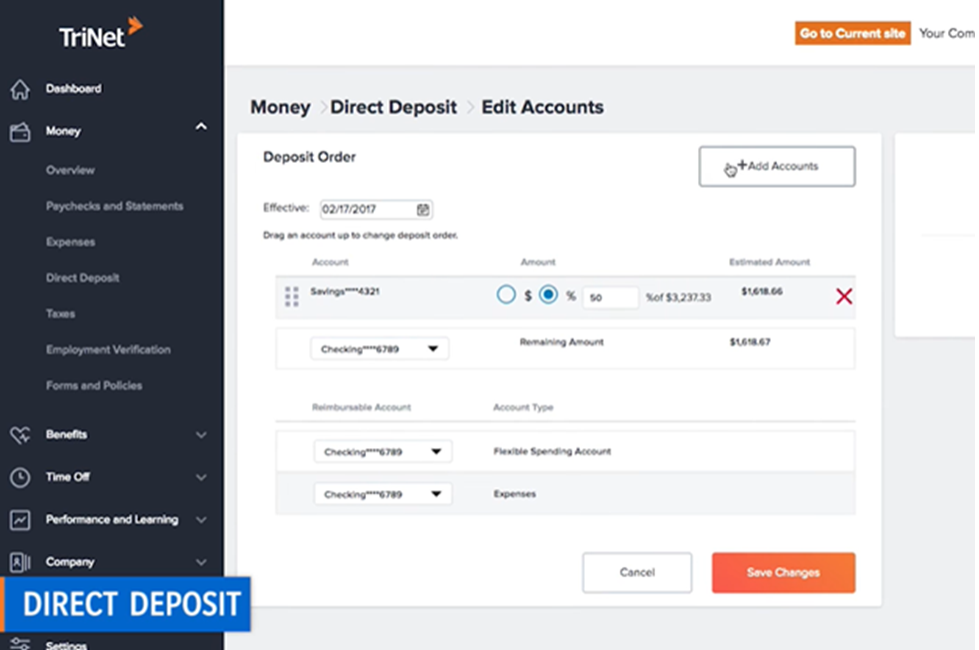 Setting up direct deposit for an employee is as easy as entering their bank information and running payroll as you normally would. Source: TriNet
We like that the platform helps increase pay accuracy by highlighting essential changes in payroll that you might want to pay attention to. This includes new hires, pay rate changes, departures, additional pay, missing I-9s and general deductions.
Risk and Compliance
TriNet's claims management team can assist your business and employees with workers' compensation and other safety-related claims. It also provides OSHA compliance, safety training, HR guidance, online resources, employment practices, liability insurance and claims prevention. Workers' compensation insurance is a pay-as-you-go model with no deposits or deductions.
You can configure user permission settings to ensure your administrators and employees are accessing only information that is pertinent to them. If you have any compliance questions specific to your industry, TriNet can also help with those.
Training and Development
TriNet's proprietary technology platform has a built-in learning management system with more than 500 training courses. Employees can build on their professional education and track the resources they've used. TriNet also tracks your employees' progress toward professional certifications or continued education goals. You can discuss options with your HR consultant if your business or industry requires more intensive, hands-on training.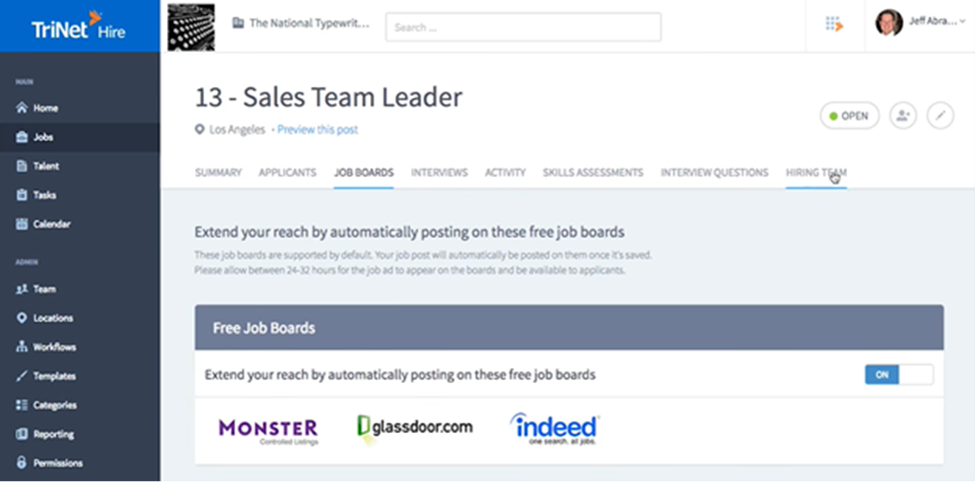 TriNet enables recruitment and hiring on multiple job boards from one location. Source: TriNet
TriNet Pricing
TriNet's PEO plans are charged on a per-employee basis, with the option to create a customized PEO agreement. TriNet claims its services are priced by how its customers will use the various offerings, so you can explore what is available within your budget.
Unlike some PEOs, TriNet doesn't require a long-term contract; instead, it will create contract terms based on your needs. You can pay for its tools on an ongoing basis and cancel at any time with 30 days' written notice. Cancellation fees may apply in certain situations.
While TriNet is flexible in its pricing and agreement structure, its features are a bundled solution. It provides unique solutions based on your vertical, but every plan includes access to payroll, risk mitigation, employee benefits, HR and a technology platform. Bundled service isn't necessarily a negative; it just means that when you partner with TriNet, you'll be paying for its full-service offering.
You need to have at least five employees to sign up, which is the industry standard for PEOs.
Implementation and Onboarding
Implementing TriNet into your business's workflow can be a simple process, taking an average of only about two weeks. By working closely with a TriNet account executive, you can get all your services up and running and configured to your team's workflow. We like that TriNet's intuitive online platform makes it easy for teams to access their personal information with little to no training.
TriNet's platform integrates all your HR needs into one easily accessible online portal. Since you and your employees have access to the portal, everyone on your staff can easily make changes to their plan and view plan information as needed. Because your whole staff will use it, ease of use is vital in a PEO, and TriNet delivers on that.
If you want to customize your platform further, TriNet offers prebuilt integrations with popular applications, as well as TriNet API for custom integration builds.
Customer Service
TriNet is one of the only companies we reviewed that provides industry-specific support teams. With TriNet, you can access a team of dedicated experts who are savvy on the latest HR practices and other regulatory considerations for your industry. These experts can offer guidance above and beyond HR, payroll and benefits.
TriNet also offers one-on-one HR support, so you can work alongside your HR consultant to develop policies for your business. This tailored approach is crucial for very small businesses looking to grow. You can find additional PEO resources on TriNet's website in the form of articles, guides, a blog, videos, demos and webinars.
TriNet is accredited by the IRS and the Employer Services Assurance Corporation, and has an A+ Better Business Bureau rating.
TriNet offers 24/7 support through Connect 360, a customer support service for administrators that consists of trained HR professionals and specialists.
Limitations
If you are looking to choose only the specific PEO services you need to keep costs low, TriNet may not be your best option. Every plan includes bundled services like payroll processing, risk mitigation, benefits, HR support and the online technology portal, so you'll be paying for services you may not need if you are in the beginning stages of your business's growth. The bundle includes core HR services that you will likely need, but some small businesses need very few specific PEO services. If you are looking for a PEO with several add-on options, check out our review of ADP TotalSource.
Another minor disadvantage is that TriNet requires clients to have a minimum of five workers. Although this is standard for PEOs and only a minor caveat, it could take TriNet out of the running if you have a very small business. If you are looking for a PEO service for fewer than five workers, consider our review on Justworks, as it requires a minimum of only two workers.
Methodology
We researched and analyzed dozens of PEOs to identify the best PEO services on the market. We looked at pricing, contracts, minimum requirements, employee benefits administration, time-tracking tools, payroll processing, administrative HR functions, talent management features, integrations, legal risk and compliance assistance, accreditations, and customer support. We watched product videos and conducted demos when possible. When looking for the best industry-specific PEO solutions specifically, we prioritized flexibility, industry-specific features, user interface and customer support.
FAQ
Is TriNet a PEO or CPEO?
TriNet is a certified professional employer organization, otherwise known as a CPEO. To receive a CPEO certification, a PEO must adhere to specific IRS reporting and financial requirements. The benefits of working with a CPEO include things like financial protections and tax benefits. TriNet is also accredited by the ESAC, the official accreditation and financial assurance organization for the PEO industry.
Is TriNet a software company?
TriNet is a professional employer organization. When you partner with TriNet as your PEO, you gain access to helpful, industry-specific support and an advanced technology platform that can be used to manage pertinent HR information. We found TriNet's software to be user-friendly.
Bottom Line
We recommend TriNet for …
Companies that want industry-specific PEO support.
Small and midsize businesses.
Companies that need help with compliance.
We don't recommend TriNet for …
Companies with fewer than five employees.
Businesses that operate in heavy construction.

TriNet PEO and Pricing
The Verdict
TriNet's transparent pricing structure and industry-specific custom PEO plans make it our best pick for PEO service for specialized industries. Its PEO plans, contracts and HR support can be customized to fit your needs.
Skye Schooley is a human resources writer at business.com and Business News Daily, where she has researched and written more than 300 articles on HR-focused topics including human resources operations, management leadership, and HR technology. In addition to researching and analyzing products and services that help business owners run a smoother human resources department, such as HR software, PEOs, HROs, employee monitoring software and time and attendance systems, Skye investigates and writes on topics aimed at building better professional culture, like protecting employee privacy, managing human capital, improving communication, and fostering workplace diversity and culture.