TriNet's transparent pricing structure and industry-specific custom PEO plans make it our best pick for PEO service for specialized industries. Its PEO plans, contracts and HR support can be customized to fit your needs.
Pros
TriNet pairs its customers with support representatives who are experienced in their specific industry.
Implementation typically takes only about two weeks.
The TriNet platform has an easy-to-navigate user interface (UI).
TriNet permission settings are customized easily.
TriNet support representatives are knowledgeable and available 24/7.
Cons
TriNet has a five-employee minimum.
Businesses in hazardous industries, such as heavy construction, aren't eligible for TriNet's PEO services.
TriNet doesn't list any pricing information online.
TriNet is one of the only professional employer organization (PEO) service providers that we reviewed that provides industry-first expert support teams. It can build an expert human resources (HR) support team around your business's industry, size and location, ensuring you have appropriate access to experts who have direct experience with businesses like yours. Its tailored PEO plans are charged per employee, per month, and can include employee benefits, workers' compensation insurance, risk management software, payroll processing, retirement plans and training resources. For these reasons and more, TriNet has earned our pick as the best PEO provider and HR outsourcing (HRO) service for businesses that want PEO support tailored to their industry.
TriNet PEO Services Editor's Rating:
9.6 / 10
Price/value

9.4/10

Features

9.7/10

Customizations, add-ons and integrations

9.5/10

Ease of use

9.6/10

Customer support

9.7/10
Why We Chose TriNet for Industry-Specific Needs
TriNet is ideal for businesses that have industry-specific needs for an HR outsourcing solution. Although every TriNet PEO plan includes bundled HR services, such as payroll, risk mitigation, employee benefits and a technology platform, the company can take it further and customize the services based on your vertical. We think it is especially valuable that you'll receive HR support from experts in your industry as often (or as seldom) as you need. We like that TriNet uses a monthly, per-employee pricing model, making it easy to customize and scale your service as needed. It also keeps your business relationship with TriNet simple. This is on par with industry standards.
We also like that TriNet provides excellent customer support, and it's one of the few HR outsourcing solutions we looked at that goes a step further in terms of customized support. Its Connect 360 platform allows you to access the HR, payroll and benefits information you need directly. Connect 360 is a centralized hub for your company's HR data, helping you develop policies and track spending from a single dashboard. Additionally, it can match you with specialized experts who can advise you on any industry-specific HR questions you may have. This customized support approach isn't something all competitors offer, but it can be a valuable addition for employers with industry-specific questions.
Ease of Use
TriNet features a user-friendly, intuitive technology platform that is easy to navigate. When we tested the software, we were pleased with its layout and usability. In fact, it was one of the easiest platforms we tested. With TriNet's web-based dashboard, you can get a clear view of your company's HR information from anywhere. You can view workforce analytics details, like compensation benchmark reports as well as around 100 prebuilt reports organized by category. Users can manage their data through custom reporting options if needed.
We like that TriNet makes managing HR information simple for your employees too. Through the company's self-service mobile app, available for iOS and Android, employees can view information like payment details and benefits and manage functions, such as expenses and time-off requests.
Employee dashboards are equally intuitive and neatly organized. Shown here is a dashboard configured to display time-off tracking. Source: TriNet
Another reason TriNet is great to partner with from a usability perspective is its experienced and knowledgeable support representatives. If you have a question or concern regarding the TriNet platform or HR issues, you can contact an agent quickly to get the answers you're looking for. This can make a big difference in the overall ease of use when using HR outsourcing for a small business.
TriNet users can schedule custom reports to run automatically. This feature is competitive with what other HR service providers offer.
TriNet Features
TriNet has extensive offerings in HR, benefits, payroll, risk management and compliance. You'll have access to a full selection of features, with a team of experts in each area dedicated to providing your business with the right support.
HR Services
TriNet designates HR teams by industry, size and location, so your team of HR, payroll, benefits and risk management specialists will be experienced and skilled in your field. It also provides standard HR services, including employee onboarding, recruiting, HR reporting and analytics, performance management, handbook and policy development and termination and dispute assistance.
When we tested the platform, we saw firsthand just how easy it is to recruit and hire new employees with TriNet's in-house applicant tracking tool. The system can automate some functions for you, easing the burden on your HR staff.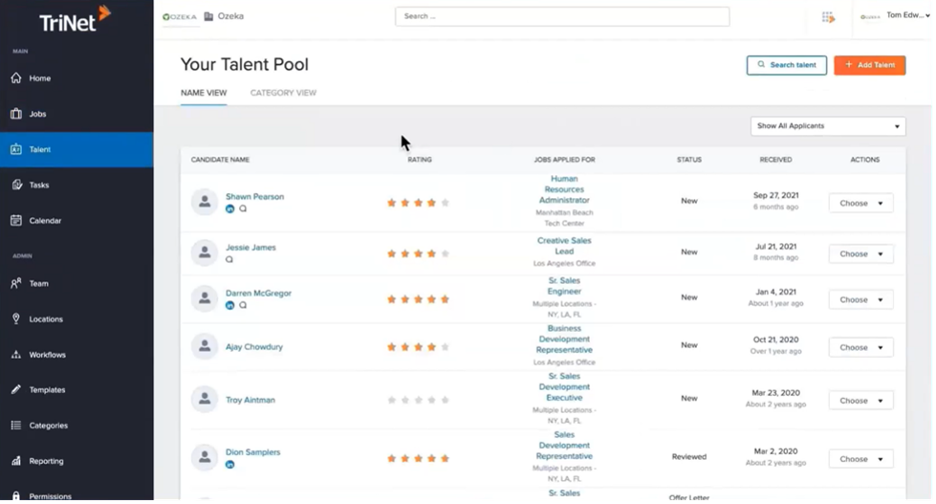 TriNet makes it easy to track employee recruitment. Source: TriNet
TriNet also offers many prebuilt HR, benefits and payroll reports as well as the ability to create any number of custom reports for no additional cost. Reports can be downloaded as PDFs, Excel documents and comma-separated values files, which is on par with industry standards. We like that you can also view prebuilt and custom dashboards and charts.
Employee Benefits
TriNet partners with thousands of small businesses, so you'll be joining a large group of businesses, which helps ensure access to quality healthcare plans at reduced rates. TriNet provides extensive employee benefits, including health, vision and dental insurance; 401(k) retirement plans; commuter benefits; accident and illness policies; auto and home policies; and wellness programs. It can help manage your Affordable Care Act (ACA) and Consolidated Omnibus Budget Reconciliation Act (COBRA) compliance and even offers employee access to marketplace discounts on several well-known brands.
When we tested the platform, we liked that the benefits features show employees a clear comparison of plan options and costs. Employees can also reach out to HealthAdvocate for questions, which can be of great value to your staff regardless of your industry. Businesses can use TriNet to administer quality employee benefits.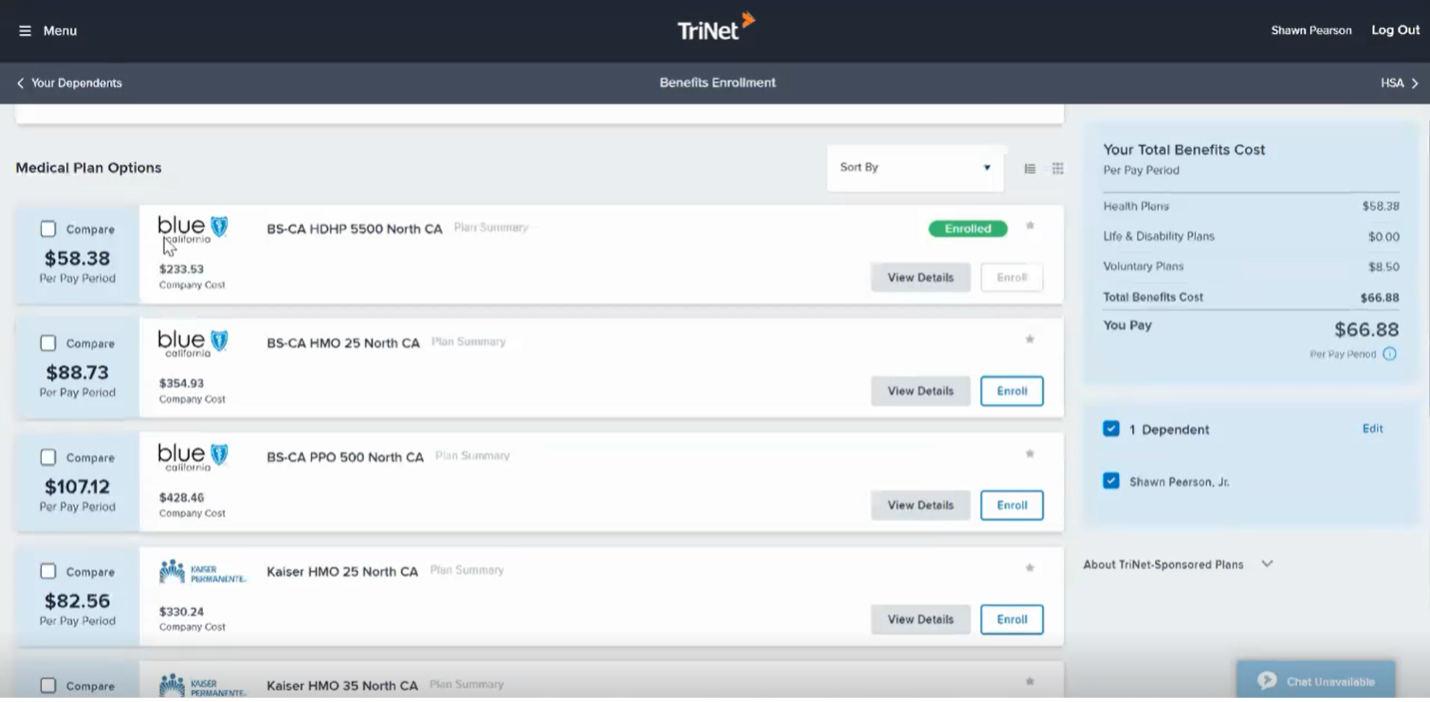 TriNet's benefits enrollment process is easy to navigate. Source: TriNet 
Payroll and Taxes
TriNet's HR services include software that supports online payroll processing, direct deposits, paid time off tracking, expense management and other employee payroll tasks. TriNet handles all of your payroll tax responsibilities, including withholding federal, state and local taxes and then filing and submitting the withholdings to the appropriate parties. The company also manages electronic W-2 preparation and delivery as well as unemployment taxes and claims. We found this to be competitive with other HR solutions we reviewed.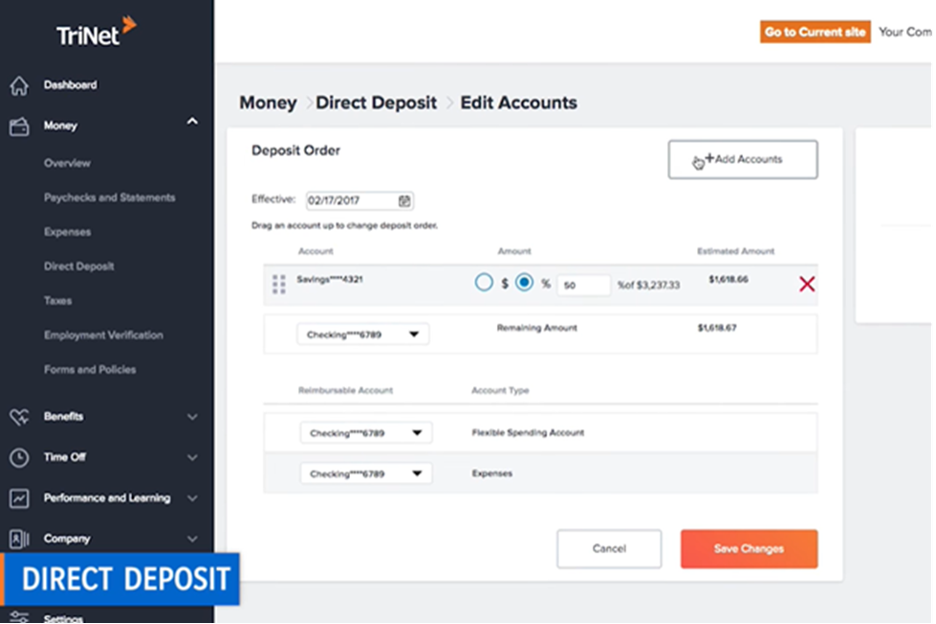 Setting up direct deposit for an employee is as easy as entering their bank information and running payroll as you normally would. Source: TriNet
It also has built-in time and attendance software, so you don't have to worry about tracking your employees' hours or monitoring their schedules manually.
We found TriNet to be much more flexible than some other HR competitors in terms of time tracking. TriNet users have the choice of tracking employee hours with TriNet's integrated time and attendance system, partnering with Kronos as a third-party software or building an application programming interface (API) integration for other top-rated time and attendance solutions.
We like that the platform increases pay accuracy by highlighting essential changes in payroll that you might want to pay attention to. This includes new hires, pay rate changes, departures, additional pay, missing I-9s and general deductions. TriNet can help small and midsize companies run payroll and manage business expenses.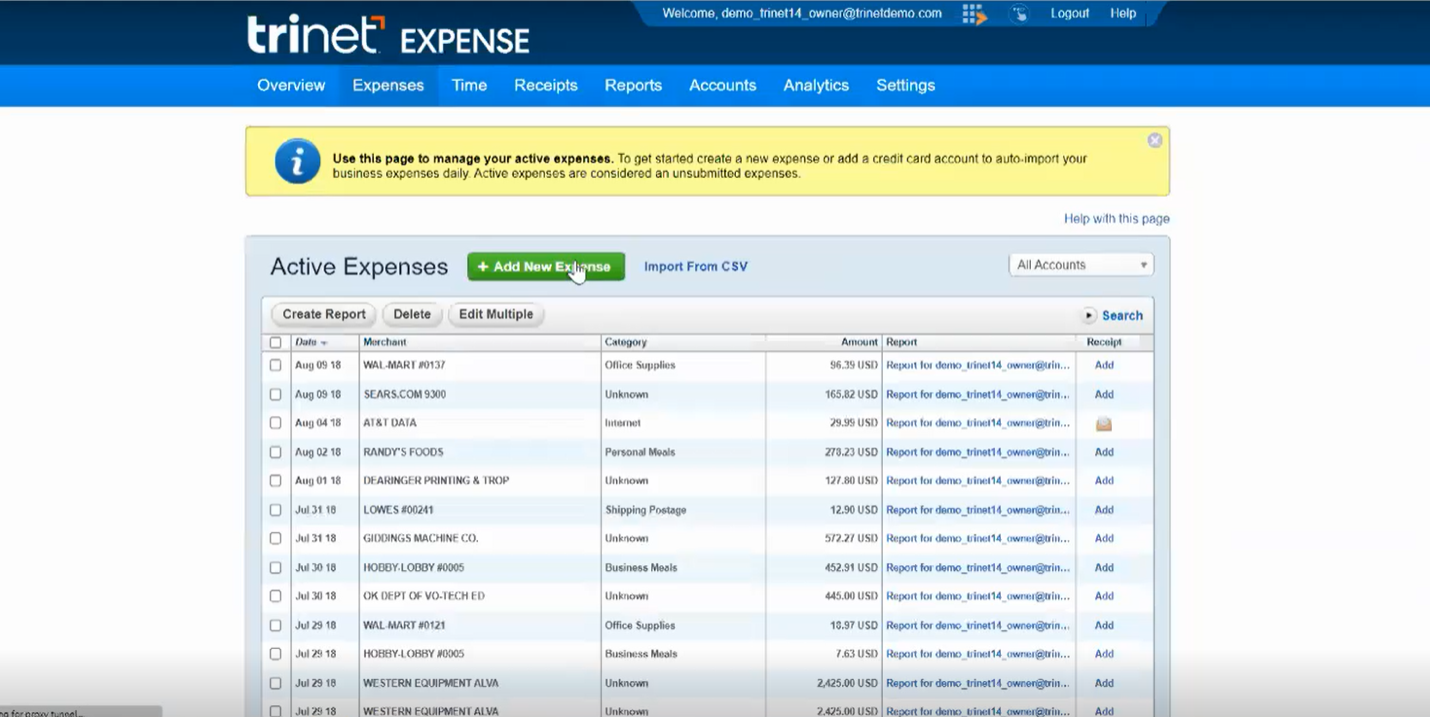 Users can manage business expenses with TriNet. Source: TriNet 
TriNet is an ideal solution for companies looking for a PEO partnership to help them pay employees within the United States. However, if you are looking for an employer-of-record that supports multi-country payroll, consider our review on Deel. The EOR operates in more than 100 countries and jurisdictions.
Risk and Compliance
TriNet customers receive specialized support to manage risk and compliance for their organization. TriNet representatives are experts in specialized fields, so they can help you with risk management and compliance measures that are unique to your business and industry. The TriNet team includes experts in a wide range of areas, including payroll and benefits compliance, ACA compliance, COBRA compliance, employment practices risk management (claims prevention and mitigation), workplace risk management and workers' compensation.
Whether you need help managing multiple unemployment insurance claims or administering unemployment benefits, TriNet can support you with that too. TriNet also allows you to set user permissions, which helps ensure business security and compliance.
While TriNet can be helpful for managing risk and compliance, another competitor in this space is Rippling. The vendor can help you use workflows and automation to ensure certain processes don't get missed. Check out our review on Rippling to learn more. 
Employee Training and Development
TriNet offers multiple training and development solutions to help with talent retention. The company's online learning management system gives employees the opportunity to enroll in more than 500 interactive courses that are accessible from any web-based platform. The courses are optimized for targeted training and give team members a way to learn new skills, progress toward professional certifications and improve performance in the workplace.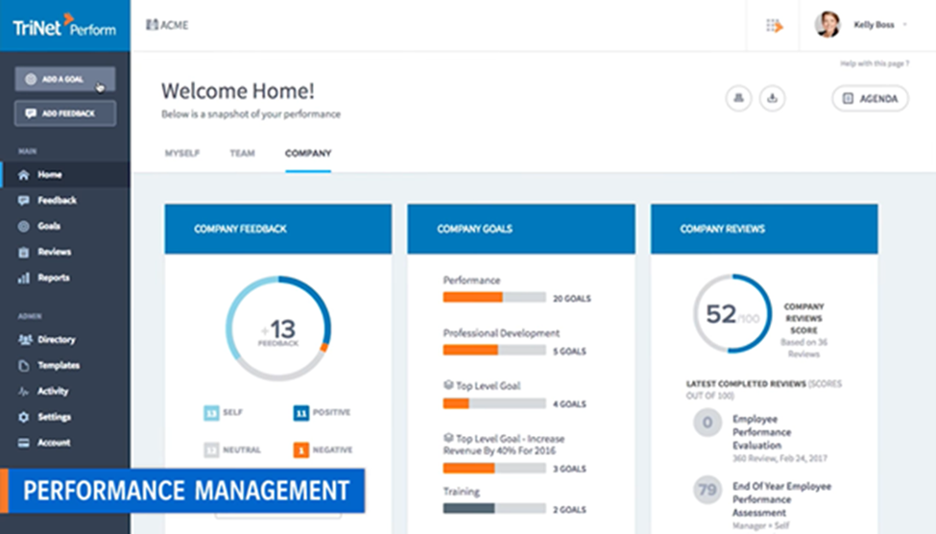 Businesses can use TriNet to manage employee performance. Source: TriNet
We like that TriNet's stellar customer support extends to its performance management capabilities. Businesses work with expert consultants to build out comprehensive performance processes that are unique to their organizational needs. You set goals, gain real-time feedback and access custom or prebuilt review templates to create the right performance review easily for each situation. Performance reports with actionable metrics are available as well.
TriNet Pricing
TriNet offers HR outsourcing and consulting services for small and midsize businesses (SMBs). Its PEO features are bundled and charged per month, but your exact plan and pricing will depend on your specific business. Because TriNet focuses on tailoring its solutions to meet the unique needs of its customers, you can choose a contract length that works best for your company. Plus, instead of being locked into a long-term contract, you can pay on an ongoing basis and cancel at any time by submitting written notice 30 days in advance. Keep in mind that cancellation fees may apply in certain situations. This pricing model is similar to other competitors we reviewed.
TriNet has a flexible plan structure, but it does require customers to have a minimum of five employees for its HR outsourcing services. This employee minimum is relatively standard in the PEO industry, but part of what makes TriNet appealing is that it can scale your plan as your team grows and adjust the pricing accordingly. However, you won't find any of the costs on TriNet's website. Instead, you need to contact the vendor directly.
If you are looking for a TriNet HR outsourcing solution that doesn't require the co-employment model of a PEO, check out our review of Zenefits by TriNet.
Implementation and Onboarding
We found implementation with TriNet to be a quick and efficient process. Since TriNet offers custom support, you'll start by connecting with a company representative to establish an HR outsourcing plan that meets your specific needs. Implementing TriNet into your business's workflow only takes an average of only about two weeks. By working closely with a TriNet account executive, you get all your services up and running and configured to your team's workflow. We like how TriNet's intuitive online platform makes it easy for teams to access their personal information with little to no training.
TriNet's platform integrates all your HR needs into one easily accessible online portal. Since you and your employees have access to the portal, everyone on your staff can easily make changes to their plan and view plan information as needed. Because your whole staff will use it, ease of use is vital in a PEO and TriNet delivers on that. The vendor also provides convenient iOS and Android apps, which are common across the industry.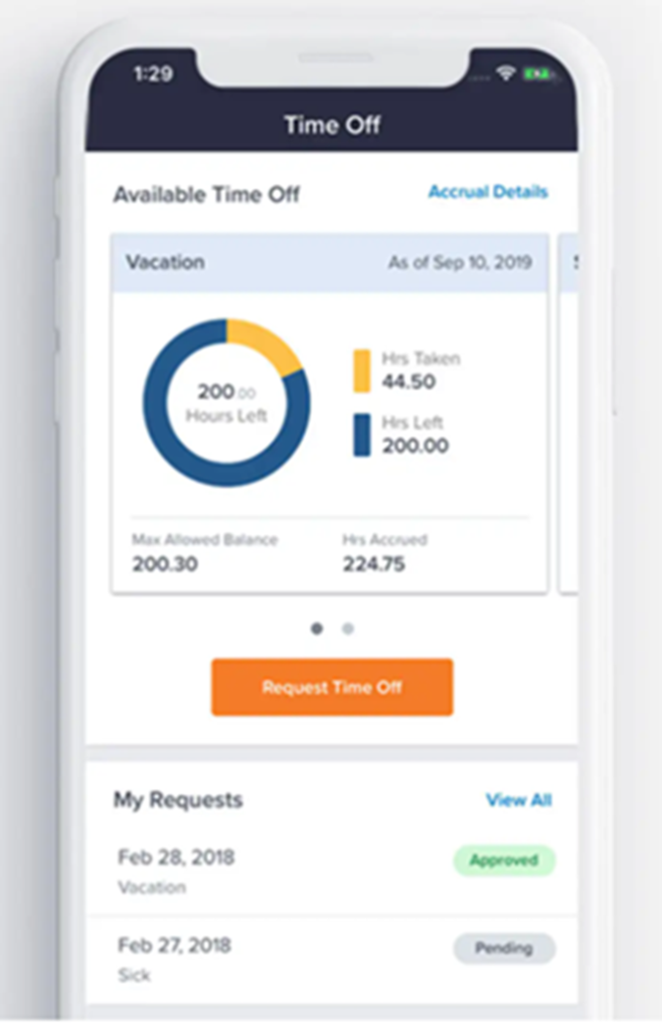 Employees can get set up easily on TriNet's mobile app for on-the-go tasks, such as requesting time off. Source: TriNet
TriNet integrates with several third-party applications, and we appreciate that it offers an API for users to tailor the system further to meet their HR needs through custom integrations. This is a valuable capability, especially for businesses that want to streamline their HR processes by connecting different software.
Customer Service
When testing out TriNet and its services, we found their customer support to be unrivaled. One big reason for this is the company's HR support solution, Connect 360, which gives your business's administrators and managers quick and accurate answers to any HR questions they may have. Chat through Connect 360 is available 24/7. We also like that TriNet offers employee support via live web chat, which isn't something all competitors offer. You can also reach a representative by phone, email or an online contact form. When we spoke with a TriNet representative, they told us their average phone wait time was 9 seconds.
TriNet representatives specialize in a variety of topics, including payroll, employee benefits, compliance, HR policies, employee relations, performance management, talent acquisition and compensation. Since TriNet also provides specialized support on specific industries, you can rest assured you're getting your questions answered by a true expert.
To learn more about TriNet's services or HR-related topics on your own, you can also access the vendor's wealth of online resources, including a COVID-19 help center, articles, blogs, e-guides, white papers, flash polls, videos, demos and webinars.
TriNet is accredited by the IRS and the Employer Services Assurance Corporation (ESAC) and has an A+ Better Business Bureau rating. This is impressive as it's not something all competitors can tout.
If customer support is of utmost important to you, TriNet competitor Insperity also offers knowledgeable support representatives. Although it may not necessarily be tailored to your industry like TriNet support is, Insperity does offer a team of specialists based on your HR needs. Read our Insperity review to learn more.
Limitations
One potential drawback is TriNet's pricing structure. Although you'll find flexibility in both the cost and contract length, TriNet bundles some of its HR features, such as payroll processing, employee benefits administration, risk mitigation, HR services and its technology platform. While all of these are essential HR tools, you may want to handle some of them in-house, which means you may be stuck paying for services you don't need through TriNet. If you are looking for a PEO with several add-on options, check out our review of ADP TotalSource.
Another minor disadvantage is that TriNet requires clients to have a minimum of five employees (although a TriNet representative told us they may work with clients with as few as three or four employees). Employee minimums are standard for PEOs and only a minor caveat, but it could take TriNet out of the running if you have a very small business. If you are looking for a PEO service for fewer than five workers, consider our review on Justworks as it requires a minimum of only two workers.
Methodology
We researched and analyzed dozens of PEOs and HROs to identify the best services on the market. We looked at pricing, contract requirements, bundled vs. a la carte features, minimum requirements, employee benefits administration, time-tracking tools, payroll processing and taxes, administrative HR functions, talent management features, integrations, legal risk and compliance assistance, accreditations and customer support.
We watched product videos and conducted demos when possible. When looking for the best industry-specific PEO and HRO solutions specifically, we prioritized flexibility, industry-specific features, UI and customer support.
FAQs
TriNet is a PEO that offers outsourced HR support. It can provide SMBs with comprehensive HR services, such as payroll processing, benefits administration, risk and compliance support, employee training and development and more. It specializes in providing industry-specific HR solutions.
TriNet also owns Zenefits, an HR outsourcing solution offering competitive HR services without a PEO co-employment model.
TriNet is a certified professional employer organization, otherwise known as a CPEO. To receive a CPEO certification, a PEO must adhere to specific IRS reporting and financial requirements. The benefits of working with a CPEO include things like financial protections and tax benefits. TriNet is also accredited by the ESAC, the official accreditation and financial assurance organization for the PEO industry.
TriNet is a professional employer organization. When you partner with TriNet as your PEO, you gain access to helpful, industry-specific support and an advanced technology platform that can be used to manage pertinent HR information. We found TriNet's software to be user-friendly.
TriNet doesn't list pricing online, as its fees and support are customized based on which HR services you need and your company's size. However, based on some research, we found that the average cost per employee starts at around $150 per month for basic benefits administration and payroll. The exact rate will depend on your specific needs, so speak with a TriNet representative to learn more about pricing for your particular business.
Bottom Line
We recommend TriNet for …
Companies that want industry-specific HR support.
SMBs with five to 250 employees.
Companies that need help with compliance.
We don't recommend TriNet for …
Companies with fewer than five employees.
Businesses that operate in potentially hazardous industries, such as heavy construction.