Insperity PEO Services Review and Pricing
Insperity is an ideal PEO for small and midsize businesses because it provides an all-in-one solution for HR services, including benefits administration, payroll processing, risk management resources, HR consulting and employee training. Insperity has a five-employee minimum, competitive pricing and a contract structure that can scale with your business. Additionally, Insperity is accredited by the Employer Services Assurance Corporation (ESAC) and the IRS, verifying its high-quality services. For these reasons and more, Insperity is our choice for the best PEO for small and midsize businesses.

Insperity PEO Services and Pricing
The Verdict
Insperity, our choice for the PEO with the best small business resources, offers great payroll, employee benefits, HR administration, risk management, training resources and customer service.
Insperity Editor's Score: 9.5/10
| | |
| --- | --- |
| Price/value | 8.9 /10 |
| Features | 9.7/10 |
| Customizations, add-ons and integrations | 9.3/10 |
| Ease of use | 9.5/10 |
| Customer support | 9.9/10 |
Why We Chose Insperity for Small and Midsize Businesses
Insperity offers all the standard PEO services that small and midsize businesses need, plus additional features that they can grow into. For example, Insperity gives you access to payroll processing, payroll tax filing, comprehensive benefits administration, administrative HR functions, risk management and legal compliance assistance. We like that it also offers a wealth of employee training resources, with thousands of courses and books to choose from. This is ideal for small and midsize businesses that want to train and develop their employees. In addition to its top-notch services, Insperity is easy to use, offers online and mobile access, and has stellar customer support. 
Another aspect of Insperity that makes it a good choice for small and midsize businesses is the way its services are packaged together. Most PEOs only offer service bundles. Insperity is one of the few companies we reviewed that can provide a-la-carte HR services. This is a significant advantage for smaller companies that need basic PEO support without the pressure of a large service plan. Keep in mind, however, that signing up for individual services may nullify your opportunity to participate in Insperity's co-employment model. However, you can still access some of their HR services.
Work closely with your sales representative to ensure you get the services and employment model that make the most sense for your business.
What We Like About Insperity
Insperity provides its clients with knowledgeable and dedicated customer support specialists.
Insperity has comprehensive HR services like payroll processing, benefits administration, talent management and compliance assistance.
Insperity offers a wealth of employee training resources, including 5,000+ self-paced courses and 30,000 online books.
What We Don't Like About Insperity
Insperity doesn't list any pricing online.
It has a five-employee minimum for its PEO services.
Insperity's Ease of Use
We like that Insperity provides small businesses with simple and effective PEO services. The intuitive, cloud-based platform makes it easy for administrators, managers and employees to tap into an array of services from a computer or mobile device.
When testing out Insperity, we thought its platform was well-designed and simple to use and navigate. Users can access and modify important information from the online portal, like time and attendance, time-off requests, compensation details, 401(k) contributions, insurance information, and training courses. This is an excellent way for small businesses to keep all their HR functions in one location.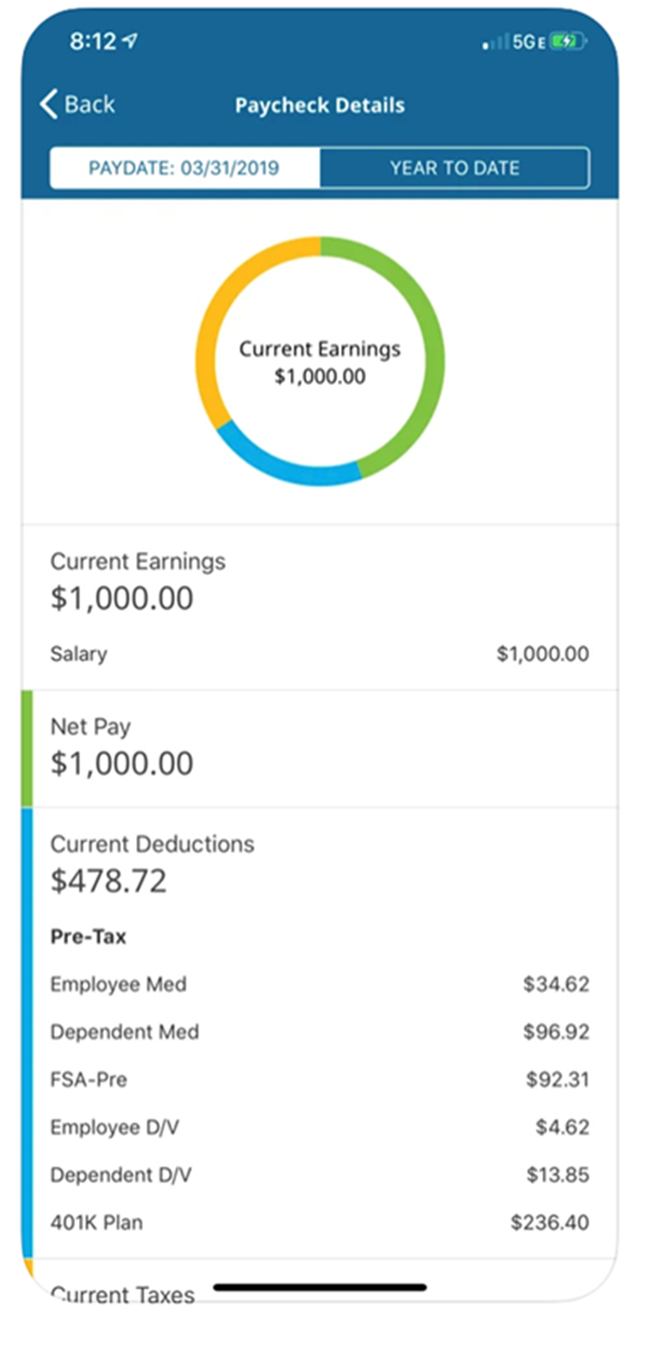 The Insperity mobile app gives employees easy access to their pay stubs and benefits information. Source: Apple App Store
Insperity Services
Insperity offers stellar training resources and solid offerings in all major PEO service areas, which is ideal for small and midsize businesses. Overall, Insperity provides a long list of services that can scale to meet your business's needs. Insperity's breadth of services is one of the largest of all the companies we reviewed. Insperity grants you and your team access to a comprehensive suite of HR functions.
HR Services
Insperity offers robust HR management services. Your company will find help with recruitment, paperless new-hire onboarding, online training, employee handbook and policy creation, performance management, termination and dispute assistance, and leadership development.
Employee Benefits
Insperity provides standard benefits packages that are on par with other PEOs in the industry. For example, they offer medical, vision and dental plans; short-term and long-term disability; a comprehensive 401(k) retirement plan; health savings account (HSA) and flexible spending account (FSA) options; life insurance; and employee assistance programs (EAP). We like that employees can use Insperity's self-service online portal to modify employee benefits as needed.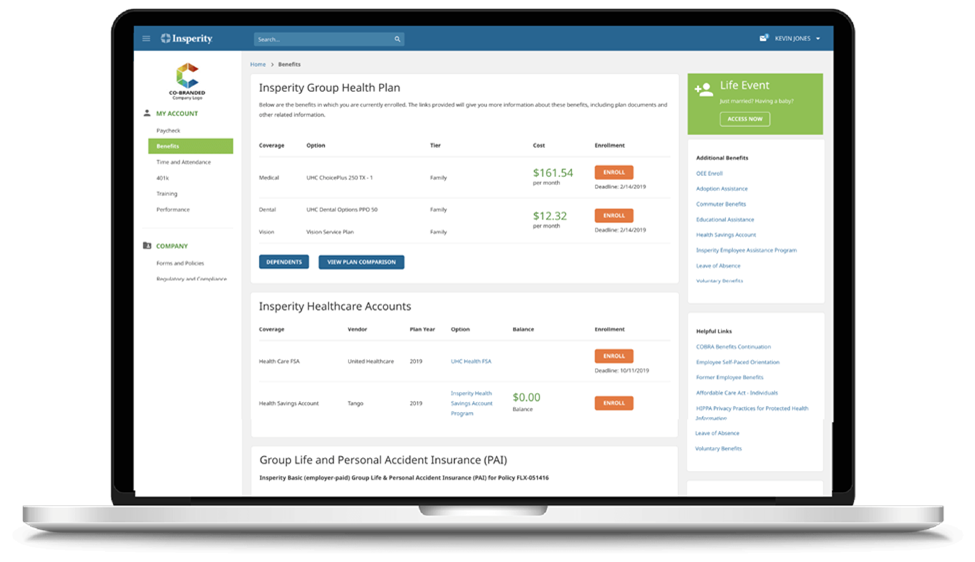 Insperity offers comprehensive health benefits for small and medium-sized businesses. Source: Insperity
Payroll and Taxes
This PEO provides standard payroll processing, which includes federal, state and local payroll tax administration; year-end tax form preparation; wage garnishments; deduction administration; and more than 50 built-in payroll management reports. Insperity also provides time and attendance tracking and paid time off accruals. These comprehensive services are especially great for small and midsize businesses that need compliance support with payroll tax filing.
Risk and Compliance
When testing out Insperity, we found that it can assist with claims management, return-to-work programs, workers' compensation, government compliance, workplace safety training, policy development and training, employee screenings, employment practices liability insurance, termination and unemployment claims assistance, drug-free workplace policy development, and Equal Employment Opportunity Commission services.
Training and Development
Insperity excels with its professional development resources and offers more training options than some other competitors we analyzed. When your business partners with Insperity, you'll have access to more than 5,000 self-paced online courses, 30,000 online books on HR topics, and other educational materials. Users can access instructor-led virtual training, as well as continuing professional education and professional development units for select courses.
Insperity representatives can help set up onsite training sessions for your team.
In addition, your designated HR services team works with you to provide training on other topics for your workforce. This flexibility provides potential for businesses that need training resources or that want to help their employees grow.
Pricing
Insperity's pricing and terms make it an ideal choice for small and midsize companies that are looking to outsource the logistical headaches that come with running an expanding business. Whereas some PEOs charge businesses a gross percentage of their total payroll, Insperity charges per employee. For specific pricing information, contact Insperity directly to discuss the services you need.
We like that Insperity doesn't require long-term contracts. A standard contract for a business with fewer than 150 employees is typically for one year, but you can cancel with 30 days' notice. Although you must have a minimum of five employees to qualify for Insperity's PEO services, you may be able to work around this minimum (with approval) if you meet certain criteria.
If you want individual HR services without the co-employment model, you can opt for Insperity's Workforce Acceleration program. This option still requires you to enroll in Insperity's payroll service, but every other service (e.g., accounting, recruiting, insurance, retirement services) is offered a la carte.
Implementation/Onboarding
Getting set up on Insperity's system is simple. Once you sign up, you'll work closely with an Insperity account executive to get your company and team onboarded correctly. Once the paperwork has been processed and your company's information has been moved onto the Insperity platform, you can start accessing all of the services you signed up for. We found the PEO software to be intuitive, making it simple to get employees up and running with the new system quickly.
If you're looking for additional information on implementing or managing your HR functions, Insperity offers a wide range of resources and tutorials. Business owners and employees can log in to their Insperity portal to access and modify important information, like hours worked, time-off requests, pay stubs, 401(k) contributions, HSA and FSA information, training courses, and more. We found this to be a great way for businesses to keep all of their HR functions in one location.
Customer Support
One of the things we liked most about Insperity is the level of customer support it offers. Instead of leaving troubled customers with a generic phone line that is hard to reach, it provides a dedicated service team, including experts in each service area, like HR management, payroll, performance, recruitment, safety and benefits. Insperity also sets you up with a point person to facilitate your services and connect you with various experts depending on your needs. This was on par with, and in some cases exceeded, many other competitors we reviewed.
For general PEO information, you can access several resources on Insperity's website, including a blog, checklists, demos, e-books and webinars. We like that Insperity is accredited with the Better Business Bureau and has an A+ rating. It also maintains ESAC and IRS accreditations, which are a testament to the quality of its services.
Insperity's Limitations
One potential limitation of Insperity is the five-employee requirement. While this isn't a dealbreaker for every business, it's something small business owners need to consider when looking for the right PEO. Insperity may be able to provide services to businesses of all sizes, but they may not be services tied to the company's co-employment model. If you are looking for a PEO that can accommodate fewer employees, check out our review on Justworks – its PEO platform only requires a minimum of two enrolled employees.
Another area we found Insperity to be limited in was its pricing. We would have liked to see some pricing information on the Insperity website. Although this isn't a necessity for all businesses, transparent online estimates give small and midsize businesses a better idea of whether the service will be within their budgets.
Methodology
We researched and analyzed dozens of professional employer organizations to identify the best PEO services on the market. We looked at pricing, contracts, minimum requirements, employee benefits administration, time-tracking features, payroll processing, administrative HR functions, talent management features, integrations, legal risk and compliance assistance, accreditations, and customer support. We watched product videos and conducted demos when possible. When looking for the best PEO solutions for small and midsize businesses specifically, we prioritized pricing and contract requirements, comprehensive HR functionalities, usability, and customer support.
FAQ
What is Insperity used for?
Insperity is a professional employer organization that businesses can partner with through a co-employment model. Through this partnership, Insperity can perform a variety of HR functions such as payroll processing, employee benefits administration, administrative HR functions, risk management and talent management.
Who does Insperity use for health insurance?
Insperity partners with United HealthCare as its leading health insurance carrier. This long-standing partnership allows small and midsize businesses to provide their employees with competitive healthcare options at affordable rates.
Bottom Line
We recommend Insperity for …
Small and midsize businesses.
Companies that want access to thousands of training courses and resources.
Companies looking for an experienced and supportive PEO.
We don't recommend Insperity for …
Companies that have less than five employees.
Companies that need transparent online PEO pricing.

Insperity PEO Services and Pricing
The Verdict
Insperity, our choice for the PEO with the best small business resources, offers great payroll, employee benefits, HR administration, risk management, training resources and customer service.
Skye Schooley is a human resources writer at business.com and Business News Daily, where she has researched and written more than 300 articles on HR-focused topics including human resources operations, management leadership, and HR technology. In addition to researching and analyzing products and services that help business owners run a smoother human resources department, such as HR software, PEOs, HROs, employee monitoring software and time and attendance systems, Skye investigates and writes on topics aimed at building better professional culture, like protecting employee privacy, managing human capital, improving communication, and fostering workplace diversity and culture.