Insperity, our choice for the PEO with the best small business resources, offers great payroll, employee benefits, HR administration, risk management, training resources and customer service.
Pros
Insperity provides its clients with knowledgeable and dedicated customer support specialists.
Insperity has comprehensive HR services like payroll processing, benefits administration, talent management and compliance assistance.
Insperity offers a wealth of employee training resources, including over 4,500 self-paced courses and 20,000 online books.
The user interface is easy to learn and navigate.
Cons
Insperity doesn't list pricing online.
The vendor has a five-employee minimum for its PEO services.
Companies must use Insperity's in-house payroll service to qualify for other HR services.
Insperity is an ideal one-stop-shop HR solution for small and midsize businesses (SMBs). It provides benefits administration, payroll services, risk management resources, HR consulting, employee training and more. It offers two plans: a professional employer organization (PEO) model and an HR outsourcing service (HRO) model without co-employment, allowing employers the flexibility of choosing a plan that meets their specific needs. Insperity has a five-employee minimum, competitive pricing and a contract structure that can scale with your business. Its dedicated support team is especially valuable to growing SMBs. Additionally, Insperity is accredited by the Employer Services Assurance Corporation (ESAC) and the IRS, verifying its high-quality services. 
Insperity PEO Services Editor's Rating:
9.6 / 10
Price/value

9.1/10

Features

9.7/10

Customizations, add-ons, and integrations

9.5/10

Ease of use

9.6/10

Customer service

9.9/10
Why We Chose Insperity for Small and Midsize Businesses
We were impressed by Insperity's breadth of HR services and features. SMBs can choose from services like payroll processing, payroll tax filing, employee benefits administration, talent development, administrative HR functions and HR compliance assistance. Additionally, we like that Insperity offers a wealth of employee training resources, including thousands of courses and books. These educational options are ideal for SMBs that want to develop their employees. In addition to its top-notch services, Insperity is easy to use, offers online and mobile access, and has stellar customer support. 
Since Insperity offers customized HRO service plans, businesses can easily create a plan with the services that fit their needs and modify it as their needs change. We also like that businesses can partner with Insperity as a PEO, taking advantage of its co-employment model and bundled services. Since Insperity offers HRO and PEO options, organizations can easily scale between the two if their partnership needs change. 
For these reasons and more, Insperity is our choice for the best PEO and HRO for small and midsize businesses.
Work closely with your Insperity sales representative to ensure you get the services and employment model that will make running your business easier.

Users can easily navigate Insperity's employee dashboard to view essential employee information. Source: Insperity
Ease of Use
We like that Insperity provides small businesses with simple and effective PEO services. Transitioning to a new platform or service can be arduous and time-consuming. However, we found partnering with Insperity to be quick and efficient. Once you decide to use Insperity's services, getting integrated can take as few as 30 days. The intuitive, cloud-based platform makes it easy for administrators, managers and employees to tap into an array of services from a computer or mobile device. Since Insperity handles all the maintenance, testing and software updates for you, you can access the high-functioning platform throughout the year without the headache of keeping track of updates.
During testing, we found Insperity's platform to be well-designed and straightforward to use and navigate. Users can access and modify important information from the online portal, including time and attendance, time-off requests, compensation details, 401(k) contributions, insurance information, and training courses. This online portal is an excellent way for small businesses to keep all their HR functions in a central location.
We like that Insperity users can access over 50 standard HR reports or build custom reports to meet their needs. These capabilities are similar to other HR services we reviewed. Reporting functions can be quite valuable to SMBs; tapping into reports and data analytics can reveal much about your organization and make it easier to get a full view of performance and productivity.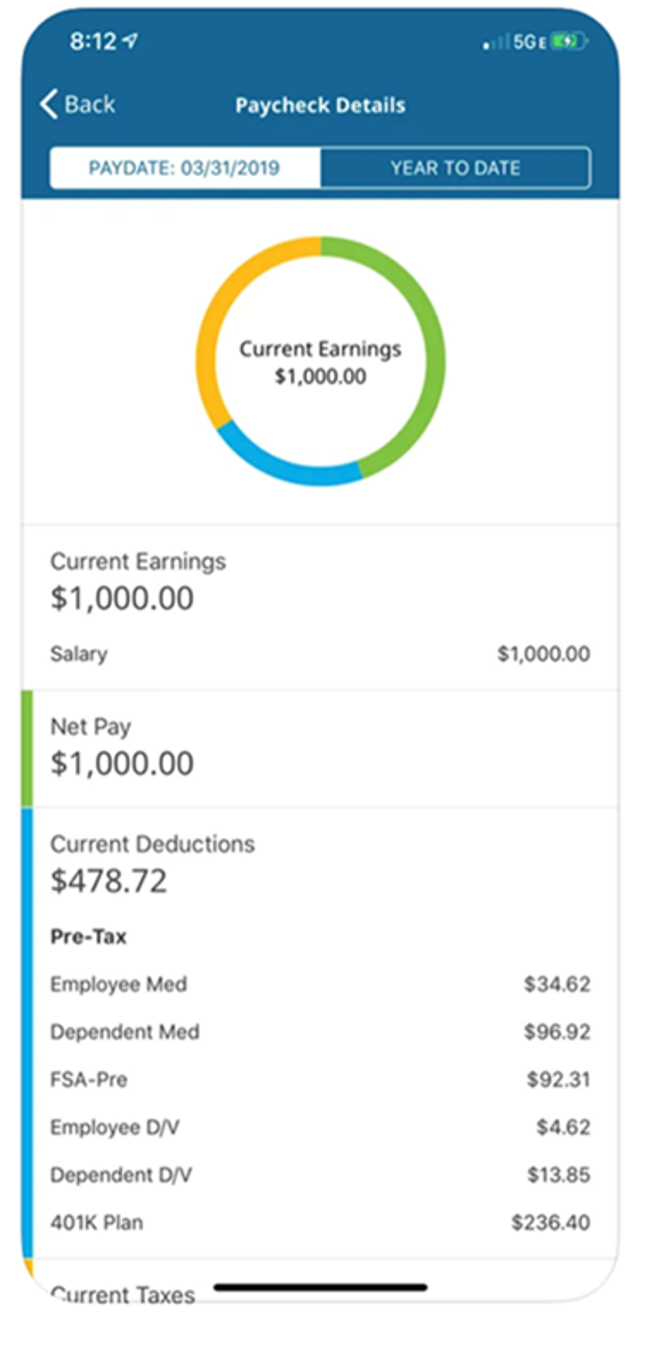 The Insperity mobile app gives employees easy access to pay stubs and benefits information. Source: Apple App Store
Insperity Features
Insperity offers a comprehensive suite of HR functions that can be scaled to meet your business's needs. Although the company has been around for more than 35 years, you can rest assured that its product offerings are up to date with the latest features. Its PEO solution (the Workforce Optimization plan) bundles most of these services, while its HR outsourcing solution (the Workforce Acceleration plan) lets you choose some services a la carte and doesn't have a co-employment model.
Here's a look at some of the PEO features and services Insperity offers:
HR Services
We found Insperity's HR management services to be comprehensive, helping businesses without an internal HR department handle all HR tasks. We like that Insperity offers paperless onboarding, allowing new hires to be integrated into an organization quickly and accurately. This saves your team hours they would otherwise spend doing data entry during the hiring process.
We were impressed that Insperity manages each employee's data throughout their entire tenure and assists in nearly any HR service, from onboarding to offboarding. This comprehensive employee management is ideal for growing SMBs. Insperity can also help with administrative HR tasks, such as interviewing and training employees, verifying employment eligibility, creating job descriptions for open roles, creating drug-free workplace policies, and writing employee handbooks. These services are on par with those of other HR solutions we examined. 
Insperity's efficient electronic onboarding process increases data accuracy, ensures compliance and creates a more personalized experience for new hires.
While Insperity allows you to digitize much of your HR functions, we like their continued commitment to security as technology and security needs change. The company has continued to evolve its security measures over the years to keep up with the necessary frameworks for information security and privacy applicable to their consumer markets.
Employee Benefits
Insperity provides employee benefits on par with other PEOs and HROs we reviewed. For example, Insperity offers: medical, vision and dental plans; short-term and long-term disability; a comprehensive 401(k) retirement plan; health savings account (HSA) and flexible spending account (FSA) options; life and personal accident insurance; and employee assistance programs (EAPs). We also appreciate that Insperity offers end-to-end benefit plan management and administration and can help with COBRA administration and Affordable Care Act compliance.
We were impressed that employees can use Insperity's self-service online portal to modify their benefits as needed. We also liked the ALEX tool – an interactive support tool on Insperity Premier that helps employees choose benefits.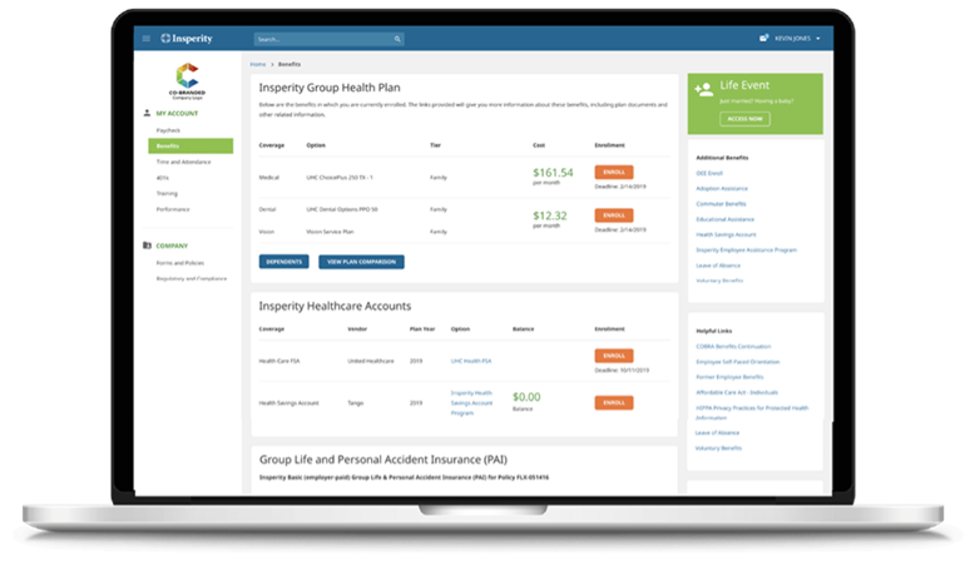 Insperity offers comprehensive health benefits for small and midsize businesses. Source: Insperity
While Insperity's benefits offerings are comprehensive, if employee benefits are your top priority, check out our review of ADP. The company earned our pick as the best HR solution for benefits administration.
Payroll and Taxes
To use Insperity's PEO or HR outsourcing services, you must enroll in the company's in-house payroll processing solution, which includes online payroll and pay stubs, direct deposit, and a general ledger interface. The company also handles all federal, state and local payroll tax filings, regardless of where you operate. We appreciate that Insperity professionals track wage garnishments (e.g., student loans, levies, child support) and remit them to the correct agency. Not every PEO or HRO we reviewed handles garnishments.
We also like Insperity's time and attendance capabilities that help ensure you pay your employees accurately. The system tracks hours worked, paid time off (PTO) and discrepancies. Employees can utilize the self-service portal to update banking information, submit time-off requests, access W-2s, and review and print check stubs and tax forms.
Risk and Compliance
Legal compliance and risk management are significant hurdles for SMBs, especially those operating in multiple states. We like that Insperity helps you stay compliant through liability management training, Federal Credit Reporting Act (FCRA) and "Ban the Box" guidance, hazard and safety review and training, performance management guidance, and leave administration support. Insperity also offers HR-related government reporting and auditing.
We were impressed that Insperity can review company policies and provide details on which (if any) problems must be addressed. Not every HR service we evaluated offers this feature. An Insperity HR specialist can advise on topics like legally terminating an employee to help businesses avoid wrongful termination issues. Insperity will also assist with unemployment claims.
Training and Development
Insperity excels with its employee professional development resources and offers more training options than many competitors we reviewed. When your business partners with Insperity, you'll have access to over 4,500 self-paced online courses, 20,000 online books on HR topics, and other educational materials. We also like that users can access instructor-led virtual training and continuing professional education and development units for select courses. You can track employee course completion when your team takes online courses. 
For businesses that need performance management support, Insperity offers a performance appraisal tool that lets you customize your review and rating systems. You can access performance management templates, goal development, resources and other guidance.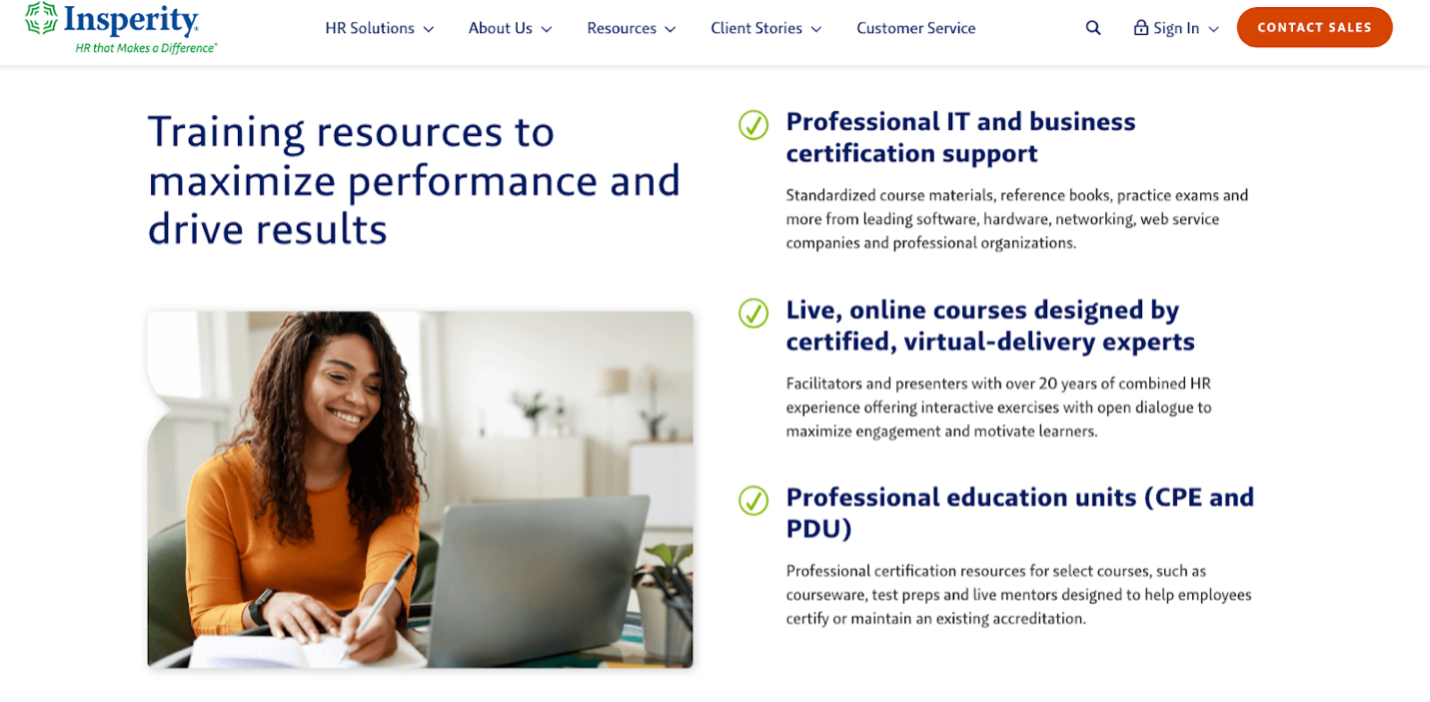 Insperity training resources include professional IT and business certification support. Source: Insperity
Employee growth can fuel business growth. Providing professional development tools boosts employee retention, satisfaction and productivity.
Insperity Pricing
Insperity's pricing and terms make it an ideal choice for small and midsize companies looking to outsource the logistical headaches of growing a business. We like that Insperity doesn't require long-term contracts. A standard client service agreement for a business with fewer than 150 employees is typically one year; however, you can cancel with 30 days' notice, and there are no early-termination penalties or fees.
Workforce Optimization: If you want to partner with Insperity as a PEO (with a co-employment model), you can take advantage of its Workforce Optimization plan. This model bundles specific features like payroll and HR services, but you can add select benefits like 401(k) plans.
Workforce Acceleration: If you want to partner with Insperity as an HRO (without a co-employment model), you can take advantage of its Workforce Acceleration plan. With this model, you are still your employees' employer of record (EOR). Insperity provides its platform for payroll and HR guidance and expertise. Benefits, workers' compensation and other business insurance types can be added to this model.
Regardless of which plan you choose, Insperity will create a custom quote based on your needs. The company charges per employee, which is similar to many competitors in this space. For specific pricing information, contact Insperity directly to discuss the services you need.
Notably, you must have a minimum of five employees to qualify for Insperity's PEO services. However, you may be able to work around this minimum (with approval) if you meet certain criteria.
Implementation and Onboarding
We found Insperity's implementation and onboarding process relatively straightforward. Once you sign up, you'll work closely with an Insperity account executive to get your company and team onboarded correctly. Once the paperwork has been processed and your company's information has been moved onto the Insperity platform, you can start accessing your services. We found the HR software and PEO software to be intuitive, making it simple to get employees up and running with the new system quickly.
We appreciate that Insperity offers a wide range of resources and tutorials if you need more information. Business owners and employees can log in to their Insperity portal to access and modify essential information, including hours worked, time-off requests, pay stubs, 401(k) contributions, HSA and FSA details, and training courses. This is a great way for businesses to keep all their HR functions in one location.
Customer Service
We were pleased with Insperity's phone and email customer support options. It has separate phone numbers dedicated to particular needs (e.g., time and attendance, organizational planning, performance management), ensuring you connect with someone who can help with your issue. We found this to be a valuable resource for SMBs with specific questions.
We were impressed by Insperity's dedication to customer support. Instead of leaving customers with a generic, hard-to-reach phone line, Insperity provides a dedicated service team with experts in each area, like HR management, payroll, benefits, performance and safety. Insperity also sets you up with a point person (client liaison) to facilitate your services and connect you with various experts depending on your needs. These customer support resources are on par with – and often exceed – those of many competitors we reviewed.
For general HR information, you can access several resources on Insperity's website, including a blog, checklists, demos, e-books and webinars. We like that Insperity is accredited with the Better Business Bureau and has an A+ rating. It also maintains ESAC and IRS accreditations – a testament to its service quality.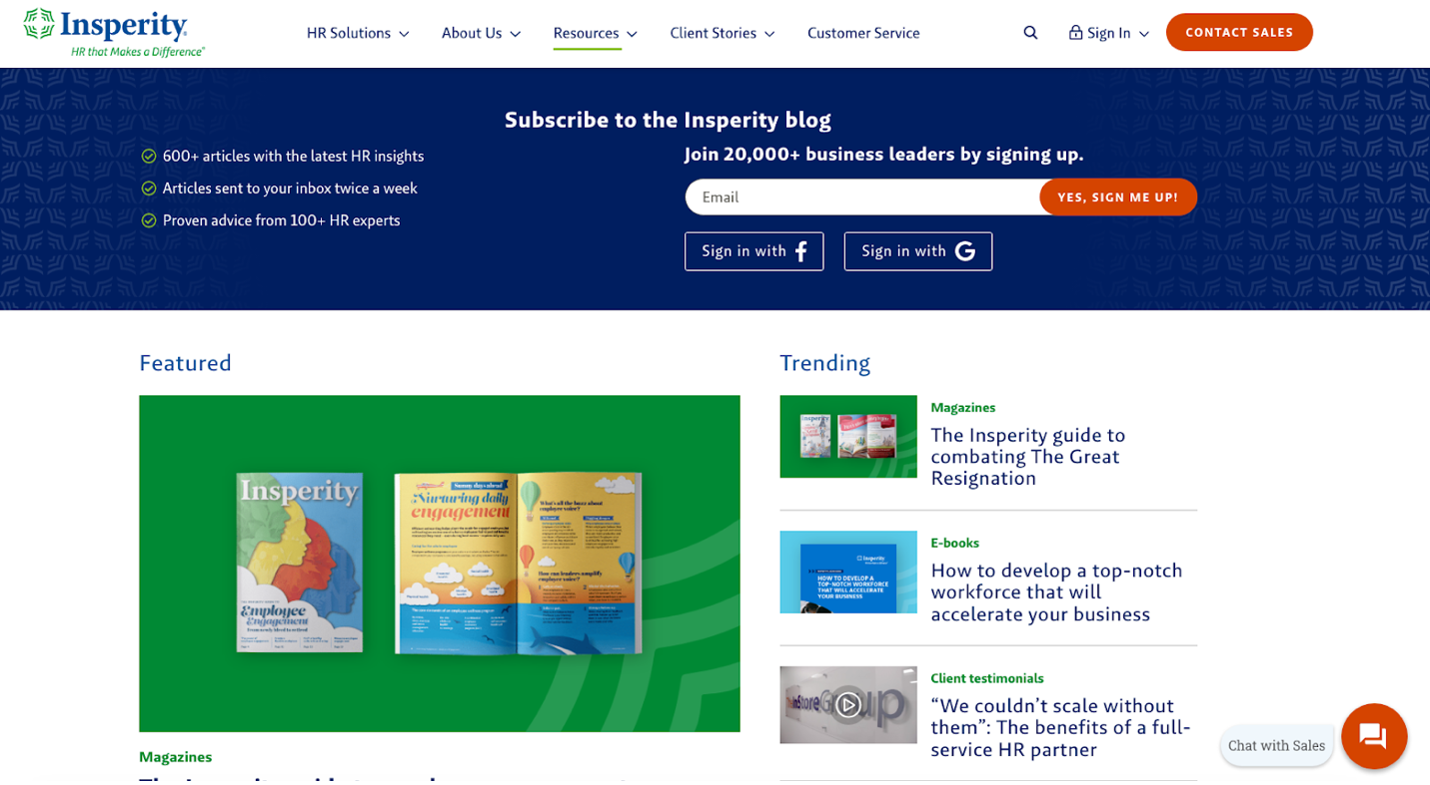 Insperity's online resources include articles, blogs, e-books and webinars. Source: Insperity
Limitations
Insperity is an excellent, flexible HR solution. However, we discovered some potential drawbacks. 
Five-employee requirement: One potential limitation of Insperity is the five-employee requirement for Insperity's PEO service. While this isn't a dealbreaker for every business, it's something small business owners must consider when looking for the right PEO. Insperity may be able to provide services to businesses of all sizes, but they may not be services tied to the company's co-employment model. If you are looking for a PEO that can accommodate fewer employees, check out our review of Justworks; its PEO platform requires a minimum of two enrolled employees.
No pricing information online: Insperity's lack of transparent online pricing may be a limitation for some companies. Transparent online estimates give SMBs a better idea of whether a service will fit their budget. If you want an HR solution with transparent online pricing, read our review of Zenefits by TriNet.
Methodology
We researched and analyzed dozens of the best PEOs and the best HROs to identify top HR outsourcing solutions. We examined pricing, contract requirements, bundled vs. a la carte features, minimum requirements, employee benefits administration, time-tracking tools, payroll processing and taxes, administrative HR functions, talent management features, integrations, legal risk and compliance assistance, accreditations, and customer service.
We watched product videos and conducted demos when possible. When looking for the best PEO and HRO solutions for SMBs specifically, we prioritized pricing and contract requirements, scalability, comprehensive HR functionalities, usability, compliance assistance, and customer service.
Insperity FAQs
Insperity is a professional employer organization businesses commonly partner with through a co-employment model. Through this partnership, Insperity can perform various HR functions, such as running payroll, employee benefits administration, administrative HR tasks, risk management and talent management. Insperity also offers its services via an HR outsourcing plan, which gives employers access to many of the same features without the co-employment model.
Insperity is a nationally recognized and ESAC-certified professional employer organization. It offers HR outsourcing services through a co-employment model (e.g., a PEO partnership). Alternatively, you can forgo the co-employment model and outsource a few individual HR services at a time. It focuses on supporting small and midsize businesses.
Yes. Insperity has a mobile app that is available on iOS and Android devices. The app is designed with employees in mind, offering them on-the-go access to things like paycheck information, health benefit cards, FSA information and 401(k) details.
Insperity partners with United HealthCare as its leading health insurance carrier. This long-standing partnership allows small and midsize businesses to provide their employees with competitive healthcare options at affordable rates.
Bottom Line
We recommend Insperity for …
Small and midsize businesses.
Companies that want access to thousands of training courses and resources.
Companies looking for an experienced and supportive HR outsourcing solution.
We don't recommend Insperity for …
Companies that have fewer than five employees.
Companies that need transparent online pricing.