Zenefits offers an easy-to-use payroll system that enables you to run payroll in four steps. Making manual adjustments, such as including bonuses, is easy when running payroll as well.
Pros
Zenefits offers transparent pricing by clearly listing out its scalable HR service packages and add-on options on its website.
Zenefits can support your employees and independent contractors.
Every plan comes with automated onboarding and employee management features.
Zenefits allows businesses to use their own benefits broker or one of the vendor's trusted broker partners.
The platform has an intuitive user interface.
Cons
Businesses must pay for a minimum of five employees.
Zenefits' HR advisory services are an add-on option instead of automatically included in all plans.
Customer service can be difficult to contact.
Zenefits, acquired by TriNet in 2022, is a transparent human resources outsourcing (HRO) platform for small businesses that want to outsource their HR needs. It has three service plans and multiple add-on features, so employers can create the solution that best meets their preferences and budget. Every package comes with core HR features, time and attendance tracking, integrations, and mobile app capabilities, while select plans include advanced features that can be a great way for startups to train and manage their teams. Zenefits offers a free interactive demo, so you can test out the program before committing to the service. For these reasons and more, Zenefits is our choice as the best HR outsourcing solution for startups.
Zenefits Editor's Rating:
9.1 / 10
Price/value

9/610

Features

9.7/10

Expertise

9.1/10

Ease of use

9.6/10

Customer service

7.5/10
Why We Chose Zenefits for Startups
Zenefits offers many features that make it a great fit as an HRO for startups in particular. For example, we love that the company is very transparent about its HR plans, features, add-on options, pricing and contract length. This is especially important for cash-strapped new businesses. While some vendors are vague about what's included in their plans and how much they cost, Zenefits clearly lists its various options online. Speaking of options, we also like that Zenefits sells multiple plans and add-ons, which allows startups to choose the features they currently need and add more as they grow. Furthermore, picking an HR solution can be a major decision for startups and new organizations, so we really appreciate that Zenefits lets businesses conveniently test out the platform through a demo account before formally signing up.
In terms of tools, Zenefits offers all the HR features a startup would need, such as automated employee onboarding, employee management, benefits administration with flexible provider options, payroll processing, time and attendance tracking, and employee scheduling. The cloud-based software is intuitive and easy to use, so there is minimal implementation time when getting new employees acclimated to the system.
Tip: If you think your startup will need additional assistance with HR compliance, we recommend adding Zenefits' Advisory Services to your HR plan.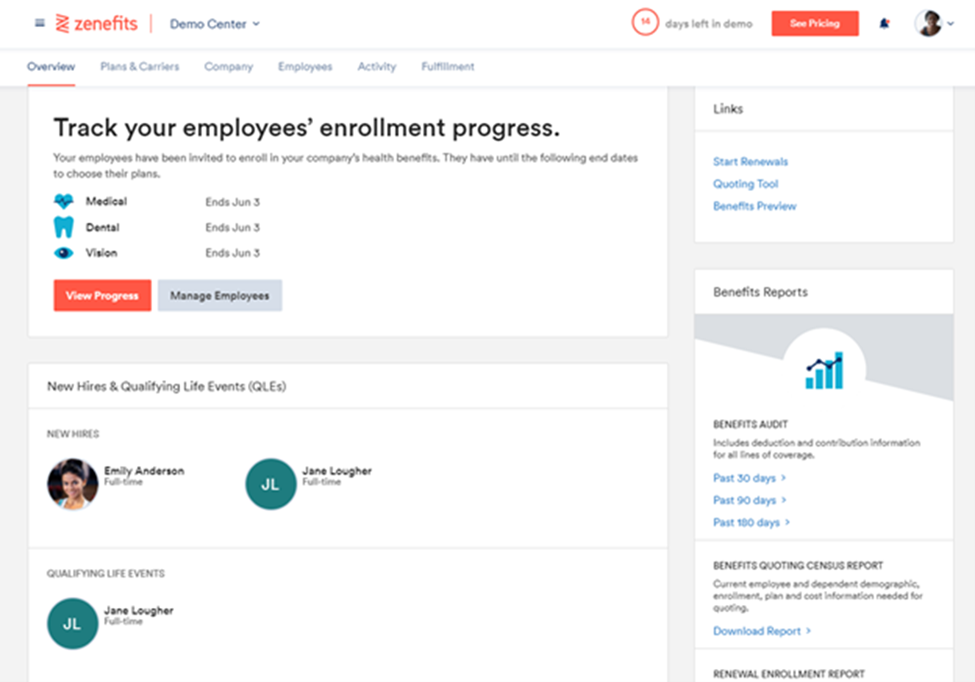 Zenefits conveniently lets you choose between using your own benefits broker or administering benefits through one of its certified broker partners. Source: Zenefits
Ease of Use
With Zenefits' free interactive demo, you can view preloaded data to get firsthand experience using the platform. There is also a tutorial wizard that walks you through the features. When we tested out the system, we were pleased with its simple online dashboard and intuitive user interface. Like most of its rivals, Zenefits is designed as a cloud-based platform that can be accessed from any internet-connected device, and employees can also use a mobile app, available for iOS and Android devices, for on-the-go HR management.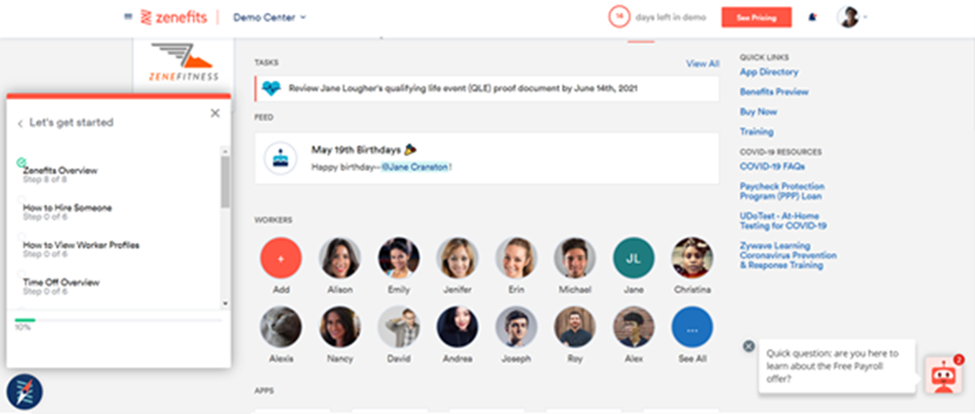 Zenefits' demo and tutorial wizard allow you to browse the platform risk-free. Source: Zenefits
Zenefits syncs all data in real-time, so whenever an employee or administrator changes the system, it's automatically updated across all devices and platforms, thus keeping everyone on the same page and minimizing potential errors. That will reduce the risk of miscommunication as your new organization gets off the ground. Also, since analyzing reports and data is a great way to monitor and improve your startup, we really like that Zenefits offers reports on various topics, like compensation, equal opportunity, headcount activities, stock options granted and turnover rate.
Adding to Zenefits' ease of use are its integrations with more than 40 third-party applications, though that is a much smaller collection than some competitors have. Still, there is a good chance your startup is already using other business platforms, so having the ability to integrate them with Zenefits can further simplify your HR management. 
Zenefits Features
Zenefits users can take advantage of several HR tools and features to manage their employees, run payroll and administer employee benefits. The company's preset plans and add-on functions allow you to create a customized solution with all the necessary features.
HR Services
Every Zenefits plan comes with core HR services. These include hiring and onboarding tools, like automated offer letters (templates and customizable), comprehensive background checks, electronic tax documents (W-4s and I-9s), e-signatures and account provisioning. Users also have access to document management capabilities for things like company policies, employee handbooks and noncompete agreements. [You could also opt to separately use one of the top background check services.]
We like that Zenefits' intuitive website and mobile apps allow for employee self-onboarding, freeing up your HR team to focus on other tasks. We found Zenefits' employee onboarding capabilities to be competitive with others in the industry. More uniquely, Zenefits offers automated workflows for tasks like promoting, transferring or terminating employees. Having an automated process for key employee events can be a great way for startups to improve efficiency, reduce errors and maintain legal compliance.
Time and Attendance, Payroll, and Taxes
Every Zenefits plan includes time and scheduling features. For example, you can build employee schedules around roles or times, create paid time-off (PTO) policies, manage time-off requests, set blackout dates and automatically calculate PTO.
With Zenefits' in-house payroll add-on service, you can conveniently integrate this data into your payroll. The add-on service also handles your payroll processing and allows for varying schedules and pay rates, direct deposit, wage garnishments, tips reporting, and general ledger reporting. We like that Zenefits allows businesses to easily pay their workers, regardless of whether the staff comprises employees, independent contractors or a combination of the two.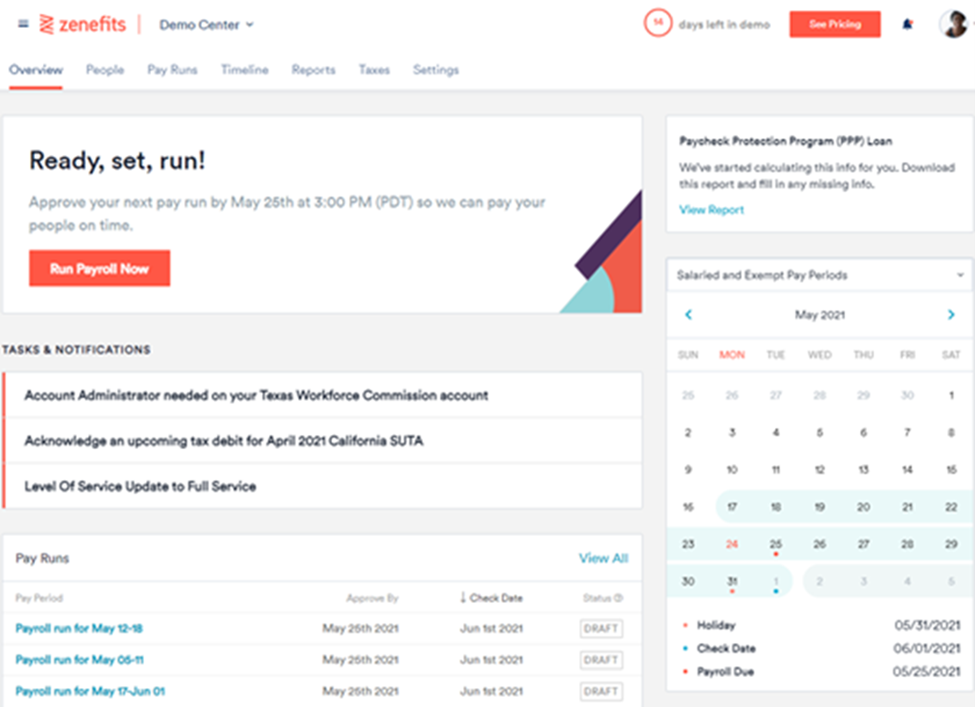 Users can run payroll with Zenefits, something most HRO providers facilitate. Source: Zenefits
Employee Benefits Administration
Zenefits gives you a flexibility in administering employee benefits that not all competitors offer – namely, you can use one of Zenefits' certified broker partners or your own benefits broker. This choice allows startups the opportunity to find the best broker to fit their budget. However, if employee benefits administration is your top priority, you may also want to check out our review of ADP.
Risk and Compliance
Maintaining legal HR compliance can be a challenge for any business, especially small startups that don't have a dedicated internal HR department or legal team. We like that Zenefits can help you with risk management and legal compliance by automating HR functions that you would otherwise have to manage on your own. For instance, Zenefits can provide automated workflows, deadline alerts, automatic tax-form filing and new-hire reporting.
Zenefits can also help you safely store all essential HR documents, maintain Affordable Care Act compliance, and automatically send mandatory notices and alerts. Plus, all Zenefits users can access the company's Compliance Assistant platform to monitor compliance status and track deadlines. These features are on par with what competitors offer.
Employee Training and Development
With the Zenefits Growth and Zen plans, users gain access to additional features, like configurable people analytics and compensation and performance management, which can be key elements in ensuring your employees successfully grow with your business.
For example, instead of simply guessing how much an employee should be paid, you can use Zenefits to get anonymized salary data that can be utilized to create accurate salary benchmarks, thereby ensuring you're paying your team appropriately based on their job and experience. It's also a great way to set salaries for new hires when your startup begins to expand. 
Although team members at a new business often wear many hats, it's important to manage employee performance and create clear career paths for your staffers. Zenefits helps you do this by providing goal management tools, customizable performance review templates (manager, peer and 360-degree reviews) and one-on-one meeting tools. Data from your performance management tools is automatically integrated across the Zenefits platform.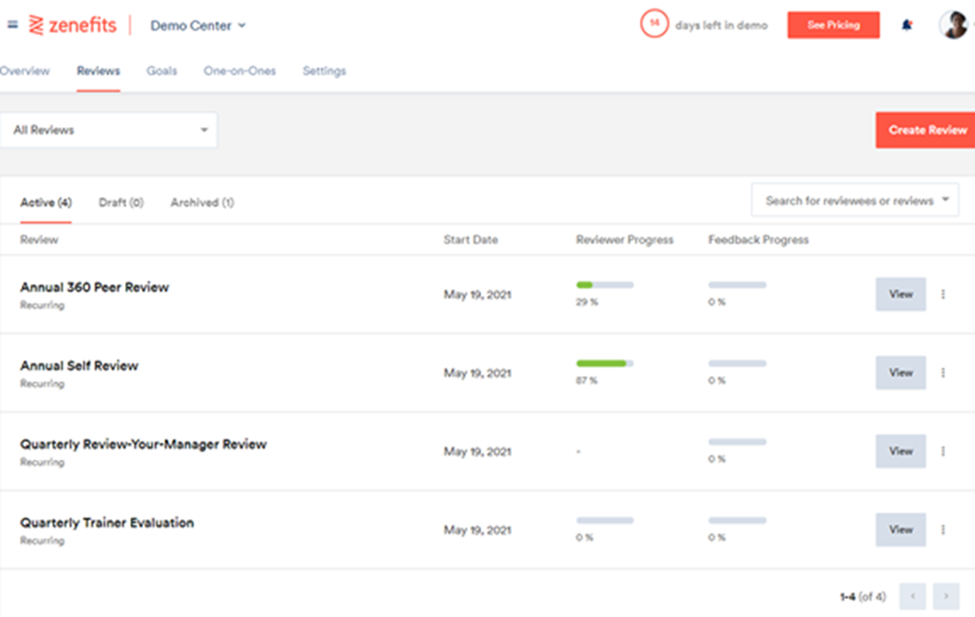 Zenefits offers a variety of review options to manage employee performance. Source: Zenefits
Zen plan customers can access even more features to ensure employee success, such as well-being assessments, triggered alerts, custom and prebuilt employee engagement surveys, and People Hub, a centralized collaboration and communication platform.
Zenefits Pricing and Terms
Among the things we really liked about Zenefits is its pricing. It is one of the only HR outsourcing solutions we reviewed that offers transparent packages and pricing online. This is especially ideal for startups and small businesses operating on a limited budget, as it gives you a clear indication of what services you can afford.
Zenefits has three base HR plans (Essentials, Growth and Zen) with tiered features and pricing. Like other services we analyzed, Zenefits' plans are charged per employee per month, and businesses can choose between month-to-month or annual pricing. Unlike many of its rivals, Zenefits offers a 14-day free interactive demo, which is a great way to test the software before making a commitment.
Businesses that are looking for the most basic HR tools may want to go with the Essentials plan for $8 per employee per month when billed annually. The Growth plan is similar to the Essentials plan, with the addition of people analytics, compensation management and performance management features, and costs $16 per employee per month when billed annually. The most comprehensive HR package, the Zen plan, is $21 per employee per month when billed annually.
Zenefits' plan variety and transparent pricing are ideal for startups that are looking for HR assistance on a budget. You can also add features like payroll ($6 per employee per month), recruiting (starting at $35 per month) and advisory services (starting at $8 per employee per month). Benefits administration is free if you use one of Zenefits' certified brokers and choose an annual plan, or you can use your own broker for just $5 per employee per month. This flexibility isn't something we saw all providers offer.
Zenefits has a five-employee minimum for pricing, which is standard for most of the HR outsourcing industry. However, we like that smaller businesses with fewer than five employees can still use Zenefits – they will just be charged for the five-employee minimum. If you're a startup that plans on growing to more than five employees, this allows you to get settled with an HR solution that can scale with you as you grow.
Zenefits costs between $8 and $21 per employee per month (when billed annually), and you can add on recruiting, payroll, benefits administration and advisory services for additional fees.
Implementation and Onboarding
We found Zenefits' implementation process similar to what other HR outsourcing solutions offer. You can opt for a self-guided or company-guided setup process, depending on the size of your business and your onboarding needs. Implementation with Zenefits typically takes a few weeks to complete, which is on par with industry standards.
If you want to integrate the platform with other business software, there are more than 40 integrations to choose from. While software integrations can add a little bit of time to the setup process, they can be a great way to streamline and speed up future business operations for your startup.
Customer Service
Zenefits has several online educational tools and resources – including checklists, guides, e-books, articles and templates – to help answer your HR-related questions. If you need additional support, you can fill out an online form to have a member of Zenefits' support team contact you, or you can add on Zenefits' Advisory Services for unlimited adviser access. While Zenefits is not accredited with the Better Business Bureau, it does have an A+ rating with the agency, which is something we like to see in our best picks.
If having access to a top-notch, around-the-clock customer service team is essential to you, you may also want to check out our review of TriNet, which is our pick as the best HR outsourcing service for customer support.
Limitations
One potential limitation of Zenefits is that you have to sign up for a minimum of five employees, so keep that in mind if you're a very small startup with only a couple of team members. Unlike some competitors, Zenefits still lets businesses with fewer than five employees use the platform, but they're still responsible for paying for the five-employee minimum. If you're looking for an HR outsourcing solution that allows fewer than five employees with no penalty, check out our review on Bambee.
Another drawback we noticed with Zenefits is its customer support. It doesn't offer live chat assistance like some other vendors do. What's more, many customer reviews claim that the customer service team can be difficult to get ahold of at times. Furthermore, if you want additional HR advisory services from Zenefits, you need to pay an extra $8 to $10 per employee per month. We're curious to see if this changes in the years ahead now that Zenefits is owned by TriNet, which is known for its tremendous customer service.
Methodology
We researched and analyzed dozens of HR outsourcing providers to determine the best HRO services. Factors we considered included pricing, contract requirements, bundled vs. a la carte features, benefits administration, payroll processing and taxes, time-tracking capabilities, administrative HR functions, recruitment and talent management features, legal risk and compliance assistance, available integrations, and customer service. We watched product videos and took part in demos when possible. When looking for the best HRO solution for startups specifically, we prioritized features like transparent pricing, package flexibility, usability, scalability, employee onboarding, payroll processing and benefits administration.
FAQ
Zenefits is an all-in-one HR solution that can help you with crucial HR functions like employee onboarding and management, benefits administration, employee scheduling, and time and attendance tracking. Businesses can also add on additional HR features, such as payroll processing, recruiting tools and advisory services.
Zenefits is used as an HR platform for businesses that want to streamline a combination of HR functions. It is especially ideal for speeding up the employee onboarding process, although it can also help with automating and connecting HR functions such as scheduling employees, tracking time and attendance, administering benefits, and processing payroll.
Bottom Line
We recommend Zenefits for …
Startups and growing businesses.
Companies looking for transparent online pricing.
Businesses that want streamlined employee onboarding features.
We don't recommend Zenefits for …
Companies that want live chat support.
Companies that need frequent customer service.