Employees are one of the most crucial parts of your organization, so it's important to invest in their ongoing training and development. The right training program can increase employee engagement, decrease turnover rates and give your business a competitive edge.
Traditionally, training employees can be expensive – companies may spend thousands of dollars on travel costs and qualified trainers. That's why many small businesses and large corporations today invest in learning management systems (LMS). These tools facilitate online educational activities for employees to learn new skills and processes.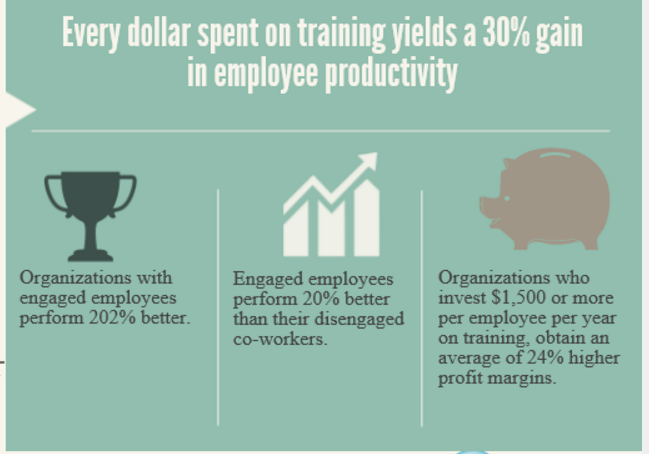 What are the best LMS apps for employee skill development?
When you implement a learning management system, you receive access to an online program or software through which your employees can participate in learning courses and review educational material. In some cases, you can set up pre-built classes provided by the vendor or create your own coursework focused on the skills and concepts most important to your organization.
Here are some of the best LMS applications that may be right for your team.
1. iSpring Learn LMS
With more than 160,000 active users, iSpring Learn LMS is one of the best cloud-based learning management systems for small businesses and enterprise-level training programs. It's a complete learning system that allows instructors to create and distribute course content and monitor student performance from a central dashboard.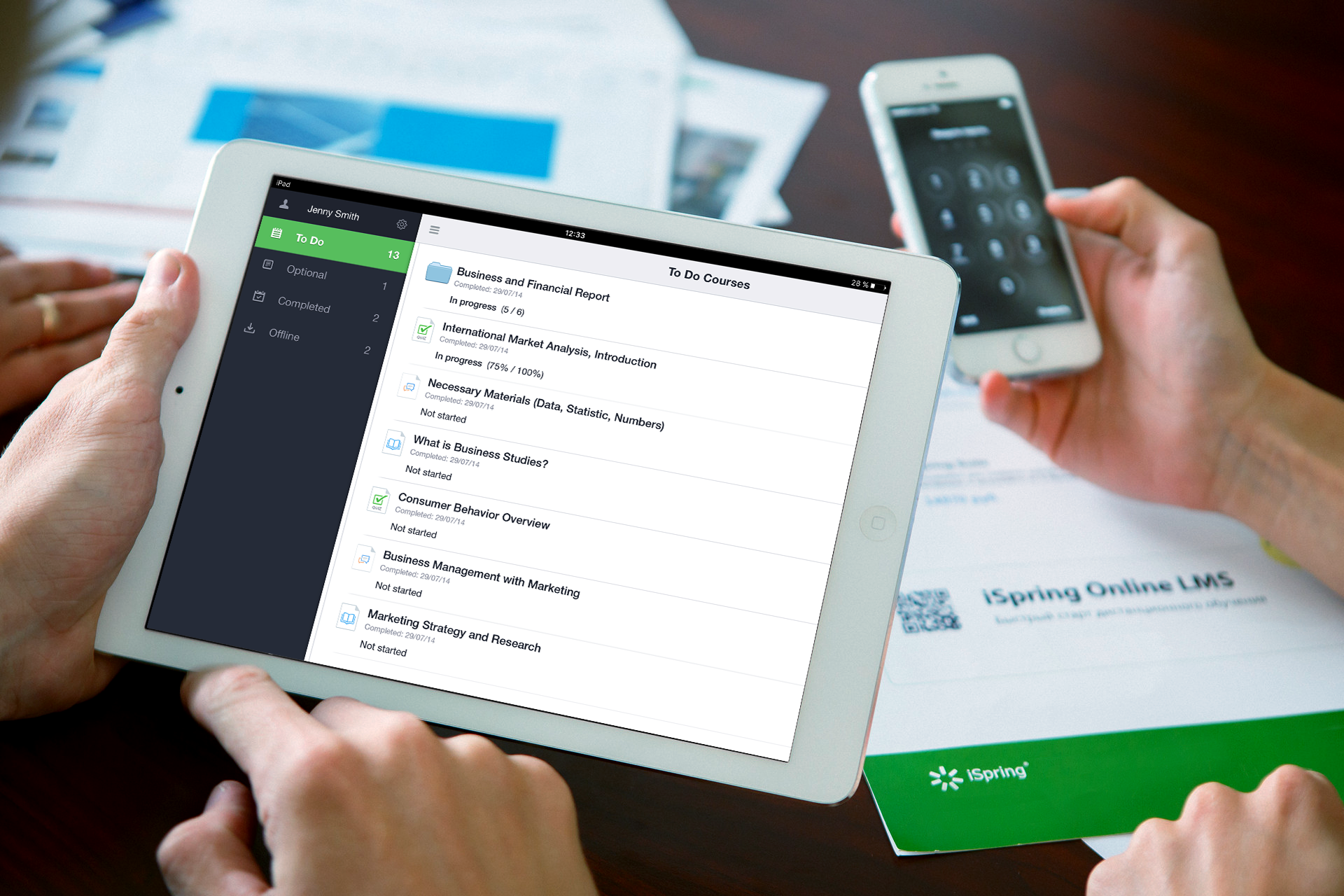 Source: iSpring
What separates iSpring Learn from other LMS applications is its fully integrated, powerful authoring tool and detailed custom reports. Business owners or their managers can view these reports and identify where a particular team member may be lacking in skills and knowledge.
The program allows employees to take courses at their own pace, extract the critical learning points from the course content, and derive key action items. Students and instructors can reach out to each other for instant feedback or instructions related to any part of a course.
If you already have training content for your employees in Word, PowerPoint, or audio and video files, you can upload those to iSpring LMS and create a ready-to-use web-based course. iSpring Learn LMS can also be accessed via iPhone and Android apps, through which students can download course content, complete it offline and sync it with their accounts once back online.
2. TalentLMS
TalentLMS is another leading cloud-based learning management system with thousands of satisfied users in the corporate and academic worlds. It offers an attractive user interface that helps users get familiar with its options and features in no time. You can create courses by uploading existing course material or developing brand-new content. This app also allows you to publish courses under your own domain name.

Talent LMS is another leading cloud-based learning management system that has thousands of satisfied users in the corporate and academic world. Source: Talent LMS
Users can view courses on mobile devices or using the TalentLMS iPhone and Android apps. You can start using TalentLMS immediately by activating a free trial account, which allows five users and 10 courses with a file size of 20MB or less.
3. SAP Litmos
With more than 3,000,000 users, SAP Litmos is one of the most popular cloud-based learning management systems. Along with standard course creation, distribution and monitoring features, SAP Litmos supports integration with a wide range of third-party apps, including Salesforce. [Read our review of the Salesforce CRM to find out how it can help your business.]
You can create your own classrooms or one-to-one training sessions on SAP Litmos. Users can also access the course material using iPhone and Android apps. We appreciate that the free version doesn't have any limits on the number of users or courses, but the trial is only valid for 14 days, which might not be enough time to create, run and evaluate a course. Overall, however, SAP Litmos is a powerful solution for small businesses and corporations.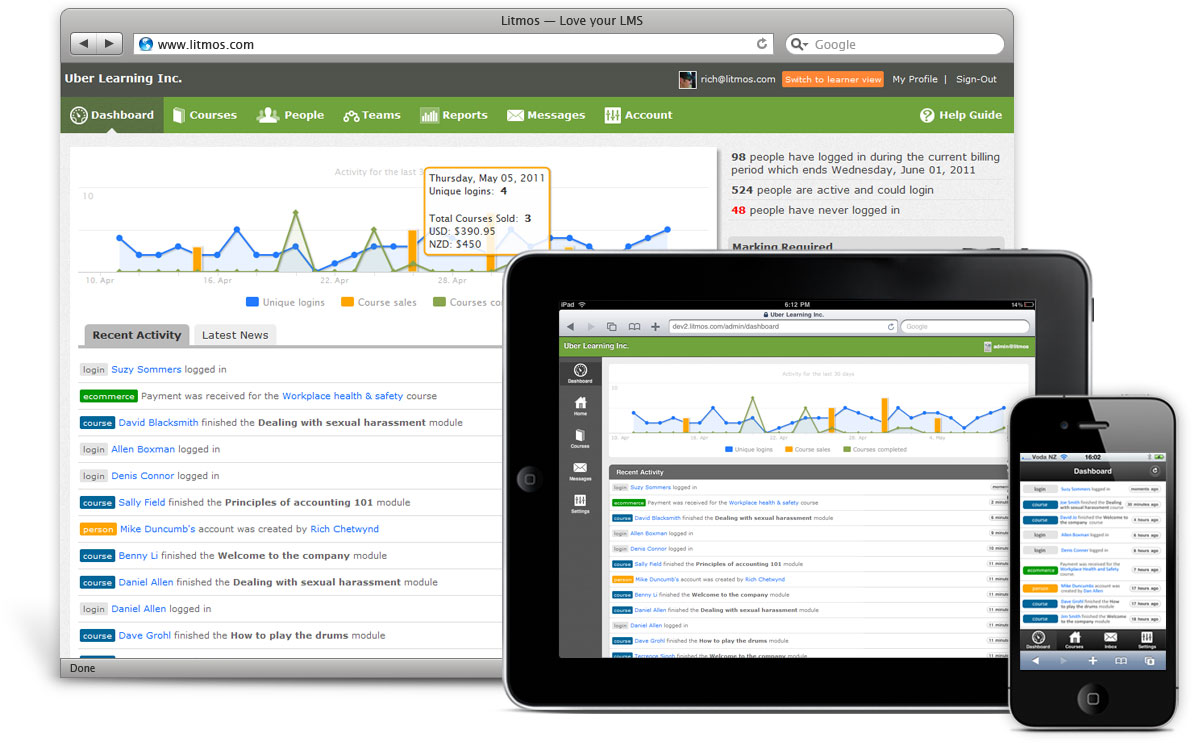 4. LearnUpon
LearnUpon is another modern, easy-to-use and highly affordable cloud-based learning management system that is particularly useful for large and midsize businesses.
It is ideal for companies aiming to create in-house training programs for different departments. The app has extensive user rights management features that are helpful for companies with multiple departments and complex hierarchies.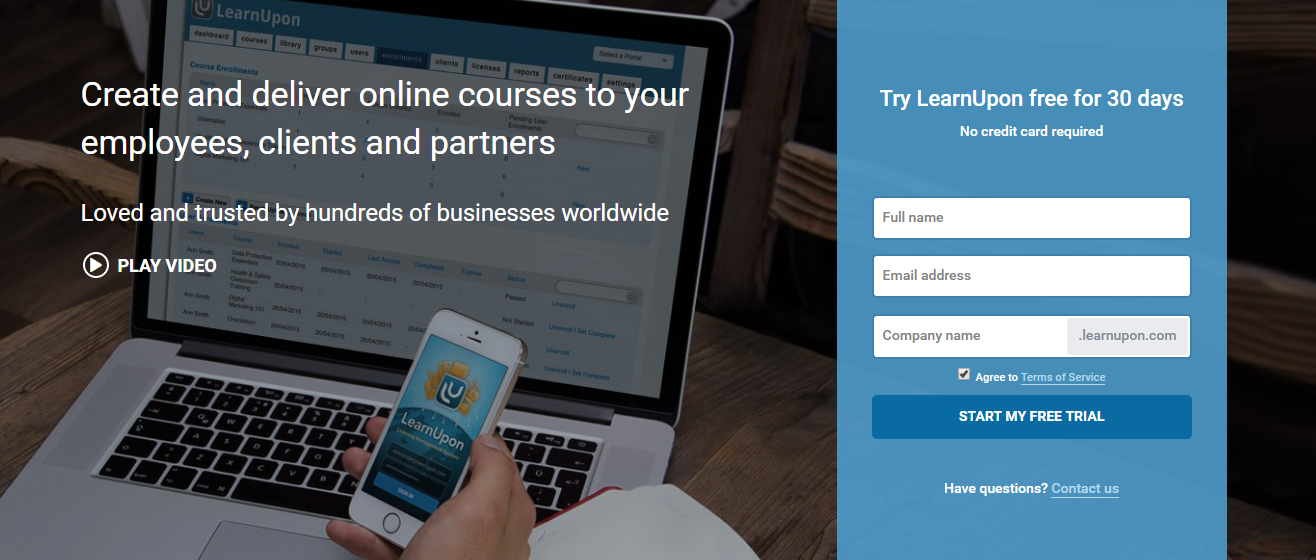 LearnUpon is another modern, easy-to-use, highly affordable cloud-based learning management system that is particularly useful for large and mid-sized businesses. Source: LearnUpon
LearnUpon also provides e-commerce tools and allows creators to sell their courses online or make them available to public audiences outside their company. It supports Salesforce integration and is accessible from an iPhone app as well. There is a 30-day free trial for one user account and access to up to 100 courses.
5. Educadium
At first glance, Educadium may appear old-fashioned and insufficient for modern training and learning needs. But a closer look reveals a powerful and robust learning management system with a rich selection of features at very affordable rates.
It's a popular LMS among educators because of its simplicity and ease of use. It allows instructors to create separate learning portals or public and private classrooms and assign different learning objectives to each of them. Course material can be uploaded in the form of videos, PDFs, Word documents or PowerPoint presentations.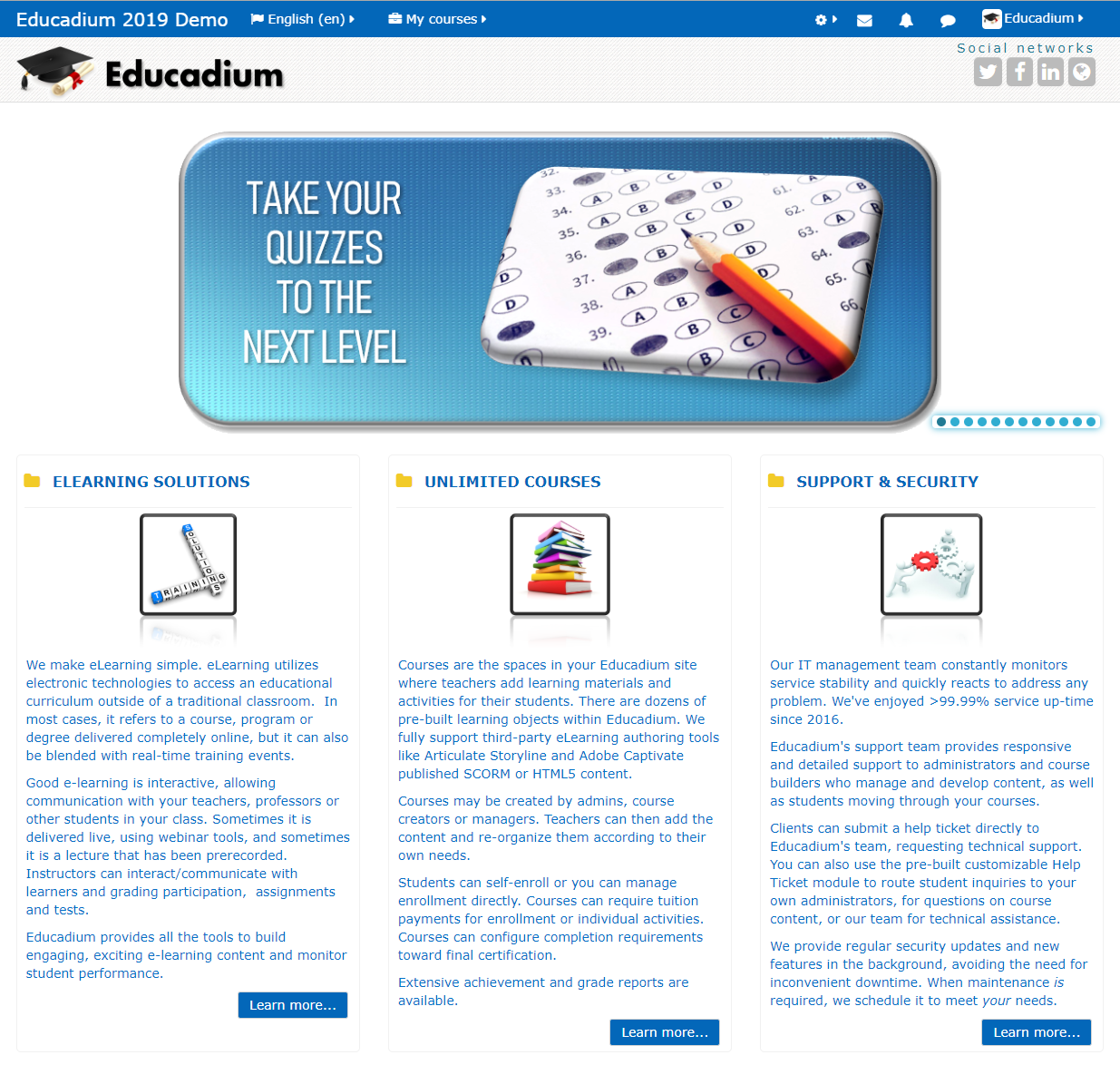 Source: Educadium
Students and teachers can even collaborate using live chat services. Plus, the platform comes with a variety of neat tools, like design themes and landing page templates, which come in handy while creating interactive online courses.
Which LMS should you choose?
Each of the learning management systems highlighted above offers valuable features at very affordable rates. However, they all differ in terms of the user experience, value-added tools and exact pricing. The decision to choose any of them really depends on your business requirements, budget and, more importantly, the objective you're trying to achieve.
Here are a few factors you should consider before choosing an LMS app for your company.
Audience size: The first thing you need to determine is how many employees will be using the system. If you have a large number of employees, you may need an LMS app geared toward corporate companies. These platforms will be better able to manage a large influx of enrollments.
Delivery method: Next, you should think about how to deliver the material to your employees. Do you want learning sessions to take place on a set schedule and for each task to have a specific deadline? Or do you want employees to be able to complete courses on their own time?
Special features: It's also a good idea to weigh any special features that come with the platform you're eying. For instance, can employees access the app on their mobile devices? Are there built-in discussion forums, and can users earn certificates for completing their coursework? How much do these bells and whistles matter to you?
The grading system: Consider how coursework is graded through the system and what kind of data you'll have access to. It may be helpful, for instance, if you can see the percentage of employees who have successfully completed each module and how long it took them. This can help you identify areas where the material is unclear and if your employees need more help.
As you search for the best LMS app for your organization, take advantage of free trials to test each system. Consult online reviews to gauge which of these platforms could be best suited for a company like yours. When you're ready to sign up with your vendor of choice, try to negotiate a short-term commitment in case you want to switch to another application down the line.
The right LMS app can make it easier to train remote employees, since team members don't have to be in the office to complete the digital coursework.
What are the benefits of using LMS apps for employee development?
An LMS app allows employees to study at their own pace and absorb the skills and concepts presented so they can further their professional abilities. It also allows managers and decision-makers to identify gaps in employee skills, tailor course material according to team member needs, and track progress. Above all, implementing a learning management system is usually a small one-time cost that can yield results for years to come.
Here are some of the biggest benefits of using an LMS app with your employees.
The content is available in one location. When you use an LMS app, all of your educational materials are available in one central location. This lowers the risk of losing important information. And if you're using a cloud-based app, your employees can access the information from anywhere.
It provides data about user progress. If you send employees to an all-day training event, you don't have any idea how much of that information they understood or even paid attention to. With an LMS app, you can monitor how your employees are progressing through the information. You can see whether they're reaching course milestones, passing quizzes, and whether or not there are certain areas where they need additional help.
It's less expensive than other training materials: When you invest in an LMS app, you can stop spending money on all-day training conferences, in-house trainers and printed materials. LMS apps are more effective than other types of training plans at a fraction of the cost.
The app provides interactive training materials: Employees can take quizzes, participate in online discussions, and watch videos explaining the concepts they're learning. This can make it easier for them to learn and absorb the material faster.
LMS apps are also a great complement to other professional development opportunities, like mentorship and one-on-one coaching. When you invest in employee skill development, you signal to your staff how much you care about their role at your company. This is great for boosting employee retention, engagement and productivity.
Jamie Johnson contributed to the writing and research in this article.