The secret to making any restaurant operation successful is active management. Monitoring employee performance, offering top-notch customer service, and keeping an accurate inventory are all vital steps in ensuring that your restaurant runs smoothly and turns a profit. However, it's challenging to keep track of all this information on your own, in addition to establishing a protocol for ringing up customers, tracking sales and inventory, and so on. This is where the benefits of POS systems come into play.
Editor's note: Looking for the right POS system for your business? Fill out the below questionnaire to have our vendor partners contact you about your needs.
The best point-of-sale (POS) systems offer a variety of devices and price points. There is an extensive range of point-of-sale providers in the market all with different offerings aimed at different ends of the market, from large restaurants to small cafes. These POS systems can be cloud-based or hybrid, depending on the needs of your business.
Whatever system you desire, an excellent POS system will provide the ability to monitor and control most functions of your business, either in-house or remotely. Sales reporting allows you to access better data on your market to make more informed decisions about staffing, pricing, and inventory. Understanding your customers' buying trends and monitoring sales performance data is crucial to continuous business growth.
Even owners of small restaurants find the needs of their store quickly surpass what they can handle on their own. That's why it's so crucial to invest in a POS system that can provide you and your employees with the technical support needed to keep daily operations running smoothly. 
How a POS system works
A POS system has two components: hardware and software. The hardware includes all the devices necessary to ring up a sale and capture payment information. It can include a cash drawer, credit card reader, receipt printer, and barcode scanner. With a mobile POS system, the tablet or mobile device is all the hardware you need.
The POS software works behind the scenes to capture and process payments, track inventory, collect customer data, and send reordering alerts. These systems can integrate with third-party apps or your existing back-office systems, giving you the ability to run your commerce operations from one dashboard.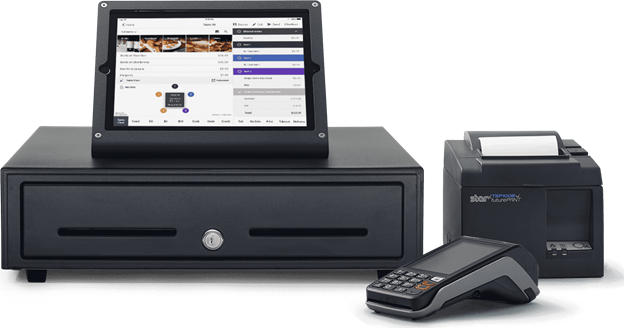 Top 12 benefits of POS systems for restaurants
For restaurant owners, a POS system can be very helpful. It can manage everything from inventory to wait staff, taking a lot of the complexity out of running a restaurant. Tools available through POS systems enable restaurant owners to track ingredients as dishes are prepared and beverages as they are consumed. The systems also let you run reports in real-time – that way, you'll know if an item is doing well or if it should be removed from the menu. Here are the main benefits of modern POS software. 
1. Cloud-based operations
Internet-based systems let you check in with your store (or stores) from virtually anywhere in the world; all you need is an internet connection. Thus, a well-equipped POS system can give you the freedom to manage your store remotely, whether you're sick at home, on vacation, or have multiple stores to operate.
The back-of-house software that runs on the POS hardware is equally important as your POS solution. A powerful cloud-based, back-of-house system makes it easy for you to update your product list, change prices, set up new staff clerks, set system security, and more within a few touches.
Most advanced POS systems are hosted in the cloud. That makes it easy for you to run operations and access your sales data from anywhere.
2. Reduction in errors and theft
Since everything is stored on the computer or in the cloud, every sale, refund, and incoming piece of merchandise is automatically recorded. That makes your inventory far more accurate. No more fixing human errors when it comes to counting and calculations.
The National Restaurant Association reports that 75% of all shrinkage in inventory happens as a result of stealing – with a majority of the theft by the restaurant's employees.
A modern point-of-sale system helps you track the various transactions that occur on your POS – this helps to minimize theft in your business. You can monitor every time the No Sale button is pressed to pop the cash drawer open, when discounts are given, and how refunds are processed.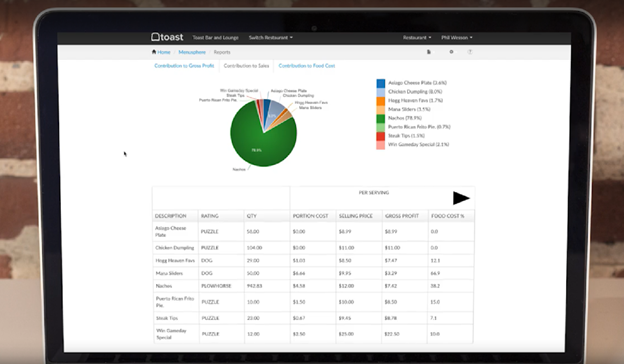 3. Improved service speed
Few things slow down service more than an overbooked restaurant or an overwhelmed kitchen. POS software can help prevent that by streamlining operations. Through a POS, you can manage your restaurant floor plan, making sure you're not overwhelming some waitstaff and underutilizing others. It can also send orders directly to the kitchen, bypassing manual entry and reducing the likelihood of mistakes. 
4. Automation of tasks
Time is money, and the more time spent on ordering food and supplies the less you have to grow your operations. POS systems have built-in timesaving features that can be beneficial to busy restaurant owners. You can set up your POS to alert you when ingredients for items on your menu are low or when supplies need to be replenished. Some POS systems will also place orders for you. You can also automate reports by having them run automatically and sent to your email.  
5. Identification of hot-selling items
You can monitor the popularity (or lack thereof) of each piece of merchandise or menu item in your restaurant. This allows you to place orders far in advance to avoid running out of "hot items," as well as give you the opportunity to jettison any goods that are merely languishing on the shelves.
6. Ordering at the ingredient level
Restaurant owners have more complex inventory tracking needs than retailers. They have to worry about not only a popular dish selling out but also the ingredients that go into it. They need detailed inventory management and tracking, and that is where a POS system comes in. These systems let restaurant owners track menu items at the ingredients level to ensure the chef has enough supplies to make everything on the menu.
To keep costs in check and your profit intact, figure out how much each menu item costs to the ingredient level. A POS system can help you spot if you are paying too much.
7. Better customer service
A well-designed point-of-sale system saves your staff time, which translates into better customer service and better profit margins. Importantly, POS software that is intuitive ensures your staff can quickly and accurately process orders, which helps with guest management. For instance, it is far quicker for a staff member to punch an order into an iPad than it is to write one down and peck it into a cash register. For a busy restaurant or bar, as an example, you can print tickets directly to the kitchen or bar printer, which can speed up the order delivery.
8. Time savings
Since daily operations run like clockwork when your restaurant uses a POS system, you'll have more time for brainstorming or strategizing. You'll be able to catapult your restaurant to the next level when you take advantage of the built-in features and functions. With everything from employee time management to real-time reporting data, you'll have more freedom in your business. These types of elements aren't available in a simple cash register.
9. Better business insights
Many POS systems have built-in reporting capabilities that restaurant owners can use daily to get a snapshot of sales and how the restaurant is performing. A POS system also collects a lot of data about patrons, which can be used to inform future business decisions.
Owners can run reports on sales, credit card or digital payment transactions, sales for individual employees, and inventory. Reports can be run in real-time and because the data resides in the cloud with most modern POS systems, you can access the data whenever, wherever.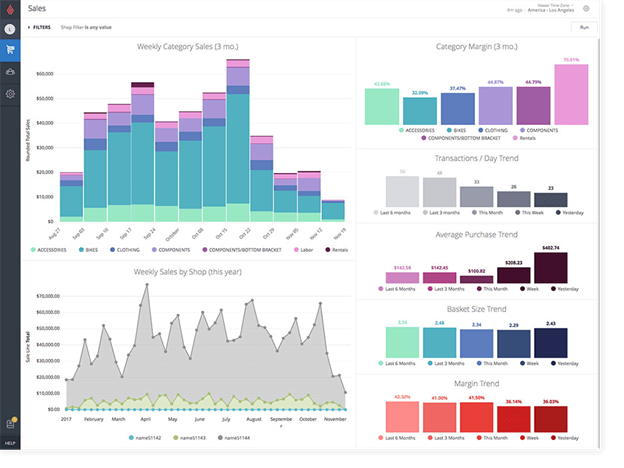 10. Kitchen staff kept in the loop
A surefire way to have a backup in the kitchen and angry customers in the dining room is to not have clear communication between the chef and the wait staff. If things are lost in translation it can create serious headaches.
A POS system takes the guesswork out of the communications. Instead of having servers run to the kitchen or bar to place and orders, they do it on the POS. The tickets are then sent directly to the kitchen, eliminating any confusion or miscommunications.
11. Built-in loyalty programs
Restaurant owners want customers to come back often, but rewarding customers through a loyalty program can be cumbersome and time-consuming if they DIY it. POS systems make it easier with built-in customer relationship management and loyalty software.
Many POS systems give you tools to track information about customer preferences, such as the time they eat and any allergies they may have, and design promotions around that information. Let's say you have several customers who like to eat at 5 p.m. You may want to run an early bird special to reward those customers.
Also, POS systems with event tools allow you to program your promotions into the POS, which then easily handles the deals and discounts.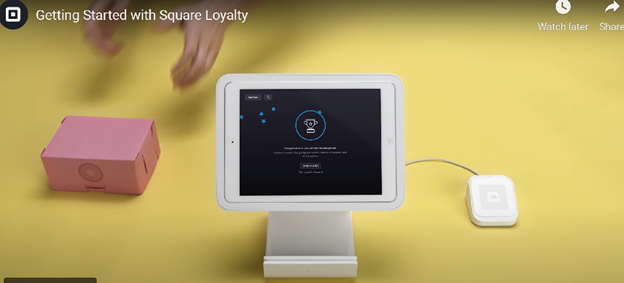 12. Staff schedule management
High turnover is a fact when running a restaurant, particularly during the COVID-19 pandemic. The last thing you want to do is overstaff or understaff the dining room floor on any given day. A POS system can automate scheduling to make sure there aren't any imbalances. It can also track days off and can act as a time clock, automating many of the business's labor-management processes.
Choosing the best POS solution for your restaurant is a tough decision. Be careful when selecting software and hardware, and make sure it's right for your business objectives. Also, be cautious of POS companies who try to upsell you features that you will never use. [Read related article: How Much Does a New POS System Cost?]
With the aid of a modern POS system, you can streamline multiple restaurant processes – from order entry to staffing to ingredient inventory – and view real-time sales reports that quickly give you insight into where your business stands each day, giving you more control over your company while allowing your business to grow and thrive.

Top POS systems to consider 
When it comes to choosing a POS for your restaurant, there are many options to consider. But we found through our research the best ones made it simple to better run your operations. The ones we selected as our best picks let you manage your sales, staff, floor plan, menu and kitchen from one dashboard. You can create loyalty programs and run detailed reports, offering a slew of functionality at an affordable cost. Below is a look at some of the POS systems we found best suited for restaurant and cafe owners. 
TouchBistro is an easy-to-use POS system that makes managing a busy restaurant a breeze thanks to drag-and-drop table management tools. With them, you can create floor plans and track how frequently tables turn over to ensure maximum occupancy. TouchBistro also offers a robust inventory management system that lets you track menu items all the way down to ingredient level. You can even see how much each menu item costs per ingredient, that's a standout feature, we like about TouchBistro. That can make budgeting even more accurate. We also found through our review of TouchBistro that it has many built-in customer management tools and loyalty program features.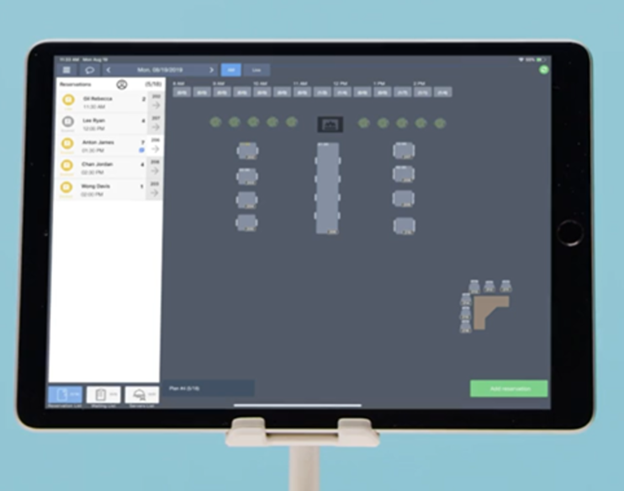 Toast is another popular POS system for restaurant owners. Its tableside service lets servers take orders and collect payments at the table via handheld device. That speeds up the process, which means more table turnover and thus more sales. We found in our comprehensive review of Toast that it offers robust reporting and analytics tools that give you insight into sales, staffing and costs. We also like its menu management feature. It lets you update and edit your menu on a smartphone. You can also add short-term deals and discounts without being in the restaurant.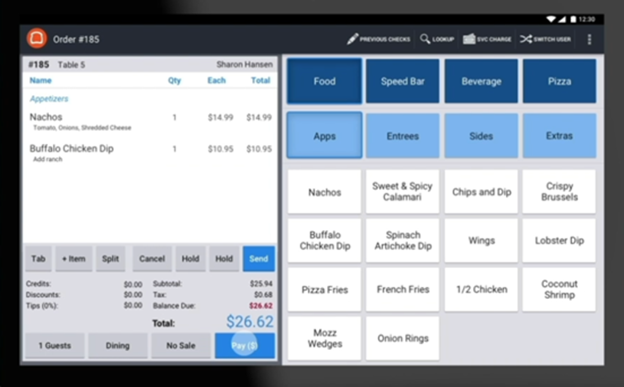 Upserve is a perfect choice for busy restaurant owners who want to manage their business on the go. It has a mobile app for Android and iOS devices that lets you track performance and respond to inventory and staffing issues in real-time. You can also stay on top of staff performance, sales performance and labor costs from your tablet or smartphone.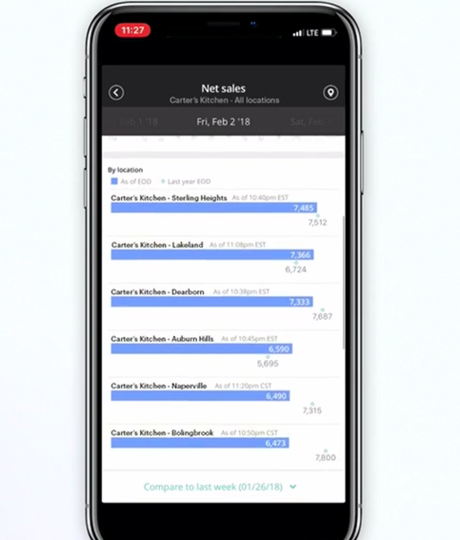 We also found that Upserve offers a detailed menu analytics tool that lets you easily identify items that aren't selling well and ones that need more inventory. It can even show you which menu items make up the majority of sales.