GoDaddy is our choice for the best POS system for e-commerce businesses. This powerhouse platform has multiple POS plans for building websites and online stores, tracking sales and customer data, and accepting in-person, online and virtual payments.
Pros
You can accept payments online, in person, via pay links and through a virtual terminal.
GoDaddy can track online and offline sales in one dashboard.
Payments are secured with end-to-end encryption and strict PCI compliance.
You can use the GoDaddy Payments Hub to view all your online and POS transactions, receipts and returns in one place.
Cons
GoDaddy doesn't allow third-party payment processing.
The introductory rates are great, but they can increase quite a bit once you renew.
Scalability may be an issue for some larger companies.
GoDaddy is our choice for the best point-of-sale (POS) system for e-commerce businesses. E-commerce and brick-and-mortar stores require different POS system setups. Whether you must process online or in-person payments (or both), GoDaddy has you covered. GoDaddy offers standard POS tools and hardware for in-store purchases along with advanced e-commerce features like domain names, website and online store creation, marketing and loyalty tools, and competitive payment processing rates.
GoDaddy POS Editor's Rating:
9.2 / 10
Price/value

9.2/10

Features

9/10

Customizations, add-ons and integrations

9/10

Ease of use

9.7/10

Customer service

9.1/10
Why We Chose GoDaddy for E-Commerce
When we tested GoDaddy, it became abundantly clear that it dominates the e-commerce space among POS systems. Instead of merely offering essential retail POS system features like many competitors, GoDaddy provides POS platforms and features for in-person and online sales. For example, you can use GoDaddy to purchase a domain name, build a company website, set up an online store, and accept online and in-person payments (via online, physical and virtual terminals).
We're also impressed that GoDaddy provides marketing and loyalty tools to help businesses connect with their target audiences. GoDaddy also offers must-have POS features like reporting and analytics so business owners can make informed business decisions. We appreciate that GoDaddy is exceptionally easy to set up. Unlike many competitors, it comes with a 30-day guarantee – so if your e-commerce business isn't satisfied, you'll get your money back.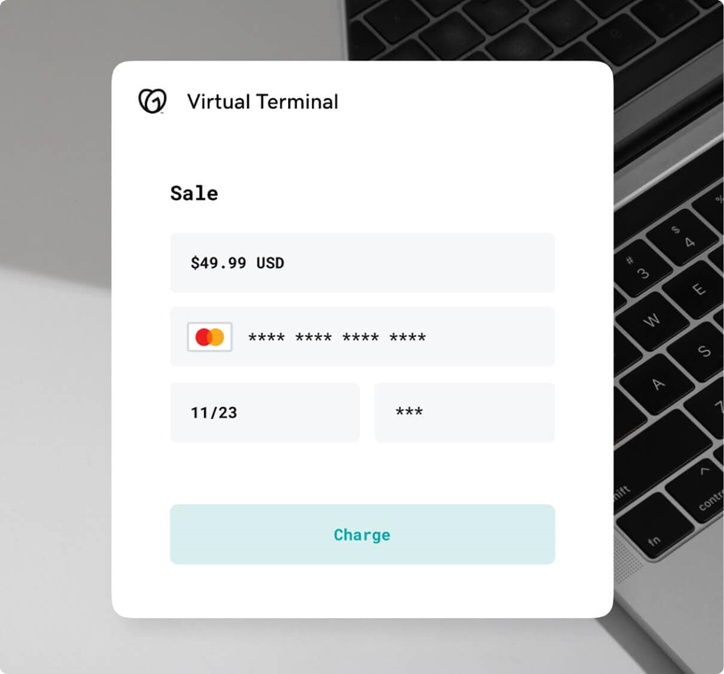 GoDaddy's virtual terminal transforms your personal devices into credit card terminals without additional hardware. Image source: GoDaddy
Ease of Use
GoDaddy's ease of use impressed us. It offers intuitive software with straightforward installation and usability. There's also a mobile app for iOS and Android users. Its cloud-based POS software can be used in-store, or you can use the mobile app and a card reader for a mobile POS solution. You can also use its virtual terminal with a smartphone or laptop.
We like that GoDaddy's hardware can integrate with third-party accessories so that you can easily set up a customized system that suits your needs. The platform supports integrations, which is great for streamlining processes, and you can track sales and payments from one central location. GoDaddy also offers online appointment-booking features – something we haven't seen in many other POS systems we reviewed.
We especially appreciate how easy it is to navigate and learn GoDaddy's system. The onboarding process stands out from competitors'. And you'll even learn how to customize your website with your products.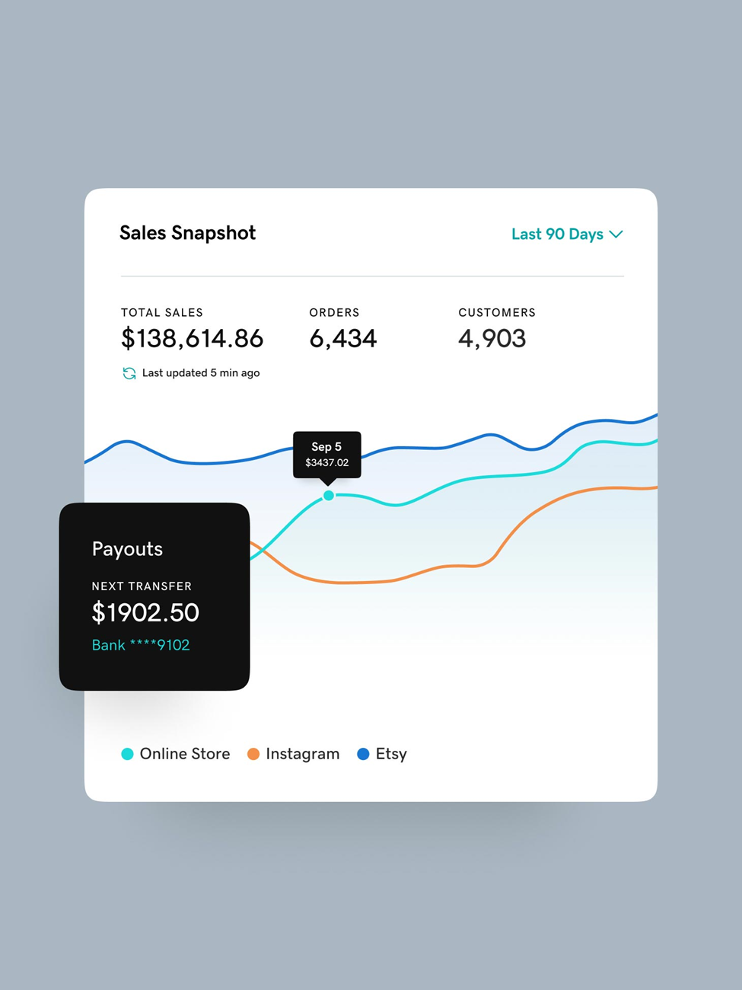 GoDaddy tracks sales from multiple outlets (e.g., online store, social media) in one location. Image source: GoDaddy
GoDaddy POS Features
Like its competitors, GoDaddy's POS features help you accept and manage customer purchases. However, GoDaddy differs from the competition, with a wealth of additional tools to help you build and run your e-commerce business.
Website and E-Commerce Features
GoDaddy is notorious for its website-building capabilities, and these features are integral to its POS plans. We like that each POS plan has website builder templates, custom domain connections, and a website and marketing analytics dashboard. These aren't features found among many competitors. The Commerce and Commerce Plus plans also have extensive online store and marketplace selling features far above what many competitors offer. With the Commerce plan, you can list up to 5,000 products; with the Commerce Plus Plan, you can list an unlimited amount. 
We especially like that GoDaddy offers advanced online tools like online auto-inventory, product syncing and abandoned shopping cart recovery. All inventory can be tracked within the GoDaddy Commerce Hub. You can also sync your online product catalog with your in-store device to avoid over-selling.
Payment Processing
While some competitors integrate with third-party payment processors, GoDaddy offers in-house payment processing through GoDaddy Payments. It's typically beneficial for users to have the option to integrate with external payment processors. Still, GoDaddy's payment processing rates are highly competitive in the industry, making its in-house payment processing a desirable feature. 
With GoDaddy, users can process credit and debit card payments, contactless NFC mobile payments, and online payments. If you must accept payments through a virtual terminal, GoDaddy has your back. We like that GoDaddy doesn't charge transaction fees for purchases and that payments can be processed and received in a single business day.
When testing GoDaddy, we noticed a unique payment feature called Pay Links that can be especially useful for online users. Pay Links lets businesses create and send customized online payment requests to customers so they can pay without visiting an online store or website. You can also create a QR code for your customers to scan and access the link.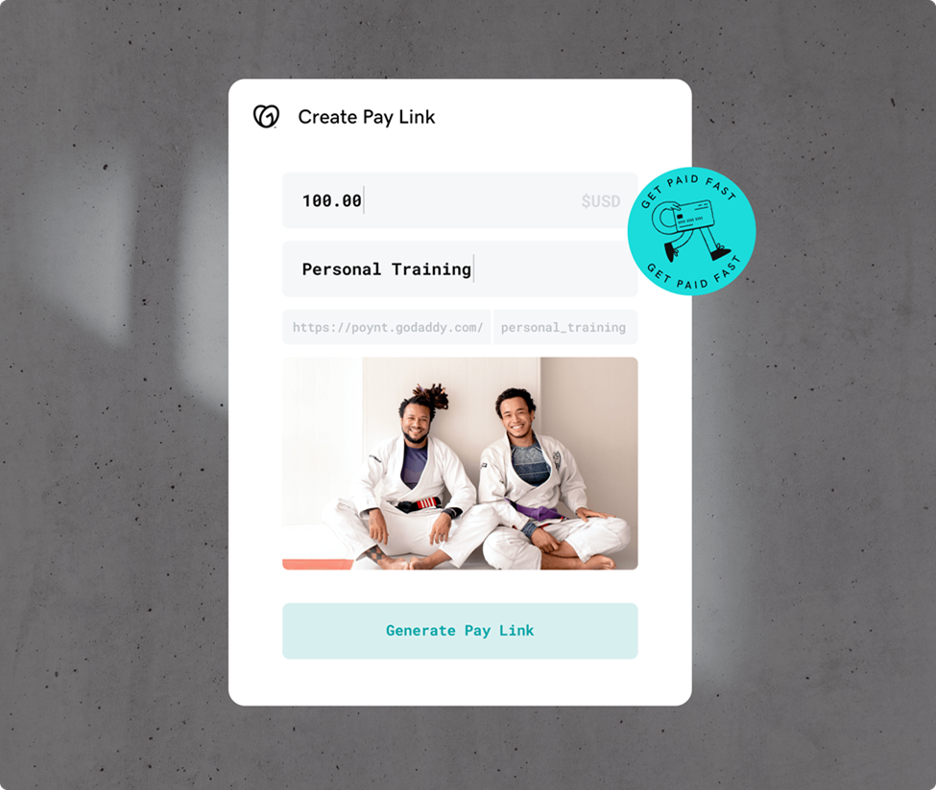 Create GoDaddy Pay Links to request online payments from customers. Image source: GoDaddy
Customer Loyalty and Marketing
GoDaddy's customer loyalty offerings are on par with those of other vendors in the POS industry. For example, some GoDaddy plans include discounted and promotional features like coupons, sales badges and gift cards. If you really want to reach your target audience online, GoDaddy also provides e-commerce marketing tools like business listings, social media posting and scheduling, email subscriber signup forms, and shopable social posts.
Analytics and Reporting
GoDaddy offers analytics and POS reporting capabilities, which is standard for the industry. For example, you can access a website and marketing analytics dashboard. If you accept payments, you can track sales across all channels through one dashboard. The GoDaddy Payments Hub is also useful for viewing all transactions, returns and receipts simultaneously.
Your analytics dashboard is also where you'll track revenue, customers and inventory. We especially liked the GoDaddy InSight tool, where you'll see suggestions and data based on your customers to develop forecasts for future marketing campaigns.
GoDaddy POS Pricing
We like that GoDaddy offers multiple POS plans and is upfront about what each plan costs and includes. You can choose from four plans, depending on which features you need. 
Here is a breakdown of GoDaddy's software pricing:
| Plan | Starting price (monthly) | Features and services |
| --- | --- | --- |
| Basic | $6.99 | Website building, POS and payment processing, a commerce and payments hub, design and content, and marketing |
| Premium | $13.99 | Everything in the Basic plan, plus more comprehensive online appointment features |
| Commerce | $14.99 | Everything in the Premium plan, plus an online store and marketplace selling |
| Commerce Plus | $29.99 | Everything in the Commerce plan, plus more automated features |
We also like that GoDaddy offers a one-year limited warranty and a 30-day refund on its devices. 
Here's a breakdown of GoDaddy's hardware pricing:
GoDaddy Poynt Smart Terminal: $249.99 per device (typically $499.99)
GoDaddy Poynt Card Reader (with charging dock): $49.99 per device (typically $99.99)
As mentioned earlier, unlike some POS vendors we reviewed, GoDaddy doesn't integrate with third-party payment processors. Instead, it processes payments in-house with GoDaddy Payments. We found its payment processing rates to be highly competitive:
Online cards: 2.3 percent + $0.30 per online transaction
In-person cards: 2.3 percent per in-person transaction
Virtual terminals: 3.3 percent per virtual terminal transaction
Another nice feature we liked is that select plans include a seven-day free trial. Although some competitors we reviewed offer a free trial up to 30 days, some don't offer any free trial, so we think GoDaddy's trial period is sufficient.
GoDaddy recommends its Smart Terminal for physical store owners and its Card Reader for on-the-go businesses. You can purchase any POS system software plan with these devices, but we recommend the Commerce or Commerce Plus plan if you need e-commerce capabilities.
Implementation and Onboarding
We were impressed that companies can get started with GoDaddy quickly. GoDaddy POS systems come with free two-day shipping (after POS orders are approved). This speedy service means you can be up and running in no time.
Once you have the GoDaddy POS system, you can get started right away – there's no extra software to install. The Quick Start Guide included with your device shows the steps needed for implementation. If you have compatible accessories like printers, cash drawers and barcode scanners you want to connect to your GoDaddy Smart Terminal, the process is relatively easy and requires no advanced tech skills.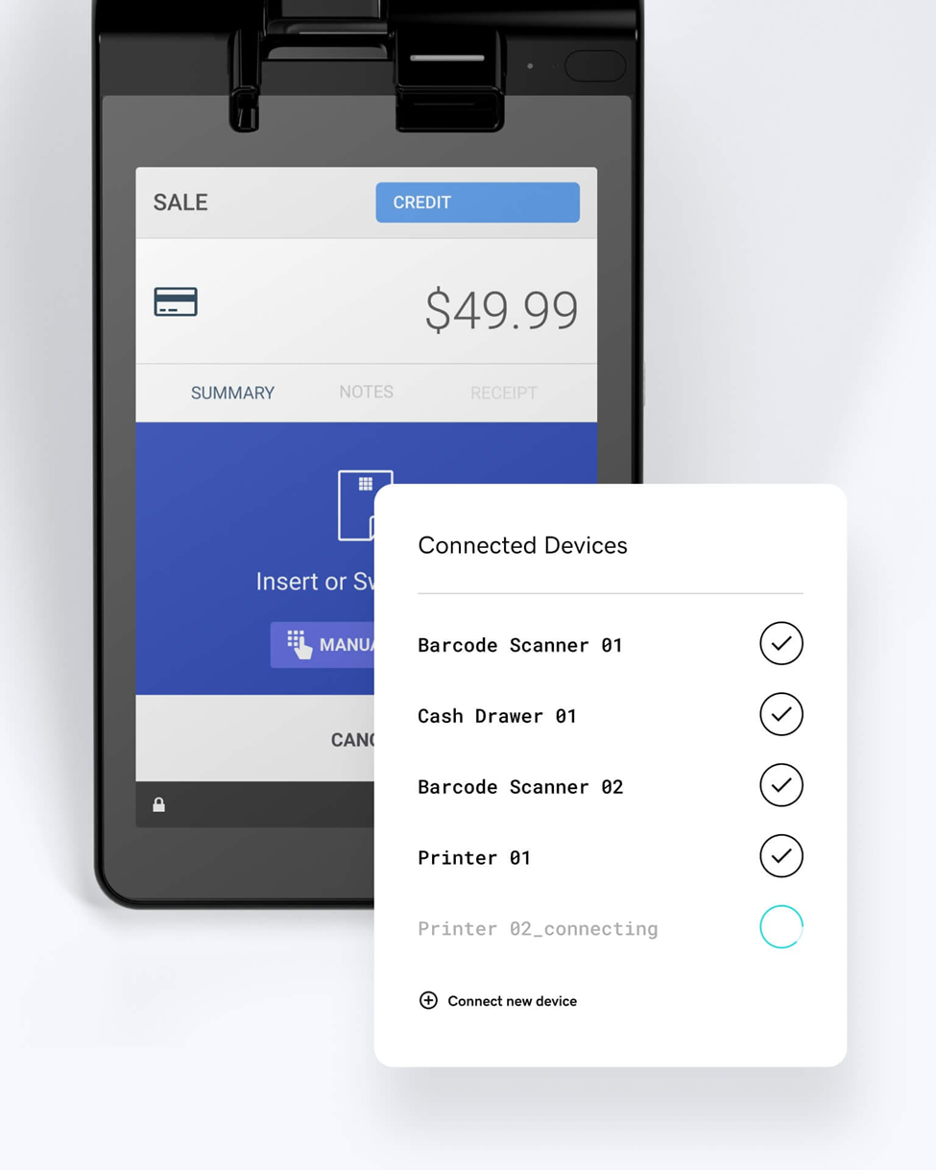 GoDaddy can connect securely to compatible accessories like printers, cash drawers and barcode scanners. Image source: GoDaddy
Customer Service
We were impressed that GoDaddy offers a wealth of customer support on its website. You can access a searchable help center, view how-to videos and blog posts, and request more information from an online community. To speak with a representative directly, you can contact GoDaddy support by phone or live chat. On average, you should get a response from live chat in less than two minutes. Support is available 24/7, which is on par with the industry standard.
GoDaddy is accredited with the Better Business Bureau and received an A+ rating from the agency, which we like to see in our best picks. Not many competitors can make the same claim.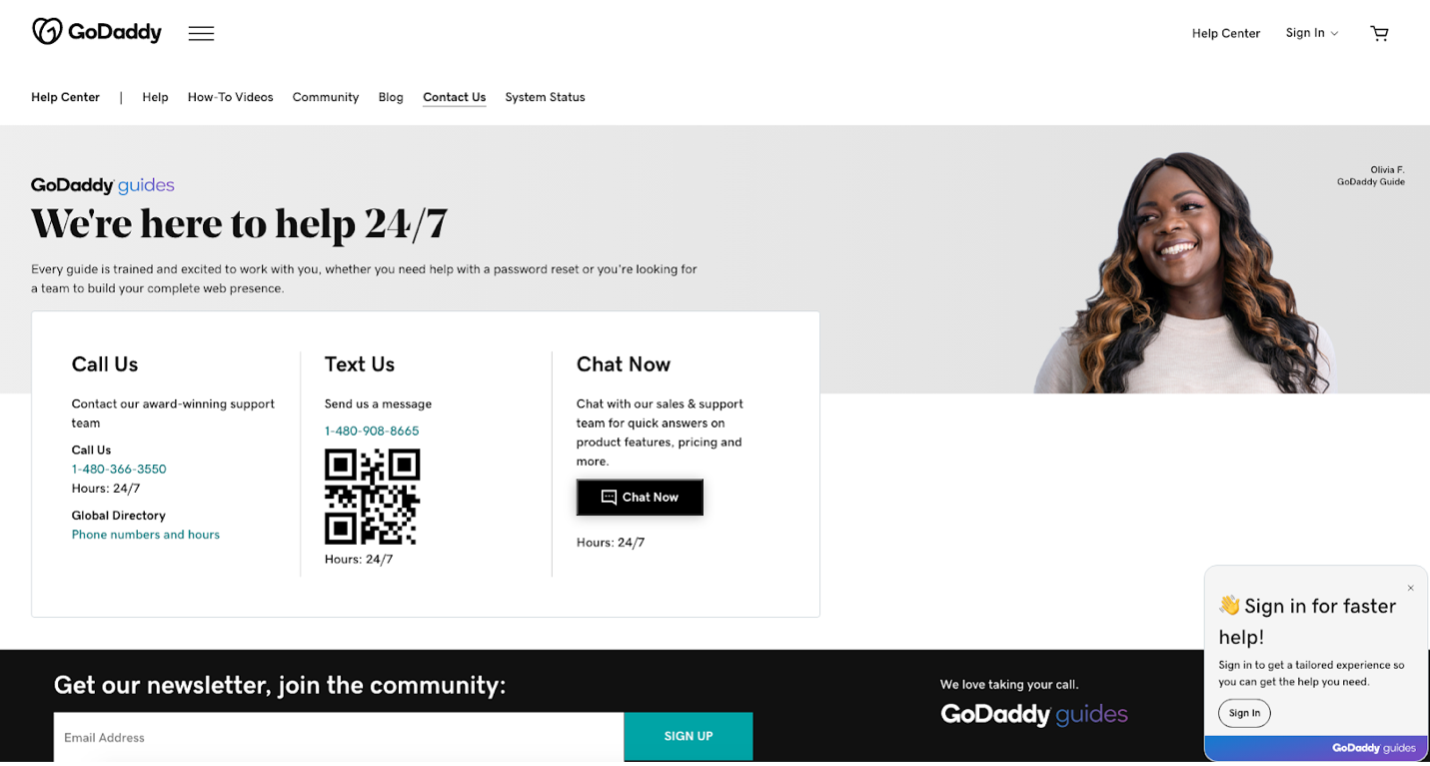 GoDaddy's award-winning support team is available 24/7. Image source: GoDaddy
Limitations
GoDaddy has many upsides, but we found a few drawbacks:
Limited hardware selection: GoDaddy's hardware selection is limited compared to competitors. It offers the essentials for accepting customer payments with its Smart Terminal (a dual-screen device with a built-in payment processor, barcode scanner and receipt printer) and its Card Reader, but that's all. 
Extra-cost accessories: We like that the GoDaddy Smart Terminal includes a power adapter and docking station to connect third-party hardware and accessories like wireless printers and cash drawers. However, you'll need to purchase these items separately. (If you're searching for a top POS system with a broader variety of hardware and accessories, check out our Clover review and our Toast review.)
In-house payment processing only: Another potential drawback is that GoDaddy processes payments in-house with GoDaddy Payments, so you won't have the option to outsource your payment processing to a third party. This isn't necessarily bad, because GoDaddy's processing rates are highly competitive. Still, it's something to consider if you intend to use another payment processor. (If you want the option to use a third-party processor, read our review of Lightspeed.)
Due to the above limitations, larger companies might face some issues when scaling. Existing GoDaddy customers with e-commerce businesses already set up through GoDaddy will benefit a little more than non-customers.
Methodology
We researched and analyzed dozens of POS systems to identify the top industry solutions to help businesses choose the right POS system for their needs. We examined pricing, contracts, hardware, platform compatibility, features, reports, payment processing, integrations, usability and customer service. We watched product videos and got hands-on experience with demos when possible. When looking for the best POS system for e-commerce specifically, we prioritized e-commerce functions, payment processing, integrations and implementation.
GoDaddy POS FAQ
GoDaddy provides a built-in payment gateway called GoDaddy Payments. GoDaddy Payments can be used for its commerce tools, such as online stores, managed WordPress sites, Pay Links and virtual terminals. GoDaddy Payments is great for managing stores with online ordering and in-person pickups.
GoDaddy offers several POS hardware options, including the Poynt Smart Terminal. This dual-screen device has a built-in payment processor, barcode scanner and receipt printer. It's a one-stop-shop device for accepting customer payments and recording sales and customer data. The Smart Terminal also comes with a power adapter and docking station to connect it to other POS accessories. We like how analytics is integrated into the free app, the Poynt website and the terminal, making these details highly accessible for e-commerce business owners.
Bottom Line
We recommend GoDaddy for …
Retailers that want to sell products online and in-store.
Companies that want their POS system to integrate with their website.
Companies that want their POS system implemented quickly and easily.
Merchants that want to accept mobile payments.
We do not recommend GoDaddy for …
Companies that want to use a third-party payment processor.
Restaurants looking for a wide range of hardware.
Quinn Springett contributed to this article.