Toast Review

A point-of-sale (POS) system provides the hardware and software businesses need to manage day-to-day operations. If you're looking for an intuitive, all-in-one POS system for your restaurant, Toast is one of the best options available – especially if you need extensive online ordering and delivery services. Whether you run a mom-and-pop bakery or multiple restaurant locations, Toast likely has a solution to fit your needs. The cloud-based software is conveniently accessible online and offline. We also like the commission-free online ordering features and on-demand fleet of delivery drivers.

Toast
The Verdict
Toast is our pick for the best POS system with an online ordering feature for restaurants. The software also includes useful delivery and payment processing features, making it the ideal option for food establishments.
Toast Editor's Score: 9.5/10
| | |
| --- | --- |
| Pricing/value | 9.4/10 |
| Features | 9.7/10 |
| Customizations, add-ons and integrations | 9.1/10 |
| Ease of use | 9.7/10 |
| Customer support | 9.4/10 |
Why We Chose Toast for Best Online Restaurant Ordering
Toast is a flexible POS solution that can accommodate restaurants of various types and sizes. It's a good option for bars, bakeries, cafes and restaurants that offer casual or fine dining. We like that you can use Toast to accept payments, manage front- and back-of-house operations, and enable online ordering for your customers. Toast offers a wide selection of restaurant-specific hardware, as well as helpful software add-ons such as online ordering, delivery services, and loyalty programs.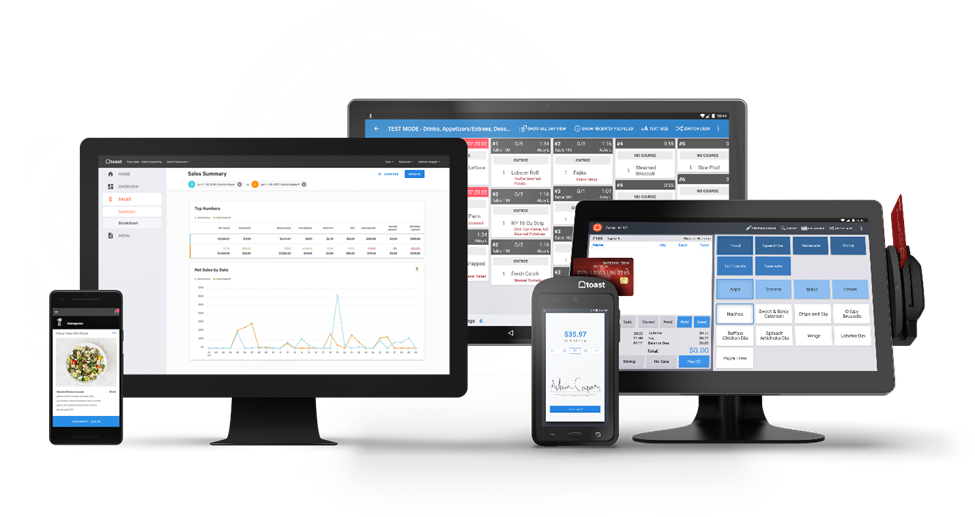 We especially like that Toast's online ordering system doesn't charge you a commission, and guests can easily order and schedule meals online. Toast's online ordering system is completely integrated with its POS, and you can throttle orders when needed. We also love that Toast offers an on-demand fleet of delivery drivers, which not many competitors offer.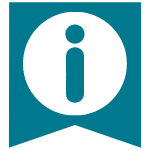 Did you know? According to Toast, the average client saves $36,000 per year by taking advantage of its online ordering feature.
What We Like About Toast
There is no commission for using Toast's online ordering features.
You can use the POS to control ordering flow during peak times with dynamic order throttling.
You get access to an on-demand network of delivery drivers with Toast Delivery Services.
With Toast Order & Pay, guests can order online while seated in your restaurant.
The platform gives you access to real-time data about your customers, menu options, and restaurant staff – and also sends reports of these analytics, so there's no need to check it all the time.
What We Don't Like About Toast
Toast doesn't integrate with third-party payment processors.
The company doesn't list the cost of its hardware and accessories online.
Is It Easy to Use?
Toast's POS is fairly intuitive and easy to use. We like that the company offers a variety of hardware options to simplify the server and customer experience. For example, servers can easily take orders, collect payments and request guest feedback using Toast's handheld technology – think tablets explicitly for restaurants. This speeds up the ordering process and improves the customer experience. An exciting feature we didn't see many competitors match is the Toast Order & Pay add-on, an impressive mobile solution that allows dine-in guests to order and pay from their phones.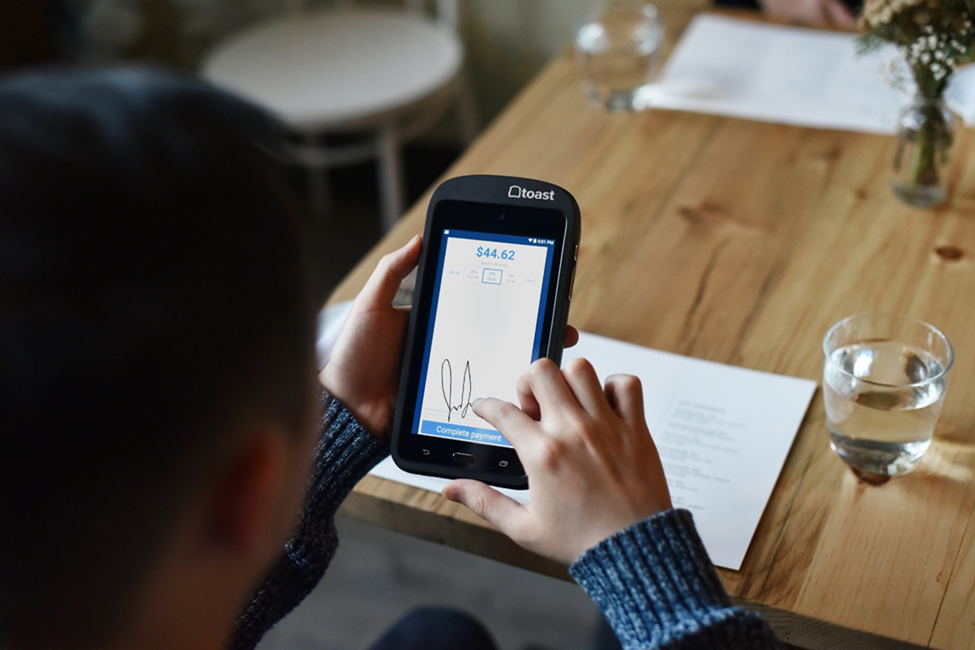 Features
Toast's all-in-one POS system comes with everything you need to run your restaurant. You get restaurant-grade hardware, ranging from handheld devices to self-serve kiosks. Because Toast is a cloud-based POS system, you can manage your restaurant from any device or location. Here are the main POS features that Toast has to offer.
Online Ordering
Toast's online ordering service is convenient for guests and creates a seamless experience for your restaurant as well. Customers can place a new order on your website or through your mobile app, and it goes directly to your kitchen, eliminating the risk of errors or double entries. Customers can also preorder their meals, allowing you to better manage your orders during peak dining hours.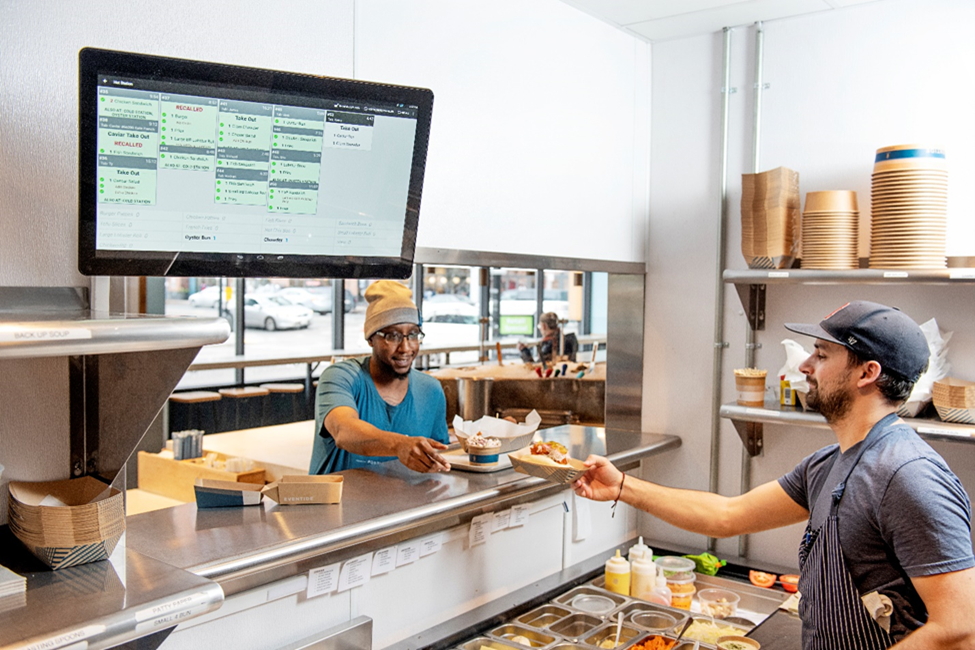 We like that anytime you update your menu, those changes are automatically reflected in the options available for online ordering. By offering this service, you can leverage a wealth of customer data to inform your marketing, menu, and business strategy going forward.
Best of all, Toast doesn't charge any commissions or hidden fees like some POS vendors do for online ordering. You'll just pay a flat monthly rate for the service.
Delivery Services
Delivery service is a huge benefit to your customers, but you may not want to hire your own delivery drivers. While some POS systems we reviewed can integrate with third-party delivery services like DoorDash, we like that Toast offers its own fleet of delivery drivers for restaurants to use. With Toast Delivery Services, a network of local drivers will be dispatched every time a customer places an online order.
Customers can schedule their orders and then track the delivery in real time, and every delivery is contactless. The benefit of using this service over a third-party provider like DoorDash is that the data remains in your system once the order is placed, helping you continue to build a relationship with the customer.
Order & Pay
A newer Toast feature that enhances its online usability is Toast Order & Pay at the Table. This add-on service allows customers who prefer in-person dining to place new orders and pay for their food on their own mobile devices. They can access the menu, modify their order and pay for their meal right from their phone while seated at a restaurant table.
This feature helps your restaurant operate more efficiently by minimizing the back-and-forth between guests and restaurant staff. Also, guests don't have to wait for a server to deliver their menu or the check, which speeds up your table turnover. While some competitors offer mobile apps, we like that this one is specifically intended for digital ordering while dining in-house. To learn about a POS with a mobile app built for restaurants, check out our Upserve review.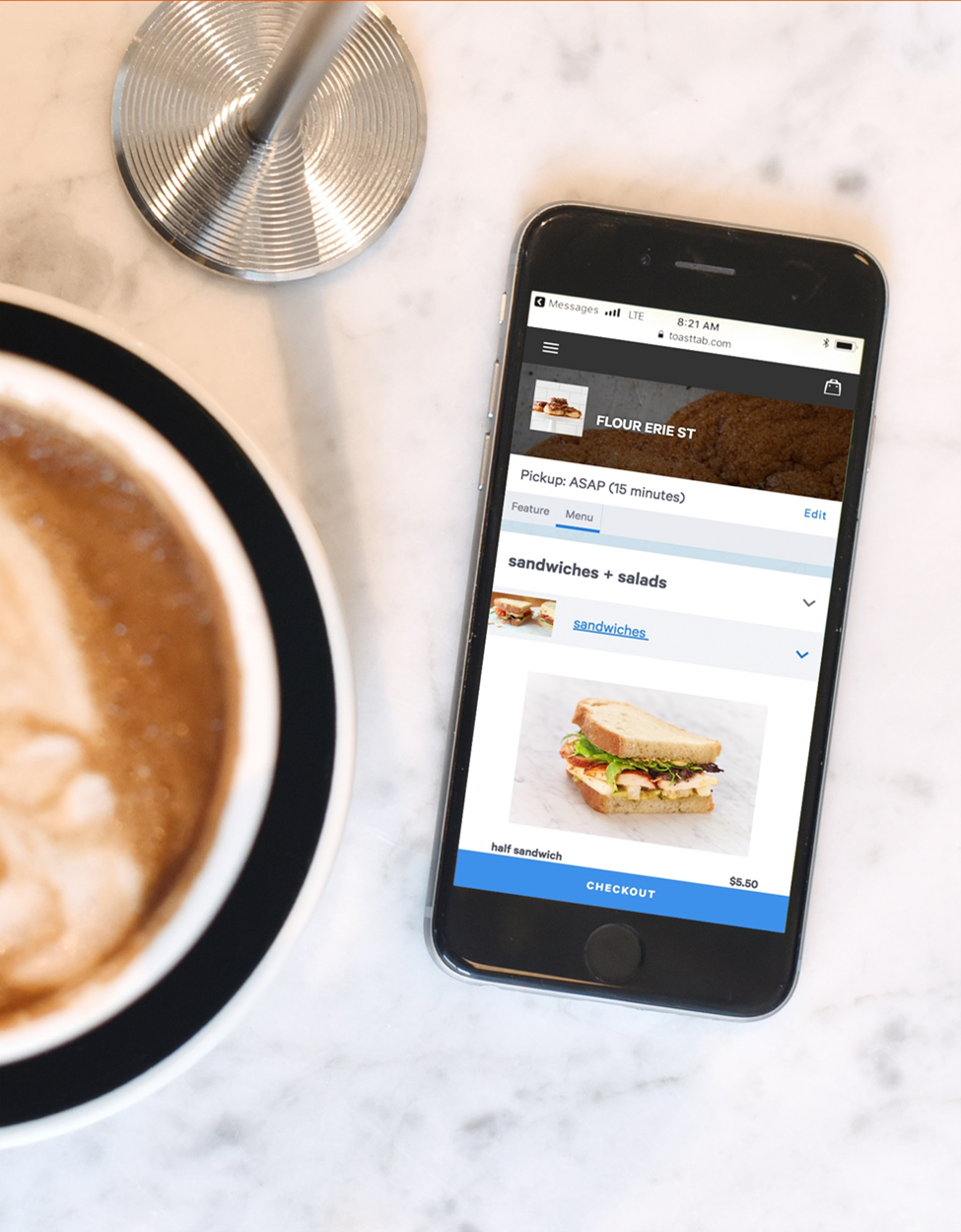 Loyalty Programs
You can use Toast to boost engagement and drive long-term loyalty from your customers. With the system's flexible loyalty program, customers can earn points every time they swipe their credit cards at your restaurant – or you can customize the way customers earn and redeem their points. For instance, you could offer birthday rewards and sign-up bonuses. Customers can use ToastApp (available on Android and iOS) to track their progress toward a reward at any point. You don't need additional hardware to implement this loyalty program, and Toast charges a flat monthly fee for the service, similar to other POS vendors we reviewed.
Reports and Integrations
We like that Toast can integrate with roughly 70 third-party applications. This is competitive with the industry standard and useful for streamlining business processes. Toast's detailed reporting features add to its usability, giving you insights on your restaurant's sales and costs, including how these numbers have increased or decreased over time. [Learn more about increasing restaurant profits.]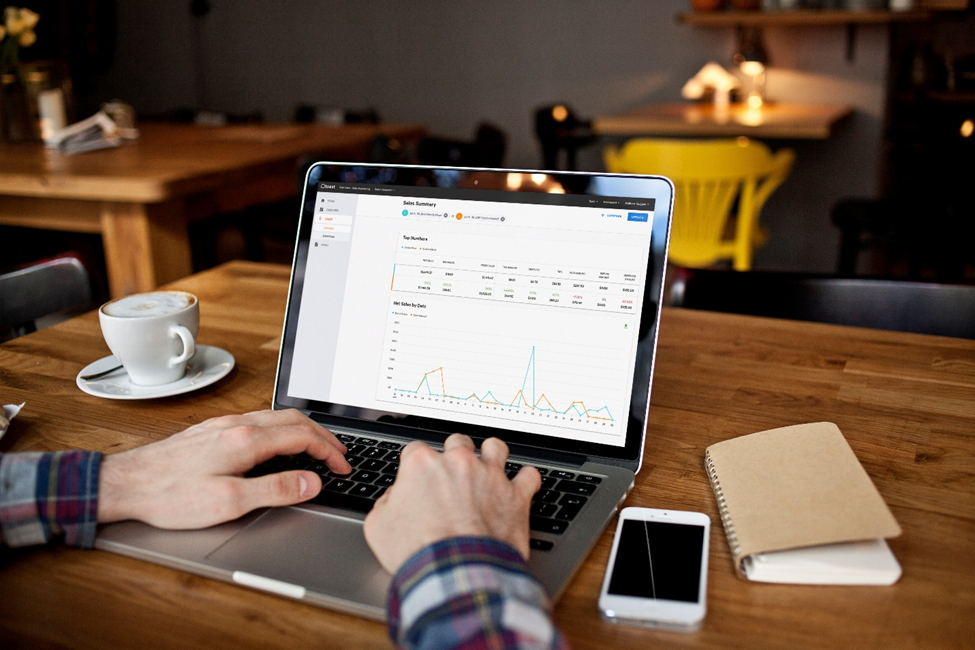 Pricing and Plans
Regardless of the size or type of restaurant you run, Toast offers flexible, customizable POS packages. There's a monthly software subscription, optional hardware costs and installation, and add-on features to choose from. One thing we really appreciate about Toast is its free Starter plan, which isn't something many competitors offer. It also offers the Essentials plan (starting at $165 per month), the New Restaurant Basics plan (starting at $110 per month, plus $4 per employee per month) and a custom plan (pricing based on the services you need).
These features and services are beneficial to most restaurants, but they cost extra:
Order & Pay at the Table
Additional hardware
Payroll and team management
Scheduling and team communication
Marketing, gift cards and loyalty features
Delivery services
Partner integrations
When testing out Toast's POS, we noticed it handles credit card processing internally, so you can't partner with a third-party payment processor. Toast will work with your restaurant to establish a payment processing rate that fits your needs.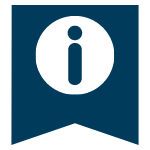 FYI: Toast offers flexible payment options for your credit card processing, including the option to make payments based on a percentage of your sales or a fixed monthly rate.
Implementation and Onboarding
We like that Toast offers multiple plans and add-on features so restaurant owners can create a POS package that fits their needs. You can begin with the Starter plan, grow with the Essentials plan, or create a completely custom plan. Toast also offers a more basic version of its Essentials plan with the New Restaurant Basics plan, which can be great for new restaurant owners. We like that you can choose from a variety of add-ons to customize Toast's POS plans. It may take a little while for you to select and tailor each option to your business, but the software can greatly streamline your restaurant's operations after implementation.
We appreciate how easy it is to modify Toast's POS as your business's needs change. For example, the menu management features allow you to update and edit your menu right from your smartphone. You can add short-term promotions and item countdowns, and any changes you make show up in the front and back of the house automatically. We also like that each plan comes with installations and network configurations, as well as automatic software and feature upgrades. That's one of the big benefits of modern POS software for restaurants.
Customer Support
One thing we really like about Toast is that each POS plan includes 24/7 phone, email and webchat customer support. This is fairly common in the POS industry, and for good reason – it can be of great value to restaurants in particular, as many are open late and may often need assistance outside of normal business hours. 
Its Limitations
Since Toast processes your payments for you, it is not compatible with third-party payment processors. This eliminates the option to shop around for cheaper credit card processing. If you are looking for a restaurant POS that allows third-party payment processing, check out our review of Epos Now or our TouchBistro review.
Toast has some additional hardware costs, and it is only compatible with Android devices. Although Toast is compatible with select third-party hardware, the company strongly recommends using its own hardware, which could quickly become expensive if you need to replace existing POS hardware.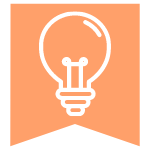 Tip: A restaurant management system is an alternative option if a standard POS isn't right for your food business.
Our Methodology
We researched and analyzed dozens of highly rated point-of-sale systems to identify the top solutions on the market. We looked at pricing, contracts, hardware, platform compatibility, features, reports, payment processing, integrations, usability and customer support. We watched product videos and even got hands-on experience with demos when possible. When choosing the best POS system for online ordering, we prioritized restaurant-specific features, online ordering features, integrations, delivery options and loyalty programs.
FAQs
How long are Toast contracts?
Toast typically offers two-year contracts for its cloud-based POS system. However, instead of paying for your entire term upfront, you can make affordable monthly payments. Toast offers custom rates and contracts for select restaurants as well.
What is Toast Ordering?
Toast Ordering is an online ordering system that enables restaurants to offer takeout and delivery services directly from their websites. It is a commission-free service that integrates with your POS system. The platform can be modified to match your business's brand, and you can edit functions to add promotions, remove items, and throttle online orders. [Need inspiration? Find out how to promote your restaurant.]
Bottom Line
We recommend Toast for …
Restaurants that need a POS with online ordering and delivery capabilities.
Restaurants that want to provide a contactless experience for guests.
Restaurants that want to increase customer loyalty.
We do not recommend Toast for …
Restaurants that want to use a third-party payment processor.
Restaurants that want to use third-party hardware.

Toast
The Verdict
Toast is our pick for the best POS system with an online ordering feature for restaurants. The software also includes useful delivery and payment processing features, making it the ideal option for food establishments.
Skye Schooley is a human resources writer at business.com and Business News Daily, where she has researched and written more than 300 articles on HR-focused topics including human resources operations, management leadership, and HR technology. In addition to researching and analyzing products and services that help business owners run a smoother human resources department, such as HR software, PEOs, HROs, employee monitoring software and time and attendance systems, Skye investigates and writes on topics aimed at building better professional culture, like protecting employee privacy, managing human capital, improving communication, and fostering workplace diversity and culture.