Choosing a credit card processor is a crucial decision for small businesses. Clover and Toast are payment processing options that give businesses a convenient, easy way to accept credit cards and other digital payment methods while providing card readers, POS system functionality, backend software and customer support. We'll examine these two vendors' features and costs to help you find the best credit card processor for your unique needs. Our comparison focuses on several key areas, including fees, payment processing costs, ease of use, POS hardware and customer service. 
Clover vs. Toast Comparisons
Here's how Clover and Toast stack up on the crucial factors you must consider when choosing a payment processor and POS system for your business.
Monthly Fees
Clover
Clover's monthly fees depend on your plan level (Starter, Standard and Advanced) and business type. For example, on the low end, home and field services and professional services can get the Starter plan for $14.95 per month. However, if you have a full-service dining establishment, the Starter plan costs $160 per month. This price includes hardware (a Station Solo with a cash drawer and receipt printer). You also have the option of paying upfront for the hardware, in which case you'd pay $1,699 plus $84.95 per month.
A full-service restaurant on the Standard plan would pay $210 per month or $2,298 plus $99.90 per month, but you'd also get a handheld Flex unit. Additionally, the Standard plan provides more functionality, such as tableside ordering. 
A full-service restaurant on the Advanced plan would pay $310 per month or $4,097 plus $114.85 per month. With this plan, you'll receive the hardware on the Standard plan, along with a Station Duo with a merchant-facing POS and a customer-facing screen.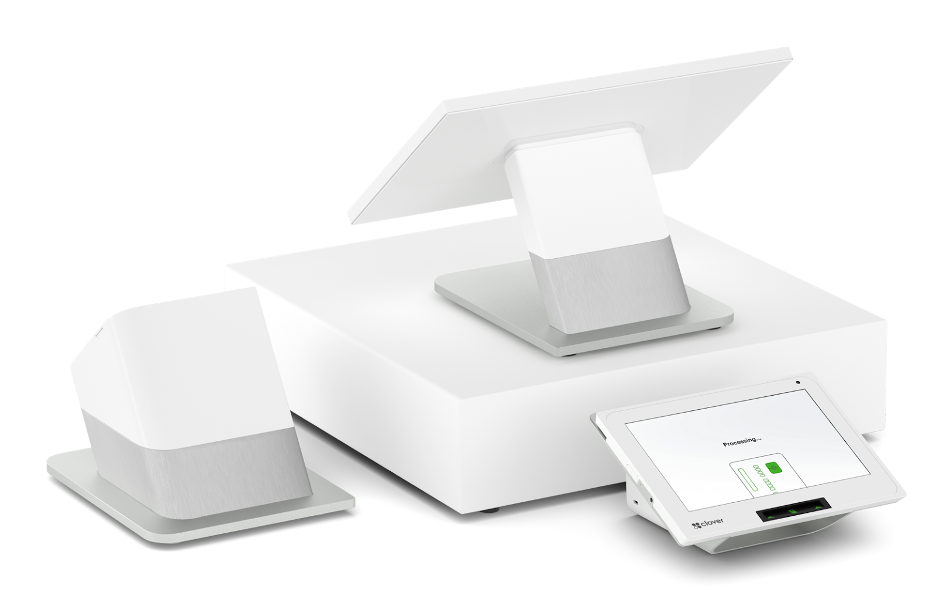 Clover's Station Duo boasts a merchant-facing POS and a customer-facing screen. Source: Clover 
Toast
Toast has two options: Pay as You Go and Standard. 
Pay as You Go: With the Pay as You Go option, you pay nothing upfront, and there's no monthly fee. Instead, you pay a higher processing fee. 
Standard: On the Standard plan, you pay upfront for the hardware you want. You also pay a monthly fee and a lower processing fee. To get hardware comparable to Clover's Station Solo, you'd pay $875 upfront plus $69 monthly. You would receive the Toast Flex POS terminal, Toast Tap payment device, a router, POS software and setup support.
Winner
When it comes to monthly fees, Toast is the clear winner. It provides more hardware than Clover's standard plan for much less money. Restaurants that are just starting out or have low volume can get the entire system for nothing upfront and no monthly fee, which can make a big difference in cash flow.
Payment Processing Costs
Clover
Clover's processing rate is 2.6% + $0.10 flat for in-person transactions and 3.5% + $0.10 for online or manual transactions (if you accept credit cards over the phone). 
However, Clover also has a program that allows businesses to pass the processing fee to the customer. In this scenario, customers paying by credit card would be automatically charged an additional 3 percent with no per-transaction fee. Customers paying by debit would not pay more, but the business would be charged only 1.75% + $0.25 per transaction.
Toast
Toast's payment processing rate depends on whether you opt for its Pay as You Go or Standard plan. With Pay as You Go, the rate is 2.99% + $0.15 per transaction. The Standard Plan is 2.49% + $0.15 per transaction for card-present transactions and 3.5% + $0.15 per transaction for card-not-present transactions.
Winner
The winner here depends on your business type. For startups and low-volume restaurants, Toast's Pay as You Go plan is competitive enough on processing rates to justify no upfront or monthly costs. However, if you have lower check amounts and a high transaction volume — as with quick-service or fast-food restaurants — Clover makes more sense. Fine-dining restaurants will save the most money with Toast's lower rates and higher per-transaction fees.
Ease of Use
Clover
Clover's backend software and POS system are intuitive and extremely easy to use. The interface is well-labeled and straightforward, whether you're running a report or processing a transaction.
Clover's marketing and loyalty program modules are particularly helpful. SMS marketing is built-in and customers are automatically enrolled after opting in. Additionally, the Clover system makes it easy to set up an e-commerce site fully integrated into Clover's payment, inventory and customer data systems. 
For restaurants, Clover supports linking ingredient inventory with online menus so items that are no longer available won't be displayed.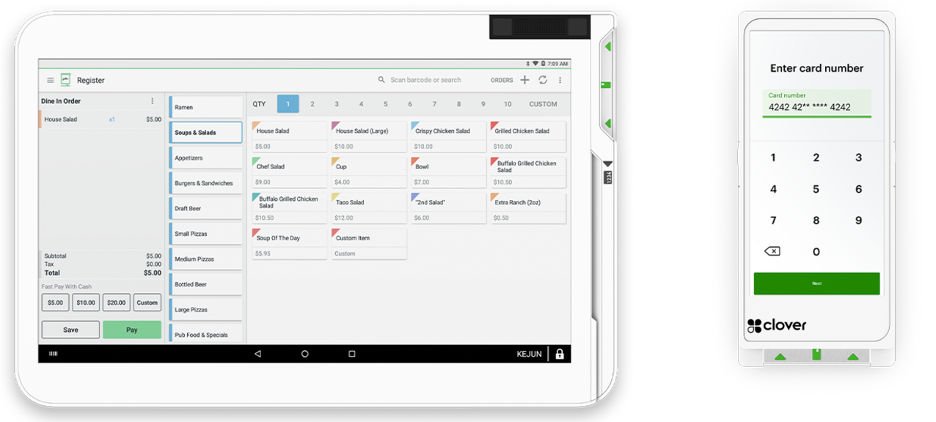 Clover's ordering interface and handheld Mini are straightforward and easy to use. Source: Clover 
Toast
Toast's restaurant-focused software has many more features than Clover's system, so it takes more time to learn and set up. For example, Toast's Order & Pay can help you accept mobile payments by enabling customers to order and pay from their mobile phones with little interaction with the server. Toast also facilitates transmitting orders to the kitchen. 
While Toast offers plenty of setup and troubleshooting support, its additional features incur a steeper learning curve than Clover's system.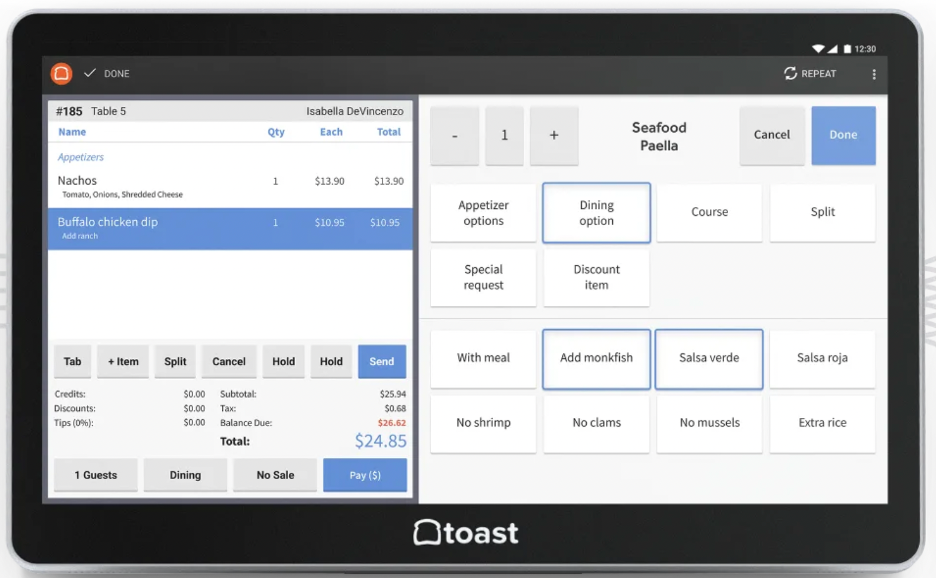 Toast's ordering interface is intuitive, but its feature-full system may incur a steep learning curve. Source: Toast 
Winner
Clover is the winner in ease of use if you consider the initial setup. Once the system is set up, however, Clover and Toast are both intuitive and easy to use. 
POS System Hardware
Clover POS
Clover's proprietary hardware is compatible with many payment processors. And in terms of looks, Clover's POS and handheld hardware are second to none. The design is sleek, and the attractive, intuitive hardware is suitable for higher-end businesses. Clover allows you to accept various payment types, including credit cards; digital wallets like Apple Pay, Google Pay and Samsung Pay; and debit cards with PIN capability.
In addition to POS stations with screens, stands, cash drawers and receipt printers, Clover offers Clover Flex and Mini handheld tablets that facilitate tableside payments. Its Station Duo has a large POS screen for the employee and a smaller, customer-facing screen for PIN entry, tipping and signature. 
Clover's POS hardware is so popular that the vendor sells it to customers who don't use its payment processing service. So, if you're unhappy with Clover's payment processing once your contract is over, you can still use its equipment with another payment processor.
Toast POS
Toast's POS hardware design is not quite as attractive as Clover's. However, it has much of the same functionality. Like Clover, Toast offers a countertop kit with a screen, stand, payment device and CPU. Receipt printers are sold separately. Toast also has a handheld point-of-sale terminal similar to Clover's Mini, although there is nothing comparable to the Clover Flex, a mini tablet with a bigger screen.
While Toast's hardware isn't as attractive as Clover's, its unique options stand out. For example, its handheld POS terminals allow servers to take orders and payments. We also like Toast's guest self-service kit; it allows customers of fast-food or quick-service restaurants to place their orders and pay.
Unlike Clover, Toast's hardware can only be used with its payment processing services. If you eventually change processors, you'll need to repurchase POS terminals and other hardware.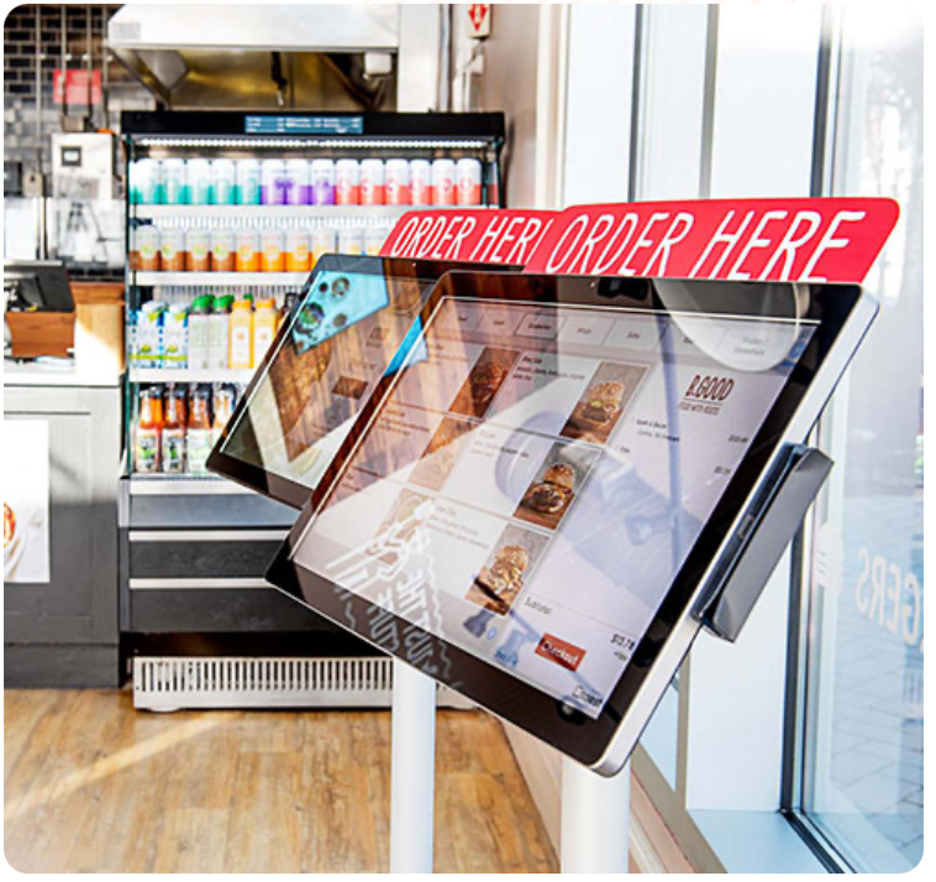 Toast's self-service kiosks make it easy for customers to order and pay. Source: Toast 
Winner
The best hardware for you depends on your business type. Quick-service and fast-food restaurants will benefit from Toast's less expensive hardware and self-service kiosks, while other retailers and fine-dining restaurants may prefer Clover's sleeker look.
Customer Service 
Clover
Clover provides 24/7 phone support as well as email support, which may take a little longer. It also provides plenty of online help and resources for merchants if they run into problems.
Toast
Toast has 24/7 phone support and 24/7 email and chat support, so your questions are more likely to be answered quickly whichever contact method you use. Toast also offers generous troubleshooting resources online.
Winner
Toast provides quicker customer service, which gives it a slight edge in this category.