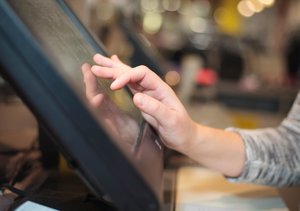 If you're looking for a POS system for your retail store, make sure it has these seven features.
A seamless POS system can revolutionize any retail business – if it has all the features you need. Essential features such as inventory tracking, accounting software, and built-in timeclocks allow retail owners to spend less time managing the ebb and flow of their operations and more time analyzing how to expand their business. A good POS system can integrate multiple areas of a business into one interface, but what other features are vital to retail businesses? Here are seven you should check for before you choose a system for your retail business.
1. Online management
Online sales management is a key aspect for growing your business. Some POS systems provide the option to manage ecommerce. Lightspeed Retail, for example, offers an option to manage online sales using one simple interface. You can use a specific page to manage inventory and customize your web orders and web page information for better SEO. The flexibility of a POS system that offers online management and sales is essential for any business owner.
"If you're an online- and inventory-centric retailer, it's probably one of the most important aspects of your business," said James Brookes, sales engineer for Lightspeed. 
Editor's note: Looking for a POS system? We can help you choose the one that's right for you. Use the questionnaire below to have our sister site, BuyerZone, provide you with information from a variety of vendors for free:
Many users say that having a POS system to manage online sales keeps everything integrated and on track. Ben Adler, owner of Rebicycle in Montreal, said his bike shop is gearing up for an e-commerce release with Lightspeed in the spring.
"We're going to have a custom bike builder where the customer can actually select all the components themselves on our website through Lightspeed eCom," Adler said. "The new e-commerce offering is very competitive and very compelling, because it's based on SEO specifically. There's a lot of companies out there where you can make nice, pretty-looking ecommerce sites pretty easily, but Lightspeed is specifically based on search engine optimization."
2. Multiple locations
As your retail business expands, it's essential to have a POS system that can handle inventory tracking and sales from multiple locations. This tool, like an omnichannel experience, can be the difference between seamlessly monitoring sales trends and getting lost in excess data. Jean Iennaco, director of operations for Over the Top Cake Supplies in San Antonio, Texas, said her company has two corporate stores and two franchise locations. With four locations, which include both stores and classrooms for baking classes, Iennaco said her Revel POS system has been great for managing the expansion.
"We initially had another POS system, which wasn't compatible for multiple-location use, so we switched to Revel, which is compatible," Iennaco said. "We have four locations. I can be anywhere and help them out if there are issues. For example, I can check on locations by going into reporting and offering advice on ways to increase sales for the month. It's user-friendly and convenient for having multiple locations."
3. Third-party software integrations
A POS system that can integrate with other programs, such as QuickBooks or Como, can add value to your business without you having to introduce an entirely new production process to accommodate a new program. For Iennaco, Over the Top Cake Supplies is looking to introduce Como in the coming months so that customer information and rewards can integrate with the Revel system.
"We don't have all of our customers in Revel right now, but once we get Como live, then every single customer we have will go into the Revel platform," Iennaco said. "We'll then be able to track sales, offer promotions based on what customers purchase and be more customer-oriented based on specific customer needs."
Lightspeed also offers similar options by providing different software that is already integrated. Adler said that his business uses third-party scheduling software called Booxi to create custom bikes. Lightspeed and Booxi are seamlessly integrated, so Adler can record a customer's information without having to input it multiple times.
"When somebody makes an appointment on Booxi and they actually come in the store, I already have all their customer information, including their phone number, their email address and what service they're coming in for," Adler said. "I can automatically create a work order in Lightspeed with that customer information already populated, and so it's very easy for us to make a quote on the spot."
4. Inventory management
One of the best features online POS systems offer is the ability to track inventory in real time. By integrating business orders with online and in-store purchases, business owners can now track their supply levels quickly and efficiently. Adam Watson, director of U.K.-based mirror retailer Hollywood Mirrors, said that his POS system, Brightpearl, has been a huge help in keeping track of his products.
"The stock reporting shows the rate that the items are selling at and [predicts] when they are going to go out of stock. It also takes into consideration lead time from the supplier in the algorithm," Watson said in an email. "It has resulted in us becoming more organized and streamlined with less products, less stock, but revenue and profits are up. We are a lot leaner business because of this, and ordering stock with suppliers takes a few minutes instead of 30 minutes."
By tracking inventory in real time, businesses can save money and avoid making mistakes when ordering from a supplier.
5. Built-in bookkeeping
Much like inventory management, built-in bookkeeping allows businesses to maintain efficiency while reducing the potential for mistakes. Tracking finances in real time lets business owners constantly see the state of their business. Watson said he wasted time and was even unaware of his business's finances before switching to a POS system that featured built-in accounting software.
"Everything was entered in manually, and we were months behind with the old system. I didn't have a clue if we were making a profit," Watson said. "With Brightpearl, we can see near enough within a week our profitability in real time, as all our purchase orders and sales are all processed and invoiced within the system … It's a great feeling knowing everything is OK and I can see what is going on with the numbers; it gives you confidence."
6. Employee management
In addition to managing and monitoring the supply flow and finances of a business, some POS systems offer the ability to manage worker productivity.
Ann Motovidlak is a front-end supervisor for Gerrity's, a grocery store based in northeastern Pennsylvania. Gerrity's has nine locations in the area, and Motovidlak said that managers use the RORCv6 POS system to track employee use.
"Cashier productivity is a feature we like to use," Motovidlak said in an email. "We monitor our cashiers' sales, scans and items per minute and voids. It also assists us in loss prevention."
Tracking productivity can be a valuable tool, particularly in maintaining a secure and financially sound working environment. For many small businesses, managing employees and monitoring sales closely creates a more reliable and efficient workplace.
Many POS systems also feature built-in timeclocks, employee sales information and security management geared directly toward employees. With Lightspeed, business owners have the ability to set permissions for different employees based on role, store or individual. By managing a worker's access to different areas of the business, owners can ensure that their operations run smoothly and safely while avoiding micromanagement.
7. Omnichannel experience
In the modern retail landscape, many business owners want both an in-store and online presence to maximize sales and profits. This demands a POS system that can support sales on multiple platforms. Watson said that Brightpearl's ability to function on multiple platforms has allowed his business to thrive. Hollywood Mirrors operates through 11 sales channels, including its own website and other sites such as Amazon.
"The way we worked before – managing all the sales channels and all the product listings – it was so labor-intensive," Watson said. "It was really difficult; we had to have someone keep an eye on products going out of stock all day long, as well as ... product listings on eBay, Amazon and our own websites. They had to do this from memory, and the stock quantities were in their head. When I think back to this time, it was a crazy way to run a business."
Bottom line
Retail POS systems come with many features, and finding the right one requires prioritizing the features that would work best for your business. Regardless of which system you choose, it seems that an omnichannel platform that can easily integrate with third-party software is a must. In addition to those features, inventory management between stores and integration for some form of accounting could go a long way in increasing productivity.