CAKE is a reliable restaurant POS system from Mad Mobile that is suitable for both full- and quick-service restaurants.
Pros
Customers and staff will find the system very easy to navigate and use.
An implementation team will walk you through the training process after signing up with CAKE. 
CAKE's pricing system provides discounts for each terminal you purchase after the first one.
If your company runs into internet issues, an offline mode allows you to continue accepting payments.
Cons
Creating daily management reports could use some functionality upgrades.
Sometimes the iPad minis experience a bit of lag while navigating menus.
There isn't much flexibility with plan options.

CAKE from Mad Mobile is our choice for the best point-of-sale (POS) system for efficiency, whether you're running a small donut shop or a fine-dining establishment. CAKE's proprietary hardware is available in two colors. Its hardware is commercially graded and specifically designed to withstand the wear and tear of the restaurant industry. CAKE's functionality makes the platform easy to learn and highly efficient. For example, its Guest Manager program offers detailed analytics on returning customers, optimizes seating decisions with real-time floor maps and provides text-based notifications.
Cake Editor's Rating:
9.4 / 10
Price/value

9.5/10

Features

9.3/10

Customizations, add-ons and integrations

9/10

Ease of use

9.8/10

Customer service

9.4/10
Why We Chose CAKE as Best for Efficiency
While testing CAKE, we were impressed by its efficiency compared to the POS system competitors we reviewed. We especially liked that customers can access easy-to-use terminals that let them see their orders as they're being built. They also offer iPad Minis for tableside ordering and payments. The devices have the same look and feel as the restaurant staff's hardware, making successful onboarding exceptionally easy. 
We also liked CAKE's unique Guest Manager program. With Guest Manager, customers can communicate with the host via text. Adding modifiers like food allergies or recipe alterations to a customer's order is straightforward through the system's backend. 
We like that CAKE's system has assigned user roles with specific access depending on duties. For example, if a staff member doesn't require discount authorization as part of their role, they won't be able to provide discounts. We were also impressed that you can customize floor maps and seating arrangements on the fly. This is especially useful if a restaurant is expecting a large group at a specific time. 
CAKE utilizes cloud-based POS software, so you can pull up reporting and analytics from anywhere with an internet connection.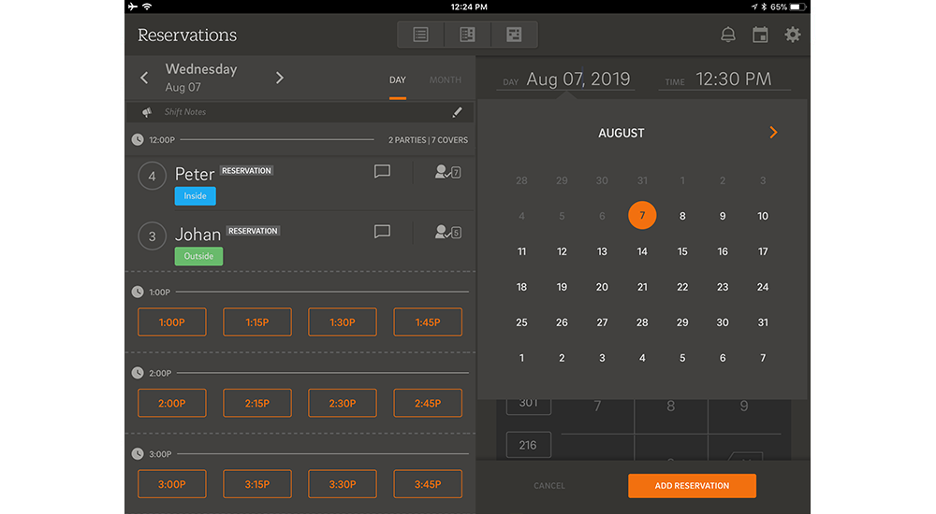 CAKE's Guest Manager helps you seat more guests, reduce no-shows and make better seating decisions. Image source: CAKE
Ease of Use
We were impressed by CAKE's ease of use, which, in our opinion, sets it apart from competitors. If you're familiar with iPhones, you'll have no trouble navigating CAKE's devices. Your staff should be able to learn CAKE's iPad POS system in under an hour and log in to their accounts effortlessly with a dedicated PIN. After signing in, we liked the quick-serve screen's organized layout, which can be customized to a different default screen. For example, your staff can change the quick-serve screen's layout to an open order list screen if they prefer. 
We really like how easy CAKE makes splitting individual checks. Manual check-splitting can be quite a pain, but CAKE takes care of bill-splitting on the spot. CAKE also makes it easy to compare sales versus labor with data analytics, allowing you to ensure adequate staff during busy times.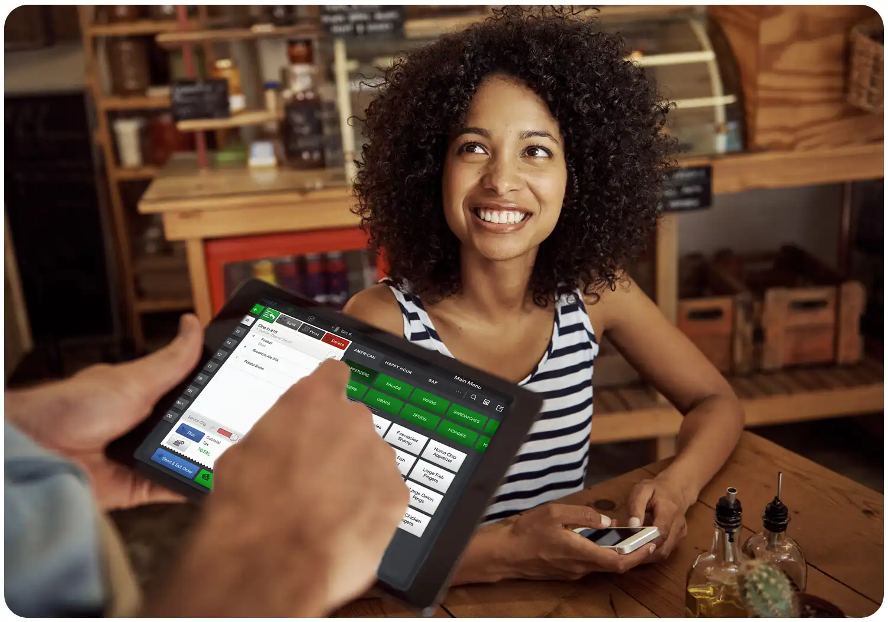 CAKE's tableside payments allow for effortless bill-splitting. Image source: CAKE
CAKE POS Features
CAKE's excellent feature set sets it apart from the pack and makes it the best POS for efficiency, particularly for restaurants. Here are a few standout features. 
Orders
We like that orders taken by servers are sent directly to the kitchen, eliminating the need to run back and forth, which often increases customer wait times. In some restaurant settings, customers can even build their own orders on their own phones. We also appreciate that CAKE supports online ordering – another example of the system's efficiency. Customers can click on a website link that brings up a restaurant menu and build their order from there. 
Check out our TouchBistro review if you'd like to evaluate a POS explicitly designed for restaurants.
Payment Processing
When it comes to payment processing, we like that CAKE lets you accept payments electronically in-store or online via Google Pay, Apple Pay, and all types of credit cards. We were also impressed by how easy and efficient the self-checkout experience is for customers who prefer to pay on their devices. 
For customers who aren't familiar with self-directed payment methods, each device comes with a card reader. Servers can close out a tab at the table, so customers don't have to come to the front till.  
Functionality and Integrations
Compared to some of the other POS platforms we reviewed, we like the overall functionality of CAKE for customers and restaurant staff. Platforms must be self-explanatory, especially for first-time customers, and CAKE does an excellent job with straightforward navigation. It also provides self-service kiosks that streamline ordering, take the pressure off staff and reduce wait times. 
Regarding integrations, CAKE doesn't have as many integrations as some other competitors we reviewed. It does integrate with QuickBooks and Xero for accounting, as well as scheduling platforms like 7shifts and payment platforms like Ingenico. (If you're looking for a POS system with extensive integrations, check out our review of Epos Now.)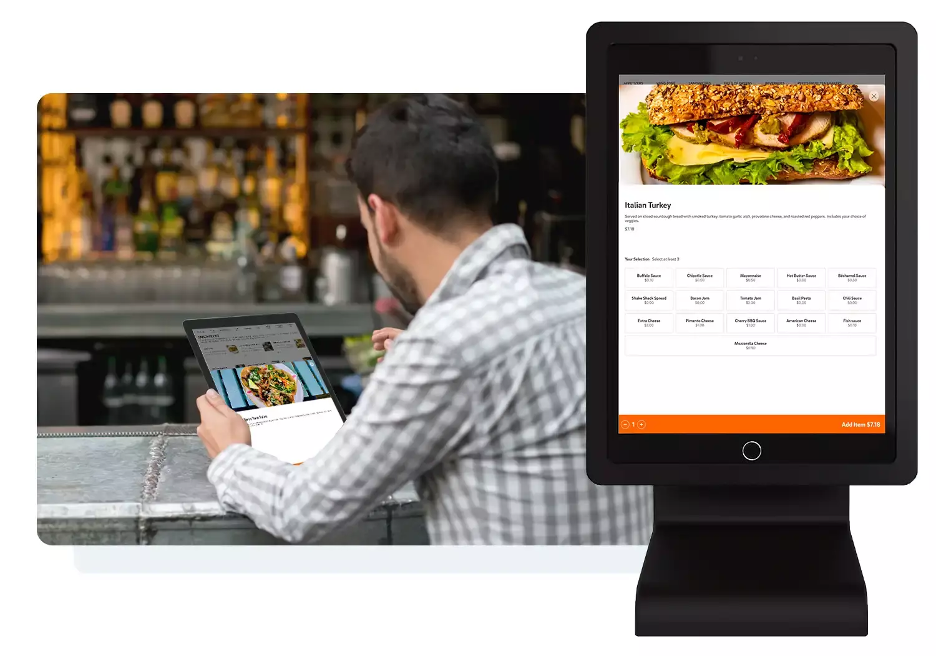 CAKE's self-service kiosks integrate with its restaurant POS systems and provide additional flexibility. Image source: CAK
If you're looking for a POS system with extensive inventory management features, check out our review of GoDaddy.
CAKE POS Pricing
We like that CAKE offers easy-to-understand pricing plans businesses can get started with quickly. It offers a main POS bundle plan for its restaurant POS. 
Here's a breakdown of CAKE's POS system costs:
Plan

Starting price (monthly)

Features and services

All-In-One POS

$69

Online ordering/curbside pickup
Guest/menu management
24/7 support
Cloud-based POS
QR code payment
Mad Mobile University training portal

Enhancement of existing POS
Tableside ordering
Curbside order management
QR code order/pay

Custom

Requires contacting the company for a proposal

Customized configuration
Multi-location management
Salesforce Commerce Cloud CRM partner
We appreciate that CAKE's startup plan costs are straightforward. At $69 per month, you'll get a full POS bundle with software, support and a terminal. This bundle is ideal if you're starting a restaurant. For each additional terminal you require, the price drops to $49 per month.
Implementation and Onboarding
We really liked that CAKE provides an implementation team to help you get started. This is a unique feature many competitors don't offer. When you sign up, your implementation team will schedule your cloud-based training. Some people learn the platform at a much quicker pace than others, and some like to take a slower approach and learn at their own speed. For this reason, we were impressed that CAKE has a multi-resource approach to teaching people in various ways. We also like that new employee onboarding is straightforward; employees can customize their dashboards to see precisely what they need to see while working. 
We like that CAKE doesn't just throw resources in front of you and expect you to learn on your own. Your implementation team is always available and willing to step in and provide helpful information. 
Customer Service
CAKE's customer support significantly differentiates the platform from some of its competitors. We like that each CAKE customer gets a dedicated customer success representative for the life of their account. Real humans are available for support 24/7, 365 days a year – a valuable service unusual in the industry.
Additional customer support features that impressed us include the following: 
Post-monitoring software: CAKE has post-monitoring software that updates every two minutes, so if your system runs into a glitch or error, the problem can be solved before it gets worse. 
CAKE University: CAKE's University also impressed us. This learning resource is especially beneficial for getting new hires trained and onboarded quickly. Courses are assigned online and take about 45 minutes to complete.
Keyword search feature: If you ever forget how to do something on the CAKE platform, type in a keyword. Based on that keyword, the system will bring you to the topic and walk you through a step-by-step process. 
Dedicated menu team: We really liked that CAKE has a dedicated menu team that helps set up your menus. You'll get a 1.5-hour consultation to customize your menu workflow for optimal functionality. You'll get revisions, maintenance and a full training session.
CAKE Resource Center: We were also impressed that the CAKE website includes extensive information in its Resource Center for new restaurant owners unfamiliar with industry topics like the following:

QR code ordering
Benefits of a cloud-based POS
Restaurant trends information
Upgrading from a cash register to a POS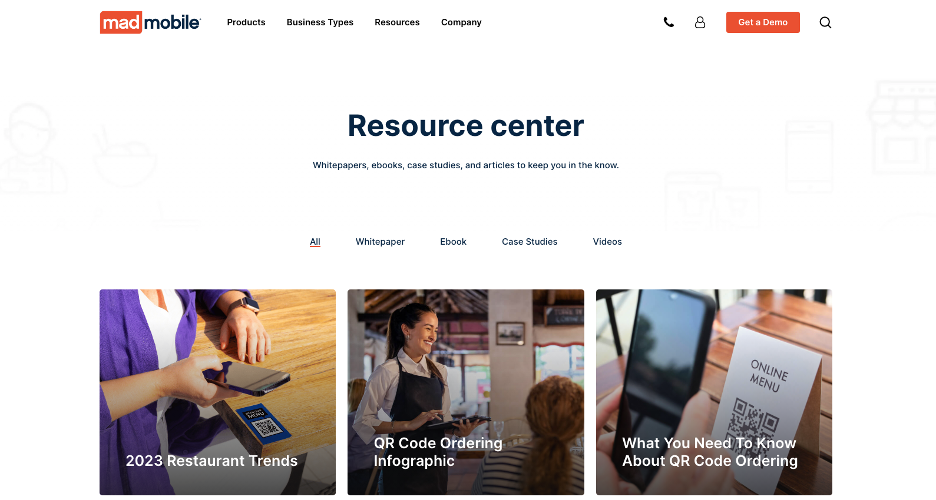 CAKE's Resource Center is a digital library of white papers, e-books, case studies and videos to help restaurants grow. Image source: CAKE
Check out various types of POS systems before committing to determine if the solution you choose fits your needs and budget.
Limitations 
While CAKE has many upsides, we discovered some limitations, including the following: 
Cumbersome POS reports: Some customers mentioned that running POS reports can be a bit cumbersome at times. Every business is unique, and may require detailed, customized reports. However, CAKE's reports tend to be quite basic compared to some of the competitors we reviewed. The system will appeal to more businesses if the company adds more reporting features. (If you're looking for a POS with excellent reporting functionality, check out our Toast review.)
Laggy iPad minis: We found that sometimes the iPad mini devices experience some lag in certain menu screens. This can cause frustration for restaurant servers during a busy shift. While this may be device-specific, it's an issue worth considering.
Methodology
We researched and analyzed dozens of POS systems to identify the top industry solutions to help businesses choose the right POS system for their needs. We examined customer service, payment processing, integrations, must-have POS features, reports, pricing and hardware. We contacted the companies, watched videos, viewed POS system demonstrations and got hands-on experience with demos when possible. When looking for the best POS solution for efficiency, we prioritized ease of use, customer service, onboarding and implementation. 
CAKE POS FAQ
A restaurant POS system streamlines restaurant functionality and management. A good restaurant POS system manages inventory, analytics, sales, payments and guests. 
All types of restaurants can use POS systems, especially those wanting to stay up to date with recent technology. Restaurant POS systems simplify business operations, improving the overall customer experience. 
Bottom Line
We recommend CAKE for:
Companies that want a straightforward POS with easy onboarding.
Companies that appreciate support and guidance when getting a POS system set up and running.
Restaurants that want a reliable and efficient POS system to improve operations management.
We do not recommend CAKE for:
Companies that want a vast range of detailed reports and analytics for every aspect of operations.