Shopify Payments Review
By Lori Fairbanks
Last Modified: June 13, 2018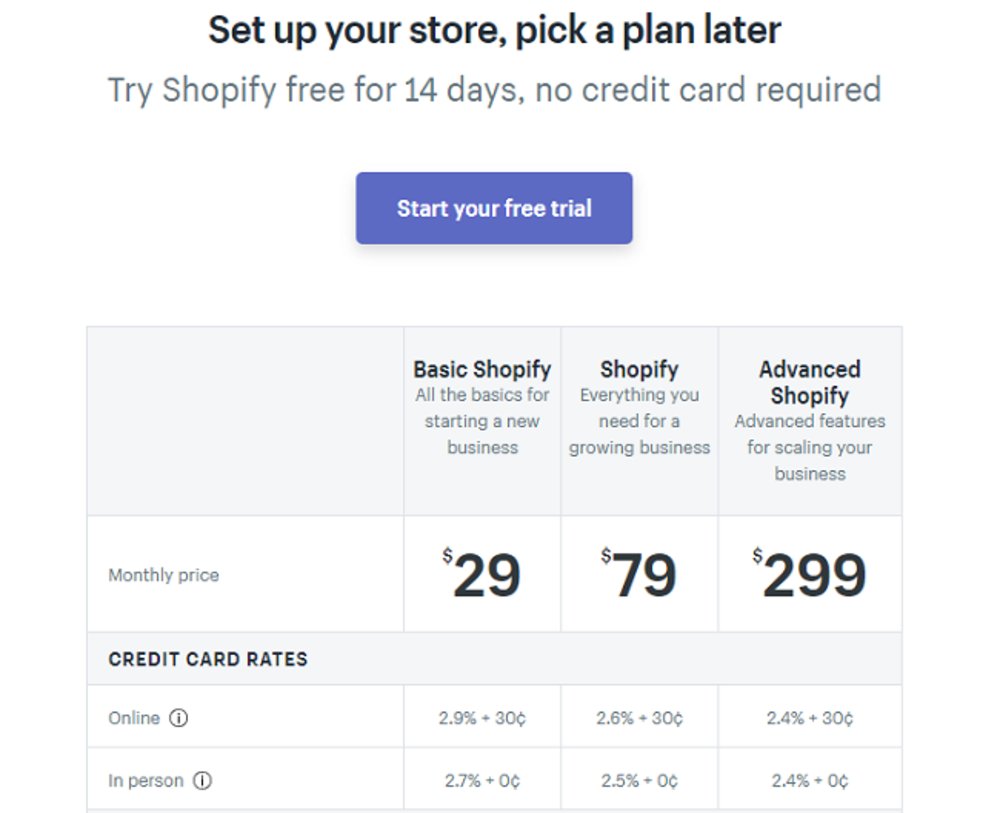 To use Shopify Payments, users must subscribe to Shopify's software, which costs between $9 for the Lite plan (not pictured) and $299 for the Advanced plan. An advantage to using Shopify or Shopify Advanced is lower processing costs.
A chart shows which features are available when using iPads, iPhones or Android devices. iPads receive the largest number of features, iPhones receive the second most, and Android devices have a small number of features.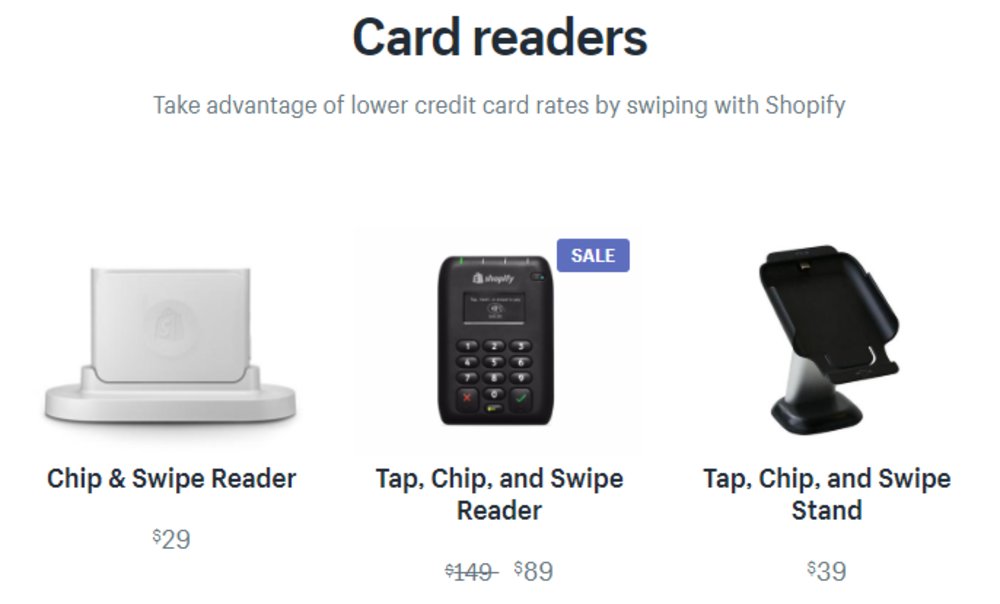 Two card readers work with Shopify Payments. The Chip & Swipe Reader (left) works on with Android and Apple phones and tablets, while the Tap, Chip & Swipe Reader (middle) only works with iPhones and iPads.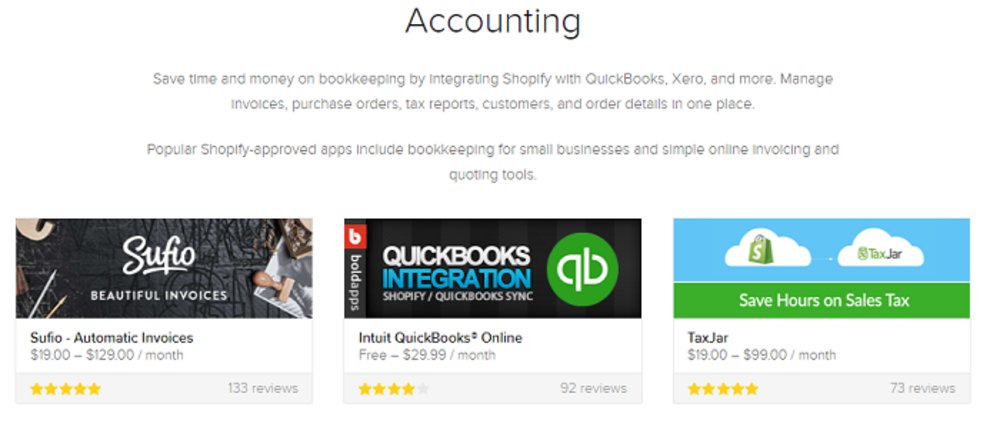 Shopify integrates with many accounting programs, including popular options like QuickBooks and Xero, allowing you to easily sync and share your sales data from Shopify Payments with your accounting software.
Shopify is a cloud-based commerce platform that serves more than 600,000 merchants across 175 countries, including well-known brands like Nestle and Red Bull. It provides credit card processing services through Shopify Payments, with Stripe providing the back-end processing. We picked Shopify Payments as the best mobile credit card processing service for online businesses because it makes it easy for you to accept payments across multiple channels: on your website or blog, on social media, and in person at various locations using your phone or tablet. Shopify Payments has competitive flat rates, 24/7 phone support and no long-term contract. Its credit card payment app comes with point-of-sale features, and you can choose from two mobile card readers, both of which are EMV compliant.
Visit our best picks page to see all our recommendations for mobile credit card processing companies.

Pricing and Terms
Shopify Payments is very transparent with its pricing and terms. On its website, you can find its rates, fees and processing hardware costs, as well as its acceptable use policy and terms of service for both its payment processing service and commerce platform. This information makes it easier to determine whether the company meets the specific needs of your business and fits in your budget before spending time on the phone speaking with a sales rep. Shopify Payments uses the flat-rate pricing model and offers competitive rates, especially on its higher-tier plans.
Rates
Here's what it costs to accept credit and debit card transactions using Shopify Payments on each of Shopify's four pricing plans.
Shopify Lite and Basic Shopify plans:
2.7 percent: Cards you accept in person using a card reader
2.9 percent plus 30 cents: Cards you accept online or manually key in
Shopify plan:
2.5 percent: Cards you accept in person using a card reader
2.6 percent plus 30 cents: Cards you accept online or manually key in
Advanced Shopify plan:
2.4 percent: Cards you accept in person using a card reader
2.4 percent plus 30 cents: Cards you accept online or manually key in
Fees
Unlike most mobile payment facilitators, Shopify charges a monthly fee to use its services. Although this fee is technically for Shopify's POS and e-commerce software, you can't use Shopify Payments without it. However, it gives you high-quality POS tools with your account and enables you to sell your goods and services online and in person. Each plan except the Lite plan comes with a Shopify online store, which includes an e-commerce website and a blog.
Monthly Fee
The monthly fee varies, depending on which plan you choose. If you choose to pay upfront rather than month to month, you receive a 10 percent discount on an annual plan or a 20 percent discount on a two-year plan.
Shopify Lite: $9. You can accept payments in person, on social media and on an existing website or blog.
Basic Shopify: $29. In addition to the sales channels included with the Lite plan, you can accept payments on your Shopify online store. This plan supports two staff accounts.
Shopify: $79. This includes all Basic plan features and supports five staff accounts.
Advanced Shopify: $299. This includes all Shopify plan features and supports 15 staff accounts.
Custom pricing is available for high-volume merchants though the Shopify Plus plan.
Optional Fees
Some of Shopify's optional services carry extra costs. Here are some examples.
Starting at $13 per year: Custom domain name. If you don't already have a domain name for your website and prefer not to use the free MyShopify.com domain name that comes with your plan, you can purchase one from the company.
$49 per month: Retail Package. Using this add-on feature, you can accept payments in store, connect POS hardware like cash drawers and receipt printers to your account, and create staff PINs. You need the Basic Shopify plan or better to add this to your account.
Some integrations, available through the Shopify App Store, carry monthly fees.
Payout
It usually takes one or two business days for Shopify Payments to transfer your processed funds into your business bank account. A turnaround time of two business days is average for the payments industry.
Terms of Service
Shopify has month-to-month terms, but a discount is available if you sign up for and pay in advance for a one- or two-year term. You can upgrade to a higher plan or downgrade to a lower one at any time. Shopify is a payment facilitator and sets you up as a submerchant under its master merchant account instead of providing you with your own merchant account, so instead of signing a contract, you agree to the company's terms of service. You should read the Shopify Payments terms of service, the merchant terms of service and the acceptable use policy, which are posted online, before signing up for an account to make sure that you understand your responsibilities and verify that it supports your business type.

Like other mobile payment facilitators, Shopify Payments seeks to prevent fraudulent activity and minimize its risk of losing money. It will hold your funds or close your account if it feels there's something suspicious about your account activity, if you have what it considers to be an excessive number of chargebacks or refunds, or if it expects that you will have an excessive number of chargebacks or refunds.
Also, there are many business types that Shopify doesn't support. Before signing up for an account, you'll want to verify that the goods and services your business sells aren't on Shopify's list of prohibited products or services. If they are, the company will close your account. You can find this list in Section B, paragraph five of the terms of service.
Features
Shopify has two apps, and you'll use both to get the most from your Shopify Payments account. The Shopify POS app is for processing payments in person, and you can accept all major credit and debit cards with it. The Shopify app is for managing your sales data, orders, products, customers and staff. Both apps are available for Android and iOS phones and tablets. The Shopify app is also available for Apple Watch, showing you an overview of your sales data. Here are some examples of things you can do with these apps:
Accept credit and debit cards, including contactless cards and mobile wallets like Apple Pay and Google Pay
Record cash payments and checks
Split tenders (accept two or more payment types for a transaction)
Accept partial payments or deposits
Issue refunds
Email or print receipts
Set discounts and taxes
Create customer profiles
Manage products, add photos, organize into categories, track inventory
Processing Equipment Options
There are two card readers available for use with Shopify Payments. Both options are EMV compliant, so you can accept chip cards and avoid liability for counterfeit fraud for the cards you accept in person.
Chip & Swipe Reader: $29. This mobile credit card reader connects to your phone or tablet via Bluetooth and is compatible with Android and iOS devices. With it, you can accept chip and magnetic stripe cards.
Tap, Chip & Swipe Reader: $89. This mobile credit card reader also connects via Bluetooth. This model is only compatible with iPhones and iPads and can only be used by U.S.-based merchants. It has a built-in PIN pad, and you can purchase a stand for $39. With it, you can accept chip, magnetic stripe and contactless cards. You can also accept mobile wallets like Apple Pay and Google Pay.
If you want to connect a receipt printer, cash drawer and barcode scanner to your phone or tablet, you'll need to subscribe to the Retail Package, which carries an extra monthly fee.
Dashboard
The dashboard shows you an overview of your sales, and if you also have an online store or sell on social media, you can monitor your traffic. You can see which products sell best and which ones underperform. You can generate reports and export them to a spreadsheet or send them to your accountant.
Integrations
More than 1,200 apps are available in the Shopify App Store. You can add advanced features to your account and connect to third-party business applications that you may already use, such as accounting software like QuickBooks and email marketing services like MailChimp.
Sell on Social Media
You can use Shopify to sell your products on Facebook, Facebook Messenger, Pinterest and Houzz. Other sales channels you can sell on include Amazon and eBay. You can see all your sales channel options in the Shopify App Store.
No Signature Required
When you accept chip cards in person, you're no longer required to capture signatures at checkout. Shopify allows you to opt in to this feature, which can speed up the checkout experience for your customers. However, you can continue to accept signatures if you prefer.
Additional Considerations
Shopify Payments is for business use only, so if you're looking for a mobile credit card processing service that allows you to accept payments for personal or family use, you'll need to choose a different processor. Here's more information to keep in mind before signing up with Shopify Payments.

Security
Shopify keeps your data secure by complying with Level 1 PCI data security, which has the most stringent security requirements for payment processors. The company provides fraud prevention tools for Shopify Payments merchants, including fraud analysis indicators that identify potential issues, such as incorrect CVV codes or attempts to pay with multiple cards. It assigns a fraud recommendation for each order, and flags orders it considers to be a medium or high risk on the Orders page for you to review.
The company recently announced a new feature called Fraud Protect for Shopify Payments that will analyze orders for fraud. Exact pricing for this feature hasn't yet been released, but the company notes that you'll pay a small fee for each order and it includes chargeback protection. For instance, if there's a chargeback for fraud on an order it flagged as safe, the company will handle the dispute and reimburse you the cost of the order and the fee.
Customer Support
You can reach customer service by phone 24/7, or by email, live chat or Twitter. If you'd prefer to troubleshoot an issue yourself, the company provides multiple resources to help you, including guides, a searchable knowledgebase, a user forum and a blog.
Drawbacks
As with other mobile payment facilitators, you can find complaints online about Shopify Payments holding processed funds and closing accounts. You may be able to avoid these headaches by reading the terms of service for Shopify and Shopify Payments before signing up, to make sure that your business type and the products you sell aren't prohibited businesses. You also want to be aware of actions that raise red flags and may cause the company to hold your funds.
Here are some additional issues to consider before selecting Shopify Payments as your mobile credit card processor:
Adding users to your account can be expensive. The number of staff accounts you can add corresponds with the pricing plan you choose. If you want to assign your employees PINs, you'll need the Retail Package for an additional $49 per month.
You'll also need the Retail Package if you want to connect to a receipt printer, cash drawer or barcode scanner.
Not all Shopify POS apps are created equal. Although you can ring up sales and accept payments using an iPhone, iPad or Android device, you'll need an iPad if you want to access every feature, as some are lacking on the iPhone and Android versions of the app. You can view a device comparison chart on the company's website.
The Android-compatible card reader doesn't accept contactless cards and mobile wallets.
Editor's note: Looking for a credit card processor? Click the Compare Quotes button below to have our sister site Buyer Zone connect you with vendors that can help.

Ready to choose your The Best Mobile Credit Card Processing Solutions of 2019? Here's a breakdown of our complete coverage:

Lori Fairbanks
Lori Fairbanks has years of experience writing and editing for both print and online publications. After graduating from Brigham Young University with a Bachelor of Arts in English, she worked as a magazine editor and then as a freelance writer and editor for a variety of companies, including marketing firms and a medical university. She now writes for Business.com and Business News Daily about financial systems and services for small businesses, such as accounting software, credit card processing and point-of-sale systems.