Helcim Review and Pricing
Helcim is one of the best credit card processing companies because of its all-in-one platform. Its rich functionality gives merchants the ability to manage multiple forms of billing and payments, as well as customer, inventory and employee data with a full-featured and free POS system. The provider also has transparent costs, with competitive interchange-plus pricing that gives business owners access to higher-end features that other processors charge more for. Its in-person processing rates are lower than average, and it's one of the few payment processing companies with a rate guarantee. Helcim also has quality customer service and no contracts or termination fees.

Helcim and Pricing
The Verdict
Helcim, the best credit card processor for those seeking an all-in-one platform, provides a software interface that allows you to manage your entire business at no additional charge. It also has transparent pricing and a rate-lock guarantee.
Helcim Editor's Score: 9.2/10
| | |
| --- | --- |
| Pricing | 10/10 |
| Contract | 9/10 |
| PCI compliance fee | 9/10 |
| Early termination fee | 10/10 |
| Quick deposit | 8/10 |
Why We Chose Helcim for an All-in-One Platform
We chose Helcim as our best pick for businesses looking for an all-in-one platform for credit card processing and other operations because its backend software provides a complete POS system at no additional cost. This platform can support invoicing, subscriptions, payment links and hosted payment pages. We love that the software can be used on any device, making it a flexible and inexpensive way for merchants to run their businesses. In addition, Helcim's combination of affordable interchange-plus pricing and its lack of monthly fees makes it an attractive option for small businesses.
What We Like About Helcim
Compared to other credit card processors, Helcim gives you a lot of bang for your buck with remarkable functionality.
While Helcim's hardware selection is limited, we liked that you could use its free POS system with any tablet or mobile device. The system has a wide range of uses to help businesses become more efficient and ultimately more profitable.
Merchants can even get a free online store from Helcim – a nice bonus for new businesses or those expanding into e-commerce.
We like Helcim's pricing structure, straightforward interchange-plus rates and lack of monthly fees.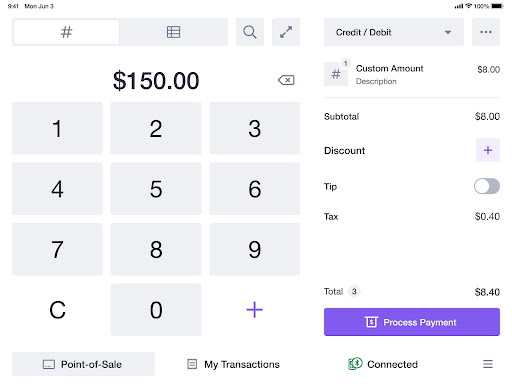 What We Don't Like About Helcim
If you need a POS system for your retail store or restaurant, you would need to go out and source equipment hardware, such as tablets, tablet stands, cash drawers, receipt printers and barcode scanners.
Helcim has fewer third-party integrations than some other processing companies.
Ease of Use
During our demo of the Helcim software, we found it very easy to use. Since it was created in-house, it's constantly updated and improved. Unlike some other processing software we researched, Helcim's offering allows merchants to design the invoices in the system as well as the online payment page so that they look like part of your company's brand rather than something generic.
The reporting functionality gives business owners a good idea of where they're making money and areas that could be improved for more efficient operations. We'd like to see the icons be a little bigger and brighter, though; they can be hard to see.
The Helcim POS app makes it easy to check out customers and accept payments. It tracks inventory, stores customer information, records transaction history, displays sales trends and generates reports. You can use the web-based version of the app with your computer or use the mobile version with Apple and Android phones and tablets. The app supports an unlimited number of user accounts and has access controls that allow you to limit employee access. You can add a cash drawer, card reader and barcode scanner to create a POS station.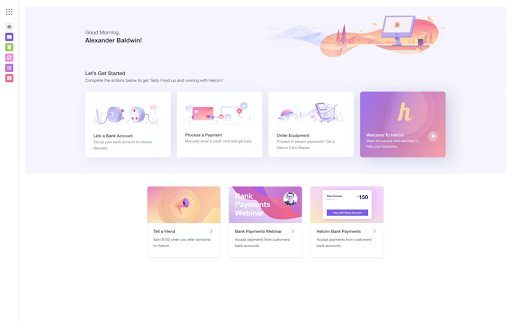 Features and Services
Here are some of the features and services included with your Helcim account for no additional fee.
Hosted Online Store and Payment Pages
Your Helcim account comes with a hosted online store that has a shopping cart, discount codes, shipping integrations, a content management system, a theme editor, SEO settings and an SSL certificate. If you already have a website, you can accept online transactions by adding Helcim's hosted payment pages to the site or by using its API.
Online Food Ordering
Restaurants can use Helcim's quick-order online store to create a menu, take orders and accept payments. If you already have a website, you can embed an ordering menu and payment form on your website.
QR Code Payments
You can print and display unique QR codes, which customers can then scan to pay or pull up your quick-service menu. 
Virtual Terminal
With this tool, you can use your computer to key in credit card transactions. You can also issue refunds, void transactions, preauthorize credit cards and accept payments made through ACH transfers.
The more payment methods your processor supports, the better. That ensures you will close the sale whether a customer pays with a credit card or QR code. This is another reason why Helcim is a great choice for small businesses.
Customer Relationship Management and Customer Portal
Helcim's software also functions as a customer relationship management (CRM) solution. You can add contact information and notes to customer profiles, view purchase histories, and store credit card details in the platform's secure vault. You can also add your branding to Helcim's self-service customer portals, which is where your clients can update their contact and credit card information, view their order histories, and pay invoices online. If you prefer a separate application, consider our highly rated CRM software options.
Online Invoicing
This tool allows you to create and send an unlimited number of invoices, send automatic payment reminders, and accept online invoice payments. You can also text customers to request payment. Invoices can also have a "send now/pay now" option that allows customers to pay with a click as long as they have a credit card or bank account information on file. Invoices can be designed to feature your company's logo and branding. Online payment pages can be branded as well. [Thinking about getting a more robust invoicing or accounting system for your small business? Check out our best picks for accounting software.]
Recurring Payments
You can manage subscriptions and recurring payments with Helcim's software. This feature allows you to customize your subscription plans with trial periods, one-time fees, and metered and prorated billing.
Integrations
Helcim integrates with several shopping carts, e-commerce platforms and accounting software. Options include QuickBooks, Ecwid and WooCommerce. If you prefer to build a custom integration for your website or app, it also has an API available. Be sure to visit our QuickBooks Online review and our QuickBooks Payments review for more information.
Security
Helcim is a PCI Level 1 service provider, complying with the Payment Card Industry's highest standards. It secures payment data using encryption and tokenization technologies, and two-factor authentication is available to keep your account from being compromised. The company also includes its Helcim Fraud Defender, which scores transactions for fraud risk, with every account. We were impressed that you can even set a risk threshold. Any transactions that score below this threshold are automatically declined.
Every merchant that accepts credit card payments has to meet PCI compliance requirements, which are designed to protect customers' personal information. There may be hefty penalties for businesses that don't maintain compliance.
Pricing
Every credit card processor pays the same interchange rates and credit card brand fees. The only negotiable portion of processing rates is the margin, or markup, that the processor adds on top of these base costs. Industry experts favor interchange-plus pricing, which we're glad Helcim offers, because you can clearly see how much you're paying the processor, whereas tiered pricing lumps costs and margins together.
In addition to offering this pricing model, the best processors post their rates online and have no hidden fees so that you know what to expect when you get your bill. Fortunately, Helcim scores well there too. Here's a breakdown of Helcim's pricing and terms.
Interchange-Plus Rates
Helcim is exceptionally transparent with its pricing. There are no monthly fees, and regarding credit card processing rates, the company doesn't post just its markup; it publishes all of its rates and fees online. It also gives you examples of how much you'll pay when you accept different types of credit cards, adding its margin to interchange rates and card brand fees. Here are the interchange-plus base rates you'll pay when using Helcim to accept credit and debit card payments.
In-person credit card processing, with cards accepted using a card reader: 0.3% + $0.08 above interchange

Online credit card processing (including e-commerce sales, online invoice payments, and transactions keyed into the virtual terminal): 0.5% + $0.25 above interchange

International transactions, both in person and online: 0.5% + $0.25 above interchange
Helcim's markups are the same across card types, and there is no additional markup on cards that are less expensive to process; these savings are passed along to the merchant. Since interchange rates vary by the brand and type of card used (debit vs. credit, regular vs. reward, etc.), seeing your fees broken down this way can help you guide customers toward ways of paying that are less costly for you.
The processor's rate for ACH transactions is very low: 0.5% + $0.25. Some other processing providers charge the same rate for ACH transactions as they do for credit card transactions. Another nice finance feature is that the reporting function of the Helcim software lets you run a report that shows each transaction and its fee.
Helcim offers volume-based discounts, starting with businesses that process more than $25,000 per month, with deeper discounts available for higher-volume businesses. As your company grows and you process at a higher tier for three months, volume discounts are automatically applied to your account; other processors require you to ask for a review and discount. You can see Helcim's full discount schedule on the pricing page of its website.
Helcim is upfront about how much it charges for credit card transactions. Because every penny counts, if you can accurately calculate how much processing rates will impact sales, your business will be better off financially.
Credit Card Processing Fees
Helcim's transparent pricing extends to its credit card processing fees, which it posts in full online, a rarity among credit card processors. What's also nice about Helcim is that there are no monthly recurring account fees.
Here's a list of fees you won't pay with Helcim:
Application or setup fee
Monthly processing minimum
Payment gateway setup fee
Monthly payment gateway fee
Annual fee
PCI compliance or noncompliance fees
Early termination or cancellation fees/
Bank deposit fees
Customer service fees
This lack of monthly fees, combined with the company's low processing rates, makes Helcim an excellent choice for lower-volume, new and seasonal businesses, as well as companies that have been in operation for a while.
Incidental Fees
There are just two instances when you may be charged other fees with Helcim. This is highly unusual in the industry and something we found very appealing.
Chargeback fee: $15 per occurrence (which is lower than average, and reimbursed if you win the dispute)
Currency conversion for Helcim's multicurrency processing service: 1% above the daily market rate
Helcim doesn't add on a bunch of extra fees like some other credit card processors do. Outside of chargeback and currency conversion fees, there are no extra charges.
Processing Equipment Costs
Helcim's card reader costs $109, including the stand. The card reader has EMV and NFC technology, so you can accept chip cards, contactless cards and mobile card payments like Apple Pay and Google Pay. It has a built-in swiper and PIN pad so you can accept magnetic stripe cards and PIN debit cards too. It also has the capability to send email receipts and access cards on file for payment.
If you want to add peripherals like a cash drawer, receipt printer and barcode scanner to your system to create a POS station, you have to purchase them from third-party vendors. This is one of Helcim's few downsides. See our Clover review for an alternative processing option with quality POS equipment.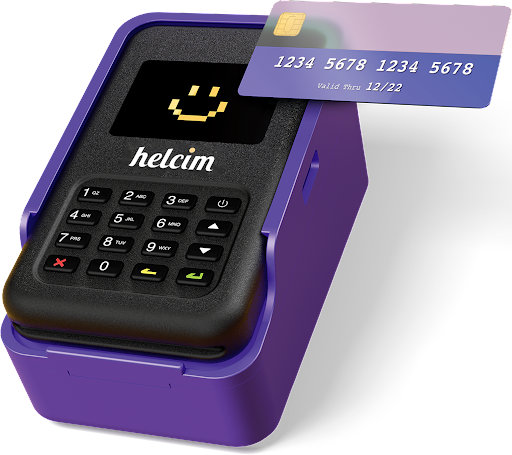 Terms
When reviewing credit card processors, we looked for companies that don't tie you to long-term contracts. You pay monthly for Helcim's services and can cancel your account at any time without incurring an early termination or cancellation fee of any kind, which is remarkable.
Even though there are no lengthy contractual obligations with Helcim, you should still carefully read the application, terms of service and program guide – as you would with any account provider – to ensure you understand what you're agreeing to, are aware of all possible fees and know what the cancellation procedure entails.
Helcim doesn't work with high-risk businesses, so small business owners should read the company's acceptable use policy to make sure their business type and the products or services they offer are not on the prohibited list. To learn about a credit card processor that does accept high-risk businesses, read our National Processing review.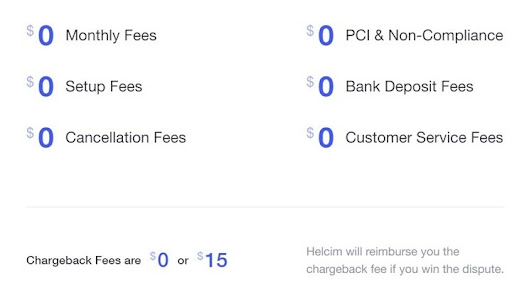 Implementation and Onboarding
Helcim has streamlined its application process, so it takes only about five to eight minutes to apply. After you fill out Helcim's online application, the company will email you requesting documentation, such as your business license, a utility bill or your driver's license, and a voided check. Applications can be approved the same day or the next day, but it can take up to two business days if there is incomplete information or information that cannot be verified.
Once you are approved, the company will ship your card reader, which may take another three or four business days to arrive. About half of the applications Helcim receives are approved. Among those that are not approved are high-risk businesses.
Customer Support
The quality of a credit card processor's customer service is an important consideration. We like that Helcim has in-house customer service agents. Phone support is available from 7 a.m. to 7 p.m. MT Monday through Friday and 9 a.m. to 5 p.m. MT on Saturday and Sunday. It also provides responsive support through email and the Helcim app's support ticket capability. Unfortunately, there is no chat option, which is another thing that competitor National Processing does offer.
Limitations
While we love Helcim for its feature-filled all-in-one plan, transparent pricing, lower-than-average retail rates, and many more attributes that make it stand out from the pack, you should consider some limitations before deciding if this is the right credit card processing company for your business. For starters, if you don't need any of the extras Helcim includes, you can find lower rates elsewhere, especially if you're a primarily online merchant.
Also, Helcim's hardware offerings are limited, so it's not a one-stop shop for your POS needs. If that's what you're looking for, you may want to check out the top POS systems and our tips for choosing the best POS software. On the other hand, Helcim does have its own full-featured POS software, which is completely free, so it's an affordable POS solution if you're willing to get the equipment elsewhere.
Finally, like many credit card processors, Helcim doesn't work with high-risk businesses, so you'll want to check its acceptable use policy to make sure it supports your type of company and the products and services you offer.
What Is Credit Card Processing?
Credit card processing is everything that goes on behind the scenes between the time that a customer hands you their credit card as payment and you receive the money in your account. This process takes place whether the purchase is made in person, online, over the phone or by mail. To be able to accept credit cards, your business needs to be set up with one or more processing providers, which will charge you on a per-transaction basis and sometimes add a monthly fee. In exchange, the credit card processors will seamlessly transfer customers' payments to your account and provide additional features, such as digital invoicing and analytics. [Check out our small business guide to credit card processing fees for more information.]
Methodology
We spent 30 days researching 11 credit card processing companies. We looked at the usability of each company's hardware and software offerings, how fair the contract terms are to the merchant, and whether the products and services are geared toward any particular type of business by industry, size, or other characteristic. We also scrutinized the rates and fees so that businesses can easily compare the recommendations and determine which processor is best for their ticket size and volume. Finally, we tested each provider's customer service to evaluate its response time and ease of use.
Helcim FAQs
Are there different plans with Helcim?
No. Unlike many other credit card processors, Helcim includes all its features with a single interchange-plus rate and no monthly fee.
Which features are new or upcoming for Helcim services?
Helcim has streamlined its recurring payments process, made improvements in invoicing, and is adding a module to allow customers to schedule appointments with the merchant.
What if I already have a website?
You can add Helcim payment processing to an existing e-commerce site or use its fully hosted online store on your website.
What are Helcim's average interchange-plus rates?
For in-person transactions, the average rate is 1.92% + $0.08, and for card-not-present transactions (phone, virtual terminal, online), it is 2.38% + $0.25.
Bottom Line
We recommend Helcim for …
Small businesses looking for an all-in-one platform.
Multichannel businesses.
Seasonal businesses.
We do not recommend Helcim for …
Businesses that need POS equipment hardware.
Businesses that want industry-specific features in their POS system.
High-risk businesses.

Helcim and Pricing
The Verdict
Helcim, the best credit card processor for those seeking an all-in-one platform, provides a software interface that allows you to manage your entire business at no additional charge. It also has transparent pricing and a rate-lock guarantee.

Jennifer Dublino
Contributing Writer
Jennifer Dublino is a prolific researcher, writer, and editor, specializing in topical, engaging, and informative content. She has written numerous e-books, slideshows, websites, landing pages, sales pages, email campaigns, blog posts, press releases and thought leadership articles. Topics include consumer financial services, home buying and finance, general business topics, health and wellness, neuroscience and neuromarketing, and B2B industrial products.