Helcim, the best credit card processor for those seeking an all-in-one platform, provides a software interface that allows you to manage your entire business at no additional charge. It also has transparent pricing and a rate-lock guarantee.
Pros
Helcim's all-in-one platform features an intuitive user interface with easy-to-use tools.
The vendor offers various payment options for omnichannel businesses.
There are no contracts or monthly fees of any kind.
Cons
Helcim doesn't include free hardware.
The POS solution may be inadequate for some businesses.
Helcim's all-in-one platform provides merchants with tools that go well beyond its core credit card processing features. The rich functionality gives businesses the ability to manage multiple forms of billing and payments as well as customer, inventory and employee data with a full-featured and free software for your point-of-sale (POS) system. Helcim also makes life easier with its transparent costs and competitive interchange-plus pricing. In-person processing rates are lower than average and it's one of the few payment processing companies with a rate guarantee. Helcim also boasts quality customer service and no contracts or termination fees.
Helcim Editor's Rating:
8.9 / 10
Pricing and fees

9.2/10

Customer service

9.2/10

Third-party integrations

8.5/10

Payment options

9.2/10

Added POS tools

8.5/10
Why We Chose Helcim for an All-In-One Platform
Businesses purchasing a credit card processing solution likely also need other tools, like a POS system, billing programs and additional finance-focused functions. In the best-case scenario, these assets are interconnected and help you streamline operations instead of slowing you down by overwhelming you with multiple platforms. We chose Helcim as our best pick for businesses looking for an all-in-one platform for credit card processing and other financial operations because the vendor provides POS software at no additional cost to help you manage your business' sales data and it also supports invoicing, subscriptions, payment links and hosted payment pages. 
We love that the software can be used on any device, making it a flexible and inexpensive way for merchants to run their businesses. In addition, Helcim's combination of affordable interchange-plus pricing and its lack of monthly fees makes it an attractive option for small businesses looking to save money.
With Helcim's robust features, companies may be able to find everything they need for processing sales with this one provider.
Ease of Use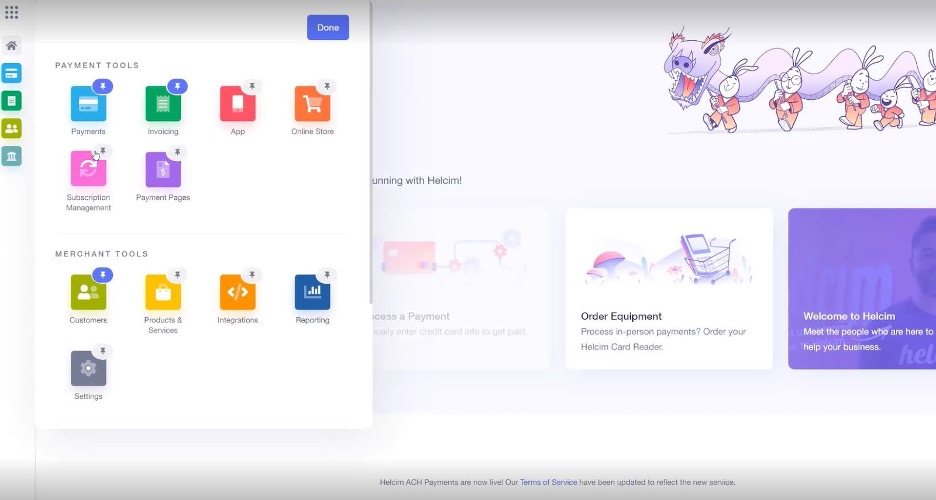 We found it easy to grasp Helcim's software quickly during our hands-on demo. The dashboard features a modern and clean design with an intuitive user interface. We like that Helcim has streamlined its main functions into clearly-defined categories. These include separate sections for "Payment Tools," such as payments, invoicing and e-commerce, and "Merchant Tools," such as customer data and reporting.
  
Helcim's user interface is well-organized and intuitive. Source: Helcim
The "Payments" tab helpfully shows a list of all your business' transactions. We found that Helcim's "virtual terminal," which is one of its most popular tools, is particularly well-designed — learn about it in detail below. Meanwhile, the invoicing feature makes it easy to customize bill templates with your business' branding, and we also liked how simple it was to generate custom links and a quick response (QR) code to facilitate remote customer payments.  
On the "Merchant Tools" side, reporting functionality gives business owners a good idea of where they're making money and areas that could be improved for more efficient operations. We also appreciated the simplicity of the Helcim POS app, which not only allows you to accept payments but also tracks inventory, stores customer information, records transaction history, displays sales trends and generates reports. 
Helcim Features
As an all-in-one solution, Helcim stands out from other credit card processors for the breadth of its features, which encompass POS functions and options for payment. Here is an overview of the most useful tools. 
Virtual terminal 
Helcim's virtual terminal can be used to accept payments online, either through a desktop computer or a mobile device. Sellers can use the virtual terminal to key in transactions manually using a customer's credit card number, which we think is particularly useful for businesses that accept payments over the phone. The virtual terminal can also be sent as a link through email or integrated into your website, allowing customers to enter their own credit card information. You can also issue refunds, void transactions, preauthorize credit cards and accept payments made through automated clearing house (ACH) transfers.
QR code payments
One particularly neat Helcim feature we loved is the ability to generate a QR code for accepting payments. Customers can use their smartphones to scan the code, which brings them directly to the Helcim virtual terminal for payment. This unique offering is especially beneficial for businesses that attend trade shows or sell their products in a similar public setting.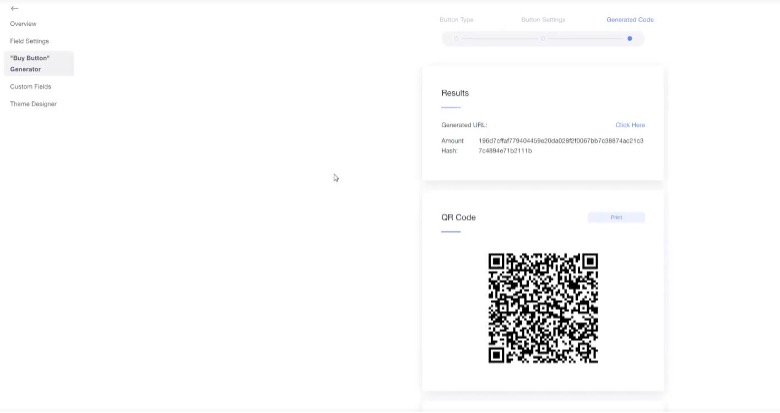 You can use Helcim to generate QR payment codes for your customers. Source: Helcim
Recurring Payments
You can easily manage the financial aspects of a subscription-based business and recurring payments with Helcim's software. This feature allows you to customize your subscription plans with trial periods, one-time fees and metered and prorated billing.
Hosted online store
Helcim provides businesses with the ability to build their own hosted online store, which is a feature not offered by most competitors. These e-commerce storefronts come complete with a shopping cart function, discount codes, shipping integrations, a content management system, theme editor, search engine optimization settings and a secure sockets layer certificate for security. Restaurants can also use Helcim's quick-order online store to create a menu, take orders and accept payments.
If you already have a website, you can accept online transactions by adding Helcim's hosted payment pages to your site. For business owners with more technical ability, it's also possible to connect a website using Helcim's application programming interface (API). [Read more about how to set up an online store and create a strong e-commerce marketing strategy.]
Helcim's e-commerce tools allow you to set up an online store at no additional cost. Like many of the other features, these functions are included with your all-in-one Helcim credit card processing platform.
Online invoicing
Helcim's popular invoicing feature allows you to create and send an unlimited number of invoices, issue automatic payment reminders and accept online invoice payments. You can also send invoices via text, which is especially useful in the mobile era. 
We especially liked that invoices sent via email feature a built-in "pay now" button that brings customers directly to Helcim's virtual terminal for payment. Importantly, invoices can also be customized to feature your company's logo and branding. Online payment pages can be branded as well. [Are you thinking about getting a more robust invoicing or accounting system for your small business? Check out our best picks for accounting software.]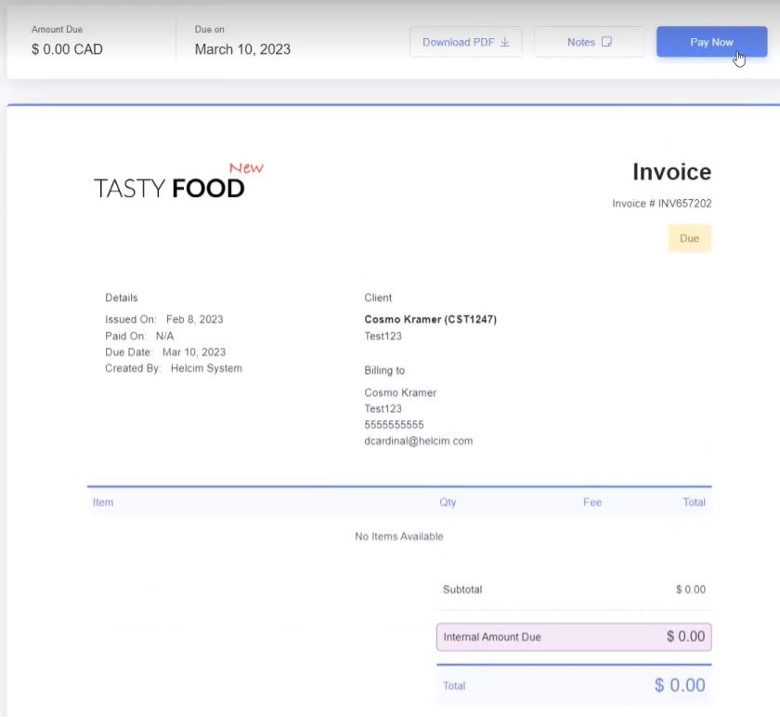 Customers can pay directly through digital invoices that have a built-in "pay now" button. Source: Helcim
Customer relationship management 
Helcim's software also functions as a customer relationship management (CRM) solution. You can add contact information and notes to customer profiles, view purchase histories and store credit card details in the platform's secure vault. You can also add your branding to Helcim's self-service customer portals. These are where your clients can update their contact and credit card information, view their order histories and pay invoices online. For third-party services, see our overview of the best CRM software.
Integrations
Helcim integrates with several shopping carts and e-commerce platforms, including Magento, Foxy.io and WooCommerce. There is also a plugin available for QuickBooks Online — check out our detailed QuickBooks Online review to learn more about integrations. If you prefer to build a custom integration for your website or app, developers can make use of Helcim's API. 
Security
Helcim is a Payment Card Industry (PCI) Level 1 service provider, complying with the PCI's highest standards. It secures payment data using encryption and tokenization technologies, and two-factor authentication is available to keep your account from being compromised. The company also includes its Helcim Fraud Defender service, which scores transactions for fraud risk, with every account. We were impressed that you can even set a risk threshold. Any transactions that score below this threshold are declined automatically.
Helcim POS System
When combined with credit card processing, Helcom's POS system gives business owners everything they need to process a sale and collect payment. The no-frills software is free and includes online ordering, a mobile app and a desktop workstation. Helcim also offers its own handheld card readers. 
Hardware
Although not included with its credit card processing service, Helcim sells its own proprietary credit card readers. The readers come in multiple colors and have built-in email receipt and analytics capabilities. A standalone payment terminal is currently under development by the company and available for preorder.
>> Read Next: How to Get the Best Credit Card Machine for Your Business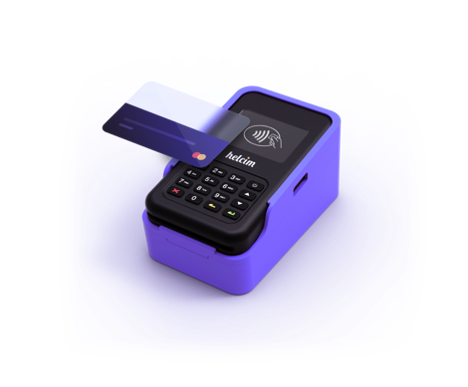 Helcim's attractive card readers come in several colors. Source: Helcim
Mobile app
Helcim's mobile app is available on both Apple and Android phones and tablets. Conveniently, the app supports an unlimited number of user accounts and has access controls that allow you to limit employee access. You can add a cash drawer, card reader and barcode scanner to create a point-of-sale station, but Helcim won't provide the equipment.
Desktop POS app 
One unique Helcim feature is the company's desktop app. This allows you to turn a desktop computer into a POS system. Through the desktop app, you can access product and inventory information, as well as accept payments. We like that you can use this tool to replicate the traditional in-person checkout experience without purchasing additional hardware. 
Online ordering
We were excited to discover that Helcim provides small businesses with a solution for online ordering. With Helcim's online POS system, a restaurant can post a menu, accept payments, and provide various delivery and pickup options. This is an excellent tool for businesses that want to cut out third-party delivery apps and other expensive middlemen. 
Helcim Pricing
Helcim offers businesses an interchange-plus pricing model with no contracts or monthly fees. This pricing structure consists of a small markup over the interchange rate set by the credit card company, plus a small, fixed fee. Here are the starting interchange-plus base rates you'll pay when using Helcim to accept credit and debit card payments.
In-person (average): 1.94% plus 8 cents above interchange for transactions made on a physical Helcim terminal. 
Online (average): 2.51% plus 25 cents above interchange for e-commerce sales, online invoice payments and transactions keyed into the virtual terminal. 
International: 0.5% plus 25 cents above interchange for any transaction by an overseas customer, including those made online. 
ACH: 0.5% plus 25 cents above interchange for electronic fund transfers.
Helcim provides discounts based on monthly credit card volume. For example, instead of the rates outlined above, businesses that process more than $25,000 in credit card payments per month will pay 0.25% plus 7 cents for in-person payments and 0.45% plus 20 cents for online transactions. The tiered discount system includes seven levels and maxes out at $5 million per month. We like that Helcim applies these discounts automatically; unlike with some competitors, you don't need to ask.  
Helcim's markups remain the same across card types, with no additional credit card processing fees on more expensive rewards cards. Instead, these savings are passed along to your business. We also love that the company doesn't charge any monthly membership, cancellation, PCI, setup or deposit fees. 
Incidental fees
Keep in mind that, like most credit card companies, Helcim isn't entirely fee-less. Businesses can expect the following incidental fees:
Chargeback fee: $15 per occurrence, which is lower than average and reimbursed if you win the dispute
Currency conversion fee for Helcim's multicurrency processing service: 1% above the daily market rate
Processing equipment costs
Helcim's card reader costs $109 and the company's in-the-works terminal will retail for $349. The card reader has EMV and near-field communication (NFC) technology, so you can accept chip cards, contactless cards and mobile card payments like Apple Pay and Google Pay. It has a built-in swiper and PIN pad so you can accept magnetic stripe cards and PIN debit cards and it also can email receipts and access cards on file for payment.
However, if you want to add peripherals like a cash drawer, receipt printer and barcode scanner to your system to create a POS station, you have to purchase them from third-party vendors. See our review of Clover for an alternative credit card processing option with its own quality POS equipment.
Implementation and Onboarding
Signing up for Helcim is free and can be done quickly on the company's website. The vendor will ask you for some basic details about your business, such as legal name and tax identification number, as well as information on your industry, products and average credit card sales volume and transaction amount. After you fill out Helcim's online application, the company will email you requesting documentation, such as your business license, a utility bill or your driver's license and a voided check. 
Applications can be approved the same day or the next day, but it can take up to two business days if there is incomplete information or information that cannot be verified. Note that only half of the applications Helcim receives are approved, and Helcim frequently declines high-risk businesses. To learn about a credit card processor that does accept high-risk businesses, read our National Processing review.
We like that Helcim makes it easy to get up and running with its platform. The company's website includes a step-by-step walk-through of setting up your payments account, adding inventory, creating an online store and more. If you need additional help implementing the software, Helcim provides technical support over the phone. 
If you decide to purchase Helcim hardware, it may take an additional two or three days for the card reader to arrive. Like with the software, Helcim provides online video tutorials and walk-throughs for its hardware so you can learn how to accept payments quickly. 
Customer Service
In an era where many vendors have transitioned to automated support systems and outsourced agents, we like that Helcim maintains in-house customer service specialists and phone support. The company's helpline is open from 7 a.m. to 7 p.m. Mountain time Monday through Friday and 9 a.m. to 5 p.m. MT Saturday and Sunday. Helcim also provides responsive support through email and the mobile app has support ticket capabilities.
Answers to many frequently asked questions (FAQs) are available on Helcim's website via the Helcim Learning Center, along with instructional guides for using the software and hardware. The site also houses documentation for those who would like to take advantage of Helcim's integration and API possibilities. 
Helcim's goal is to be the "most loved payments company" and bring a human touch to customer support.
Limitations
While Helcim's no-contract policy is a major advantage over some other processors we reviewed, a downside is that the company doesn't provide free hardware. Instead, equipment is sold separately. Furthermore, Helcim's hardware offerings are a bit limited compared to some competitors. Although Helcim's POS software is free, business owners may also want to check out our recommendations for high-quality POS systems.
It should also be noted that although we love Helcim for its feature-filled, all-in-one plan and transparent pricing, its fees aren't the lowest of the credit card processors we investigated. If you don't need any of the extra functions and services Helcim includes, then you can likely find lower rates elsewhere, especially if you're a primarily online merchant.
Methodology
We researched and analyzed the best credit card processors to find the top services for small businesses. These investigations included demos and free trials, a careful examination of user reviews and interactions with each vendor's customer service teams. We looked at the usability of each company's hardware and software offerings, as well as how fair the contract terms are to the merchant. Additionally, we scrutinized the rates and fees charged by each processor. To identify the best all-in-one platform, we paid particular attention to the breadth of features on offer, including POS systems and payment options. 
FAQs
It generally takes Helcim two business days to pay.
Yes, the all-in-one Helcim platform includes a payment gateway API so you can accept credit card payments on your website.
Yes, Helcim processes ACH transfers for 0.5% plus 25 cents above interchange, allowing you to collect funds directly from a customer's bank account.
Bottom Line
We recommend Helcim for …
Omnichannel businesses seeking an all-in-one credit card processing platform with various payment options. 
Seasonal businesses that want to avoid monthly credit card processing fees. 
We don't recommend Helcim for …
Business owners that want free hardware from their credit card processor. 
Businesses that need a more advanced POS solution. 
High-risk companies that may not qualify for Helcim's services.