Payment Depot's low rates, multiple pricing tiers, and easy setup make it an excellent option for small businesses that process a high volume of credit card sales each month.
Pros
Payment Depot offers a range of plans to serve businesses of all sizes.
If your business processes a high volume of transactions monthly, the membership pricing structure can save you money.
Cons
Low-volume businesses may end up paying more with Payment Depot than with other credit card processors.
Payment Depot's software lacks the bells and whistles of some competitors.
Payment Depot stands out in the credit card processing landscape for several reasons. It's well suited for large volumes of credit card payments and is one of the few processors that offer wholesale membership-based pricing. Payment Depot doesn't require you to sign a lengthy contract or pay early-termination fees if you cancel, thus giving your business more flexibility to make changes. Payment Depot also offers a wide range of plans to serve businesses of various sizes. 
Payment Depot Editor's Rating:
8.5 / 10
Pricing and fees

9.4/10

Customer service

9.0/10

Third-party integrations

8.0/10

Payment options

8.5/10

Added POS tools

7.5/10
Why We Chose Payment Depot as the Best Credit Card Processor for High Transaction Volumes
Payment Depot is a good fit for businesses that accept a high volume of credit card transactions because it uses a subscription-based pricing model. With this model, you pay a monthly fee, then interchange rates plus a flat per-transaction fee. 
The interchange rate is not marked up with an additional percentage, meaning Payment Depot doesn't take a cut of your revenue. For high-volume businesses, this can generate substantial savings. We also like that Payment Depot offers various plans for businesses of all sizes and growth stages that want to accept credit card payments. For these reasons, we chose Payment Depot as the best credit card processor for high transaction volumes.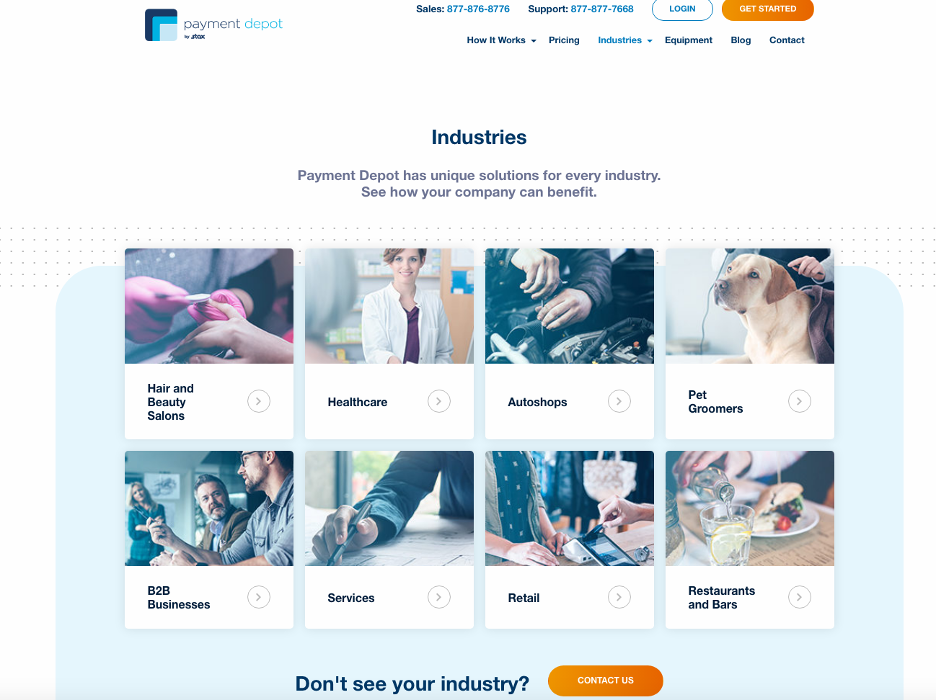 Payment Depot offers unique solutions for many businesses but is not well suited to high-risk industries.  Source: Payment Depot
Ease of Use
We were impressed with Payment Depot's ease of use. Payment Depot's user interface features a logical layout that is straightforward and easy to navigate. The reporting module is particularly intuitive, with a dashboard that offers a quick look at all your sales data. You can also quickly drill down into any overview for more granular data. We believe business owners and their teams will get up and running quickly with Payment Depot's software.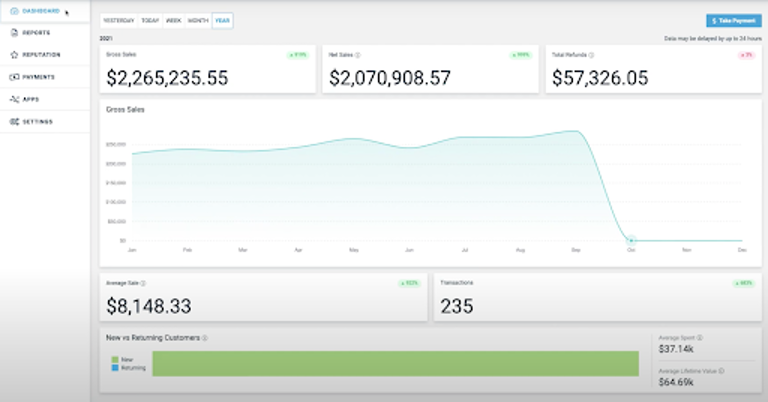 The Payment Depot analytics dashboard is clean and easy to navigate. Source: Payment Depot
Payment Depot Features
Payment Depot offers various helpful services and features. Here's an overview of the company's best tools we determined from our review. 
Virtual Terminal 
Payment Depot partners with SwipeSimple to provide a virtual terminal for customers. With the SwipeSimple virtual terminal, you can enter payment information to accept credit card payments over the phone. We liked that you can also use this virtual terminal to send invoices to customers, schedule recurring subscription payments, track inventory, issue receipts and more.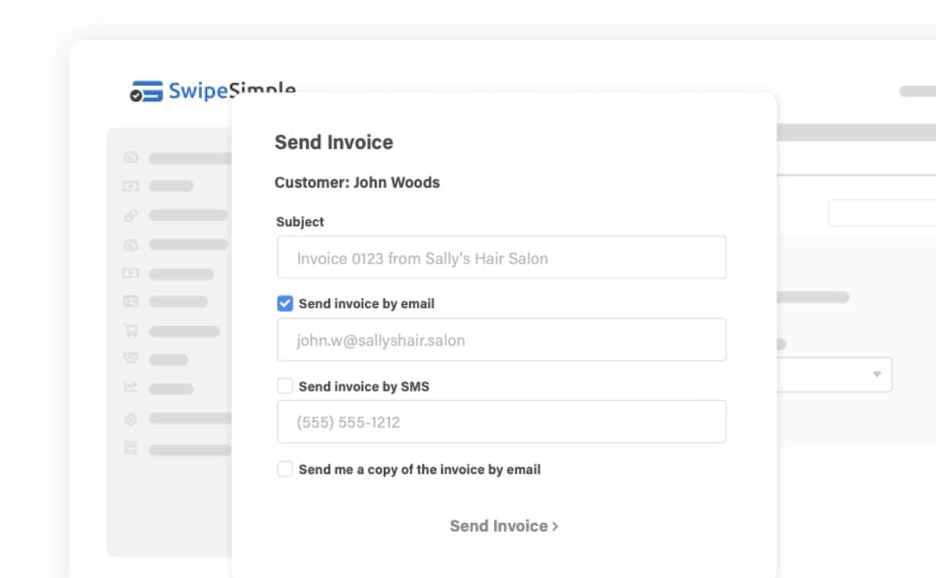 Payment Depot partners with SwipeSimple to provide a virtual terminal and invoicing system. Source: Payment Depot
POS Tools
While some competitors have built-in point-of-sale (POS) functionality, Payment Depot offers a choice of two third-party POS systems: Clover and Vital Select. Each has its own hardware and software. In addition to processing payments, both POS systems let you view sales; generate POS reports; track inventory; and manage employee permissions, time and attendance. Clover's software has specific modules for retailers and restaurants, with specialized features such as generating tickets for the kitchen and setting multiple product characteristics, like sizes and colors.
Mobile App
Not every credit card processor offers a mobile app, so we appreciate that Payment Depot partners with SwipeSimple for mobile payments. The SwipeSimple app allows you to manage a product catalog, save payment information securely, add tips and process refunds. SwipeSimple also offers a mobile card reader, allowing you to accept payments on a mobile phone. 
Hardware
We were impressed with Payment Depot's wide selection of third-party credit card processing equipment, including hardware from Clover, Dejavoo, First Data, Poynt, SwipeSimple and Vital Select. You must talk to a Payment Depot representative to get equipment pricing.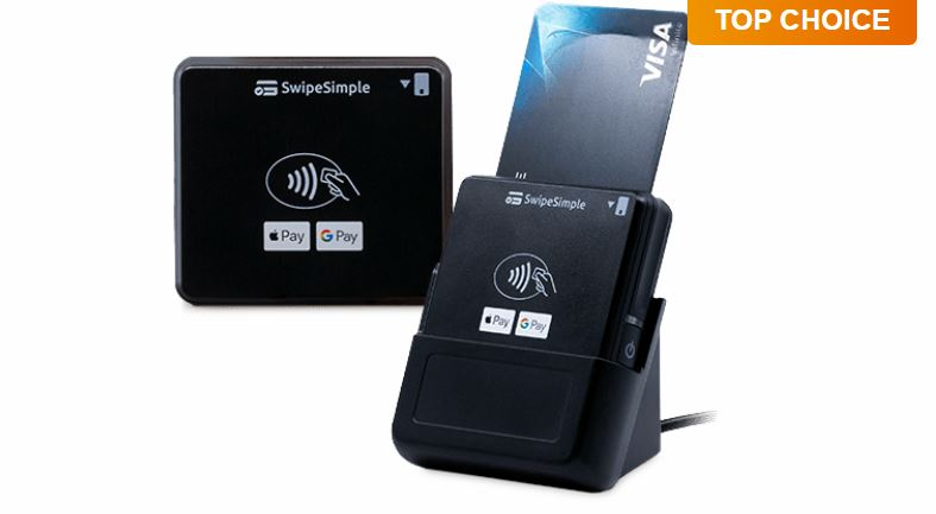 SwipeSimple is one of the payment hardware brands offered by Payment Depot. Source: Payment Depot
You can accept contactless payments, such as NFC mobile payments, with Payment Depot by choosing an NFC-friendly POS system.
Payment Depot Pricing
Payment Depot uses a membership-based pricing model. For each transaction, Payment Depot charges a small fee over the wholesale rate (the interchange and assessment fees set by the credit card networks). The per-transaction fee is a small, flat amount you pay for each sale you process. The exact cost depends on your membership plan, which is based on the dollar amount of monthly credit card transactions your business processes. Fortunately, unlike some other processors, Payment Depot doesn't add a markup percentage to the wholesale rate.
Here's how the credit card processing fees break down:
Starter: This plan costs $59 per month, plus 15 cents per transaction. It includes free equipment, ACH processing, the ability to surcharge, a dashboard, analytics, backup processing and breach protection.
Starter Plus: This plan costs $79 per month, plus 10 cents per transaction. It includes everything in the Starter plan, plus digital invoicing; the ability to accept recurring charges for memberships, subscriptions and payoffs; a text-to-pay option for customers; and API and QuickBooks integration.
Growth: This plan costs $99 per month, plus 7 cents per transaction. It includes everything in the previous plans, plus an upgraded dashboard and analytics, the ability to import and export data, and automatic updates to credit card expirations.
Additional Fees
We like that Payment Depot doesn't charge a separate setup fee or many of the additional account fees that are common in the industry, including monthly fees and PCI compliance fees. There's no separate payment gateway fee for online businesses, as the membership fee also covers this. However, there is a $15 charge-back fee and a $19.99 monthly fee for PCI noncompliance.
You can prevent charge-backs by writing and presenting clear product and service descriptions and displaying well-articulated policies for refunds and shipping.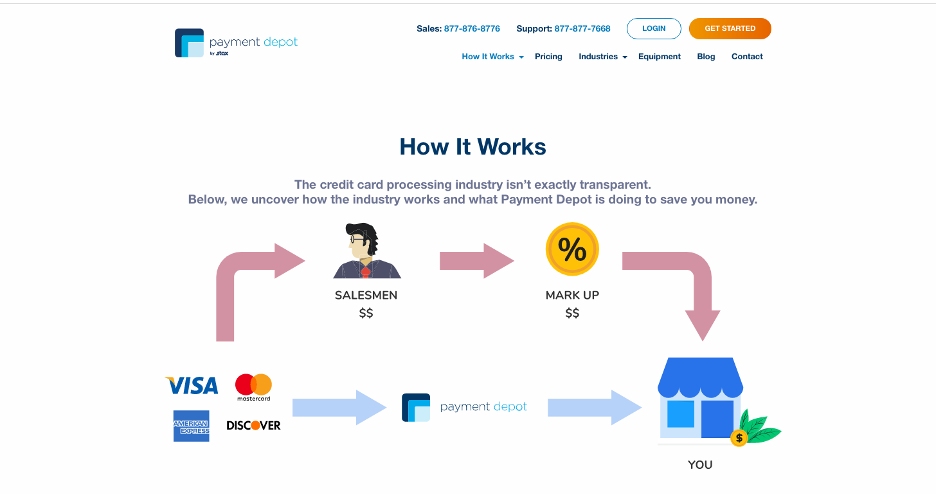 Payment Depot offers transparent pricing to save high-volume businesses money.  Source: Payment Depot
Minimum Sales
There is no monthly minimum. However, if your credit card processing volume is less than $2,500 monthly, Payment Depot may advise you to accept credit cards with PayPal or refer you to Square — options that would be more cost-effective processing solutions for your business. (Read our Square review to learn more about its credit card processing services.) We love that Payment Depot is upfront about this and wants to do right by all potential customers, even if that means directing you to a competitor. 
If you're directed toward PayPal or Square, check out our PayPal vs. Square analysis to see the best option for your credit card processing needs.
Additional Terms
We like that Payment Depot provides its credit card processing services on a month-to-month basis with no cancellation fee if you choose to close your account and go with a different processor. Furthermore, if you pay the Payment Depot membership fee upfront at the annual rate but decide to move on before that 12-month period ends, you'll be refunded on a prorated basis. Payment Depot also offers a 90-day trial if you pay annually, so you can get your membership fee back if you decide it isn't the right processor for your business. Most credit card processors we reviewed do not offer a free trial as a benefit, so we appreciated Payment Depot's flexibility. 
Implementation and Onboarding
Payment Depot features a quick and easy application that the company says takes just 10 minutes to complete. We like that Payment Depot's hardware is plug-and-play. Terminals arrive programmed and ready to use, taking away the burden of setting up equipment properly and dealing with technical issues. As soon as your equipment arrives, you can plug it in and start accepting payments.
Customer Support
When you sign up with Payment Depot, you're assigned a dedicated account representative who serves as your primary point of contact. Not all credit card processors offer this level of service. The company's normal business hours are Monday through Friday from 11 a.m. to 8 p.m. ET, but the company offers 24/7 phone support for customers. Payment Depot earns above-average customer satisfaction ratings on user-generated review sites, but some customers complained about unexpected fee increases.  
Limitations
Payment Depot can save you money if your processing volume is high enough. However, if you have low or irregular monthly volume, the savings may not compensate for the higher membership fee. You'll need to do some math to determine if this pricing model is cost-effective for your business. As part of your calculations, remember that each plan has different processing limits.
Another potential downside is that Payment Depot doesn't work with businesses in high-risk industries. Before you apply for an account, check Payment Depot's list of prohibited businesses to ensure it works with companies in your industry.
Methodology
We researched and analyzed leading credit card processors to find the best credit card processors for small businesses. Our in-depth analyses included viewing demos, accessing free trials, carefully examining user reviews and interacting with each vendor's customer service team. We assessed the usability of each company's hardware and software offerings and determined how fair the contract terms were to the merchant. Furthermore, we scrutinized the rates and fees charged by each processor. To identify the best credit card processor for high transaction volumes, we paid particular attention to the pricing model to determine if fixed fees could be spread out over many transactions. 
FAQs
Most existing equipment can be reprogrammed to work with Payment Depot's services.
Payment Depot can offer low transaction rates by charging a flat monthly subscription.
Bottom Line
We recommend Payment Depot for …
High-volume businesses that want to avoid credit card processors that take a cut of their revenue. 
Businesses that prefer the simplicity of a monthly subscription. 
We don't recommend Payment Depot for …
Business owners who want an integrated POS and credit card processing solution. 
Low-volume businesses that may not benefit from Payment Depot's pricing model.