National Processing Review
National Processing is one of many high-quality credit card processing companies, but it stands out from competitors because of its low transaction rates and a rate-lock guarantee. There's no monthly minimum processing requirement, which makes it a great pick for businesses on a budget. Unlike many rival vendors, we also like that National Processing provides credit card processing for high-risk businesses and works with both new and established companies. In other words, virtually every type of company can get their needs met by National Processing's services.
National Processing
The Verdict
National Processing offers low transaction rates and a rate-lock guarantee for credit card processing, making it the best pick for cost-conscious businesses that need to avoid high transaction fees. 
National Processing Editor's Score: 8.8/10
| | |
| --- | --- |
| Pricing and fees | 9.6 |
| Customer service | 9.6 |
| Third-party integrations | 8.5 |
| Payment options | 8.5 |
| Added POS tools | 7.7 |
Why We Chose National Processing for Low Transaction Rates
National Processing was founded on the idea of providing businesses with low and transparent rates for credit card processing. We were exceptionally impressed that the company maintains a low-rate guarantee and is willing to match or beat rates set by competing services. National Processing uses interchange-plus pricing, which can make a big difference in reducing a merchant's monthly payment processing fees, especially if it has a high monthly volume.
National Processing pairs this interchange-plus pricing with a reasonable monthly fee, which is lower than those of several rival processors. We like that when volume is a bit lower during a slow season, merchants are not locked into a high monthly fee and can still benefit from the low processing rates. This makes credit card processing – an essential business activity today – an affordable operation for businesses of all sizes with varying sales. In comparison, other vendors are better suited to specific types of companies or volumes. As an example, see our review of Payment Depot, which is the best processor for high-volume transactions but takes a cut of your revenue.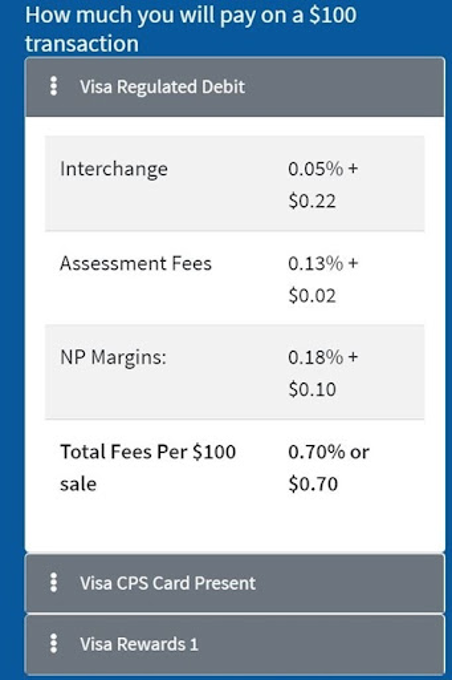 Thanks to National Processing's transparent pricing, you know exactly how much a purchase will cost you to process. Source: National Processing
What We Like About National Processing
National Processing features low interchange-plus pricing for high-volume businesses.
The company locks in your rate and guarantees it for the duration of your term.
The vendor is willing to work with a variety of businesses. 
What We Don't Like About National Processing
National Processing charges an early-termination fee and other fees that can accumulate, ultimately making the service more expensive for low-volume businesses. 
The company doesn't provide new businesses with free processing equipment.
Ease of Use
National Processing offers all of the options merchants typically look for when it comes to accepting payments, such as in-store, online and over-the-phone credit card processing. National Processing's own proprietary gateway is user-friendly, with a logical layout that's easy to navigate. It supports in-person processing and integrates with several point-of-sale (POS) hardware options. Whether using the company's in-house POS system or a third-party terminal, you can accept credit card payments, collect customer information and easily access sales data. 
Another benefit of National Processing is that you have free access to the vendor's SwipeSimple virtual terminal. With SwipeSimple, you can track inventory, save customer information and track purchase history – all on one easy-to-use platform. Rival Helcim also boasts a virtual terminal. See our full Helcim review to find out why we think it's the best all-in-one system.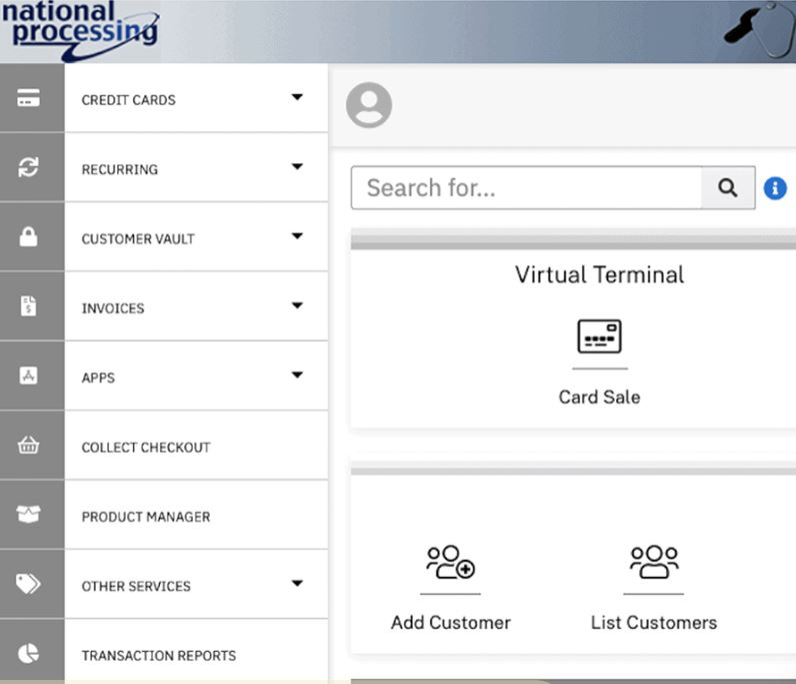 National Processing's gateway connects to online shopping carts and can be used to manually run transactions.  Source: National Processing
National Processing Features
Beyond its low transaction rates and transparent pricing, National Processing offers a bevy of features and services that make it an attractive credit card processing provider. Here is an overview of the company's best tools. 
Virtual Terminal 
With National Processing's virtual terminal, SwipeSimple, you can take payments remotely by directing customers to enter their credit card information on a secure website. This system also allows you to accept credit card payments over the phone. In either case, you get to close sales regardless of whether the customer is physically in your store. With the rise in online shopping, your customers will appreciate the opportunity to easily make digital purchases.
Mobile Processing
National Processing also partners with the SwipeSimple app to provide mobile processing services. With this mobile app, you can use your smartphone to accept credit card payments by pairing it with a mobile credit card reader. One option is to use the third-party Clover Go mobile reader to accept mobile payments on your phone. [Read more about this alternative credit card processing company and its hardware in our detailed review of Clover.]
ACH Processing
Beyond processing credit card payments through National Processing, you can provide direct deposits to employees, accept rent and other business payments, and create recurring transactions with the company's ACH payment processing solutions. This is a unique service that other processors we reviewed don't offer. 
QuickBooks Integration
When you process payments with National Processing, you get access to invoice and billing software that integrates with QuickBooks accounting software. That gives you deeper insight into your business's operations and helps you manage your company's finances. [Learn about the world's leading accounting software provider in our comprehensive review of QuickBooks Online.]
Merchant Account
National Processing's merchant account includes the aforementioned invoicing and billing software, which lets you easily send recurring invoices and accept and make payments online. We like this added functionality, as it helps streamline the invoice process for business owners. There are also tools to reduce fraud and avoid chargebacks.
Hardware
National Processing is a vendor for several third-party POS devices, including Dejavoo terminals and SwipeSimple card readers. National Processing is also an authorized dealer for Clover equipment, including the Clover Mini, Clover Flex and Clover Station. Additionally, we like that National Processing offers the Clover Go, which allows you to accept payments with your mobile phone and see your entire transaction history in the mobile app.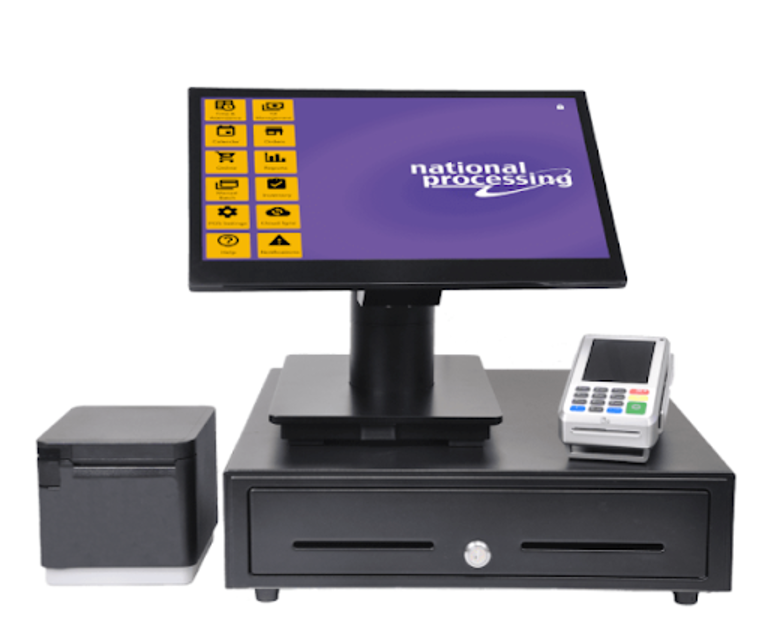 National Processing offers a POS bundle that includes a cash drawer and other equipment. Source: National Processing
National Processing Pricing
We appreciate that National Processing's website clearly lists its pricing, making it simple for small businesses to know in advance how much they'll pay for different transactions. The company offers a variety of rate plans, all of which have a monthly fee and interchange-plus pricing. Your overall pricing is determined by industry and function. See a breakdown below.
| Rate category | Monthly fee | Interchange-plus price |
| --- | --- | --- |
| Restaurant | $9.95 | 0.14% + $0.07 above interchange |
| Retail | $9.95 | 0.18% + $0.10 above interchange |
| E-commerce | $9.95 | 0.29% + $0.15 above interchange |
| Nonprofit | $9.95 | 0.12% + $0.06 above interchange |
| Cash discount | $39.95 | N/A |
| ACH processing | $15 | 0-1.5% + $0.48 above interchange |
| Subscription | $59 | 0% + $0.09 above interchange |
| Subscription Plus (includes free terminal) | $199 | 0% + $0.05 above interchange |
In addition to disclosing its rates and fees, National Processing even has a hypothetical example on its website showing how much you would pay in fees for a $100 transaction using three different types of Visa cards. We also like the site's pricing calculator, which helps you see how much you could save with National Processing's services.
Locked-in Rates
National Processing's rate-lock guarantee is one of the company's biggest differentiators in our view. Once you sign up, there's no chance your rate will increase, which is rare in the credit card processing industry. National Processing also prides itself on being among the lowest-priced credit card processors, and the company will give you $500 if it can't beat your current rate. This guarantee, however, applies only to merchants processing at least $10,000 in sales per month.
Monthly Fee
National Processing charges a $10 monthly fee to cover the costs of customer support and account maintenance. Some processors, like Helcim, don't have this expense – or the fees below, for that matter.
PCI Compliance Fees
Rather than charge clients an annual fee for PCI compliance, National Processing charges $10 on a monthly basis. For each month you fail to provide proof of compliance, your account will be charged another $99. Compared to other credit card processors, some of whom do not charge any PCI-related fees, this is a bit on the high side. 
ACH Processing Fee
For transactions involving ACH payments, National Processing charges $15 per month plus $0.48 per transaction. Transactions over $5,000 incur a 1.5% fee. If you process a lot of ACH payments, we believe this is a pretty good deal.
Termination Fee
National Processing normally charges a termination fee of $595. However, according to its "company promises," the vendor will waive the termination fee if your business is sold or closed or if National Processing can't meet or beat a competitor's rates. For the latter to be approved, you need to submit the competitor's contract in writing to National Processing.
However, if you leave National Processing before the end of your contract term without giving the company the opportunity to match or beat your new offer, you will need to pay the full termination fee. This is a very high fee; many processors have no early-termination fee at all. 
Other Fees
An address verification service (AVS) is an anti-fraud tool that verifies the customer's billing address matches the on-file address of the cardholder. National Processing charges $0.05 per transaction for this feature. Another security measure is voice authorization, an anti-fraud tool that's triggered when a customer's bank detects something suspicious about a transaction and wants to verify the customer is the cardholder. If a customer needs to be identified, you'll be charged $2.50. 
Other fees include a $0.10 batch fee when you close out the day's transactions. You'll also pay $7.00 if you need National Processing to retrieve a sales draft as proof of a transaction, as well as $19.95 for chargebacks. We found that National Processing's chargeback fees are on the lower end compared to those of other credit card processors. 
Implementation and Onboarding
National Processing is a full-service credit card processing company that provides a merchant account. As part of your application, you will need to provide basic information about your business, such as your employer identification number (EIN) and financial statements. You will also need to have a separate business bank account. The approval process should take a couple of days once you've submitted the online application. You can also schedule a same-day call with a sales representative directly from the National Processing website if you want to be walked through any of the service details.
National Processing users will need to set up SwipeSimple to access the virtual terminal and other payment tools. Although this means you'll have to deal with another vendor, SwipeSimple has posted numerous tutorials and walk-throughs online for a seamless implementation process. Help is also available through National Processing's customer support. Because National Processing's hardware is provided by third parties, users will need to contact the individual vendors for help with those devices. 
Customer Service
We were very impressed that National Processing earns stellar marks from customers in user reviews. Perhaps that's not surprising given that the vendor will pair you with a dedicated account executive who can be reached by phone Monday through Friday from 10:30 a.m. to 7:30 p.m. ET. That is helpful if you have any questions, particularly when you're first starting out with the company, and want personalized assistance. You can also reach your account rep by email. 
Additionally, National Processing provides tech support 24/7 and live chat, which are two great customer service tools. We also like that the company has a blog that it updates regularly. There are articles covering relevant topics like electronic payments and chargebacks. 
Limitations
National Processing has a few drawbacks to consider. For example, although the vendor is very transparent about its rates, it doesn't list the prices for the hardware on its website. You will need to contact the company to obtain specific pricing for equipment, which adds an extra step to the buying process. 
The large number of incidental fees is another downside of working with National Processing, as is the early-termination fee. As a result, you may end up paying more overall despite saving on the low transaction fees.
Methodology
We researched and analyzed leading credit card processors to find the best services for small businesses. As part of these investigations, we used demos and free trials to get hands-on experience with each product and spoke with company representatives. We evaluated the usability of both hardware and software, considered the fairness of the contract terms, and weighed the credit card processing rates and fees merchants can expect. When determining the best credit card processing solution for businesses specifically seeking low transaction fees, we prioritized rate amounts, whether costs were transparent and if the vendor was willing to price-match competitors.
FAQs
Will I be locked into a contract with National Processing?
Yes, you are locked into a contract with National Processing and could face an early-termination fee for breaking it. You will have to work specifically with a National Processing agent to determine the specific contract terms.
How long does National Processing take to pay out?
National Processing takes one to three business days to pay out funds to your bank account.
Can I cancel National Processing?
You can cancel your contract with National Processing, but you may be assessed a $595 early-termination fee. 
Bottom Line
We recommend National Processing for …
Merchants that prioritize low transaction rates and price matching. 
High-risk businesses that may have trouble finding a credit card processor willing to work with them. 
We don't recommend National Processing for …
Business owners that are concerned about excessive fees and possible early-termination penalties.
Merchants seeking an integrated POS hardware and credit card processing software solution with more advanced features. 
National Processing
The Verdict
National Processing offers low transaction rates and a rate-lock guarantee for credit card processing, making it the best pick for cost-conscious businesses that need to avoid high transaction fees. 

Jennifer Dublino
Contributing Writer
Jennifer Dublino is a prolific researcher, writer, and editor, specializing in topical, engaging, and informative content. She has written numerous e-books, slideshows, websites, landing pages, sales pages, email campaigns, blog posts, press releases and thought leadership articles. Topics include consumer financial services, home buying and finance, general business topics, health and wellness, neuroscience and neuromarketing, and B2B industrial products.