National Processing Review

Jennifer Dublino
business.com Contributing Writer
Updated Nov 01, 2022
National Processing is one of many high-quality credit card processing companies, but it stands out because of its low transaction rates and a rate-lock guarantee. There's no monthly minimum processing requirement, which makes the provider a great pick for those mindful of their budget and looking for cost-efficient options when it comes to processing transactions. We also like that National Processing accepts high-risk businesses, unlike some other processors, and works with both new and established businesses.
National Processing
The Verdict
National Processing offers low transaction rates and a rate-lock guarantee for credit card processing, making it the best pick for cost-conscious businesses that need to avoid high transaction fees. 
National Processing Editor's Score: 7.6/10
| | |
| --- | --- |
| Pricing | 8/10 |
| Contract | 8/10 |
| PCI compliance fee | 7/10 |
| Early termination fee | 7/10 |
| Quick deposit | 6/10 |
Why We Chose National Processing for Low Transaction Rates
National Processing uses interchange-plus pricing, where it adds a small percentage markup plus a flat per-transaction fee to the interchange rates that are the minimum rates set by the card brands. We find that this type of pricing can make a big difference in reducing a merchant's monthly payment processing fees, especially if it has a high monthly volume.
National Processing pairs this interchange-plus pricing with a reasonable monthly fee, which is lower than those of other processors, such as what we found in our review of Payment Depot, giving merchants a balance between fixed and variable costs. We like that when volume is a bit lower during a slow season, merchants are not locked into a high monthly fee and can still benefit from the low processing rates.
What We Like About National Processing
National Processing has interchange-plus pricing, which is very competitive.
The company locks in your rate and guarantees it for the duration of your term.
It accepts high-risk businesses, which most processors don't.
What We Don't Like About National Processing
National Processing has a high early termination fee and other fees that can accumulate, ultimately making the service relatively expensive, especially for smaller businesses.
It does not list its equipment costs online or provide new businesses with free equipment.
Ease of Use
National Processing offers all of the options merchants are looking for when it comes to accepting payments, such as in-store, online and over the phone. It supports in-person processing and integrates with several POS hardware options. Whether using the company's in-house POS system or a third-party terminal, you can accept credit card payments, collect customer information, and easily access sales data.
Whether you want to accept payments online or via an invoice, National Processing can make it happen. The online processing solution lets you accept credit cards, automated clearing house (ACH) check payments and e-invoicing. Internet-based terminals and web payments enable you to process payments on the go, and they integrate with your website.
National Processing has both a mobile back end software interface for merchants and a virtual terminal that you can access from a browser on a computer. We like how it includes the features of a POS system, with reports and the ability to process payments and monitor employees.
Additionally, the sales module easily shows you your sales by customer, device, and payment type in an easy-to-use interface.
Features and Services
National Processing offers a bevy of features and services that make it an attractive credit card processing provider.
Mobile Processing
You can use your mobile device to accept credit card payments. We love that you can also use the Clover Go mobile reader to accept mobile payments on the go. Find out more about this alternative processing company in our Clover review.
Virtual Terminal
With National Processing's virtual terminal, you can accept credit card information by having customers enter their information on a secure website. This enables customers to purchase products and make payments online, which has become more and more important to consumers in recent years.
ACH Processing
Beyond processing credit card payments through National Processing, you can provide direct deposit to employees, accept rent and other business payments, and create recurring transactions with the company's ACH payment processing solutions. This is a service we didn't see in any of the other credit card processors we examined.
QuickBooks Integration
When you process payments with National Processing, you get access to invoice and billing software that integrates with QuickBooks accounting software. That gives you deeper insight into your business's operations and helps you manage your finances.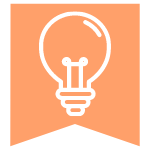 Tip: Learn more about what QuickBooks has to offer in our comprehensive review of QuickBooks Online.
Merchant Account
There's a lot of functionality that comes with National Processing's merchant account, like the aforementioned invoicing and billing software, which lets you easily send recurring invoices and accept and make payments online. We like this added functionality, as it helps streamline the invoice process for business owners. There are also tools to reduce fraud and avoid chargebacks.
Pricing
There are a lot of rates, fees and equipment costs associated with credit card processing. However, we appreciate that National Processing's website clearly lists its pricing, making it easier for small businesses to know how much they'll pay.
National Processing offers a variety of rate plans, all of which have a monthly fee and interchange-plus pricing. Your overall pricing is determined by industry and function.
| | | |
| --- | --- | --- |
| Rate category | Monthly fee | Interchange-plus price |
| Restaurant | $9.95 | 0.14% + $0.07 above interchange |
| Retail | $9.95 | 0.18% + $0.10 above interchange |
| E-commerce | $9.95 | 0.29% + $0.15 above interchange |
| Nonprofit | $9.95 | 0.12% + $0.06 above interchange |
| Cash discount | $39.95 | N/A |
| ACH processing | $15 | 0-1.5% + $0.48 above interchange |
| Subscription | $59 | 0% + $0.09 above interchange |
| Subscription plus* | $199 | 0% + $0.05 above interchange |
*The Subscription Plus plan is different from the Subscription offering in that it includes a free SwipeSimple Terminal and a free terminal upgrade every two years.
National Processing also offers decent plans for businesses that process a high volume of payments each month. For another high-volume processor, check out our Payment Depot review.
We like that National Processing is transparent about its pricing. In addition to disclosing its rates and fees, the provider even has a hypothetical example on its website showing how much you would pay in fees for a $100 transaction using three different types of Visa cards.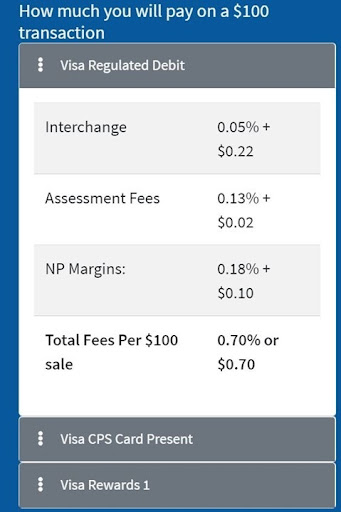 National Processing's rate-lock guarantee is a big bonus that we have to highlight. There's no chance your rate will increase, which is rare in the industry. The company also prides itself on being among the lowest-priced credit card processors, and the company will give you $500 if it can't beat your current rate. This guarantee, however, is only for merchants processing at least $10,000 in sales per month.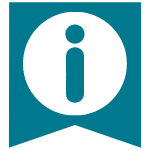 Did you know? Not all credit card processors offer a rate-lock guarantee like National Processing. With this provider, you won't have to worry about any unexpected rate increases.
National Processing also helps its customers save money on POS hardware by offering Clover terminals and equipment. Clover is well known in the POS hardware market and has a lot of resellers. National Processing also sells other POS hardware, but you need to contact the company to get a quote.
For businesses looking for an affordable way to accept payments, National Processing sells the Clover Go, which allows you to accept payments with your mobile phone and see your entire transaction history in the mobile app. That said, with more expensive POS systems, customers can manage inventory, employees and accounting directly from the software, so be sure to check out our best picks for POS systems.
National Processing charges various credit card processing fees, which we've outlined below.
Monthly Fee
National Processing charges a $10 monthly fee to cover the costs of customer support and account maintenance.
PCI Compliance Fee
When you process credit cards, there are certain requirements you need to follow to ensure you're protecting cardholder data. Rather than charge clients an annual fee, National Processing prorates the PCI compliance fee, charging $10 per month, which may make it more tolerable for some merchants. Some processors charge a PCI compliance fee, while others do not, and we found this amount to be very high for this type of fee.
PCI Noncompliance Fee
For each month that you fail to provide proof of PCI compliance, your account will be charged $99. This is also high in the credit card processing industry.
ACH Processing Fee
For transactions involving ACH payments, National Processing charges $15 per month, plus 48 cents per transaction. Transactions over $5,000 incur a 1.5% fee. If you process a lot of ACH payments, especially in high amounts, this is a pretty good deal.
AVS Fee
An address verification service (AVS) is an anti-fraud tool that verifies the billing address matches the on-file address of the cardholder. National Processing charges 5 cents per transaction for this.
Batch Fee
You pay 10 cents when you close out the day's transactions. We believe this is a small but unnecessary fee.
Voice Authorization Fee
Voice authorization is an anti-fraud tool that is triggered when a customer's bank detects something suspicious about a transaction and wants to verify the customer is the cardholder. If a customer needs to be identified, you will be charged $2.50. We found that this fee is fairly standard.
Retrieval Fee
You'll pay $7 if you need National Processing to retrieve a sales draft as proof of a transaction. For example, a customer's bank might ask for this during a chargeback dispute.
Chargeback Fee
If a customer initiates a chargeback, National Processing will levy a $19.95 fee on your account. Fortunately, this is on the low side for the industry.
Termination Fee
National Processing charges a termination fee of $595, but there are ways to avoid or lower credit card processing fees like this one. According to National Processing's "company promises," it will waive the termination fee if your business is sold or closed, or if National Processing can't meet or beat a competitor's rates. For the latter to be approved, you need to submit the competitor's contract in writing to National Processing.
However, if you leave National Processing before the end of the contract term without giving the company the opportunity to match or beat your new offer, you will need to pay the full termination fee. This is a very high fee; many processors have no early termination fee at all. Still, we appreciate the company's "promise" to waive it under certain circumstances.
Processing Equipment Costs
National Processing sells Clover, Dejavoo, and SwipeSimple card readers as well as its own proprietary POS systems, but the pricing for the hardware isn't listed online. The company also sells other hardware, but you'll need to speak with a sales representative to find out more.
Implementation and Onboarding
National Processing is a full-service credit card processing company that gives you a merchant account, so you must provide more information as a part of your application. The approval process should take a couple of days once you've submitted the online application. You can also schedule a same-day call with a sales representative directly from the National Processing website if you want to be walked through any of the service details.
New merchants can expect a bit of wait before receiving their first payout. After that, though, payouts are usually deposited in one to three days, which is standard for the industry.
Customer Support
National Processing will pair you with a dedicated account executive who can be reached Monday through Friday from 10:30 a.m. to 7:30 p.m. ET. That is helpful if you have any questions, particularly when you're first starting out with the company. You can also reach your account rep by email. Additionally, National Processing provides tech support 24/7 and live chat, which are two great features. We were also impressed that the company has a blog that it updates regularly. There are articles covering relevant topics like electronic payments and chargebacks.
Limitations
National Processing has a few drawbacks to consider. For example, although National Processing is very transparent about its rates, it doesn't list the prices for hardware on its website. You will need to contact the company to obtain specific pricing for the hardware items you're interested in. Once you know the cost, it may be worth shopping around for a better price on the Clover device, if that's the one you want to use. With so many resellers, you may be able to get it cheaper on your own. It's also a good idea to check with National Processing to see if your existing hardware is compatible, which can save you money on POS system hardware.
The PCI compliance fee is another downside of working with National Processing, as is the early termination fee. In fact, the number of and dollar amounts of fees are higher than those of most other processors. As a result, you may end up paying more overall despite saving on the low transaction fees.
What Is Credit Card Processing?
Credit card processing is everything that goes on behind the scenes between when a customer hands you their credit card as payment and when you receive the money in your account. This process takes place whether the purchase is made in person, online, over the phone or by mail. To be able to accept credit cards, your business needs to be set up with one or more processing providers, which will charge you on a per-transaction basis and sometimes add a monthly fee. In exchange, the credit card processors will seamlessly transfer customers' payments to your account and provide additional features, such as digital invoicing and analytics.
Methodology
We spent dozens of hours researching the top credit card processing companies. We looked at the usability of each company's hardware and software offerings, how fair the contract terms are to the merchant, and whether the products and services are geared toward any particular type of business by industry, size, or other characteristic. We also scrutinized the rates and fees so businesses can easily compare the recommendations and determine which processor is best for their ticket size and volume. Finally, we tested each provider's customer service to evaluate its response time and ease of use. For low transaction rates specifically, we focused on that portion of the fees specifically and compared and contrasted what different providers charge.
National Processing FAQs
Does National Processing give new merchants any free equipment upon sign-up?
No, National Processing does not provide free card readers or any other equipment.
Are you locked into a contract with National Processing?
Yes. You will have to work specifically with a National Processing agent to determine the specific contract terms. You may be subject to a termination fee if you cancel your contract before the end of its term.
Bottom Line
We recommend National Processing for …
Merchants whose priority in a processor is low transaction fees.
High-risk businesses.
Businesses that process a high volume of credit card sales.
We do not recommend National Processing for …
Businesses concerned about overall processing costs.
Startups.
Businesses that process a low volume of credit card sales.
National Processing
The Verdict
National Processing offers low transaction rates and a rate-lock guarantee for credit card processing, making it the best pick for cost-conscious businesses that need to avoid high transaction fees. 

Jennifer Dublino
business.com Contributing Writer
Jennifer Dublino is a prolific researcher, writer, and editor, specializing in topical, engaging, and informative content. She has written numerous e-books, slideshows, websites, landing pages, sales pages, email campaigns, blog posts, press releases and thought leadership articles. Topics include consumer financial services, home buying and finance, general business topics, health and wellness, neuroscience and neuromarketing, and B2B industrial products.