Chase Payment Solutions offers flat and interchange-plus rates and has month-to-month terms. Plans with same- and next-day funding are available for merchants who also use Chase's business banking services.
Pros
Businesses can leverage Chase's credit card data to generate customer insights.
Chase provides fast payouts and integration with other financial services.
Chase Payment Solutions offers a HIPAA-compliant way for healthcare businesses to process transactions.
Cons
Chase's credit card processing rates are higher than many other processors.
You risk an early termination fee if you accept free equipment.
Some user interfaces on the software feel a bit dated.
Chase is one of the nation's largest banks, boasting more than 4 million business customers. This prominence gives the company an enormous amount of data from which its credit card processing customers can draw insights. Additionally, Chase Payment Solutions offers fast payouts with no fee. If you have a Chase business checking account, integrating with its credit card processing service is even easier. You can also benefit from faster processing with customers using Chase-issued credit cards.
Chase Payment Solutions Editor's Rating:
8.3 / 10
Pricing and fees

8.7/10

Customer service

8.5/10

Third-party integrations

8.0/10

Payment options

8.5/10

Added POS tools

8.0/10
Why We Chose Chase Payment Solutions as the Best Credit Card Processor for Data Analytics 
Small business data analysis is an emerging trend in credit card processing. Your customers' transactions can provide critical insights you can use to achieve profitable growth. As one of the largest banks in the U.S. — and the issuer of a popular line of credit cards — Chase maintains a vast treasure trove of data at its disposal. Businesses that use Chase Payment Solutions can leverage the company's analytics services, including location-based insights. This will help you pinpoint your target audience and identify trends. For these reasons, we chose Chase as the best credit card processor for data analytics.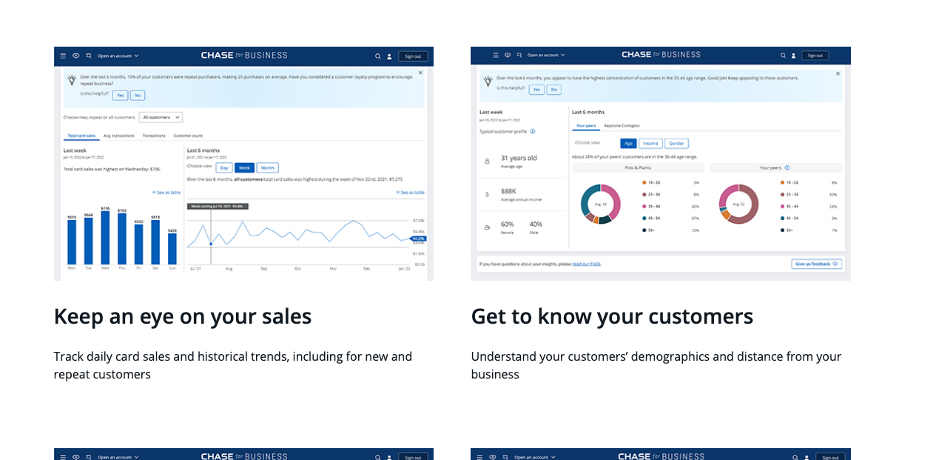 Chase's insights help you monitor sales and get to know your customers.  Source: Chase Payment Solutions
Ease of Use
We found the Chase Payment Solutions dashboard to be more involved than other credit card processors because it falls under the overall umbrella of Chase for Business. Some of its credit card processing tools are also available as separate services not directly accessible from the main Chase for Business portal. That said, we like that Chase Payments Solutions features a modern and clean user interface. You can access critical features from the dashboard, including Chase Customer Insights. We believe business owners and their teams won't face a steep learning curve working with various Chase Payment Solutions features.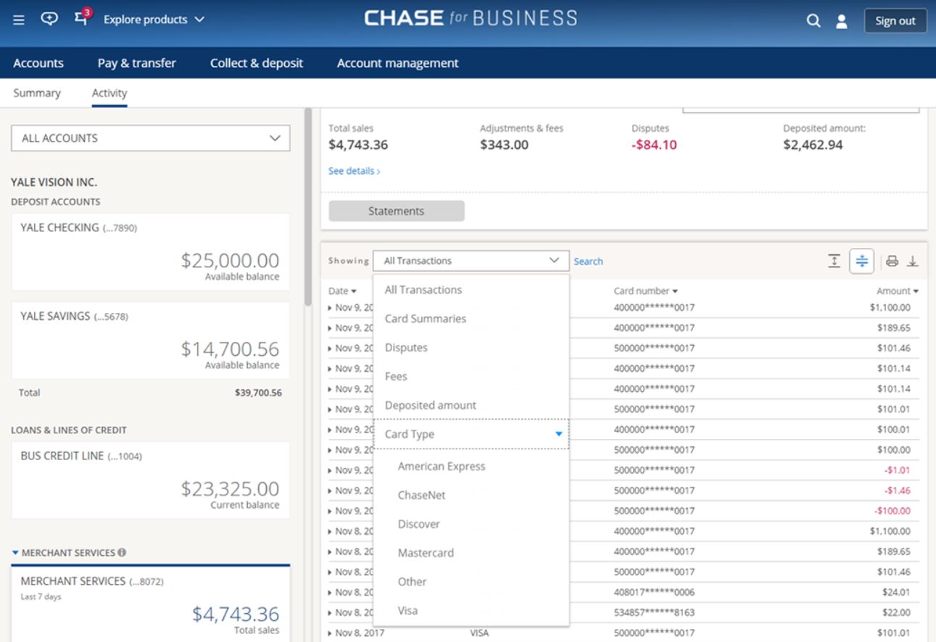 Chase Payment Solutions falls under the Chase for Business umbrella. Source: Chase
Chase Payment Solutions Features
Chase Payment Solutions offers various services and features, including functions that generate data insights. Here's an overview of the most valuable features we discovered during our Chase review. 
Virtual Terminal 
Chase Payment Solutions offers a virtual terminal called Orbital. With Orbital, you can manually key in credit card information to accept credit card payments over the phone. We particularly liked that the Orbital system includes credit card fraud detection tools. 
Reporting
We found Chase Customer Insights to be a particularly standout feature. As with other credit card processors, you can use Chase's reporting features to track sales and trends within your business. However, Chase goes further, allowing you to gain insights into your target audience's demographic data, such as age, income and gender. These insights stem from Chase's proprietary credit card data on customer purchasing habits. You can even drill down into the precise times and channels customers tend to purchase similar goods and services. Trends analysis will help you identify where you're overperforming and underperforming. You can even keep your business competitive by comparing it to similar businesses in your area. Using big data is one way small businesses can improve their marketing and generate more sales, and we found Chase's tools impressive.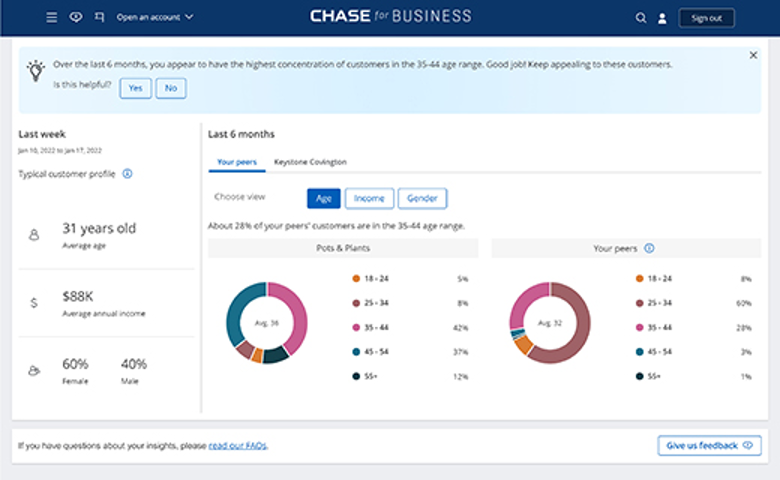 Chase provides highly detailed data on customers from its trove of credit card data. Source: Chase
As a credit card issuer, Chase collects a vast amount of transaction data to share with Chase Payment Solutions customers, providing valuable data analytics capabilities.
POS Hardware
Chase offers POS hardware that customers can access via desktop and laptop computers as well as external card readers. Unlike some competitors, Chase doesn't have its own POS hardware. However, it does integrate with Vend. To allow in-person credit card payments, Chase sells the Smart Terminal — a portable Wi-Fi and wireless device with an LED screen — for $399. Additionally, it offers TouchBistro POS systems for those in the restaurant industry. Read our complete review of TouchBistro to learn more about this POS solution for restaurants.
Mobile App
We like that Chase offers a small mobile unit called Chase QuickAccept that connects to its mobile app so you can accept credit card payments on a mobile phone. However, this feature is only available to merchants with a business checking account at Chase. We like that the QuickAccept device gives businesses access to no-fee same-day deposits. The device costs $49.95. 
HIPAA-Compliant Healthcare Payments 
In another standout feature, Chase is the only credit card processor we evaluated that offers a HIPAA-compliant payment solution for healthcare providers. The software, called InstaMed, provides in-office payments as well as online payments and statements. InstaMed allows healthcare organizations to securely keep patient cards on file for recurring billing, resulting in higher collection rates. InstaMed accepts credit card and ACH payments.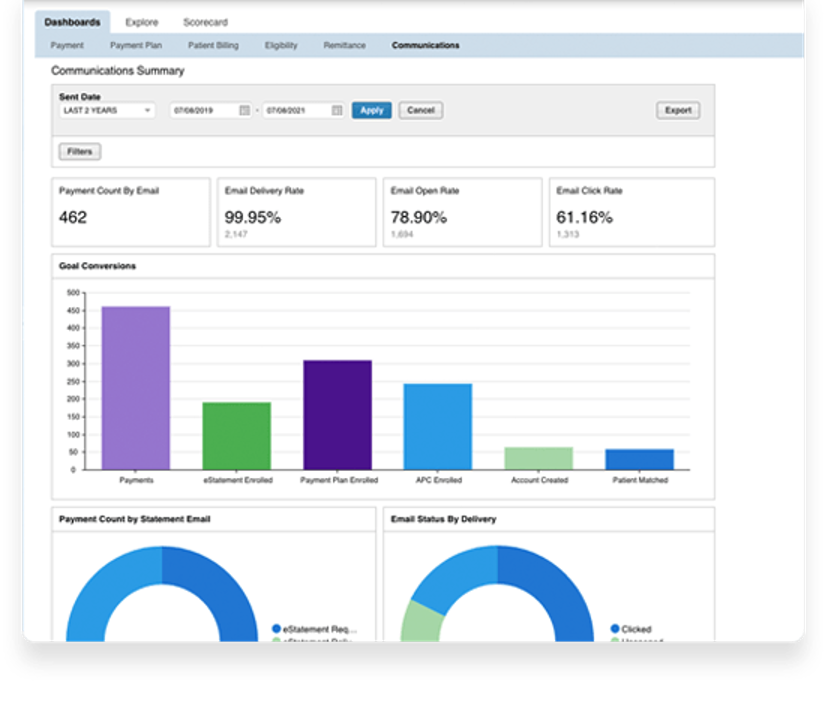 InstaMed is Chase's payment solution for medical-related billing. Source: InstaMed
Chase Payment Solutions is one of the only credit card processors that can help you keep electronic health records HIPAA-compliant.
Merchant Account
Chase sets you up with a merchant account and supports in-store, mobile and online payment processing. If you want to accept payments in person and online, you must open a separate payment gateway account with Authorize.net. 
Chase Payment Solutions Pricing
In regard to credit card processing fees, Chase charges a flat credit card processing rate. Its published rates are as follows:
2.6% + $0.10 for in-person transactions with a card reader
2.9% + $0.25 for online transactions
3.5% + $0.10 for manually keyed-in transactions
We like that Chase doesn't charge monthly credit card processing fees. However, speak with a Chase sales representative and read the merchant agreement closely before you make a decision. Larger businesses can request an interchange-plus pricing plan, which could be cheaper in the long run. 
High-volume businesses may want to check out our Payment Depot review to learn about a credit card processor that specializes in businesses that process many monthly credit card sales.
Other Fees
If you get free equipment from Chase Payment Solutions, you may be required to sign a contract that could subject you to an early termination fee for canceling. Chase merchant services are sold directly through Chase or independent agents who may tack on additional fees. Read your agent's agreement carefully, and if you see extra fees, contact Chase directly and reapply for an account through the company.
Implementation and Onboarding
Once you decide to work with Chase Payment Solutions for credit card processing, you must fill out an application and wait for your account to be approved. How long the approval process takes depends on factors like your application's completeness and accuracy. Some competitors will have you up and running almost immediately. However, after Chase approves your application, it takes a few days for your account to be set up and to schedule any required training on the hardware and software.
Customer Support
Chase offers 24/7 phone support — which we appreciate in an era where many companies have outsourced customer service to chatbots and automated systems. The company also maintains an extensive database of information on its website's Merchant Support Center area. We like that, as a larger company, Chase can offer support services in multiple languages. However, some customers on user-generated review sites complained of long hold times. 
Limitations
Chase's flat-rate pricing is on the high end for the credit card processors we reviewed. A business with significant transaction volume may be better served by a credit card processor that charges a monthly subscription fee instead of a revenue percentage. As a large financial institution, Chase can offer many services beyond credit card processing. However, we found the company's various online portals and services difficult to navigate. Furthermore, Chase doesn't offer the integrated POS hardware and software solutions that some processors, such as Clover and Square, provide. 
Methodology
We researched and analyzed leading credit card processors to find the best credit card processors for small businesses. Our in-depth analyses included viewing demos, accessing free trials, carefully examining user reviews, and interacting with each vendor's customer service resources. We assessed the usability of each company's hardware and software offerings and determined how fair the contract terms were to the merchant. Furthermore, we scrutinized the rates and fees charged by each processor. To identify the best credit card processor for data analysis, we focused on reporting features and the different types of insights the company could offer on customers and trends. 
FAQs
You can lease the Chase Payment Solutions credit card processing equipment, but you may end up paying more over the long term.
Chase makes you sign a contract, so you may be subject to an early termination fee.
JPMorgan Chase is the parent company of Chase Payments Solutions and is one of the largest banks in the U.S.
Bottom Line
We recommend Chase Payment Solutions for …
Business owners who value the insights big data provides. 
Medical businesses that must stay HIPAA-compliant 
We don't recommend Chase Payment Solutions for …
Business owners who want an integrated POS and credit card processing solution. 
Businesses that prioritize paying the lowest transaction fees.