PayPal vs. Square Service Comparisons
Here's a closer look at each provider's services and how they stack up against each other. 
Plans and Pricing
PayPal
You must have a PayPal business account for your business to accept payments via PayPal. However, you'll need a personal PayPal account first. Setting up both account types is straightforward (and free). 
PayPal has five primary plans you can mix and match according to your needs. Here's a plan breakdown, along with PayPal's credit card fees: 
| Payment program | Used for | Rates |
| --- | --- | --- |
| PayPal Checkout | Payments online (through your website, e-commerce platform and apps) | 3.49% + $0.49 |
| PayPal Virtual Terminal | Payments by phone or mail; manually entered in-person payments | 3.09% + $0.49 |
| Regular PayPal | Accepting payments on the PayPal app or via a social media  | 2.99%  |
| PayPal Invoicing and Subscriptions | Sending customers invoices for one-time or recurring billing | 2.99% + $0.49 |
| PayPal Zettle | Brick-and-mortar and mobile POS sales | 2.29% +$0.09 (card present); 3.49% + $0.09 (keyed-in card numbers); 2.29% + $0.09 (QR code) |
There's no monthly fee for any of PayPal's programs. The modular nature of PayPal's offerings makes it easy to choose only what your business needs. In addition to PayPal payments, you can accept all major credit cards, Venmo, PayPal Credit (Buy Now, Pay Later), 10 different international bank redirects, ACH, Apple Pay, Google Pay, Samsung Pay and more.
Square
Square's basic plan has no monthly fee. However, if your business needs more capabilities, add-ons will incur additional fees. 
Here's a summary of Square's plans and fees.
Service plan

Monthly fee

Rate

Features

Free

$0

2.6% + $0.10 (in person); 2.9% + $0.30 (online); 3.5% + $0.15 (manually entered)

Website builder with SEO tools
Sync with Square POS
Pickup, local delivery and shipping options
Social media selling
Accept multiple payment types (Apple Pay, Google Pay, Cash App Pay, Square Pay, Afterpay)
Manage multiple sites and locations
Fraud control

Plus

$29 per month (billed annually

2.6% + $0.10 (in person); 2.9% + $0.30 (online); 3.5% + $0.15 (manually entered)

Everything in the Free plan, plus:

Expanded site customization
QR code ordering
Customer accounts
Personalized ordering
Accept PayPal
Free domain for one year
Shipping and delivery progress bar

Premium

$79 per month (billed annually)

2.6% + $0.10 (in person); 2.6% + $0.30 (online); 3.5% + $0.15 (manually entered)

Everything in the Plus plan, plus:

Lower processing rate for online payments
Real-time shipping rates
Enhanced customer service
No in-house delivery fees
Real-time shipping displayed

Email marketing add-on

Starting at $15 monthly

 

Unlimited emails
Automated email collection
Coupon redemption
Automated email marketing campaigns
Sales and campaign data

Payroll add-on

$35 plus $6 per person per month

 

Unlimited pay runs per month for employees and contractors

Text message marketing

$10 per month plus messaging rates (ranging from $20 to $195)

 

Automated campaigns
Ability to send images

Loyalty program

$45 for 0-500 loyalty visits
$75 for 501-1,500 loyalty visits
$105 for 1,501-10,000 loyalty visits

 

Customers can sign up at the register
Rewards given at the register or online
Customers get texts with their rewards point balance
Winner
The winner for this category comes down to the payments you accept and your business type. We like PayPal's flexible modular offerings. If you're a brick-and-mortar business, PayPal offers the lowest rates. However, PayPal's invoicing, subscriptions and online payment rates are significantly higher than Square's. The other issue is volume. If you have a high transaction volume, you may save money using Square. For low-volume businesses, the monthly fee can significantly affect overall costs. 
If you operate an e-commerce business — especially one with a high transaction volume — or if you're a professional or freelancer who creates invoices, Square is your best bet for pricing. Brick-and-mortar businesses, on the other hand, will likely find more favorable pricing with PayPal.
Payment Processing
PayPal
We like that PayPal gives you many ways to get paid. We were also impressed by its intuitive button generator, which is quite handy for e-commerce businesses. For example, it can detect if the customer has Venmo; if they do, it will display a button that allows them to pay with Venmo. This capability can help increase sales because people like using their preferred payment methods.  
All business payments go to your personal PayPal account. You can see all transaction data in your business account dashboard. Note that when you transfer funds to your business bank account, you must separate business revenue from personal income. You can only have one PayPal business account, which means it's unsuitable for entrepreneurs with multiple businesses. 
Transferring money from your PayPal account to your business bank account is free with a standard transfer, which takes one to three business days. You can also do an instant transfer for a fee or access the money through your PayPal debit Mastercard.
One of the major complaints PayPal merchants make is that PayPal has frozen their accounts or held their money because of suspected fraud. While we like that PayPal is sensitive to potential credit card fraud, holding money can cause cash flow problems for merchants who aren't' able to access their revenue. PayPal also has a high chargeback fee of $20.
Square
We appreciate that Square provides multiple ways for merchants to accept payments, including online and via invoicing, hosted checkout payment pages, point-of-sale (POS) systems, and virtual terminals. In addition to major credit cards, Square allows you to accept Apple Pay, Google Pay, Samsung Pay, Cash App and ACH for invoices.
Square holds your sales revenue in a Square Checking account. We like that if you want money transferred to another bank account, you can get it within one business day or instantly for an additional fee.
Winner
Square is much less likely to freeze or hold your money, so it's our winner in this category. Transferring your money from Square to your bank account is also quicker.
Security
PayPal
We really like that security is already embedded for customers who pay with their PayPal account, since they only need their login and password. No card information or bank details are transmitted; PayPal keeps that data encrypted on its servers. It confirms all transactions via email. PayPal uses end-to-end encryption and machine learning to reduce fraud. 
We were also impressed that PayPal includes seller protection at no additional cost. This feature protects your PayPal balance while disputes are being investigated. PayPal is also PCI compliant. Additionally, its standard Zettle card readers accept EMV (chip) cards, offering a higher security level, and the readers come equipped with a PIN entry pad for debit transactions for additional security.
Square
We like that Square has end-to-end encryption of customers' payment information, which helps it maintain PCI compliance. Square provides PCI compliance for no additional fee. Its card readers are EMV compliant, which means they accept chips, decreasing fraud opportunities. In addition, Square uses machine learning models to ferret out and isolate suspicious transactions. Square has no chargeback fees and, in a dispute, represents you with the issuing bank.
Winner
You are in safe hands with both PayPal and Square. So, when it comes to online payment security, PayPal and Square are both winners in our eyes.
Software
PayPal
PayPal's Zettle is entirely separate from other PayPal payment methods. If you have a multichannel business, you can use Zettle for everything.
Zettle provides cloud-based POS software with a front-end experience for cashiers to select products or services for checkout. We were impressed by its robust backend that shows transactions on every payment method (in person, online, etc.), creates sales reports, sends invoices, allows you to sell and accept gift cards, sends digital receipts, issues refunds, and helps manage inventory. 
If you don't accept in-person POS sales, you can use the PayPal Business app to view transaction information. You can access PayPal Business on the mobile app or by logging in from your computer. It offers transaction data and sales reports, as well as the ability to transfer money, issue invoices and estimates, and keep track of customers. 
To integrate PayPal with an online shop, you'll likely need a web programmer. The integration allows the entire transaction to take place on your website instead of temporarily redirecting to the PayPal site, as with the simplified no-code method.
Both the Zettle and PayPal Business apps are easy to use and free to download.
Square
If your business sells through multiple channels, Square makes it easy to see all your sales in one place. For online transactions, Square allows you to process individual transactions on your site, set up recurring transactions, and even process multiparty transactions by layering in a fee on top of third-party payments that you process through your app. You can use developer tools to integrate Square with your website or use Square Checkout to redirect customers to a Square-hosted payment page.
The Square mobile app allows you to enter card information manually. It also integrates with Square's mobile card readers.
Winner
PayPal and Square have very similar software capabilities, especially regarding POS functions, so this category is a tie. The Square software seems to be a little more specialized for restaurants, so Square wins if you need a restaurant payment processor. If you are a freelancer or another business that generates invoices, PayPal's ability to generate invoices and send estimates from the mobile app is a plus, which gives PayPal the edge.
Hardware
PayPal
PayPal provides the following options for accepting payments: 
Zettle card reader. The Zettle card reader is wireless and accepts swiped, chipped and tapped cards (for NFC mobile payments), as well as contactless digital wallets like Apple Pay and Google Pay. It also has a numeric PIN pad for debit card transactions. Your first Zettle card reader costs $29; additional units are $79 each.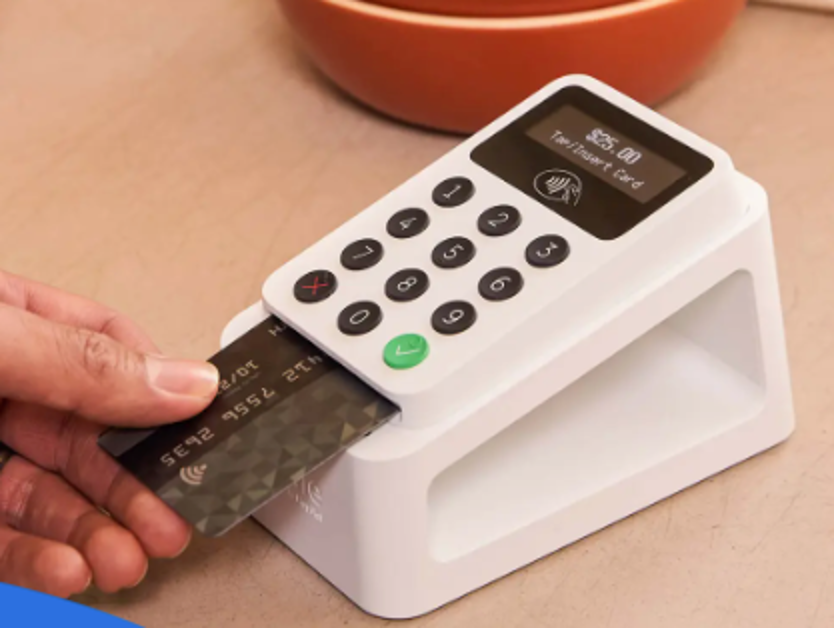 PayPal's wireless Zettle card reader and stand pairs with its POS app on a smartphone or tablet. Source: PayPal 
All-in-one terminal. There's also a portable point-of-sale terminal that has  the PayPal Zettle app built in. This terminal can accept payments, update stock, and check inventory.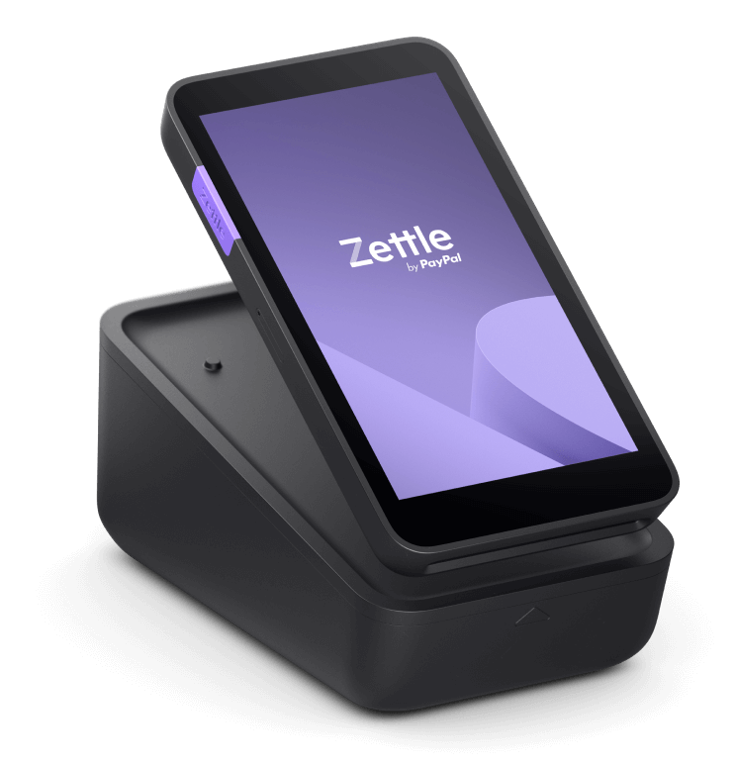 The PayPal Zettle app is built into the all-in-one terminal. It can also include integrated features like a barcode scanner and a receipt printer. Source: PayPal
PayPal Zettle app. Additionally, the PayPal Zettle app's Tap to Pay feature lets you use your iOS or Android device to accept payment with no additional hardware or fees required. 
Additional hardware options include the following:
| Hardware type | Cost |
| --- | --- |
| Charging dock | $49 |
| Cashier station iPad stand | $159 |
| Portable receipt printer | $269 |
| Wired receipt printer | $299 |
| Cash drawer | $119 |
| Wireless handheld scanner | $229 |
Square
Square designs and builds its own card processing hardware:
Square Reader. The compact Square Reader for mobile payments connects to a smartphone or tablet wirelessly via Bluetooth. The Square Reader only allows you to swipe magnetic stripe cards; it doesn't support chip cards or NFC payments. Your first Square Reader is free when you sign up with Square. 
Square Reader for Contactless and Chip. The Square Reader for Contactless and Chip is another mobile card reader that connects to your mobile phone or tablet via Bluetooth. It allows you to accept credit cards, Apple Pay and Google Pay. It costs $49.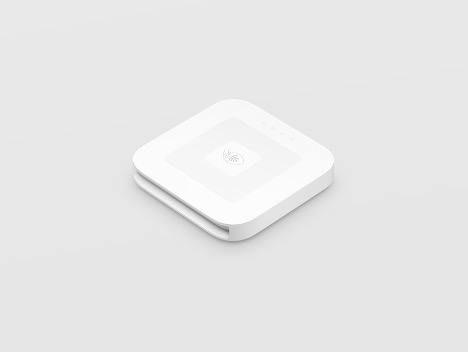 The Square Reader for Contactless and Chip accepts contactless (NFC) payments and chip cards. It can be shared among multiple Square accounts and locations. Source: Square
Square Terminal. The Square Terminal uses Bluetooth and accepts cards via swipe, tap and insertion for even more functionality. It can also print receipts. The Square Terminal is $299.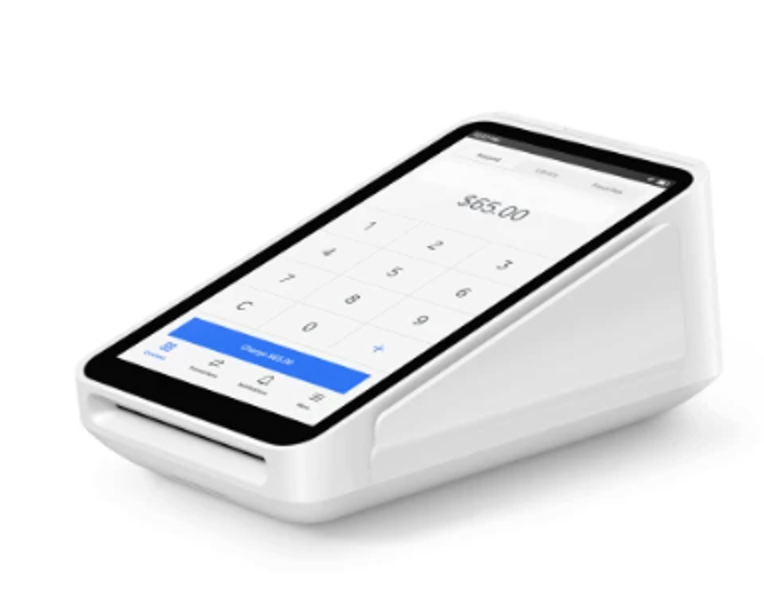 The Square Terminal accepts cards via swipe, tap and insertion. Source: Square 
Square POS register. For fixed locations, Square has a POS register with a cashier-facing product screen and a customer-facing payment interface. The Square Register takes all major credit cards by tapping, swiping and inserting. It can be used alone or with accessories like a receipt printer, handheld scanner and cash box. The Register costs $799, or $39 a month for 24 months.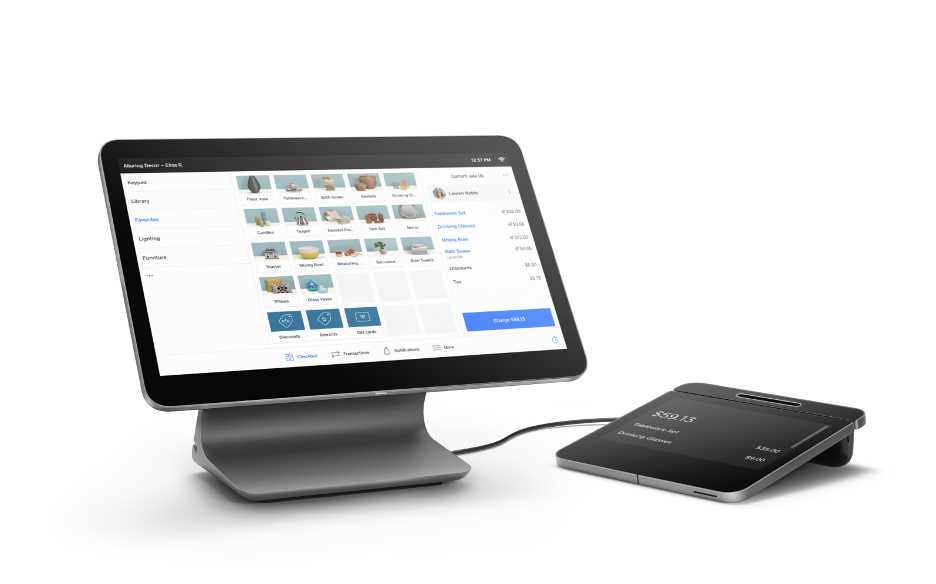 The Square POS register is a fully integrated POS system with a second customer-facing display. Source: Square
Additional hardware options include the following:
USB receipt printer for $299
USB barcode scanner for $119
16-inch USB cash drawer for $249
Winner
PayPal's hardware is superior for mobile payments. Its mobile card reader is comparable to the Square Terminal in functionality but much cheaper. However, if you have a brick-and-mortar store or restaurant, you may prefer the Square system. It's more attractive with a sleek and integrated look and includes a customer-facing digital interface. Unfortunately, this style comes with a hefty price tag. Overall, we say PayPal has the edge in this category.
Integrations
PayPal
PayPal's Zettle system integrates with BigCommerce, QuickBooks Online, Shopify, SalesVu and WooCommerce. Zettle card readers can interface with most third-party POS systems. 
Since PayPal was the leader in this type of online payment technology, it is already integrated with many of the best e-commerce platforms and shopping cart software. Enter your specific information to link to PayPal. 
PayPal's e-commerce integrations include the following:
Big Cartel
CS-Cart
3dcart
BigCommerce
Magento 
Shopify
Volusion
Square
Square integrates with hundreds of apps, including industry-specific apps in the retail, restaurant and personal care sectors. Here are some examples:
Industry

Integrations

Retail

Shopventory for inventory management 
WooCommerce, BigCommerce and Wix for e-commerce
Shippo for fulfillment, shipping and returns

Beauty and personal care

Square Appointments for scheduling, payments and staff availability
Jotform, Cognito Forms and IntakeQ for forms and waivers

Restaurants

Square KDS for restaurant management
Postmates for delivery
Kyoo for mobile ordering, kiosks and curbside pickup
BevSpot and PeachWorks for food and beverage inventory management
Homebase and QuickBooks Time for employee time tracking
Square also integrates with platforms for more general use across industries, including the following:
GoDaddy for web hosting
Mailchimp for email marketing
Gift Up to create gift cards
ZipRecruiter for hiring
TapMango for loyalty and marketing
Winner
For the sheer volume of integrations, Square is the winner. However, some integrations may require a programmer to get them up and running. The nontechies may prefer preintegrated PayPal for ease of use. 
Customer Service
PayPal
PayPal provides customer service by phone, instant messaging, or online with its Resolution Center and community resources. Our research revealed that customers complain the service isn't great; the biggest issue seems to be long holds on accounts with no ability to quicken the process of releasing funds.
Square
Square support is available by phone, email, live chat and social media. Our research showed that Square's customer service record is spotty. For regular, day-to-day operations, the systems seem to work well; however, when there's a problem, merchants may have difficulty getting help to resolve the issue.
Winner
For customer service, Square squeaks by as the winner.
Approval and Setup
PayPal
If you have a personal PayPal account, adding a business account takes only a minute. If you're starting one for the first time, it takes a little longer. PayPal does not have a list of business types it won't work with. However, it's risk-averse and tends to hold funds for operations it deems risky.
Setup time depends on whether you have an e-commerce operation or a brick-and-mortar location. Since PayPal is preintegrated with many online shopping carts, the process to get up and running with PayPal for e-commerce is quick and easy. 
Square
As with PayPal, Square's application is online and only takes a few minutes to complete. Once approved, you should find setting up your Square account relatively easy. The time it takes depends on the functionality your business needs. If your primary revenue stream is online sales, you'll likely need a web developer to help you set it up. Square does offer Square Checkout, which does not require coding, as well as prebuilt third-party solutions that make it quick and seamless to set up. 
In regard to credit processing for high-risk industries, Square has a long list of business types it is unwilling to serve, unlike PayPal. 
Winner
For its turnkey integration and setup for nontechnical merchants, we give PayPal the edge in this category.