Benchmark is our pick for best email marketing service for small business because it's easy to use, even for novices, and has a wide range of tools to ensure your campaign's success.
Pros
It's an affordable option for small businesses on a budget.
It offers various pricing levels.
Benchmark integrates with other platforms, including Google and Salesforce.
Cons
Benchmark's free plan is limited.
Some users find that emails end up in spam folders if they aren't sent from a dedicated business domain.
If you're looking for an email marketing service that offers robust features at a small-business-friendly price, Benchmark is a great option to consider. This software includes helpful email automation features, responsive templates and an easy-to-use email editor to make your campaigns more efficient and effective. In addition to its free-forever plan, Benchmark offers paid plans at different price tiers that are affordable for most small and midsize businesses.
Benchmark Email Marketing Editor's Rating:
9.2 / 10
Pricing/value

9.6/10

Features

8.8/10

Customizations, add-ons and integrations

8.8/10

Ease of use

9.4/10

Customer support

9.2/10
Why We Chose Benchmark as the Best Low-Cost Email Marketing Service
Benchmark is our pick for the best low-cost email marketing service because it is robust yet has affordable plans to suit various levels of needs. It is an especially great option for small and midsize businesses that are looking for customizable templates and automation management for campaigns. Benchmark also provides features such as A/B testing, campaign analytics, an email designer and list-building tools. We like that you get all of this for an affordable price. Some other email marketing services not only cost more but also lack the features included with Benchmark.
Ease of Use
Benchmark is one of the easiest-to-use email marketing tools we examined. Each included feature, such as contact management and automation tools, provides easy-to-follow step-by-step instructions, and the platform provides educational videos throughout the dashboard to shorten your learning curve. Some of the other email marketing services we reviewed didn't offer this level of insight into how to use each tool.
When we tested Benchmark, we were able to create interactive and responsive emails with custom pictures, colors and content in minutes, using the drag-and-drop editor. We were impressed with how simple it was to create a professional-looking email. The software includes more than 200 email templates, some of which are events tailored to specific industries and holidays, so it's easy to find an option suitable for your campaign ideas. Benchmark's comprehensive image library makes creating visually appealing emails a breeze, too.
You can easily integrate over 300 other applications, including WordPress, Facebook, Google, Shopify, Slack, Etsy and Salesforce. Installing the Benchmark WordPress plugin lets you build an email list directly on your WordPress website and send emailed versions of your published blog posts. The Facebook integration lets you put Benchmark's email sign-up form right on your business profile so users can subscribe to your emails without leaving Facebook.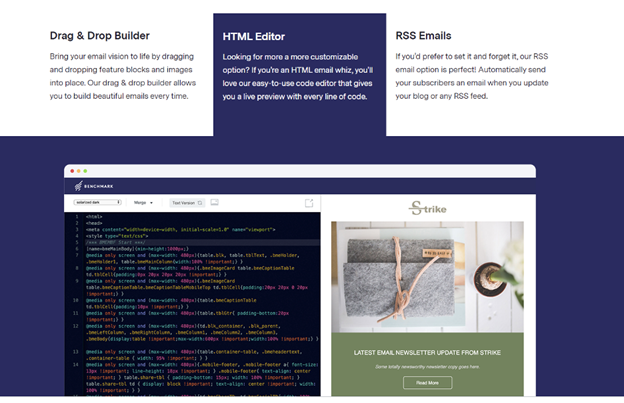 Features
Benchmark comes with many standard email marketing tools that help you boost subscriber engagement and improve your return on investment.
A/B Testing
One of the most useful email marketing features in any marketer's toolbox is A/B testing. With Benchmark, you can test two different subject lines, delivery times or other elements with various test groups and send the better-performing campaign to your remaining subscribers. This is a valuable tool to ensure your messages are hitting the right marks.
Campaign Analytics
We like the insight that Benchmark offers into each campaign. Benchmark provides immediate email analytics on your campaigns as soon as they're sent, with email metrics such as total recipients, opens, click-throughs, bounce rates and unsubscribes. The platform organizes your campaign data in an easy-to-understand dashboard. From there, you can break down different performance metrics, such as URLs clicked and a click map, or open rates by location. Tools like these are critical for knowing whether your messages are having the impact you intended.
Email Designer
Benchmark's drag-and-drop email designer offers different features that make it simple to create an eye-catching email. When you build an email from one of the 200-plus templates, you can deliver a professional and attractive newsletter, regardless of your design experience level. You can make it more visually appealing by adding effects, stickers or a message over your images. For greater user engagement, you can use Benchmark's tools for creating automatic responses, surveys and polls within your campaign.
Advanced users can take advantage of the code editor to create custom HTML for designing your emails to your exact specifications. You can even use the dual view to see the visual design of the email while you're still editing the code.
List-Building Tools
Curating your list of contacts is critical to successful email campaigns. You can add contacts to your list individually or in bulk by importing XLS, CSV and TXT files.
Benchmark integrates with a lot of third-party applications, which makes it easy to upload your existing lists from other services. You can also embed a Benchmark pop-up and email sign-up forms on your website, blog or social networks to grow your subscriber list.
Once your contacts are uploaded, Benchmark's list management tool lets you segment your contact lists by demographics, user preferences or location to send the most appropriate content to each subscriber.
Benchmark's segmentation tools allow you to break down contact groups by likes and dislikes so you can send the right emails to the right contacts at the right time.
Marketing Automation Tools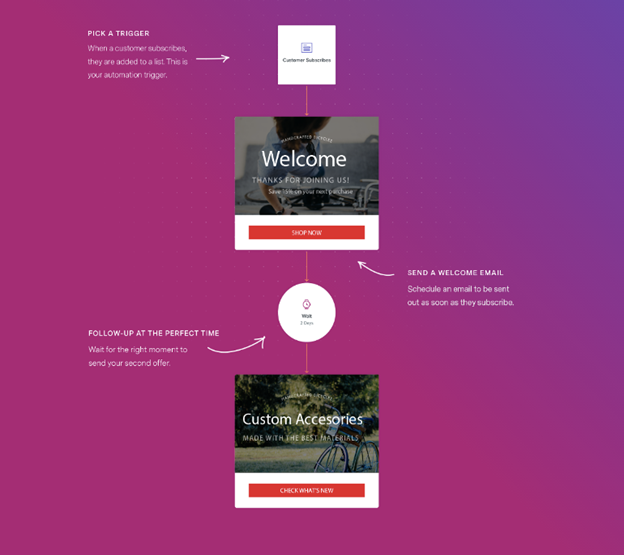 Benchmark's Marketing Automation Pro lets you build customer journeys to send out automated email series based on triggers, like dates, events or user behaviors. Just choose a trigger – for example, when someone subscribes to your list or clicks a link in a prior email campaign – and Benchmark automatically sends an email of your choice. The software then follows up at the optimal time, usually a couple of days later.
With Marketing Automation Pro, you can create multiple automated journeys for your customers using an automation template or one you design yourself. Benchmark's featured templates include welcome messages for new subscribers, promotions that target follow-ups based on opens or clicks, and feedback requests. This sophisticated level of email automation options wasn't something we saw in all of the software we examined.
Pricing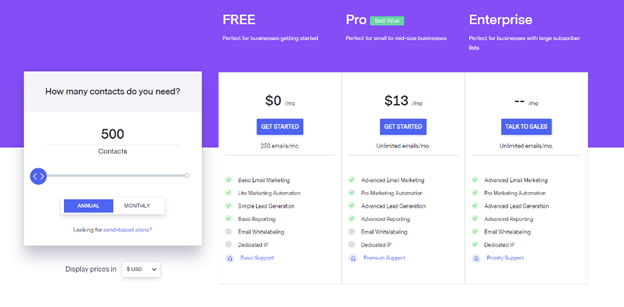 Unlike some of its competitors, Benchmark offers a free-forever plan that gives you up to 250 email sends per month. The software's paid plans begin at $13 per month, and pricing is based on the number of subscribers.
Every Benchmark plan includes access to a drag-and-drop email editor, responsive templates and sign-up forms. You also get access to basic drip campaigns, RSS email campaigns, email delivery management, Google Analytics tracking, list management and segmentation, list hygiene, reports, surveys and polls. All plans also offer multiple integrations (e.g., social media, e-commerce, email templates and existing contact lists) and some level of automation.
Here are Benchmark's three levels of pricing:
Free: With Benchmark's Free starter plan, you can send email campaigns to an unlimited number of subscribers and up to 250 emails per month. This free version includes a lot of basic tools and reporting functions, but it's missing some key automation features that are accessible only in the Pro plan or higher.
Pro: Paid packages start at $13 per month for 500 subscribers. Every paid plan includes unlimited email sends, as well as marketing automation tools. The Pro plan covers the needs of most small and midsize businesses with a maximum of 100,000 contacts ($424 per month).
Enterprise: Businesses with more than 100,000 contacts have to move up to the Enterprise plan, which starts at $611 per month. If your contact list is over 200,000, you'll need to speak with a sales representative about custom pricing. At the highest tier, you get email white labeling, a dedicated IP and priority support from Benchmark.
To enhance the capabilities of lower-priced plans, Benchmark also offers these features for an additional monthly fee:
| | |
| --- | --- |
| Feature | Cost |
| List verification | $3 per month per 1,000 contacts |
| Image hosting | $5 per month for unlimited storage |
| Dedicated IP | $28.95 per month |
| Inbox checkers | $14 per month per 100 tests |
Implementation and Onboarding
Signing up for Benchmark begins by creating a free account. Once you've entered your name, company name, phone number and email address, you can begin building email campaigns with the easy-to-use editor. This platform's interactive user interface guides you step by step through the process of creating an email campaign and choosing your ideal workflow. This simple onboarding process is easy enough for beginners to master relatively quickly.
Once you create your free Benchmark account, you can start building your campaigns right away.
Customer Support
Benchmark's customer support was excellent each time we tested it. Users can contact Benchmark by phone, live chat or email. When we reached out via live chat, the customer service representatives were prompt and courteous and answered all our questions about the product.
If you're unsure how to use any of the tools, you can explore other support options, such as Benchmark's blog, monthly newsletter and tutorial videos.
Limitations
One limitation is that although Benchmark's free plan is a great way for small businesses to get started with email marketing, it does have some limits that make it difficult to scale your campaign efforts. For example, there is a cap of 250 email sends and limited automation features, so with the free plan, you are unlikely to grow a large subscriber list and generate a lot of business with robust email marketing campaigns. However, businesses that see the value in email marketing can likely find room in their budget to invest in Benchmark's affordable paid plans.
Additionally, if you don't have a dedicated business domain as your "from" email address (for instance, @yourstorename.com), your emails may land in spam folders when you send them through Benchmark. This is because personal Gmail accounts are less credible than emails sent from a company or business domain. However, Benchmark does warn you that using a personal or general ISP email address – like Gmail, Yahoo or Outlook – can affect email deliverability.
Another possible downside is that Benchmark isn't a customer relationship management (CRM) tool. Some CRMs, such as Salesforce, have built-in email marketing capabilities. While it may be nice to have the two key tools on the same platform, it does come at a significantly higher price. If you are looking for a CRM with built-in email marketing tools, check out our full review of Salesforce Marketing Cloud.
What Is Email Marketing?
Email marketing is a highly effective direct marketing strategy that allows businesses to send targeted emails, communicate directly with customers and improve brand engagement. The best email marketing software allows you to create visually engaging emails, build and segment robust contact lists, and track subscriber behavior to see which campaigns are the most effective.
Methodology
To identify the best email marketing services, we compiled a list of popular platforms based on online research. We carefully examined each service's online reputation and narrowed down the list to some finalists. We spent several weeks researching each email marketing service by investigating its offerings, watching tutorials and how-to videos, testing the software (when possible) and reading user reviews. We also evaluated each service's pricing structure and customer support. When selecting our pick for the best low-cost email marketing service, we compared the features of free plans with the paid versions, as well as evaluated the software's ease of use for small business owners with limited time and resources.
Benchmark FAQs
Benchmark has a free plan, but it has some limitations that might be dealbreakers.
Yes, Benchmark is an especially great option for businesses on a budget because it offers competitive features at an affordable price.
Bottom Line
We recommend Benchmark for …
Small and midsize businesses with tight budgets.
Business owners who are looking for an intuitive user interface, customizable templates and interactive list segmentation.
Businesses that need automation management for multiple campaigns.
We don't recommend Benchmark for …
Businesses that need robust automation features in a free plan.
Businesses that want a CRM and email marketing on the same platform.