We chose Campaigner as the best email marketing software for larger businesses because it offers customizable features, automated workflows and social media integrations, helping businesses scale their email marketing services at an affordable cost.
Pros
Campaigner has many customizable features that allow email automation, personalization, experimentation, reporting and other actions. You can use autoresponders, segmentation, subject line testing and additional features to reap the most benefits from your email marketing strategy.
With built-in marketing automation, Campaigner helps you to manage which emails are sent to which groups and when so that you can focus on other aspects of running your business.
Campaigner can integrate your social media feeds with your email, helping you create a multichannel marketing strategy and boost engagement across the board.
Cons
While Campaigner offers a 30-day free trial, you have to provide your credit card. Your card isn't charged until you agree to a plan (after 30 days), but the free trials that most other email marketing solutions offer don't require you to provide a credit card at all.
Unlike some email marketing solutions, Campaigner doesn't offer a free version.
Campaigner is our choice as the best email marketing software for larger businesses, as it is easy to use and implement with customizable features, especially for growing businesses looking to scale their email marketing services and reach a wider audience. Here's what you should expect when using Campaigner for your business – no matter the size.
Campaigner Editor's Rating:
9.2 / 10
Pricing/value

8.8/10

Features

9.5/10

Customizations, add-ons and integrations

9.4/10

Ease of use

8.8/10

Customer service
Why We Chose Campaigner as Best for Larger Businesses
We chose Campaigner as the best pick for larger businesses because of its robust customizable features set, such as autoresponders and automation workflows. These tools allow businesses of all sizes to personalize their messaging to recipients and set up triggers that will automatically send an email (such as a welcome email) based on an important date (birthday, anniversary, etc.) or action (purchasing a product, requesting more information, signing up for a program, etc.) This is especially important for larger businesses with lengthy contact lists, as business owners of larger businesses typically lack the time to offer a customized experience to every contact.
Additionally, Campaigner offers social media integration that allows businesses to connect their social media feeds into their emails, creating a multichannel marketing strategy that boosts engagement across the board. Since larger businesses typically have a more robust following and presence on social media, these integrations can attract even more email subscribers and social media follows.
Overall, Campaigner streamlines tedious tasks (e.g., autoresponders send out immediate responses to contacts) that larger businesses might not have the time to worry about and personalizes the customer experience, despite the many customers the business has. This type of customer experience demonstrates a business cares about its customers and values their support and loyalty to the brand.
Campaigner stands out from competitors because it offers customizable features that streamline the email marketing process while catering to large email lists. Large businesses can rely on Campaigner to make every email recipient feel valued and engaged.
Ease of Use
We found Campaigner to be easy to use and implement, with a drag-and-drop editor and more than 900 templates that you can easily customize with your own colors, images and logos. You can drive more sales and revenue with Campaigner's multichannel marketing automation. Implementing the software and integrating it with other platforms, such as social media sites, takes no time and streamlines your entire marketing process, helping larger businesses reach a wider audience.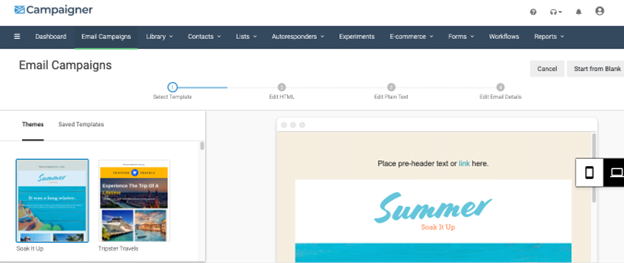 We like how you can ensure your reputation remains positive with Campaigner's Reputation Defender, which effortlessly improves campaign performance, deliverability, email engagement and ROI. This tool assesses email addresses for quality so you're not sending risky emails.
Campaigner Features
Campaigner offers a number of valuable features and tools, including the following.
Workflows
Through Campaigner, you can build powerful and complex email automation workflows. We were impressed with Campaigner's drag-and-drop workflow builder, as it easily helps businesses create workflows that support their specific needs. This allows businesses to nurture leads, win back customers, foster repeat business and turn existing customers into brand advocates. We also like how you can personalize your customers' buyer journeys by using multiple triggers to automatically send emails for certain events or based on contact field or conversion values.
Additionally, you can access Campaigner's optimized resources to support workflow execution. Depending on the buying stage of a specific customer, you can customize messages that individually nurture their unique journey through the funnel.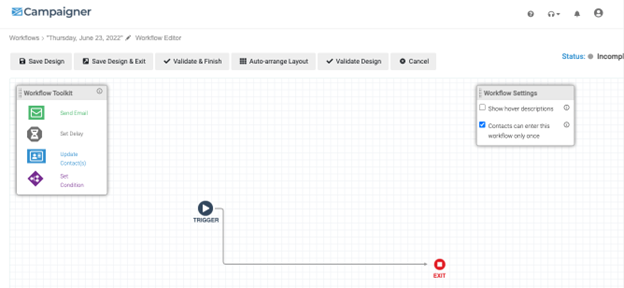 Autoresponders
Campaigner offers users autoresponders, or instantaneous emails sent as a response to specific triggers. We found it simple to automate your reactive messaging so you're never leaving a customer waiting with no response. Based on specific actions your customers take, like making a purchase or requesting a demo, you can schedule thank-you messages or other automated responses as confirmation. Additionally, businesses can schedule recurring messages (daily, weekly, monthly, annually, etc.) as a way to touch base consistently or address instances like renewal notices or anniversaries.
When crafting autoresponders, you can personalize your messages for birthdays, milestones and other important dates. Campaigner's autoresponders help businesses, especially larger ones with many contacts, capture and retain subscribers' interests.
A/B Split Testing
A/B split testing is designed to increase engagement, interactions and conversations. This feature lets you create slight changes to different versions of an email and then test the different versions against each other to see which one performs better. You can test different subject lines, designs, calls to action, delivery times, sender names and other aspects.
We like how once Campaigner determines which version gets the best results, it sends the better-performing email to the rest of your subscribers. A/B split testing can also help you determine which weekday and time of day have the best open rates.
Full Email Editor
Campaigner's email editor has a variety of features, including tables and personalization options. We found it easy to edit and create emails using the drag-and-drop editor, in HTML or with plain text. You can use ready-made email templates or create your own design to produce engaging email campaigns for your subscribers. We like that all templates are fully responsive, regardless of whether they're on a desktop PC, mobile device or tablet.
If you're not sure how to create a professional-looking email, Campaigner's video tutorials will show you how to use its editor tools to create appealing emails. The process is simple and effortless.
Campaigner Pricing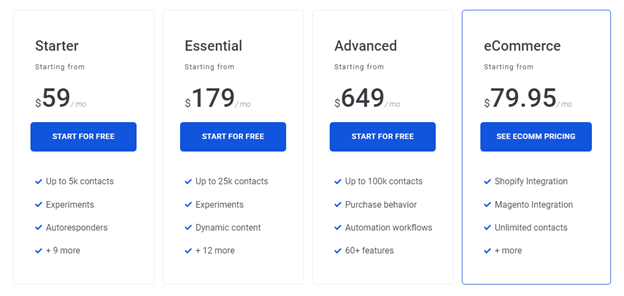 Like those of many other email marketing services, Campaigner's prices are based on the number of subscribers you have. All plans come with an array of helpful features, including media hosting, a drag-and-drop editor, contact management, segmentation tools, geolocation, exclusion lists, custom footers, A/B split testing, autoresponders, email reports, social media integration and more than 900 templates.
Campaigner offers three plans – Starter, Essential and Advanced – which you can pay for monthly or annually. You save 18% if you pay annually. The prices below reflect month-to-month pricing, not annual pricing.
| | | | |
| --- | --- | --- | --- |
| Plan | Monthly Price | Contacts | Features |
| Starter | $59 | 5,000 | A/B testing, drag-and-drop editor, 900+ templates, geolocation, social integration, landing pages, suppression lists, segmentation, recurring campaigns |
| Essential | $179 | 25,000 | All the features in the Starter plan, dynamic content, exclusion lists |
| Advanced | $649 | 100,000 | All the features in the Essential plan, automation workflows, sales engineering, purchase behavior, API access, static segment sampling |
Campaigner offers e-commerce plans too. They range from $79.95 to $149.95 and provide tools like Shopify integration, unlimited contacts and Magento integration.
Campaigner doesn't have a free plan; it has a 30-day free trial that supports up to 1,000 contacts and offers access to every feature. To get the free trial, you have to provide a credit card. Most of the other email marketing services we evaluated offer a free trial without requiring a credit card number.
Implementation and Onboarding
Implementing Campaigner is relatively easy for businesses, as the company offers tutorials, tips and how-to content to help you get started. You can share this information with your team as part of the onboarding process, ensuring everyone is on the same page and understands how to implement the software.
Additionally, integrating Campaigner allows you to easily integrate with Google Sheets and Forms, Salesforce, Eventbrite, SurveyMonkey, LinkedIn, and other platforms.
Customer Service
Campaigner's customer support was responsive, answering our live chat questions in a timely and friendly manner. You can also reach Campaigner by phone or email. On its website, Campaigner has a search tool to help you find answers, along with a resource center that includes video tutorials, infographics, webinars and case studies.
Campaigner has availability via phone, chat and email from Monday to Friday, 4 a.m. to 8 p.m. ET and 9 a.m. to 1 a.m. GMT. You can also browse Campaigner's knowledge base for over 350 articles in more than 25 categories and video guides.
Limitations
While Campaigner is a great option for larger businesses, it isn't without its limitations. For instance, its free trial still requires a credit card, and there is no free version of the software, unlike many other email marketing software solutions. If you are looking for software that offers a free trial, check out our review of Constant Contact and our Freshworks review.
Additionally, Campaigner can be expensive for smaller businesses with limited budgets. This is why we recommend Campaigner for larger companies with lengthy contact lists and more extensive budgets.
Methodology
To determine the best email marketing software, we compiled a list of popular platforms based on our online research. We carefully examined each service's online reputation and narrowed down our list to our finalists and spent several weeks researching each email marketing service by investigating its offerings, watching tutorials and how-to videos, testing the software (when possible), and reading user reviews. We also evaluated each service's pricing structure and customer service. When looking at email marketing software for larger businesses, we looked specifically at send volume capabilities, contact limits, and advanced features that would be beneficial to companies with a large email list.
Campaigner FAQs
Campaigner offers multiple options for unsubscribing after opting in, which you can choose based on your preferences. For example, you can offer an unsubscribe option for all mailing lists or just specific mailing lists, depending upon which one makes the most sense for your business.
Campaigner's prices are based on the number of subscribers and included features and tools.
Account owner: Full account access; assigned to one user only
Designer: Manages content for email campaigns, experiments, autoresponders, forms and campaign assets
Email marketer: Full account access, excluding billing information and user management settings
List manager: Manages contacts, custom contact fields, segments and lists
Reporting user: Views and exports all report types
SMTP user: Sends SMTP messages, manages their user preferences and views SMTP reports
API user: Credentials used as authentication in the email marketing application's API
Bottom Line
We recommend Campaigner for …
Large businesses.
Businesses with hefty email contact lists.
Businesses looking to integrate email with social media.
We don't recommend Campaigner for …
Small businesses with small contact lists.
Businesses with a small email marketing budget.
Businesses looking for free email marketing software.