While your marketing messages are important, they'll never get the attention they deserve if the email they come in isn't properly designed. It is strategic email design that will entice recipient's to open and engage with your digital marketing campaigns. Understanding how to construct an email and reach your audience is paramount to your success. This guide details everything you need to know, from keeping your brand's identity consistent through all communications to crafting emails that will improve website traffic as well as conversion and retention rates.
What elements should you include in your email design?
When crafting an email template for new, established or potential customers, there are numerous factors a business must consider. To create an effective email marketing campaign, the email's formatting and presentation must be thoughtfully designed. Everything from the color scheme to the subject line must be intentionally crafted. Following the best practices below will allow any business to successfully implement an email marketing campaign. 
1. Craft a strategic subject line.
An email's subject line is the first thing a recipient sees when they get an email notification, and if the recipient views this on a mobile device, the subject line may be the only thing they see, aside from the sender. The subject line should capture the recipient's attention and inspire them to open the email. A marketable subject line should be too enticing not to open. 
It is important for the subject line of a marketing email to provide value and incentive for the recipient, as this improves the likelihood that the email will be opened. A subject line should also be pertinent to the email's actual content. By reading the subject line, the recipient should have a clear idea of the email's purpose. 
An email's subject line is important; those two to five words determine if your recipient will engage with the content. A well-written one that emphasizes the email's purpose, content and value can raise your open rates.
2. Use an enticing preheader.
Much like the subject line, preheaders are one of the first things a subscriber sees when they receive an email notification. On mobile devices, email notifications often show only the first few dozen characters of an email's body, so it is important that the preheader is as strategically designed as the subject line. A preheader should not restate the subject line; instead, it should provide insight into the email's content. The preheader should further describe the benefit offered in the email and contain eye-catching language. 
3. Be concise.
People have short attention spans, and marketing emails have only seconds to convey a message that will inspire the recipient to complete a call to action. A subscriber will be more likely to open an email and follow the directions if the process is easy. Before a subscriber opens an email, they should already have an idea of what it offers. Including a link to a FAQs page and product descriptions on your website reduces the need for extra information in an email. 
4. Stay on brand. 
Brand recognition breeds customer loyalty, and every email your business sends should be consistent in its theme and presentation. Both current subscribers and potential customers should have immediate recognition of your brand's aesthetic. It is important to be mindful of tone when designing the email's content. If your brand, website and social media presence have a playful theme, it is best to keep emails light and fun. If your brand is more serious, emails should appear professional, elite and exclusive. 
Color schemes and fonts in marketing emails should coordinate with the business's logo and its social media presence. The logo should always be bold, visible and recognizable. It is also important that the call-to-action button is easy to spot and relevant to your business. Consistency in presentation will boost conversion rates and help build trust with customers. 
5. Create an intentional layout.
Because attention spans are so short, the layout of a marketing email is just as important as the colors and content. Formatting allows businesses to direct the email recipient's gaze to the most enticing and important information. Leaving white space is a necessity when presenting information for easy consumption. A provocative image in the correct context can also inspire engagement. 
The organization of the visual content in a marketing email is vital to conversion rates. Where certain words, colors and images appear can influence the likelihood of a recipient's engagement with an email. Strategic design, such as the placement of a call-to-action button, can make a significant difference in conversion rates. Successful digital marketing campaigns never overwhelm their customers with information, and email design is always done with the user experience in mind.  
6. Be likable and friendly. 
Customization and personalization are proven to improve conversion rates and customer retention. An email recipient is more likely to engage with your business if they perceive your brand as customer-oriented and committed to a positive, genuine relationship. Even if your brand has a more serious or professional tone, including emojis in the subject line or preheader is proven to increase conversion rates and customer engagement. 
Humanizing and personalizing marketing emails is easy with email marketing software such as Constant Contact, Mailchimp and Benchmark. Address emails to recipients by name, appeal to values you share with your customers, express your appreciation for the customer, be authentic, and share information and content that is specifically interesting to certain customer segments. 
7. Use responsive designs. 
Just as it is important to consider the appearance of email notifications on both mobile devices and desktops, it is imperative to design marketing emails so that the content will be optimized for different viewing platforms. Designing an email marketing campaign that fits different screens enhances the user experience and demonstrates a brand's ability to produce high-quality content or products. 
8. Optimize calls to action (CTAs).
CTAs are used to initiate engagement from email recipients. They often appear as big buttons that provide a direct link to signup forms, coupon codes, special offers or personalized content. CTAs should be consistent with your brand's aesthetic, and they should stand out from the rest of the email's content. Keep in mind visibility, clarity and enticing the recipient when designing a CTA. In addition to strategic placement, email marketing software is often used to personalize CTAs using segmented audiences. 
Many successful email marketing campaigns present two CTA buttons, at the top and bottom of a message.
9. Establish an email signature.
As previously mentioned, the recognition, consistency and likability of a brand are key to its digital marketing success. An email signature can increase conversion rates by humanizing a company and creating a sense of connection with customers. Email signatures should include the name of your company as well as the identity of the email's author. It may be beneficial to include the contact information, pronouns, job title and a photo of the employee sending the email; a link to an event calendar or social media accounts; and industry disclaimers (which highlights a brand's dedication to corporate social responsibility, or CSR). 
10. Include an unsubscribe button.
People appreciate, respect and expect reputable businesses to give their customers autonomy to interact with their digital platforms in a capacity that they dictate. If a customer wants to unsubscribe from your business's mailing list, the process needs to be clear and simple. 
This is also a legal matter. The General Data Protection Regulation (GDPR) is a law established by the European Union to give individuals control over their personal data, and the Controlling the Assault of Non-Solicited Pornography and Marketing (CAN-SPAM) Act is a law established by the United States to protect individuals from email spam and regulate marketing sending behaviors. Omitting clear unsubscribe options for customers could impact your compliance with these regulations and result in a fine. Simply include a link at the bottom of every marketing email sent to subscribers to maintain vital legality and customer respect. 
11. Run A/B tests. 
When designing an email marketing campaign, it is important to do your research beforehand and treat the campaign as a dynamic strategy. When deciding how to design and format an email, rely on information collected from current subscribers to guide the creation process. With email marketing services, your business can segment audiences according to their specific interests and test different versions of emails to optimize their marketability. This type of testing is called A/B testing because it tests identical versions of an email with one singular difference. This process will help define the optimal design of your email campaign as you look at results and make changes based on your data. With A/B testing, you can improve many aspects of digital marketing, such as CTAs, color schemes, tone, layout and images. 
Examples of fantastic email designs
Hungryroot
Hungryroot expertly places its CTA buttons at the top and bottom of this email and uses the space to reiterate the deal offered. The brand is centered and stands out in the white space at the top of the email so that the first thing the recipient sees is the brand. The placement of a beautifully stocked refrigerator helps illustrate what the customer can achieve if they complete the message's CTA.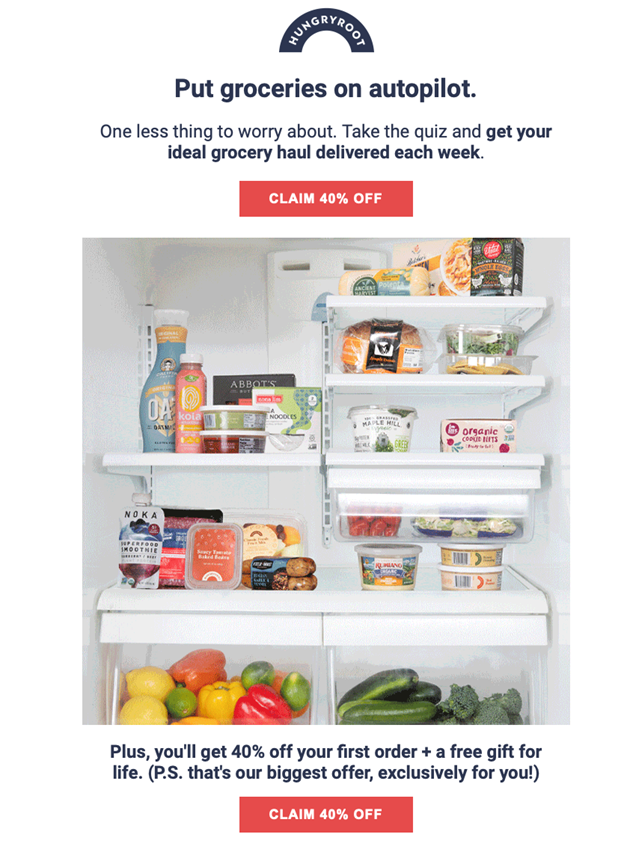 DoorDash
This DoorDash email is a great example of a likable, approachable, playful advertisement. The colors and images in the design match the content: DoorDash is now bringing the party to your doorstep. The cheeky rhyme at the top of the email, paired with the message directly below, appeals to the shared values of recipients: "DoorDash now has alcohol. That's it. That's the email." No one likes a ton of promotional emails in their inbox, and if a business does decide to send a message, it should be clearly beneficial to the recipient.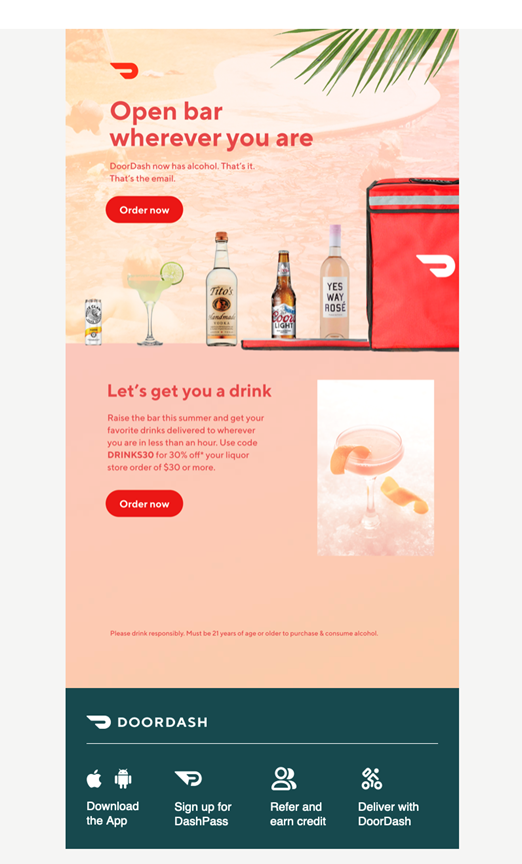 Yelp
Yelp provides a great example of digital marketing as a tool to build customer trust and provide personalized content. Based on the recipient's searches on Yelp, the website provides geographically relevant and taste-specific dining options. Yelp asks nothing of its customer in this email. Instead, it offers its customer a personalized experience with no time commitment or fee. Successful digital marketing always centers on the customer experience and provides value to those who share their email addresses with the company.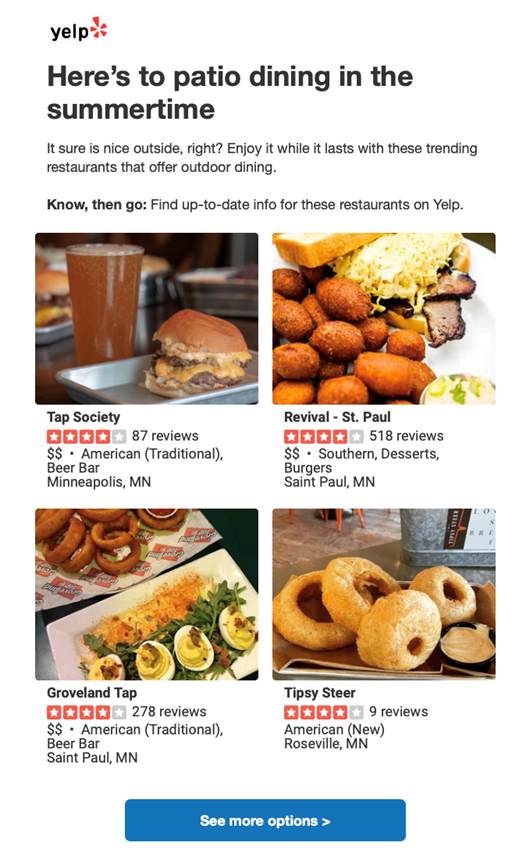 Adobe
Adobe portrays the power of simplicity and clarity in this marketing email. There are few words and almost no images in the message, but the benefit offered is abundantly clear, and the subtext, while small, is almost certain to be seen because of the minimalist design. There is only one CTA button, and it stands out from the rest of the content. The message also appeals to a shared value between Adobe's customers and the brand itself: creativity.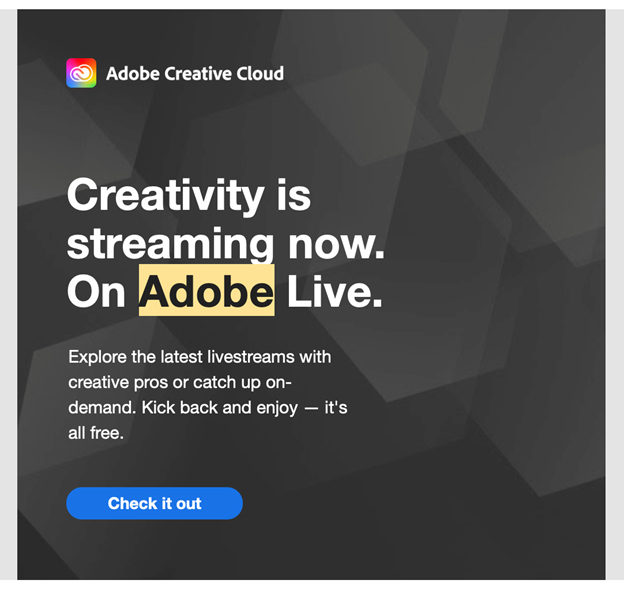 Chewy
Chewy does a beautiful job of personalized product advertisement in this marketing email for a cat owner. Not only does the message present visuals of the cat-related products at Chewy, but it also offers a discount on a product that can improve the recipient's experience as a pet owner. All cat owners know the litter box is smelly and unpleasant to clean, so they are primed to consider a better option when it comes to their pet's bathroom. Each product displayed in the email also provides a direct link to the product on Chewy.com, streamlining the purchasing process to encourage customer engagement.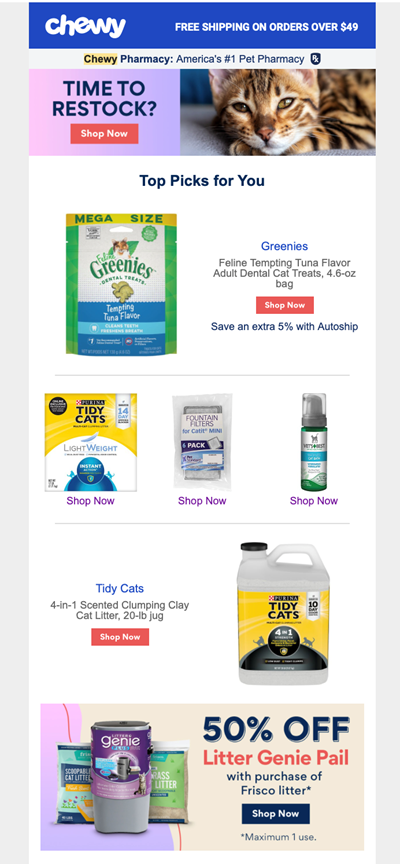 Ticketmaster
Ticketmaster uses an effective preheader in this personalized marketing message that is reiterated in the email's content and worded to make the reader feel a sense of exclusivity in the offer they are receiving. This offer is not only exclusive, but for a limited time only. This creates a sense of urgency in the email recipient and inspires immediate action. The bolded links at the bottom of the message are also a good example of a business working to comply with digital marketing regulations. The recipient can easily spot where they can unsubscribe, review their terms of use, access privacy policies and learn more about the company. These options are not what the recipient sees first when they open the email, but they are clearly visible if the recipient is looking for that information.