We've all been there. You browse an online store, place items in your shopping cart and exit before completing the purchase. This phenomenon is called shopping cart abandonment. Online sellers and e-commerce entrepreneurs face shopping cart abandonment daily and may be frustrated and confused by these lost online sales. 
Fortunately, while shopping cart abandonment is a common occurrence, online sellers can use tactful cart recovery strategies via
Editor's note: Looking for the right email marketing service for your business? Fill out the questionnaire below to have our vendor partners contact you about your needs.
How do you recover abandoned carts with email marketing?
Strategic email marketing is an excellent way to win back potential customers who've abandoned their shopping carts. However, this requires more than a simple reminder that they've left items in their cart. "Most customers expect a generic 'Hey [first name], you left some items in your cart!' email," Hobbs noted. "But an agile, intuitive e-commerce brand will use this opportunity to connect with potential customers on a deeper level." 
Abandoned shopping cart emails can be an immensely effective e-commerce marketing strategy with excellent open rates. According to Moosend, over 40 percent of all cart abandonment emails are opened, and their click-through rate (CTR) is 21 percent. It's worth your while to create savvy and timely cart abandonment emails that resonate with your audience and increase conversions.
Here are tips and best practices for your abandoned shopping cart email marketing messages: 
1. Show the customer what they're missing. 
In your email message, replicate the shopper's abandoned cart and show the precise items they left behind. Visually depict what they're missing out on by abandoning their cart. It's essential to understand customer emotions as they relate to retail purchases to help persuade them to return to your website.
Your email can also serve as an upselling or cross-selling opportunity. For example, display similar in-stock items at lower price points or complementary items with free or fast shipping. Give customers a chance to add reliable and attractive replacement options or more coveted items to their cart.
2. Offer discounts and incentives.
Discounts, promo codes and other incentives can entice shoppers to return to their carts and complete their purchases. Take time to determine the most effective offers using A/B testing to try out various incentives and calls to action (CTAs) and see what resonates most with shoppers. Use your most effective offers in future abandoned cart campaigns. 
Use email analytics to pinpoint customers who have a history of abandoning their cart and converting when you offer a discount or incentive. You'll know to appeal to their money-saving tactics in future campaigns.
3. Close the shipping gap.
Amazon's free one-day shipping has conditioned consumers to expect such perks from all the e-commerce sites they frequent. Consider including free, discounted or fast shipping offers in your abandoned shopping cart emails to entice shoppers to return to your site and complete the sale. 
For example, specify a minimum dollar amount that awards them free shipping. This offer can incentivize greater spending while showing you can compete with the big-box stores. You can also offer shoppers cheaper or faster shipping alternatives, such as curbside or in-store pickup.
4. Simplify the purchasing process.
Conveniences like one-click purchasing have streamlined e-commerce purchases. You can mimic this functionality by adding single-click purchase-completion capabilities to your abandoned shopping cart emails. This tactic will facilitate faster purchases – particularly when combined with an incentive like free shipping. 
How do you create an abandoned cart email sequence?
Abandoned cart emails are generally not a one-and-done effort. For best results, you'll want to send several emails – called an email sequence – based on customer behavior. A series of automated abandoned cart emails can bring your customers back into your sales funnel and drive revenue that would have otherwise been lost.
Every business is different, so the best abandoned cart email sequence for your online store will depend on your customers, their needs and their actions. Hobbs recommended the following five-step approach to get started: 
Send a quick first message. Send the first message as close to real time as possible. Purchase considerations are often fleeting, and the greatest opportunity to convert is the moment when customer intent is highest.
Personalize your messages. Personalize your abandoned cart messages to show the precise abandoned item or categorically similar product recommendations. Personalization shows that you understand your customers' needs, helping foster customer loyalty and building your brand reputation.
Offer an incentive. Offer a discount or another incentive, such as free shipping, to close the deal.
Stay on brand in your emails. Ensure your messages resonate with brand authenticity and demonstrate empathy for the shopper. Emphasize the value of your offerings.
Test your email sequences. Test your abandoned cart email sequences often to fine-tune your approach and determine what works.
The best email marketing services can integrate with your e-commerce store and automate abandoned cart email sequences, taking the guesswork out of wooing back shoppers.
How do you calculate your cart abandonment rates?
To improve your e-commerce conversion rates, start by calculating your current cart abandonment rate. Here's how (use transactions and shopping cart numbers from the same period): 
Divide the number of completed transactions by the number of created shopping carts
Subtract the result from 1
Multiply by 100
For example, say a company has 3,000 completed transactions in one month with 10,000 total shopping carts created. Here's how you'd determine the shopping cart abandonment rate:
3,000 completed transactions / 10,000 shopping carts = 0.3
1 – 0.3 = 0.7
7 x 100 = 70%
In this example, the shopping cart abandonment rate would be 70 percent. 
Average cart abandonment rates
Shopping cart abandonment rates vary by industry. According to Statista, they typically average between 70 and 80 percent. Mobile shopping cart abandonment rates are even higher, averaging around 85 percent. Despite a significant number of people abandoning their online shopping carts, the overall conversion rates for online shopping have been improving over the years.
How can you keep customers from abandoning their carts?
Online sellers can take several steps to reduce friction on their e-commerce site and minimize cart abandonment.
Optimize your website's programming and user experience. From a technical standpoint, your online shop should be intuitive, fast-loading, easy to navigate and optimized for mobile devices.
Use visuals on your e-commerce site. Use product images to keep customers engaged in the purchasing process.
Keep customers informed during checkout. Many customers get frustrated by a lengthy checkout process. Consider adding a progress bar so they can see how close they are to finalizing their purchase.
Gain customer trust. Place trust signals, like security logos and money-back guarantees, close to your transaction forms. These assurances show customers that you're a reputable merchant they can feel good about buying from.
Offer multiple checkout and payment options. Allowing guest checkout and multiple online payment apps simplifies the checkout process for many consumers.
Abandoned cart email examples
Here are several examples of successful abandoned cart emails. Each company in these examples used a blend of strategies to win back customers.
Peel
An abandoned cart email sent by the company Peel incentivized customers with free shipping. The email had a minimalist design with the phrase "Free shipping on orders over $49" across the top. Additionally, the company used a sense of urgency to encourage customers to make an immediate purchase. It said, "Still thinking it over? We're holding the items in your cart for you, but don't wait too long! Order today!"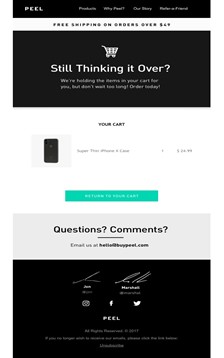 Source: Peel
Chubbies
Chubbies used humor, fun and eye-catching visuals to appeal to customers. This email displayed a man relaxing on a beach. Beneath the image, the company appealed to the lighthearted nature of its clientele by adding, "Looks like you left some shorts in your shopping cart on our site. Allow me to provide the service of taking you directly back to your shopping cart. Free of charge. Feel free to click literally any link in this email. They all go back to your shopping cart. Even the guy casually taking in the sights in the image above. Clicking him will also take you to your cart."  
The email had a prominent CTA that said, "Teleport to your cart," clearly expressing the next step. This email contained multiple links to bring customers back to their carts to complete their purchases.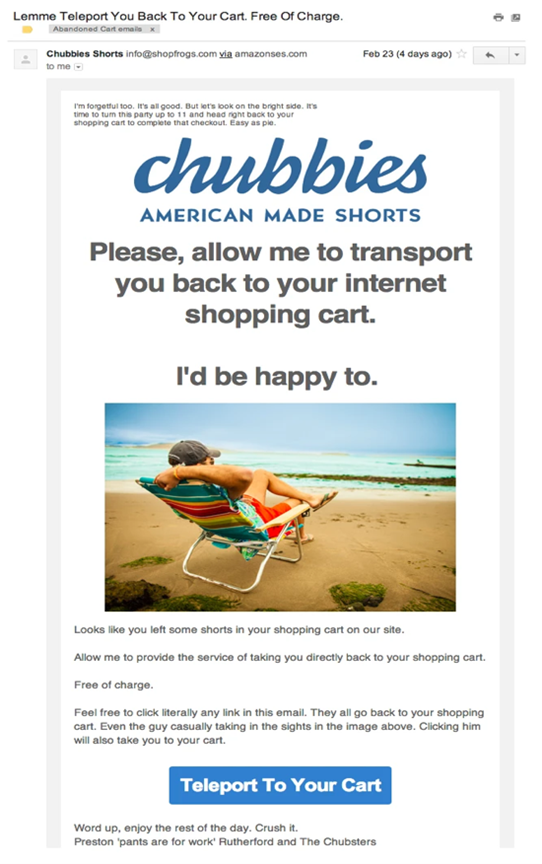 Source: Chubbies
BarkBox
BarkBox used mixed media in its abandoned shopping cart email to woo shoppers. The top half of the email said, "Complete your pup's order," with a CTA that read, "Get my BarkBox." To supplement the text, the email included a short video of a dog enjoying BarkBox products. This visual helps customers imagine how BarkBox could integrate with their pet's life. 
The second half of the email is minimalistic but lists (in text and images) the products a new client can expect. The text is easy to read, and the link to complete the purchase is front and center.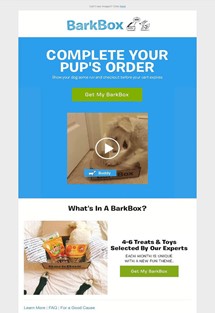 Source: BarkBox
Hayneedle
Discounts are a popular abandoned cart email strategy. Most discount offers for abandoned carts are modest, with an average discount of 10 percent. Hayneedle provides an example in the image below. Its email said, "Don't miss out on this special offer. Your cart is waiting! Just for you: 10% off your order over $50!" 
Along with a sense of urgency, the email uses exclusive language that makes the reader feel special. It also uses an order minimum of $50 to encourage customers to spend more.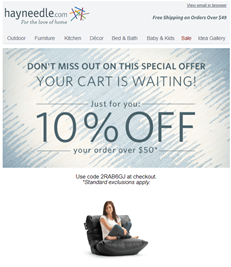 Source: Hayneedle
Jennifer Dublino contributed to this article. Source interviews were conducted for a previous version of this article.