SMBs frequently turn to customer relationship management (CRM) software to improve their marketing campaigns, successfully convert leads, and provide excellent customer service. Salesforce and HubSpot are two user-friendly, feature-full CRM platforms that fit the bill. We'll examine how these solutions handle contact management, email marketing, automating workflows, reporting and analytics, integrations, and more to help your business find the right CRM software for your needs.
Salesforce vs. HubSpot Comparison
Salesforce and HubSpot are top-performing solutions in multiple areas. Here's a direct comparison of their essential CRM features and pricing.
Contact Management
Contact management tools help small business owners track and monitor real-time prospect and client interactions. 
Salesforce
Excellent object control: Objects are spreadsheet fields (e.g., name, contact email, last purchase date) that add further depth to customer and prospect data. We like that Salesforce lets you add new, unique customer fields to analyze and monitor.
Deal tracking: Monitor every deal's stage, expected value and success probability as it travels through the sales pipeline.
Data security: Only display the data co-workers must see to do their jobs. We appreciate that this protection helps you comply with CCPA and GDPR compliance and protect your business from data breaches. 
HubSpot
Efficient lead capture: We like that you can capture leads from multiple sources, including website forms, live web chats and mobile devices. The details are automatically placed into a database for follow-up.
Robust list management: HubSpot's active lists automatically update to show which contacts might be receptive to a sales pitch. It monitors actions you specify, such as clicking on an email message link. HubSpot removes prospects if they don't take specified actions in a certain time frame.
Advanced segmentation: We were impressed that you can segment customers and prospects by demographics, psychographics and past interactions. Create contact groups with shared characteristics to receive special offers.
Winner
Salesforce offers excellent customization and object control. However, HubSpot's dynamic lead capture and management tools impressed us. We also really like HubSpot's time-saving and intelligent active lists feature that identifies contacts who might be ready to purchase soon. 
Email Marketing
Email marketing is a low-cost, effective way to engage with and sell to your target audience. 
Salesforce
Generous email limit: We were impressed that Salesforce Sales Cloud lets you send 5,000 email marketing messages daily from the platform on all plans.
Email integration: Sync Salesforce with popular email services like Gmail and Outlook to better manage standard emails and incoming replies to email campaigns.
Choice of email templates: We liked Salesforce's well-stocked library of Lightning Bolts email templates. They make email design quick and easy with professional-looking results.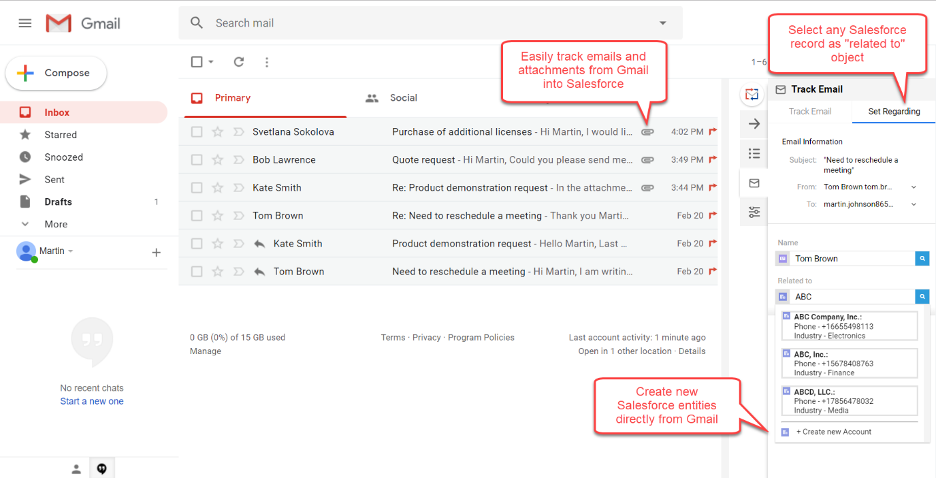 Salesforce CRM includes Gmail integration, so you can view and work with Salesforce data directly in Gmail. Source: Salesforce
Email marketing isn't a built-in Salesforce CRM feature. You must install a third-party plug-in or get the Salesforce Marketing Cloud plug-in. Read our Salesforce Marketing Cloud review to learn more about this robust email marketing solution.
HubSpot
Integrated emailing: We like that you can create, personalize and optimize email marketing campaigns directly from the HubSpot platform. We also like that HubSpot allows 2,000 promotional emails monthly, even on its free level. 
User-friendly design tools: HubSpot's easy-to-use drag-and-drop email design app and customizable templates impressed us. Creating branded emails with clear call-to-action options only takes minutes.
A/B testing: We were pleased to see an A/B testing feature that lets you send two email designs to see which gets the better results. This tool can help you improve your email marketing campaigns.
Smart Content AI: HubSpot's AI tool is impressive; it allows you to create personalized emails for every person or business in a segmented group on a campaign.
Winner
HubSpot wins this round. Unlike Salesforce, HubSpot's email marketing platform is built directly into the platform. Its user-friendly tools make creating and launching campaigns quick and easy. Salesforce's plug-ins are good, but HubSpot's features are better.
Workflows and Automations
Workflow automations save you and your team time, so you can focus on improving the business.
Salesforce
Action-contingent steps: We like that when you add new objects or fields to a database, Salesforce lets you turn them into processes. For example, when a new lead lands in the system and your rep has made contact, you can require the rep to ask for specific details before moving the prospect to the next sales funnel
Highly adaptable: Salesforce makes workflows easy to help you improve task and team management. Add and tailor existing processes to fit your business needs.
AI-integrated Process Builder: The AI-integrated Process Builder impressed us. It suggests new and more efficient workflows by monitoring how you use Salesforce. While Process Builder is only on the Enterprise service plan and above, creating new workflows is still a relatively straightforward process on all levels.
HubSpot
Wide range of automations: We like HubSpot's automated workflow-creation flexibility. For example, you can set call reminders and automate customer email responses. Automations streamline the sales process and improve customer management.
Drag-and-drop editor: We appreciated HubSpot's intuitive drag-and-drop visual editor for building custom workflow automations. Build your sales and service processes without coding.
Revenue-based automations: We really liked HubSpot's handy lead scoring HubSpot assigns a score based on the attributes you choose to prioritize the most viable leads.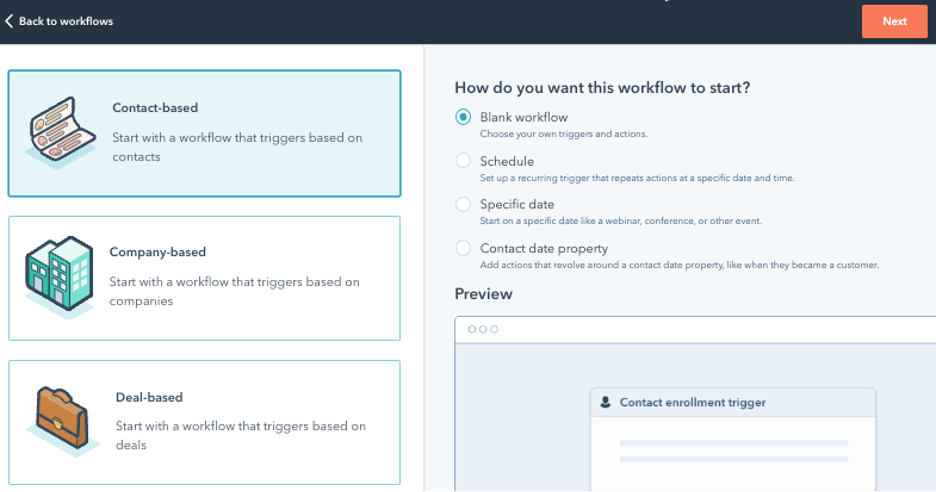 Creating workflows in HubSpot is straightforward, with no coding required. Source: Salesforce
Winner
Salesforce's extensive workflow and automation capabilities are flexible and precise. You can better manage teams, marketing campaign structures and much more. The platform's Process Builder tool is superb. Although HubSpot's visual editors are more user-friendly, the platform doesn't offer Salesforce's advanced automation capabilities.
Reporting and Analytics
Reporting and analytics tools give SMB owners actionable insights to formulate growth strategies and improve inventory turnaround times. 
Salesforce
Useful insights tools: We like how easily Salesforce allows you to uncover actionable insights that can boost overall company performance. Customize its visual dashboards to show managers and team members how close they are to KPIs and other targets in real time.
Einstein AI tool: Einstein's ability to predict deal closures accurately and perform sentiment analysis impressed us. It can present managers with live data analytics and provide front-line staff with targeted improvement suggestions.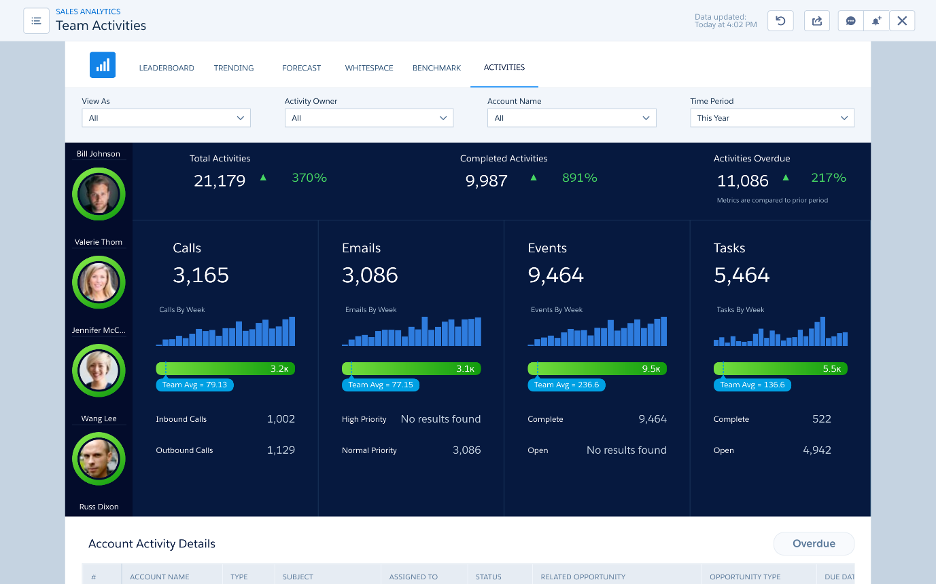 Salesforce's visual dashboard reports on sales team activities in real time. Source: Salesforce
HubSpot
Sales forecasting: We like that HubSpot's lead and campaign-targeting insights can save you time, optimize ad spend, and help you focus on higher-value deals.
Attribution reports: HubSpot's attribution reports help you discover your most successful channels and refocus your ad spend.
Traffic and sales analytics: We were pleased to see that you can access detailed reports on website traffic and resulting sales. You can identify where on the online customer journey you're losing leads and take action to fix the problem.
Winner
Salesforce comes out ahead in this category thanks to its comprehensive toolset and visually appealing dashboards. The AI-powered Einstein tool and its predictive analytics and decision-making support add real value. However, HubSpot's reporting and analytics functions are also powerful; they're likely enough for most SMBs.
Integrations
CRMs can integrate with your other business software apps for better data synchronization across your business.
Salesforce
Huge selection: We were impressed that you can access thousands of apps via Salesforce's AppExchange. Choose the ones you want and add extra functionality to tailor Salesforce to your specific business needs.
Intuitive navigation: AppExchange organizes add-ons by industry and use case, which makes finding the apps you need easy. We also like that you can choose from various competing apps to find the best one for your needs.
Advanced API interface: Salesforce's well-executed API interface allows companies to build under-the-hood custom integrations.
HubSpot integrations
Extensive marketplace: HubSpot's App Marketplace has over 1,000 apps to choose from. 
Sales and marketing focus: We were impressed by HubSpot's wide range of sales and marketing add-ons, which is ideal for companies focusing on improving conversion rates.
Excellent API interface: HubSpot's impressive API interface helps you improve functionality in data syncing, task automation and advanced analytics via custom integrations. (HubSpot imposes a $500 monthly fee if you make more than 1 million API calls a day.)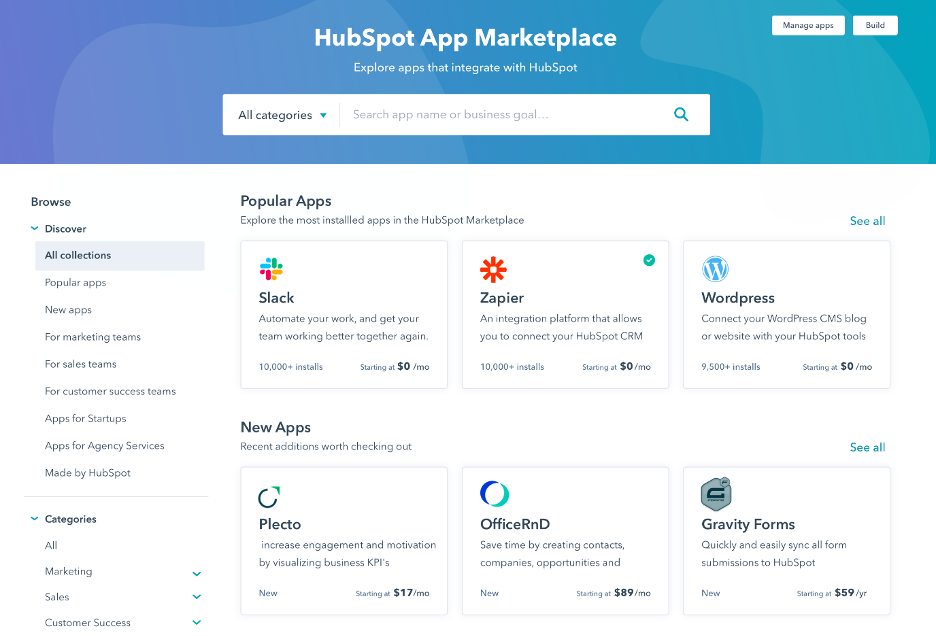 HubSpot's App Marketplace has more than 1,000 apps to choose from. Source: HubSpot
Winner
Salesforce wins, thanks to its extensive range of third-party applications and superior API interface. Its AppExchange platform offers more choices than any other CRM we reviewed, including HubSpot. HubSpot also offers an impressive selection of marketing and sales integrations. However, the scale and depth of Salesforce's offerings make it stand out among CRM providers.
APIs are helpful when you want your CRM to connect to other business software, like the best email marketing services, in a specific way that a prebuilt app doesn't allow.
Pricing
Salesforce's pricing is mid-tier in the CRM market; HubSpot's most useful service plans are at the upper end.
Salesforce
The costs below are applied when billed annually.
Plan

Price

Features

Essentials

$25 per user, per month (up to 10 users)

Account, contact, lead, task and opportunity management
Duplicate prevention
Email integration with Gmail and Outlook
Automatic lead-information capture
Marketing campaigns
Salesforce mobile app
Mass email
Lead auto-assignment
Customizable reports and dashboards

Professional

$75 per user, per month

Everything in Essentials, plus:

Roles and permissions
Developer sandbox
Pipeline management
Rules-based lead scoring
Collaborative forecasting
Lead registration
Forecasting mobile app
Quote and order management

Enterprise

$150 per user, per month

Everything in Professional, plus:

Workflow and approval automation
Opportunity scoring
Advanced reporting
Sales teams and territories

Unlimited

$300 per user, per month

Everything in Enterprise, plus:

AI-powered sales insights with Einstein
Sales engagement hub
Sales cadences 
24/7 support
Salesforce subscriptions range from $25 to $300 per user, per month. You can opt for the Essentials plan on a month-by-month basis, but all other plans require an annual contract. Note that the Essentials plan supports up to 10 users — if you need 11, you'll have to pay $75 per person. 
Additional features and apps may cost extra. Salesforce offers a 14-day free trial so you can test drive the system to see if it's right for your business.
All Salesforce plans let you send 5,000 email marketing campaign messages daily — a generous allowance we haven't seen from any other provider.
HubSpot
HubSpot's free service level impressed us — few competitors offer such a generous free tier (or any free tier). Its features include SEO recommendations, 2,000 monthly emails, and live chat. Paid service plans are as follows:
Plan

Price

Features

Additional User Cost

Starter

From $30 per month for two users

1,000 property records
10 dashboards with 10 reports each
25 active and 1,000 static lists
Payment processing
Form automation
Email retargeting tools
Two deal pipelines
Document storage
Sales content analytics
Sales automation 
Removal of HubSpot branding

$25 per user

Professional

From $1,600 per month for five users; one-time $3,000 onboarding fee

Everything in Starter, plus: 
Customer reporting
Contact center attribution
Deal and company scoring
Dynamic personalization
A/B testing
SEO analytics 

$100 per user

Enterprise

From $5,000 per month for 10 users

Everything in Professional, plus: 
10,000 marketing contacts
Additional tools

Not stated
HubSpot's Starter level ($30 a month for two users) should suffice for businesses with straightforward needs. You'll need the Professional tier ($1,600 a month for five users) to boost your SEO strategy with SEO analytics and add features like A/B testing, deal and company scoring, and contact center attributions. This is a significant price jump. Additional charges can add up: there's a $3,600 annual fee for a dedicated IP for marketing emails and a $7,200 annual fee for transaction emails.
Winner
Salesforce wins because its entry-level plan is more feature-packed than HubSpot's and provides 5,000 free daily emails. Additionally, if you need more features, the price jump from Salesforce's Starter level to its Professional level isn't as jarring as HubSpot's jump from Starter to Professional. However, HubSpot is the winner for SMBs that want to test a CRM platform for free. 
If you're interested in CRMs with free service plans, check out our review of monday CRM; monday is the only other leading CRM provider we reviewed with a free service level.