In the best-run businesses, team members work from the same database. They understand their goals and receive ample support from management to help them succeed. Without this centralized structure, companies tend to be less efficient and organized, causing them to miss out on opportunities. CRM software is a crucial element of efficient organizations. It helps team members get – and stay – on the same page with enhanced communication and collaboration. However, choosing the right CRM is challenging. Many platforms exist with varying features, pricing, services and specialties. 
Salesforce vs. Zendesk Comparison
Salesforce and Zendesk provide essential CRM features businesses need to improve sales, collaboration and overall efficiency. Here's how they compare. 
Marketing and Sales
Salesforce and Zendesk excel at helping companies generate more leads from their marketing campaigns and close more deals. Here are some highlights. 
Salesforce 
Excellent email marketing: We appreciate how well Salesforce has integrated its email marketing suite into the CRM platform. The drag-and-drop editor makes it easy to create professional emails. It provides many customizable templates and allows you to send a generous 5,000 emails daily.
Multichannel advertising: Reach out to customers en masse with social media marketing campaigns, Google Ads campaigns, text message marketing and more.
Segmented marketing lists: We were impressed by how easy Salesforce makes it to add tags to customer records for market segmentation. You can easily segment your email lists and send targeted messages.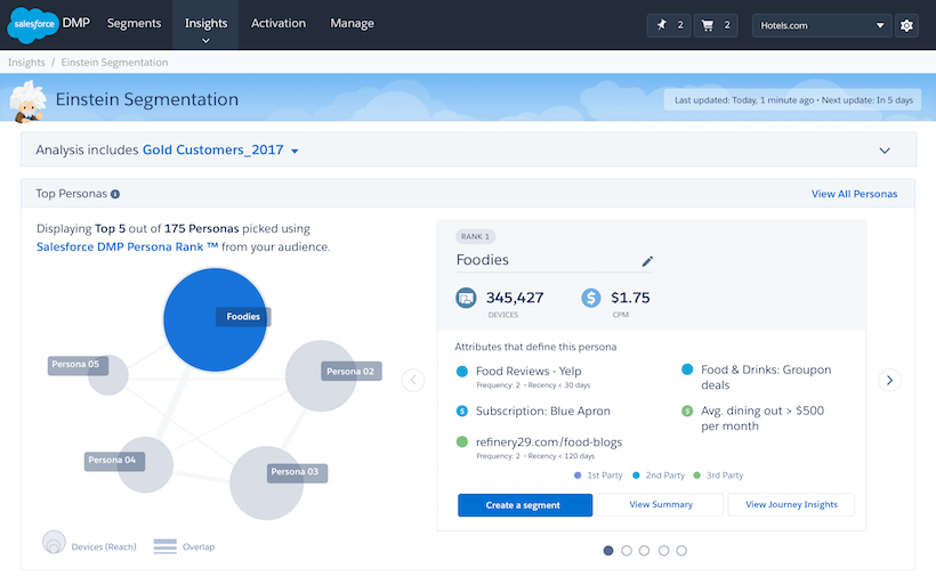 The Einstein AI customer segmentation tool makes it easy to send targeted email campaigns. Source: Salesforce
Zendesk 
Multichannel marketing: You can send 300 emails per day on Zendesk to help generate more leads. Text marketing is also straightforward. We like that you can send SMS-based customer surveys via the Proactive Campaigns app. Telemarketing teams can use an auto-dialer app like Dialfire to run outbound campaigns and win customers over the phone. Dialfire also lets you record and monitor live calls and provides a transcription-based call analyzer.
Marketing lists: We liked Zendesk's Smart List feature, which allows you to save targeted lists for later use instead of running the same search query whenever you want to launch a campaign.
Lead enrichment: We were impressed with how easy it is to purchase decision-maker data from the Zendesk dashboard. Zendesk's Enrich app is another standout feature. It conducts a web search to populate empty fields like phone number, social media profile, line of business and more in prospects' database records.
Winner
Zendesk has some great features, particularly its data enrichment tools and smart lists. However, Salesforce gives businesses greater reach over more channels. Additionally, Zendesk's standout features are also available on Salesforce with the right plug-ins.
Omnichannel Communications
Contact customers by phone, email and more via your CRM; it will log all interactions to help you provide better service.
Salesforce  
Built-in email client: We appreciate how straightforward Salesforce makes sending and managing customer emails. Choose from a range of customizable templates, save draft messages, and connect to existing Outlook, Gmail and other SMTP/IMAP accounts.
Social media connectivity: Nurture new leads and get valuable client feedback through private messaging on Facebook, Instagram, Twitter, LinkedIn and more.
All-round communication: You can also interact live one-on-one with clients by phone, SMS, MMS, WhatsApp and other private messaging platforms.
Zendesk 
Integrated email client: The Zendesk email client is smart; we like how it tries to match new email addresses to individual clients, leads or deals. It's easy to use and connects to standard IMAP/SMTP accounts, as well as Gmail and Outlook.
Messaging channels: We like that you can stay connected to prospects and clients with SMS and MMS text messaging, WhatsApp, Facebook, Twitter, Instagram, and more.
VoIP with IVR: Talk, Zendesk's VoIP platform, allows your agents to make and receive calls from the platform. You can upload menu trees using the excellent interactive voice response (IVR) feature so callers can reach the correct department.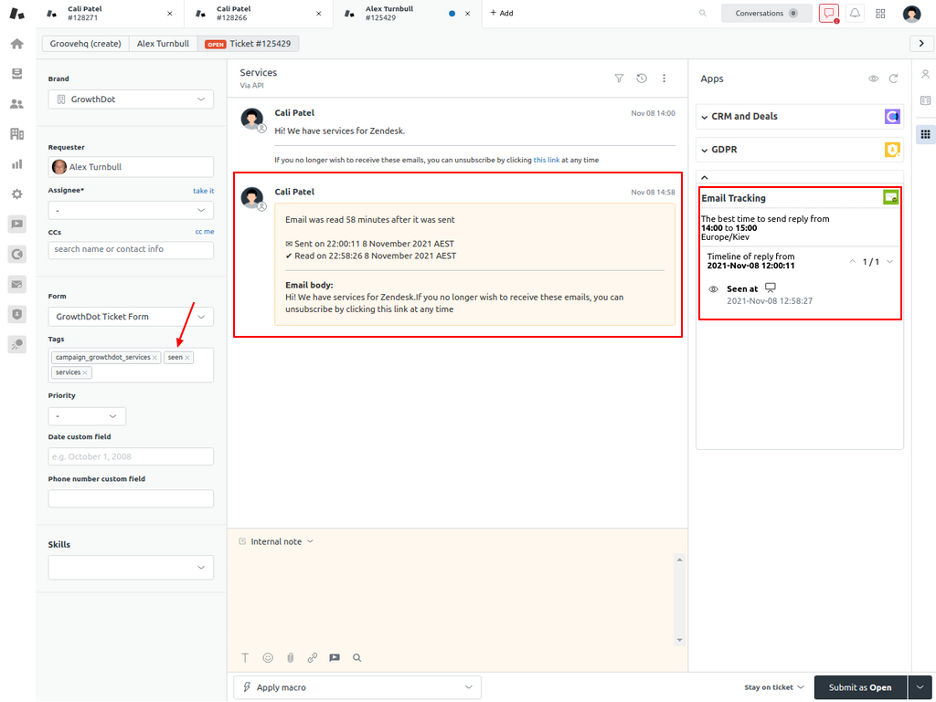 The Zendesk email client makes email tracking effortless. Source: Zendesk
Winner
Salesforce is less reliant on third-party apps for omnichannel communications, so it wins this category. Built-in features are often easier to handle and less prone to breakdowns than third-party integrations.
Zendesk's built-in IVR is unusual. However, most top CRM platforms include IVR plug-ins via their app stores.
Workflows and Automations
Automate repetitive tasks to boost productivity and save staff time.
Salesforce 
Flows: Flows (which replaces the previous tool, Princess Builder) greatly simplifies creating task-based workflow automations with its user-friendly drag-and-drop builder. For example, you can tell Flow to create a new record, alert a sales rep and send a welcome email simultaneously.
Einstein Next Best Action: Einstein gives sales and customer service reps AI-powered contextual tips to help them close a deal or achieve a satisfactory resolution.
Developer tools: We were impressed by the sandbox feature in the Salesforce developer area. It allows programmers to write and test code independent of a company installation. Salesforce also includes Apex triggers that should make development much faster.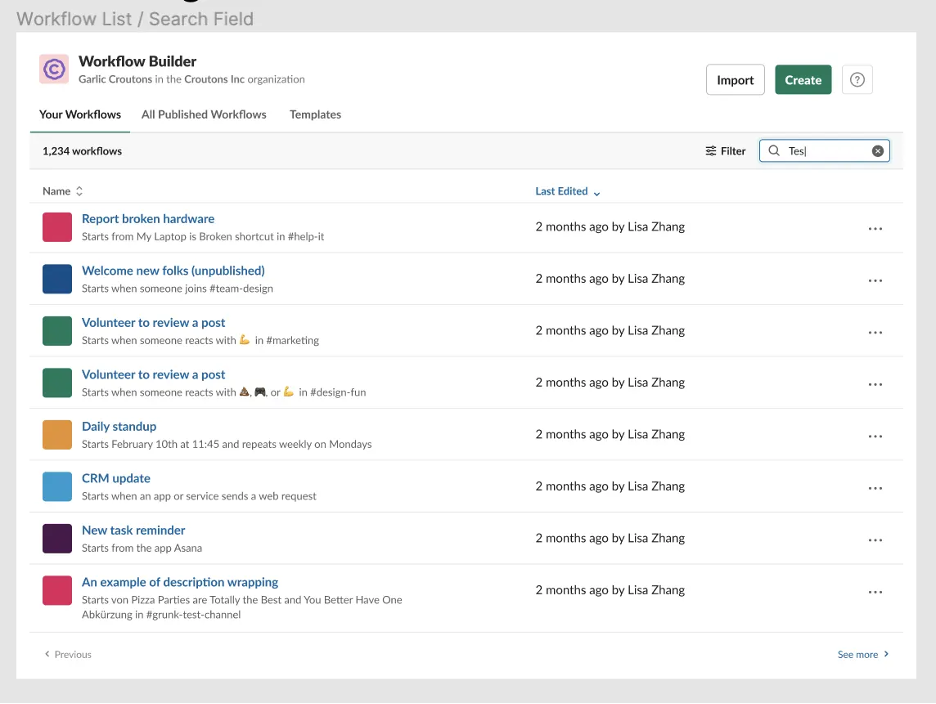 Salesforce's Flow tool helps you organize and create custom workflows. Source: Salesforce
Zendesk 
Better colleague collaboration: We really liked Zendesk's Side Conversations and Light Agents tools. These functions allow you to bring in colleagues to help resolve customer queries quickly. Clients can see side conversation contributions but not light agent contributions.
Handy automations: Set notifications and alerts when a trigger is activated. For example, direct a service ticket to a product specialist if the customer has purchased that product.
AI automation: Zendesk's AI implementation is impressive. Like Salesforce, agents can get contextual in-call advice. Zendesk can also talk to website visitors and add information and recommendations to a customer's record.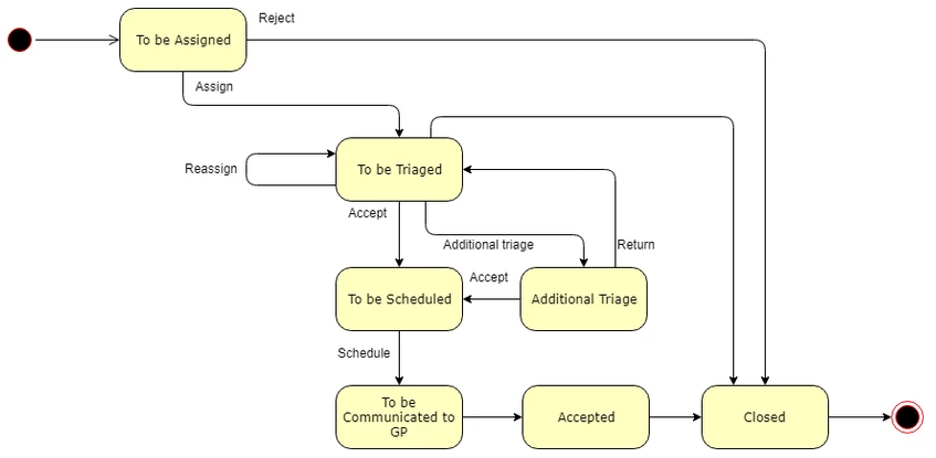 This Zendesk healthcare referral workflow diagram shows how straightforward the workflow-building process is. Source: Zendesk
Winner
Salesforce wins this round. Its Flow tool and Einstein AI integration help businesses create advanced automations easily. However, Zendesk's workflow automations tools are also impressive – the platform is catching up.
Sales reps appreciate how CRMs help them manage customers and leads and increase sales. Check out our review of Pipedrive CRM for a platform specifically aimed at sales teams.
Reporting and Analytics
CRM data analysis and reporting tools help identify top-performing marketing channels, sales reps, clients and more.
Salesforce 
In-depth online reports: Salesforce reports can help you better understand how traffic arrives at your website. Use cohorts analytics to see how people navigate your site, and view specialized reports to see where in the sales funnel they drop off. These insights will improve your site performance and engagement.
Dashboard control: We like how you can tailor your Salesforce dashboard to view live reports on the specific data you want. Salesforce also offers many prebuilt and customizable templates for users.
Quality data: We were impressed by Salesforce's duplication cleansing tool and apps like Data.com Clean, which cross-references your data with external sources to check for accuracy.
Zendesk 
Information sharing: Zendesk allows you to build and share dashboards with other team members. You can add widgets to co-workers' dashboards so they can monitor their performance against their KPIs.
Better team management: We appreciate how easy Zendesk makes it for managers to see what's in each rep's sales pipeline. They can see what deals are expected and when they should arrive.
Clear reports: View company performance via chart, table and database formats against all marketing, sales and customer service targets.
Winner
Salesforce and Zendesk can both analyze performance data and produce easy-to-digest reports across all areas of sales and marketing. However, Salesforce's reporting and analytics functions are more comprehensive, so it wins this round. Still, we love Zendesk's team management and information-sharing features.
Integrations and Apps
Get your CRM to do more by downloading plug-ins or connecting directly to its API.
Salesforce 
Massive app store: Salesforce's app store is the Amazon of CRM app stores – there's no one bigger. It also provides prebuilt templates, known as Bolts, and drag-and-drop automation builders called Flow Solutions.
Salesforce exclusives: Download exclusive tools like Flow Builder, which can help you create custom automations.
Developer zone: In addition to its excellent API, mentioned earlier, the Salesforce Developer zone provides 300 reusable and prebuilt features that can help you with development shortcuts.
Zendesk 
Large app store: We appreciate the wide selection of Zendesk apps and how easy it is to find apps via the app store's search bar and 16 app categories. 
Wide range of themes: We like how you can build your own online self-service knowledge base for customers. Choose from 150 prebuilt custom themes to get it looking and behaving how you want.
API links: Link to your other business apps via Make and Zapier, and use the extensive API documentation on Zendesk too. Be mindful of the extra charges if you go over your monthly API call limit.
Winner
Salesforce wins this round because of the sheer quality and quantity of apps and other plug-ins it offers; the Flow Builder is particularly impressive. Still, Zendesk's store is notable – it's one of the biggest CRM plug-in stores in the world.
Pricing
Salesforce and Zendesk are market-leading CRMs at the higher end of the price scale. Here's how they compare.
Salesforce 
Plan

Price

Features

Essentials

$25 per user per month (up to 10 users) 

Customizable reports and dashboards
5,000 daily marketing emails 
Management of accounts, contacts, leads, tasks and opportunities
Auto-assigns sales leads
Gmail and Outlook integration

Professional

$75 per user per month

All Essentials features, plus:

Pipeline management
Sandbox for developers
Assign roles and permissions
Quote and order management
Collaborative forecasting

Enterprise

$150 per user per month

All Professional features, plus:

Automation of workflows and approvals
Opportunity scoring 
Sales team and territories
Advanced reporting functionality

Unlimited

$300 per user per month

All Enterprise features, plus:

AI-powered Einstein insights
Sales engagement hub
Sales engagement cadences
Enhanced customer support
Salesforce is one of the most expensive CRMs around. Still, its flexibility and customizability make it a market leader. You can opt for the Essentials plan on a month-by-month basis, but all other plans require an annual contract. 
Note that the costs listed above can go significantly higher as you add plug-ins and additional features. It may take some research and calls to determine your actual costs. We like that Salesforce offers a free 30-day trial so you can put the system through its paces.
Zendesk 
Zendesk Sell is for sales and marketing teams, while Zendesk Suite is for support teams. Zendesk's two products integrate perfectly, and many customers opt for both. Costs are as follows: 
Zendesk Sell 
Plan

Price

Features

Storage limit 

Sell Team

$19 per user per month

Two sales pipelines
Email integration
Calendar integrations
Text messaging
Call tracking and recording

2GB per user

Sell Growth

$55 per user per month

All Sell Team features, plus:

10 pipelines
Advanced sales reports 
Sales forecasting
Goal tracking
Customizable sales reports

5GB per user

Sell Professional

$115 per user per month

All Sell Growth features, plus:

Task automation
Deal scoring

10GB per user

Sell Enterprise

Call for quote

All Sell Professional features, plus:

Customized service
Unlimited sequences
Unlimited pipelines

Varies
Zendesk Suite
Plan

Price

Features

Suite Team

$55

Two sales pipelines
Email integration
Digital onboarding
Omnichannel communications
Help center

Suite Growth

$89

All Suite Team features, plus:

Self-service customer portal
Set business hours
Light agents
Service-level agreement
Multiple tickets

Suite Professional

$115

All Suite Growth features, plus:

HIPAA compliance
Sunshine conversations
Skills-based routing
Live conversations
Customized analytics

Suite Enterprise

Call for quote

All Suite Enterprise features, plus:

Customized agent roles
Content blocks
AI-driven content queues
Contextual workspaces
Developer sandbox
Zendesk is mid-tier in terms of pricing; when bundled at the higher tiers, it's similar in cost to Salesforce. Zendesk offers a 14-day free trial to test the product. You can pay annually and monthly at all subscription levels, but you'll pay around 20 percent more than the rates listed here if you opt for monthly payments.
Winner
Zendesk wins for its flexible billing options across all tiers. However, there's not that much difference in price between the top Salesforce plans and higher combined Sell and Suite levels. 
Salesforce vs. Zendesk Summary
While Salesforce can be adapted to just about any business use, Zendesk's features are perfect for better internal collaboration.
Salesforce is better for companies that want better performance from their sales and marketing teams.
Salesforce boasts a unified and extendable multichannel marketing suite, omnichannel communications hub, and superior reporting and analytics. If you want more, its flexible workflow automations will save your sales and marketing staff time they can spend on more productive and creative tasks. You can adapt the platform to your business even further with apps, Flows and API integrations. Salesforce gives you a clear view of your sales process and marketing performance and provides the tools to boost performance further.
Zendesk is better for businesses that want their teams to work together better.
When sales, marketing and customer service teams collaborate, productivity soars and results improve. Improving collaboration and communication is even more critical as hybrid and remote teams increase. Zendesk's collaboration tools are excellent and integral to this highly capable, user-friendly powerhouse CRM. Your teams can create, launch and monitor campaigns; track performance; and use Zendesk to set and achieve goals. 
FAQ
Zendesk makes it easy for sales, marketing and customer service teams to work more effectively together. You can adapt Salesforce to do the same with its wide range of apps and plug-ins.
Salesforce is the market-leading CRM; it offers maximum flexibility to clients thanks to its built-in features and wide range of plug-ins. Zendesk is also a very capable platform but has less functionality than Salesforce. However, many businesses don't need a CRM as powerful as Salesforce.
Choose Salesforce over Zendesk if you want the highest level of control possible over your sales and marketing teams. Choose Zendesk if you don't need Salesforce's power and prefer to focus on excellence across your sales, marketing and customer service teams.
Salesforce does not use Zendesk, but you can link your Zendesk platform to Salesforce. This could be a great solution for companies running on Salesforce products that want to access Zendesk's excellent sales, marketing and customer service functionality.