Zendesk is our choice for the best CRM for cross-department collaboration. It provides a centralized database, omnichannel communications, AI integration and more features that can help optimize sales, marketing and customer service team performance.
Pros
How Zendesk combines customer data with internal and external communication tools is impressive. Everyone can see the same information and bring colleagues in to help when needed.
We like Zendesk's AI usage. It provides intelligent prompts to company representatives and customers via chatbots.
Zendesk has many easily customizable prebuilt dashboards that give managers clear insights to improve performance across the business.
Cons
To get the most out of the platform, you must spend a significant amount of money. Cheaper CRM alternatives are available.
There's no direct way to contact Zendesk's customer support — you must do so via a ticketing system and wait for a reply.
There's a limit to the number of application programming interface (API) calls you can amass monthly. If you use too many, your subscription fee may increase.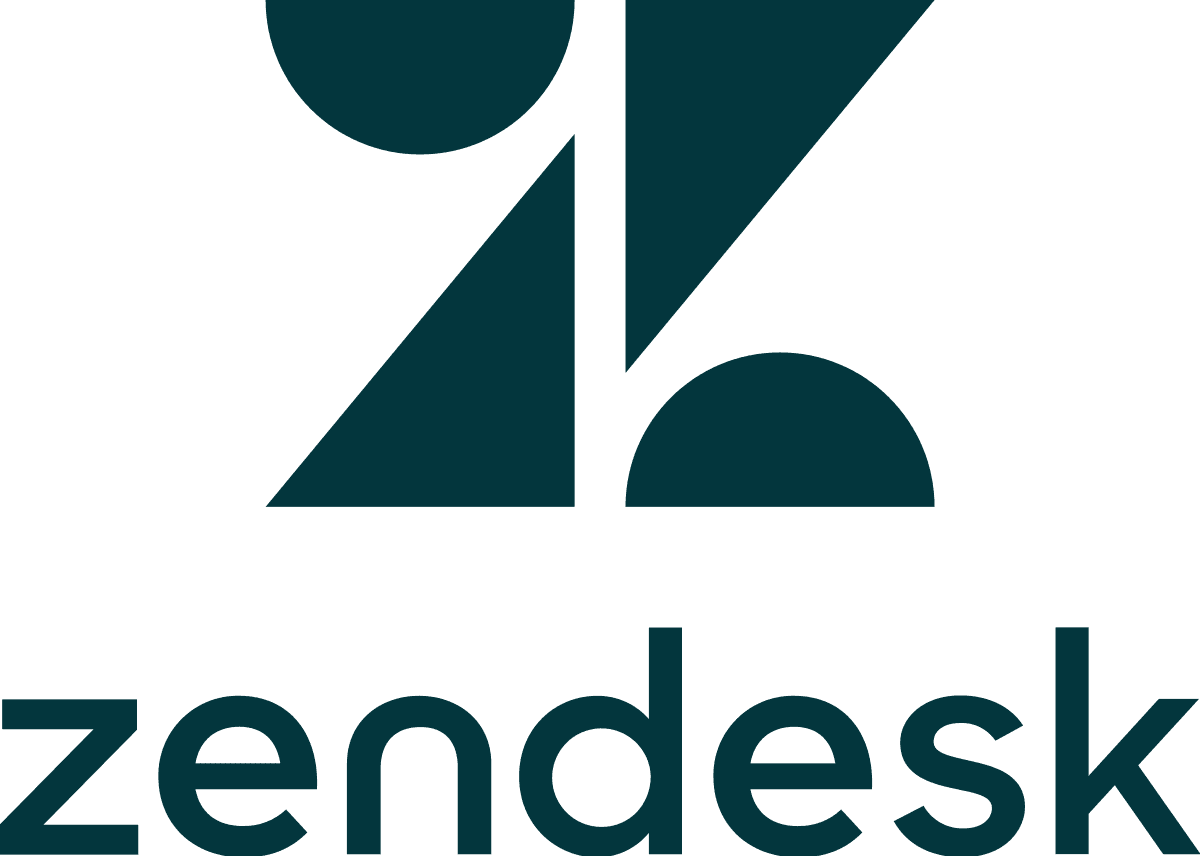 Customers can tell when sales, marketing and customer service teams don't communicate well or share a centralized database. They'll see their names misspelled or the wrong title on emails, receive unhelpful recommendations or have to explain issues repeatedly to customer service. Zendesk can help your business eliminate these careless mistakes throughout the customer journey. Its customer relationship management (CRM) solution prioritizes cross-department collaboration and communication with tools that can help businesses unlock extra revenue and take customer satisfaction to an all-time high. 
Zendesk Editor's Rating:
9.5 / 10
Pricing/value

9.4/10

Features

9.7/10

Customization, add-ons and integrations

9.2/10

Ease of use

9.6/10

Customer service

9.5/10
Why We Chose Zendesk as the Best CRM for Cross-Department Collaboration
Zendesk prioritizes smooth, fast and productive cross-departmental collaboration. The platform ties a centralized database to a versatile and adaptable internal and external omnichannel communications functionality, helping companies share knowledge and improve results. As a bonus, the user interface is intuitive and works well out of the box.
Zendesk shines when it comes to employee collaboration. Features that impressed us included "side conversations" and "light agents" — ways to bring in colleagues from different teams to solve problems. We particularly liked its artificial intelligence (AI) implementation, which benefits from years of training on billions of tickets to help managers, marketers and front-line staff save time and improve outcomes. 
Zendesk's data analytics functions are well-executed. Choose from hundreds of prebuilt, customizable templates to start real-time performance monitoring and reporting. Everything managers need to improve staff and business performance is here — and sharing that information with others is easy. 
Zendesk is a great solution for software as a service and subscription businesses. It's particularly effective for companies operating in highly competitive markets — where how customers are treated before, during and after the sale determines successful conversion and churn rates. For all these reasons and more, Zendesk is our choice for the best CRM for cross-departmental collaboration.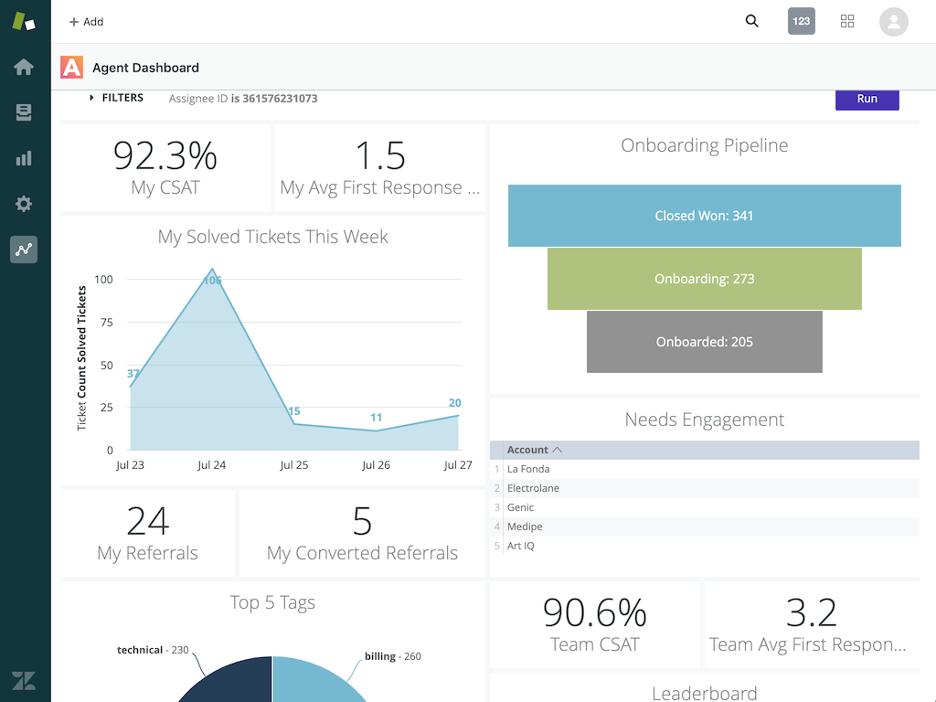 Customize your Zendesk agent dashboard with widgets to get real-time feeds on various key performance indicators (KPIs). Source: Zendesk
Zendesk understands that cross-department collaboration can help create a zero-friction approach to customer interactions. A Zendesk study showed that 61 percent of customers would switch brands after one bad experience.
Ease of Use
We were pleased to see that Zendesk is easy to use out of the box. Getting started on Zendesk is much faster than on many platforms we reviewed because so much functionality is built in. Here are a few of Zendesk's ease-of-use factors that impressed us:
Zendesk is browser-based: The Zendesk CRM system is entirely browser- and app-based. No downloads are required (except for its mobile phone apps). 
Zendesk prioritizes usability: When accessing the platform, it was clear to us that Zendesk made usability a priority. Its straightforward, uncluttered appearance gives quick and intuitive access to the system's primary features.
Personalize Zendesk's dashboards easily: Personalizing your dashboard is straightforward in Zendesk. It's easy to create new widgets (for example, a chart or graph that tracks KPIs in real-time) and add them to your dashboard. 
Download apps easily: The Zendesk marketplace boasts more than 1,500 apps. It's easy to search the store, find apps and download them. The marketplace has 16 app categories, over 140 themes and 127 commercial partners in North America.
Access help when needed: Zendesk offers paid training on customizing your system if you have more complex needs. However, we feel most businesses will get up and running without extra help. You can access extensive supporting information in the Zendesk online knowledge base anytime.
If ease of use is your priority while comparing CRMs, check our Zoho review. This platform's usability is comparable to Zendesk.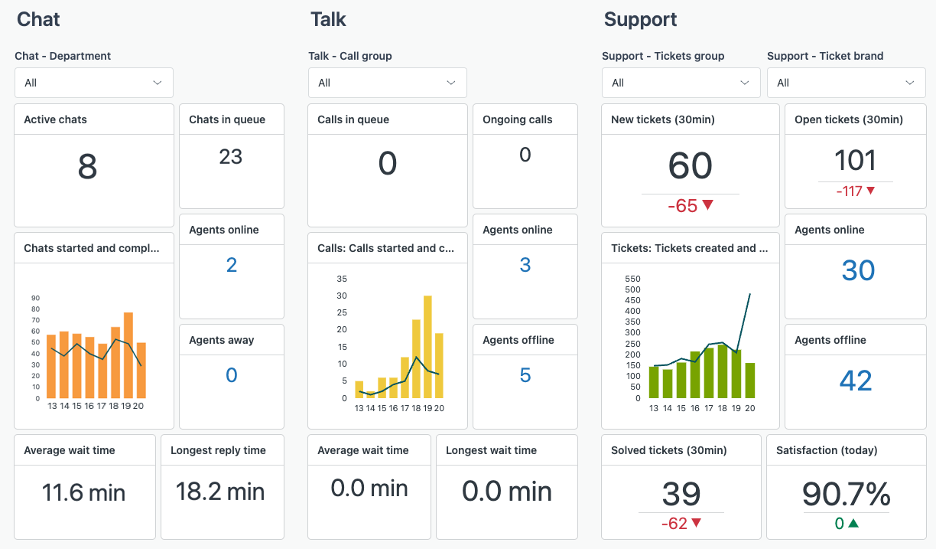 Zendesk's customizable Explore dashboard gives a broad overview of team and company performance. Source: Zendesk
Zendesk Features
Zendesk performs particularly well in seven key CRM features that facilitate cross-department collaboration.
Unified Customer Database
A single, shared database is crucial for cross-departmental collaboration. Everyone can access the same accurate information and view changes when someone edits data. Zendesk isn't the only CRM we evaluated with a unified customer database. However, Zendesk's shared database is notable for its usability and design. 
After integrating Zendesk with all your touchpoints, the unified customer database records all activity, including views, click-through rates, purchases, email open rates and more. It also incorporates information from customer service tickets. The platform's omnichannel reach lets you see details of every interaction, including the date, time, rep and outcome, whether conducted by email, short message service (SMS), phone, web chat, social media messaging or another channel. It also displays information like purchase history and contact details.
You can customize user dashboards with specific information to give sales reps a greater understanding of a particular client before communicating with them.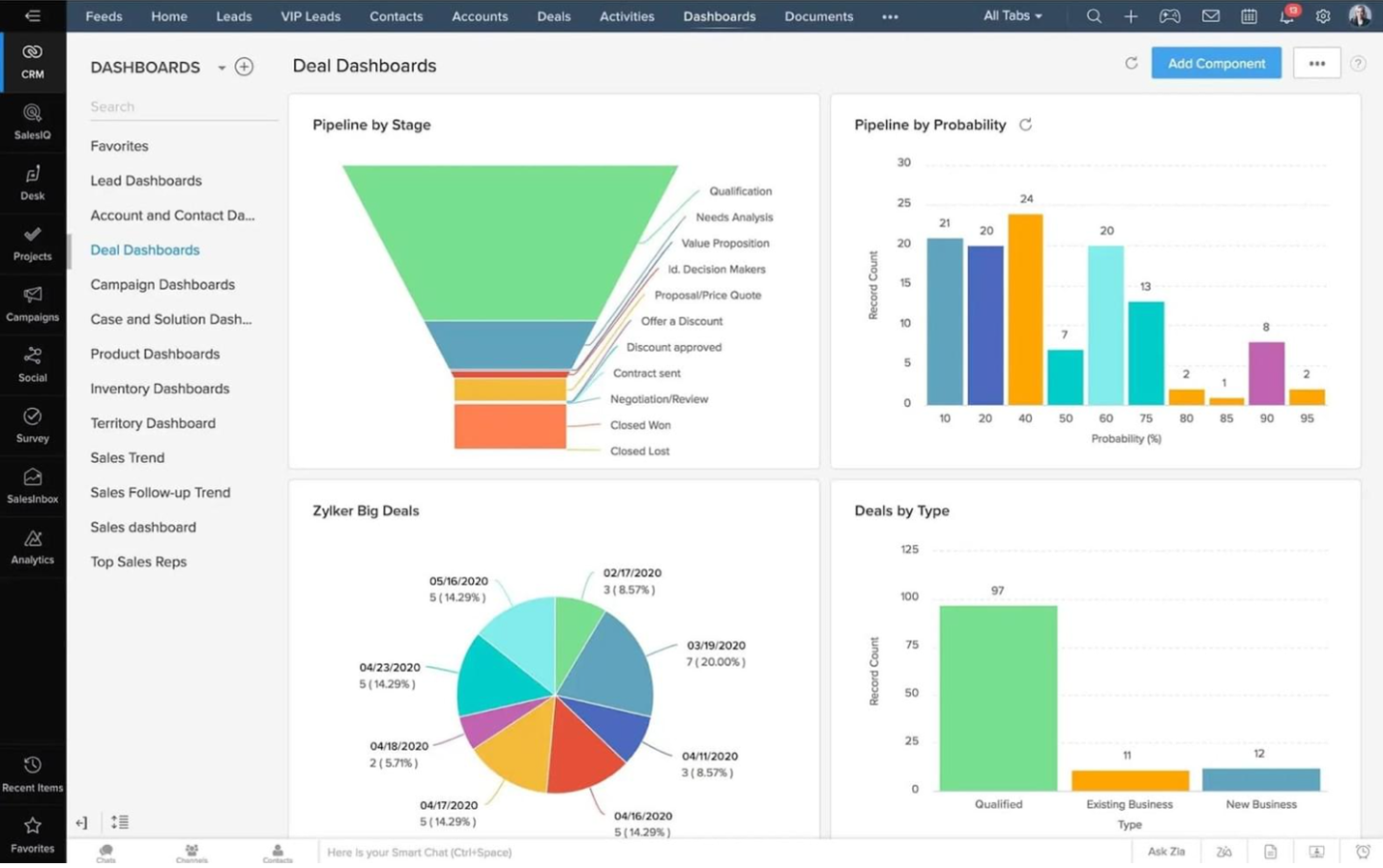 Zendesk's deal dashboard displays various pipeline stages and customer details. Source: Zendesk
Seamless Communication
Departments and teams need seamless communication to work well together. We were impressed by how Zendesk achieves seamless communication in several intelligent ways. 
Here are some tools that will improve team efficiency, transparency and alignment:
Side conversations: Agents can consult with colleagues or outside sources via "side conversations." Participants are notified when there's activity in a side conversation. Agents can set email notifications for participants, allowing them to respond by email — an ideal solution if they're not in front of Zendesk. Creating side conversations to speed up issue resolution is easy — open the context panel and click the plus sign.
Light agents: You can elect co-workers — or others like managers, product experts or legal advisors — to become "light agents." With this designation, they'll be kept in the loop of a particular conversation and can provide feedback. Only you see their contributions — not customers.
Real-time notifications: Zendesk executes real-time notifications well. Thanks to the system's integrations with collaboration tools like Slack and Teams, co-workers receive communication notifications even if they're not in the CRM. We like that you can create new tickets and add internal notes to existing records in third-party collaboration tools.

It's easy to check ongoing side conversations within your Zendesk dashboard. Source: Zendesk
AI-Enabled Customer Services
AI tools are becoming a unique aspect of CRM adoption, providing numerous CRM software benefits. We were impressed at how Zendesk's AI tools add to its collaboration focus, creating a world-class customer experience. 
Zendesk's large language model has been trained for years via billions of support tickets. Its acquired knowledge fuels the following features and functionality:
Onscreen prompts: Zendesk's AI utilizes its knowledge to provide insightful onscreen prompts to customer service reps. These prompts help agents better handle responses and understand what customers want, increasing the likelihood of first-call or first-contact issue resolution. 
Chatbots: We were pleased to see you can add Zendesk-powered chatbots to your website. Chatbots are remarkably good at understanding what visitors and customers want and giving them the answers they seek. When a human response is required, the chatbot uses deductive reasoning to prepare the rep for the conversation. Optionally, you can set parameters for live chat conversations. From a customer service perspective, chatbot assistance frees customer service reps' time, allowing them to focus on more complex issues.
Automated service tickets: Customers can create tickets (service requests) by phone, email, chatbot and even on social media. With AI's help, managers can set up triggers and rules to automate ticket distribution, prioritization and escalation. 
Set KPIs on ticket management: The system records how each service ticket is handled, allowing managers to assess team performance with AI-powered insights into customer retention, customer loyalty, satisfaction levels and general behavior. These insights help businesses set internal KPIs on ticket management and measure performance.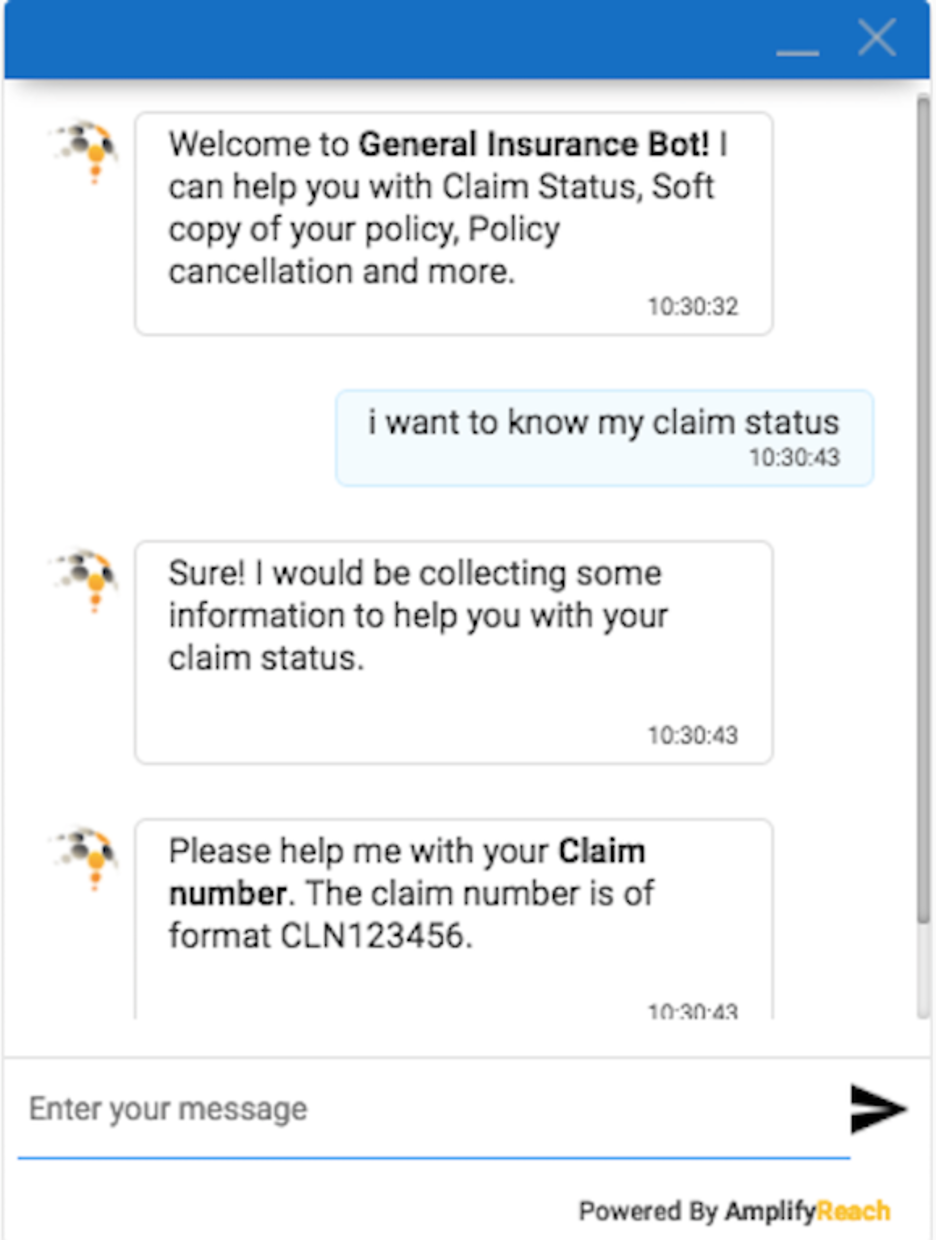 Zendesk chatbots can access customer information to resolve issues. Source: Zendesk
Self-Service Areas
Customer self-service portals are generally the preserve of much more expensive and complicated CRM systems (check out our Oracle NetSuite review as an example). However, we appreciate that Zendesk helps clients build their own customer self-service area. 
Self-service portals are online knowledge centers with instruction manuals, usage tips, videos and more to help customers solve problems or understand product usage better. They're also very useful for reps answering customer queries. 
Zendesk's analytics and AI features can help you discern customers' most-requested information to populate the portal. Additionally, managers, agents and others can create articles to post on the self-service area. Choose from more than 140 visual themes and layouts for your knowledge areas.
Analytics Tools
Zendesk's reporting and analytics tools impressed us. We like how easy the platform makes sharing and scheduling relevant dashboards and reports with team members. You can also share the latest data-driven trends and insights. Access to this information can increase efficiency and productivity across departments while bringing in a wider talent pool to find new ways to grow and improve.
Consider the following analytics tools in Zendesk:
Pre-built dashboards, reports and datasets: Unlike many CRM platforms, Zendesk comes with various prebuilt dashboards, reports and datasets you can use as is or customize as you become more familiar with the system. You can build new reports by coding or using point-and-click functionality. Populate them with the data and variables you want Zendesk to monitor to find opportunities to develop your team and improve the customer experience. Use reporting and analytics to check engagement at all points of the sales funnel and on marketing campaigns.
Sales forecasting tools: We appreciate Zendesk's sales forecasting analytics feature. Managers see an overall view of all deals in the sales pipeline and can compare them to closed deals to estimate timescale and order value. Set a deal's "win likelihood," or let Zendesk estimate it for you. This feature can also alert you to deals that may not be going to plan, allowing you to intervene. 
Configure, Price, Quote (CPQ) tool: We liked Zendesk's CPQ tool. CPQs automate and streamline complex quotes, ensuring pricing accuracy while protecting profit margins. We also liked Zendesk's MobileForce CPQ plug-in, which offers revenue opportunities through intelligent upselling and cross-selling suggestions.
Customization and Integrations
Businesses need flexible CRM software to create solutions that solve unique issues. We like how Zendesk helps you customize workflow automations and functionality to suit your business needs. 
Zendesk has one of the largest CRM marketplaces of all the solutions we reviewed, with around 1,500 third-party plug-ins ranging from productivity and time-keeping apps to knowledge and content managers.
Zendesk also welcomes developers. Its Sunshine open platform supports coding customers and third-party programmers (only available on the Professional tariff). You can build powerful conversation tools that pull data from multiple communication channels and data sources via APIs to guide AI- or human-driven customer interactions. This helps you set up advanced workflows for clients, depending on the nature of their query.
Integrated Email and Phone for Sales Staff
Here are a few communication features we liked in Zendesk:
Zendesk Pricing
Zendesk has two versions: 
Zendesk Sell: Sell focuses on marketing and sales processes.
Zendesk Suite: Suite focuses on post-sales ticketing, messaging and customer support. 
You don't have to purchase both. However, we recommend buying both to unlock your business's potential with the best features.
Both offer a 14-day free trial to new customers. There's no free plan, but free plans are a rarity in today's CRM landscape. HubSpot is an exception — read our review of HubSpot CRM to learn about a solution with a generous free tier. 
Zendesk Sell Pricing
Zendesk Sell subscription levels and pricing are as follows. Prices shown are for annual subscriptions. Monthly subscriptions cost around 20 percent more:
Sell Team ($19 per user, per month): Sell Team includes two sales pipelines, 2GB storage per user, email and calendar integrations, tasks, appointment setting, text messaging, call tracking and recording and prebuilt sales dashboards.
Sell Growth ($49 per user, per month): Sell Growth has all of Sell Team's features, plus 10 pipelines, 5GB storage per user, advanced and customizable sales reports, sales forecasting and goal tracking.
Sell Professional ($99 per user, per month): Sell Growth has all the previous tiers' features, along with lead scoring, deal scoring, 10GB storage per user and task automation.
Sell Enterprise (quoted-based): Sell Enterprise is a customized service level with unlimited sequences and pipelines. Call for a quote.
Zendesk Suite Pricing
Zendesk Suite subscription levels and pricing are as follows. Prices shown are for annual subscriptions. Monthly subscriptions cost around 20 percent more:
Suite Team ($55 per user, per month) Suite Team includes a ticketing system, help center, standard bots, integrations, omnichannel communications, online support and digital onboarding.
Suite Growth ($89 per user, per month): Suite Growth has the previous features, plus multiple tickets, light agents, service-level agreements, customer satisfaction ratings, a self-service customer portal and the ability to set business hours.
Suite Professional ($115 per user, per month): Suite Professional includes previous tiers' features, plus customized analytics, live conversations, skills-based routing, access to Sunshine conversations and Health Insurance Portability and Accountability Act of 1996 compliance.
Suite Enterprise ($150 per user, per month): Suite Enterprise includes all the Professional level's features plus a sandbox for developers, AI-powered content cues, content blocks, contextual workspaces and customized agent roles.
Pricing Considerations
Sell and Suite are integrated fully. When you subscribe to both, you can access them from the same browser window. 
Adding the Advanced AI module costs $50 per agent, per month. This feature is only available to companies on the Suite Professional service level.
Zendesk also offers an omnichannel ticketing system called Zendesk Support, which ranges from $19 to $115 per user, per month. Zendesk Suite lacks some of Zendesk Support's features, such as community forums, content cues and standard bots.
Onboarding and Implementation
Zendesk's onboarding and implementation are on par with many other CRMs we reviewed. It's a browser-based app, so no installation is required. Still, as with any CRM software implementation, you must take several steps to get started:
After signing up, you'll choose a subdomain for your business (where your knowledge area will be hosted, if you build one) and configure the settings. 
Select users, assign roles and choose which Zendesk products and services to enable. 
Integrate your communication channels with Zendesk so colleagues and customers can speak, email and message each other via the platform. 
Add your existing databases to Zendesk.
Two Zendesk mobile apps — Support and Chat — are available for iOS and Android. You'll need to download them to your phone or tablet.
In general, the system is intuitive and easy to use. However, for users unfamiliar with Excel and other spreadsheets, building workflows with IF/THEN Excel-type commands may take some getting used to. 
Zendesk training materials are clear and easy to understand. There are five mini-training courses depending on your role — admin, agent, customer experience analyst, sales team and developer. There's also a Zendesk "university" feature where you can earn badges and certifications.
Customer Support
We like that Zendesk's team is available 24/7. There's direct telephone support. However, you must send a support request ticket from the Zendesk platform to get a customer service agent's attention and a callback. There's an active user community where you can ask questions, although you're not guaranteed a response. You can also access extensive online documentation via the Zendesk Help Center.
Zendesk offers tiered support programs to help you customize the platform. How much you pay depends on your chosen service level and your number of agents.  
Zendesk's Help Desk Migration app can transfer your customer data from any platform or data source automatically into Zendesk. This is helpful for businesses switching CRM systems.
Limitations 
Zendesk's Sell and Suite platforms are impressive, particularly for companies aiming for cross-departmental collaboration. However, we did identify some limitations: 
You must subscribe to two services for full functionality: You must subscribe to two different services to achieve optimal functionality. Additionally, some of the platform's most valuable features are available only on higher-priced service levels. 
Advanced AI is an additional cost: Zendesk's AI tools are excellent. However, you'll need to pay more for advanced AI functionality. 
Customer support response may be delayed: Although Zendesk does well in customer service, many people prefer to pick up a phone or converse via live chat for immediate help. The company's ticketing system is good, but it would be even better if customers could get a response when they want it.
Limited API calls: We appreciate Zendesk's API system. It's very thorough and you can add additional functionality. However, your API calls are limited monthly, and repeated overages may require you to subscribe to a more expensive subscription.
Methodology
When evaluating the best CRM software, we conducted a detailed comparison of top CRM solutions on the market. Our testing process included customer support and sales team communication, feature and platform comparisons and reviews of tutorials, webinars and help resources. We also considered pricing. When looking for the best CRM for cross-department collaboration specifically, we focused on central databases, seamless communication tools, AI enhancements, customization options and integrations. We also looked at contact management, sales automation, reporting and analytics functions. Our goal is to help you find the right CRM for your business.
Zendesk FAQs
Zendesk is a customer relationship management platform that features help desk software and built-in marketing, prospecting and selling tools. It offers users omnichannel communications, so your team and customers can communicate over various channels, such as phone, email, social media and SMS. You can also build online knowledge bases and chatbots for customers to service their own requests.
Zendesk does not offer a free plan. However, it provides a 14-day free trial. 
Zendesk is a CRM designed to help companies identify, market and sell to customers and then service their post-sale needs. It centralizes all customer and prospect data and provides tools to promote cross-departmental collaboration within companies.
Bottom Line
We recommend Zendesk CRM for …
Businesses that want to improve sales, marketing and after-care support.
Companies that want better cooperation between departments so actions are more aligned.
Businesses with complex pre- and post-sale processes.
We don't recommend Zendesk CRM for …
Businesses that want a CRM with a free plan.
Companies with tight budgets — most advanced Zendesk functionality is locked to higher tiers.