Twilio offers a wide range of technology solutions but is perhaps most well-known for its SMS marketing services.
Pros
Twilio Flex comes with built-in, customizable inbound and outbound call/message workflows.
The company's new drag-and-drop Studio app has the potential to cut down programming time and investment.
The vendor's API and SDK documentation is great and will assist your developers in creating the exact platform you want.
Cons
Building your own communications platform may be time-consuming and prohibitively expensive.
At $150 per user per month, Twilio Flex is expensive, especially if you have to add CRM and ERP user fees to gain your desired functionality.
Twilio started in 2008 as a programmable communications platform that developers could use to wire in phone calls and text communications to mobile phone apps and CRM/ERP software. Twilio Flex is essentially a bare-bones omnichannel communications platform on which businesses using VoIP can build their own cloud-based call center solution. It's a great product for organizations that want a deep level of control and the ability to integrate call center software into their wider business software ecosystem. That's why Twilio is our recommended call center software provider for companies with complex communications needs.
Twilio Editor's Rating:
8.7 / 10
Pricing

8.5/10

Built-in features

8/10

Integrations

9/10

Ease of use

8/10

Call routing options

10/10
Why We Chose Twilio Flex for Companies With Complex Communication Needs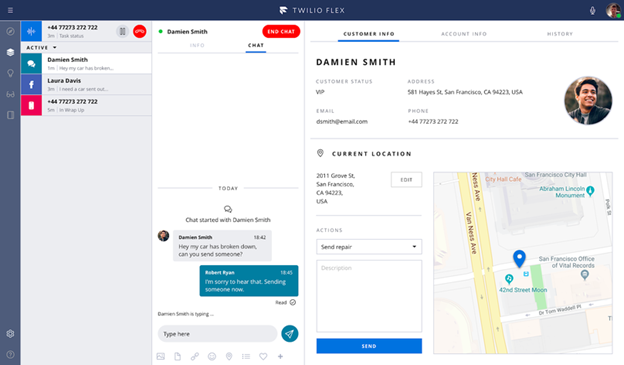 The agent interface mid-call on Twilio Flex tracks the conversation with a customer. Source: Twilio
Why would you need Twilio Flex when you could just integrate various third-party apps with competitors' existing call center software to get it to do what you want? There are a lot of compelling reasons. There may not be an app that has the specific functionality you need, or perhaps there is a suitable app but the vendor no longer supports it. Maybe you're worried about passing information between call center software and third-party apps and concerned that all this integrated business software is insecure. Or it could simply be that your organization has complicated communication needs that the typical call center software can't address in the way you'd like.
Twilio Flex solves many of these issues. You can adapt this call center software for very specific purposes and still connect to your customer relationship management (CRM) system, enterprise resource planning (ERP) platform and other apps you use in your business. You get a head start, as the Twilio software comes with an intuitive and elegant user interface that administrators, agents and supervisors will appreciate. From there, you just need to configure the software to do what you want it to do and cooperate with the rest of your business technology.
You will most likely need developers and coders to take full advantage of Twilio Flex's capabilities. Think of the platform as a blank slate that you can customize to execute omnichannel communications exactly as you wish. That said, you should start off with a clear vision of what you want so your team can build and deploy the system quickly. Regardless, if you need a custom-made call center solution, Twilio Flex is the optimal product and is our choice for the best call center software for companies with complex communication needs.
Regardless of the product you choose, the call center software features your business will likely need, at a minimum, are call routing, call recording, call monitoring and call analytics.
Ease of Use
Twilio Flex is designed for companies that want to develop their own call center architecture from the ground up and then plug it in to work with other business software they use. There are hundreds of helpful pages of developer documentation on Twilio's site. There's also a growing marketplace for third-party native apps available to Twilio users.
The existing user interface and functionality built into Twilio Flex is user-friendly, but bear in mind that this is just the starting point. You will need to build onto the system to get the functions you need. To do this, you will almost certainly need access to programmers and coders who can achieve your desired outcome.
Fortunately, Twilio Flex is a brilliant platform designed by programmers and coders for programmers and coders. The developer information is organized very well and, other than the suggested code, written in plain English. The supporting documents will help teams navigate the journey from initial planning to minimum viable product and further iterations.
Features and Services
Twilio Flex starts largely as a bare-bones system for you to customize with the specific features you want to handle your company's complex communication needs.
Customizability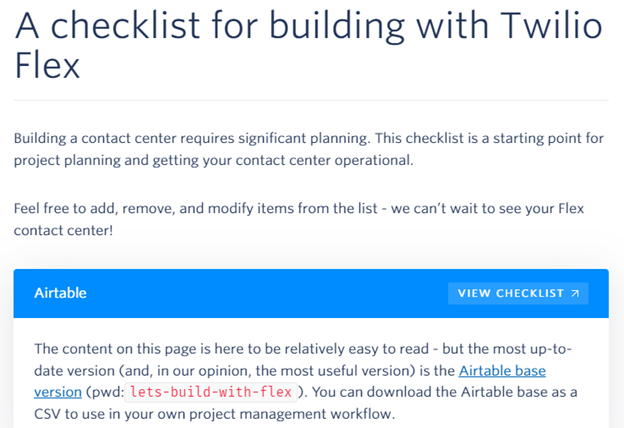 The homepage for Twilio Flex's extensive documentation provides a starting point for coding the platform to your liking. Source: Twilio
Twilio Flex does work out of the box, but the idea is to use coding to build out the platform to function precisely as you want it to. In addition to coding, teams can use Twilio's Studio app when developing their customized solution.
Studio adds drag-and-drop functionality for creating workflows, where you start with triggers such as "incoming call" or "incoming message." You can then create your own interactive voice response (IVR) system to present callers with a series of options. Then, you can route leads to an agent based on the option they chose — for example, 1 for sales, 2 for support and so on. It's not no-code, but it's certainly low-code.
Here are some of the other Studio options:
Creating two-way conversations between agents and digital channels
Building a WhatsApp customer support menu
Establishing conditions for forwarding calls
Setting up an autoresponder
Sending appointment reminders
If your company has in-house developers or access to developers, the drag-and-drop functionality may save them time when creating your ideal call center solution.
Omnichannel Communications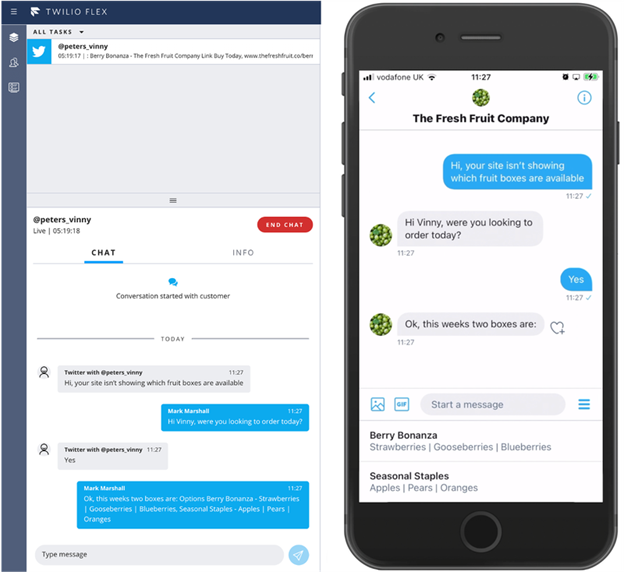 You can speak directly to customers on Twitter via Twilio Flex. Source: Twilio
As mentioned earlier, Twilio Flex also comes with premade user interface elements, including the ability to communicate with customers via different channels. The Chat tab shows all digital conversations with a client over time, as well as the current conversation. If you click Info, the system can display the client's details and order history if the program is linked to a customer relationship management (CRM) system. Every element is customizable, including the presentation, layout, positioning and content.
The chat shown in the above picture is powered by Flex Conversations, a pre-built Flex tool for two-way digital communication exchanges between agents and customers. This feature can also manage text conversations, WhatsApp messages and chatbots, as well as set which team members these interactions are routed to. Developers save time here because they don't have to build interfaces or workflows like this completely from scratch; it's already been done.
Workflow and Integrations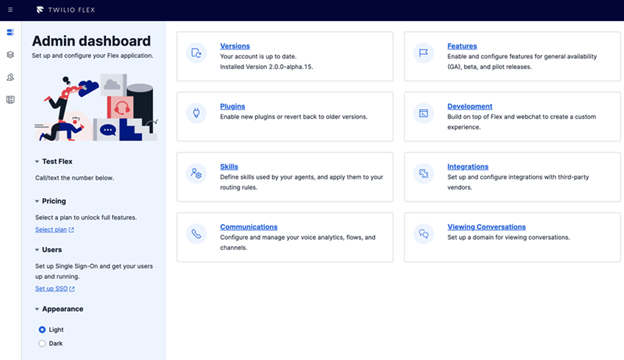 The Development section of the Admin dashboard allows programmers to build on Twilio Flex's basic built-in features. Source: Twilio
You can program new workflows, add and delete users, integrate Twilio Flex with apps you already use or add third-party apps specifically developed for Twilio. The platform allows you to build custom inbound call and message routing paths, assess workforce engagement, manage staffing levels, transcribe calls, analyze transcripts to reveal customer sentiment and more. There are already apps for many of the popular functions, so you won't have to code them unless they don't do exactly what you want them to.
In terms of performance and quality metrics, you can monitor average call times, average call wait time and other data, as well as keep track of customer retention rates, first-contact resolution rates, cost per contact and call abandonment rates. You can program these key performance indicators (KPIs) into the software itself or look for an app that already has these metrics. You can also add pre-built workflows, like the Survey Dynamic app, which lets you calculate a customer satisfaction score by getting customers to rate the quality of their interactions.
As with most other call center software platforms, supervisors can assign skills and skill levels to agents, and you can program the system to make sure calls get routed to the most skilled agents first. Twilio Flex also allows you to track, for example, your average call transfer rate so you can see how well the people to whom you've assigned skills and skill levels perform on actual interactions requiring those skills.
Agent Dashboard and Tools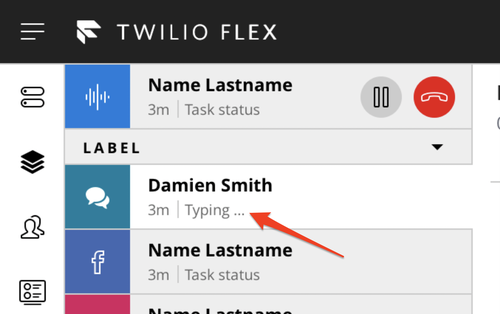 The customer queue for agents in Twilio Flex uses icons to indicate which communication channel the customer is using (e.g., phone, text, Facebook). Source: Twilio
Twilio Flex's native dashboard for agents is centered around the completion of individual tasks, meaning inbound or outbound calls and digital conversations. Agents can see the queue on the top left of their screen at all times. Below that is where agents have live digital conversations with customers. They can see whether a customer is communicating via text, Facebook Messenger, WhatsApp, Telegram, email, voicemail or live chat, as well as scroll past the current conversation to examine previous interactions with the client. Agents release themselves from a digital conversation and become free again only by pressing the End Chat button. 
Assuming you integrate Twilio Flex with your CRM software, ERP software, payment system or other relevant app, you can program the customer's contact details to appear on the right of the screen together with their information on payments, memberships, previous and current orders, and so on.
You can also program on-screen interactions for regularly occurring issues. For example, if someone has lost their password or they wish to change their subscription level, the components that allow the agent to address these problems can be programmed to appear on the right side of the screen. By creating these automated system responses to given keywords and situations, the chances of an agent providing first-time resolution will increase, thereby saving valuable time and improving efficiency.
Agents can also use their dashboard to see how they and their team are performing against KPIs and, together with their supervisor, identify training needs.
Supervisor Dashboard and Tools

Supervisors have access to agent performance insights on Twilio Flex. Source: Twilio
Supervisors using Twilio Flex get a broad view of their team and its performance on their dashboard homepage. In the out-of-the-box version of the platform, you can see the number of waiting and active tasks, the longest wait, the status of each agent, service level agreement performance across all channels, tasks per queue and more. Clicking the People icon shows supervisors the task an agent is working on and whether it's by phone or a digital channel.
The Reporting button presents a more detailed summary of metrics for the team and individual agents. From here, supervisors can schedule regular reports and set them to be sent to specified recipients. Drilling down further, supervisors can click individual calls and digital interactions to see how the agent performed. From these interactions, supervisors can assess agents' performance and leave them helpful comments.
The KPI dashboard can report on performance against targets across a wide range of metrics by date and channel. Supervisors can also use a drag-and-drop tool to build new reports, charts and tables to create new metrics. We were particularly impressed with how Twilio Flex's reporting capabilities compared with those of rival products.
During a call or digital interaction, supervisors can send a whisper message to an agent's screen to help them resolve the issue or close the sale. Alternatively, agents can escalate a call or interaction so it appears on a supervisor's screen.
Pricing Plans and Subscription Costs
There are two pricing options for Twilio Flex:
Per-hour pricing: This option costs $1 per user per hour and is designed for companies with part-time agents or those seeking to balance seasonal demand.
Per-month pricing: This option costs $150 per user per month regardless of activity or volume of staff. The same price applies to agents, supervisors and administrators using the system.
Keep in mind that you will also have initial implementation costs if you need to hire a developer to build out the platform the way you want it. You should also factor in how much you may need to spend for a separate CRM or ERP that you connect to Twilio Flex to enhance its functionality.
Twilio offers a free trial of 5,000 active user hours. This should give you time to experiment with the platform to see if you can set it up in a way that suits your business and communications needs. Note that the free trial doesn't include access to Insights (Twilio's conversation analysis tool for supervisors) or self-hosted user interfaces (for running historical reporting on a URL other than Twilio's).
When you're choosing call center software, consider the prices of multiple vendors, taking into account all the add-on fees you may be forced to pay on top of the base costs. You'll have to decide whether paying more is worth it for better functionality.
Implementation and Onboarding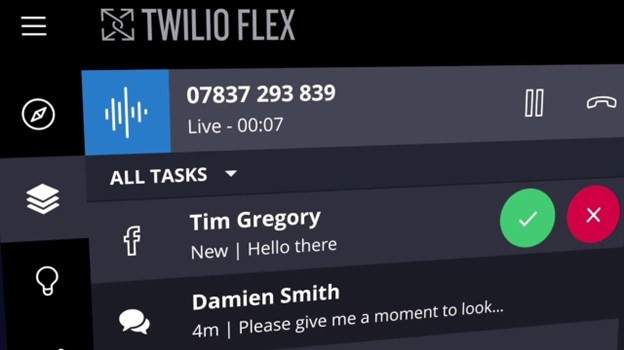 The customer queue in Twilio Flex highlights each client inquiry as a task. Source: Twilio
When you open the Twilio Flex software for the first time, you need to create a project and add team members to it. Next, you decide which communications channels you want to include, build your initial communications workflows with the Studio app, and decide which live analytics and reports are most important to you.
At that point, you should be able to receive calls and texts via a number Twilio gives you, and you can set up the webchat function for your website. Then, you can start integrating Twilio Flex with a CRM if you wish. The Salesforce CRM has a native integration with Twilio, but others need to be built into your CRM's API/SDK interface. If you're not confident with coding, we recommend hiring an outsourced developer to tie your CRM and other apps to Twilio.
For novice users, getting set up with Twilio Flex is relatively straightforward. It's when you start customizing it with original code that it becomes a lot more complicated. Integrating the platform with the 60 available native apps (offering everything from IVR enhancements to workforce management tools) is a lot easier than ground-up coding, but it still requires planning and execution.
That's why we really appreciate that there is extensive technical support documentation on Twilio's website, including API reference documentation in the Developers section of the site and a knowledgebase that includes answers to hundreds of questions. Plus, the vendor offers the Twilio CodeExchange, which features code samples for common use cases, such as setting up text notifications. We also love the effort the company has put into populating its YouTube channel (although, as of this writing, there are only six Flex-specific videos).
Customer Support
Twilio's website has a number of free customer service resources, including Twilio Education to improve coding skills, a blog and an online community. You can also access API status notifications and get email support free of charge. However, there is no guaranteed response time.
For more robust assistance, Twilio provides three support plans. These are billed monthly, and you can switch between them with 30 days' notice. The options break down as follows:
Production plan: For 4 percent of your monthly spend ($250 minimum), you get live chat support and guaranteed response times between three and nine hours depending on the priority level.
Business plan: For 6 percent of your monthly spend ($1,500 minimum), you get phone support, live chat support and guaranteed response times between one and three hours depending on the priority level.
Personalized plan: For 8 percent of your monthly spend ($5,000 minimum), you get everything in the Business package, plus a technical account manager, access to a support escalation line and a quarterly service review.
Twilio isn't the only call center software provider that charges businesses for better customer service. As we noted in our Salesforce Service Cloud review, Salesforce similarly provides phone help only to customers on certain support plans. This is another cost to keep in mind when you're choosing a vendor.
Limitations
In terms of price, Twilio Flex seems to compare well with other platforms on a per-user, per-month basis. What's not so clear at the start is how much it costs to get the system to behave the way you want and to integrate it with other apps. There are no real caps on what you can do with Flex, but you need to be prepared to spend time and money to get it just how you want it. Therefore, it can be hard to see the justification for investing money and attention in something that could probably be easily replicated by a competing platform if you don't require a completely tailored solution.
Also, the unlimited options for customizing Twilio Flex can actually be a drawback for some businesses. Despite the helpful documentation, some businesses may be overwhelmed by the idea of building their own call center solution. It can be challenging to get over this intimidation if you don't have coders on staff or the financial means to hire a developer. For more of a plug-and-play option, especially if you have simple needs, read our review of Five9.
Hiring a call center eliminates the need to purchase your own call center software. However, outsourcing customer service communication limits how much control you have over client interactions. For companies that want to provide more personalized service while maintaining complete control over the call system, Twilio Flex is a better solution.
Methodology
When searching for the best call center software providers, we researched and analyzed different vendors and products, looking at each option's features, usability, setup, costs, downsides and customer service. In all systems, we sought features such as inbound and outbound communication, call routing, analytics, management tools and integrations. We also considered the availability of add-ons and customization. For hands-on experience, we participated in demos and trials whenever possible. To determine the top platform for businesses with complex needs, we examined whether the software was plug-and-play or required configuration, how customizable the system was and whether it could be programmed to perform the way you'd like.
FAQs
Twilio Flex is a cloud-based omnichannel call center platform. Twilio is one of the world's largest providers of call and messaging connectivity. The Twilio Flex system allows companies to create a call center experience over VoIP to improve agent performance, increase sales and satisfy customers.
Notable companies that use Twilio Flex include nonprofit United Way; e-commerce company Shopify; food delivery companies DoorDash and Deliveroo; rideshare firms Uber and Lyft; international retailer Marks & Spencer; and Botox manufacturer Allergan.
Twilio Flex can record incoming and outbound calls with agents and all other employees. For it to work, you must first switch on the service via the Twilio Flex Console.
Bottom Line
We recommend Twilio Flex for …
Companies that want maximum flexibility in a communications platform.
Organizations that require specially tailored call center software for complex communications needs.
Software development companies that can build bespoke communication infrastructure for clients.
We don't recommend Twilio Flex for …
Companies with fairly standard communications requirements that can be met by other less-expensive platforms.
Businesses that have no coders or programmers and can't afford to seek development help.