Five9 is a call center software and VoIP platform for companies requiring industry-standard data protection features. Five9 achieves this better than any other provider, making it our top choice for businesses in highly regulated sectors.
Pros
Compliance is built into all workflows, and Five9 provides end-to-end data security in transit and at rest.
The system is very easy for supervisors and agents to customize thanks to its flexible architecture, AI integrations and user interfaces.
With a wide selection of plug-in apps, the platform becomes more and more valuable while streamlining operations.
Cons
Five9 is expensive compared to many of its competitors, and there is an extra charge to connect your CRM.
The platform doesn't include a customer self-service portal.
The vendor doesn't offer a free trial and requires an annual commitment.
For companies in the healthcare, legal, financial services and education sectors, keeping customer data secure requires jumping more regulatory hurdles than businesses in other fields face. Fortunately, Five9's omnichannel call center software and VoIP platform have been built with the toughest legal compliance and data security features on the market. Even better, the vendor successfully achieved this without sacrificing customizability, usability, speed or functionality — key aspects of a call center system. This makes Five9 our best pick for call center software for highly regulated businesses, as well as for companies that prioritize cybersecurity and data protection.
Five9 Editor's Rating:
9.6 / 10
Pricing

9/10

Built-in features

10/10

Integrations

9/10

Ease of use

10/10

Call routing options

10/10
Why We Chose Five9 for Highly Regulated Companies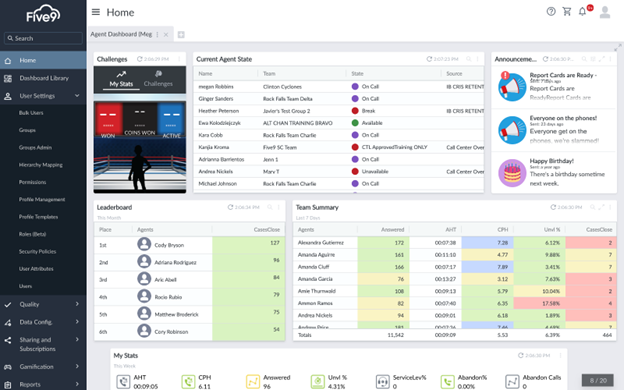 The supervisor control dashboard on Five9 is packed with easily digestible information. Source: Five9
All businesses face challenges keeping data secure and protecting sensitive information as cybertheft threats grow every year. Understandably, government agencies and consumers alike demand companies keep personal and financial data extremely secure. That's why we love that Five9 is a highly useful call center software and VoIP operator that best provides organizations with built-in legal compliance and data security that doesn't compromise speed or usability.
Five9 is a feature-packed, plug-and-play, out-of-the-box call center platform that's easy to use and highly customizable. It has the same core features as its competitors and executes most of them just as well, if not better. In fact, we were particularly impressed with how artificial intelligence (AI) is weaved in throughout the system, giving supervisors up-to-the-minute snapshots of how their customers are feeling thanks to sentiment analysis and providing agents with live, onscreen training prompts to get first-call resolution. Businesses that operate in highly regulated industries or organizations concerned about cybersecurity regardless can take advantage of this robust system with the confidence of knowing customer interactions are secure and protected.
Five9 is so called because of the five 9s it has in its service agreement with businesses. The vendor promises that its services will be functional 99.999 percent of the time.
Ease of Use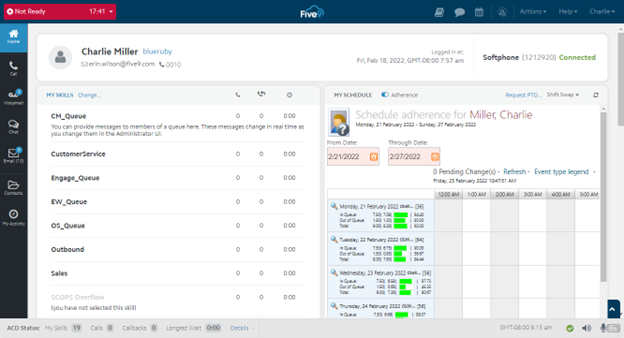 The agent dashboard in Five9 details the agent's schedule and other pertinent information. Source: Five9
Five9's web-based interface for supervisors is neat, well laid-out and fast. Supervisors are greeted with a horizontal menu on their dashboard with the main options. They can see how many new tasks there are in a bubble next to the relevant icon. The homepage contains a broad overview of team activity, from individual agent statuses and service levels to the longest waits. Pop-ups appear on the screen if an agent is taking longer than expected to resolve an issue. By clicking on the pop-up, the supervisor can listen in, start a parallel private written conversation with the agent or jump in on the conversation if necessary. Supervisors can set customized alerts to be informed when calls go on too long or agents are in "idle" or "away" mode for too long. By clicking on the "WFO" (workforce optimization) tab, supervisors can see constantly updated agent metrics and quality performance scores. Notably, there is an app for supervisors but not agents.
Agents' web screens have a different layout, and the focus here is on live customer interactions. The dashboard has a vertical menu with the following options: "Home," "Call," "Voicemail," "Chat" (for digital channels), "Email," "Contacts" and "My Activity." Agents can see the skills their supervisor has assigned to them on their main dashboard. When a call or messaging session is about to start, a pop-up window appears showing the interaction type (for example, an inbound WhatsApp conversation). Agents can click the history tab on their dashboard to see all previously recorded interactions with that customer for greater context. Agents are also shown on-screen scripts to help them bring calls to successful resolutions quicker. During a call or digital conversation, Five9's AI listens in, keeps track of the call and gives live-training prompts, and it's probably the best and most useful execution of live training-focused AI we saw across all the platforms we investigated. Agents can also see their upcoming shifts, request time off and ask for performance reviews from their dashboard.
Five9's marketplace offers more than 150 app integrations, ranging from AI assistants to workforce engagement tools. There's a well-developed API and SDK developer section for prebuilt customer relationship management (CRM) connections (with Salesforce CRM, ServiceNow, Microsoft Dynamics 365, Oracle Service Cloud, Oracle NetSuite CRM and Zendesk), unified communications integrations (Zoom and Microsoft Teams), and cloud APIs and SDKs. While great for improving Five9's usefulness, some add-ons cost extra. [See our review of the Oracle NetSuite CRM to find out why it made our list of the best CRM software.]
Five9 Features and Services
You can find standard call center software features, like call routing and recording, in the Five9 platform, but what really sets it apart is its compliance and security tools.
Built-in Compliance Systems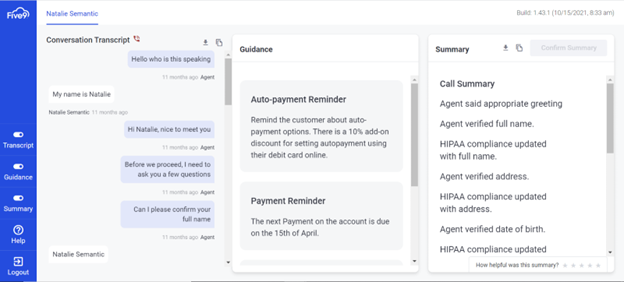 HIPAA compliance is built into agent scripts on Five9. Source: Five9
Five9 leads the call center market when it comes to compliance. For example, there is built-in Payment Card Industry Data Security Standard (PCI DSS) compliance for businesses taking credit and debit card details over the phone. As an international company, Five9 also helps organizations comply with the European Union's General Data Protection Regulation (GDPR). The vendor further provides compliance with the following:
SOC 2 Type 2 Attestation in accordance with AICPA Standard AT 101
California Consumer Privacy Act and California Private Rights Act
Health Insurance Portability and Accountability Act (HIPAA)
Customer Proprietary Network Information (CPNI)
Personal Information Protection and Electronic Documents Act (PIPEDA)
Five9 also adheres to the E911 Emergency Call Services provision, the Certified Caller (STIR/SHAKEN) standard for secure transfer and hand-off of calls, DNC (do not call) lists, and the Telephone Consumer Protection Act (TCPA).
Data Security and Backup
Because it is a remote call center software provider and VoIP carrier, cloud data encryption comes as a standard feature with the Five9 system. The company touts that it provides service with adherence to the "best practices established by ISO 27001/27002, COBIT, PCI DSS, NIST, and Cloud Security Alliance (CSA)." Data is encrypted at rest and in transit, which means it's protected whether it's being stored or actively modified during a cyberattack. The vendor also built redundancy into the platform, so if one cloud server stops working, even temporarily, another cloud takes over. [Learn more about PCI DSS in our look at credit card payment processing rules and laws.]
Supervisor and Agent Tools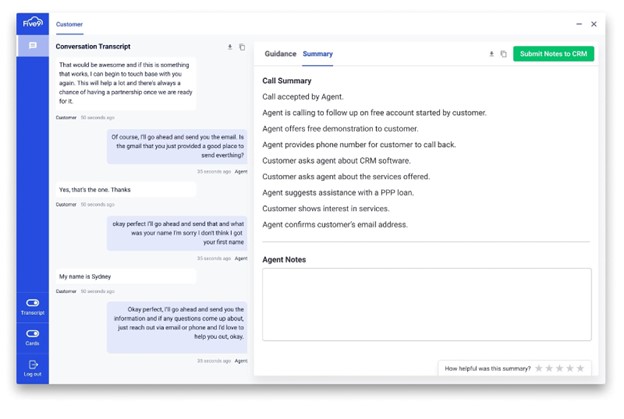 Five9 generates an automatic call summary and transcript. Source: Five9
One of Five9's aims is to continually increase agent productivity through automated workflows. For instance, the system automatically summarizes and transcribes calls in real time, saving agents from needing to write in-depth call summaries. As another example, context-dependent statutory disclosure and payment reminder prompts can automatically be added to agents' scripts (requiring them to tick off each item before continuing) and, as with Salesforce Service Cloud, the system's AI can offer agents live "next best action" suggestions.
The agent interface is uncluttered, intuitive and built with the user in mind. The same is true for the supervisor dashboard, which has one of the most impressive feature stacks designed to improve agent performance. During an agent call, the following functions are available to supervisors:
Whisper (where only the agent hears the supervisor speaking)
Barge (where the agent and customer both hear the supervisor)
Take over (where the agent is ejected from the call and the supervisor speaks to the customer)
We like how supervisors can create forms for agents to complete during a call or digital conversation to ensure they follow their training and use the AI to check their work. In addition to transcribing calls and digital conversations, Five9's AI can monitor interactions as a whole across a team and the business, looking for trending topics that it can bring to supervisors' attention. These insights are ideal subject matter for start-of-shift motivational talks. Five9's AI also spots star performers and those in need of additional training by measuring adherence to service-level agreement key performance indicators and supervisor-led operational metrics.
We were also impressed by Five9's gamification options, making the sometimes tedious task of engaging with customers more fun and engaging. We like how agents can pick system avatars to use in games they play with other team members. Agents and supervisors can check each other's performances and compete for merchandise, points and more. On other call center systems, gamification feels like a bit of an afterthought, whereas, on Five9, it feels far more deliberate and thought-out. Supervisors can use this feature to increase agent motivation and engagement.
Intelligent Blended Routing
With most call center systems, supervisors can assign skills to individual agents and then route calls to the agent with the particular skills needed for a call. What makes Five9 different is the extent to which AI is built into the routing system, even outperforming the superb execution of AI we describe in our Salesforce Service Cloud review.
For example, using the information it gathered from agent conversations with customers, the Five9 platform can answer incoming calls and messages and conduct two-way conversations with callers about scheduled or scheduling appointments, shipping notifications, order lookups, and outage notifications. It can do this digitally as well as by voice through the IVR system. If the AI is unable to fully resolve a customer's query or complaint, it passes the connection and the information about the conversation so far to a live agent for resolution. This nifty technology allows companies to handle many more calls with fewer agents and agents to take more time resolving sensitive matters.
Five9 also supports outbound telemarketing campaigns. It even offers more dialing options than Convoso, a call center software product primarily designed for outbound teams. Five9 supports:
Predictive dialing, where the system predicts when an agent will become free by looking at the average call time across the team. The system then dials the number and presents the necessary information on the agent's dashboard
Power dialing, which is like predictive dialing but designed for larger teams
Progressive dialing, where the system waits until an agent becomes free and dials out
Preview dialing, which is like progressive dialing, but the agent gets a chance to review a customer's details before the system dials out; the agent can activate the call by indicating that they're ready or you can set a maximum review time
Five9 also allows TCPA Manual Touch Mode, which is like preview dialing but requires the agent to do the actual dialing. There is no automated dialing in this mode.
Integrations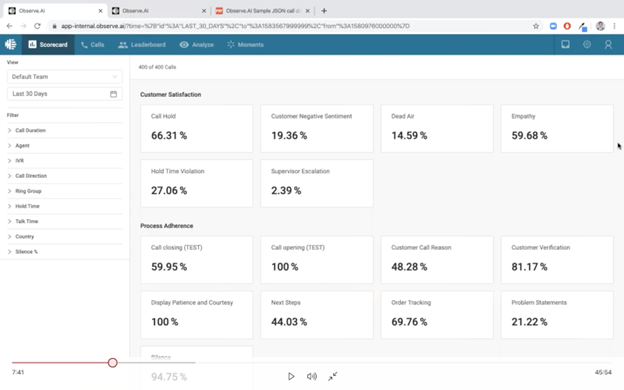 Supervisors can track customer emotion and adherence to call structure via AI analysis. Source: Five9
When the Five9 platform is connected to your CRM or fulfillment software, you can set up workflows to send customers automatic messages via the channel of their choice. One great use case would be letting a customer know, for example, that a package they're expecting will be late.
Five9 can even scour social media for commentary and conversation about your brand. Using sentiment analysis AI, a call or message can be arranged to a social media user who made negative comments or shared a bad experience with your business if their handle can be matched to a customer relationship record. This is a clever integration, though it's worth noting rival Salesforce offers roughly 4,000 integration options compared to Five9's 153 or so.
Five9 Pricing
Five9 offers businesses four packages to choose from for its call center services:
Core ($149 per user per month): This plan includes blended inbound and outbound calls and call recording.
Premium ($169 per user per month): This package has the same features as the Core plan and adds web chat, email and Essentials QM (analytic software designed to improve agent performance, including screen recording).
Optimum ($199 per user per month): This tier offers everything in the Premium level as well as Enterprise WFM (the productivity improvement and shift scheduling tool) and proactive notifications (the ability to send out appointment reminders, billing updates and more over multiple channels to customers). This package replaces Essentials QM with Enterprise QM for agent monitoring, review and training over omnichannels and the ability to view multiple agent screens at once.
Ultimate ($229 per user per month): This level includes all of Optimum's features, plus Interaction Analytics (to determine client interest and behavior over multiple channels) and full platform workflow automation.
These costs put Five9 toward the higher range of pricing for call center software. It's therefore disappointing that many other useful features offered by Five9 are chargeable add-ons. These include agent assistance, digital outreach (communicating via email, text and social media), performance dashboards, CRM connectors (to integrate with Salesforce, ServiceNow, Microsoft, Oracle and Zendesk), and the interactive voice response (IVR) system with speech recognition.
Furthermore, Five9 doesn't provide a free trial, so you can't test the software before committing, and its agreements are usually for a minimum of 12 months. That said, a short demo is available on the vendor's website.
Implementation and Onboarding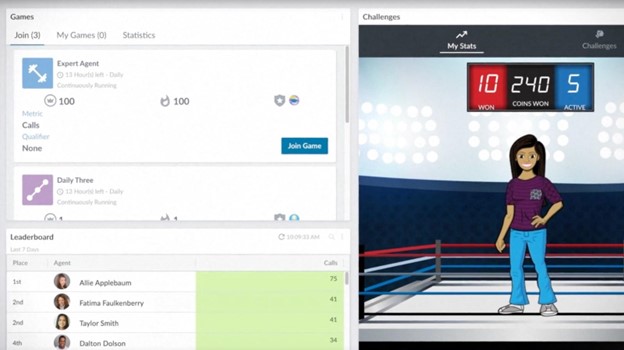 Five9's gamification features may make agents more excited to start using the system. Source: Five9
Setup with Five9 is very straightforward. All you need to do is open an account with the company and download softphone apps onto your computers and other devices, for which you'll need headsets with microphones. You can also connect Five9 to VoIP-enabled handsets if you wish.
Agents and supervisors get their own browser-based dashboards, and all channels (including the telephone) are accessible to an agent from their dashboard. If you prefer, you can hook up Five9 to your CRM so agents use your CRM dashboard only to do their work.
For implementation assistance, Five9 University houses a substantial knowledge base with articles, videos and training courses for system administrators, supervisors and agents.
Customer Service
Five9 provides 24/7 support to customers as part of all its packages. Unlike with competitors Twilio and Salesforce, there's no need to pay extra to speak with someone by phone. If your request isn't urgent, you can leave a message via live chat or ticketing, and a Five9 agent will contact you.
A premium support service is available for an additional fee, offering access to a dedicated customer support engineer, a technical account manager and an administrative assistant who can manage changes to your call center setup.
We like the vendor's approach to user education with its Five9 University, which provides online training and instructor-led classes on different topics. If you're looking to learn something more specific, Five9 can work with you to develop a custom training plan for your business for an extra fee.
Limitations
Five9's omnichannel call center software is first-class. Everything about the system and its operations has been thoroughly planned and well executed, so it's not surprising that it costs more than some of its rivals. However, the decision to charge extra for CRM connectors is regrettable because those integrations add even more value to the platform. When you add up Five9's costs, CRM software fees, the vendor's CRM connector charge and call costs, you could be paying north of $600 per user per month. To justify this cost, the system has to deliver a huge amount of added value to your business. For a much more budget-friendly option, see our review of GoTo Contact Center.
Even though Five9 offers AI and sentiment analysis tools to dig deeper into what customers are feeling and where their pain points are, there is currently no way to use these insights to develop a knowledge base where customers can look up support information themselves. We'd love to see the ability to build a self-service portal – something Salesforce provides – in future iterations of the Five9 software.
Methodology
To find the best call center software on the market, we evaluated various systems and their features, setup process, ease of use and drawbacks – all things we recommend businesses consider when choosing call center software. Among the features we paid close attention to were inbound and outbound communication, call routing, integration options, reports, and management tools. For each vendor, we looked at their packages, base costs, add-ons and customer service availability. We also gained firsthand experience with demos and trials whenever possible. When searching for the best call center platform for highly regulated companies in particular, we prioritized data security tools, built-in compliance mechanisms and other features designed to help with cybersecurity and data protection.
FAQ
No, Five9 is not a CRM. Five9 has many features of a standard CRM platform, but it's more accurate to say it's omnichannel call center software. In many cases, you can hook up your CRM software to Five9 either natively or via API/SDK.
Five9 is not part of Salesforce; they are separate companies. However, Five9 has a native integration with Salesforce, meaning the two apps can talk to each other and share data. For example, if you receive a call from a number recognized by your Salesforce CRM, Five9 will tell your agent and present the customer's record for review.
Bottom Line
We recommend Five9 for …
Companies in healthcare, financial services, education and other highly regulated industries.
Businesses that want AI to handle initial customer interactions to reduce the need for agent assistance.
Organizations that want to use sentiment tracking to better understand their customers' concerns.
We don't recommend Five9 for …
Companies with a limited budget.
Businesses that need a free trial before committing.
Organizations that want a month-to-month contract without sacrificing valuable features.