Oracle NetSuite CRM Review and Pricing
Oracle NetSuite CRM is our best pick for growing and midsize businesses that need an integrated CRM solution with enterprise resource planning (ERP) capabilities. This CRM offers sales automation, reporting and forecasting, a CPQ (configure, price, quote) module, partner management, marketing campaigns, and customer success features – all in one hub that is part of the larger NetSuite business ecosystem. To access the CRM, businesses must subscribe to the overall NetSuite platform. That puts a lot of high-grade technology at your fingertips but could present financial and usability concerns.
Oracle NetSuite CRM and Pricing
The Verdict
Oracle NetSuite CRM, a component of Oracle's business software suite, is a great choice for midsize and growing businesses that want a complete, integrated CRM solution with ERP capabilities.
Oracle NetSuite CRM Editor's Score: 9.2/10
| | |
| --- | --- |
| Pricing/value | 8.6/10 |
| Features | 9.5/10 |
| Customizations, add-ons and integrations | 9.4/10 |
| Ease of use | 9.1/10 |
| Customer service | 9.5/10 |
Why We Chose Oracle NetSuite CRM as the Best CRM Software With ERP Capabilities
Aside from offering core CRM features like contact and opportunity management, sales automation, reports, and sales forecasting, Oracle NetSuite CRM also allows you to track your marketing campaigns and customer support interactions all in one place. Unlike other CRMs whose functionality ends there, NetSuite CRM integrates with a broader collection of Oracle NetSuite cloud-based services, including an ERP platform, enabling users to track and manage the entire customer journey – from lead acquisition to deal management to order processing to customer service. This comprehensive collection of technology solutions, native integrations, and accounting and e-commerce features eliminates the need for multiple business platforms, making Oracle NetSuite CRM our top choice for companies looking for a CRM with ERP capabilities.
That said, small businesses that do not need a whole suite of products should consider purchasing a stand-alone CRM solution instead. Consider our review of Zoho CRM, and see all of the top CRM software for more alternatives.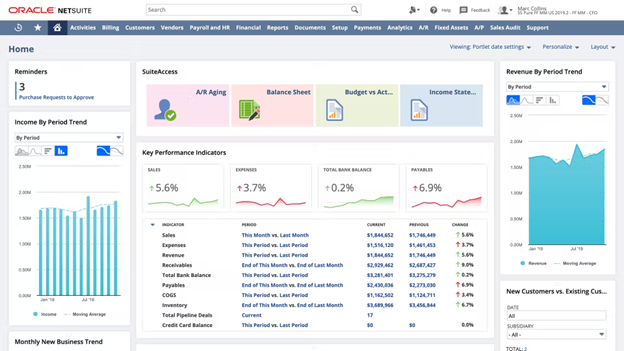 What We Like About Oracle NetSuite CRM
The CRM connects with NetSuite's ERP module, enhancing the CRM functionality with accounting, order management and inventory tracking features.
The CPQ module and option to connect to NetSuite's dedicated e-commerce platform, SuiteCommerce, make this software a great choice for larger e-commerce businesses.
Customers and partners can directly interact with the platform, freeing your sales team to focus on closing.
What We Don't Like About Oracle NetSuite CRM
Pricing information for NetSuite CRM is not readily available, so you have to contact the sales team for a product tour and pricing consultation.
You can't use it as a stand-alone CRM solution; it requires a subscription to Oracle NetSuite.
The extensive functionality can be overwhelming and time-consuming to set up.
Ease of Use
NetSuite CRM was designed as an add-on module for Oracle's flagship ERP system and its collection of smaller software packages. Therefore, the CRM integrates seamlessly with the Oracle NetSuite platform and works smoothly right out of the box, even though the implementation process can be lengthy depending on your business's specific needs.
The in-app navigation is straightforward, with clearly labeled menu components like leads, opportunities, forecasts and reports, making it easy for sales teams unfamiliar with CRMs. The Home dashboard gives a clear overview of pending tasks and meetings, defines key performance indicators (KPIs) and relevant metrics, and provides handy shortcuts to the key components of each section. The Recent Records tab and drop-down menu offer an easy way to access the customer records you use most often.
Use keyboard shortcuts to quickly search or enter data in the CRM. For example, when populating date fields, press "T" to enter tomorrow's date or "M" to set it for the last day of the month.
Since this product is part of a full-service business solution, the need to integrate third-party apps is reduced. However, third-party connectors are available for some services if Oracle NetSuite's existing add-ons don't fit the bill, which is reassuring. Though the CRM is relatively easy to use, Oracle offers fee-based training for teams that want to learn the system's nuances in-depth to get the most out of each feature.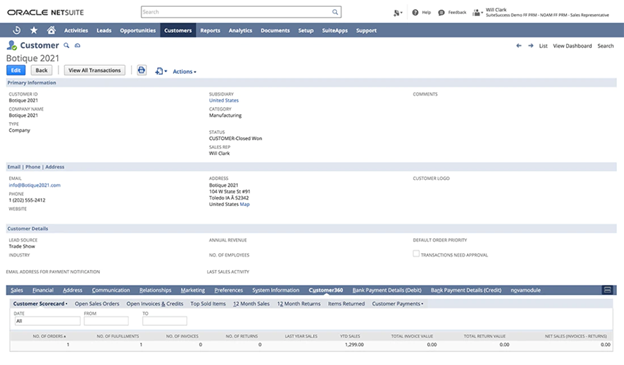 Oracle NetSuite CRM Features
You have a bevy of features to consider when choosing a CRM. As part of the larger Oracle NetSuite platform, NetSuite CRM has all those and more.
ERP Functionality
Sales management doesn't end once the deal is closed, which is why it's so valuable that Oracle NetSuite CRM works in perfect harmony with the vendor's ERP product, giving businesses an opportunity to follow the entire customer life cycle and manage financial information, process orders, track inventory and optimize supply chains. We especially recommend this CRM for e-commerce businesses that want to have visibility into the complete purchasing process and detailed customer information without the need to integrate external tools.
The NetSuite ERP is used in more than 200 countries and supports 27 languages and 190 currencies.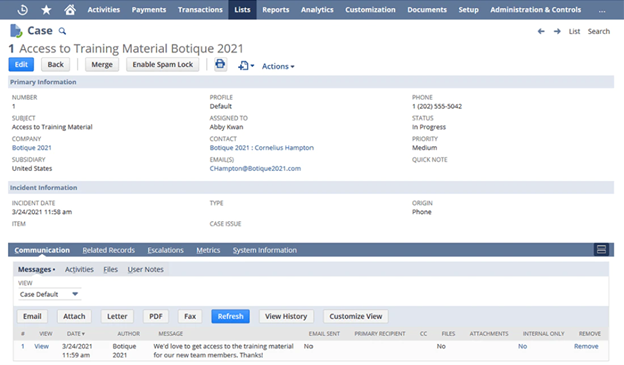 Sales Forecasting
The CRM comes with several sales forecasting tools to give teams the best chance of success in a competitive environment. Calculated forecasts examine customer data to determine close probabilities, weighted amount and projected amount for opportunities and quotes in the pipeline. You can use "mood ring" forecasts for general predictions that aren't tied to a particular quote or opportunity, and compare multiple forecasts to gauge the overall accuracy of predictions.
You can manually edit your sales forecasts based on the most accurate data and your expertise in the built-in sales rep forecast editor.
Upsell Recommendations
A built-in upsell manager analyzes buying patterns and other CRM metrics to suggest upselling opportunities, recommended items or categories of items. The system can also create segmented lists of customers who meet certain criteria, glean potential opportunities from existing customer records and transactions, create task records, and schedule phone calls for teams or individual reps. For another CRM with an upselling function, see our review of Keap CRM.
Commission Management
Oracle NetSuite's incentive program management tools allow you to measure your sales reps' performance in various ways, such as by quotas, quantity sold, total sales, profitability or custom criteria. You can use analytics to forecast commission earnings, split commissions between agents and process payments without leaving the CRM environment.
Mobile App
The vendor's mobile apps for iPhone and Android enable field reps and remote workers to enjoy many of the same productivity and collaboration features as onsite desktop users. Dashboard synchronization provides real-time visibility of contact records, KPIs, scorecards and other vital data to help your agents execute sales strategies. They can check calendar reminders, log calls and send quotes while on the go. Unlike other CRMs we reviewed, the NetSuite CRM mobile app also allows employees to submit timesheets and track receipts so that they can log expenses right when they occur. Users can also access a mobile browser version of the desktop app for additional functionality.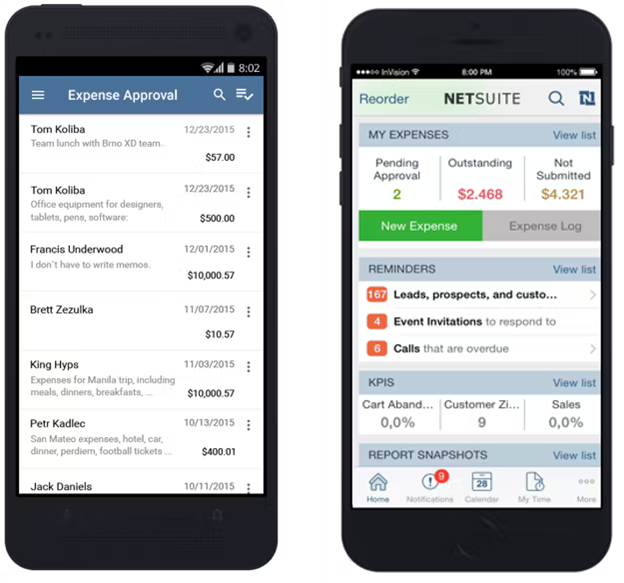 Partner Relationship Management
Oracle NetSuite CRM offers extensive partner relationship management features, allowing users to track all partner-related sales and marketing efforts, including joint marketing campaigns, sales forecasting, order processing and partner commissions. To accelerate the sales process, the CRM allows your partners and resellers to place and manage orders themselves in the online Partner Center instead of through your sales staff. We loved this smart timesaver, and we can see how it can improve the partner relationship.
Reporting and Analytics
Oracle NetSuite CRM monitors various metrics across sales, marketing and customer support teams, such as call volume, call resolution times, customer buying trends, acquisition costs and subscription renewals. A variety of customizable CRM reports offer insight and analysis on important sales efforts and KPIs like lead-to-close times, lead generation patterns, website visitor activity and customer satisfaction. You can also zoom in on individual, team or territory performance and review predictive versus actual data for sales pipeline stages and quota fulfillment.
The platform comes with multiple preconfigured roles that correspond to common employee positions, like accounting manager and sales rep. You can also add custom roles with defined permissions.

E-Commerce Customer Portal
Along with a CPQ module that's perfect for e-commerce businesses, you can improve the online customer experience with a personalized web portal that provides 24/7 access to a customer's order histories and the ability to check order status and place new orders. Customers can also visit your self-service knowledge management system to resolve issues or open a support ticket. They will then automatically receive confirmation of the service request along with a case number.
Oracle NetSuite CRM Pricing
Unfortunately, Oracle does not publish pricing information on its website, so you'll need to contact a sales representative for a quote based on your business's size, needs, industry, required add-ons and customizations. If you need ongoing training or support, that will also affect the price.
Our research indicates the monthly base price for the Oracle NetSuite platform is $999, and each user seat is $99 per month. There is also a one-time implementation fee, so all in all, we're talking about a sizable amount of money that may be beyond some business owners' budgets. However, it's still best to contact Oracle for a custom quote for the most accurate pricing.
This lack of transparency is worth noting. Other vendors we evaluated in this category were upfront about their costs and different product tiers, although they don't offer an all-encompassing business platform like Oracle does. For an example of a rival CRM with straightforward pricing, read our review of Freshworks' Freshsales.
Implementation and Onboarding
Since Oracle NetSuite is not a stand-alone CRM solution, the initial implementation is a heavier lift than it is for other options on the market. The exact steps depend on the overall combination of add-on modules and customizations you purchase with the ERP system. Fortunately, the company offers several checklists and resources to assist with deployment.
Oracle estimates that many companies can complete the setup process in as little as 30 days but acknowledges that more complex implementations can take over a year. That is far longer than it takes to get most CRMs set up and employees onboarded, and it's likely not feasible for a small business. For larger enterprises, however, a robust system like the Oracle NetSuite platform may be worth the time investment.
Customer Service
When we contacted Oracle for information about its CRM, we received immediate assistance, including a general overview of the product and associated services. After getting some basic contact information, we were paired with a sales representative based on our geographical area to ensure we received the best advice and guidance for our location.
Self-service customer support is available online, including subscription-based training with online webinars, on-demand learning courses and hands-on labs. While Oracle's online support library is not as comprehensive as that of competitor Salesforce, it still provides a good amount of information to get you started and resolve basic queries. Check out our detailed Salesforce review to further compare and contrast.
We appreciate that collaboration opportunities with Oracle's Education Success Advisors allow you to develop personalized learning plans or schedule additional training guidance. Optional live training is available for an additional fee for companies that need custom learning resources.
Limitations
The most significant limitation of Oracle NetSuite CRM is that it's not a stand-alone solution, but rather one component of a larger business system. Regardless of how attractive its features and capabilities are, the CRM is out of reach unless you're willing to buy the vendor's entire suite of business apps. Companies with a flexible enough budget to invest in the NetSuite package should also keep in mind that the larger the deployment is, the more training and ongoing maintenance the system needs, which can put a strain on your staff.
Furthermore, this platform is likely too complex and feature-heavy for small businesses. Oracle is a prominent company in the enterprise software market that has pared down its solutions to meet the needs of smaller companies, but some organizations may find that it is still too expansive to be practical for daily use. All-in-one solutions may seem like an obvious advantage, but they aren't necessarily appealing to businesses of all types and sizes.
Another drawback is that the CRM's email marketing campaigns depend on your sales reps' technical knowledge, as they require HTML editing. Companies that would like to use visual templates or drag-and-drop email builders would benefit from a CRM like Keap, which impressed us with its intuitive, user-friendly tools.
Methodology
This review is based on extensive research comparing dozens of CRM software solutions, as well as a product review process that included communication with the customer support team, study of the CRM's functionality, and examination of numerous tutorials, webinars and support materials. As part of this review, we took a close look at Oracle NetSuite CRM's features and available functionality, including contact, opportunity and account management; ERP capabilities and financial management; workflow automation; reporting and analytics; customization options; and available integrations. We also factored in pricing information, or the lack thereof in this case.
FAQs
What's the difference between CRM and ERP?
"CRM" stands for "customer relationship management," and "ERP" stands for "enterprise resource planning." The main difference is that ERP is primarily used for financial management and accounting, while CRM is used to manage the customer sales journey. Some ERP systems, like the Oracle NetSuite product, include CRM functionality.
How much does Oracle NetSuite CRM cost?
While there is no publicly available pricing information, our research indicates that Oracle NetSuite CRM comes with a minimum $999 monthly licensing fee, plus a per-user fee that starts at $99 per month. The final price depends on a variety of factors, from your company's size and industry to your number of required add-ons and customizations.
Bottom Line
We recommend Oracle NetSuite CRM for …
Companies that want a CRM as part of a complete suite of business apps, including an advanced ERP platform.
Businesses with the budget to accommodate a larger investment than a stand-alone CRM.
E-commerce businesses that want an overview of the customer journey and built-in CPQ, accounting, and order management functionality.
We don't recommend Oracle NetSuite CRM for …
Sales teams that need a no-frills, low-cost CRM that deploys quickly.
Businesses that don't have in-house IT workers to implement and maintain an entire suite of business software.
Lisa McGreevy contributed to the writing and research in this review.
Oracle NetSuite CRM and Pricing
The Verdict
Oracle NetSuite CRM, a component of Oracle's business software suite, is a great choice for midsize and growing businesses that want a complete, integrated CRM solution with ERP capabilities.

Nadia Reckmann
Staff Writer
During her years as a professional business writer, Nadia Reckmann has written hundreds of articles with a focus on SMB strategy, operations, technology, and tools that are essential for business success. In addition to that, she creates content that helps small businesses and entrepreneurs improve their marketing techniques, sales performance, and communication strategy. She also writes about CRM and other essential business software, team and project management, and productivity.