Freshworks' extensive business analytics toolkit and sales enablement features make its Freshsales CRM our pick for the best CRM for sales managers.
Pros
Sales managers can streamline operations using customizable dashboards, set permissions based on co-worker roles, and automate who gets leads according to experience and recent performance. 
Freshsales offers a built-in dialer, chat widget and social media integrations on all plans. This keeps client interactions in one place.
A Shopify integration and a CPQ module make Freshsales an excellent CRM option for e-commerce businesses.
Cons
The Freshworks CRM's lowest tier doesn't include some necessary features. And you don't get many more features if you choose the top tier over the middle tier. 
New CRM users may be amazed but overwhelmed by the number of features. To reduce costs and complexity, consider focusing on core needs first before expanding functionality.
When you customize specific software elements, most configuration windows open in new tabs, potentially interrupting workflow.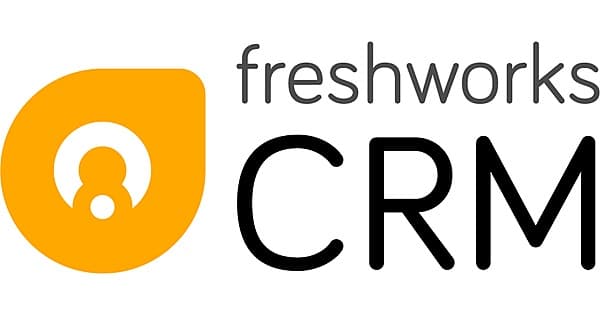 Sales managers are tasked with effectively monitoring sales activity and their team's performance, and top CRM software is crucial to their success. Freshsales – the Freshworks CRM solution — is an ideal solution for sales managers. It provides robust analytics tools to help them build and guide the customer journey, from first contact with a lead to the close of the sale. Freshsales is a comprehensive CRM solution with robust tools to help businesses conduct email marketing campaigns, manage and successfully convert leads, close deals, automate workflows, and effortlessly track quotes and invoices — all while keeping an eye on the big strategic picture. 
Freshworks CRM Editor's Rating:
9.3 / 10
Pricing/value

9/10

Features

9.6/10

Customization, add-ons and integrations

9.1/10

Ease of use

9.3/10

Customer service

9.5/10
Why We Chose Freshworks' Freshsales as the Best CRM for Sales Managers
Freshsales includes all the core CRM features businesses need to manage and support customer relationships, including contact and deal management, lead generation, and client communication. While many rival CRMs we reviewed offer territory and team management, Freshsales goes a step further. It allows managers to create team-specific sales workflows, reports, tasks and appointments. It can even automatically redirect calls and chats to specific teams, ensuring smooth and relevant client conversations. These valuable tools are why we chose Freshsales as the best CRM software for sales managers.
Freshsales is a stand-alone CRM that's part of the Freshworks company, which also offers marketing, customer success, IT management and HR platforms. It's available in over 30 languages and supports over 150 currencies. Businesses seeking a holistic sales solution may want to consider the company's Freshsales Suite, which encompasses CRM software, marketing services, an integrated business phone system and a cfunction.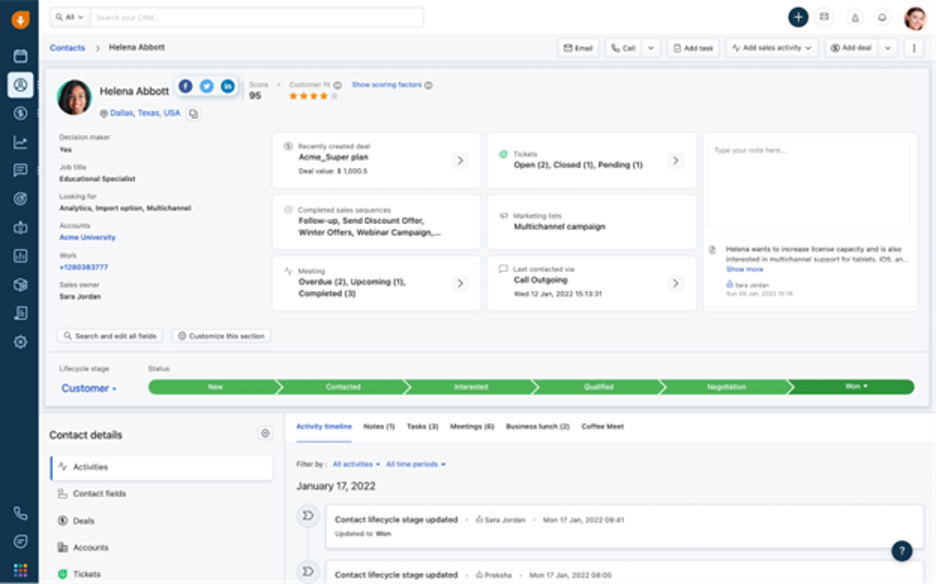 The Freshsales customer dashboard provides detailed information about each client. Source: Freshworks
Ease of Use
We were impressed by Freshsales' user-friendly interface — particularly in light of the software's complex functionality, including AI-powered sales tools, advanced sales management features, a cloud-based phone system and a chat solution. Setup is quick and easy; most business owners and their teams will learn the software without extensive training or voluminous instruction manuals. 
Here are a few elements we felt added to the solution's ease of use:
Online resource library. We were pleased to note the vendor's extensive online resource library. Click on the question mark icon at the bottom of the left navigation bar on the control page to go to the online knowledge base, which includes detailed tours of the software's tools and features.
Customer support. We also appreciate that all plans include 24/5 phone, email and chat support.
Activities dashboard. We loved that the dynamic Activities dashboard displays your appointments, pending tasks, quick links for easy navigation and other important information on a single screen. That way, it's easy to plan your workday without overlooking critical details.
Dashboard customization. You can customize all user dashboards to display the information you require.
Sidebar navigation. We also like that sidebar navigation buttons let you drill down to communication records, current deals, contact databases, important documents, workflow automation tools and in-depth sales reports in just a few clicks.
Easily add apps and integrations. We were impressed by how easy it is to download apps and integrations via the Freshworks Marketplace. There are 12 app categories, including agent productivity, lead generation, lead intelligence and marketing automation. Many apps are from Freshworks; however, other software companies have developed plug-ins, including Trello, Asana, Google and Stripe (the payment processor — read our review of Stripe to learn more about this tool). 
Freshsales is an excellent choice for first-time CRM users. However, experienced teams will also appreciate how simple it is to import data from other popular CRMs or from CSV and XLSX data files.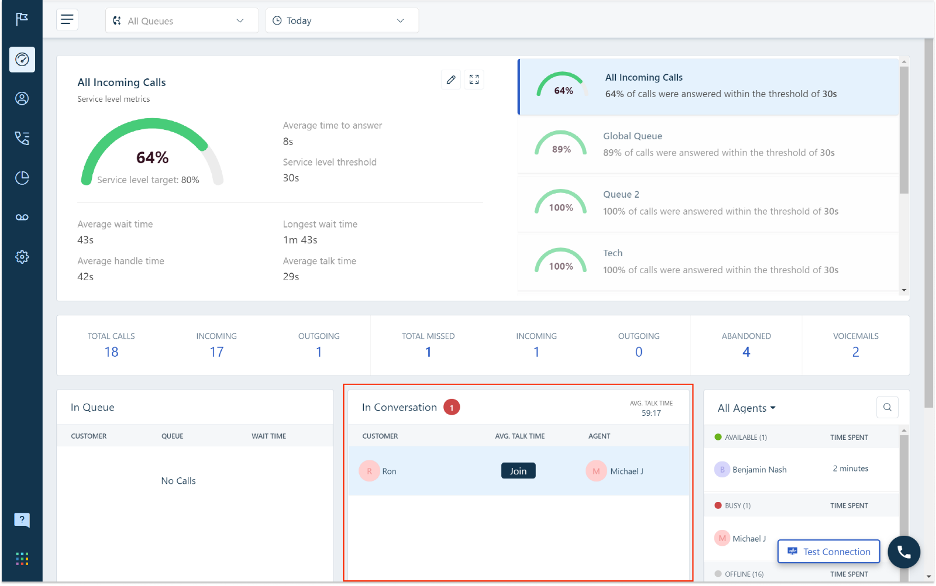 Click the question mark at the bottom left of the Freshworks screen to access the help sections. Source: Freshworks
Set up teamwide custom lead scoring rules by going to Admin Settings > Predictive Contact Scoring. The score will display on the Contacts dashboard and allow you to quickly filter and prioritize leads that are more likely to close.
Freshworks' Freshsales Features
Specific CRM features are necessary for smooth operations. Fortunately, Freshworks' Freshsales product offers all those components and more. This brings businesses numerous CRM software benefits.
Reporting and Analytics
Sales managers and business owners must keep a close eye on sales performance. We were impressed that Freshsales' robust reporting functionality allows sales leaders to turn data analytics into visual dashboards to get insights into the most effective sales activities, their team's workload, top performers, sales trends and forecasts, and much more. 
Unlike many other CRMs that focus on individual performance, Freshsales also offers team- and territory-based reports on its Pro and higher levels — a unique feature we particularly liked. These reports give managers the essential information they need to make informed business decisions. 
If you're using the Freshsales Suite, you can access an unbeatable combination of sales and marketing reports that demonstrate how well your teams work together and also identify potential productivity gaps. The sales reports offer insights into sales cycles and trends, while the marketing reports provide key metrics like campaign performance, customer behavior and overall engagement rate.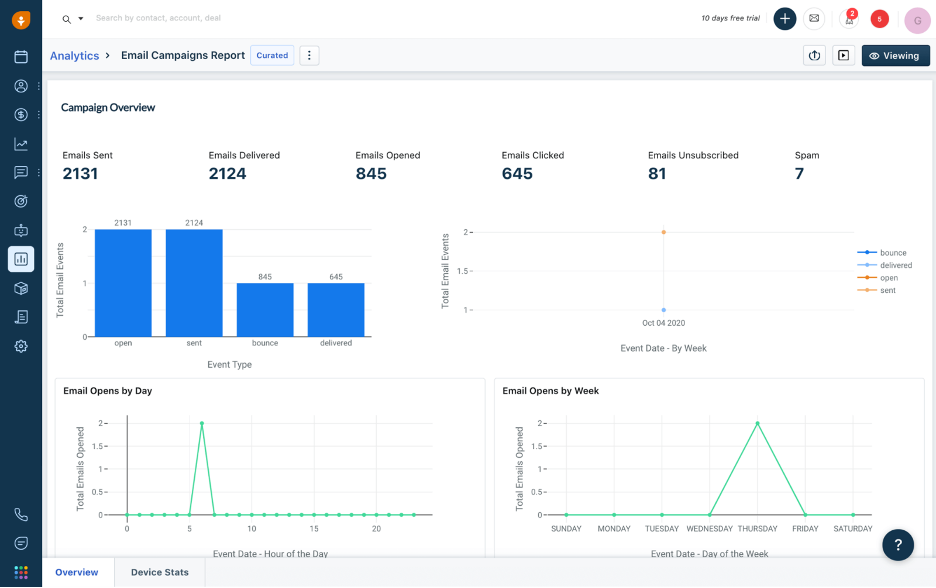 View your email campaign reporting data on the Freshworks control panel. Source: Freshworks
Omnichannel Communication
Many CRM platforms, including Freshworks, integrate communication features into their platforms instead of relying on plug-ins. We appreciate how well Freshworks has integrated omnichannel communications into its system to offer email, telephony, social media messaging, private messaging apps, chatbots and SMS marketing to users. Integrated communication tools boost productivity for sales personnel and give marketers a dedicated area where they can improve campaigns and deliver more qualified leads to your sales team.
Here's a look at Freshworks' omnichannel communication tools:
Email. We were impressed with Freshworks' email capabilities. You can send up to 250 bulk emails and 500 as part of a sales sequence daily on Freshworks' lowest tier. Those numbers go up to 2,000 and 5,000 at the Enterprise level. Most CRMs we evaluated had far less generous email allotments. We also like that you can schedule, send and track bulk emails and have access to a bank of customizable templates. Email marketing is a powerful tool, and we appreciate that Freshworks treats it as such. 
Social media. We really liked the Freshworks social media tool. You can plan and publish organic and paid content and track content performance and your click-through rates (CTR). This functionality is part of the Freshmarketer suite — a companion product to Freshworks' Freshsales. There's a free tier you can add to your Freshsales account; however, you may get more value by subscribing your social media manager to a higher tier for more functionality.
Other communication channels. We were pleased that all subscription levels let you communicate with customers by SMS, Facebook Messenger, WhatsApp, Line and Google Business Messages. All messages — when tagged to a person or contact — are recorded in their client history. We also like that the web chatbot function can create new records and amend existing ones in the CRM according to the contact details given by site visitors.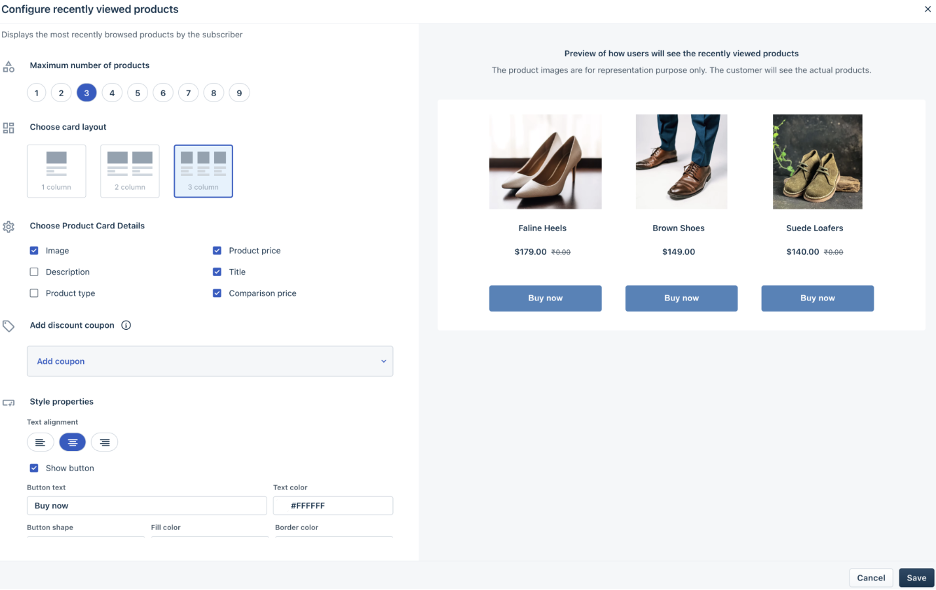 Building an email marketing campaign is straightforward in Freshworks. Source: Freshworks
Like Freshworks' Freshsales, Zoho features integrated communication in its CRM. Read our review of Zoho to learn more.
Built-in Phone Functionality and Automation
Sales teams spend a lot of time on the phone, so investing in a CRM with built-in calling capabilities makes sense. Some CRMs — like Freshworks and Zoho — have built-in telephony systems. Other CRM solutions rely on third-party apps for telephony functions. (Read our review of Oracle NetSuite to learn how third-party telephony works in a CRM.)
We like that Freshworks' Freshsales lets you either use your existing business phone number or purchase a new toll-free or easy-to-remember vanity number. The integrated call-recording function documents your inbound and outbound calls for future reference. You can also use these calls as examples when coaching and training your sales agents.
Freshsales' interactive voice response (IVR) system automatically greets and routes callers based on their keypress input or voice commands. You can send incoming calls to a call queue, agent extension, voicemail or a phone tree with additional options, such as the retention department or an after-hours emergency hotline.
We also like that you can connect Freshworks to your existing VoIP phone system via a marketplace app or a REST API connection if you prefer.
Other features like warm transfers, advanced call queues and conference calling are available on higher-tier subscription packages.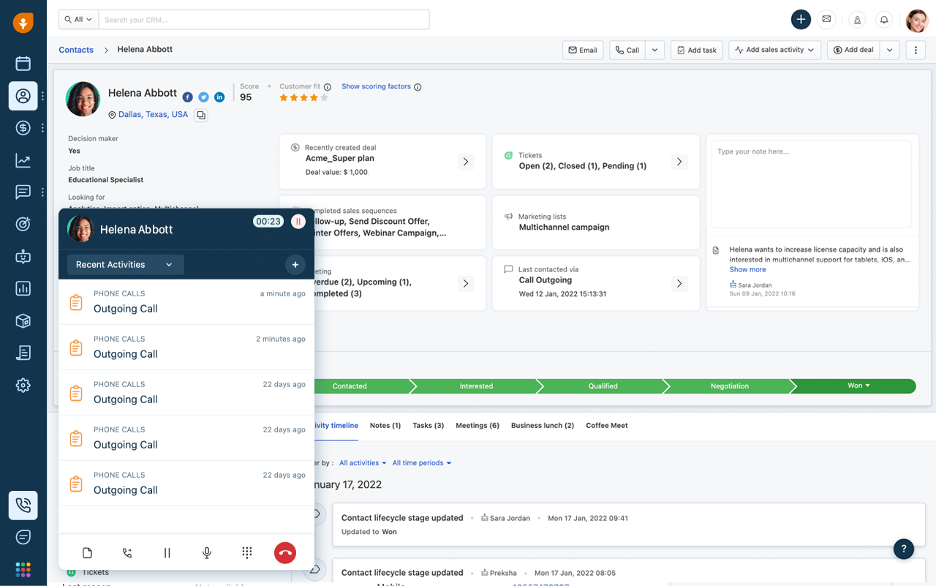 Freshworks can display your call history and allow direct dial-out. Source: Freshworks
E-Commerce Integration
E-commerce businesses often have trouble finding a CRM system that can handle their unique processes and needs; only a few solutions offer dedicated e-commerce features, modules and integrations. Freshsales is one of those rare exceptions. 
We like that you can easily communicate with customers by sending SMS, Facebook, WhatsApp or Apple Business messages right from Freshworks' CRM, so no query remains unanswered. 
We particularly like that Freshsales has a Configure, Price, Quote (CPQ) module that allows team members to add products and documents to easily generate and send quotes and contracts to customers. This saves time on data entry and standardizes the process across the company. The Freshsales CPQ feature costs $20 per user per month. 
Freshsales Suite users can also benefit from a customizable Shopify integration to sync customer data across the two platforms, run targeted marketing campaigns, hold live conversations, and set up chatbot flows.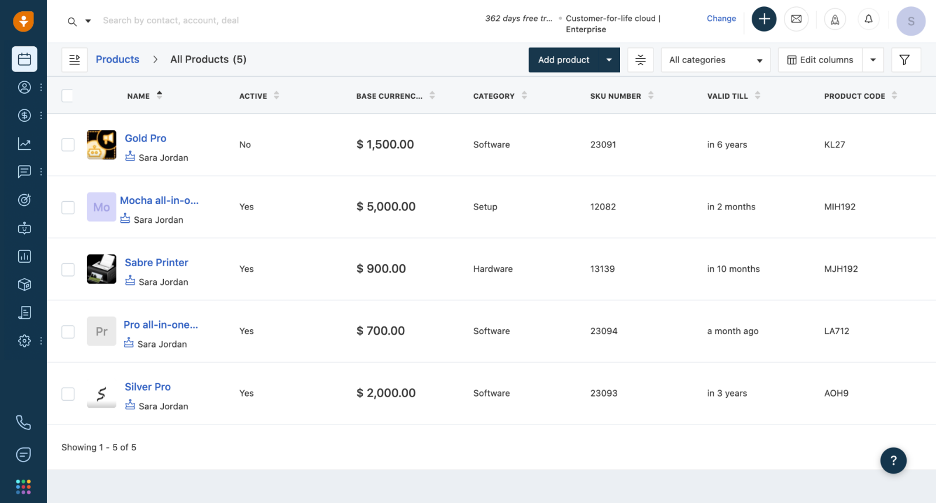 The Freshworks CPQ module allows team members to add products and documents, which are used to generate and send out quotes and contracts. Source: Freshworks
AI-Powered Assistant
We were impressed by Freddy AI, the Freshsales artificial intelligence tool. Freddy AI offers an objective analysis of sales efforts and strategies to help your sales team make better business decisions. It gathers data from sales activity and engagement, chatbots, customer tracking tools, sales pipelines and more to generate reports. Then, it recommends the next best steps to increase your team's chances of successfully closing a deal. 
Freddy also learns from the data stored in your CRM to forecast deal outcomes. It uses predictive lead scoring to identify the best prospects and leads in your sales pipelines. It can also flag stalled deals with an "at risk" tag so no potential issues slip through the cracks.
Read our review of Salesforce CRM to learn about its Einstein advanced AI tool so you can compare and contrast Freddy's AI capabilities with Einstein's.
Workflow Automation
Automating routine, repetitive tasks frees your sales agents to focus on closing the deal and ensures consistent workflows across teams. 
We were pleased to see that you can use Freshsales' automation function to send emails at precisely the right time in the customer journey, update customer records, create tasks, and move deals through pipeline stages. You can also notify team members and managers of important changes in the contact or deal's status using their communication tool of choice. The function can even surface warm and cold leads for follow-up before the opportunity disappears.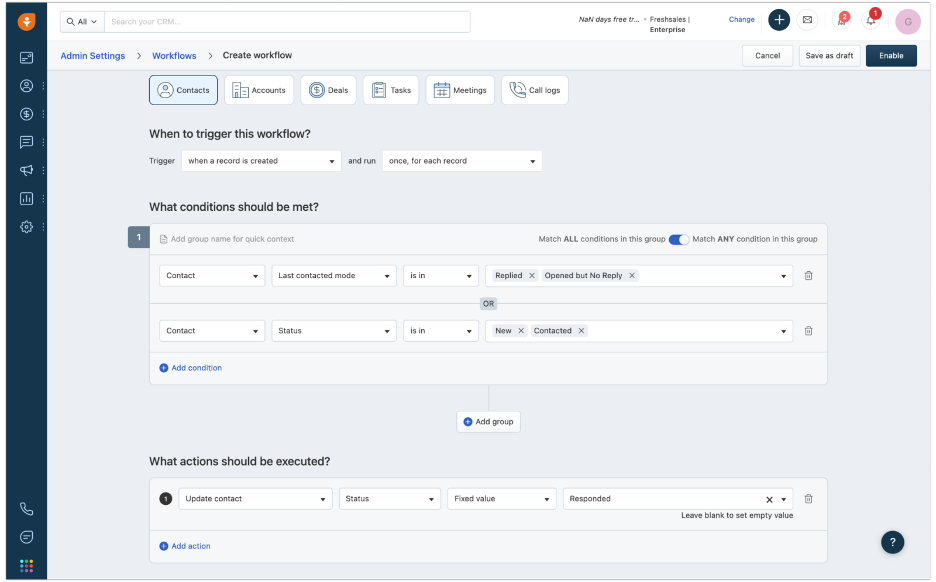 It's easy to set up new workflows in Freshworks. Source: Freshworks
Freshworks' Freshsales Pricing
Freshworks offers various service levels for its Freshsales CRM. We like that there's a Free plan that includes contact, deal and task management; a mobile app; and built-in phone and chat solutions. A generous 21-day free trial provides access to all of the CRM's features. Not every CRM includes a free tier and a generous free trial. 
The prices we've listed below are for annual billing; however, month-to-month billing is also available at a slightly higher monthly cost. Freshworks charges no setup or implementation fees.
Growth: $15 per user per month.This plan includes everything in the Free plan, plus custom fields, automated workflows, a product catalog, visual sales pipeline management, custom reports and dashboards, two-way email sync and limited automation, messaging integrations, and file storage of 2GB per user. You can select the Growth plan free for three users.
Pro: $39 per user per month. This plan includes everything in the Growth plan, plus custom sales activities; time-based workflows; auto-assignment for contacts, accounts and deals; territory management; multiple pipelines; sales forecasting; AI-powered deal insights; and file storage of 5GB per user. 
Enterprise: $69 per user per month. This plan includes everything in the Pro plan, plus automatic profile enrichment, a sales and marketing dashboard, deal teams, AI-powered deal forecasting insights, website tracking, advanced sales metrics, file storage of 100GB per user, and a dedicated account manager.
Add-ons: Pricing varies. Optional features include additional workflows, bot sessions, phone credits and a CPQ module starting at $19 per user per month.
Businesses that need both sales and marketing features in their CRM would benefit from choosing the Freshsales Suite. Its pricing ranges between $15 and $69 per user per month, with support for 1,000 marketing contacts and the opportunity to purchase more. Depending on the plan, Freshsales Suite comes with several email marketing campaigns, webhooks, live tracking and landing pages.
Onboarding and Implementation
We like that setting up the Freshsales CRM is a straightforward process supported by extensive online walk-throughs and documentation. However, the time it takes to implement and deploy the software depends on your plan, customization level and add-ons. For instance, the Pro and Enterprise plans — which have advanced customization capabilities — will take longer to deploy than the Free or Growth plans, which have basic sales functionality.
To make onboarding and implementation easier, we recommend setting up the most basic features first, including phone numbers, email accounts, mission-critical business app integrations, and user roles and permissions. Next, set up customer data management. Migrate data from your previous CRM, if applicable, or import customer data spreadsheets to populate the contact database. Then you'll be ready to onboard users, configure additional settings, create workflows, and fully use the CRM. 
Since all plans include 24/5 phone, email and chat support to troubleshoot CRM implementation issues, the setup process shouldn't be daunting. The Enterprise plan gives you a dedicated account manager for personalized assistance — an investment that may be worth it for business owners concerned about whether their in-house marketing team and tech team will need setup help. 
Freshsales offers a complimentary product adoption session to get paid clients up and running with essential CRM features. You can pay to participate in multiweek onboarding programs if you're switching CRM systems or have more extensive needs.
Customer Support
Customer support for Freshworks' Freshsales is on par with many CRMs we reviewed. All service plans include access to an extensive knowledge base with how-to guides on everything from general setup to creating multiple sales pipelines. You can submit an online ticket for additional help, email the customer support team, or receive 24-hour assistance on weekdays via live chat or a toll-free phone call.
When we contacted the vendor with questions, the sales team was eager to assist. However, we did notice that live chat availability was limited and didn't extend through the standard U.S. workday.
Limitations 
Freshworks offers many features businesses and their sales managers will find useful. However, we did identify some limitations. 
Pricing plans could include more features. We felt that Freshworks' pricing plans could be improved. For example, essential features like API access, certain VoIP functions, extensive reports and territory management are not included in the basic plan. There's a significant price jump from the mid-level to the top plan with not much additional value provided. The mid-level plan offers the best value unless the top plan features are absolutely needed. Freshsales' AI tool, Freddy, is a major selling point, but its usage limits are not very generous, even in the top plan.
Teams may experience feature overload. Freshsales' expansive CRM feature set is a clear selling point. However, it may also be a drawback. Experienced users will likely find their way around the software quickly, thanks to the smart user interface design. However, it may take sales teams with little to no CRM experience a bit longer to learn. Feature overload is always a potential challenge small businesses face using CRMs, and the Freshsales system is no different. 
Cumbersome customization process. While Freshsales provides extensive customization options for contact and deal management, the process is somewhat cumbersome. It takes users to separate tabs, which could interrupt the workflow. Companies looking for in-app customization functionality might be better off with more flexible CRM software. 
Methodology
When evaluating the best CRM software, we compared dozens of CRM solutions on the market. Our in-depth research included platform demonstrations, support team correspondence, hands-on trials to assess product functionality, and an analysis of each provider's tutorials and support materials. We also took pricing into consideration. When assessing the best CRM software for sales managers specifically, we looked closely at contact and deal management, sales enablement, reporting and analytics, workflow automation, team management, e-commerce functions, and available integrations. Our product review process was designed to help you find the right CRM for your business.
FAQs
Freshworks is an umbrella brand that offers a number of specialized solutions for different business teams: Freshsales for sales, Freshdesk for customer support, Freshservice for IT service management, Freshteam for HR, Freshmarketer for marketing, and the Freshsales Suite for the powerful combination of sales and marketing.
Both the regular Freshsales CRM and Freshsales Suite have a Free plan with limited contact, deal and account management features, as well as built-in phone and chat solutions.
Bottom Line
We recommend Freshworks' Freshsales CRM for …
Sales managers who want advanced AI-powered reporting and CRM customization options.
Sales teams that regularly communicate with customers via phone, chat and social media platforms.
Businesses that need a basic solution to manage their sales efforts but may want to upgrade to a combined marketing and sales CRM in the future.
We don't recommend Freshworks' Freshsales CRM for …
Entrepreneurs or small business owners who don't need extensive team management and sales enablement features.
Companies that need a free CRM with some advanced features.
Mark Fairlie contributed to this article.